Around the Gaming World News Report 7.27.12
July 27, 2012 | Posted by
Hey everyone, welcome to the latest installment of Around The Gaming World. If this is your first time checking in I try to cover some of the major stories for each console in addition to news, which in my opinion, is the news of the week.
First let's start with the comments from last week.
You have never read a Deadpool comic in your life.
Posted By: Guest#6647 (Guest) on July 20, 2012 at 04:47 AM
I'm afraid you're wrong there. I have quite a few Deadpool books and a good chunk of the Cable and Deadpool run. Deadpool was very fun until Marvel started to milk every dollar out of him that they could.
And he can join the millions of others who haven't either and can't understand how a C list character gets in an x-men movie #1 AND get's his own video game #2.
What an absolute Joke when there are at least a dozen other, more interesting characters they could have done something with.
Posted By: Guest#2487 (Guest) on July 20, 2012 at 10:51 PM
Well to be fair I don't think of the Deadpool in X-Men Origins as the comic Deadpool. They bastardized that character and he was nothing like in the comics. That being said before Deadpool got oversaturated he was a lot of fun in the Marvel 'verse. The Cable and Deadpool series is one of my favorites as it was a lot of fun each month. However, the addition of Deadpool Corps to rip on Blackest Night was the beginning of the end for me. Deadpool was everywhere and oversaturated.
And now, it's on to the news…
EA Losing NCAA Football Exclusivity? – The days of Electronic Arts' long-held football exclusivity could be numbered. According to attorneys representing consumers in a class-action antitrust lawsuit over EA's exclusive hold of multiple football league licenses, the publisher has agreed to a proposed settlement that would commit it to going at least five years without NCAA Football exclusivity, as well as paying out a potential $27 million to wronged customers.
Under the terms of the settlement, EA will let its current agreement with the NCAA lapse in 2014, and will not renew it for at least five years. It also stipulates that the publisher won't sign an exclusive deal with the Arena Football League for at least five years.
As for the payouts, consumers who purchased an EA football title for the GameCube, PlayStation 2, or Xbox could be entitled to up to $6.79 per game, while those who purchased a current-generation football game from the publisher could get up to $1.95 per game.
The proposed settlement was filed with the court last week, but must be approved before it can be made final.
Via: Gamespot
I have long grumbled about EA's exclusivity on both NFL and NCAA Football. Its looks like the NCAA deal might be coming to an end now. Under the current deal being forged EA would let the exclusivity deal lapse in 2014 and wait 5 years before making any new football deals. First of all, this is good for consumers as it opens the market up for more developers.
A good example of this can be seen in 2005 when Take-Two Interactive released NFL2K5 for 20 dollars on launch day. This game sold over 2.9 million copies. I was one of the people who jumped on the 2K bandwagon. In response EA dropped Madden down to a price of 30 dollars that year. It was great for gamers, this competition lead to cheaper games for everyone and a race to see who could innovate the quickest. However, EA was quick to sign the NFL to an exclusive deal. With no competition Madden went on sale for $50.00 the next year and the price has just gone up. I'm excited to see if anyone else moves into the market and starts making football games. Maybe we'll get some competition in the future and in turn some cheaper games.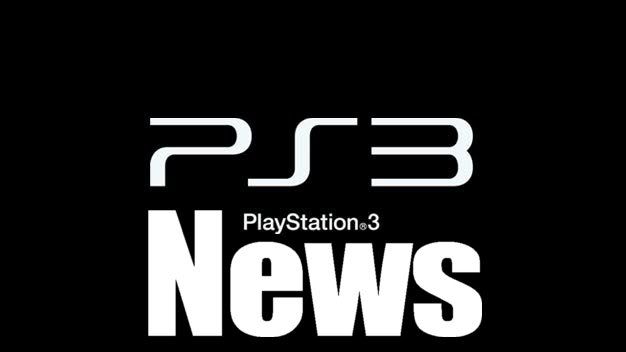 Final Fantasy XIV Is Back – Don't call it Final Fantasy XIV-2. Square Enix's second Final Fantasy MMO, Final Fantasy XIV, is getting re-released after its tumultuous launch, and that means it's also getting a new name: "Final Fantasy XIV: A Realm Reborn."
Square Enix says the game is "rebuilt from the ground up," and features "a new world to explore and storyline to experience." A CGI-heavy trailer for the new content can be found above.
Version 2.0, now "A Realm Reborn," is heading to PlayStation 3 later this year. No date is given on the relaunch for PC.
Via: Joystiq
First off, I am not a big MMO fan and from what I've heard the Final Fantasy MMOs have generally been less than stellar. However, it certainly looks as though Square is putting a lot of effort into breathing life into FF XIV. My hope is that it turns out well, I would love to see a modern Final Fantasy game that I like to play. There aren't a lot of details right now, but I'll make sure to share them as they pop up.
Investigating The Overheating Vita – A Japanese government agency is taking a closer look at Sony's PlayStation Vita after dozens of cases of systems burning out during recharging, according to an Andriasang report.
The National Institute of Technology and Evaluation is investigating 31 cases of overheating regarding the portable, 23 of which happened in Japan. No injuries have been reported in those cases, but in each one the overheating damaged the PS Vita power cable connection slot.
Sony Computer Entertainment Japan reportedly blamed the incidents on liquids or other objects in the port while the systems were charging. Because the company doesn't believe the hardware is faulty, it will not be issuing a recall, and those with damaged systems will need to pay for their own repairs.
A Sony representative confirmed the damaged system reports, saying, "The cases were caused by partial short-circuit on the multi-use port of PS Vita and USB cable due to small particles or liquid attached to it. We believe this is not [a] product oriented issue. The short-circuit damaged the Multi-use port, resulting in being unable to boot the system."
Via: GameSpot
The Vita has had some issues in the short time it's been on the market. The system was criticized for its high price point and weak launch day games. Consumers have adjusted to the price and a healthy crop of good games has been released. It's only a little troubling to see there is an issue with some consoles overheating. Now, I have been criticized for being overly harsh on the PS Vita and that is not my intent here. Only 31 cases of overheating have occurred so far. For that small a number I don't think there is a problem at large for the console.
Sony thinks the issues come from moisture in the charging outlet. Were I a PS Vita owner I would make sure that I keep my Vita and charging cords away from any water and that the cords plugged into the Vita stay dry. I realize this is all common sense, but if your Vita overheats the repair/replacement bill is on you as Sony isn't covering this under warranty.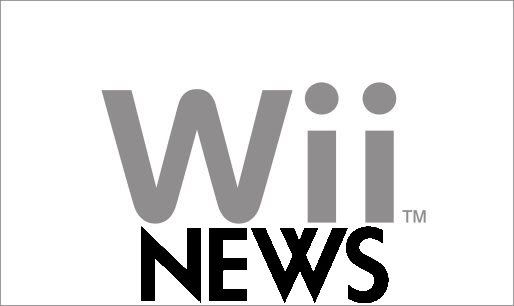 Crysis 3 for the Wii-U? – In a wide-ranging interview published today, producer Mike Read told CVG the studio's gorgeous FPS sequel could yet appear on Nintendo's upcoming console, despite recent comments strongly suggesting otherwise.
"I wouldn't say there's no chance," he said. "I wouldn't say no chance. I mean the Wii U still doesn't have any kind of release [date] attached to it at this point. Who knows what the future will bring with it. I can definitely say that we are working with Nintendo, and that's about all I can say on that front.
"I wouldn't rule it out, but there has really been no official releases associated with the Wii U yet, and given that we're releasing Crysis in an eight month time period in February of 2013, we can't play off of what their schedules are. I wouldn't rule it out, but you know, it is a possibility."
Asked in May whether a Wii U version of Crysis 3 was a possibility, Crytek's director of creative development Rasmus Hojengaard told CVG: "We're not really talking about that now."
Via: CVG
I am a big fan of the Crysis games. The gameplay is fun and the visuals are stunning. This is quite the coup for Nintendo if they can bring the game to the Wii-U. Crysis 3 is going to be one of those killer third party games that gamers will want. If it can be obtained on the Wii-U, which at that time will be the most modern console, I think you'll see a lot of sales. However, don't look for Crysis 3 to drive Wii-U sales. I don't see anyone buying a Wii-U just to play Crysis.
Nintendo's Financial Woes Continue – The venerable game maker announced today that it generated 84.8 billion yen (about $1.08 billion) in revenue during the three-month period ended June 30, representing a 9.7 percent decline from the 93.9 billion yen it secured in sales during the same period last year. The company was forced to incur a net loss of 17.2 billion yen ($220 million), which, while disconcerting, was actually better than the 25.5 billion yen figure from last year.
Nintendo's financial position becomes even more concerning when one considers its past performance. During the same period in 2008, Nintendo posted net sales of 423.4 billion yen and a profit of 107.3 billion yen. Now, it's losing boatloads of cash and its sales are about one-fifth of what they were just four years ago.
The company's troubles can be directly tied to declining hardware sales. During the three-month period, Nintendo sold only 710,000 Wii units worldwide, including 60,000 in Japan and 210,000 in the Americas. Last year, its sales hit 1.6 million.
Nintendo's 3DS sales weren't all that impressive, either. According to the company, it sold 920,000 3DS units in Japan during the quarter and 420,000 in the Americas.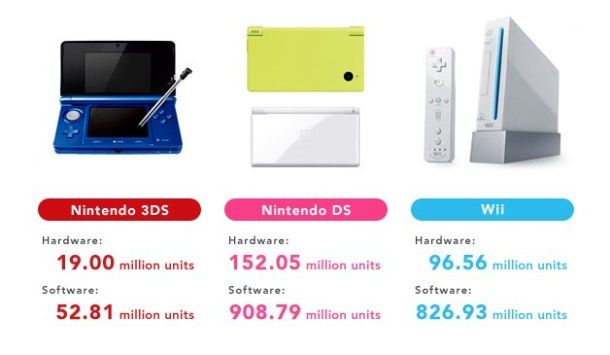 Via: C|Net
I knew that Wii sales were declining, I just had no idea how much they had declined. The drop in sales between years is pretty big. But, to be fair a lot of that drop can probably be attributed to the rise of the Wii-U. Most people who have been thinking about a Wii will wait to buy the Wii-U when in releases soon. The problem is that no one knows how much the new console will cost. There are estimates, but it would be great to get an actual number from Nintendo.
These sales numbers prove that the Wii-U and its success are going to determine the success of Nintendo as a company at large. The handheld gaming market is rapidly shrinking and if the Wii-U is slow out the gate the results could be catastrophic for Nintendo.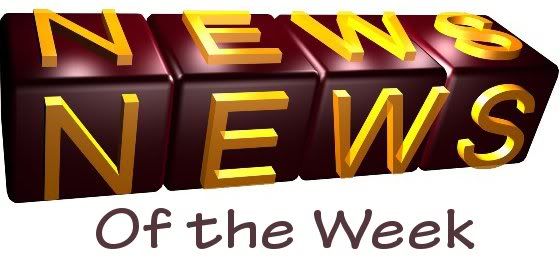 Zynga Takes a Beating! – Despite experiencing stronger revenues in Q2 2012 than in Q2 2011, Zynga reported a $22.8 million net loss for the quarter and lowered its outlook for the rest of the year to adjust for "delays in launching new games, a faster decline in existing web games due in part to a more challenging environment on the Facebook web platform, and reduced expectations for Draw Something."
The social megalith reported revenue income of $332.4 million for the period, up 16 percent over the same period last year, which sounds good until you get to the company's net loss of $22.8 million — compare that with the $1.3 million in profit reported in Q2 2011.
Addressing investors, Zynga CEO and founder Mark Pincus lauded his company's successful launch of Bubble Safari, as well as The Ville's increasing popularity. "We also faced new short-term challenges which led to a sequential decline in bookings," Pincus said. "Despite this, we're optimistic about the long-term growth prospects on mobile where we have a window of opportunity to drive the same kind of social gaming revolution that we enabled on the web."
Zynga's stock fell during trading as a result of its lowered outlook for the rest of 2012, hitting a low of $4.88 per share before closing the day up at $5.08 a share.
Via: Joystiq
Zynga is in a precarious situation. Social gaming had been big bucks profit for quite a while but things seem to be tapering down. Zynga has long been reliant on casual gamers playing via Facebook but it seems less people are playing Facebook games. Or at least I'm seeing a lot less Farmville invites. I've never been a big fan of Facebook casual gaming and it seems more people are joining that crowd.
Casual gaming is not dead but I don't think it's the cash cow it used to be. I'm curious to see how companies like Zynga will adapt in the future.
Follow 411 on Twitter!
My personal Twitter: @RoundTableNerds
@411mania
@411games
@411wrestling
@411moviestv
@411music
@411mma
Thanks for checking in for your weekly dose of gaming news. It should be interesting to see how some stories, such as the next version of the Xbox and PS3, progress over the next week. As always, please make use of the comments to let me know what you are thinking. Feedback is always welcomed.
If you find yourselves bored on Xbox Live, send me a message. I'm always looking to put together a good team on the Mass Effect 3 multiplayer to tackle some gold challenges. Without a good team you just get your ass kicked.
I'm off to go see the midnight release of The Dark Knight Rises. I've been waiting for this move to come out for ages and am very happy to finally see it. I made a promise to myself to go spoiler free on both TDKR and The Avengers and have been lucky enough to succeed at this goal. Being spoiler-free on The Avengers made the movie a lot of fun for me, I hope to have the same results with TDKR. After tonight it will be safe for me to go on the internet again.
NULL
comments powered by Disqus