Around The Gaming World News Report 8.31.12
August 31, 2012 | Posted by
Hey everyone, welcome to the latest installment of Around The Gaming World. If this is your first time checking in I try to cover some of the major stories for each console in addition to news, which in my opinion, is the news of the week.
Welcome back to ATGW. First off I'd like to apologize for missing last week. I had some personal things come up that took up a ton of my time and wasn't able to get a full column written. Luckily the staff here at 411 agreed with me when it came to not posting a half written column. To make up for last week's absence ATGW is a bit longer this week. Hopefully that helps to make up for things!
First let's start with the comments from last week.
I beat Mass Effect 1 and 2, still have to get three.
I beat Dragon Age Origins a bunch of times, the complete edition with all the dlc.
I gave up on dragon age II. i didn't hate the gameplay, but all the characters bitched so much i just stopped caring what happened to them.
Posted By: WrestlingsOK (Guest) on August 17, 2012 at 03:12 PM
I only beat DA:O once but it was a fun game. Everyone has advised me to steer clear of DA 2 and I haven't played it yet. That's when the taint of EA struck BioWare.
I've actually attempted to go back and play Mass Effect 1 again since finishing 3
I honestly have no idea how I ever got through it before. Time has not been kind to it
Posted By: Guest#4970 (Guest) on August 17, 2012 at 05:51 PM
Time has not been kind to ME 1. But when it came out that was cutting edge. The smartest thing BioWare did was create the motion comic allowing players to do the ME 1 back-story before starting ME2. One day I will finish my second playthrough of ME1 just not sure when.
I beat all three Mass Effect games. Three is the only one I did just one playthrough one. That ending just killed my interest in the series. I suppose I should check out the Extended Cut, but it doesn't sound like it'll be able to make me care again.
Posted By: Minimoose (Guest) on August 19, 2012 at 04:57 PM
The EC DLC wasn't perfect but it made the ending a lot more palatable to me. At the very least it would be worth watching the endings on YouTube. Of course supposedly the Leviathan DLC adds to the ending as well so look for endings with the DLC having been played.
As for our informal straw poll last week, it seems like gamers who read 411 are completionists. The bulk of the BioWare RPGs that were started were beaten. Glad I'm not alone here!
Thanks for the comments. And now, it's on to the news…
Exclusive Skyrim DLC – Bethesda has announced Skyrim's next DLC drop, and while "Dawnguard" was a collection of new items, characters, locations, quests, and abilities, "Hearthfire" lets you simply build a home.
You'll start out with a small cottage, and eventually build it up into a compound complete with armory, alchemy lab, stable, and presumably every other amenity that Skyrim has to offer. Oh, and you'll fill it with orphans.
Via: Complex
I am going to admit this first, I am not a big fan of the Elder Scrolls games. I was bored by Oblivion and I have never played Skyrim. That being said, I understand that some people love the games. That's great they just aren't my cup of tea. But, I do think it's good for Xbox fans that there is exclusive DLC coming the system. The Hearthfire DLC will allow Xbox gamers to develop their own homes that will eventually develop into compounds with various labs and armories. I imagine that would make the 'home base' quite useful and lead to less world traveling to buy or fabricate materials. If any of you are Skyrim fans, let me know what you think. Is this DLC a big deal or just a cash grab?
Cut The Cake With Your Lancer – Jeremiah and Megan Barrett of Emmaus, Pennsylvania currently got married. But the real story is how they met, and how that affected the wedding itself.
You see, these two met playing Epic Games' Gear of War. Who would of thought that killing some locusts and lambent would bring to people together?
Because of this cool way that they met, they wanted to incorporate that somehow into their wedding. So when it came time to cut the wedding cake, they pulled out a huge Gears of War Retro Lancer! That's not it, they also presented their rings to each other in Minecraft ring boxes, and had their guest play an array of video games during their reception.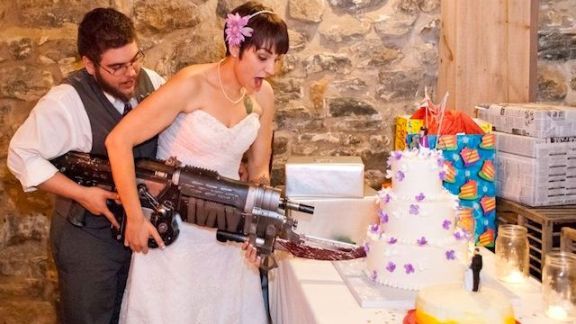 Via: Game Tyrant
I'm a fan of the Gears franchise so this just makes me smile. A Pennsylvania couple used a retro Lancer class machine gun to cut their wedding cake. It's strangely appropriate when you consider the fact the couple met online playing Gears of War. Congrats to the happy couple and I love the way they incorporated the game they met through into the wedding.
If I get married one day, I think it would be great to add a little game/comic/nerd flair to things at the end. But, based on the weddings I've been a part of, I have realized that the groom gets to make very few decisions in the actual ceremony. But its stories like this that should give fellow gamers hope, at least one wedding has included video games so maybe you'd have a chance of getting that too!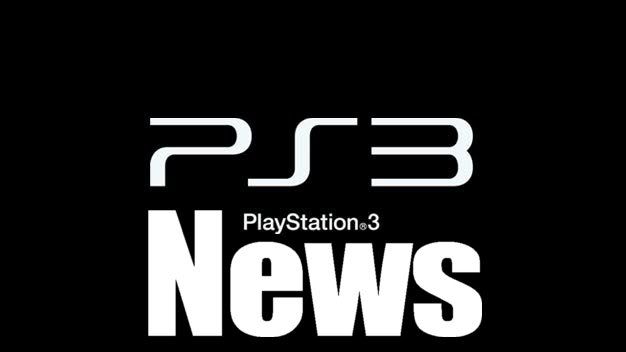 Got PS Plus? Get Borderlands Free – Sony announced a partnership with Gearbox Software today that will bring the original Borderlands to PlayStation Plus subscribers free of charge.
Borderlands will be coming to the Instant Game Collection feature which will allow subscribers to download the game instantly. The promotion is being timed to coincide with the upcoming release of the highly anticipated sequel, Borderlands 2 which will be arriving next month on September 18, 2012.
The free-Borderlands deal will be unlocked for PS Plus users on September 4, so make sure to clear some space on that hard drive. The only thing we're not too sure about is how many PS Plus players still haven't played Borderlands three years after release. Then again, PS Plus players tend to be the social mavens of the gaming world, shapers of conversation. So even if it just inspires some players to play through it again, it'll likely be worth it for Gearbox.
Via: Games Radar
This is smart move by both Sony and Gearbox Software. The release of Borderlands 2 is only about a month away and this is a good way to bring new people into the series. Very few people are going to turn down a free game, and presumably if they like, they will buy the sequel when it releases. I just started playing Borderlands based on recommendations I'd received on my podcast and I have really enjoyed the game. If I were a PS Plus subscriber I could have gotten it for free and not bought the game
Borderlands might be three years old, but it's still a very fun game. If you like RPGs and shooters you are bound to like the game. For all you PS Plus subscribers sign in on September 4th and download your free copy of the game!
New Fighter for All-Stars Battle Royale – Raiden from the Metal Gear Solid series is officially in PlayStation All-Stars Battle Royale. Lead game designer Seth Killian shows off Raiden in a video on Gamespot.
Raiden's strength lies in one-on-one attacks and air combos, and his level 3 super involves trapping all of the other players under boxes for easy pickings. Characters in All-Stars generally have about two dozen moves, but with his combo chains, Raiden has three or four dozen, Killian says.
Via: Joystiq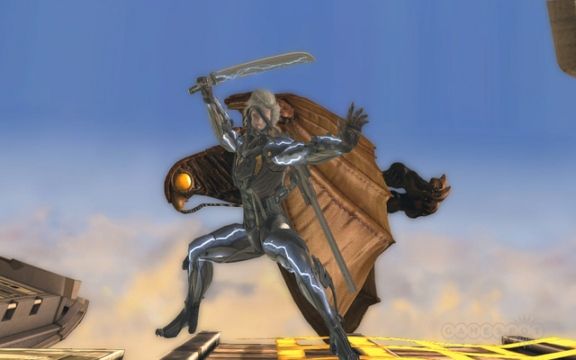 it seems as though there is an abundance of news filtering out on All-Stars Battle Royale lately. The beta should be starting soon and now new characters are being announced. There have been leaks about the playable characters in the game but I haven't paid much attention to them. But, it is official that Raiden is joining the cast. Fans of the Metal Gear series are sure to be familiar with the character. And while he is no Solid Snake, the character should be fairly powerful in the game. I'm wondering if he will be playable in the upcoming beta. If any of you get on the beta and don't have to sign an NDA feel free to let me know!
Console Wars The Movie – It seems Sony could be working on a film about the video game console wars—you know, 360 v. PS3 v. Wii—as Sony Pictures has recently registered a series of suggestive domain names.
The domains all contain the words "console" and "war," and some include "movie" as well. As Joystiq points out, Sony Computer Entertainment (Sony's gaming branch) doesn't appear to be involved, so chances are this is a full-on movie and not just some marketing shenanigans for the PlayStation 4.
Meanwhile, Slashfilm reports that In Contention's Kris Tapley heard about the project "weeks ago," and described it as "a Social Network of video games," referring to the movie about the creation of Facebook.
Via: Complex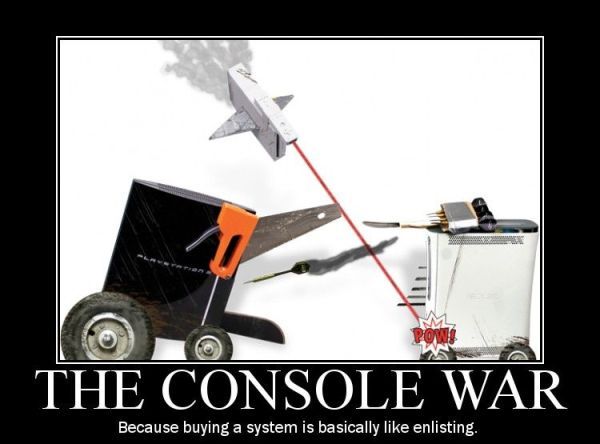 This isn't something I would normally cover in a gaming column but the prospect of a movie detailing the console wars really does intrigue me. Add in the fact the Sony Pictures is rumored to be spearheading the effort and I'm fascinated. Rumors are the movie will focus on the Xbox 360 vs. PS3 vs. Wii. It could be interesting to fans of any of those consoles/companies. But my worry is that a casual movie-goer is going to think the subject of this movie is too 'inside baseball.' By that I mean conventional fans probably aren't going to care about the fight for console dominance. But, I could be wrong, after all The Social Network was a huge box office success. And I really did enjoy Pirates of Silicon Valley but that's probably because I'm a huge tech nerd.
Personally I think it would be cool to see a movie that went back one generation further. I think it would be very interesting to get a view of what both Nintendo and Sony thought about Microsoft entering the console market. And, it would be really cool to get a look inside Microsoft during the pitch for the Xbox. During this same time you could also bring in the fall of Sega. But, that's just a personal opinion. How about you all, any interest in watching a movie about the console wars?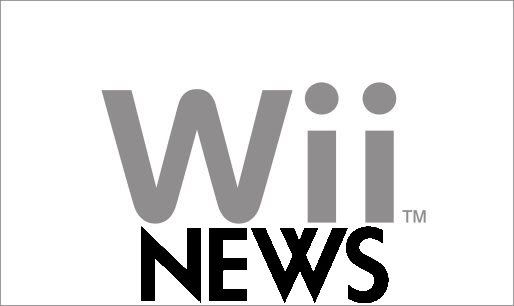 Mario Kart is 20! – The original Super Mario Kart launched 20 years ago this Monday in Japan. It launched several days later in North America, on September 1st.
I sunk more hours than I care to admit into Nintendo's classic go-kart racing game. Hearing that it's turned 20 makes me feel officially old. I was only eleven when the game launched on Super Nintendo.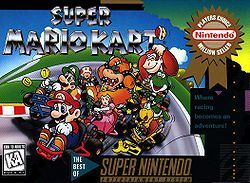 Via: Forbes
This was a shock to me, I remember playing the original Super Mario Kart on my SNES as a kid. The fact that the series is turning 20 years old, has caused me to realize just how old I have gotten. All kidding aside, this is a pretty major accomplishment. The series has thrived during its 20 year life span. Mario Kart has arguably been one of those 'must have' games for all of the Nintendo consoles that have come out since 1992.
This seems to be a trend for Nintendo though, they develop these franchises that last forever due to a fanbase that loves the games. Just think, there are Mario, Zelda, Mario Kart, and Metroid that have all had long lifespans. The vast majority of games that were released in each of these series have been good as well. There has been an occasional stinker, but on whole they are good. Who know, maybe in another 10 years we'll be talking about franchises like God of War or Halo hitting their 20th anniversary. But even then I bet Mario Kart will still be going strong.
More Wii U Launch Date Rumors – Nintendo has held the release date for their upcoming Wii U console close to their chest, but accessory maker PDP may have accidentally spilled it during a GameStop manager's conference. It's already public knowledge that Nintendo is hosting a special Wii U press event on September 13 in New York, and it's widely assumed the company will use this event to finally reveal the Wii U's retail release date in the US. If multiple sources are to be believed, that date will be November 18.
Gaming site Kotaku broke the rumor earlier today, and it goes something like this: PDP (widely known for their Afterglow and aftermarket accessories) was presenting their Wii U peripherals to a collection of GameStop managers when one of PDP's representatives indicated that the "peripherals would be available just ahead of the Wii U's November 18 release date." Kotaku's source wished to remain anonymous, but a separate individual on popular message board NeoGAF posted the same date.
The presentation was likely to secure a place in GameStop stores during the crucial holiday shopping season.
Via: Forbes
Rumors have been swirling for months on when the latest Nintendo console would drop. In the last issue of ATGW I reported rumors that the system would drop on Black Friday. To be fair I didn't believe that rumor and thought that the console would come out in November at some point. This latest rumor seems to back up my thoughts.
The current rumor is that the system will drop on November 18th, the week before Black Friday. To me, this date makes a lot more sense. This puts the Wii U on store shelves right before the massive rush of Christmas shoppers. Not only that, but it puts the console on shelves around the same time as Black Ops 2 and Halo 4. These two games might bring more exposure to the console. Not because they are Wii U games, but because there will be a lot of hype around the release of these sequels and the Wii U launch might be able to add to the hype and bring in more consumers.
Now, the question remains, is this rumor true? Beats me, there have been a lot of rumors about the Wii U launch date. I think this rumor makes more sense than the previous ones. For that reason I find it believable. But I'm sure between now and an official announcement there will be more Wii U launch date rumors hitting the web.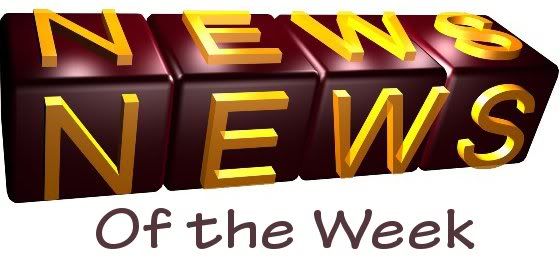 Is OnLive Dead? – Over the weekend, while most of us where enjoying the dog days of summer and watching True Blood, OnLive was busy filing for bankruptcy, firing its staff, and being rescued by Lauder Partners, a venture capital group.
According to a statement released by the newly-restructured OnLive, the company was placed under an "Assignment for the Benefit of Creditors," by which an assigned party takes control of a bankrupt company's assets and debts in an effort to right the ship.
In OnLive's case, the assignee promptly sold the ailing company's assets — described by now-former CEO Steve Perlman as "the software, hardware, network architecture, out logo, all that stuff" in a meeting with employees yesterday morning – to a venture capital company called Lauder Partners, a group that had previously invested in the company.
The sale took place last Friday, the 17th, but Lauder Partners were only identified in a statement this morning.
Via: MTV Multiplayer
There have long been rumors that OnLive was going to be acquired by one of the major console makers. This would bring cloud-based games to the console and in turn presumably lengthen the lifespan of the consoles. Many thought that Sony was going to acquire OnLive and then they went and obtain Gaiku and are rumored to be bringing that cloud-based gaming service to the PS3. Many folks thought this would lead to Microsoft feeling pressured to make a move and in turn gobbling up OnLive. That never happened and the company struggled.
The new owner of the company let about half of the staff go but the rest were retained/re-hired under the new company. OnLive service is slated to continue and games will continue to be available. When the Ouya launches it will support OnLive gaming. But to me, it seems as though the writing is on the wall for cloud based gaming. I've also liked the concept it presented. Doing on the heavy lifting, such as graphics rendering, in the cloud and pushing it down to a box is interesting. The problem is there is some inherent latency in doing that, and consumers would require a pretty hefty internet connection. As more and more people move to robust, high speed internet, the cloud based solution would become more viable.
Personally, I wouldn't be shocked to see OnLive either close their doors or move their focus on to providing video content. The company has tons of servers and in turn that means they have a lot of processing power at their disposal. There are a lot of things that can be done with large, powerful server farms. Don't believe me, just look at Amazon.
Follow 411 on Twitter!
My personal Twitter: @RoundTableNerds
@411mania
@411games
@411wrestling
@411moviestv
@411music
@411mma
Thanks for checking in for your weekly dose of gaming news. It should be interesting to see how some stories, such as the next version of the Xbox and PS3, progress over the next week. As always, please make use of the comments to let me know what you are thinking. Feedback is always welcomed.
Well folks, that's wrapped things up for this week. I'm sure you all are aware that I am a huge fan of the Mass Effect franchise. I've ranted enough about it in this column that I'm its well known. I was privileged to be a guest host on the most recent episode of Quadcast, a podcast dedicated to Mass Effect. This was actually my second guest appearance on the show. If you guys want to hear me talk about my favorite parts of the entire series and about the Leviathan DLC check out the latest show. I had a lot of fun being a part of it, and look forward to going back later down the line.
NULL
comments powered by Disqus