Four Player Co-op 12.19.12: Walking Dead, Angry Birds, Bioshock Infinite, More
December 19, 2012 | Posted by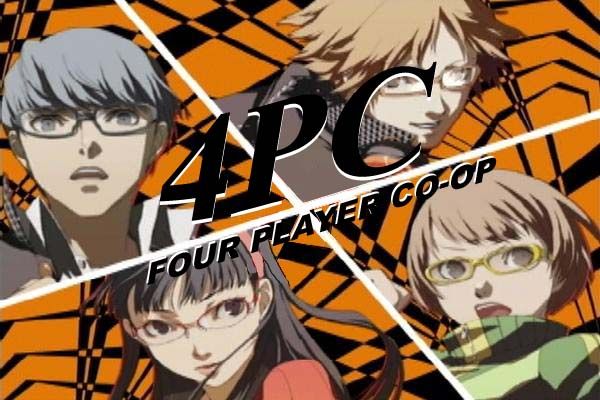 Adam Larck has joined the game.
Dan Watson has joined the game.
Todd Vote has joined the game.
Quizmaster
Greetings, and welcome to what is essentially the last 2012 edition of Four Player Co-op. After this episode, we'll be taking next week off for Christmas holidays, but we will return with the first 4PC of 2013 on January 2nd. So this one has to last you for a while. Maybe read it now, then come back next week and read it again.
I would like to take this opportunity to thank all of our players for sticking with it for another year, even those of you who occasionally missed weeks because you had better things to do. This game doesn't exist without your participation, and I do appreciate it.
Start the game!
QUESTION ONE: Well, it's Christmas, or whatever gift-related holiday you might celebrate in December, and as is customary, I'm sure you've all included some game-related paraphernalia in your annual letters to Santa. So, what did you ask for on this glorious celebration of rampant consumerism (and/or religious observance)?

Adam Larck
Actually, didn't ask for much this year. About the only game I want is FarCry 3, which I'll probably get with a gift card or two. I also asked for a DS title as well which I should be getting (999). There were a few Wii titles (Kirby collection, The Last Story) and Wii U titles (Scribblenauts Unlimited mainly) that I was interested in, but I may get some of those at a later date.

Dan Watson
This year I kept it simple, I asked for Xbox Points, ITunes gift cards, and FarCry 3. I have most of the new games out there, I don't need clothes, and the 26th I will be in New Orleans.

Todd Vote
Believe it or not, Quizmaster, This year, not a single adult is getting a present. With money being tight for just about everybody, we decided that we were just going to buy a crapload of gifts for the kids in our family. We are putting name tags on them, but not who they are from. So the kids will have an awesome Christmas, which is what is most important here. The one game gift I got for myself was Max Payne 3, which a friend was kind enough to pick up for me on Black Friday. I did get one of my cousins Arkham Asylum, and another Supremacy MMA, so there is that.
---
Quizmaster
A couple of votes for FarCry 3, but then Todd had to go and be all noble and remember about how Christmas is really about the children and stuff. I suppose that's worth 426 points.
---
QUESTION TWO: The debate for Game of the Year is already ongoing, and while we don't know what will win 411's Game of 2012 yet, a grand argument is brewing centered around Telltale Games' The Walking Dead, and it's been so interesting I wanted to include some of it for the readers. On one side, those who think that a weak field of games is the only reason Walking Dead gets consideration, and on the other, those who claim it stacks up just fine against past "Best" games. So, pick a side: would The Walking Dead be a worthy GOTY, or not?

Adam Larck
As far as storytelling goes, it's up there with some of the better previous GOTY titles out there. I think a lot of the argument, validly, comes from the size and how it was implemented. GOTY winners and contenders normally have been huge titles from AAA companies. However, this shows that smaller companies can compete and not just with big titles, but with episodic games that tell a great story. It's similar to the Lord of the Rings winning an Oscar for Best Picture. It's deserving, but most award winners are normally films that are outside what the average viewer watches.

Dan Watson
I do not. I didn't have a strong opinion until this weekend. I sat down, "played" the first 3 episodes, and haven't had a chance to go back to the last two yet. The game isn't truly a game, it's a movie with short game moments.

Todd Vote
I think the Walking Dead holds up against the best of the year simply for changing the way we view storytelling in games. Sure, the graphics in the game were not completely without its hiccups, but what game is perfect when it comes to that? The Walking Dead gets my vote in the 411 Game of the Year stuff simply because the story made me care. I couldn't wait till the next month to play the next part of the story. Those that say it is only in the running because of a weak field of nominees, are really only selling short the other games that are in the running. When a DL-only game can be considered in a field that includes Halo 4, Dishonored, Borderlands 2, and others, is that really speaking to a narrow field of games? Don't get me wrong, I do see the downward trend in quantity of quality games, but that doesn't mean that the games nominated for Game of the Year aren't spectacular.
---
Quizmaster
While I recognize that Walking Dead is a surprisingly good game, it's not my Game of the Year, which was going to be Assassin's Creed III up until FarCry 3 came along and blew me away. I do feel like the overall field for GOTY is weaker than most years, with some games (Mass Effect 3, Black Ops 2, Halo 4) only getting votes for being from popular franchises, and no true frontrunner(s) like in years past, but Walking Dead still deserves consideration. I wanted to give Larck 1653 points for his Oscar analogy, but in gaming, the GOTY award usually does go to the massive big budget title instead of the "artistic" indy submission.
---
QUESTION THREE: Apparently, there's going to be an Angry Birds movie, with a budget and a real director and everything. The very concept is so ridiculous that I am forced to make you come up with a plot that could possibly tie in to games about throwing birds at pigs.

Adam Larck
I don't think it will be a tie-in like that. I compare it to the Battleship title. It will have the name, and may feature birds and pigs, but will probably feature a lot more odd stuff than that. My take is that it will show why the pigs started taking the eggs and how they fought back with the help of people because you need to pay actors and who else will launch birds at pigs. Overall, though, I expect it to be as bad as Battleship, if not worse.

Dan Watson
Easy. The birds are playing around and attacked by the pigs. The pigs take the Princess bird and the birds vow revenge. They attack the evil pigs castles by throwing themselves at the walls.

Todd Vote
Instead, how about we just remember the movie Spaced Invaders, that shit was awesome.

---
Quizmaster
Well, I've read worse scripts that your efforts. Not much worse, but I did once get an early copy of a spec script for "House of the Dead". It burned in the presence of sunlight.
---
QUESTION FOUR: Are people seriously complaining about the announced cover art for Bioshock Infinite? Seriously? Does it really matter what kind of wrapping the present that you really wanted comes in? Have you got any thoughts on this argument?

Adam Larck
I can understand some of why they were complaining. The cover almost makes the title seem like many of the other shooters out there with a guy on the front holding a gun and that's it. BioShock Infinite is about much more than just shooting, though, and really is based on the atmosphere and story behind it. However, I agree that it's just a cover. Fans of the series will buy the game regardless and, who knows, the generic cover may help bring in new gamers to the series as well. Plus, there will be a B-side cover and plenty of other covers to download online it sounds like, so there will be something for everyone.

Dan Watson
People bitch about everything. The picture could be anything and people complain. The cover art doesn't mean anything about the gameplay.

Todd Vote
That cover screams Call of Duty, and I'd be willing to bet that is the reason for the uproar. As someone who doesn't really frequent any blogs or forums outside of a couple, this is the first I had heard of people hating on the cover. Well, get over it bitches, never judge a book by its cover. It's what is inside the box that counts, and as like as Irrational delivers a top notch experience, who really gives a shit about the box. Does anyone actually display the box art of their games anyways? Mine sit in a DVD rack with the only thing visible being the spine with the title on it, so who really gives a shit.
---
Quizmaster
Shouldn't people be more upset about the fact that the game got delayed than anything about the art on the box, anyway? Much like Todd, I don't think I could tell you anything about the cover art on any particular games I own, since they're all on my bookshelf 99% of the time. Good enough for 2395 points for Todd.
---
BONUS QUESTION: Okay, I know GOTY has been pretty contentious this year, but look at this trailer and tell me it doesn't immediately jump to the top of next year's list.

Adam Larck
To the top? Not for me. Going into next year without having played anything, I'd have to say that BioShock Infinite may be leading the way for me. Sure, The Last of Us is in the top three for me, but I'll have to play it first before moving it up on the list. Plus, you can't forget that Grand Theft Auto 5 is also coming out next year, and that series is normally a strong contender in the category as well.

Dan Watson
Unless some game ends up being a surprise or they make a walking dead sequel that people overrate, this should be game of the year. Everything about this game screams greatness. Sadly, it looks to take place after R.A Dickey pitches the Blue Jays to the World Series.

Todd Vote
It certainly gets my "Buy a PS3" sense tingling, that's for damn sure. I've been curious about that one since we saw that first teaser with that girl that looks like Juno. Damn, that shit is intense. I will definitely agree that it has all the makings of Game of the Year, but I refuse to put it at the top of any list, because we haven't seen anything but trailers yet. Remember the first Dead Island trailer? Remember how different the final product ended up being? Just sayin…
---
Please wait…Host is calculating scores…
HIGH SCORE

BLUE JAYS WIN?
IF THAT'S THE FUTURE
I SAY BRING ON THE ZOMBIES
COME BACK NEXT WEEK TO TRY AGAIN
411 on Twitter!
Quizmaster's Twitter
http://www.twitter/411mania
http://www.twitter.com/411games
http://www.twitter.com/411wrestling
http://www.twitter.com/411moviestv
http://www.twitter.com/411music
http://www.twitter.com/411mma
NULL
comments powered by Disqus