The Retronomicon 09.20.13: Grand Theft Auto
September 20, 2013 | Posted by
Hello and welcome to another, standard edition of the 411 Retronomicon! Thanks to everyone who left me positive feedback after last weeks special column, where I looked at 6 different games and how they have evolved. I'll cover that in much more detail in a few moments, as first I just want to discuss a couple of things.
First, I'm proud to announce the expansion of the largest independent video game trading community on Instagram. The #RetroCollective have been going strong for a couple of years and now, administered by myself and three other European collectors, they now have a European wing as well as the American one that has been going so well this whole time. So, if you are on Instagram and interested, follow @RetroCollectiveUS, the new page for American traders and if you're in Europe and the UK then it's @RetroCollectiveEurope. It's very exciting to be a part of, so feel free to join us.
Secondly, I'm spending valuable time away from GTA V writing this. It's seriously special. While I've just finished Saints Row 4 and have been struggling to get used to the different controls, it's undeniably one of the finest games of this generation. At this early stage, I don't think it'll blow me away like Red Dead Redemption did, but it's still absolutely incredible. The sheer scale of the world Rockstar have created is unlike anything I've ever seen and I can't wait to get deeper into the game and explore it all.
Enough with the procrastinating, already. Let's do this week's column already.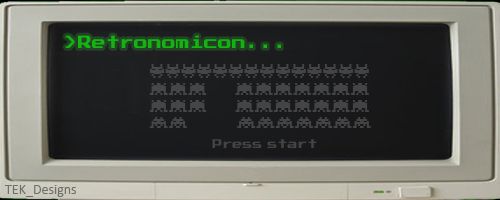 THE FEEDBACK
Last week I looked at the evolution of a few different gaming series. The one that split a couple of readers was Super Mario Bros. Let's look at a couple of the points made and see if we can address them. First up, we have Nicholas Rehfeldt who has the bad kid from Doug as an avatar. I forget his name, but it's still cool. The second comment is from Ben.
I have to disagree with the Mario assumption that it doesn't need to change. Mario has been stale for a couple years now. Im dying for Nintendo to do something epic with it.
Can you imagine a mario game done in a more realistic/serious style? just once? With voice acted cut scenes? Id like to play that.
I really don't know if I can imagine even a "PG-13" style Mario game, assuming that's what you mean. The Mario Bros style is tried and tested and while it may be hitting overkill a little with even Luigi getting his own game, changing it up may be a bit strange. I'd take a Mario RPG remake, mind you, but I'd be interested to hear a little more about your idea if you'd care to elaborate in the comments.
Good article. One part I have to disagree with, the formula for Mario has changed dramatically. Sure, the iconography and the characters are the same, but play the original and then play Galaxy. There's a whole world of difference.
Galaxy certainly is far, far away (yeah, yeah) from the Mario Bros roots, but I didn't even consider it as part of the series. As far as that goes, I'd consider Mario 64 and obviously all of the side scrolling titles as games in the "Super Mario Bros" series, but titles like Mario RPG, Mario Kart and Galaxy I don't treat as the same canon. I'm not saying I'm right in any way, that's just my view on it.
There were other comments, from AG Awesome and G-Walla, talking about the style of the column. So you don't need to go back and check the comments, I'll summarise.
I'll soon be taking a more detailed look at the rise and fall of some publishing houses, likely starting with Square Enix, discussing the Tomb Raider franchises evolution through Crystal Dynamics until the current release. If there are any other classic games publishers that you think I should cover here, just let me know. There's undoubtedly some I've forgotten about.
Anyway, I warned last week that there was a definite chance that this week would be null and void due to my time off work being consumed by GTA, but I figured it wouldn't seem so much of an issue if that was what I was actually writing about, right? Right. So, let's not beat about the bush anymore because, hell. I'm only human and want to immerse myself in Los Santos again.
THE STORY
When upstart developers DMA Design, ran by Dan and Sam Houser renamed Race 'N' Chase Grand Theft Auto, they could not have imagined in their wildest dreams that they were creating arguably the most lucrative franchise in video gaming history. Top down "cops and robbers" game GTA featured the player taking control of one of eight characters, with no discernible differences between one another, as they embark on a crime rampage set in three cities. Completing tasks and earning points completing criminal acts unlocks each city as you go along, with you having completely free reign on where you go and how you play the game. A unique soundtrack and the utter freedom of the city were pretty much unheard of at the time of it's release and the game became a cult hit as soon as it's demo was released to PC gamers in early 1997.
THE AFTERMATH
While the game courted controversy, with the ability to cause havoc, kill innocent people and police, steal cars and deal in drugs, GTA did well enough to get two mission packs, both set in 1960's London. As we all know reading this though, that is not where things ended. Another top-down title was released, GTA2 which was set in the then-not-so-distant-future of 2013 (although that was technically never confirmed), the second title left little to be excited for as games such as Shenmue were showing what bigger developers could achieve with higher finances and the graphics were not improved enough that anyone would be excited about a third instalment. Thankfully, Rockstar North as they were now known, had taken this on board and didn't just go ahead with making a 3D GTA game, they went into it trying to create the most advanced gaming world we had ever seen- which they achieved with the sprawling Liberty City of GTA III.
This was followed up by what many people see as the finest instalment of the series, Vice City. While a whole new game with new mission, city and even a 1980's setting, Rockstar were adamant this was not GTA IV. Vice City introduced many new features, including the ability to ride bikes and jump walls. The final part of the GTA III trilogy was San Andreas, which was the biggest instalment until V. This featured a gang member in 1990's Los Santos and featured everything from base jumping to jetpacks. A few handheld titles came out and were ported onto PS2, with Liberty and Vice City stories both starting life as PSP exclusives, with the DS getting Chinatown Wars later on.
In 2007, GTA IV came out to huge acclaim, sitting at 98 on Metacritic behind only Legend of Zelda: Ocarina of Time at time of writing. This release featured a re-imagined Liberty City and was the first HD title in the series. The massive city, clearly based on New York, took away a lot of the "silliness" of some of the earlier titles. Gone were tanks, jetpacks and the RPG elements introduced in San Andreas, such as eating to keep yourself well. Now, obviously, we have GTA V, which launched to an astounding $800 MILLION first day of sales, so it's pretty safe to say that the franchise is here to stay and more popular than ever.
MY THOUGHTS
While it's pretty safe to say I'm hooked on the new one, the original GTA still stands as being my favourite of them from a personal standpoint. When the demo was first released for the PC, a couple of my cousins downloaded the game at their house (my PC wouldn't play it…. it was only then I started appreciating hardware constraints) and I would regularly spend my evenings there playing it. The issue with the demo was that while it was the full, unlocked game, it was limited to only 2 minutes of play. What this meant was we had to make our own rules as we played took turns, seeing who could cause the most destruction, or get the highest number of wanted stars. With the three of us going all out, when I eventually got a copy of the game myself I found doing the missions normally quite boring.
I think that's always been the charm of the GTA games, though. The sheer volume of things to do without doing anything has always been incredible, right from the start and strangely enough, I find the original game is the only one I can go back to as the 3D universe have done really well at overshadowing the previous release making it hard to go back a game in the series. Graphically, the game doesn't look good but it really doesn't have to, as you'll forget all about it after you first mow down a line of Hari Krishnas- a real sign that the game was created in my home city of Edinburgh, there used to be a lot of them. Gouranga, indeed.
RETRO COLLECTING
GTA for the PC and PS1 aren't really worth anything other than having, unfortunately. Some of the later series games are, such as San Andreas for the original Xbox, but there are collectors edtions with maps and soundtracks you should look out for. Not valuable, just cool.
Love retro collecting? Me too! Share your best finds with me in the comments section or on Instagram! My user name is outafterdark216 and I always post my newest pickups!
With a lot of my time spent on trying to get the Retro Collective Europe off the ground, I've struggled to get out game hunting, but one of the guys on the page sent me a few awesome carts and other stuff, the highlight of which is Castlevania for the Gameboy. Hopefully this weekend fares better for me.
THE END
That's it! I'll be posting a picture on the Facebook page to determine a game for next week, but as for now…… It's Los Santos time! Peace out!
comments powered by Disqus