411 MMA Fact or Fiction 01.09.13: Cormier/Jones, Severn's Retirement, Alvarez to the UFC, More
January 9, 2013 | Posted by
Welcome to a new year of 411's MMA Fact or Fiction, and as always, I'm your host, Wyatt Beougher. Last week, Dustin James and Dan Plunkett looked ahead to 2013 and both myself and the reader vote scored the bout in favor of Mr. Plunkett. This week, we're back to more topical statements, as Patrick Mullin and Todd Vote will debate some of the stories I found most interesting over the past 10 days. Robert Winfree will be guest judging this week, and with the holidays over, you can expect the regular rotation of guest judges to be back into play. Why? For the same reason that I decided to include the reader poll, because I know I'm not the be-all, end-all when it comes to MMA, so I honestly like to have other opinions. With that in mind, let's get down to business, shall we?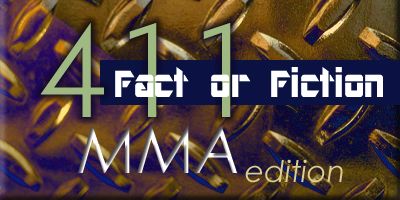 TALE OF THE TAPE
Red Corner
Patrick Mullin
'Star'
Columnist, The Blueprint/Ground and Pound Radio Show Collaborator
2-0-1
VS
Blue Corner
Todd Vote
'The Man Without a Zone'
Regular, 4-Player Co-Op (Video Games Zone)/MMA Fact or Fiction
5-5-0

---
1.) Renato Sobral made the right decision in choosing not to participate as Fabricio Werdum's assistant coach on the second season of TUF: Brasil in order to better prepare for Bellator's season eight light heavyweight tournament.
Patrick Mullin: FACT – There was a point in time when Babalu was looked at as one of the top light heavyweights in the world. That time was close to a decade ago though and opportunities are limited for Sobral after he burned his bridges with Zuffa trying to kill David Heath. So when Bellator gave him the opportunity to fight for six figures and a shot at their championship how could Babalu devote any attention to anything else? He also happens to be fighting in a tournament with one of the premier light heavyweights in the world in Mo Lawal and even if he didn't win the tournament a win or competitive showing against someone of that caliber could absolutely revitalize his career. While it would be nice for Babalu to be seen on TV(albeit in a very limited capacity) under the Zuffa umbrella he's getting something professional athletes hardly ever get in their careers, a second chance. This is the last opportunity for Babalu and he has to make the most of it.
Todd Vote: FACT. He absolutely made the best choice. Babalu is a fighter first and foremost. If being an assistant coach on TUF: Brazil had even a chance to throw him off his fight game for the upcoming tournament, then yes, he made the absolute right call. What did he have to gain from being an assistant coach on the show? It's not like being Werdum's assistant is going to suddenly make Dana White want to sign him to another UFC contract. So I say that unless Sobral was already looking to a life beyond fighting, he was 100% correct in choosing to prepare for his upcoming tournament as opposed to coaching on TUF: Brazil. Even if he loses in the first round and gets knocked out of the tournament, I would still say this was the right call for him.
Judge Wyatt Beougher's Scorecard: Both guys in agreement here, and it's hard to fault them for their answers; still, though, I'm hoping one of these times that I send out one of these 'Fighter A made the right call by doing Y instead of X' statements, someone's going to disagree with me. Since that didn't happen, I'm scoring this one a Draw, 10-10
Judge Robert Winfree's Scorecard: Both men make essentially the same point here, Sobral is unlikely to ever fight in the UFC again and needs to keep his priorities straight. Since their points are so similar it comes down to minor details, and I have to give an edge to Mullin for also pointing out the involvement of King Mo. 10-9 Mullin, 10-9 Mullin overall

---
2.) Bellator 360 is an excellent idea and will help to get viewers emotionally invested in the fighters featured on the show, as well as helping to build up to Bellator's bigger fights.
Todd Vote: FACT. It draws attention to some of the better fighters and the better fights the organization has put on. Shows like this can be a big boost to the overall product just by simply raising awareness. Judging by the ratings for the show's back to back premier episodes, I'd say it is already working. They averaged just under 500,000 viewers, a number they wouldn't have dreamed of on MTV2. Add in the fact that the number of viewers increased for the second episode, and I would say that this is arguably already working in Bellator's favor. Spike TV needs to just get behind the show now, and promote it.
Patrick Mullin: FACT – Any sport whether they realize it or not lives and dies by audience participation. Be it by having fans buy tickets to the show, wear the t-shirt of the company or their favorite fighter, we're the collective lifeblood of mixed martial arts because if it wasn't for us these guys would be fighting in empty arenas with no television coverage and no one would care. So when you can find new ways to increase the participation of your audience and draw in new viewers by presenting them with an opportunity to help mold how fights are booked how can it hurt? Imagine the feeling you'd get if you help guide a fighter through their Bellator run and they go all the way to a title. You're giving fans without a connection to the sport at all to say "Hey, I was there from the beginning with this guy and now he's a champ!" Its giving the fans the opportunity not only to interact with Bellator and its fighters, but to share in their success. That's a feeling that you just can't have any other way.
Judge Wyatt Beougher's Scorecard: I loved Patrick's answer, but Todd got into the brass tacks with the ratings and how they've both already dwarfed what Bellator was doing on MTV2 and how they increased from the first episode to the second. If we did half point rounds, Pat would've gotten a 9.5, but as it is, Todd takes this one. Vote, 10-9
Judge Robert Winfree's Scorecard: While both men go FACT here, both use different logical approaches. Mr. Vote points out the numbers associated with moving from MTV2 to Spike. Mr. Mullin makes a very good point about emotional investment in fighters and how it can pay off in a big way. I can't disagree with either. 10-10 DRAW, 20-19 Mullin overall

---
3.) In spite of Bellator's counter-offer, Eddie Alvarez will join the UFC in 2013.
Patrick Mullin: FICTION – I had a difficult time answering this question. Money talks and that other stuff walks and in the eyes of many taking on more difficult work for the same money as an easier job is seen as a foolish move. But this is the fight game we're talking about and the great ones always want to cement their legacies by fighting against the very best and proving their worth. What really was the clincher for me was watching Eddie's fights with Patricky Pitbull and Michael Chandler though. Really you could watch any of Eddie's fights though and come to the same conclusion; the guy doesn't believe in playing it safe. Eddie Alvarez is a risk taker willing to put it all on the line. While he's been the face of Bellator I think everyone understands that this is about more than the money, this is about a need for Eddie Alvarez to prove to himself he really is one of the best fighters in the world. Aside from a rematch with Michael Chandler there's nothing Bellator can offer him that would be worthwhile to him that he wouldn't get with the UFC. Eddie Alvarez has the spirit of a fighter inside of him that can only be satisfied with fights against the guys at the top of the game, and they're in the UFC.
Todd Vote: FICTION. Now I am not a lawyer, so I am going on assumptions here, as I was not able to find any solid info on what exactly the offer matching period means for Bellator. If I am understanding correctly, as long as the offer Bellator makes to Alvarez matches that of the UFC's offer, they can keep him in the fold. So I would say them matching the offer would mean that Eddie is staying put. However, if that just means that Zuffa can counter the offer again and offer more money, then yes Bellator's counter offer will not keep him out of the UFC. I'm going to go with Fiction, simply because I don't know all the details of the matching period, or how it all works.
Judge Wyatt Beougher's Scorecard: Unfortunately, I didn't have time to check with Pat and see if he meant FACT before I sent their responses off for judging (I don't actually read the responses until I judge them myself, as I don't want to favor either competitor's response before I can read them both), so I'm going to assume that's what he meant. And while he makes a great point, this statement was sent out prior to the news breaking that Bellator would be suing Alvarez to attempt to keep him with the promotion, so I honestly think that Todd's got the correct answer here. Vote, 10-9
Judge Robert Winfree's Scorecard: Theoretically these two disagree here and I believe Mr. Mullin meant to go with FACT, but I can only work with what I've got here. Since Patrick pretty much countered his own stance with his argument this one goes to Mr. Vote. 10-9 Vote, 29-29 overall

---
4.) If he drops to light heavyweight, it makes sense to match Daniel Cormier up against Jon Jones, as Cormier will provide the biggest challenge of Jones' title reign.
Todd Vote: FICTION No, no, no, no. There are several people in line waiting for a shot. With Cormier considering the drop to LHW, why should he get to slingshot past those people? Especially coming into a new weight class. How can some folks have a problem with Vitor challenging Jones, then Sonnen doing the same, yet be okay with Cormier coming in and jumping past everyone else to get an immediate title shot? A title shot should be earned, not handed out just because someone asked for one. This new practice in the UFC of giving people title shots because they piss off the champ or because they are coming into the promotion with a bit of momentum should stop. Or at the very least, if Cormier comes in to an immediate title shot, shouldn't Strikeforce's other champions be afforded the same opportunity? Will Luke Rockhold or Nate Marquardt be given this same opportunity, or is this little benefit only suitable for Cormier and Melendez?
Patrick Mullin: FACT – In terms of skills it's pretty damn hard to find someone as good pound for pound as Daniel Cormier. He's an Olympic level freestyle wrestler who has turned himself into a terrific MMA boxer with the power to drop big heavyweights. He's as talented a fighter as there is in mixed martial arts so how could it not make sense to match him up with Jon Jones if he decides to drop to 205 pounds? Jones has dominated every light heavyweight he's faced and no light heavyweight at this point would or should be favored against him. Cormier however is at worst case even money with Jones if not seen as a favorite. He's a better wrestler with a lower base which makes him more difficult to take down and in better position to shoot on Jones. He's shown much better stand up technique in terms of defense while mixing in good combination punching and surprisingly quick kicks. This is a fight that would literally be must see for anyone who considers themselves a fan.
Judge Wyatt Beougher's Scorecard: As one of Vitor Belfort's most outspoken critics (at least in terms of him getting unearned title shots in the UFC), Todd's answer definitely resonates with me, but as a fan of the sport, it's hard to argue with Pat's answer. While I don't see any way in hell Cormier would be favored against Jones, especially since he's never made the cut to 205 before and Jones would still have a 13 ½" reach advantage, I'd still rather see Cormier across the Octagon from Jones more than any other light heavyweight not named Dan Henderson. This was a very difficult round for me to score, maybe the toughest in my tenure as ForF host, but in the end, I'm going with Pat here. Mullin, 10-9
Judge Robert Winfree's Scorecard: I'm really torn here, because I have to agree in large part with Mr. Vote's stance on seemingly random people being awarded title shots. On the other hand Mr. Mullin is correct in pointing out that Daniel Cormier at 205 is the only possible threat to Jon Jones at this point. Given that the only real challengers at this point at light heavyweight are Alexander Gustafsson and Dan Henderson, and with a loss either guy could be tossed out of the discussion, I've got to give a slight edge here to Mullin. 10-9 Mullin, 39-38 Mullin overall

---
5.) Dan Severn will come out of retirement if one of the three men he wanted to fight before retiring (Ken Shamrock, Mark Coleman, or Royce Gracie) agrees to fight him.
Patrick Mullin: FACT – Dan Severn will always be the guy who I credit with bringing me into MMA. When I saw him German Suplex one Anthony Macias at UFC 4 I instantly became a fan. While Dan has announced his retirement and has been talking about it for the last few years, I have no doubt in my mind that were he able to secure a rematch with Royce, Ken, or Coleman he'd be in the gym as soon as he could. Dan Severn is a proud athlete and one of the pioneers of MMA in the United States. Proud athletes hold on to losses though and always want the chance to avenge them or take a rubber match to prove superiority. For as many years as Dan has talked about retirement he also talked about these rematches. When he was at the mark of 98 wins he said he'd retire at 100 and wanted 99 & 100 to be Royce and Ken Shamrock or Mark Coleman. He's already passed 100 victories so what's two or three more bouts if it gives him a chance to even or better the score with the men he considers his three greatest rivals?
Todd Vote: FACT. Why not? Severn himself said he wanted to fight all of those guys before he retired, but was just unable to put any of the fights together. Plus it is not like he has been retired for years, the man literally just hung his gloves up last week. I would see no problem with him putting off his retirement in order to take one last fight with the men you listed. He has earned the right to make that choice. He is the Beast after all.
Judge Wyatt Beougher's Scorecard: Both guys in agreement here, and when I sent the question out, I figured this to be an easy FACT; however, in an interview after his retirement, Severn seemed resigned to the fact that if he couldn't get those fights scheduled in 2012, he was well and truly done with his illustrious career. Would I be surprised if he came out of retirement for any one of those fights? Actually, I would, but it wouldn't totally shock me. I'm giving Pat the very narrow edge on this one for pointing out that like so many other proud athletes, Severn's pride would likely be the motivating factor for him to come out of retirement. Mullin, 10-9
Judge Robert Winfree's Scorecard: Both men agree, which is always difficult. Making essentially the same point in pretty much the same way, I've got to call this round a draw. 10-10 DRAW, 49-48 Mullin overall

---
Official Scorecard
Judge Wyatt Beougher scored the bout a Draw, 48-48.
Judge Robert Winfree scored the bout in favor of Patrick Mullin, 49-48.

---
So there you have it – I thought Pat and Todd drew, while Robert scored the bout in favor of Pat. Who do you think won?
Alistair Overeem, Bob Sapp, Mark Hunt, and Kazushi Sakuraba arm wrestling and competing in tug of war contests is far more exciting than anything on the Japanese MMA scene right now.
Todd Vote: FACT Is there really even much to the Japanese MMA scene right now? Seriously, DREAM is all but finished, what is left over there? 1FC, but they are technically based out of Singapore.
Patrick Mullin: FICTION – All one had to do is watch the New Year's Eve show co-promoted by DREAM & GLORY to see how good the Japanese MMA scene can be. Bibiano Fernandes continued to show his awesome skill set with a big win, K-1 Shinya Aoki put the hurt on Antonio McKee, Melvin Manhoef produced another highlight reel KO over Dennis Kang, Kawajiri went to war with Omigawa, and some excellent kickboxing bouts were provided throughout with stars like Jerome LeBanner, Semmy Schilt, and Daniel Ghita. For my money this was the best MMA show of 2012 and shows like this happen often in Japan. While freakish arm wrestling bouts are fun they're nothing compared to a great MMA card.
Judge Wyatt Beougher's Scorecard: While Pat veers into Mark Radulich "Obscure Sports Quarterly" territory with his love of Japanese MMA/kickboxing hybrid shows, I'm giving him this round based solely on his enthusiasm for the sport. Personally? I'll take arm wrestling and tug of war any day. Mullin, 10-9
Judge Robert Winfree's Scorecard: While I agree in large part with Patrick and the New Year's Eve show, the reality is that was one show. The Japanese MMA scene is pretty barren on the whole. 10-9 Vote

---
And that's it for this week! Again, make sure you sign up for the new comments system, so that you can let us know what you thought about this week's contest! As always, if there's anything you'd like to see featured in next week's edition, leave your statement in the comments and I'll add it in for next week. Let us know what you thought in the comments, on Twitter, or on Google+.
NULL
comments powered by Disqus