411 MMA Fact or Fiction 01.16.13: Marquardt, Barnett, Palhares, More
January 16, 2013 | Posted by
Welcome to another edition of 411's MMA Fact or Fiction, and as always, I'm your host, Wyatt Beougher. Last week, Patrick Mullin and Todd Vote went head-to-head, and while I scored the fight a draw, guest judge Robert Winfree thought that Pat won. In the end, the reader vote agreed with Robert, giving Pat 50% of the total vote. Thanks to Pat and Todd for doing a great job last week, and to Robert for the excellent judging. This week, we've got ForF veteran Stewart Lange taking MMA Zone newcomer Robert Cooper, one of the wonderful writers from our Music Zone. I picked this match-up because Stew moonlights in the Music Zone quite a bit as well, so it seemed like the most appropriate pairing. Joining me at the judges' table this week will be none other than Todd Vote, who I believe has usurped Stewart for most appearances as a contestant or judge in MMA Fact or Fiction since I took over the hosting duties.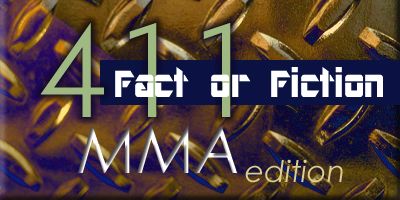 TALE OF THE TAPE
Red Corner
Stewart Lange
'Pain in the Dick'
Host, The 411 Magazine Show
2-0-0
VS
Blue Corner
Robert Cooper
'Heavy Metal Tomato Can'
Columnist, Hammer of Doom News Report (Music Zone)
And our special Guest Judge
Todd Vote
'The Man Without a Zone'
Contributor, 4-Player Co-Op (Games Zone)/Fact or Fiction

---

That's what Marquardt's thigh looked like at the conclusion of the fight. Leg kicks don't win fights, huh?
1.) Based on his loss to Tarec Saffiedine, plus his history with the UFC, it would be surprising if Nate Marquardt was offered a UFC contract.
Stewart Lange: FACT At least, initially it would be quite a surprise if they offered Nate "The Great" a contract straight out of the gate because, quite simply, we all know how Uncle Dana likes to hold a grudge and make sure the whole world remembers it. Marquardt was a top fighter in the UFC but when he was cut and subsequently signed again with Strikeforce, Dana must have known the time would come he'd have to go back on the firing. This would have been made even more nerve-wracking considering going into his last fight, Marquardt was reigning Welterweight champion but, thankfully for White, Marquardt lost so he doesn't "need" to sign the guy. My only counter argument for this is that if White was truly against Marquardt's return as potentially the undefeated Strikeforce champion, he has enough pull within Zuffa to have potentially stopped Nate from the shot in the first place, but now he's in the position to not even have to admit anything and if he wants to be a dick, then he can be.
Robert CooperFACT I really had to think about this for a second, because while I know that they wont bring him in as a Welterweight without the belt, I thought maybe they'd bring him in as a Middleweight. Uncle Dana doesn't exactly like fighters that become unavailable when they should be for a fight (like Marquardt did against Rick Story), and I think that, at least as a Welterweight, Marquardt is screwed without the golden ticket that is, the Strikeforce Welterweight Title. The one thing that I did think of briefly was maybe him coming back as a middleweight, because there are plenty of fights for him there. Then I thought about the fact that they already have a nice amount of talented fighters in that division, plus it tends to logjam every year due to Anderson Silva's typical 1 or 2 fight a year schedule. There is no real need for him in the UFC with fighters like Luke Rockhold, Jacare Souza, and Tim Kennedy are coming in (hopefully), and that will make things even more interesting.
Judge Wyatt Beougher's Scorecard: Both guys in agreement here, and while I could see this issue going either way, Dana has said in the past month or so that he had no issues with Marquardt or with bringing him back into the UFC, so it remains to be seen if that was just talk because Nate was at that time the Strikeforce champion or if he legitimately meant it. As for the responses at hand, then – Stew approaches it by way of conspiracy theory, while Coop points out that there isn't a huge need for Marquardt in either division he could potentially fight in. Very close round, but I'm giving it to Cooper, 10-9.
Judge Todd Vote's Scorecard: I'm calling this round a draw… Both guys got it wrong, Dana has already went on record as saying that Nate "The Great" will be back inside the octagon. Even going so far as to say Marquart would be back win or lose against Saffiedine. 10-10 Draw (10-10 overall)

---

Maybe he can step in for Overeem if Alistair gets popped again?
2.) Based on his impressive win on Saturday night, Josh Barnett should be joining fellow Grand Prix finalist Daniel Cormier in the UFC.
Robert Cooper: FACT I think this question is a no brainer. Of course they should sign him! I think it's been long enough that the UFC very well may give him another chance. The dude is a Top 10 Heavyweight, I'm sure of that. He still has a metric crap ton to bring to the table, and the great fights that he could have in a heavyweight division that could use more big names are endless. What I think really helps his chances is that, if Cormier wins, he is probably going to drop a weight class, meaning that Josh Barnett is their next biggest Strikeforce name to bring who hasn't gotten popped for steroids as of late. If Cormier doesn't win, bring Barnett in and have a rematch of the finals for the Strikeforce Heavyweight Tourney, I think that'd at least have a decent draw to it. I think the only things that could stop this are Barnett's mouth and his history with the UFC, which as we all know, is about as great as Kevin Randleman's history with concrete floors. But I think Uncle Dana will give him the benefit of the doubt, and hopefully he won't pull a Chris Leben and get caught juicing for the gazillionth time.
Stewart Lange: FACT I think Robert covers this fairly well in terms of why he'd like to see Josh Barnett back in the UFC, but he does seem to underestimate the fact that he's the most problematic Heavyweight fighter in the world, including those of Dutch lineage. Dana White knows this and much like Nate Marquardt, I'm worried that Josh will suffer from the "I'm Dana White, f*ck you" attitude we all know that White holds up as and when he pleases.
Luckily for Barnett, I think that he's probably the one man in Strikeforce who is likely to make the UFC some money, which should see him in the octagon without huge issue. I believe Barnett outdraws Melendez and Rockhold, probably combined to be honest, so Barnett and White will likely reach an arrangement and rightly so. I'd be much more excited to see Barnett fight than about 80% of the existing UFC heavyweights.
Judge Wyatt Beougher's Scorecard: Stew should be glad Mark Radulich isn't guest judging this week, or he'd have lost this fight after this round with that last sentence. Both guys with good, solid, reasonable answers here. My only issue with Stew's response is that I don't think Barnett is more problematic than Overeem at this point in time, because Overeem is currently suspended (or in the process of being reinstated anyway) and just tested positive for steroids last year, while Barnett hasn't had a failure in over three and a half years (and it's not like he's been inactive in that time, having fought six times in that span. For that reason, Stew goes even further down on the scorecards. Cooper, 10-9
Judge Todd Vote's Scorecard: A very close round between these two men, both give solid answers, but I think I'm going to have to go with Stewart here based on the fact that he brings up what it is all about in the end, the almighty dollar. 10-9 Lange (20-19 overall)

---

Is Paul Harris done in the UFC?
3.) Based on his history of mental lapses inside and outside the Octagon, plus a failed drug test, you expect Rousimar Palhares to be released by the UFC.
Stewart Lange: FICTION How can you not find Rousimar Palhares endearing? The guy is mad as a bag of cats but is a dangerous fighter and has enough experience against decent competition that a win over him means something. Did Hector Lombard knock crap out of him? Yes, but it was fun. Now he's failed a drug test and picked up a loss or two, he meets the criteria to be let go by the UFC, but I think they'll keep him on, ala Chris Leben and try and help him back onto track during and after his suspension. I'd be disappointed if he were to be released, but something tells me he'll be okay.
Unless he's gone between Sunday when I write this and Wednesday when this goes out, which has cost me points with the judges before.
Robert CooperFICTION I almost changed my answer, but upon further review I've decided that he might get one more shot. The dude has had more brain farts in the octagon than Shane Carwin has had training injuries, and I think that adding the fact that he just got popped for steroids is not something that helps his madness either. But the dude is by far one of the more deadly fighters in the Middleweight division, without a doubt. He has only lost 5 times in his career, while the first was probably just a early career slip-up, the rest of the fights have been to very game people like Dan Henderson, Nate Marquardt, Alan Belcher, and now to Hector Lombard. It's not like the guy is Bob Sapp, he can still contend with most of the guys in the division, and if he gets near a leg, his opponent is through. I think that he wont exactly be fighting in any main events (unlike Alistair Overeem) once he comes back, but he will (probably like Chris Leben probably get to fight his way back to the top. I think that he and Chris Leben should have a "Loser Leaves Town" fight once Palhares comes back, Leben is coming off of a bad fight, as well as two straight losses, Palhares is coming off of a drug bust, and two straight losses, perfect!
Judge Wyatt Beougher's Scorecard: Another very close round, but I'm giving this one to Stew, because while Coop had an excellent zinger with his Shane Carwin crack, Stew used "mad as a bag of cats" and "knock crap out of" in the same response. What can I say? I'm a sucker for regional colloquialisms! In all actuality, Coop lost this round because he pointed out the infallibility of Palhares' leg-based submission game, while pointing out that Palhares had lost to Belcher earlier in the same sentence. If you remember that fight, Palhares had Belcher's leg locked up more than once, but Belcher was able to escape and then submit Palhares with a leglock of his own. Technicality? Yes, but when the rounds are this close, sometimes that's all I have to go on. Lange, 10-9
Judge Todd Vote's Scorecard: Really surprised that neither participant expects Palhares to be released, but then they both mention how Dana seems to sometimes want to help his fighters out, like Chris Leben. Maybe Palhares will get the same respect. Giving the round to Coop, based on his use of the words 'brain fart', and for his loser leaves town fight idea. 10-9 Coop (29-29 overall)

---

Does the UFC's contract also contain a giant novelty check clause?
4.) Bellator's lawsuit to retain Eddie Alvarez's services will be unsuccessful, as they have no realistic way to match the UFC's offer since it contains PPV points as an incentive.
Robert Cooper:FACT Though how long it will take them to be unsuccessful is the thing I'm thinking about. This really reeks of a nasty divorce to me. The new girlfriend has everything the future ex-wife has, but the soon to be ex-wife does not want this guy going to this girl, and will fight him just out of spite. Bellator is more than likely not going to PPV anytime soon, and if they did, I don't think it'd make enough money for them to even afford to give Eddie Alvarez any more money. I do think that Bellator will drag this out as long as possible, maybe to try and starve Alvarez back? I don't know, but that is what it sounds like to me. Fighters don't exactly make millions (at least, most of them), and I know Alvarez is going to have to pay bills eventually, so maybe that is what Bellator is trying to make it to where they're the only option. There is still a fight with Michael Chandler he has to avenge, but I don't know if that's quite as juicy as fighting his way up UFC's packed lightweight division. Time will tell, but I think within the next year or two, he'll be in the UFC.
Stewart Lange: FACT This is a really sad state of affairs and while I don't blame Bellator for wanting to protect probably their biggest name, but god. It's pretty much Bellator being as selfish as they were during the whole Tyson Nam issue and look how that ended up. Alvarez will end up as a UFC fighter, likely this year, but Bellator wants to get as much money and time out of losing their star draw as possible. The divorce analogy is pretty good, as they just seem to be doing this purely to be a nuisance rather than make a real effort to keep Alvarez. This will have fizzled out within a couple of months and we'll see Alvarez completely wasted on the prelims of a UFC on Fuel card by August.
Judge Wyatt Beougher's Scorecard: Both guys missed out on the other details of Alvarez's potential UFC contract, apparently – he'll be receiving a UFC lightweight title shot upon his arrival, so he won't exactly be fighting his way up the lightweight division OR wasted on the prelims of a Fuel card. With that said, Coop nearly takes the round with his divorce analogy, but Stew brings it back by pointing out that Bellator did the same thing with Tyson Nam. I hate to do it, but I've got no other choice: Draw, 10-10
Judge Todd Vote's Scorecard: Another very close round. I'm going to have to give it to Coop. I think Stewart underestimates just how long this legal battle could keep Alvarez tied up. 10-9 Coop (39-38 Coop overall)

---

This is what I'll forever remember Strikeforce for.
5.) Strikeforce will be remembered more for their terrible last year than the impressive run
Stewart Lange: FACT It's a shame that we live in such a "what have you done for me lately?" kind of world because when Strikeforce was good, it was great. We've had a lot of great fights in the organisation, with some big names even coming out and proving themselves as world class. Unfortunately, the last 18 months have seen Strikeforce run into the ground to the point the world's former number 2 MMA company is now viewed as a laughing stock that many people are glad to see the back of. Personally, I think it's very disappointing because a lot of the problems were not in cage and that's really what we should be remembering, a fun cage fighting company rather than a badly managed and neglected business.
Robert CooperFICTION I had to think about this for a second, because this year has been a wash for Strikeforce, with their only real bright points being the finale of the Heavyweight Grand Prix, a final awesome Melendez/Thomson fight, and Ronda Rousey shooting to the stratosphere. The rest of the year was pretty meh, with a cancelled card, their rising star in Tyron Woodley was squashed by Nate Marquardt, and even Marquardt got his leg kicked off by someone Woodley lost to, but I digress. I think that history tends to remember the good more than the bad. In wrestling, do you think of the rise of the NWO for WCW, or do you think of 2001 WCW? I think most would say the NWO (though some poor bastards will remember 2001 better). Metallica are usually remembered by their classic string of 80s albums (and the black album), rather than their less metal 90s material (unless you're one of my column regulars than anonymously post Fuck Metallica every time they're mentioned). I think Strikeforce will be remembered for the rise of fighters like Gilbert Melendez, Cung Le, Ronda Rousey, Daniel Cormier, and maybe even Tyron Woodley. They'll also be remembered for being the home of Fedor, women's MMA, Jake Shields (maybe), and the place that had a good Heavyweight tourney. They did a lot of damn good things and positives that they brought to the MMA world, just not this year. I think that Strikeforce are going to be remembered quite fondly in the future, because this year for them was just bad and forgettable, and the fair lady of history usually forgives the bad and forgettable as just that.
Judge Wyatt Beougher's Scorecard: Damn, this was another difficult round. Stew's got one of the few undefeated records in Fact or Fiction, but this kid, I CALL HIM TOM BRADY BECAUSE HE JUST COMES OUT OF NOWHERE TO SHOCK THE VETERAN(/Jon Gruden), he's really made this into a contest. Short-term, I think Stew's right, but long-term, once some time has passed, I think Coop is probably right, so again, I'm forced to go with a Draw, 10-10
Judge Todd Vote's Scorecard: Stewart takes this round, Coop is being optimistic, even when saying people will remember the NWO over the rest of WCW. Stewart is right when he states that we very much live in a "What have you done for me lately" society. 10-9 Lange (48-48 overall. Draw) [Editor's Note: Apparently, Todd missed the memo that we just ignore contestants making wrestling references because it makes the commenters mad. Oh well… – W]

---
Official Scorecard
Judge Wyatt Beougher scored the bout in favor of Robert Cooper, 49-48.
Judge Todd Vote scored the bout a Draw, 48-48.

---
So there you have it – Todd scored this one a draw, while I thought newcomer Coop narrowly edged out the veteran. Let me know who you think won in the comments and be sure to vote in the poll – your voice counts!
---

This is the fourth most popular image when you search Google for "Stemm UFC". Rachelle Leah is much more visually appealing than Stemm, believe me.
Bonus) Now that the UFC is partnered with FOX, they need to ditch the nu-metal themes for their shows and go with something more updated.
Robert CooperFICTION I am the resident metal writer on this site, and by having that office, I usually do not condone the use of nu-metal for anything, because I do not like it very much, and it makes metal-metal look bad. But I think that there is a certain charm that is has that works well with MMA. I think a lot of people stereotype MMA fans a certain way, and nu-metal probably fits that stereotype a certain way. Besides, as bad as nu-metal is, "Boom" by P.O.D. has a whole movie named after it, and there is a certain energy that comes from the nu-metal that you won't get from other genres. I don't think you'll get quite the same feel from Taylor Swift, though some writers on the site would welcome that change.
Stewart Lange: FICTION Why? If the song is recognisable, then what does it matter? At the end of the day, UFC programming is just that – a TV show. If people associate a song with a show, then I don't think it should change except in the event of a major reboot. Now, I know that Nu-Metal isn't really a "thing" anymore, but it suits the style of the UFC broadcasts. If you had suggested something else, then I might have been inclined to answer with FACT, but without a valid alternative suggested to me, I see no reason to change from the likes of Stemm.
Judge Wyatt Beougher's Scorecard: As I mentioned in the intro, both Stew and Coop have ties to the Music Zone, so I figured it was only appropriate to include a music-based question for the Bonus. Surprisingly, neither guy went with Fiction. I thought with Robert being a metalhead and Stew enjoying Block Party and a bunch of other bands that are more obscure than even I listen to (and my tastes are pretty far-reaching), both guys would be in favor of ditching the nu-metal, which hasn't been cool since…well, it's never really been cool. Needless to say, I'm shocked that they both opined along the lines of "if it ain't broke, don't fix it…", so it comes down to the intangibles of their answers, and I'm giving Coop the narrow nod for making me picture a UFC event starting with a Taylor Swift song. Trouble, anyone? (And, since I pointed out earlier that Stew was lucky that Radulich wasn't guest judging, Coop was extremely fortunate that Jeremy Lambert wasn't a guest judge with this response.) Cooper, 10-9
Judge Todd Vote's Scorecard: I'd like to rule this round a draw, and also if possible take points away from my fellow judge, Wyatt. The FOX deal is not a reason to change out the familiar music that has become synonymous with the UFC. Besides, they do use other music, as far as advertising, and things of that nature. 10-10 draw, and -500 for Wyatt. [What do you think this is, 4-Player Co-Op? We don't just toss points around like they don't matter around here…except in the bonus round. Well-played, Vote. However, I maintain that nu-metal sucks. -W]

---
And that's it for this week! Again, make sure you sign up for the new comments system, so that you can let us know what you thought about this week's contest! As always, if there's anything you'd like to see featured in next week's edition, leave your statement in the comments and I'll add it in for next week. Let us know what you thought in the comments, on Twitter, or on Google+.
NULL
comments powered by Disqus