411 MMA Fact or Fiction 01.23.13: Bellator's Spike Debut, Curran/Pitbull Rematch, Belfort's Title Hopes, More
January 23, 2013 | Posted by
Welcome to another edition of 411's MMA Fact or Fiction, and as always, I'm your host, Wyatt Beougher. Last week we saw Stewart Lange's return to action against Robert Cooper, who was on loan from the Music Zone. Coop acquitted himself remarkably well for his first go in the MMA Fact or Fiction cage, and I scored the bout in his favor, while guest judge Todd Vote scored the bout a draw. When the fan voting closed, Stewart picked up exactly 50% of the overall vote, meaning the fight ends up a draw. This week, Stewart was kind enough to fill in for fellow Frenchie Jonathan Butterfield on short notice, and he'll be taking on Mark Radulich. Joining me at the judges' table this week will be none other than Patrick Mullin. We've got a great contest for you this week, so let's get things underway!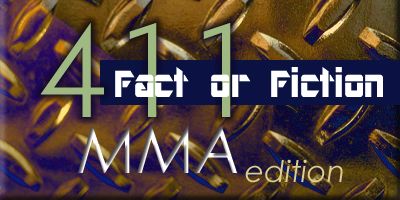 TALE OF THE TAPE
Red Corner
Mark Radulich
'Headshrinker'
Host, The 411 Ground and Pound Radio Show/Live Coverage Guru/MMA Judge
3-2-1
VS
Blue Corner
Stewart Lange
'Pain in the Dick'
Host, The 411 Magazine Show
2-0-1
And our special Guest Judge
Patrick Mullin
'Star'
Columnist, The Blueprint/Ground and Pound Radio Show Collaborator

---

Yup, that's a rematch worthy performance, right there.
1.) Vitor Belfort deserves a rematch with Jon Jones.
Mark Radulich: FICTION Phase 1: Win or lose a match in one weight class. Phase 3: Profit Get a title match in a completely different weight class. We live in a world where everyone laughs their head off at the idea of Mark Hunt replacing Alistair Overeem against Junior Dos Santos but Middleweight Chael loses to Middleweight Champion Anderson Silva twice and gets not one but two title fights offered to him against LIGHT HEAVYWEIGHT Champion Jon Jones. We live in a world where Nick Diaz loses to Carlos Condit and then tests positive for marijuana metabolites and stll jumps the line ahead of Johnny Hendricks and gets a title shot against GSP. Finally, we live in a world where Frankie Edgar loses not once but twice in the lightweight division and gets a title shot against Jose Aldo anyway. Now I'm not complaining about any of this because I understand the need for matches that will sell tickets and I also understand that every one of the situations I described above was different from each other and that is fine. However, get the hell out of here with this, "deserves" stuff. There is no such thing as "deserves" in the UFC. There is only what sells tickets and what makes sense at the time. Vitor Belfort doesn't deserve a damn thing other than a fight against a quality opponent. He sure as hell doesn't deserve a 2nd shot at a champion in a different weight class who soundly finished him. By this logic, why not give an immediate rematch to Rashad Evans? At least he's in the right weight class and wasn't finished by Bones. I would sooner give Vitor another shot against Silva but frankly he doesn't deserve that either. Luke Rockhold wants to fight Vitor in San Jose, make that happen. If Vitor wants to fight at Light Heavyweight and get a rematch with Bones then let him fight the winner of Machida vs Henderson or Gustafsson vs Mousasi or Evans vs Lil Nog. There's making a nonsense fight because you have few good options or there's money in it and there's just nonsense. Vitor Belfort vs Jon Jones II right now is beyond stupid. No buys.
Stewart Lange: FICTION Indeed he does not, good sir. Allow me to explain why. Belfort, in my mind, fought Anderson Silva for the Middleweight title by default, more than anything else. I was totally shocked when he got the fight against Jones though. No way did he deserve that one, considering he defeated Anthony Johnson in an accidentally 205lb bout to set the fight against Bones. Now, he fought and defeated a man who had been all but promised a title match at 185lb in Michael Bisping and while the win was good and all, what makes Vitor think anyone wants to see him and Jon Jones again? He's really got to be winning a bout at 205lbs and show he's wanting to move up in weight properly first in my mind.
Judge Wyatt Beougher's Scorecard: I'm torn here – both guys go "Fiction" and then go in different directions and both guys are absolutely right. In the end, I have to give the round to Mark for pointing out that sometimes guys get fights because of circumstances other than merit, but there are no circumstances that make a Belfort/Bones rematch make sense. Radulich, 10-9
Judge Patrick Mullin's Scorecard: While both guys make essentially the same argument, and we have to give Stewart some slack for stepping in as a late sub(ironically enough as Belfort did with Jones) Mark really goes as in depth as a proctologist here. I have to give him 10-9 as Stewart made the strikes he threw count, but Radulich just threw so damn many of them. 10-9 Radulich

---

One great fight on a show full of them.
2.) Even without rating numbers in (at the time of this writing), Bellator's SpikeTV debut should be considered a success.
Stewart Lange: FACT Absolutely! What a great night of fights Bellator provided us with! The first bout between Pat Curran and Pitbull Freire was a tight as they come decision win for Pat Curran, while the second fight was arguably the biggest name, Renato Sobral getting knocked out by Mikhail Zayats in the 205lb tournament. Michael Chandler looked great, getting a decent win over Rick Hawn and another casually familiar name, Seth Petruzelli, was finished within one round by Jacob Noe. It did a great job of promoting the "homegrown" talent, with the two UFC veterans being dismantled and that's only good for the promotion. While it will still ultimately be judged on viewing figures, the in cage product was undoubtedly top drawer.
Mark Radulich: FACT As someone who covered the show, I thought it came off well. The fights were good, the show was produced cleanly and really I have no complaints. Bellator and Viacom are in the business of producing interesting television and selling ad time. I can't see how that didn't happen or will continue to happen as the show moves forward.
Judge Wyatt Beougher's Scorecard: Again, both guys agree, and their answers are different enough that I could rightly score it for either one. Stew narrowly edges this round for his enthusiasm, and I should note that the ratings figures have come out since I sent this statement out, and the show nearly tripled Bellator's average ratings for Season 7. Not too shabby of a start. Lange, 10-9
Judge Patrick Mullin's Scorecard: Interesting that each man went a slightly different route while choosing the same answer. While I like Mark's oft overlooked point about selling ad time which is a big factor, I feel Stewart's breakdown of the show was well done in his answer in that regardless of viewership numbers(which were actually quite good) the show was enjoyable for seemingly anyone, and for a debut show that's what matters. 10-9 Lange

---

Anderson's next opponent?
3.) With Michael Bisping's loss, Anderson Silva's next fight should be against Luke Rockhold.
Mark Radulich: FACT As I said this past Sunday on the 411 Ground and Pound Radio show (Sundays 11:00 AM) with all of the middleweight contenders canceling themselves out of contention the only one left standing quite frankly is Luke Rockhold. I know Chris Weidman is out there too but he's injured until the summer. The UFC wants to do shows in Brazil in both May and June. I suspect at least one of those shows will be a PPV. As evidenced by the Silva/Okami fight, Anderson Silva vs a ham sandwich sells tickets in Brazil as well as PPV buys. They can also sell the fight on the (admittedly weak) champion vs champion storyline. I say give Weidman a nice "remember me" fight when he comes back (maybe Jacare on the same show) and save him for a title fight down the line. In the meantime, let Rockhold play the part of the pig hostage this summer. And to be clear, Rockhold said he's game for either Belfort in San Jose or Anderson Silva whenever possible.
Stewart Lange: FACT It's with a bit of a heavy heart I say FACT to this, but yeah, a unification bout probably makes the most sense. Don't get me wrong- there's other guys I'd rather see Anderson face, hell, Michael Bisping is one of them, but I think the UFC has to unify the titles as soon as possible or they risk leaving a lot of unanswered questions. I mean, who remembers that Anthony Pettis should have had the first 155lb title shot when the WEC was absorbed under the UFC banner. That's still up in the air and I think they don't want to have the same issue with the Strikeforce belts.
Judge Wyatt Beougher's Scorecard: Another tightly contested round, but I'm giving the narrow nod to Mark based on his more detailed breakdown, as well as not suggesting Silva fight Bisping. C'mon, Stew – Andy would make mincemeat of Bisping. Radulich, 10-9
Judge Patrick Mullin's Scorecard: Again both guys give the same answer yet take different paths to their conclusion. I lean towards Radulich at this point as Stewart for some reason would rather see knockout victim Michael Bisping get a shot over Rockhold and feels that the Strikeforce middleweight title means anything at this point, or any point for that matter. Mark also went into detail on the matchmaking possibilities available long term, so I give him this round. 10-9 Radulich

---

Would you rather see the rematch?
4.) Bellator is making the right move by booking Pat Curran/Daniel Straus, rather than a Curran/Patricio Freire immediate rematch.
Stewart Lange: FACT I actually don't like immediate rematches unless there's a draw or huge controversy and while Curran/Freire was close, I wouldn't have said it was controversial. Daniel Straus is next in line at Curran's title and he's rightly getting his shot. I think that Curran defeating Straus, assuming he does, of course, will make him a stronger champion and therefore make Bellator look better as a result. Or, they get a new star in Straus. Plus, with Straus having won the season 6 featherweight tournament, Bellator push the real thing they promote – the tournament format and the winners getting the title shot and I think that's the most important thing. They keep a promise to Straus, make their champion look stronger should he win, and potentially create a new star if the belt changes hands.
Mark Radulich: FACT The biggest complaint the fighters and the fans have with Bellator is the way they book the title fights. There's too much time between defenses and both the champions and contenders spend too much time waiting to fight. This is actually one of the reasons Alvarez wants out of Bellator, lack of consistent fight opportunities. They are absolutely doing the right thing by moving on to Curran/Straus instead of making a rematch, which would be unfair to Straus. I say, save the Pitbull rematch for later when they need to while trying to create another contender or in case somebody gets injured.
Judge Wyatt Beougher's Scorecard: Judging this week sucks, as there hasn't been an easy round yet. Mark rightly points out that Bellator's fighters, especially the champions and tournament winners, but I'm giving the round to Stewart because he points out that by making Daniel Straus the next opponent for Pat Curran, Bellator is promoting the importance of their tournament format, which is crucial for the new audience that they've picked up on SpikeTV. Lange, 10-9
Judge Patrick Mullin's Scorecard: Damn this gets harder with each passing round as both guys keep bringing the great answers. I like Stewart's point about Straus having earned the shot via Bellator's own tournament format and the positive possibilities either man winning the fight produces for the company. 10-9 Lange

---

Will they be back?
5.) If the Sao Paulo DA's investigation into the city's sponsorship of UFC on FX 7 bears fruit, it will have a serious impact on the UFC's future shows in the area.
Mark Radulich: FICTIONHere's what UFC Managing Director of International Development Marshall Zelaznik stated on the issue, "It's a valuable sponsorship. It's important. We're bringing real value to the city and to the state, frankly." He also added, "I can tell you that we're not swayed at all in our commitment to the city of Sao Paulo and to the country of Brazil. We'll be back, and this is nothing more than getting the information in the right people's hands so they can come out with the right conclusion." The UFC is committed to Brazil, that much they've made certain. They also can't just only do shows in Rio. Regardless of what happens they will go back to Sao Paulo. Just because a city is a pain in the ass to do business with it doesn't mean the UFC just gives up and goes home forever. Apparently it's a huge pain of the ass to do an MMA event in Florida and while the UFC doesn't think they can sell tickets there (because apparently they think nobody in Orlando or Tampa likes MMA, only Hollywood, FL) it hasn't necessarily stopped them from booking events there. If the city can't sponsor the event they'll get another sponsor. As long as the city isn't outright preventing them from doing an event, they'll be back soon enough.
Stewart Lange: FICTION I don't really know that it will, but it all seems a bit convoluted to me. So, if I make sense of it, before leaving office, the old guy in charge punted 70% of the TOTAL recreation budget on this sole event. Now, it's late here and I have a headache, so I'll finish off weak by saying that Marshall Zelaznik says they'll be back in São Paulo, then I believe him.
Judge Wyatt Beougher's Scorecard: If only Stew knew that this fifth round would decide the contest on my scorecard, perhaps he would've fought through the headache…(just kidding, Stew – I truly appreciate you stepping in at literally the last minute and saving my bacon, and you did an EXCELLENT job). Mark also featured the biggest part of Stew's argument and then expanded on it, so he rightfully wins this round. Radulich, 10-9
Judge Patrick Mullin's Scorecard: I'm a bit dissapointed that neither man took the route of Sao Paulo only really giving a hoot about making money in return via this budget by putting on UFC events. That being said I feel Mark's example of the UFC's relationship with the state of Florida was a very good comparison and thus I give him this round. 10-9 Radulich

---
Official Scorecard
Judge Wyatt Beougher scored the bout in favor of Mark Radulich, 48-47.
Judge Patrick Mullin scored the bout in favor of Mark Radulich, 48-47.

---
So there you have it – Pat and I thought Mark edged Stew out by the narrowest of margins! Make your voice heard and let me know what you think by voting in the poll!
---

More relevant than Brett Favre dong shots.
Bonus) The Manti Te'o girlfriend hoax being broken by Deadspin shows the importance of new media in spite of the traditional media's general disdain for it.
Stewart Lange: FACT Since I'm no longer being scored on this, I'll take the time to say- I'm Scottish. I had to Google who, or what, the hell a Manti T'eo even was. I could care less who or what he dates, or who or what is photoshopped beside him. Reading into it, this is all a sick prank and can't really stomach the finer details as it shows someone is very perverse, but you're right. New media is the king at the moment as news breaks a lot quicker on Twitter than anywhere else. In fact, I'm pretty sure Twitter is where I learn most things. (StewartLange411, follow me)
Mark Radulich: FACT I'm stating FACT here because I believe New Media is important. Outside of that, I don't know what a Manti Te'o is. Goodnight everybody!
Judge Wyatt Beougher's Scorecard: Since 411 is part of the New Media, if either of these guys answered Fiction, it would've resulted in a lifetime Fact or Fiction ban, so thankfully they both went Fact here. Mark gives a simple answer, while Stew gives a reason for his answer, so he picks up the round. Lange, 10-9
Judge Patrick Mullin's Scorecard: Because of Radulich's sheer ignorance of this situation with no valid excuse(YOU LIVE IN SEC TERRITORY MAN) I judge this round for Stewart 10-9. Break out the cheers for Old Notre Dame.

---
And that's it for this week! Again, make sure you sign up for the new comments system, so that you can let us know what you thought about this week's contest! As always, if there's anything you'd like to see featured in next week's edition, leave your statement in the comments and I'll add it in for next week. Let us know what you thought in the comments, on Twitter, or on Google+.
NULL
comments powered by Disqus