411 MMA Fact or Fiction 01.30.13: Mighty Mouse, King Mo, Funky Ben Askren, More
January 30, 2013 | Posted by
Welcome to another edition of 411's MMA Fact or Fiction, and as always, I'm your host, Wyatt Beougher. Last week was easily the toughest contest I've had to judge, and when the dust settled, Mark Radulich was able to hand Stewart Lange his first loss; however, Stewart was able to pull out the reader vote by a 16-13 margin. If you follow the motley bunch of us on Twitter, you'll know that Stew called Pat and I out on our biased pro-American judging, so next week we'll see the rematch between Mark and Stewart, this time with one of Stewart's compatriots (either Jonathan Butterfield or Alex Watt) doing the judging with me. That's going to kick off rivalry month, which is going to feature contests set up by the contestants (normally the guys volunteer for whatever weeks they're available in a given month and I pair them up). This week, though, we've got an excellent contest between Alex Rella and Jonathan Solomon, two guys who are far, far better competitors than their records would indicate. Joining me at the judges' table this week will be Mark Radulich, and that'll put him in rarified territory, joining Todd Vote as the only staff members to be involved in Fact or Fiction as either a contestant or a judge for three weeks straight.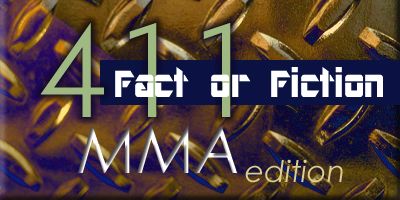 TALE OF THE TAPE
Red Corner
Alex Rella
'Cinder'
Columnist, The 411 MMA Top 10
2-4-1
VS
Blue Corner
Jonathan Solomon
'The Juggernaut'
Columnist, The Juggernaut MMA News Report/411 Rankings Guru
1-3-0
And our special Guest Judge
Mark Radulich
'Headshrinker'
Live Coverage Guru/Host, 411 Ground and Pound Radio Show

---

Help, or hindrance, to divisional growth?
1.) The flyweight division will fail to increase in popularity so long as "Decision Demetrious" is champion.
Jonathan Solomon: FICTION Not to denigrate Mighty Mouse, but I don't see how the flyweight division will grow in popularity, period. Whether it's him or Uncle Creepy or John Dodson or Benavidez or Formiga or anyone else. The fights can be entertaining with quick action and constant movement, but it's still new to the average MMA fan who wasn't introduced to the 125-pounders until last year. The division needs a personality that can transcend the sport to a degree and none of the fighters mentioned above are close. Even a serious feud could help matters, look at Dominick Cruz and Urijah Faber. After 13 weeks on FX promoting their fight, a great countdown special and with Memorial Day weekend as the setting, their main event (with Tito/Bader and Wand/Leben on the undercard) did about 350,000 PPV buys. So unless someone wakes up tomorrow and decides they want to make a lot of money and their talking ability is the way to do it, we're stuck where we are.
Alex Rella: FACT Mighty Mouse is a very good fighter, but he's not the one the division needs at the top right now. He's a consistent fighter, but just very bland and it doesn't look like he's going to lose the title anytime soon. The young division is going to take a while to increase in popularity and it would certainly help if someone with a personality that could finish people was at the top. It's hard watching someone fight that looks like he's twelve and not at all intimidating. I don't want to watch you fight if I think the referee in your fight could beat you up. But it's not entirely Johnson's fault, there really isn't any featherweight fighter at this point that can increase the division's popularity.
Judge Wyatt Beougher's Scorecard: Ah, the rarest of Fact or Fiction circumstances – the disagreement on the first statement. At least that's how it looks at first glance – in reality, neither guy particularly thinks that Mighty Mouse will do much for the popularity of the flyweight division, but Solomon goes so far as to say that he doesn't think any of the flyweights could. Solomon also made an error in his argument, as Faber/Cruz II didn't have 13 weeks on FX to build to it (that was intended for Faber/Cruz III, which hasn't happened yet to due Cruz's injury). Fortunately for him, Alex busts out some serious sizeism that I just can't get behind. For the record, I think Uncle Creepy has enough of a personality to draw people into the division, but I also think Mighty Mouse could do it if he continues getting beat up early in fights only to make the comeback and win. But both guys are fundamentally right – the flyweight division would benefit greatly from bigger personalities and an actual finisher. Draw, 9-9
Judge Mark Radulich's Scorecard: What I'm hearing is that neither guy sees the flyweight division becoming popularity yet Solomon still said fiction. Now I get that the reason he is saying fiction is that he thinks in general the division will be unpopular while Rella answered the question with regards to the specific character in question, MM Johnson. That being said, I'm going with Rella since his was closest to the right answer. Rella 10-9

---

Excited to see Pettis get his long-overdue title shot?
2.) Regardless of who wins the Benson Henderson/Gilbert Melendez fight, the resulting champion's best option would be the planned fight with Anthony Pettis.
Alex Rella: FACT Pettis is in a really good spot right now. He had an impressive victory over Cerrone this weekend and there really isn't anybody else that can challenge for the title. Gray Maynard is still out with an injury, Jim Miller needs more than one win for title contention, and nobody else is really near the top. The only other lightweight that is on a good winning streak is Pat Healy and he's going to need at least two big wins before Dana White puts him near the title. There is also the intrigue that Pettis was the last WEC champion after he defeated Henderson with that amazing kick. It'll be pretty easy to market the rematch. And worst case you get Pettis vs Melendez which may be an even better fight. So right now it is the best option.
Jonathan Solomon:FACT Alex is 100% correct, based on sheer numbers. The only viable contender aside from Gilbert Melendez right now is Anthony Pettis. Nobody else is in a realistic spot unless you're Eddie Alvarez and he's embroiled in a legal battle at the moment and there's no telling when that will end (or even if Alvarez will be forced to return to Bellator or if he chooses to, sit out a year). So, Pettis is in the proverbial catbird seat, not even needing another fight in the interim. If Joe Silva wanted to play match-ups, if he was feeling froggy, maybe he'd bring Josh Thomson into the picture if Gilbert won. A 4th fight between Thomson and Melendez would be insanely awesome, although again, there is no logical reason for Thomson to leapfrog Pettis into a title fight.
Judge Wyatt Beougher's Scorecard: Both guys agree that right now, it's very good to be Anthony Pettis. Solomon mentions Alvarez and his legal dispute, as well as the potential for Melendez/Thomson IV, but he rightfully points out that there's no reason for Thomson to leap to the top of the UFC food chain. On the other hand, Alex mentions that neither Jim Miller nor Pat Healy have done enough to earn a fight, and that Gray Maynard is injured. With no clear-cut winner this round, I'm going with Draw, 10-10.
Judge Mark Radulich's Scorecard: I was all set to give this round to Solomon until he threw a Chael Sonnen-like spinning back fist asserting that a 4th fight between Josh Thomson and Melendez would be, "insanely awesome." No, just no. Pettis is the clear answer. I would have scored this 10-8 for bringing up Thomson but Solomon saved himself by mentioning Alvarez as a possible substitute if his legal matters ever work themselves out. Rella 10-9

---

This is my most enduring Matt Hughes memory
3.) Matt Hughes' decision to retire was made at the perfect time.
Jonathan Solomon: FACT Should he have called it a career after losing to B.J. Penn? Perhaps, but I could understand his desire to see if he had anything left. So, now does seem to be as good a time as any. It's apparent he cannot compete with top level welterweights today and that's perfectly fine. Just because Randy Couture had a revival in his 40s does not mean everyone must. Plus, it's not like Hughes would even consider dropping down a weight class, so as long as he has been safe with his money, there is no reason to continue fighting. He will always be known as one of the best welterweights of all-time and I'd think that's more than great for a farm boy from Illinois.
Alex Rella: FACT Part of me wishes he could have had one more fight against Dan Hardy, but him retiring right now is for the best. Hughes lost two in a row, but his reputation and placement in history is still intact. There's no shame in losing to Penn and Koscheck, but a third loss to a mid level fighter would have been rough. Hughes didn't rush into anything after his last fight and took the time to properly think about his decision. It's good that he knows his limits and left before getting hurt. It's also a plus that he has a nice job with the UFC. So it was perfect timing for Hughes as he and his family should be supported even though his fighting career is over.
Judge Wyatt Beougher's Scorecard: Both guys in agreement again, and I like that Jonathan pointed out that we shouldn't hold everyone to the standard set by Randy Couture in his 40s. I also like that Alex highlighted Hughes taking time away from the sport to make his decision, and how the UFC job was just icing on the cake. For the third round in a row, Draw, 10-10.
Judge Mark Radulich's Scorecard: I like both guys' answers and since there was no significant difference between I'm going to score this round a DRAW 10-10

---

Did Mo live up to the hype?
4.) Bellator could not have asked for a better debut from King Mo.
Alex Rella: FACT They got a first round knockout from their biggest signing. Mo came out and wrecked a no name guy like he should have. Mysiala came out swinging and tried to catch Lawal off guard, but he just wasn't good enough. To Mysiala's credit he made it interesting and connected with some solid kicks. But it was a great debut for Lawal as he showed off excellent striking and some nice head movement. I expect most of his fights in Bellator to be very similar.
Jonathan Solomon:FICTION I will play the other side of the coin because while King Mo Lawal did indeed look incredible in his demolishing of Mysiala, he could have hit a grand slam instead of a home run. I know it's incredibly difficult to ask fighters to talk like this unless they really feel it but I would have liked to see Mo call out light heavyweight champion Christian M'Pumbu. Let the world know that you are a bad mf'er who cannot be stopped and if you were Christian, you'd be shining that belt up real nice before he hands it over. Something colorful along those lines would have been the cherry on top of the ass-kicking sundae. On the bright side, Mo still has two more tournament fights in front of him and 3 fights over a 3-month period on Spike TV will make him the network's biggest star, bar none.
Judge Wyatt Beougher's Scorecard: And Solomon finally takes the bull by the horns and plays off his opponent's answer to clearly win a round. Alex gave a perfectly acceptable answer that I agree with, but Jonathan rightfully points out that something so simple as a call-out to Bellator's current light heavyweight champion would've been just the thing to truly catapult King Mo into the stratosphere of Bellator's stars. Solomon, 10-9
Judge Mark Radulich's Scorecard: I have to agree with Solomon here as he edges out Rella in round 4. King Mo looked fine enough but let's be honest, more than half of his appeal lies within his charisma/gimmick. Knocking bitches out is Jim Dandy but people still need to get to know you, as Solomon stated. Solomon 10-9

---

Ratings liability?
5.) Ben Askren, while dominant, will be a ratings liability for Bellator.
Jonathan Solomon: FICTION Call me a mark for the guy but I love watching his unique style of wrestling. He's not Clay Guida who will get takedowns and do nothing else, skating to victory. Even in previous fights (aside from the Hieron one), he's active on top and breaks his opponent's will. As for whether he's a liability for Bellator on Spike, I can't agree. If anything, he's one of the best personalities they have because of his natural smugness. Plus, you have guys like Karl Amoussou who feel they're not going to spend much time on their back and they'll be the ones to knock him out. For ratings, he's not going to be a guy who is getting people to turn the dial when they see it's him entering the cage. After two weeks, it seems the Bellator on Spike audience is made up by a majority of the Impact Wrestling audience. It's still going to take a couple months before we can really come to any conclusions about how they're doing but Askren is definitely not going to be an antithesis to great numbers.
Alex Rella: FICTION First off, I think all of Bellator's champions will be solid draws for a good amount of time. They're on a new station and getting new viewers who may be tuning in to see champions fight for the first time. Askren certainly isn't the most exciting fighter, but his debut fight on Spike was pretty good. He actually finished someone and bloodied up his opponent. Even if you previously disliked Askren, you now kinda want to see if he can follow it up with another good performance. And if Askren goes back to being boring, he'll still be a better draw than 95% of Bellator's other fighters that nobody cares about.
Judge Wyatt Beougher's Scorecard: This was a very even round, and I was exceedingly close to scoring it a draw again, but Alex's last line really hit home with me. Outside of their champions (and former champions), what marketable fighters does Bellator really have? For that bluntness, along with me disagreeing with Solomon about Askren's smugness being an asset, I'm scoring this round in favor of Alex. Rella, 10-9
Judge Mark Radulich's Scorecard: Both guys agree and gave the right answer but I have to award Solomon the round for more detail. Solomon 10-9

---
Official Scorecard
Judge Wyatt Beougher scored the bout a Draw, 48-48.
Judge Mark Radulich scored the bout a Draw, 48-48.

---
So there you have it – Mark and I both scored the fight a draw, so the bout is going to come down to how you, the readers, feel. So, who won?
---

Another Dana double standard?
Bonus) Dana White's utter dismissal of the controversy that Ronda Rousey stirred up on Twitter (which actually involved our own Samer Kadi at one point!) is another example of the UFC President's bias towards profitable/marketable fighters.
Alex Rella: FICTION Dana White is biased towards his top fighters, but I don't think this was an example of that. Rousey has a right to her opinion. Right now her opinion on the shooting is not a very popular one, but she should still be able to talk about what she believes. There's still some stuff that needs to be clarified with the tragedy and a good amount of people share her beliefs. I don't think this is as bad as making a video on how to rape women or drunk driving.
Jonathan Solomon: FICTION While I'm pretty sure if Ronda did anything short of throwing a baby off a bridge, Dana White would be defending her, I'm actually going to do the same here. Was it a massive deal? It was blown out of proportion. It was a stupid tweet, but I'm not going to sit here and say that all MMA fighters are logical about our current events. What should Dana have said or done? Chastise her? Fine her? As long as rape jokes are not being tossed around (or generally trying to be comedic about heinous crimes), what's there for the promotion to do? All people have to do is stop following her on Twitter if they're extremely offended. Ultimately, the reason I disagree with the question is because even if it was a guy like Pat Healy who tweeted about the conspiracy video, I doubt he would have been canned over it.
Judge Wyatt Beougher's Scorecard: This was a very close round, as both guys gave excellent answers, but I think Alex narrowly took the round by pointing out that Dana White is biased for his top fighters, but that this also wasn't an example of that. Rella, 10-9
Judge Mark Radulich's Scorecard: Um, I thought all she tweeted was, "interesting." When people started attacking her I think things got worse but ultimately this is nothing like the Griffin tweet or the Miguel Torres tweet. She's allowed to have opinions, even if they are dumb. There's still people who think 9/11 was an inside job or that Obama was born in Kenya. She wasn't making light of the incident, she commented on a video. Let's get a grip here. DRAW 10-10

---
And that's it for this week! Again, make sure you sign up for the new comments system, so that you can let us know what you thought about this week's contest! As always, if there's anything you'd like to see featured in next week's edition, leave your statement in the comments and I'll add it in for next week. Let us know what you thought in the comments, on Twitter, or on Google+.
NULL
comments powered by Disqus