411 MMA Fact or Fiction 02.06.2013: Bigfoot's Upset, Rashad Dropping, Dana's Sour Grapes, and more!
February 6, 2013 | Posted by
Welcome to another edition of 411's MMA Fact or Fiction, and as always, I'm your host, Wyatt Beougher. Last week was another difficult contest to judge, as both Mark Radulich and I scored the fight a draw. When the polls closed, the reader vote was also extremely close, with Alex Rella taking 13 votes, Jonathan Solomon garnering 11, and 14 votes scoring the fight a draw. As I mentioned last week, this week kicks off rivalry month, as Stewart Lange called out Mark Radulich after Mark handed the Scot his first loss in ForF competition. Because Stewart took the fight on short notice when another competitor was unable to compete, I felt it necessary to give him a fair shake against Mark, which brings us to this week. Joining me at the judge's table this week will be two of Stew's 411 UK compatriots, Jonathan Butterfield and Alex Watt, so as to hopefully eliminate the perceived anti-UK bias Stew accused me of. However, in order to keep things normal, I've opted not to use a reader poll this week. You're still more than welcome to make your opinions known in the comments, though.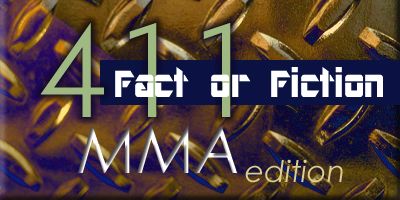 TALE OF THE TAPE
Red Corner
Stewart Lange
'Pain in the Dick'
Host, The 411 Magazine Show
2-1-1
VS
Blue Corner
Mark Radulich
'Headshrinker'
Host, The 411 Ground and Pound Radio Show/Live Coverage Guru/MMA Judge
4-2-1
And our special Guest Judges
Jonathan Butterfield
'Butters'
Columnist, Monday Morning MMA
AND
Alex Watt
'Axel Twat'
Columnist, Thoughts From Across the Pond

---

Not exactly sportsmanslike, but I approve.
1.) Bigfoot Silva had the upset win of the year on Saturday night with his third-round KO of Alistair Overeem.
Stewart Lange: FACT I am going to say fact, but with the caveat that I'm working on the year so far. While I'm not sure what is going to beat Bigfoot smashing Overeem on Saturday night, it was clear that the UFC were setting Silva up as a sacrificial lamb, with their expectation being that the fight with The Reem would go much the same way as the Silva/Velasquez fight last year. It was a good fight though and while in the Heavyweight division more than any other, any man can win on any day, but this was really a top performance by SIlva to avoid the striking of Overeem and keep calm to end the fight in such an explosive and impressive manner.
Mark Radulich: FACT Yes it is the biggest comeback of the year…it is also February so let's everybody keep their shirt on here and relax. I'm sure greater things are still to come in 2013. Getting back to the actual event, yes Overeem was expected to win and he was for the first 10 minutes. Then an angry Bigfoot awoke from his slumber and proceeded to beat the respect out of a surprised, gassed and overconfident Overeem. Mirko Cro-Cop recently said on the MMA Underground that basically Overeem had this coming and I can't help but agree. He was too tentative for the 10 minutes he did win and instead of using the killer instinct he displayed against the likes of Todd Duffee he fought as cautiously as he did against Fabricio Werdum. Never mind the horsemeat and kryptonian testosterone levels, that alone is a good enough reason for Bigfoot to have beat him to a pulp. In the long run it has tossed the HW division on its head as now there is no clear contender for the title. In the short run it was the feel-good moment of 2013 so far.
Judge Wyatt Beougher's Scorecard: As is the norm for this column, both guys agree on the first statement, making it a tough one to judge. Both guys rightfully point out that Silva was more or less expected to be a tune-up for Overeem on his way to a UFC heavyweight title fight, but I'm giving Mark the very slight nod in this round for also mentioning the shake-up at the top of the heavyweight division, which has consisted almost exclusively of Cain and JDS for over a year now. Overeem's promised title shot, already delayed once, was like an albatross hanging around the neck of the division, and with him now losing it (and not because of a drug test this time), it opens up the top of the division for some new blood. Radulich, 10-9
Judge Alex Watt's Scorecard: And here come the late, rapidly written and hastily edited-in judging responses from the venerable "Axle Twat". Reports that I had "pulled a Nick Diaz" and no-showed my press obligations were wide of the mark. In actual fact, in my post-UFC 156 sleep deprived state (I've still yet to fully recover from the 6.30am finish), I simply thought that I had another day to write these. Smooth. So, ignoring the glaring point that an oversight of that nature probably doesn't best qualify me for a judging role, let's just focus on the fact that Alex Watt always comes through.
So, we kick off this week's contest with two very similar answers from the competitors. There is no doubt that Antonio Silva's knockout of "The Reem" was a gigantic upset – although when you consider that "Bigfoot's" fists are about the size of Alistair Overeem's head, it kind of seems less strange – and it puts the future of the heavyweight division in quite a bit of doubt. Velasquez vs. Overeem for the title was perfect but this result threw a big 6′ 4″ spanner in the works, especially when you remember how Cain mauled Silva last May. Both our writers make salient, similar points but I'm giving the nod to Stewart here since he gives Silva the credit his performance deserves – yes Overeem fought a stupid fight, but let's not overlook how well "Bigfoot" implemented and executed his strategy to tire Overeem out and KO him after "The Reem" had gassed. Lange, 10-9
Judge Jonathan Butterfield's Scorecard: I was actually disappointed that Bigfoot defeated Overeem, if only because it now appears that Overeem simply isn't the man to challenge Junior dos Santos or Cain Velasquez as I previously thought he was. Of course, Overeem's detractors will call it a 'feel-good' moment, and there are certainly those (CroCop chief among them) who feel he got everything he deserved, but like it or not, the uppermost echelon of the heavyweight division just got a little less crowded – and, ultimately, that's not a good thing. So sorry, Mark, I can't agree with your sentiments as easily as I agree with Stewart's, so I have no choice but to score this 10-9 Lange.

---

Will a drop to middleweight sweeten Suga's situation?
2.) With his loss to Antonio Rogerio Nogueira on Saturday, Rashad Evans should go through with the drop to Middleweight and look to earn a fight with Anderson Silva.
Mark Radulich: FACT If he wants to keep fighting and compete for a title then I would say a legit drop to middleweight makes the most sense. With Jon Jones at the top of the LHW division and a handful of fresh contenders working their way up the ranks, Rashad Evans doesn't stand much of a chance of earning a rematch with him anytime soon. However, with all of the top middleweights taking themselves out, there is room for Evans to earn a title shot (rather than being hot shotted as he would have been if he'd beaten Lil Nog) at Anderson Silva with maybe 2 good wins or so. Staying at LHW he'd basically be picking up where Rampage left off i.e. taking marquee fights with either stars or up-and-comers but not coming close to sniffing a title shot. Now if he's content to be the new Tito Ortiz that's fine and a move to MW is not necessary. However, if he wants to be relevant going forward then MW is where it's at.
Stewart Lange: FACT I have a couple of doubts about Rashad dropping down, but they're minor and I'll get to them. Answering the question, a loss to Little Nog did Rashad absolutely no favours whatsoever so I think he's going to have to drop down to 185. The thing with him moving to not take gatekeeper style fights though, is that who is going to welcome him to 185? Cung Le? Michael Bisping? That's realistically the fights he's going to be looking at with no immediate title shot on the table as you'd expect Weidman to get the next shot at Anderson (more on that later). Are either of those opponents a higher calibre than who he'd face at 205? Maybe, but he's much further from a title shot if he stays put so moving down makes more sense. I'm just worried about how he makes the cut down to 185 and what that takes out of him- bearing in mind he entered the UFC as a (small, admittedly) heavyweight fighter.
Judge Wyatt Beougher's Scorecard: Both guys with great answers again, but I'm giving Stewart the nod this time for waving the warning flag that Evans started his UFC career as a heavyweight, so he might not be quite so dazzling at middleweight as he seems to think he would be. Lange, 10-9
Judge Alex Watt's Scorecard: Can someone please explain to me why Rashad Evans, one of the best wrestlers in the light heavyweight division, decided to stand in front of Little Nog whose weakness in the UFC has already been proven to be fighters with quality wrestling? It was a very strange decision from a usually tactically astute fighter. That aside, a drop to 185lbs makes the most sense for Rashad at this point. Assuming he can make the cut healthily then there are more exciting options for him at middleweight, his stature would suit the division more, and he can work his way towards a shot at a different seemingly invincible champion. The move may reinvigorate Rashad too, which he really needs judging by his performance on Saturday night. Anyway, I'll give this round to Stewart for giving the slightly more well rounded response. Lange, 10-9 (20-18 overall)
Judge Jonathan Butterfield's Scorecard: Since Stewart regards the 185 lb talent pool as a little shallower than I do (what about Evans-Rockhold or Evans-Belfort?!), I'm inclined to side with Radulich on this one. Mark does a good job summarising Evans' options at this point, and it's obvious that he's three or four GOOD wins away from a title shot at light heavyweight – and, though it makes little sense from a competitive standpoint, he's probably only one or two wins from a title shot at middleweight – at least if the light-to-feather transitions are anything to go by (Kenny Florian and Frankie Edgar anyone?!). If he can do so properly, Evans should certainly drop to 185 lbs at this point, because he's in serious danger of becoming an also-ran at 205, whereas he could reinvigorate his career in a different division. Radulich 10-9 (19-19 overall)

---

Hey, rankings~!
3.) UFC partnering with FightMetric to create an "official" ranking system for their divisions is going to be a negative addition to the presentation if Dana's intention is still to "make the fights people want to see".
Stewart Lange: FICTION I don't think it will make a difference to it really. I still think we're going to have the likes of Chael Sonnen getting 205lb title shots, Nick Diaz jumping the queue at welterweight and so on. Much like the 411 Rankings, these rankings are still going to be someone's opinion and since MMA isn't football, any rankings system in place isn't going to be concrete. I think the UFC are looking at this as an extra buzz word to help sell fights and nothing more really. Do we really think that someone is going to work to #2 before they get the title shot? Or that the UFC won't just argue that who they want as the next contender at #2? I don't think we'll really see much difference in the structure of the organisation.
Mark Radulich: FACT Confusion in the marketplace is never good for one's brand. And don't get it twisted, saying you have official rankings that will determine contenders and then saying you will still make fights "fans want to see," is talking out of both sides of your mouth. Johnny Hendricks is the number 1 contender at welterweight and if you go strictly by the rankings, he should be fighting in March against GSP, not Nick Diaz. However, the UFC is not the NFL or MLB. In prizefighting the idea is to make matches that people will pay to see and if the fight happens to be between the two most closely ranked fighters then great. However, more often than not there are other variables that factor into the matchmaking. Location of the event, notoriety of the fighter, desire of the fighter to fight in said matchup, etc. Again, it's not like in football where at the end of the playoffs the two teams left standing play each other. The Ravens couldn't have collectively opted to play the Jets instead because Tim Tebow sells more tickets than the 49'ers or whatever. This rankings idea is asinine on its face and hopefully Zuffa will figure this out and mothball it sooner than later.
Judge Wyatt Beougher's Scorecard: My personal favorite part about this statement? Both guys reference football, but they're talking about completely different sports. Still, though, I'm scoring this round in favor of Radulich, because he points out that taking the time to create an official rankings system, only to ignore it and make fights like they always have, is not exactly a great idea for a sport looking to attract new fans. Radulich, 10-9
Judge Alex Watt's Scorecard: I entered this statement fully supporting the theory that the UFC rankings are a silly idea, but then Stewart almost swayed me with his well thought out response. Almost. Personally, I still think it's an odd choice by the UFC to implement a rankings system at a time when they are handing fighters coming off losses title shots and not giving the most deserving guys title shots, thus undermining any rankings system they choose to implement. Hell, Chael Sonnen isn't even listed on the Light Heavyweight rankings, and he's the No. 1 contender in the UFC's eyes! So, I'm with Mark on this one. Radulich, 10-9 (28-29 overall)
Judge Jonathan Butterfield's Scorecard: First off, 'official' rankings will serve very little purpose, but far from being a 'dumb idea', it's clear this is a thinly-veiled marketing ploy to make certain fights appear more important. That's never a bad idea, especially if a section of the audience buys into it – so let's see how things play out. Stewart Lange appears to think along similar lines to myself on this topic, so it's hard not to give him the nod. I think Mark is too negative when he says he hopes the idea is mothballed sooner rather than later, because, really, is it going to do any harm even IF they put on the 'prize fights'? Lange 10-9. (Lange 29-28 overall)

---

Wait, why is Anderson Silva advertising/taunting Jerry Lawler?
4.) Ed Soares, by making statements like he did week about Anderson Silva wanted to face Cung Le, runs the risk of tainting Silva's career like M-1's did Fedor's (pre-Strikeforce).
Mark Radulich: FACT As it is people are accusing Silva of ducking Weidman or taking handpicked fights to pad his record, which is what a fight with Cung Le in 2013 amounts to. Cung Le lost to Wanderlei Silva and then went on to defeat Patrick Cote and Rich Franklin. Now, in that trio of fights, can you find the rationale for Cung Le to challenge for the middleweight title? I'll wait…
…right. So let's not entertain nonsense and get serious here. Frankly, I find it suspect and annoying that Weidman basically says he's going to destroy Silva and Silva's response is, "Is Cung Le available?" As a man I don't understand this. Now I get that Silva doesn't think Weidman is a big enough name for him but as I've said countless time before, it doesn't matter that Weidman isn't a big name. He's the last legitimate MW contender left standing and that means something. Anderson Silva doesn't need a name to draw well on PPV. For Pete's sake UFC 153 Silva Vs Bonnar drew 410K on PPV and that main event was fairly laughable. Against Okami in Brazil he drew 335K and even against Thales Leites he drew 650K. Silva vs Weidman is going to draw less than Silva vs Okami or Bonnar or friggin Thales Leites. Silva needs to quit fartin' around and make the damn fight with the only UFC middleweight that hasn't lost in the last 12 months. To not do so does in fact run the risk of people comparing Silva to Fedor in that they will start erroneously calling him can crusher.
Stewart Lange: FACT Oh god. First off, forget Greg Jackson. If anyone is trying to kill MMA, it's Ed Soares. The guy is one of the things I hate the most about the sport and this just reeks of his greed. I'm sure Anderson doesn't want to take hard fights at this stage and I'm sure the thought of retiring with the belt wasn't sounding too bad. Regardless of what his thoughts are though, he now has multiple fights remaining in the UFC, with or without the belt. If he's not going for superfights, then he should be giving us the best fights within the weight class. Look at this proposed ranking system- what would happen if that was in effect? Risk upsetting the GOAT at a point he could realistically up and retire on you just to force a fight against a guy less known than Stefan Bonnar? No. There's two answers in one, judges.
Judge Wyatt Beougher's Scorecard: Even without sweetening the pot by referring back to his rankings answer, Stewart would've won this round just for his unbridled Ed Soares hatred, a hatred that I share. Lange, 10-9
Judge Alex Watt's Scorecard: Personally, I think they should have included Ed Soares in the upcoming reality show "Fight Master: Bellator MMA". He could have been the fifth member of the panel; the one who constantly said inane and pointless things. Like Jessie J did on "The Voice." I'm all for Stewart's anti-Soares rant, but I'll have to give the nod to Mark on this one for backing up his argument for Silva vs. Weidman with PPV numbers. It's Plunkett-esque! Radulich, 10-9 (38-38 overall)
Judge Jonathan Butterfield's Scorecard: Anderson Silva-Cung Le is obviously a ridiculous fight, but both guys miss the logic behind the idea by a pretty wide margin. Silva-Le represents a HUGE main event in the Asian market (I assume, anyway), and would produce a good deal of money and coverage for both fighters in an emerging market. That's far more valuable to any marketing mogul with a vested interest (agent Ed Soares in this case) than a fight with an up-and-comer that has never starred in films, doesn't have a huge fanbase, doesn't represent an emerging market, and doesn't have many big wins or main events under his belt. I'm not saying I agree that Le is a better choice of opponent than Weidman, by the way, and actually I'm in agreement with the initial statement that we're heading into M-1 territory here, but let's not pretend Silva not wanting to fight a relative nobody is akin to Fedor fighting Brett Rogers instead of Brock Lesnar. The comparison may be apt, but it's not THAT apt. As for a winner to this round, I'm just not satisfied enough with either answer to award anything other than a 10-10. You just can't hate on Ed Soares to this extent for essentially trying to do what Dana White did when he awarded Nick Diaz a title fight – money talks, after all, and this IS a business. (39-38 Lange overall)

---

Better days…
5.) Dana White bashing Randy Couture now that he's gone into business with Spike and Bellator just reeks of sour grapes.
Stewart Lange: FACT Oh boy, does it. While Randy Couture signing with Spike is a coup for Bellator as he's one of the most recognisable MMA fighters on the planet, he doesn't have any link to Bellator. Whether you like to admit it or not and despite all of the issues they had around his contract, to most casual fans Randy Couture IS UFC, not MMA. For Dana to say the things he did, well, that's Dana. We all know he's going to blow smoke about whatever subject he's approached about so I'm not sure how much of it we can take seriously, but it's not like a nice word about him would have killed White. Couture has been present in UFC programming right up until recently so I'm not sure why there's suddenly bad words to say about Couture, but rest assured, Dana White will always find some way to talk crap about people.
Mark Radulich: FACT This is so Dana White I can't even stand it. Listening to the post-fight scrum White basically said that Couture lied to him and if he'd only been honest, White wouldn't be so angry now. Sure. Fine. Whatever. As I recall, Alistair Overeem was a nobody who fought cans until he destroyed Lesnar in the UFC and suddenly he is calling him one of the best heavyweights in the world. This is the pattern. God help Ronda Rousey if she decides to do something else besides work for the UFC because I don't think Dana White will be able to stay composed. I'm not saying Couture handled the situation perfectly but Dana White throwing a tantrum because the guy chose to go work for the competition is tired, old hat. Has it ever occurred to White that maybe the reason people like Couture don't want to be frank with him is because he is prone to overreaction and tantrums? Nah, it couldn't be. It must be that Couture and everyone else that has ever competed with Zuffa are just scum of the earth. :::rolls eyes:::
Judge Wyatt Beougher's Scorecard: Razor thin round here, with Stewart arguing that White could've easily just praised Randy for his time and dedication to the UFC and Mark going into full-on mockery mode. In the end, I can't pick a winner for this round. Draw, 10-10
Judge Alex Watt's Scorecard: Yeah Dana White, yet again, has failed to cover himself in glory with this whole Couture and Bellator situation. Considering how similar and funny both Stewart and Mark's answers are, I should probably score this round a 10-10 draw. However, in a screwier decision than Kim Winslow's stand-up of Green vs. Volkmann, I'm handing the final decisive round to Stewart. UK 411 Submission for life, bitches! Lange, 10-9 (48-47 overall)
Judge Jonathan Butterfield's Scorecard: I'm sure Dana White has had issues with Randy Couture in the past – but his reaction the other day was typically over-the-top and unintentionally amusing. Radulich has spotted a pattern in the ridiculously lop-sided views White presents at press conferences from time to time, and it's all rather childish and embarrassing (rather than humiliating for his subjects, as White probably assumes). Stewart says something similar with more of an air of resignation, because none of this comes as a revelation, and ultimately it's hard to pick a winner in this round. Once again, it's just too close to call! 10-10 (49-48 Lange overall)

---
Official Scorecard
Judge Wyatt Beougher scored the bout a Draw, 48-48.
Judge Alex Watt scored the bout in favor of Stewart Lange, 48-47.
Judge Jonathan Butterfield scored the bout in favor of Stewart Lange, 49-48.

---
So there you have it – I scored the fight a draw, Jon thought Stew took the narrow win, and Alex, well…the jury is out on his scoring right now. Just for the heck of it, in case Mr. Watt doesn't come through with his bit, here's a reader poll that will serve as the third judge if Alex doesn't come through.
Edit: And Mr. Watt has spoken, given the win to Stewart.
---

The New NEW Dangerous Alliance
Bonus) If the WWE doesn't make a new Dangerous Alliance with CM Punk, Brock Lesnar, Paul Heyman, and the Shield, they're missing out on a tremendous opportunity.
Mark Radulich: FACT But I wouldn't include the Shield in this. I like the Shield as mercs and not necessarily working directly for Punk. I mean, we've already done that with the Straight Edge Society and then the New Nexus. Punk and Lesnar are both loyal to Heyman and both have grievances with WWE and Vince McMahon in particular. A "dangerous alliance" between those two makes sense. They can still buy the services of the Shield but I think those three should still be an independent entity. Meanwhile, Punk and Lesnar can go to war against the WWE establishment. This is what I would write. This makes sense. Therefore, what will happen is that (Phase 1) The Rock…. and then (Phase 3) profit.
Stewart Lange: FACT Hells yes it would be a missed opportunity. I'm typing this before Raw on Monday so hopefully this week will see a bit of a tease of such a thing come around but, lets be fair. When have the WWE ever given us the stuff that would be awesome and work a treat?
Judge Wyatt Beougher's Scorecard: If either guy had said it would be a bad idea to form this alliance, they would've been banned from future ForF competition for a period not less than 12 months. As it stands, Mark has an interesting idea about keeping the Shield neutral, but I'm a fan of big stables, so I'm giving this round to Stewart. Lange, 10-9 [Editor's note: I'm willing to bet Butterfield, the epitome of British-ness, has no idea what this statement is even about. -W]
Judge Alex Watt's Scorecard: CM Punk, Brock Lesnar and Paul Heyman as a stable reeks of awesomeness, but perhaps I should tell you of the tag team Mr. Butterfield and I are aiming to set up; a Shinya Aoki inspired tandem, featuring both of us wearing rainbow tights and incorporating flying triangles and gogoplatas as finishing moves. Oh yeah, and Stewart is going to be our heel manager. Eat your heart out, WWE!
…What? I'm supposed to score this round? Fine, let's give it to Mark for referencing South Park. Radulich, 10-9
Judge Jonathan Butterfield's Scorecard: What? [Editor's note: Called it! -W]

---
And that's it for this week! Again, make sure you sign up for the new comments system, so that you can let us know what you thought about this week's contest! As always, if there's anything you'd like to see featured in next week's edition, leave your statement in the comments and I'll add it in for next week. Let us know what you thought in the comments, on Twitter, or on Google+.
NULL
comments powered by Disqus