411 MMA Fact or Fiction 02.13.13: Pettis, Shlemenko, Conor McGregor, More
February 13, 2013 | Posted by
Welcome to another edition of 411's MMA Fact or Fiction, and as you should expect by now, I'm your host, Wyatt Beougher. Last week was our first entry into Rivalry Month, featuring the rematch between Mark Radulich and Stewart Lange. Their first fight was the toughest contest to judge in my tenure as Fact or Fiction host, and last week's proved to be no different, as I scored the fight a draw, while both Alex Watt and Jonathan Butterfield scored the fight in favor of their 411 UK compatriot Stewart. (For what it's worth, the commentarians agreed with Watt and Butterfield, awarding Stewart just under 50% of the overall vote.) With their head-to-head record now an even 1-1, Stewart has already planted the seeds for a rubber match on Twitter, although Mark put the kibosh on that, hoping instead for a higher profile bout against Larry Csonka. Only time will tell what I'm able to put together, but the rest of this month's slots are full, so keep your eyes peeled for an announcement in the future. This week is the Edgar/Maynard III of 411 MMA Fact or Fiction, as Alex Watt looks to even his record against upstart Alex Rella, who won their first contest and is looking to put this rivalry to bed.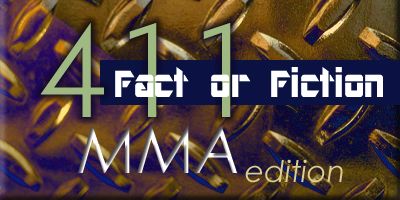 TALE OF THE TAPE
Red Corner
Alex Watt
'Axel Twat'
Columnist, Thoughts From Across the Pond
2-2-1
VS
Blue Corner
Alex Rella
'Cinder'
Columnist, The MMA Top 10
2-4-2
And our special Guest Judge
Mark Radulich
'Headshrinker'
Host, The 411 Ground and Pound Radio Show/Live Coverage Guru

Maybe he's got a shot against Aldo?
1.) Anthony Pettis would've been further ahead to wait for the Bendo/Melendez winner than taking a title fight with Jose Aldo.
Alex Watt: FICTION On the surface it seems odd that "Showtime", who has virtually been guaranteed to face the winner of Henderson vs. Melendez, has opted instead to drop to a weight class he has never fought in and face a champion who looks more invincible than his counterpart at 155lbs. However, when you really analyse the scenario, things make much more sense.
When you really think about it, you can understand why Pettis, having been burnt badly in a similar situation in 2011, would be wary about waiting around for his UFC Lightweight title shot. Lest we forget that he had been guaranteed to face the winner of Edgar vs. Maynard following UFC 125. Instead, a draw was rendered and Pettis was left out in the cold to be dry humped by Clay Guida, while "The Answer" and "The Bully" engaged in a rematch. With two fighters as evenly matched as Benson Henderson and Gilbert Melendez, there are no guarantees that their fight won't also be razor close and require an immediate rematch. With that in mind, Pettis has succeeded in taking his future into his own hands this time and inserting himself into a different title match. In that sense, Pettis' decision makes complete sense.
On the other hand, we do have to consider the fact that Pettis, having already defeated Benson Henderson and matching up very well with Gilbert Melendez, would likely stand a better chance of victory against either of those men. A fight against José Aldo is a much more daunting prospect, when you consider that although "Showtime" is a phenomenal striker with numerous exciting tricks up his sleeve, he may find it difficult to compete with a striker of Aldo's calibre. In addition, should Pettis lose against Aldo then he finds himself in an odd state of purgatory where he would either have to continue campaigning at featherweight or go back up to lightweight and start again.
This is a tough one to call but based on the wording of the statement I would have to say FICTION. In the most basic of terms, taking out all of the other variables, Pettis is further ahead by opting to face Aldo instead of Bendo / Melendez as he has a definite (injuries notwithstanding) title fight on the table, and doesn't have to place all his hopes on a definitive ending to the UFC on FOX 7 main event.
Alex Rella: FICTION The last time Pettis waited around for a lightweight title shot it never came. While the situation is very different, Pettis is better off going for the featherweight title instead of the lightweight title. Aldo right now is the more dominant champion and is the best all time featherweight at this point. Beating Aldo in his featherweight debut adds more to Pettis' own legacy than a win over Henderson or Melendez. Pettis has also talked about wanting to be a two division champion if he were to win. Whether or not a two division champion would be good for the UFC is another question, but it would still be a huge accomplishment. The only fighter to pull this off in a major promotion is Dan Henderson. So the move down gives Pettis a chance to become an all time great, of course it's easier said than done.
A loss to Aldo doesn't hurt Pettis' stock that much either. Aldo just defeated Edgar, so there really isn't any shame in losing to one of the best in the world today. If Pettis were to lose to Aldo, he would likely move right back up to lightweight and still be in the top five of the division. Worst case he loses his guaranteed lightweight title shot, but he'll likely be put right back in a number one contender fight. And the way title shots are being given out, maybe Pettis still gets an immediate title shot after losing at 145 pounds. Either way Pettis is much better off for challenging Aldo.
Judge Wyatt Beougher's Scorecard: Both guys in agreement here, and while I normally reward brevity in these answers, the comprehensiveness of Watt's answer wins him the round here. He thoroughly dissects every major argument against Pettis taking the featherweight title shot and then succinctly explains why he believes Pettis is better off challenging Aldo. Kudos. Watt, 10-9
Judge Mark Radulich's Scorecard: Razor thin round as both guys said basically the same thing but Alex "10,000 Unstoppable" Watt edges it out in my opinion. And he is in fact right, Pettis is further along as now he has a title shot on the books as opposed to yet again waiting around for a title shot to be solidified. 10-9 Watt

---

12-Month Champion?
2.) Alexander Shlemenko will still be the Bellator middleweight champion in February 2014.
Alex Rella: FACT Shlemenko looked awesome as he won the Bellator middleweight title this past week. He's become a very well rounded fighter and the best middleweight not fighting under Zuffa today. I expect him to still be champion by next February. Under Bellator's tournament style, Shlemenko is only going to defend his title once maybe twice by then. Also there really isn't any middleweight currently in Bellator that could beat him. Shlemenko has only lost to Hector Lombard in his past 16 fights. I don't see Shlemenko losing unless a UFC fighter gets cut and heads over to Bellator or if a current Bellator fighter suddenly gets awesome. Both are unlikely so I'm going with fact.
Alex Watt: FACT In the fight game there are obviously no guarantees that a champion can remain so for an entire year, but I would certainly be surprised if Shlemenko was not still reigning atop the Bellator 185lbs division at this time next year. For starters, the Russian has developed into one of the most well rounded and talented fighters competing under the Bellator banner and his experience (with an astonishing 54 pro fights under his belt at the age of 28) puts him head and shoulders above anyone else in the Bellator middleweight division. And that is before we even consider the fact that the company's 185lbs division is a relatively shallow one. It is hard to imagine any of the middleweights currently under contract in Bellator having a genuine chance of beating the Russian and even in the unlikely scenario that a UFC released middleweight was to jump into Bellator and receive a title shot, I would still favour Shlemenko because of the incredibly dominant run he has been on inside the Bellator cage.
Judge Wyatt Beougher's Scorecard: More agreement here means a fairly even round. I'm giving the narrow nod to Rella based on him pointing out that Shlemenko really only needs to win two more fights (maximum) to still be champion in twelve months' time. Rella, 10-9
Judge Mark Radulich's Scorecard: Again, with their being both total agreement and nary a difference in the answer I will have to score this round a draw. 10-10, 20-19 Watt overall

---

Why hello there, OneFC ring girls…
3.) The UFC's Indonesian fighter development program is a response to the success OneFC has enjoyed in Asia.
Alex Watt: FICTION I think we'd be kidding ourselves if we didn't concede that the implementation of this fighter development program in Indonesia does not owe some sort of debt to One FC. Nevertheless, I don't think that we can claim either that One FC's successes in Asia are solely responsible for the UFC's decision to push their product into Indonesia and finance a program for up and coming fighters in the East.
Dana White has long been discussing how he wants to make Mixed Martial Arts, and the UFC brand especially, a worldwide product. The company has made no secret of their desire to explore different markets around the world and their recent foray into the Chinese market with UFC on FUEL: Macau indicates that they have had plans to exploit Martial Arts' popularity in Asia for some time. "Global expansion" has been the phrase on the UFC President's lips for years and this move into Indonesia is just an extension of that mantra. Nevertheless, I imagine the success of One FC, in addition to the success of that UFC show in Macau last year, convinced the UFC brass that this was a good move.
Some people will claim that the UFC are capitalising on another promotion's success in Asia and jumping on the bandwagon, so to speak, whilst others will point out that the UFC have been consistently looking to push their product into new areas and into new potential markets. As ever, the truth of the matter likely lies somewhere in between these two extremes.
Alex Rella: FICTION OneFC is successful? The company did employ guys like Bob Sapp and Phil Baroni last year. Their half assed attempt to be the new Pride is similar to how companies like CZW and Extreme Rising try to bring back ECW. Sorry for the wrestling reference, but either way I don't think OneFC is influencing the UFC's decisions. The UFC is a company that operates all over the world and they have taken big steps recently to increase their global presence. This includes the Fuel show in China, TUF Smashes, fighter scouting in Mexico, and an Indian season of TUF coming soon. As the UFC continues to expand in different markets they need to develop fighters from all over the world. This is something they need to do and would be doing regardless of whatever smaller regional company is accomplishing.
Judge Wyatt Beougher's Scorecard: Watt takes this round based on conceding that the UFC was likely at least partially motivated by OneFC's success in Asia (not unlike their announcement of a similar program in India after Super Fight League enjoyed some success there), but also because of Rella's utter dismissal of OneFC. Sure, they're an unknown here in the US and much of the world, but to diminish what they've accomplished in Asia is folly. Watt, 10-9
Judge Mark Radulich's Scorecard: Both men agree and are of course right but again, I see enough of a difference in their answers that I can award a winner. While many may hate I like the pro-wrestling comparison I will award this round to Rella. 10-9 Rella, 29-29 Overall

---

This guy + MMA reality series + SpikeTV = success once before
4.) Bellator's Fight Masters reality series will do better ratings than The Ultimate Fighter.
Alex Rella: FICTION So far the show looks like it's going to be pretty good, but doing better ratings than TUF might be a stretch. TUF is no longer a must see show, but it still does solid numbers. I expect it to come out with a strong start as people will want to see Frank Shamrock and how Randy Couture does outside of the UFC, but Fight Masters is going to have to really differentiate itself from TUF in an exciting compelling way in order to keep fans interested and I don't have enough confidence in Bellator to pull that off. These type of shows have become a bit tired, but TUF will still have an advantage as it has the better history, company, overall production, and larger fan base.
Alex Watt: FICTION The "Fight Masters" show sounds like a great concept and should bring a nice twist to the somewhat tired MMA reality show formula. Plus, with some great fighters, coaches and personalities on board for the Bellator series, one would expect it to have a good chance of making a dent in the market. Nevertheless, the UFC have had the market cornered in this area simply because The Ultimate Fighter is an established reality TV show brand at this point. Die-hard Mixed Martial Arts fans will tune in to watch the new Fight Masters project but it will be hard to convince casual fans to tune in on a regular basis. TUF has an eight year advantage and the name value of the UFC in its favour and, although Randy Couture may help bring in the viewers initially, it is difficult to see Fight Masters being able to sustain that interest like The Ultimate Fighter has (for the most part).
Judge Wyatt Beougher's Scorecard: Kinda disappointed that neither guy pointed out that Fight Masters is basically The Voice: MMA. Both guys, do, however, point out what I think is likely to be the case – there will be a strong initial interest in Fight Masters, but unless Bellator does something to truly differentiate their show from The Ultimate Fighter, that interest won't last. Draw, 10-10
Judge Mark Radulich's Scorecard: Very similar answers again and not much that differentiates them. 10-10, 39-39 Overall

---

Will he be trading these in for UFC gold?
5.) Conor McGregor will hold a title in the UFC within the next 24 months.
Alex Watt: FICTION Irishman Conor McGregor is an exciting, young talent who has long been considered one of the best prospects in Mixed Martial Arts. "The Notorious" enters the UFC with a tonne of hype behind him, having made history in December when he became the first fighter in Cage Warriors history to hold two titles, in different weight classes, simultaneously. The 12-2 fighter's call up to the UFC has been long overdue and he is another exciting addition to the UFC's expanding featherweight division.
I expect McGregor to find a great deal of success in the UFC considering the talent, both physically and mentally, that he possesses. Nevertheless, you cannot state with any degree of certainty that the talented Irishman will hold a title in the UFC, especially when you consider the current champions reigning atop each division. Much like everyone's confident claims that Rory MacDonald will "definitely" be a world champion conveniently overlooks the unparalleled welterweight dominance of Georges St. Pierre, any discussion that McGregor can win a title in the UFC must take into consideration José Aldo, in addition to Dominick Cruz, Renan Barão and Benson Henderson, should "The Notorious" wish to try his hand at 135lbs or 155lbs.
I fully expect McGregor to impress in his UFC debut against Marcus Brimage, but the talk of titles is perhaps a little premature.
Alex Rella: FICTION Conor McGregor is a top prospect, but to make such a guarantee is a bit much at this point. The UFC is a huge level up in competition and he's only 23 years old. Also the featherweight division continues to get stronger. 145 pounds is the most stacked it's ever been in the UFC and it keeps getting better with all the top lightweights dropping down. The title picture is already locked for about the next year as Aldo/Pettis is happening in six months and after that it will probably be Lamas, Korean Zombie, or even Swanson getting a title shot. And it doesn't help that Jose Aldo is one of the best in the world today. Even McGregor's first fight in the company isn't that easy either. Marcus Brimage is 3-0 since dropping down to featherweight and just defeated another top prospect in his last fight. So while he has a good chance to win the title eventually, doing it in 24 months will be very difficult to pull off.
Judge Wyatt Beougher's Scorecard: I like both guys answers here, and I really can't pick a winner as I like that Watt pointed out that McGregor has all of the talent to be champion, but that doesn't mean a whole lot when the champion of the division he's entering is as good as Jose Aldo. I also like that Rella pointed out that it's going to be at least half of the 24-month window that I imposed before McGregor could potentially challenge for Aldo's title. Draw, 10-10
Judge Mark Radulich's Scorecard: I really hate Marcus Brimage…I feel like that needed to be said. I won't hold it against Rella because that isn't fair, I just needed to express myself. Moving on…While both men gave strong, solid answers I feel like I learned more from Watt than I did Rella seeing as my first reaction when I read the question was, "What's a Conor McGregor?" 10-9 Watt, 49-48 Watt Overall

---
Official Scorecard
Judge Wyatt Beougher scored the bout in favor of Alex Watt, 49-48.
Judge Mark Radulich scored the bout in favor of Alex Watt, 49-48.

---
So there you have it – Mark and I scored the fight in favor of Alex Watt, but how did you see it playing out?
---

This picture was too funny to pass up
Bonus) Bruce Buffer's autobiography, It's Time!, will be a must-read for MMA fans.
Alex Rella: FICTION Buffer seems like a good guy and I'm sure he has a nice story, but I just don't feel like reading this. Knowing his life story won't really enhance my appreciation for MMA. If anything I'll just read his Wikipedia page instead.
Alex Watt: FICTION I'm not sure about a "must-read", but I'll probably give it a look. I'm sure the Buff-man has some great stories about his time inside and outside the Octagon with the UFC so I think his memoirs could make for a fun perusal.
Honestly though, I don't know if any MMA autobiography could be considered a "must-read". For example, I've yet to delve into the autobiographies (although I have a sneaky suspicion they're ghost written) of Chuck Liddell, Randy Couture or BJ Penn, and I haven't lost any sleep over it.
The autobiography all MMA fans really want is a book penned by Dana White. Now that'd be something special; he could explain how he made the UFC a global force, all while burying people he dislikes and trying to set the record for the most times the F-word has been used in a work of non-fiction.
Judge Wyatt Beougher's Scorecard: Watt nearly won this round based on his much more in-depth answer, but for dismissing Captain America's autobiography, I have to disqualify him from the bonus round. Shame, too, as his Dana White autobiography idea would've easily won the round for him. Rella, 10-9
Judge Mark Radulich's Scorecard: Dana White is a liar. A book written by him unless it was a deathbed confession and intellectually honest would be a waste of time. I'm giving this round to Rella for Watt even suggesting such a thing. 10-8 Rella

---
And that's it for this week! Again, make sure you sign up for the new comments system, so that you can let us know what you thought about this week's contest! As always, if there's anything you'd like to see featured in next week's edition, leave your statement in the comments and I'll add it in for next week. Let us know what you thought in the comments, on Twitter, or on Google+.
NULL
comments powered by Disqus