411 MMA Fact or Fiction 02.20.13: Cyborg's Career Suicide, Barao vs Cruz, Cain/Silva 2, More
February 20, 2013 | Posted by
Welcome to another edition of 411's MMA Fact or Fiction, and as you should expect by now, I'm your host, Wyatt Beougher. Last week we saw the third contest between Alex Watt and Alex Rella, and while Mark Radulich and I both scored the fight in favor of Alex Watt in a very close decision, the fan vote was equally close, with Alex Rella picking up a one-vote victory, meaning Watt's win comes by way of split decision. With things now evened up at 1-1-1 between these two, I'd imagine it's only a matter of time before we have the deciding contest between the two of them. This week's contest is less of a rivalry, since Patrick Mullin has been pretty dominant during his Fact or Fiction appearances, so much so that he issued an open challenge to anyone that wanted to end his undefeated streak. Both Robert Cooper and Jonathan Solomon wanted a piece of the action, so I left it up to Pat to choose his opponent. In a true show of confidence, he told me to flip a coin, and he'll be taking on Coop as a result. Cooper was the first person who faced off against Stewart Lange in Fact or Fiction and didn't lose to him, going to a draw, and this time he's looking to do one better and end Pat's undefeated streak.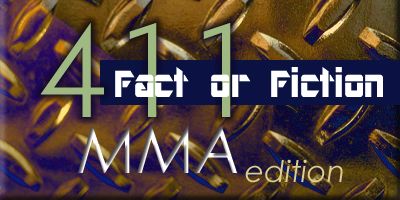 TALE OF THE TAPE
Red Corner
Patrick Mullin
'Star'
Columnist, The Blueprint
3-0-1
VS
Blue Corner
Robert Cooper
'Heavy Metal Tomato Can'
Columnist, The Hammer of Doom News Report (Music Zone)
0-0-1
And our special Guest Judge
Todd Vote
'The Man Without a Zone'
Contributor, All of 411

Better bantamweight champion?
1.) Renan Barao will be the more established champion when he and Dominick Cruz finally square off.
Robert CooperFICTION I didn't have to think long about this at all. I don't think Dominick Cruz will be gone THAT long, at least not long enough for Barao to match the number of wins that Cruz has with the title, WEC title included. Cruz has also had 4 title defenses against game opponents, while Barao has only had 1 so far. Not to mention, Dominick Cruz is still pretty much the grand poobah of the Bantamweight Division, and unless he's gone for like another year or two, I don't see any amount of wins mattering as much as a fight with Cruz, but at least Renan Barao is fighting with the Interim title, don't see that often.
Patrick Mullin FICTION There's very sound logic to Robert's argument but he's missing some key points. The quality of opposition between them really isn't that different. Michael McDonald is a natural bantamweight as opposed to the lighter men Cruz has beaten who moved to the flyweight division. While Demetrious Johnson and Joseph Benavidez are both very talented, it's not always the best endorsement of your skills when your best opponents were naturally smaller men, and the guy who you struggled mightily with (Faber) was beaten handily by Barao. The reason that Barao won't be the more established champion is an old saying, "To be the man, you've gotta beat the man." Unless Cruz is out for such a length of time that people forget he was the champion in the first place things may change, but he's been cleared to begin light exercises to work in his new ACL and has already began training his biggest asset, his feet.
I don't see much separating the quality of their opposition. Would anyone argue Scott Jorgensen is a better fighter than Michael McDonald? Thought not. It's all about the lineage in this case and because Cruz is the lineal champion he's the man and he will be until someone knocks him off the top of the hill.
Judge Wyatt Beougher's Scorecard: Both guys agree here (shocking, I know), but Pat goes into much greater detail as to why Barao at least has a claim for being the more established bantamweight champion (and why I believe he might actually be favored going into the unification fight). For that reason, I'm awarding him the round. Mullin, 10-9
Judge Todd Vote's Scorecard: I'm giving this round to Cooper. Mullin's answer just seemed a bit contradictory… He stated that the quality of opposition faced by Cruz and Barao isn't that different, then goes to note that Benavidez and Johnson have both since dropped a weight class, and how Barao handily defeated Faber, someone who Cruz had trouble with… Not sure I got what he was trying to illustrate there 10-9 Coop (10-9 overall)

---

It'd be fun while it lasted.
2.) The UFC needs to make Jimi Manuwa/Glover Teixeira happen.
Patrick Mullin: FICTION While there's a very good chance that Manuwa and Teixeira would produce a fun brawl while it lasted, as it stands the two men are at very different levels in the eyes of the UFC and its fans. Despite Rampage clearly being on the downside of his career and Shogun not actually ducking Teixeira, many people see him as the heir apparent and as such, it's imperative that the UFC give him fights with the top 7-8 fighters in the light heavyweight division. He's at the point now where he has to justify his hype by beating the likes of Little Nog, Shogun, heck why not even put him in with Rashad coming off of the loss to Little Nog? Manuwa has definite potential being a powerful brawler but he isn't seen in the same light as Teixeira is and I feel that the UFC is losing out on potential revenue by keeping Glover fighting as of now lower level guys like Manuwa.
Robert Cooper:FICTION I could see this fight being a pretty awesome one, it would definitely be like a game of Rock 'Em Sock 'Em Robots. But there is no real need for this fight, sure Jimi Manuwa ate Cyrille Diabate for lunch, but I don't think he's quite up to the challenge that is Glover Teixeira. The dude is riding quite the choo-choo train of hype, with some people still thinking that Shogun Rua ducked him, and he beat Rampage, who is not exactly at his best, but still that much more momentum than Manuwa has. Give Manuwa something closer to his league, while give Glover something like Pat suggested and give him Rashad. It's a win-win, unless Rashad falls asleep during the fight again.
Judge Wyatt Beougher's Scorecard: When I proposed this statement, after Saturday's event, I realized it would have no chance of happening at this point, but it's just a fun fight that I'd really like to see happen. Since both guys agree here, and neither really put anything out there that was strikingly different from the other guy's answer, I'm scoring this one a Draw, 10-10.
Judge Todd Vote's Scorecard: Both guys give solid answers, stating that Glover and Jimi are on different career paths right now. Both men tried to use logical explanations in why they felt the way they felt… But, both men seem to have forgotten that Dana doesn't make fights because they make sense, Dana makes fights because fans want to see them, and they have potential to be entertaining. While I agree with both men, I have to call it a draw because they forgot to employ Dana Logic 10-10 Draw (20-19 overall Coop)

---

The end result was impressive, to be sure.
3.) With a loss to Tyson Nam outside Bellator and an early stumble against Marcos Galvao at Bellator 89, Eduardo Dantas looks more vulnerable as bantamweight champion than he ever did on his way to the title.
Robert CooperFACT I actually missed the title fight, everything but the ending, that is. I was watching it on a delay and accidently turned the tv off. That aside, this is a fact, if you look at the record, before he won the title, he had not lost in 3 years; after he won the title, he's gotten knocked out, and as has been stated, he looked a bit shaky for some of the fight. This would look troubling for most fighters, but especially if you have a title to lose, this is very troubling. People will question you much faster if you have a title and look weak, if you don't, then maybe, you're just having an off night, but if you have that strap, you can't have an off night. Unless you're Anderson Silva, then you were to just giving it to him in order to build drama. It also was dumb to take a non-title fight if you're a champion, you have nothing to prove, as this shows, you just look like a weak champ, and it doesn't make the company you work for look that great either.
Patrick Mullin FICTION Until Tyson Nam came along Eduardo Dantas was absolutely breezing through his fights for three years. Why? Because the guy was so talented that his opposition just couldn't challenge him. Even Zach Makovsky who had gone undefeated under the Bellator banner was ridiculously outgunned against Dantas. Dantas had the worst thing happen to him that can happen to a fighter other than becoming domesticated and losing the inner animal, he got complacent. He didn't respect or entertain the possibility of losing and as such Tyson Nam, a very talented fighter in his own right, took full advantage of this by beating Dantas, who was fortunate his title wasn't on the line and it was just a stay busy fight. Now a fight like that will either be psychologically damaging to Dantas or it would remind him that there's always someone capable of beating him and reaffirm his commitment to training seriously.
Did he have a momentary slip in his next fight? Absolutely. Robert seems to be neglecting the fact that Marcos Galvao served as a mentor and teacher to Dantas for years and that a fight like that will always produce moments of that kind in the pupil of the relationship. Speaking as someone who at one time had to step into a kickboxing ring with his one-time trainer across from him it was difficult. The relationship did not end amicably and even then when I had the advantage I was gun shy to press it because there were still feelings of gratitude and respect towards my opponent and even fear because this is someone who has intimate knowledge of your game and probably has a trick or two to exploit it. That was as difficult a fight as Dantas could have had following his loss to Nam and to see him survive that early danger and win via finish confirms to me that Dantas is more dangerous now than he's been in a very long time.
Judge Wyatt Beougher's Scorecard: I've been on the Dantas bandwagon for a while now, and Pat nailed this one – yes, Dantas lost to Tyson Nam and yes, he looked shaky against Galvao, but he was able to put his uncertainties against his mentor to bed and win impressively, which is pretty much the best measuring stick he could ask for after losing to Nam. Mullin, 10-9
Judge Todd Vote's Scorecard: Mullin gave the more solid answer here. I can't disagree with anything he said. 10-9 Mullin (29-29 overall)

---

Doesn't really inspire a lot of confidence for the rematch, does it?
4.) A third fight between Cain Velasquez and Junior dos Santos would be more compelling than Cain/Bigfoot 2 and JDS/Reem, but it's hard to fault the UFC for making the fights that they did.
Patrick Mullin: FACT Bigfoot Silva KOing the Reem definitely threw a monkey wrench into the UFC's long term plans which were evident in trying to put Overeem into a title fight and having JDS take on the winner of a Cain/Overeem bout. With that win Bigfoot found himself all of a sudden thrust into a rematch with Cain Velasquez for the UFC heavyweight title. But did we forget how the last fight went? Cain took Bigfoot down with absolutely no difficulty and murdered his face to death. Seriously the blood flowing from Bigfoot in that fight got me queasy and I wanted that fight stopped much earlier than it actually was.
Robert CooperFACT It's got to blow to be Joe Silva right now when it comes to the heavyweight division. His meal ticket for the next title match just got beat by a guy who got his ass tarred and feathered in 2 rounds. So there is little intrigue in that match, but Overeem/JDS should be tits (if I may use such terminology). That should be a great fight, and honestly I think that Dana wanted that for the title, but alas, he gets it here. The matchmaking is pretty much the only thing that they could do, and it really shows the anemic state of the UFC Heavyweight Division.
Judge Wyatt Beougher's Scorecard: If news hadn't come out that Dana White and Joe Silva were hoping for Josh Barnett/JDS instead of Overeem/JDS, I would've awarded this round to Coop for pointing out the positive side (that Reem/JDS is likely to be an exciting fight for as long as it lasts). Instead, I'm scoring it another Draw, 10-10.
Judge Todd Vote's Scorecard: Giving a slight edge to Cooper in this round for pointing out the anemic state of the division outside of the top 5 guys. 10-9 Coop (39-38 overall Coop)

---

Is leaving the UFC a bad move, or actually the best move for her career?
5.) Cris Cyborg asking for her UFC release is tantamount to career suicide.
Robert Cooper: FICTION Not really, now if this were a year ago, before she got caught for roids, this would be the dumbest move of her career. But now, nah, they aren't building a division around her. Sure, the money would be better, but the ship for her has sailed, because they have a woman who is decorated, loud, and good looking, basically Dana White's wet dream. Cyborg is now a risky potato to handle, so perhaps moving back out to the lesser leagues and smashing a whole ton of cans would do her benefit, and then the UFC might have to get her back, because right now, she has no leverage.
Patrick Mullin: FICTION This is complete fiction. If she were a man (all kidding aside) this would be career suicide, but the UFC is not in the business of women's MMA competition. The UFC is in the business of riding the Ronda Rousey gravy train with biscuit wheels until someone tips it over. The UFC won't risk Ronda moving up to 145 pounds to fight Santos because there's a very good chance Cyborg would maul Ronda's face the way she did to Gina Carano and sent her packing off to Hollywood. They tried to stack the deck in Rousey's favor by getting Cyborg to drop to 135 and offering to pay Mike Dolce to monitor Cyborg's weight cut.
The thing is you can say what you want to about Cyborg's past PED use, but I'm hardly an advocate of Dolce's methods. I wrote about it in my column nearly a year ago that Dolce's methods, while obviously effective, are extremely dangerous to the long term health of the fighters using his extreme weight cuts. Santos is acknowledging that she already put her body at risk via the use of PEDs and does not want to pose any further extreme risks to her health. Add to this fact that there's an entire promotion based solely around women's mixed martial arts and not just Ronda Rousey called Invicta Fighting Championships who would be glad to promote women's fights at 145 pounds with a name like Cyborg and this is hardly career suicide.
Judge Wyatt Beougher's Scorecard: Pat makes a very good point about the UFC not being in the business of promoting women's MMA so much as promoting Ronda Rousey. I don't necessarily agree with his assessment of Mike Dolce's methods (I don't agree with his extreme weight cutting philosophies either, but I'm confident he could've crafted a longer-term diet that would've led to an overall, sustained weight loss in Ms. Cyborg), but by specifically naming Invicta, who have in fact signed Sheborg to a fight, Pat sealed the round. Mullin, 10-9
Judge Todd Vote's Scorecard: I can only assume that these answers were given before Dana went on record as stating this is exactly what he intended to do with Santos anyways… Pay the bills and send her to Invicta. I got to give it to Mullin. Without a 145 division, and with Santos fearing for her health if she risked the weight cut, this seems like the best decision she could make for herself. 10-9 Mullin (48-48 overall DRAW)

---
Official Scorecard
Judge Wyatt Beougher scored the bout in favor of Patrick Mullin, 50-47.
Judge Todd Vote scored the bout a draw, 48-48.

---
So there you have it – Todd and I scored the fight differently, so it comes down to your votes to decide who wins this week!
---

Can. Not. Wait.
Bonus) The next UFC video game will be the best one to date, now that EA has acquired the license and there is a new generation of home consoles coming to market.
Patrick Mullin: FACT As Paul Ellering once said, you don't have to be able to split atoms to figure it out. EA produces its best games when it gains control of a franchise or platform such as a combat sports video game with a control scheme already in place. They make a few tweaks and adjustments and tend to produce the best game you can have. When they have to create something from scratch it usually doesn't turn out so great(see EA MMA/WCW Mayhem). However as is the case with the UFC franchise they have a very cogent control scheme in place that EA will improve upon, as well as the very likely improvement of graphics and gameplay features and it's a good chance that you'll see the best UFC game ever released to this point.
Robert CooperFACT Quick story time, the UFC 2009 video game got me into MMA, that and Brock Lesnar, and I never looked back. So it's safe to say that I've a huge fan of this series. With each iteration, it got better. UFC 2009 was solid, but after UFC 2010, it was obsolete, because they adding things that made the striking game more fluid, so the stiffness of 2009 was outdated, but the game was too similar for some. UFC 3 overhauled the one thing I HATED about the series, the submission system, as well as the spreadsheet-tabulous career mode. I just use the track record of the UFC games as a definite yes, because as long as the same system is held, but just improved, it'll be better. Now what worries me is if they try to do what they did with EA MMA, I didn't like it all that much, I don't like the striking mechanics with the stick, if they do this, this is the only thing I could see hurting it. Otherwise, they're golden, this is a franchise that still has some improvements, but if they just follow the path that THQ laid, I look forwards to the new release!
Judge Wyatt Beougher's Scorecard: I like both guys' answers here, but the one thing that I thought was missing was that after EA MMA more or less flopped, EA *should* realize that if they want to do the Madden thing and just release the same game year after year, they're going to need to have an above-average game to start with (although it could be argued that rather than build a better Madden, EA just bought the exclusive rights to the NFL and destroyed the vastly superior 2K series, and they're essentially in that position with MMA now that they own the UFC rights). Either way, I'm scoring this one a Draw, 10-10.
Judge Todd Vote's Scorecard: I can't be the only one who thinks EA may do away with the UFC Undisputed control scheme in favor of the one they tried to use for EA Sports MMA, can I? I am a huge fan of the UFC games, but I am very leery of EA taking over. I hate EA Sports MMA. I hope they keep the work THQ did and build on it like Mr. Mullin suggested, but I don't see that happening with Take-Two acquiring Yukes. I'll offer a 10-10 draw for the hopeful attitudes of both competitors.

---
And that's it for this week! Again, make sure you sign up for the new comments system, so that you can let us know what you thought about this week's contest! As always, if there's anything you'd like to see featured in next week's edition, leave your statement in the comments and I'll add it in for next week. Let us know what you thought in the comments, on Twitter, or on Google+.
NULL
comments powered by Disqus