411 MMA Fact or Fiction 02.27.13: Rousey's Debut, Mo Getting KOed, Fitch's Release, More
February 27, 2013 | Posted by
Welcome to another edition of 411's MMA Fact or Fiction, and as you should expect by now, I'm your host, Wyatt Beougher. After taking then-undefeated Stewart Lange to a draw in his Fact or Fiction debut, Robert Cooper returned to action last week hoping for similar success against another unbeaten foe, Patrick Mullin.Unfortunately for Robert, both the reader vote and I went in favor of Patrick, and Todd Vote scored the fight a draw. Still, though, that's two impressive performances for Cooper in MMA Fact or Fiction, and while he calls the Music Zone his home, he's always welcome here. This week, we've got Todd Vote jumping back into the cage to face off against Robert Winfree in what is sure to be a tightly-contested fight. No guest judge this week, so I'll weight the reader vote to count double.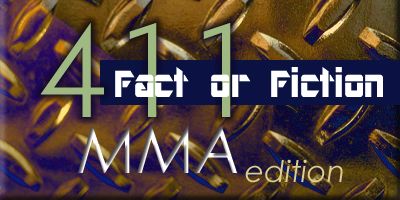 TALE OF THE TAPE
Red Corner
Robert Winfree
'The Last Rider'
Columnist, Locked in the Guillotine MMA News Report
2-3-0
VS
Blue Corner
Todd Vote
'The Man Without a Zone'
Contributor, All of 411
5-6-0

---

Huge relief for Dana and company?
1.) Ronda Rousey's performance at UFC 157 should've set Dana White's mind at ease about promoting Women's MMA.
Robert Winfree: FICTION One of the dangers of being a promoter is getting your mind set at ease. Yes the fight was a success, there was a big gate and tons of media attention, but that centered around the champion Ronda Rousey. No doubt she deserves it, but the reality of the situation is that it will be incredibly difficult to generate that same type of interest in any fight not involving Ronda Rousey. If anything the level of interest here could lull the UFC into a false sense of security that women will draw. Ronda Rousey draws, but they will need to work hard to get the fans invested in her possible opponents. Plus the thing people haven't been talking about is the novelty and the history angle. The first ever female fight in the UFC was bound to draw media attention, good and bad, and get people talking. Now that it's happened though how much will that same level of interest continue on? There's no more history to be made from a general standpoint like "First ever female UFC champion" there's now just the interest in the fighters and the fight itself. Dana White and the UFC shouldn't at all become complacent here, they have buzz and momentum and absolutely need to capitalize on it.
Todd Vote: FICTION I think Dana should have been okay with promoting Women's MMA, once they proved to be a highlight of most the events that featured them. Sure, there may not be a proven draw outside of Rousey right now, but that is how things start. You have to get behind the division, and promote it in order for it to start drawing. Dana and the UFC simply have to promote Women's MMA as being on par with the male counterparts, then it is pretty much up to the fighters in the new UFC division to prove they belong. Sadly, I don't think Rousey's success at UFC 157 will do much to ease Uncle Dana's mind as far as women's MMA, but will at least put him at ease about featuring Rousey in the main events of PPV's.
Judge Wyatt Beougher's Scorecard: Good points all around here, and with the PPV buyrates estimated at somewhere around 500,000, you'd have to think Zuffa consider Saturday's event a success. I'm giving a very slight nod to Todd this round, as Rousey's viewership figures in Strikeforce increased each time she was in a featured fight, so I don't think the sales figures for this event are due solely to novelty. Vote, 10-9

---

Not exactly helping the buy rate.
2.) The Lyoto Machida/Jon Jones rematch is less exciting than Jones/Dan Henderson would've been.
Todd Vote: FACT Of course, we have a rematch of a pretty one sided affair to look forward to, instead of a fresh match up. People can talk all they want about how Machida was able to put hands on Jones, and may have a chance to defeat him all they want. The fact remains that the image of the ending of their first fight is still in the fan's heads. Just reading the question, the first thing I pictured was Lyoto's body going limp and falling as if he was dead.
I feel like I should clear up that the reason I feel Henderson is a more exciting fight for Jones is only because we haven't seen it. I personally don't think Hendo would fare any better against Jones than anybody we have seen him in there with thus far. But is at least a match up we haven't seen before.
Robert Winfree: FACT It's hard to argue that a new fight is less exciting than one we've already seen. When you factor in that Machida was finished decisively it becomes even more obvious that there would be more buzz around a Jones/Henderson match. The reality is also that Machida has no real way to win the fight, Jones has proven that he can beat Machida while, in some ways, playing Machida's game. I don't think Dan Henderson would beat Jones, but the story of the Hendo H-Bomb and his quest for a UFC title in addition to everything else he's achieved would make it a more compelling sell as well. Of course Machida's performance at UFC 157 didn't earn him any extra fans for that potential rematch either.
Judge Wyatt Beougher's Scorecard: Once again, both gentlemen are in agreement, and I can't say that I disagree with what either of them had to say. Todd points out that Machida's lifeless body slumping to the canvas is still an image fresh in most fans' minds, while Robert notes that Machida's most recent performance doesn't speak well to his ability to best Jones in a rematch. Draw, 10-10

---

He won't be going anywhere anytime soon.
3.) The UFC locking Cain Velasquez up for 8 more fights is a wise business decision and shows confidence in their heavyweight champion.
Robert Winfree: FACT though I can't tell you how tempted I am to go FICTION. Locking up a champion, and potentially a huge draw in an untapped market, is of course a wise business move. It's also completely obvious and nothing that the UFC should be crowing about. If you need to brag about making obviously correct basic business choices then there's something seriously wrong. I also almost went fiction based on the second part of the statement, because the UFC doesn't need confidence in anyone with their contract structure. The UFC has the right to cut any fighter coming off of a loss, period. If Cain were to lose to Bigfoot Silva, then say get KO'd by Mark Hunt, eight fight deal or not, the UFC could easily cut him. I know those scenarios are unbelievably unlikely but the point remains that the UFC can offer contracts like this because if you start slipping as a performer or a draw then they can cut their losses without breaching the contract.
Todd Vote: FACT I know I am likely giving Winfree the round here, but I agree with him completely. There is little danger in these contracts for the UFC, as Robert pointed out, they can cut any fighter at any time, just because they feel they need to. The Fitch situation is evidence of that. Locking up a fighter with an extended contract is a wise business decision, but it's not about the confidence in the fighter, it is about ensuring that when said fighter leaves the UFC, it is on their terms, not his.
Judge Wyatt Beougher's Scorecard: Prophetic statement by Todd, but I'm not entirely sure what else he could've done to take this round from Robert, as his answer was on the button. Winfree, 10-9

---

Now who's going to teach young fighters to "mean mug"?
4.) The UFC's release of Jon Fitch was easily the most surprising contract cut that we've seen from the company in the past five years.
Todd Vote: FACT It was very surprising. But that's not to say I don't get why it was done. UFC is a business. Sure it may be a fight business, but it is still a business, and they are in the business of making money to promote fights. If you feel a fighter is not doing enough to justify the hefty price tag that they are sporting, what option do you have? Sure you could try to renegotiate the contract with the fighter and their management team, but realistically, who would agree to fight in the same organization, doing what you've been doing for years, for less money? Nobody is probably the correct answer there. So Fitch can explore other options, make some of that 'Viacom money" that Dana is talking about, and if he wants to be brought back in, all he has to do is win a few fights. Does it suck? Yeah it really does for a fighter with Fitch's talent. At the end of the day we can all name several fighters under contract to the UFC who we feel should be on the chopping block instead of Fitch, but even with Dana saying he feels Fitch is on the downside of his career, this is a money-related cut, not a cut based on the fighter's ability.
Robert Winfree: FACT. Had the UFC come out and said publicly "We're 100 fighters heavy and we're going to be making cuts" I'd have said FICTION here because the reality is that Dana White has never been a fan of Jon Fitch. From Dana White's perspective Fitch is probably the worst kind of fighter to have on your roster, he can't beat the champion, doesn't draw on name value, and will beat pretty much everyone who isn't the champion. Factor in his price tag and suddenly it becomes obvious that with 100 extra fighters Fitch would be gone. As it stands it was surprising, when you consider the other talent released at the same time as Fitch, they all make sense. Fitch has not only been incredibly successful in the UFC, he's widely recognized as a top level fighter in general, and to cut a top level fighter like that is something the UFC hadn't done up to this point really. I could rant about the incredibly disingenuous nature of Dana White's comments about Viacom money, or how Jon Fitch's situation is somehow like that of Charles Woodson, but I don't feel that's necessary here.
Judge Wyatt Beougher's Scorecard: Slightly disappointed that neither guy mentioned that they're cutting a fighter with a recognizable name so soon after the guy who was hired to be the face of Bellator on SpikeTV lost (more on that in a minute), but I'm scoring this one a Draw, 10-10

---

The start of Bellator's downward slide?
5.) King Mo's highlight reel KO loss to Emanuel Newton is to Bellator what Fedor's submission loss to Fabricio Werdum was to Strikeforce.
Robert Winfree: FICTION though I honestly don't think the question is phrased properly. First of all Fedor's loss to Werdum wasn't a huge monumental blow to the promotion. Yes Strikeforce had heavily promoted Fedor, but it wasn't like the rest of the heavyweights in Strikeforce were cans who no one knew about. The promotion went under not because Fedor was on the downside of his career, but because of a myriad of other reasons that happened to occur about that same time. It was a huge blow to the career of The Last Emperor, but he wasn't in any way responsible for that promotion going downhill and eventually closing.
Todd Vote: FICTION. Not even close. Strikeforce was putting all of their eggs in the Fedor basket… I don't feel that Bellator was taking the same approach with Mo. Mo was a big signing for the promotion, no doubt, but Mo has not the experience, nor the unbeatable mystique that Fedor brought with him to Strikeforce. Fedor was the #1 heavyweight in the Multi-verse before Werdum made him tap. Mo didn't even crack the top 10 in the most recent rankings on this site. Bellator operates on the "shots are earned, not given" mentality. That alone creates an ideal that Mo would have had to fight for everything he was given when he signed. This statement gets a big old FICTION from me.
Judge Wyatt Beougher's Scorecard: Interestingly enough, both guys go with FICTION, but for wildly different reasons. Robert thinks Strikeforce wasn't dependent on Fedor doing well, while Todd thinks they were over-reliant on him coming in and dominating. Personally, I tend to agree with Todd, especially since Robert's final statement makes it sound like Bellator is going to be the next promotion to close. Vote, 10-9

---
Official Scorecard
Judge Wyatt Beougher scored the bout in favor of Todd Vote, 48-47.

---
This week, I thought Todd did enough to pick up the close win, but, as I said in the intro, it's up to you, the readers, to make the final determination in this week's contest. So make sure you vote and let me know who you think won!
---

Good riddance?
Bonus.) Rory MacDonald's injury has actually improved the UFC 158 card, purely from a sports perspective.
Todd Vote: FACT Though I was looking forward to seeing Carlos shut him up again, I do like the idea of Condit vs. Hendricks much more. It is just a more intriguing fight in my eyes. Hendricks is on his way up, working towards a title shot. Why would you not match him up with the man who just fought the champ? Plus I think we will get a much more brutal fight out of it now. Condit vs. MacDonald was good, Condit vs. Hendricks could be great. In addition, I feel Marquardt vs. Ellenberger is a decent replacement as well. I don't want to say MacDonald's injury greatly improved the card, but it definitely made things more interesting.
Robert Winfree: FICTION I mean was anyone really interested in seeing MacDonald fight? He's got the personality of a stump. Oh, you mean from a sports perspective? My answer remains, I mean he was there just as a novelty fight, it's not like he's a gifted fighter with a future, he's just some guy from the province who trains with GSP, no one really wanted to see him fight, I mean it's not like the last fight between him and Condit was any good anyway. Seriously though, no fighter going down to injury is good, and MacDonald fighting Condit again was actually a draw in addition to GSP fighting, there's no way this was anything that could possibly be construed as positive. From a pure sports perspective the only thing that would have improved this card is Diaz getting removed from the main event for whatever reason and Johny Hendricks replacing him.
Judge Wyatt Beougher's Scorecard: When I conceived of this statement, I was thinking about how MacDonald's injury almost certainly ensures that with a win, Hendricks will finally get his title shot, while if Condit was able to beat MacDonald, there would be the potential for Hendricks to get bypassed again. As the rightful number one contender to GSP's welterweight crown, whatever legitimately puts Hendricks into that title fight is, in my mind, good for the sport. Still, though, Robert makes a great point – that truly, the only real improvement on this card from a pure sports perspective would be removing Diaz and giving Hendricks his rightful title shot. Tough round, so I'm scoring it a Draw, 10-10.

---
And that's it for this week! Again, make sure you sign up for the new comments system, so that you can let us know what you thought about this week's contest! As always, if there's anything you'd like to see featured in next week's edition, leave your statement in the comments and I'll add it in for next week. Let us know what you thought in the comments, on Twitter, or on Google+.
NULL
comments powered by Disqus