411 MMA Fact or Fiction 10.03.12: UFC on FUEL TV 5, Bellator Fallout, Meathead Turning Down a Fight, More
October 3, 2012 | Posted by
Welcome to another edition of 411's MMA Fact or Fiction, and, as usual, I'm your host, Wyatt Beougher. If you read my Five Quick Rounds column yesterday, you know that my grandmother passed away on Saturday, so I want to start this week's column out with a huge thanks to Jeffrey Harris, Matt White, and Todd Vote, for doing such an incredible job of getting things back to me in a prompt and timely manner. With the viewings and funeral and everything happening this week, it wouldve been impossible to complete this column without such amazing effort from all three guys. They have my heartfelt thanks. Last week, we had our first unanimous decision victory in what feels like quite some time, with guest judge Matt White, the readers, and I all scoring the fight in favor of Mark Radulich, who picked up his first Fact or Fiction win, moving to 1-2-1, while Robert fell to 2-3-0. again, I can't stress enough how closely contested these bouts are, and judging them is both an honor and a bit of a headache, as more often than not, it's extremely tough to pick a winner. As I mentioned, this week Jeffrey Harris and Matt White will debate UFC on FuelTV 5, Bellator, and more!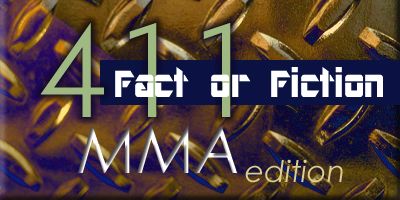 TALE OF THE TAPE
Red Corner
Jeffrey Harris
'The Vile One'
Ground and Pound Radio Show Regular/Columnist, MMA 3R's
1-2-0
VS
Blue Corner
Matt White
'Matty Nice'
Organizer, All the Kings' Men/The 411 MMA Top 5
0-1-0
And our special GUEST JUDGE
Todd Vote
'The Man Without a Zone'
Contributor, Everywhere

---
1.) Even though he won decisively, Stefan Struve's victory over Stipe Miocic does nothing to improve his standing in the heavyweight division.
Jeffrey Harris: FICTION  Are you freaking kidding me?!  He beat *ANOTHER* undefeated fighter who was 3-0 in the Octagon.  He's showing marked improvement with each performance and he no longer looks like the guy who got knocked out quickly by Roy Nelson.  He's stopped abandoning his defense and throwing flying knees.  Does he still have room for improvement?  Sure, but at this point, four straight wins and 9-3 in the UFC and being only 24 years old, you cannot deny his potential and that this kid is a prospect.  Oh, did I forget to mention his last four wins have all been finishes?  Struve is money as Favs would say.  Next question.
Matt White: FICTION Okay, while I agree with the answer, I disagree with the kudos that Jeffrey is giving him. I still think Stefan Struve is a guy who will get KO'd/Beat by the top 7-8 guys in the division. He's a gatekeeper, that's about it. Also, not a very good one. His 4 fight win streak doesn't exactly impress me either. He submitted Pat Barry and Lavar Johnson who are not what you would call 'well versed' on the ground. He's improving and he is young, yes, but this guy needs to learn how to use his reach! I agree that he stopped throwing flying knees which blew my mind when I first saw it but he takes a lot longer to find his reach than he should. His opponents should be the ones having issues, but Miocic was landing body shots at will and rocked Struve a couple times as well. I can't say a 4th straight win does NOTHING for Struve, but did this performance make me think 'Watch out Top 5! Here comes Skyscraper!'? Not in the slightest. He called out Werdum in the Post-Fight Press Conference, that did more to improve his standing than his win. If he can get in there and beat Werdum then you will see a lot more people in Tapout shirts jumping on the Struve bandwagon.
Judge Wyatt Beougher's Scorecard: I appreciate Jeff's fervency, but I think that Matt hit this one on the head – if Strive hadn't called out Werdum in the post-fight presser, he'd be fighting Geronimo dos Santos on the first FuelTV card of 2013. White, 10-9
Judge Todd Vote's Scorecard: While Jeffrey's answer is technically right, I think he may be over stating a bit just how impressive Struve's winning streak has been. Granted, any winning streak in the UFC should be an impressive feat, and this is, but a streak over the likes of Pat Barry, and Lavar Johnson isn't exactly going to set  the world on fire. I feel Matt hit the mark more with this question than Jeffrey did. While his streak will improve his standings, Struve has a long way to go before he should be in the title mix. White 10-9

---
2.) Brad Pickett turned in the most impressive performance at UFC on FuelTV 5, and you'd be interested in a rematch between Pickett and current interim bantamweight champion Renan Barao.
Matt White: FICTION Both parts of this are Fiction certainly. The most impressive win for me was Matt Wiman. Paul Sass was and is no joke when it gets to the ground, he's got 13 wins, 12 by submission, and was riding a very impressive 3 fight win streak in the UFC. Is that not good enough for you? Oh, Paul Sass hadn't left the first round without making his opponents tap out first. Also, an impressive submission win over Obama's #1 fan, Jacob Volkmann. Everyone counted this man out before the fight if it went to the ground and in less than five seconds Matt Wiman was staring up at the lights, before the round was over, Matt Wiman nearly ripped Paul Sass' arm in two pieces. This impressed me far more than Brad Pickett's KO over Yves Jabouin who was on a 3 fight win streak, but did not look overly impressive in those three wins. This was a big jump up in competition for him and Pickett did what I thought he would do, live up to his monicker and finish him with One Punch. The reason I am not interested in a rematch yet is I would be more interested in an Eddie Wineland matchup as an eliminator. The only true Bantamweight fight I would be interested in is Renan Barao vs. Dominick Cruz.
Jeffrey Harris: FICTION I love Brad Pickett, and I'm a huge Pickett fan.  That being said, I was predicting a Brad Pickett win at the show.  I think I was really most impressed by Stefan Struve with his win over Stipe Miocic.  I think it was really impressive for Wiman to not just beat Paul Sass but also submit him considering how successful Sass has been with his submissions as of late.  But I was still more impressed with Struve and how he was able to stand in the fire and come out on top.  Not only that he went into the fight putting aside what his father is currently going through and still walked away with a knockout win.  Struve has looked absolutely phenomenal as of late, but I was not expecting him to knockout Miocic at  all as I thought Miocic being undefeated, being a tough wrestler and boxer would be one of the toughest match-ups possible for Struve.  Now that being said, I'd definitely be interested in seeing a rematch between Pickett and Barao, but you have to really put Michael McDonald ahead of Pickett for Barao at the moment.  
Judge Wyatt Beougher's Scorecard: Both guys were more impressed with other fighters and have legitimate reasons for feeling that way. Also, both think Pickett is behind at least one other fighter for a crack at Barao, so I'm scoring this round a draw. Draw, 10-10 (White, 20-19 overall)
Judge Todd Vote 's Scorecard: I agree with most of what these guys are saying, I have not seen much in Pickett's game improve to show me he is ready for another shot at Barao, He's had only two fights since then, and sure he has won them both. What reason do we have to rush into a rematch with Renan Barao? As far as the impressive performance part of the question, that is all subjective, so 10-10 draw (20-19 White overall)

---
3.) Matt Mitrione turning down the opportunity to replace Frank Mir against Daniel Cormier, combined with the fact that he's coming off of a loss, essentially puts him on the short list to be cut if he loses his upcoming fight with Phil de Fries.
Jeffrey Harris: FICTION I was leaning toward fact until I got to the end of the question.  Would it be good for Mitrione if he lost his next fight?  No, it wouldn't.  But I don't think he'd be cut right away if he loses his next fight.  But hypothetically, let's say he loses it would also depend on which the manner of the loss as well.  So taking all that into account, I say fiction.  I like Matt Mitrione and he's a good fight promoter, but at the same time he's starting to talk a big game but when it comes time to fight he seems to back down.  He went out publicly and said he doesn't like the Phil de Fries fight and that it "doesn't get the juices flowing."  So he challenges Rampage, a career light heavyweight, to a fight.  He challenges Tito Ortiz.  OK, so you don't like the Phil de Fries fight, then why don't you like the Cormier fight?  As a fighter, the risk of losing will always exist no matter what.
Matt White: FICTION I 100% agree with Jeffrey's first sentence, he's in a rather shallow division and still has a little bit of name quality from The Ultimate Fighter so he won't be cut if he loses. Turning down a fight with Dana is never good if you don't have valid reasoning (in Dana's eyes, not your own). Meathead is a different breed, I don't understand his logic in saying he doesn't like certain fights and then calls out other people. Forrest Griffin does the same thing in saying he doesn't like fights, it doesn't register to me why a fighter would do that. But hey, I'm not a fighter. Mitrione's best course of action is to not let these distractions get to him and focus on de Fries. Ben Henderson said no matter what anyone says 'win your next fight' and they shut up. If he beats de Fries then it's time to move on to calling out names, but if you don't win your next fight, you're looking at a pink slip fight with Shawn Jordan. 
Judge Wyatt Beougher's Scorecard: Again, both guys agree, that Mitrione earned his Meathead nickname but isn't in real danger of being cut. Draw, 10-10 (White, 30-29 overall)
Judge Todd Vote 's Scorecard: Jeffrey answered this one about as perfectly as it could be answered. Harris 10-9 (29-29 overall)

---
4.) Bellator gave itself a black eye by making such a commotion about its matching rights clause to Tyson Nam and then not even opting to match World Series of Fighting's offer for him.
Matt White: FACT This is a very bad thing for Bellator in my opinion. Is it bad enough to close the company and watch all the fighters scramble ala Elite XC? No. However, I do see this being an issue coming forward. They are setting themselves up for failure, and while I admit not to be well versed in exactly what is going on in Bellator, as a casual fan of the promotion, it looks as if they got two black eyes. First they let Tyson Nam go fight with another organization and believe he is a lamb left to slaughter against Eduardo Dantas, he gets rocked early but then KO's Dantas and is suddenly making waves. Then they go out of their way and Rebney defends Bellator publicly and then they opt to not even match World Series of Fighting's offer? Seems extremely counterproductive for a company. Where as this is a small black eye and I am sure Nam will fade into obscurity after this, it's still a bit of a black eye for the company that will make fighters question their employer.
Jeffrey Harris: FACT I was disappointed with the way Bjorn Rebney attempted to deflect the blame here.  He even came off like he was taking credit for Nam getting the chance to face Dantas and getting the win.  Still I think this was really well played by Nam's management because they talked about Nam being threatened by a lawsuit which from everything I can tell was nowhere near being executed.  So Nam looked like the innocent victim while Bellator was made out to be the bad guys in this.  Now I know Rebney talked about ZUFFA instituting a similar rule with King Mo's contract, and it could be a valid point but we also don't know the specifics of Mo's deal and if it was really a matching clause issue.  There have been complaints from certain fighters of how restrictive Bellator contracts are.  Some fighters are very happy when they start in Bellator and in the tournament but that seems to turn around pretty quickly once they start losing or they feel they don't get a rematch they have "earned."  Look at Jay Hieron. Now look at Eddie Alvarez.  Frequently I would see keyboard warriors and message board fans complain about how UFC cut fighters and how Bellator and Strikeforce (pre-ZUFFA) would treat certain fighters better and those guys not worried about being cut as much after a bad loss or poor performance.  Well you can easily rattle off a list of guys who started off decently enough in Bellator or Strikeforce who didn't stick around after a certain loss.  Being in the smaller pond won't always guarantee the safety net.
Judge Wyatt Beougher's Scorecard: This round was *thisclose* to being another draw, but Jeff edged it out by pointing out that Nam's camp played this well and that Bellator's contracts do tend to be pretty widely criticized. Harris, 10-9 (39-39 overall)
Judge Todd Vote 's Scorecard: To me this just screams of Bellator trying to stop Nam from going to the UFC. I don't think he ever intended to match any offer that Nam would have received, it was just a ploy. You can't have a guy who just knocked out your champion going to the biggest show in town. Anyways, Harris has the better answer here, Harris 10-9 (39-38 Harris overall)

---
5.) Dan Henderson vs Lyoto Machida in a light heavyweight title eliminator would be an excellent addition to the UFC's year-end card, if Henderson is healthy enough to fight and the UFC can get the contracts in place in time.
Jeffrey Harris: FACT I like this fight a lot.  It's a fresh match-up and an interesting one at that.  Henderson got taken out of the light heavyweight fight with Jones, so you know he's hungry to get back into title contention just like when he came storming back into the UFC after dismantling Fedor.  He took it to Shogun and they had the greatest fight of all time at UFC 139.  Then you have Lyoto Machida on the other hand.  Machida who doesn't really want to fight Jon Jones again.  He turned down a rematch with Jon Jones when at one time that's what he wanted more than anything.  When the time came and push came to shove, Machida said no.  Henderson might be 42, but soldiers don't get older, they just get more character.  Hendo destroying Machida at UFC 155 would be the perfect ending to the year before he goes on to finally to his unfinished business with Bones Jones.
Matt White: FACT All this statement needed to be a FACT was 'Dan Henderson would be an excellent addition to the UFC's year-end card'. End of story. It's pretty clear that these two are easily Top 5 Light Heavyweights right now and they are on a collision course. I can only imagine the hype for a Jones/Henderson fight if Henderson were able to defeat Machida. However, I don't see Dan Henderson being ready by the end of the year, and I am still wondering where Rashad Evans is in the whole mix, so I don't see Machida and Dan Henderson happening in the next 90 days. Would it be an EXCELLENT addition? Yes. Two huge names on the card against one another with a title shot on the line? Here you go, Dana, here's my 60 dollars. The only minor flaw that I see it as being a title eliminator is Dana is quick to push new guys or a very big fight. If Alexander Gustafsson is able to put in an impressive performance and stop Shogun Rua on December 8th, we could see a new #1 Contender. Also, if Chael P. Sonnen is able to work his magic and stop Forrest Griffin impressively and talk his way into the fight, then there is a bottleneck at the top again. For me, it's cut and dry, Hendo and The Dragon were both #1 Contender's in the last 60 days, that came and went, put them in the cage and find out who the true #2 Light Heavyweight is right now. 
Judge Wyatt Beougher's Scorecard: This round, and this week's Fact or Fiction, were within a whisker of going to a draw, but Matt pointed out that either Alexander Gustafsson or Chael Sonnen could overtake Henderson or Machida for a title shot. Meanwhile, I don't agree with Jeff that Machida doesn't want to fight Jones again, but if I were in Machida's shoes, I wouldn't want anything less than a full camp to fight the most athletically gifted champion in UFC history. White, 10-9 (49-48 overall)
Judge Todd Vote 's Scorecard: This would be a good fight, but as Matt pointed out, just because it happens doesn't necessarily mean that either will be gifted the next shot. Personally I want to see Gustaffson vs. Jones. It holds a lot of intrigue for me. White gets the round 10-9 (48-48 overall)

---
Official Scorecard
Judge Wyatt Beougher scored the bout in favor of Matt White, 49-48.
Judge Todd Vote scored the bout a Draw, 48-48.

---
So there you have it – I thought Matt eked out the razor-thin decision, while Todd saw it as a draw. who do YOU think won? Vote below and make your voice heard!
No bonus question this week due to familial obligations, so instead enjoy the following video, which might be the best commercial for a television series ever:
(And, to be fair, here is Jeffrey Harris' rebuttal for best commercial:)
And that's it for this week! Again, my heartfelt thanks to all three guys for doing such a great job and making sure we had a column this week, and, as you've probably already noticed, 411 has implemented a new comments system, so make sure you sign up and let us know what you thought about this week's contest! As always, if there's anything you'd like to see featured in next week's edition, leave your statement in the comments and I'll add it in for next week. Let us know what you thought in the comments, on Twitter, or on Google+. We'll see you next week and remember 411Mania for all of your MMA needs.
NULL
comments powered by Disqus