411 MMA Fact or Fiction 10.10.12: Batista's MMA Debut, Griffin on Xanax, More
October 10, 2012 | Posted by
Welcome to another edition of 411's MMA Fact or Fiction, and, as usual, I'm your host, Wyatt Beougher. We've got a very special treat for you this week, but first, let's look back at how things played out last week. In a very good contest between Jeffrey Harris and Matt White (who is currently moving back stateside from the UK – best wishes on your move and safe travels, Matt – as someone who travels quite a bit, I know how stressful it can be), I gave White a one-round victory, while my guest judge, Todd Vote, scored it a draw. When the poll closed, the readers agreed with me, with Matt picking up almost 43% of the reader vote (compared to Jeff's roughly 29% and the almost 29% that saw it as a draw – and yes, I know that adds up to 101%, but all three percentages rounded up). With the win, Matt evened up his record at 1-1, while Jeff falls to 1-3. My heartfelt thanks again to all three guys for doing such a great job and getting everything back to me promptly so that I could get the column done in spite of familial obligations.
Now, as I mentioned before, this week is a special treat, as it features a rematch of the first two guys to go to a draw since I started hosting Fact or Fiction, Alex Watt and Alex Rella. Their first encounter was a great one, and this one is no different. I almost feel bad for accepting Plunkett's offer to step in and judge, but since no one else volunteered, I'm grateful that he did (and I'm guessing he enjoyed it, just as I did, in spite of the difficulty of picking a winner).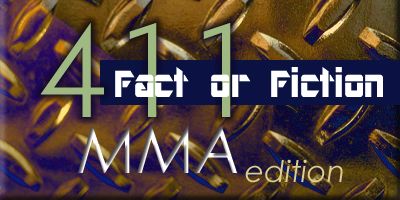 TALE OF THE TAPE
Red Corner
Alex Watt
'Axel Twat'
Columnist, Thoughts From Across the Pond
2-0-1
VS
Blue Corner
Alex Rella
'Cinder'
Columnist, The 411 MMA Top 10
0-1-0
And our special GUEST JUDGE
Dan Plunkett
'The Greatest'
Columnist, The Greatest MMA News Column

---
1.) Demetrious Johnson vs John Dodson will be the Fight of the Year (in whatever year it takes place).
Alex Watt: FICTION There is no doubt that Johnson vs. Dodson has the potential to be an absolute thriller and may well be the fastest fight ever seen inside the UFC Octagon. However, we cannot say with any certainty that it will be the Fight of the Year when it does eventually take place (one would assume the fight will co-main event a January or February PPV in 2013).
Both "Mighty Mouse" and "The Magician" are exciting fighters, with super fast combinations and quick transitions. However, I doubt that either man, on the evidence of their most recent fights, will be willing to stand in the pocket and trade combinations. Against Joseph Benavidez and Jussier da Silva respectively, both Johnson and Dodson demonstrated their ability to remain patient and fight intelligently, rather than rushing in and constantly attacking. This will likely make for an intriguing technical battle, which the hardcore fans will love, but not the kind of dragged out, bloody affair that most fans would consider a true FOTY candidate.
There is also the issue that the two men may simply move too fast for some fans to comprehend what they are doing. That statement may sound condescending, but after the way the fans reacted to Johnson vs. Benavidez and Dodson vs. Formiga, it would not shock me if Johnson vs. Dodson also received its fair share of derision, even if it does end up being the thriller that we are all hoping for.
Alex Rella: FICTION I agree with Watt that this will not be the FOTY but for different reasons. This could very well be the fastest fight ever but that doesn't necessarily mean that it will be a good fight. I'm still not a big fan of the flyweight division and it seems like a large portion of the UFC fan base feels the same. I'm not like Michael Bisping that just dislikes them because they're small, they're only a little lighter than me but I haven't been completely sold on them yet. The title fight at UFC 152 was good but by the fourth round the crowd and I lost interest and just kinda wanted it to be over. It's so fast paced that it just seems like they aren't doing a lot of damage to each other and I just had a hard time getting emotionally invested in it. This is similar to how a lot of wrestling fans just don't like fast paced indie wrestling like Ring of Honor.
You also have to look at the fights that are probably going to happen in 2013 (Johnson vs Dodson will most likely happen in 2013). We're most likely going to see GSP-Silva, Aldo-Edgar, Machida-Henderson, Cerrone-Pettis, Rousey-Cyborg, and a lot of other great fights. Even if the flyweights have an amazing fight, they have some tough competition. So I don't think the flyweights are ready to claim FOTY just yet.
Judge Wyatt Beougher's Scorecard: Wow. Watt comes out strong, looking for the early finish, but Rella fires back with an equally impressive answer. Since both guys agreed and made equally valid points in my mind, I'm scoring this one a Draw, 10-10.
Judge Dan Plunkett's Scorecard: Both make good points here. Watt notes that the fight will be a technical battle with a lot of movement, which generally isn't a combination that makes for the fight of the year. And as Rella noted, it's going to have a lot of competition, so it's tough to say in advance if this one fight will be better than the other thousand fights this or next year. Looking back, the fight that ends up being considered the best fight of the year is either a great back-and-forth fight or a fight that tells a great story. And perhaps most importantly, the fight of the year almost always involves at least one guy fans really care about, which I'm surprised neither brought up because fans don't react to Johnson and Dodson as stars. Rella's argument that it just doesn't seem like the flyweights are hurting each other isn't the best, especially considering Benavidez clearly hurt Johnson in the fourth round. I'm going with Watt, 10-9 here, because I see it being more of a technical fight that may even hear a fair smattering of boos.

---
2.) With another extremely solid night of fights, Invicta has positioned itself as the next WEC (great fights with a limited audience), and Strikeforce would do well to get a co-promotional deal in place to take advantage of Invicta's much deeper bantamweight division.
Alex Rella: FACT The two would be a perfect fit together. Invicta continues to put on quality fights each time they air and a television deal would help change a lot of minds when it comes to women's MMA. This would also help out Strikeforce as its future is not looking good at the moment. Strikeforce's women's division has helped them get their highest ratings, mainstream media attention, and set themselves as an alternative to the UFC somewhat. Unfortunately Strikeforce's talent is a little shallow, especially in their women's division. So this deal would help add depth and more great fights to each broadcast. So it while it makes perfect sense that a deal with Invicta would breathe some life into Strikeforce, it probably won't happen. It's very hard being a Strikeforce fan these days as the people over at Showtime are complete fools. Showtime cancelling their last event in September pretty much killed any hopes of a new deal with Strikeforce once the current one runs out. So while I really hope Strikeforce keeps going and makes a co-promotional deal with Invicta, the UFC is probably just going to absorb all of their fighters once the current TV deal is over.
Alex Watt: FACT The rise of Invicta has undoubtedly been one of the success stories of 2012 and the WEC comparison is a valid one. Invicta could very possibly fill the niche left by the WEC by continuing to put on great events, featuring phenomenal fights, for the hardcore MMA audience, with this weekend's event arguably being the company's best yet. The women's bantamweight division has been one of the few shining lights in the rapidly fading Strikeforce in 2012, and the company should be commended for their continued commitment to women's MMA and for their willingness to position female fights in the main event spot on Showtime events.
A co-promotion deal, then, would make perfect sense for both companies. For Invicta, it has the potential to bring more fans to watch their company should their fighters find success fighting on a show broadcast on network television. For Strikeforce, more fighters for their female 135lbs division will help to expand the division and bring in more potential challengers for dominant champ Ronda Rousey. A co-promotion deal would also, as Mr. Rella has noted, breathe some much needed life into Strikeforce, which is quickly becoming stale as its roster dwindles. A Strikeforce-Invicta coalition would be new and exciting and be good for the sport as a whole. Just don't expect it to actually happen…
Judge Wyatt Beougher's Scorecard: Geez, this is going to be a tough contest, isn't it? Both guys again giving excellent answers, but I'm giving the slightest of nods to Watt, for addressing the first part of the statement, regarding the WEC/Invicta comparison. It was a very minor oversight by Rella, but nonetheless, it's enough to give his opponent this round. Watt, 10-9 (20-19 overall)
Judge Dan Plunkett's Scorecard: I like that both made a point to say it probably won't happen because there's no way Zuffa is going to enter a co-promotional agreement with a Invicta. Both make the same basic points about the Strikeforce-Invicta part of the statement, but Rella didn't even answer the WEC part, so I have to go with Watt. Watt, 10-9 (20-18 overall)

---
3.) The revelation that Forrest Griffin tested positive for Xanax after his UFC 101 fight with Anderson Silva certainly explains his performance in that fight, as well as serving as an excellent reminder of why such drugs are so dangerous for fighters.
Alex Watt: FICTION This news story certainly led me to once again question the mindset of Forrest Griffin. Yes, it is entirely understandable that Griffin would be cripplingly anxious the night before competing against (arguably) the greatest athlete ever to compete in Mixed Martial Arts. Why, though, would he choose to take a drug which has the potential to slow him down on fight night and possibly give his dangerous opponent an even greater advantage?
As to whether the drug (which Griffin took the night before UFC 101 to help him sleep) did negatively affect Forrest's performance against "The Spider", it is tough to say. There is an argument to be made that Griffin looked slow and sluggish in the fight but, with all due respect to the TUF 1 winner, we have seen him fight in a similar manner on other occasions in the Octagon. The fact is that Xanax has stronger effects on some people than others and we cannot be sure whether Griffin would still have been feeling the effects the next day. On the balance of probability, however, it has to be assumed that the effects of the drug will have worn off by the following evening.
Either way, I think it is unfair to blame Griffin's performance on his use of Xanax. Ultimately, Forrest came up against the most talented fighter in the sport. Silva was at his absolute best at UFC 101; demonstrating his unparalleled sense of distance, timing and accuracy for all to see. When "The Spider" is in that sort of mood, absolutely nothing will stop him.
Perhaps the more interesting issue about this story is why the drug test failure was kept quiet until now. The PSAC could not legally reveal the results, but was this also preventing the UFC from making the news public? Also, one may question why Griffin was handed only a 30-day suspension following this failure, when Nick Diaz was slapped with a 12-month suspension for marijuana use. But, these are other debates for another time…
Alex Rella: FICTION Yes it is dangerous for fighters to take drugs that relax or slow them down but it's difficult to tell if it really affected Griffin in his fight with Anderson Silva. As of now I'm leaning towards no. Griffin stated that he took it so he would be able to sleep the night before the fight and didn't help him out. So if it couldn't get him to sleep the night before I don't see it realistically slowing him down that much the next day. You also have to take into account that sometimes Griffin has a really sloppy brawling boxing style that doesn't work out against top fighters. So Griffin didn't fight particularly strong and Anderson Silva had one of his best performances ever. Everything considered, I don't think the Xanax is the reason he got his face beat in by the Spider.
Judge Wyatt Beougher's Scorecard: Both guys took a softball statement and hit it out of the park, so hopefully the rest of the MMA world can lay the speculation to rest – I don't believe that there's any evidence to suggest that Silva dominated Griffin so thoroughly because of Griffin's use of Xanax. In a moment of pure Bergman-ness, I'm awarding this round to Rella, simply for not questioning why Nick Diaz got a twelve-month suspension for his second positive drug test, while Forrest Griffin only received a 30-day suspension for his first. Diaz is a filthy pothead and should be suspended FOREVER! Rella, 10-9 (29-29 overall)
Judge Dan Plunkett's Scorecard: The reason the UFC couldn't say anything about the failure is due to the strict HIPAA laws in PA. Again, both agree on this statement using the same argument. This round is a Draw, 10-10 (30-28 Watt overall)

---
4.) While the fight between Miguel Torres and Marlon Moraes at WSOF 1 should be a good one, World Series of Fighting missed the boat by not slotting Tyson Nam in to fight Torres while his name is still in the headlines.
Alex Rella: FICTION Nam is clearly the better fighter but WSOF did not need to rush into this fight. The card is pretty good as it is with Arlovski, Torres, Anthony Johnson, and Gregor Gracie fighting on the main card. Nam would have made it a little better but I don't think it would have helped that much. Also Nam isn't that well known yet. Yea he got some attention for knocking out Bellator's champion Eduardo Dantas but most fans still probably don't know who he is. I bet a large amount of fans don't know who Dantas is either though. So Nam vs the winner of Torres/Moraes allows time for it to build. This will give WSOF the opportunity to let the average fan know more about Nam and also it gives Torres the chance to rebound. He was just cut by the UFC after a loss, so a win before the bigger fight will raise his stock a little more. I also like this because it shows that the WSOF has some longer term booking planned and they might last a little while.
Alex Watt: FACT As my fellow Alex has noted, the WSOF have actually demonstrated some sort of booking nous and indicated that they have a long term business plan in place. It would have been easy for the new company to put Torres vs. Nam together immediately, but by demonstrating restraint and allowing Torres vs. Moraes to go ahead as planned, it gives the company the opportunity to build towards the Torres vs. Nam fight down the line.
Miguel Torres is coming off a loss so allowing him the chance to get back in the win column is a smart move and, who knows, he may remind people why just a few years ago he was considered one of the pound-for-pound most dangerous fighters in the sport. If Torres turns in a great performance and WSOF can effectively promote Nam on the back of his KO win over Bellator champ Eduardo Dantas (which many casual fans won't have seen as it happened on a Shooto card held in Brazil), then there will be even more interest in the fight and it should, in theory, result in more fans tuning into the future show and thus result in more money for the fledgling company. Yes, it is a risky move as Marlon Moraes may score the upset win, but it is a calculated one from WSOF which should be commended and will hopefully pay dividends for them.
Judge Wyatt Beougher's Scorecard: I think Mr. Watt meant to say "Fiction" based on his answer, but I'm not going to hold that against him. That said, neither guy thinks that WSoF should've put Nam into a fight with Torres, but they pursued him knowing that Bellator had matching rights, surely it wasn't to have him sitting on the shelf waiting for a fight on a second show that may never happen? You make the fights when you can (see: Fedor/Overeem in Strikeforce), so on that note, this one is a Draw, 10-10 (39-39 overall).
Judge Dan Plunkett's Scorecard: I was really excited when I saw they disagreed on this question, but then I read the responses and it's clear that Watt meant to go "fiction." I agree with the points both Alex's make here. Adding Tyson Nam to the show means nothing for the rating and I'd guess he's costlier than Marlon Moraes. Since Rella actually picked the right choice out of fact or fiction, he gets the round Rella, 10-9 (38-39 overall)

---
5.) Dave Bautista's MMA debut this coming weekend will be a failure, considering his initial opponent was arrested and the replacement fighter is 22-22. [Editor's Note: This question was sent to both competitors prior to Batista's debut. -W]
Alex Watt: FICTION I suppose this all depends on how much of a success you were expecting "Batista's" MMA debut to be in the first place. Rashid Evans isn't any more of a household name than Vince Lucero is, so I doubt Evans' arrest and the opponent change will have made any significant difference to the interest in this fight.
Let's face it, people were going to tune in to see Dave Bautista's Mixed Martial Arts debut last Saturday, for one reason; curiosity. It didn't really matter who the former WWE star fought, people were just intrigued to see whether "Batista" could actually fight or whether his tricep would tear off the bone as he tried.
Ultimately, "Batista" won the fight against Lucero so in that sense his debut has to be considered a success, even if the buy-rate will probably suck.
Alex Rella: FICTION I actually thought this was an upgrade over his original opponent. I didn't see the fight but I did hear Lucero is a tad overweight but it's still an upgrade over Evans who has no wins. Lucero has fought Tim Sylvia, Lavar Johnson, Travis Fulton, and Roy Nelson. Yes they all beat him but Lucero still has some experience against some pretty good fighters. Lucero also fought in Bellator last year. Also almost nobody fights a top fighter in their first fight. So the Animal defeated a fat journeyman in his first fight and he can fight Frank Mir next in his second one. Of course I'm kidding but Batista has been very realistic when talking about his plans in MMA. Batista has some modest goals and it really seems like he just wants to compete and give it a try. Unfortunately people are going to rip on him no matter what because of his past success in pro wrestling.
Judge Wyatt Beougher's Scorecard: This was one of those subjective statements where the respondents were free to define success/failure in their own way, and both guys did well and continued their string of excellent answers. With that in mind, I'm giving the nod to Rella in this round, for pointing out that at least Vince Lucero has been in the cage with legitimate fighters, making him an upgrade over Rashid "Not-Rashad" Evans, and also for pointing out that with Bautista's goals being so realistically grounded and setting his own expectations low, it's hard to rule his debut anything but a success (even if, as Watt mentioned, the buy rate likely sucked.) Rella, 10-9 (49-48 overall) [Editor's Note: I included the trailer for "The Man with the Iron Fists" because they announced him as Dave "Brass Body" Bautista, his character in the movie. -W]
Judge Dan Plunkett's Scorecard: I think Rella did a better job at explaining his point here so I'm giving the round to him, Rella, 10-9 (48-48 overall).He's right that Lucero, while not a very good fighter, is at least a fighter with a lot of experience. I do feel bad about not giving the round to Watt though for making the triceps joke, but I also didn't want him to win because these two agreed way too much.

---
Official Scorecard
Judge Wyatt Beougher scored the bout in favor of Alex Rella, 49-48.
Judge Dan Plunkett scored the bout a Draw, 48-48.

---
So with ten rounds in the books between these two, and their first encounter ending with a draw, how do see the second time playing out? Do you agree with me, that Rella did enough to win? Or with Dan, who thought these two were once again evenly matched? Or do you think that Watt continued his winning ways and picked up the victory? Vote and let us know!
Bonus) Jay Glazer was talking about which of Jon Jones' brothers (both of whom play in the NFL) would be better suited to transition to MMA. Which sport do you think Jones' would best transition to?
Alex Rella: I would have to go with football. Jones isn't large enough to be a lineman like his brothers but he's athletic and big enough to play other positions. I could see Jon Jones either as a cornerback or safety. He would lay guys out with his takedown ability.
Alex Watt: The obvious answers here are, of course, (American) Football or Wrestling because of Jones' sporting background. Perhaps "Bones" could even have a good crack at Basketball considering his height and athleticism.
However, let's think outside the box here a bit. What about Rally Driving – because Jon Jones is good at driving his cars off road? Or Golf – because "Bones" is a fan of shots and clubs. Swimming – because Jon Jones is currently in hot water with Dana White. Hell, if Futurama is to be believed "Limbo" will be a professional sport in the future – Jones would do well at that. After all, he's good at ducking fights (or so Chael Sonnen would have you believe).
Judge Wyatt Beougher's Scorecard: Watt wins this round, and the internets, for his alternative sports for Jon Jones to participate in. Watt, 10-7 And I encourage all future participants to HAVE FUN WITH THE BONUS ROUND!
Judge Dan Plunkett's Scorecard: I score this round 10,000-9, Watt. This might be his finest work ever.

---
And that's it for this week! Again, make sure you sign up for the new comments system, so that you can let us know what you thought about this week's contest! As always, if there's anything you'd like to see featured in next week's edition, leave your statement in the comments and I'll add it in for next week. Let us know what you thought in the comments, on Twitter, or on Google+. We'll see you next week and remember 411Mania for all of your MMA needs.
NULL
comments powered by Disqus