411 MMA Fact or Fiction 10.17.12: Silva, Strikeforce, More
October 17, 2012 | Posted by
Welcome to another edition of 411's MMA Fact or Fiction, and, as usual, I'm your host, Wyatt Beougher. As you know, last week was the rematch of the first-ever MMA Fact or Fiction draw, between Alex Watt and Alex Rella, and what a contest it was! Neither guy was willing to give their opponent even the slightest opening, and when the dust settled, I scored the fight as a narrow win for Rella, while guest judge Dan Plunkett scored it another draw. It came down to you, the readers, to decide the winner, and when the polls closed, Rella picked up the win 14-12 (with 9 voters believing it was another draw. Congratulations on Alex Rella for evening up his record, and I think he's definitely earned it, competing in some of the closest competitions during my tenure as Fact or Fiction host. This week should also tickle the fancy of long-time readers, as it features the return of former host Dustin James to active competition, and he'll be taking on the winner of the first-ever 411 MMA Fact or Fiction Tournament of Great Significance, Steve Cook. If you've been around the site for a while, you know that Cook and I have a rivalry dating back to that first tournament, and also that Dustin and I almost constantly put one another down, but I have to tell you, these guys were nothing but professional, cranking out top-notch, in-depth answers and getting everything back to me well before their deadlines. It was a real pleasure working with both guys, and I look forward to them competing again, hopefully in the near future.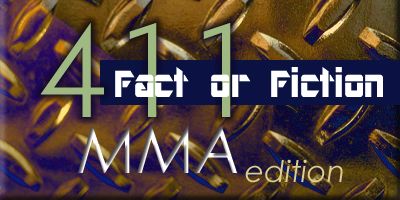 TALE OF THE TAPE
Red Corner
Dustin James
'King'
Contributor, MMA Zone
0-1-0
VS
Blue Corner
Steve Cook
'Kentucky's Finest'
411 Wrestling Fact or Fiction Host/Columnist, News From Cook's Corner
0-1-0
And our special GUEST JUDGE
Mark Radulich
'Head Shrinker'
Live Coverage Guru/Host, Ground and Pound Radio Show

---
1.) After watching what a motivated Anderson Silva can do in a fight, it's hard to give GSP or Jon Jones much chance against him in a super fight.
Dustin James: FICTION. Man, am I the only one who has pretty much zero interest in seeing Anderson Silva vs. Jon Jones at the moment? Sure, that fight is very interesting and would probably sell a bazillion PPV's, but it's just not the right fight to make right now. The right fight to make right now is Anderson Silva vs. GSP, considering GSP defeats Carlos Condit next month (which is no easy task in itself). Silva and GSP have been on top of their respective weight divisions for years now and people have been clamoring for that fight to happen for what seems like forever. Plus, in my opinion…..it's the more competitive fight out of the two superfights the UFC could make. Jon Jones vs. Anderson Silva is interesting for numerous reasons, but the more I play the fight out in my head, the more I just can't see Anderson being able to beat "Bones". If someone gave you a task to create the perfect fighter to beat "The Spider" in the Octagon, wouldn't everyone basically just pretty much clone "Bones" Jones with improved stand-up skills? Chael Sonnen has shown everyone what Anderson Silva's weakness is and something tells me that "Bones" Jones would implement the same gameplan as Sonnen did in his first fight with Anderson, only he would do it better. Being a big Anderson Silva fan and considering I'm NOT a big fan of "Bones" Jones, I would love to sit here and confidently say that "The Spider" could defeat Jones, but I just don't see it. Silva is much better on his feet than Jones is, but I can't see a fight between the two of them staying on the feet for an extended period of time because "Bones" would be stupid to allow that to happen.
As for GSP, I have said for years now that a GSP/Silva fight would be the biggest UFC fight of all-time and hopefully the company makes that fight a reality in 2013. The only problem for GSP is, I just don't see how he defeats Silva. Silva would absolutely maul GSP standing and if GSP is unable to take Silva down, the welterweight champion would be in for an unusually long night. Basically, to sum it all up. I honestly wouldn't mind seeing either fight, but considering I'm a huge Anderson Silva fan….I would much rather see GSP vs. Silva than Silva vs. "Bones" Jones right now. However, the UFC really couldn't go wrong with either fight because both of them just reek of insanely huge profits for the UFC.
Steve Cook: FICTION. I'm not a big fan of this statement. It's the same malarkey you hear after every single major fight in the UFC. "THIS GUY, THIS GUY RIGHT HERE, HE HARKENS BACK TO THE DAYS OF MMA WHERE YOU MADE ONE WRONG MOVE AND YOUR HEAD WOULD BE REMOVED FROM YOUR BODY! YOU CAN'T COACH THAT!" Whoever main evented the last show is the best fighter in the sport right now. It's part of the ESPNization of sports media where nobody remembers anything that happened more than a day ago, and it needs to halt right here & now. It won't, of course, but it does get really tiresome.
There's no doubt that when Anderson Silva is on his A game, he's pretty much untouchable…but the whole point of having a "super fight" is to have two untouchable guys go at it and see who wins. It's easy for some people to forget about Georges St-Pierre since he hasn't fought in a year & a half, but when GSP steps into the octagon he usually has a dominating performance that ends in a lopsided five round decision in his favor and everybody talking about how nobody can beat him. Just like how we're talking about how nobody can beat Anderson Silva now, and how we were talking about how nobody could beat Jon Jones after his last fight.
Dustin James was going on about how he'd rather see Silva vs. GSP than Silva vs. Jones and how he has no interest in seeing Silva vs. Jones (bullshit), and but Silva vs. Jones makes more sense because Silva's proven he can fight at 205. Why else would they have Silva move up to 205 for these fights if they didn't plan on him challenging for that title eventually? With UFC needing a super fight to make up for some of these lame PPV main events they've given us lately, it's the perfect time to do it. Just keep adding those zeros on the end of the contract, Dana. There's only so much money a man can turn down.
Judge Wyatt Beougher's Scorecard: Both guys agree that in spite of Silva's impressive performance on Saturday, he's not completely untouchable. I strongly disagree with Dustin's assertion that Silva/GSP is the right fight to make, and Cook broke out the Jon Gruden impression, so he narrowly takes this round. Cook, 10-9
Judge Mark Radulich's Scorecard: I must give this round to
Steve Cook.  Dustin's answer was a little confusing for me quite
frankly.  The bottom line here is whether or not you think GSP or
Jones are competitive against Silva.  Dustin spent most of his answer
talking about his interest in those fights.  Cook got straight to the
point and reminded us that both GSP and Jones are just as much the
caliber of fighter as Silva and people shouldn't just write them off.
Cook 10-9

---
2.)  Based on what he did to Fabio Maldonado on Saturday night, it's hard to blame Shogun and Rashad for turning down fights with Glover Teixeira, no matter the reason.
Steve Cook: FACT? I disagree with the first part of the statement simply because Fabio Maldonado has beaten nobody of note in his career & is now 1 -3 in the UFC. Fabio's one win was over a man who had a record of 4 -5 at the time of their fight. Beating him, no matter how impressive you look in doing so, doesn't establish you as a top contender in the light heavyweight division, even though I saw people in 411's MMA Zone crowning him as one after his first UFC fight. However, I agree with the main point of the statement in that I don't blame Shogun or Rashad for turning down the fight. So I guess it's Fact. Probably.
The topic of Glover Teixeira is an interesting one. Shogun Rua & Rashad Evans are supposed to be two of the best light heavyweight fighters in the world, have both held the UFC Light Heavyweight Championship, and have been taking on the best the world has had to offer for a long period of time. Theoretically, they shouldn't have a problem taking on an up & comer like Glover, who although he's looked impressive in his time in the UFC wouldn't be rated by most experts on the level of Rua & Evans. The guy's had two fights in the UFC and his most notable victories outside UFC are over Marvin Eastman & Ricco Rodriguez…both of whom were about ten years past their prime when they fought him. I'd imagine that Glover wouldn't usually be getting these types of opportunities if the division was a bit deeper and not plagued by injury. I didn't blame Shogun & Rashad for not taking the fight before UFC 153 happened, and nothing that happened on the show changed my mind.
(I will admit that Shogun's whole "He's not a big enough name to fight me!" thing was pretty lame and he should be better than that. At least Rashad was fat & out of shape.)
This whole situation might actually work out better for Glover than it would have if Rashad or Shogun had stepped into the cage with him. Now people can build him up as the guy that Rashad Evans & Shogun Rua were too scared to fight. That's not a bad tagline to put by your name, and can increase your notoriety without having to fight either guy. It also adds a little something to the build if Glover does end up fighting either Rashad or Shogun after working his way up to their level.
Dustin James: FICTION. I totally understand why Rashad Evans turned down the fight, not being in shape and all, but Mauricio "Shogun" Rua had no excuse for not taking this fight. Not only would it have been the co-main event in a big fight with title implications, but it was a huge opportunity for him to fight in front of his fellow Brazilian MMA fans. Texieira looked pretty impressive in his win over Fabio Maldonado, but he still doesn't look unbeatable. Maldonado was able to hit Glover with a nice shot that put him on "rubber legs" late in the first-round and someone with the power of "Shogun" could have put Teixeira down for the count and ended his run as the "next big thing" in the UFC's light heavyweight division. Therefore, I just can't buy guys like "Shogun" being afraid to fight Teixeira because he's "dangerous".
Instead, "Shogun" used the lame excuse that Teixeira wasn't a big enough name for him to fight (because Rua's last opponent was a HUGE mainstream star and everything…) and he instead opted to sit cageside wearing clothes given to him by his sponsors. I guess if you aren't going to be competing in the cage, you may as well still get paid some other way….right? How about next time you just put your gloves on and do what your boss asks you to? "Shogun" could be eyeballing a potential rematch with Jon "Bones" Jones, but now he has to sit and wait for another title opportunity to come his way and no one should feel bad for him.
Judge Wyatt Beougher's Scorecard: I don't disagree that both Evans and Rua were well within their rights to turn down a fight with Teixeira, but James makes an excellent point – Rua was initially passed over for title contention in favor of Machida, and if you think that didn't have something to do with turning down the Teixeira fight, you're either blind, in denial, or have no idea how Dana White operates. Want more proof? Even with all of the recent turmoil with regards to injuries and the like in the light heavyweight title scene, Rua's name hasn't been in the discussion. Based on the strength of that argument, James takes this round. James, 10-9 (19-19)
Judge Mark Radulich's Scorecard: Both of these writers
basically said the same thing, and their answers were just fine.  I'm
going to give this round a draw.  Draw, 10-10 (20-19 overall)

---
3.) Shane Roller's retirement, while sudden, wasn't all that surprising and was likely the best move for Roller.
Dustin James: FACT I've said it before and I'll say it again….if people wish to change professions because they don't feel like they are 100% into what they are currently doing, what gives anyone else the right to judge them? Roller felt like it was time for him to walk away from the sport, so good for him. The guy walks away with a less-than-impressive professional record of 11 -7 and he'd lost four out of his last five fights inside the Octagon. His only win in the past year came against a washed-up John Alessio who isn't even an active member of the UFC roster anymore. Even though I'm 95% sure that Roller's retirement was more of a knee-jerk reaction to losing yet another fight and we'll likely see him in a cage again real soon, you can't really blame the guy for walking away from a violent sport with his health still intact. Good for you, Shane Roller. Now go to your nearest beach, pick up a pair of flip flops and the fruitiest drink you can find and kick back with your ass in a lawn chair and your toes in the sand. I wish I could do the same thing……
Steve Cook: FACT. Roller's last fight was on the prelims of a UFC on FX show. His next fight was going to be on the prelims of a UFC on Fuel show, or even worse…on a Bellator show. Of course this was the smart move! Get out before you go too far down the totem pole and you're still relatively healthy. The one thing that makes me question this decision is the fact that he got paid more for his last fight than the loser of the main event of the show did. Any time you can do that you must be doing something right. I expect to see Shane on the beach next to Dustin & myself soon…Dustin with his fruity drink & me with my bourbon. Good times.
Judge Wyatt Beougher's Scorecard: Both guys in agreement here, so it comes down to the intangibles – James references The Zac Brown Band, while Cook drinks a man's drink…Cook wins for pointing out that Roller was going from UFC on FX to UFC on FUEL or Bellator and that's a trajectory that just isn't worth risking your health for. Cook, 10-9 (29-28 overall)
Judge Mark Radulich's Scorecard: I'd like to give Cook the nod
here for drinking bourbon rather a "fruity drink" but that just
wouldn't be fair.  Yet another draw round.  Draw, 10-10 (30-29 overall)

---
4.) Batista donating his MMA purse to charity is just another reason to support "The Animal" as he makes his transition to MMA.
Steve Cook: FACT Obviously Big Dave Bautista isn't going to be contending for any major championships. He's 43 years old. He's past his athletic prime. He's not on the level of guys like Junior Dos Santos & Daniel Cormier. He's not going to be the next Brock Lesnar. He knows all that. But he has a great love of the sport of mixed martial arts and he's willing to do anything to be a part of it, including stepping into the cage and finding out just how successful he can be. He knows he's not a UFC-level fighter, but he's willing to fight on smaller cards and hopefully the promoters will use his fame to bump up their business. Donating his fight winnings to charity shows an amount of class that is sadly lacking among certain people in the MMA world, and it shows he's not doing this because he needs the money. I'm not saying the guy's the future of the UFC heavyweight division, or any heavyweight division, but you gotta give him credit for testing himself like this. Also, Bautista fighting on this card drew attention to it that otherwise wouldn't have been there and gave the fighters on the undercard a larger audience to compete in front of. This was a winning situation for everybody involved, and if Bautista wishes to continue his career I see no reason why he shouldn't.
Dustin James: FACT Honestly, I couldn't care less about Batista's transition into MMA. As Cook mentioned, it's not like the guy is ever going to be a world champion or anything and since I'm only interested in watching the best in the world fight….I just don't care about Dave Batista's attempt at an MMA career. However, after hearing that the guy gave up his purse to charity just goes to show you that Batista isn't doing this whole MMA thing just for the money (stop laughing Nick Diaz), but maybe he actually wants to prove to himself that he can do it. I guess you have to cheer for someone like that…..
Judge Wyatt Beougher's Scorecard: Dustin's apathy is troubling, but he salvages his hopes in this fight by mockingly shouting out Nick Diaz. Draw, 10-10 (Cook, 39-38 overall)
Judge Mark Radulich's Scorecard: I have to go with Cook on
this one for giving the more positive answer.  Cook, 10-9 (40-38
overall)

---
5.) The past week of Strikeforce-related rumors, ranging from show cancellation to Showtime nullifying their contract to Zuffa ceasing operations, has made it difficult to get excited for any shows they have lined up for the rest of the year.
Dustin James: FACT. Strikeforce shows are hard enough to get excited about, and these recent cancellations have pretty much made the promotion the biggest joke in MMA since "WAMMA" was around. Outside of the big-time hardcore MMA fans, I know absolutely zero people who get excited for Strikeforce shows. Believe it or not, but the mainstream MMA audience doesn't give two shits about guys like Luke Rockhold, "Jacare" Souza, Tim Kennedy, or even Gilbert Melendez. Why? BECAUSE THEY DON'T FIGHT IN THE UFC! The mainstream fans pretty much only care about the UFC and outside of maybe Ronda Rousey, there's just no one in Strikeforce people feel connected to. Everyone knows that it's just a matter of time before Strikeforce goes to the MMA cemetery alongside the WEC, Affliction, EliteXC, and the IFL. The two recently canceled shows from the promotion do nothing but confirm people's suspicions that Zuffa doesn't care about Strikeforce and you shouldn't either. Can we just put a bullet in this dying deer's head yet or do we all get off on watching it suffer first? Just pull the trigger already because it's high time we saw Rousey, Melendez, Daniel Cormier, and others in the UFC by now.
Steve Cook: FACT I was already having problems getting excited about anything involving StrikeForce for the rest of the year that didn't involve Ronda Rousey or Miesha Tate. Would anybody reading this really be surprised if StrikeForce ceased operations? That's why the rumors got such a foothold…we've been expecting Zuffa to shut this puppy down ever since they bought it! It's what they did with WEC & PRIDE, and it's only a matter of time until StrikeForce meets the same fate. It's a shame because StrikeForce used to put on some kickass shows a few years ago and was my favorite MMA organization during its prime. Where else were you going to see Frank Shamrock, Cung Le or Gina Carano? UFC wasn't doing any of that stuff. StrikeForce was something different, and once Zuffa bought it, it became the UFC B show. Tough to get excited about that, especially when UFC ain't all that & a bag of potato chips these days.
Judge Wyatt Beougher's Scorecard: I liked Cook's answer, but the prime of Carano's career was spent in EliteXC, and no one really wanted to see Shamrock fight, right? On the other hand, Dustin questions if any non-hardcore fans care about Strikeforce, while Ronda Rousey is the fastest rising star in MMA right now. Still though, that's the lesser of two evils, so James takes this round. James, 10-9 (48-48 overall)
Judge Mark Radulich's Scorecard: Another draw round and both men basically said the same thing. Draw, 10-10 (Cook, 50-48 overall)

---
Official Scorecard
Judge Wyatt Beougher scored the bout a Draw, 48-48.
Judge Mark Radulich scored the bout in favor of Steve Cook, 50-48.

---
This was truly a battle for the ages between two veterans. You've read their responses, so who do you think won? Is Dustin still "The Ultimate Writer"? Or did Cook storm the MMA Zone and steal the win?
Bonus) Between blading and generating controversy by getting into a minor altercation with a fan, it's only a matter of time before CM Punk gets punished and/or de-pushed because the WWE doesn't want to hurt Linda McMahon's chances of getting elected.
Steve Cook: FICTION. This whole "Linda wants to be a politician" thing is really getting old. You would think she would have taken a hint in 2010 when every Republican under the sun was getting elected since the folks were mad at Obama and she couldn't get the votes. Nope, she's back in 2012. At least there isn't a Senate election in Connecticut in 2014…but she'll probably run for the House of Representatives that year. As a fella that watches a lot of WWE programming, CM Punk has consistently been one of the better parts of their shows for the past few years now. He's had a tremendous WWE title reign. Yes, there have been bumps in the road, but it seems that WWE has decided that Punk is their guy. Besides, with the attention span of the American voter being what it is, they'll forget about Punk punching somebody by the time this column gets posted.
Dustin James: FICTION. First of all, I should probably point out that my WWE viewing for the past few years has been limited to the Royal Rumble PPV, WrestleMania, and pretty much any old school show on WWE On Demand. I absolutely hate the PG era of the WWE and even though the WWE was aimed at kids back when I first started watching (1990), at least they had interesting gimmicks to keep me interested instead of 25 guys who all look like calendar models with stupid ass names. Another reason I hate the WWE right now is due to Linda McMahon running for office. The WWE has basically had to tip toe around doing anything remotely controversial all because Linda's dumb ass needs to try and bring more attention to the McMahon name than there already is. The WWE should be the most important thing in the McMahon's lives, not Linda McMahon's campaign. With that said, if the WWE decided to punish C.M. Punk by de-pushing him due to all that has happened lately, that just goes to show you how stupid the McMahon's have become.
The WWE is hurting for star power and as of right now, I can't fathom what the WWE would be like without Punk around on top. He's been the hottest act in the WWE for the last couple of years and if Vince and his stupid ass wife decided to punish him to try and save face on Linda's campaign, then someone should walk into their office and shoot them in the face with a piss-filled Super Soaker. I'm sick and tired of hearing about Linda McMahon running for office. Hopefully she loses the election and goes back to the kitchen where she belongs. Anyway, Dave Meltzer pretty much summed up exactly why the WWE can't punish C.M. Punk at this time in this week's "Wrestling Observer":
"A lot of people questioned why no disciplinary action was taken against Punk, noting wrestlers who have hit fans in the past have gotten in a lot of trouble. But the reality is, with Cena out of action, Punk has been carrying the television and is the biggest star on the Raw brand house shows, and they simply can't afford him also being gone right now."
And that's that.
Judge Wyatt Beougher's Scorecard: This was an insanely close round, but Dustin lost based on one small statement…no, not the kitchen one, since he's entitled to his opinion; no, Dustin loses out because he says wrestlers' names were better in 1990 than they are now. Duke "The Dumpster" Droese and Man Mountain Rock (among others) say hello. Cook, 10-9
Judge Mark Radulich's Scorecard: Steve Cook, 10-9 for giving a slightly more readable and interesting answer in my opinion.

---
And that's it for this week! Again, make sure you sign up for the new comments system, so that you can let us know what you thought about this week's contest! As always, if there's anything you'd like to see featured in next week's edition, leave your statement in the comments and I'll add it in for next week. Let us know what you thought in the comments, on Twitter, or on Google+. We'll see you next week and remember 411Mania for all of your MMA needs.
NULL
comments powered by Disqus