411 MMA Fact or Fiction 11.06.12: Chael's Dream Team, Bellator's Heavyweight Division, Bonnar's Legacy, More
November 7, 2012 | Posted by
Hey, it's a new month, and I'm here, as always, with another edition of 411 MMA's Fact or Fiction, but first, let's look back at last week, shall we? Todd Vote stepped back into the Fact or Fiction cage for the second straight week, hoping to right the ship after suffering a loss as a late replacment against Mark Radulich two weeks ago. His opponent was no slouch, either, as "Juggernaut" Jonathan Solomon came ready to battle. Both guest judge Stewart Lange and I scored the bout in favor of Vote, and so did the readers, with Todd picking up nearly 61% of the overall vote. Believe it or not, Todd offered to go for a third straight week here, but I didn't want to risk the ire of the 411 Athletic Commission, so he's on the shelf for the time being. Instead, this week I bring you a rematch of another one of those infrequent draws that we've seen in this column, as Patrick Mullen will be taking on Mark Radulich in a battle of Ground and Pound Radio Show comrades. In a slight change of course this week, there's going to be no guest judge, so it'll just be you the readers and me who decide who wins this one.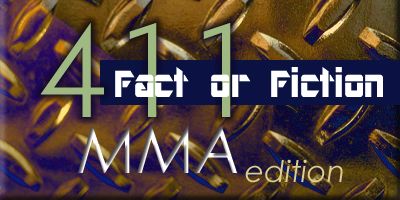 TALE OF THE TAPE
Red Corner
Patrick Mullin
'Pat Star'
Columnist, The Blueprint/Collaborator, Ground and Pound Radio Show
1-0-1
VS
Blue Corner
Mark Radulich
'Headshrinker'
Host, Ground and Pound Radio Show/MMA Coverage Guru
2-2-1

---
1.) With Richard Hale doing as well as he did in Bellator's light heavyweight division, it shouldn't come as a surprise that he's thus far done so well in this season's heavyweight tournament.
Patrick Mullin:FICTION I say this because quite frankly doing well in a light heavyweight division means squat when you move up to play with the big boys. Size matters or there wouldn't be weight classes. However we shouldn't be surprised he's doing well because of the overall lack of depth and talent amongst the Bellator heavyweights. Cole Konrad seemed to be the only real good talent in the Bellator heavyweight division and with him gone I now have plans to gain some weight and take fights against Bob Sapp and Dave Batista. By beating them I'll earn a spot in a Bellator tournament and with the severe lack of talent I wouldn't hesitate to bet on me if the odds are long.
Mark Radulich: FICTION No disrespect to Richard Hale but he was losing to Thiago Santos before Santos gave up after losing a tooth. If Santos had any mental strength he would have destroyed Hale
and been well on his way to becoming Bellator's 2nd HW champion. I'm not saying Hale sucks or anything, and to that effect I'm not surprised to see him advance in the tournament. However, you can't overlook the fact that he was being smoked right up until Santos crumbled at the sight of his tooth falling out.
Judge Wyatt Beougher's Scorecard: Both guys made excellent points here, but I'm awarding the round to Patrick, because, for all of his hyperbole about the lack of talent in Bellator's heavyweight division, he's actually right, and Hale has a very good shot at becoming the next Bellator heavyweight champion. Mullin, 10-9

---
2.) It's going to take more than a change in camp and a win over Devin Cole to put any credence to Andrei Arlovski's claims that he's turned his career around.
Mark Radulich: FACT It's cute that Arlovski is claiming that he's turned his career around but nobody with any credibility is going to buy that. Let's review the facts: Arlovski has won 3 of his last 4 fights (he has one NC against Tim Sylvia) against Ray Lopez, Travis Fulton and the aforementioned Devin Cole. These are not quality wins. These are wins to showcase Arlovski and give him some mercy W's. Against fair to great competition (Kharitonov, Rogers, Bigfoot and Fedor) he is 0 and 4. If Arlovski is serious about "turning his career around," he needs 3 or 4 wins against relevant, quality opponents. Hell, I'd even give him credit for winning a Bellator tourney if that were to actually happen. However, if he's just going to be novelty fighter knocking out cans for cash then I can't take him or his present career too seriously.
Patrick Mullin:FACT Call me crazy but I'm not yet going to buy stock in Andrei Arlovski becoming a viable heavyweight again based on a camp change and win over a journeyman. The WSOF matchmaking team put Andrei in with Cole because it was an advantageous fight for Andrei to look good. Cole was going to stand with him and he lacks the ability to withstand heavy handed assaults and doesn't have the power to trouble even the frail chinned Arlovski. We've heard Andrei talk about being refocused such as when he got the fight with Fedor, a spot in the Strikeforce Grand Prix, and what happened? He lost. He's on the wrong side of 30 and while he hasn't really taken a lot of punishment(most of his KO losses are quick ones) his mental state has always been fragile. Jackson is a great motivator but he's not a life coach and that's what Andrei seems to need more than anything.
Judge Wyatt Beougher's Scorecard: Again, both gentlemen make excellent points, and with Fedor apparently retired, someone has to step in and crush cans, right? In all seriousness, I'm again giving this round to Pat for pointing out that Arlovski needs a sports psychiatrist or a life coach more than he needs Greg Jackson. Mullin, 10-9 (20-18 overall)

---
3.) Stephen Bonnar testing positive for PEDs for the second time in his career after his fight with Anderson Silva not only sends him back into retirement on a down note, but also calls into question the legitimacy of the three fight win streak he initially retired off of.
Patrick MullinFACT This is absolutely a fact. Fool me once shame on you, fool me twice shame on me. PED use is rampant in professional sports and the guys who are caught are guys who haven't figured out how to outsmart testing. When a guy fails more than one screening test that's a big time red flag. Now granted Bonnar really came into this with nothing to lose but when you consider how his career has gone its very likely this is a guy who needed every conceivable aid he could get to win against even the most mediocre of opposition. It takes a real jabroni to lose to Mark Coleman in 2009 and Bonnar found a way to do it. How can anyone believe someone who does that is capable of beating anybody without the use of PEDs? PED use generally is either habitual or you get caught once and give up on it. For guys who've failed more than one test it shows that the likelihood of habitual use throughout their career is statistically very high and they worked harder to outsmart a lab technician than they did to win a fight.
Mark Radulich: FACT Yes, testing positive for steroids makes it seem like Bonnar has been using steroids for his entire career in the UFC. Yes, it taints all of his victories and it takes away from whatever he's accomplished as a professional fighter. Yes, he'll forever be known as a cheater and juiced up steroid monkey. Now (at the risk of losing this round on the judge's scorecard for harboring this opinion) ask me if I care. I really don't. I think it was dumb and I certainly don't see how Bonnar thought it was going to help him against the best fighter on the planet but at the end of the day I just don't give a hoot. He was never going to fight again anyway and short of shooting Silva in the cage or hurting a child, for loyalties sake, he'll always have a job with Zuffa in some capacity. Meh.
Judge Wyatt Beougher's Scorecard: I don't discredit Mark's opinion on steroids in MMA at all, even though I don't personally agree with it, but again, I think Patrick answered both parts of the question more thoroughly, as he pointed out that Bonnar was unable to beat Mark Coleman in 2009, only to come back and pick up three straight wins against younger, better conditioned fighters. Mullin, 10-9 (30-27 overall)

---
4.) Bellator's Vote for the Fight web series, highlighting the training of four welterweight fighters and then allowing the fans to vote for pairings for fights on their first show on SpikeTV in January of 2013, is an interesting new idea from Bellator and will help to get viewers more emotionally invested in their fighters.
Mark Radulich: FACT Sure, using interactive social media is a great way to get fans invested in your brand. It is hard to quantify how many fans it will bring to the product but it can't hurt.
Patrick MullinFACT Taking unknown talents in a small time promotion and expecting people to watch their journey and care about them is about as uphill a battle as you can ask for. So Bellator got smart and looked to the MMA universe and wanted to know what THEY wanted. Well often we hear people complain about how cards are weak and Joe Silva isn't good at his job (which is a farce, he's Zuffa's only worthwhile employee) and they could do better. Now you've got your shot to put your money where your mouth is and show you can do better. Now not only do you get a shot to play matchmaker but you're also going to get the first opportunity to decide the fate of the careers of the next generation of fighters who could go on to glory. What would be cooler than a few years from now saying, "Oh well (Fighter A) is finally getting a UFC title shot. I remember when I saw talent in this guy before anyone else did and even decided his first major opponent!" Bjorn Rebney and co. hit this one out of the ballpark folks.
Judge Wyatt Beougher's Scorecard: In spite of his vitriol against Zuffa, I'm again awarding this round to Patrick. Mullin, 10-9 (40-36 overall) Can Mark avoid the sweep?

---
5.) While not exactly loaded with big names, UFC on FX 7 will be a great night of action if the advertised card isn't devastated by injuries.
Patrick MullinFICTION I'd love nothing more than to say fact here but I can't. Aside from the main event where its likely we get to see Vitor Belfort make Michael Bisping's head explode this is a card heavy with grapplers and the potential to be heavy with clinching and jockeying for position. Gabriel Gonzaga, Daniel Sarafain, CB Dollaway, Thiago Tavares, and Khabib Nurmagamedov are all grappling based fighters and only one of them has a fight with a striker(Gonzaga vs. Ben Rothwell). Ultimately the likelihood is sloppy strikes without much impact and lots of failed takedowns and clinch control. I may have to DVR this and ready the fast forward button.
Mark Radulich: FACT Oh hell yeah! Bisping vs Belfort should be bombs away provided one of them doesn't fight like Miguel Torres. You know I love the HW so I'm exceited for Gonzaga vs Rothwell (assuming Rothwell doesn't bear hug double G for 15 minutes). Tavares vs Nurmagomedov should be a fun striking encounter. Plus you have the potential for exciting finishes with fighters like Edson Barboza, George Roop, and some others. I'm looking forward to this and you just can't argue with free fights.
Judge Wyatt Beougher's Scorecard: While I like the visual of Bisping's head exploding, I like Belfort even less than "the Count", plus, like Mark, I'm a fan of the heavyweights, so I'm giving this round to Mr. Radulich based on his optimism and enthusiasm (although I tend to think Patrick is probably going to be right about the main card). Radulich, 10-9 (46-49 overall)

---
Official Scorecard
Judge Wyatt Beougher scored the bout in favor of Patrick Mullin, 49-46.

---
And now it's your time to shine! Don't agree with my scorecard? Vote below and let me know who you think won, and if you want to score each round individually in the comments, I'll choose one commenter's scorecard to serve as the official third card if a tiebreaker is needed!
Bonus) Jon Jones is going to have a tall order in terms of assembling a team of coaches for The Ultimate Fighter more decorated than Chael Sonnen's, which is expected to feature both Dan Henderson and Randy Couture.
Mark Radulich: FACT Well unless he calls in Bob Sapp I'm not sure there is anyone more decorated than Dan Henderson and Randy Couture (I kid, I kid). But seriously folks, it's not like Jones is going to recruit Bas Rutten so as far as decorated MMA athletes he could call on that have not fallen into obscurity or completely tarnished their legacy (Ken Shamrock I'm looking in your direction) I can't think of too many guys that would be willing to coach against them.
Patrick MullinFICTION This is absolute fiction. Why? Because Jon Jones as a one man coaching staff is more decorated than any of these men. He's made multiple successful title defenses without losing his belt, something neither Couture or Henderson has been able to do, and Chael Sonnen doesn't even know what its like to hold a championship. He's going to abuse Sonnen like a red-headed stepchild, then if Old Man River can actually by some miracle get past Lyoto Machida he'll get his beating to follow, and for all Randy's talk about knowing how to beat Jon Jones and talking about how he's not unbeatable I wouldn't be surprised to see Jon pull him into the cage right after and beat him up for fun. In all seriousness though Jones really is more accomplished as a fighter than any of those guys and his coaching staff is likely to include Greg Jackson and Mike Winklejohn who have proven themselves to be extremely successful in that regard and aren't looking like they'll slow down any time soon.
Judge Wyatt Beougher's Scorecard: This would be the one round where I would've been happy to let my Chael Sonnen bias shine through, but it turns out that I don't have to, because Patrick allowed me to bust out my Randy Couture bias. Couture's my all-time favorite fighter, so by downplaying his achievements in the sport, Patrick guaranteed himself a losing round here. Radulich, 10-9

---
And that's it for this week! Again, make sure you sign up for the new comments system, so that you can let us know what you thought about this week's contest! As always, if there's anything you'd like to see featured in next week's edition, leave your statement in the comments and I'll add it in for next week. Let us know what you thought in the comments, on Twitter, or on Google+. We'll see you next week and remember 411Mania for all of your MMA needs.
NULL
comments powered by Disqus