411 MMA Fact or Fiction 11.14.12: Strikeforce's Demise, Rousey's UFC Debut, Franklin's Future, and more!
November 14, 2012 | Posted by
It's another week, and wouldn't you know it, that means another edition of 411 MMA's Fact or Fiction, but first, let's look back at last week, shall we? Mark Radulich and Patrick Mullin rematched to start the month off, and the one week I wasn't able to secure a guest judge ended up being a week where I absolutely needed one. I scored last week's contest in favor of Patrick, while the reader vote went in favor of Mark by a one-vote margin, leaving us with a draw. If you're keeping score at home, that means Pat and Mark have drawn both times they've matched up. This week, 411 MMA Head Honcho Larry Csonka has come out of retirement to take on Jeffrey Harris.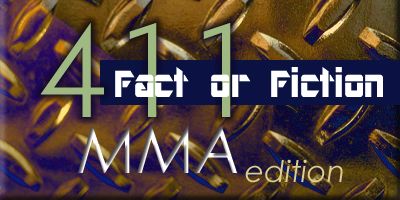 TALE OF THE TAPE
Red Corner
Jeffrey Harris
'The Vile One'
Columnist, MMA 3R's/Collaborator, Ground and Pound Radio Show
1-3-0
VS
Blue Corner
Larry Csonka
'The Bawse'
Supreme Overlord, 411 MMA/Wrestling
0-0-0

---
1.) With his loss to Cung Le, Rich Franklin's hopes of getting a title shot at middleweight or light heavyweight are essentially over, and his retirement is imminent.
Jeffrey Harris: FICTION. While I don't think this is it for Franklin's MMA career, whatever title hopes he did have, which were a long shot at best, are now definitively over. While he did get knocked out badly though, I don't think he's going to retire right away. Franklin did come back after getting knocked out like this before by Vitor Belfort. Though I do think his remaining time in the sport is extremely limited. I imagine he will do a couple more fights before getting a well-earned spot in the UFC Hall of Fame at the time he does retire for being one of the best company men the UFC could ever ask for.
Larry Csonka FACT: With all due respect to Rich Franklin, it is time to hang them up. While I love a good story as much as the next guy, something I discusses on Sunday's Sunday's Ground and Pound Radio Show, Franklin is done. We often discuss the effects of knockouts on older guys, and once that button gets pushed (Chuck Liddell is a great example) that is all. Franklin looked horrible at weigh-ins, and at the age of 38, cutting to middleweight is just a horrible idea. Not only did he get knocked out, but also he got knocked out out by an older and slower Cung Le. Do not get me wrong, I am a huge fan of his, but he isn't what he used to be. He may not retire right away, but he is done as a title contender, that I have no doubt about. Younger Rich Franklin got owned by Anderson Silva twice, and while Silva is older as well, the fact is that he is wrecking people. Franklin may take a "card saving fight" for TV or something, but it is time to call it a day. The man is smart, educated and a great ambassador for the sport. The UFC should keep him around, and use him for media and for meetings like in New York, where someone as respected as Franklin could use his voice and experience for good.
Judge Wyatt Beougher's Scorecard: Both guys with great answers here that pretty accurately reflect Franklin's position coming off of the loss, but I think Larry hit the nail on the head – Franklin is educated and well-spoken and will always have a place in the UFC, but I think his career as a fighter will be limited to a few sporadic fights to "save" shows. For that, the boss takes the first round. Csonka, 10-9
Judge Jonathan Solomon's Scorecard: Not much disagreement here but Csonka presents an intriguing argument about Franklin entering the Chuck Liddell and Matt Hughes territory. I have little interest in seeing Rich fight anymore and I'll assume the majority of fight fans feel the same way. Csonka, 10-9

---
2.) Rad Martinez winning their season seven featherweight tournament and subsequently fighting for the title on Spike would do wonders for Bellator.
Larry Csonka FACT: Rad Martinez is exactly the kind of guy that Bellator needs to win, because of his story. Now I know that some will come in here and tell me that MMA is all about "THE PURE SPORT AND THE ART" and all that stuff, and while that has merit, there is something else to consider. Pure sport in MMA doesn't make money; if it did the IFL would be the top dog right now. Larger than life personalities (Brock Lesnar and Chael Sonnen) and dominating champions (Anderson Silva and GPS) make money. But you also have to add the personal interest/feel good story, and that is what Martinez is. This is a guy that has been able to accumulate a 14-2 record in MMA, but he has had a nearly impossible road to Bellator. Back in June of 2011, ESPN's Outside the Lines did a special on Martinez, not only about the fact that he is an MMA fighter, but also because he dedicates his life to taking care of his paraplegic father while trying to maintain a fighting career and regular work. This is the kind of guy that the common fan can get behind, rally behind and relate too. Bottom line is that Bellator doesn't have stars, but they have the Spike deal coming soon, and the Rad Martinez feel good story is exactly the kid of thing that can get them some attention.
Jeffrey Harris: FICTION. There's no evidence to really support this. Rad Martinez does have a good story, and his winning the tournament and fighting for a title in Bellator would make for a good story, to say it would do wonders for the company is a bit of a stretch. Martinez comes off as a good guy, but the way the media has tried to exploit his story comes off as incredibly inappropriate at times, apologies if that sounds cynical. There are other issues as well. While he's in the finals and he's the favorite due to his backstory, he's still got one more guy to get through. And besides that, Martinez would only be third in line to get a title shot. Champion Pat Curran is still recovering from an injury and after that, there are already two challengers lined up to fight for the title in Patricio Freire and Daniel Straus. So basically, if Martinez were to win, it's a title shot that he could be waiting up to two years for with the infrequency of which Bellator titles are defended.
Judge Wyatt Beougher's Scorecard: Larry makes an excellent point – that Martinez is the type of feel good story that could really benefit Bellator as they make the move to a larger audience on Spike; however, Jeff rightly points out that even with a win, Martinez would be third in line behind previous winners Freire and Straus. For that reason, I'm calling this one a Draw, 10-10
Judge Jonathan Solomon's Scorecard: We can all agree that there is a tremendous human interest story behind Rad Martinez, the fighter. There isn't a psychologically sound person among us who knows the Martinez family's strife and doesn't wonder how Rad can accomplish all he does professionally. Still, his story doesn't mean one thing for Bellator should he win the featherweight tournament, the $100,000 and a guaranteed title shot. Remember, the ESPN piece aired last summer and by the time Rad would be fighting on Spike TV against Pat Curran, Pitbull Friere or Daniel Straus, we're talking about late 2013 or 2014 at worst. Harris, 10-9

---
3.) Strikeforce closing is actually a good thing.
Jeffrey Harris: FACT. For the most part yes. ZUFFA got what they could out of the Showtime/Strikeforce deal for the time they did it. As much anger and vitriol as this gets out of the hardcore MMA community, ZUFFA were not the ones that put Strikeforce up for sale. The company was already being mismanaged beforehand and made some miscalculated moves. Since their expansion in 2009, they didn't take some of the necessary steps needed to go along with that expansion. They still ran themselves like a regional promotion which was problematic at times. What was good about having Strikeforce is that they were able to acquire some of their bigger names, Daniel Cormier emerged as a heavyweight superstar, and Ronda Rousey was established as a legit female MMA superstar and filled the void left by Gina Carano and the cheater Cyborg having literally no one to fight at a made-up weight class. So now the UFC gets their own women's division with a big superstar to build it around in Rousey. That's a good thing. UFC got back Dan Henderson from his Strikeforce run. Another good thing. UFC got a rebuilt Fabricio Werdum who made a strong re-debut back into the UFC this year. Another good thing. The quality fighters that Strikeforce did build up will become UFC fighters which is good. ZUFFA probably got paid money by Showtime to keep Strikeforce there and that's good for their bottom line. And they also kept Showtime away from other MMA competitors for a while. Are some fighters not going to be kept from the dissolution, yes most definitely, but the idea that Strikeforce was so generous about never cutting fighters after a loss so fighters didn't feel as pressured about losing was a fabricated myth. I think Strikeforce closing is also good because we can also then see the Gilbert Melendez getting matched up with guys in the UFC as well. And with UFC making the bold move of starting their own women's division, there's no real reason to keep Strikeforce around anymore. It served its purpose for the last two years, time to move on and close the book on Strikeforce.
Larry Csonka FACT: I hate to say fact, but with the way the relationship between Showtime and Zuffa was, it was never going to work. Showtime wanted first run, top of the line MMA if they were going to keep Strikeforce. Zuffa wanted to block others from running Showtime while slowly pillaging the talent to expand their roster. The Strikeforce roster was thin with rarely a strong title challenger, shows were cancelled and overall interest was down. Strikeforce was a pawn in the Dana White game of life, and in the end, they are getting what they want. If Strikeforce was cultivating talent and putting on great shows I would want it to stick around, but at the end of the day it is a good thing for MMA. The UFC takes the top guys; Bellator and other companies pick up what is left to bolster their rosters, and Showtime either looks for a new MMA property, or they put the money back into boxing.
Judge Wyatt Beougher's Scorecard: Jeff gives a lengthy answer here, but a lot of his initial points are vague, while Larry goes directly for the ABC answer (accurate, brief, and concise), so I'm giving him this round. Csonka, 10-9
Judge Jonathan Solomon's Scorecard: Larry gets the round because he specifically mentioned the biggest fact in my mind — Showtime can go shopping for a new MMA partner. Everyone realizes the fact that top fighters like Melendez, Rousey, Cormier, Rockhold, etc. will finally make their way to the octagon. Just as big an issue for the business will be what Showtime's response will be on January 13 and afterwards. Assuming they want to remain in the MMA programming business, someone out there is getting a sweet platform to air content. It's feasible we could be looking at UFC, Bellator, World Series of Fighting and an unknown fourth brand with productive television deals in 2013 and beyond. Csonka, 10-9

---
4.) Ronda Rousey's debut fight in the UFC should air on FOX.
Larry Csonka FACT: This is something that I have gone back and forth on, but at the end of the day, I think that this may be the best thing to do. To be honest, I HOPE that the UFC can cultivate a viable women's division, but I think that we all know that the end game is to run the Cyborg vs. Rousey fight and go from there. That is a PPV bout, and they may jump right to that to not ruin the possibilities. But I feel that they will take the road to build up things to gain an even bigger audience. Having the first UFC Women's fight on Fox may be what the doctor ordered for the sagging ratings, because there will be a ton of interest in that. If you run a Rousey fight, and she wins big, then they can transition that to the Cyborg PPV fight. Again, there are pros and cons. If Rousey loses, which can happen, the Cyborg fight is ruined. It's a very difficult choice to make, but if I am pressed for the answer, I go Fox for fight number one.
Jeffrey Harris: FACT. Rousey isn't a proven PPV draw yet, and the Fox card in let's say in April 2013 (January is already fast filling up) would be a great way to experiment with the women's division and also establish it. Female fights are a proven draw on TV with Strikeforce on Showtime and also Elite XC on CBS. People might have forgotten this, but Gina Carano's Elite XC fights on CBS actually did some good numbers when they happened. If the Cyborg match doesn't happen, you can easily promote a rematch with Rousey and Miesha Tate. If not, you could just as well put Rousey on a PPV as a co-main event under another title fight. But putting her on Fox would be a great way to introduce and establish the UFC women's division, Ronda Rousey, as well as getting a title fight on free TV.
Judge Wyatt Beougher's Scorecard: Both guys give good answers here, but I think Jeff nailed this one (although I think the UFC will put Rousey on the January FOX card, since Showtime will have closed their doors two weeks earlier), pointing out Gina Carano's track record on television, as well as pointing out that the Rousey/Cyborg fight isn't the ONLY fight to make for Rousey. Harris, 10-9
Judge Jonathan Solomon's Scorecard: Both share the same perspective and I agree with Csonka and Harris. You want to maximize the value of Ronda Rousey immediately while maximizing a PPV down the road? Book Rousey on Fox against anyone besides Cyborg (Miesha Tate, Sara McMann or any other comparable fighter) and assuming she wins, you likely have millions upon millions of new viewers watching the build to a Rousey/Cyborg PPV fight later in 2013. It's not rocket science people! Draw, 10-10

---
5.) Dan Severn is right – Jeff Blatnick should be in the UFC Hall of Fame.
Jeffrey Harris: FACT. Far be it from me to disagree with a UFC Hall of Famer. Blatnick was an amazing individual and a pioneer and unsung hero in the sport of MMA. I think he was the first person to coin the phrase the "mixed martial arts." He was an Olympic gold medal winner and won it after battling cancer. Blatnick was one of the best advocates of the sport you could ask for at a time when the sport was mainly viewed as a bloodsport and it didn't have near the amount of mainstream recognition or support it does now.
Larry Csonka FACT: To clarify, I view the UFC hall of fame like WWE's, they put in who they want and shun those they do not like (Frank Shamrock). To clarify even further, Jeff Blatnick should be in the MMA Hall of Fame if it ever comes to life. The man, a who captured the gold medal in Greco-Roman wrestling in the 1984 Olympics after beating cancer, was hired in 1994 to broadcast UFC and remained a fixture on the broadcast team until the decision was made to replace him by the new management. He was a vital advocate for MMA, testifying at legislatures and speaking to the media about the sport and also became a judge, doing events all over North America for every major organization. Blatnick, along with Joe Silva, was a big part of forming the original UFC rulebook in the 90s that was the basis for the New Jersey commission inspired unified rules on MMA, which are what we know today. And most importantly, Blatnick was the guy that got the sport away from using "No Holds Barred & Cage Fighting," instead using the Japanese term of MMA for the sport. Many current fans may not realize the importance of Blatnick, and the UFC may even choose to ignore him, but the man deserves to be honored in a hall of fame, and that is something I have no doubts about.
Judge Wyatt Beougher's Scorecard: Again, both guys in agreement here, but Larry wins this round for pointing out that Blatnick had a huge impact not just on the UFC, but also on the unified rules of MMA, and also that the UFC Hall of Fame isn't really a "be-all, end-all" for talented fighters so much as it is a popularity contest judged by Dana White and company. Csonka, 10-9
Judge Jonathan Solomon's Scorecard: I can't distinguish the responses from one another because they are both correct. It's too obvious for the UFC to add Jeff Blatnick to the UFC Hall of Fame. Yes, like Larry pointed out, their HOF is no more prestigious than the WWE version because at the end of the day, the men with yes/no power on potential inductees are Dana White and Vince McMahon, respectively. Even if only the best of the best fighters and the most influential behind-the-scenes people were considered, does Blatnick belong? You bet he does! Draw, 10-10

---
Official Scorecard
Judge Wyatt Beougher scored the bout in favor of Larry Csonka, 49-47.
Judge Jonathan Solomon scored the bout in favor of Larry Csonka 49-48.

---
Did the boss pick up the win? Or did Harris score the upset? Vote below and let your voice be heard!
Bonus) Bruce Lee, more than any Gracie, is the true father of mixed martial arts.
Larry Csonka FACT: Oh dear. I think I will get in trouble for this, considering that I go to a Gracie affiliated dojo, but I do think it is Bruce Lee. You go back in the day and people watched Lee and wanted to get into martial arts. Bruce Lee at an early stage was cross training in many different disciplines, and to this day is revered by commentators, critics, media and other martial artists to be one of the most influential martial artists of all time. The fact that he, to much scrutiny at the time, rejected well-defined martial art styles, and instead favored the use of techniques from various sources (which later became his personal martial arts philosophy and style of Jeet Kune Do) is essentially what today's MMA stars try to do. The Gracie family is synonymous with helping to start the UFC, Royce was the guy to bring Gracie Jiu-Jitsu to the masses via the UFC and as far as Jiu-Jitsu goes Gracie Jiu-Jitsu is he shit, but Gracie Jiu-Jitsu is Gracie Jiu-Jitsu, it may be the style, but I just feel that Lee's change in philosophy and development of Jeet Kune Do is more along the lines of what modern MMA wants and strives to be.
Jeffrey Harris: FICTION. I'm somewhat hesitant to call him "the father" of the sport. And ultimately I'm not really sure you can credit any one person to being the father of mma either since many people had an impact in the sport becoming what it is today. I think Lee is without a doubt one of the most amazing and beloved figures in martial arts of all time yes. I think you can definitely call Lee an early pioneer into the ideas that led to the creation of the sport with his training in multiple disciplines, the way he sparred, and how he incorporated many different fighting styles in his roles. Lee popularized his style. But Lee was still more of a performer than a professional athlete. So pioneer? Yes, most definitely. Father? Maybe grandfather, but not the father.
Judge Wyatt Beougher's Scorecard: Larry wins. Bruce Lee is no one's grandfather, fool! Csonka, 10-9
Judge Jonathan Solomon's Scorecard: Debating who the father of mixed martial arts really is, is always an interesting back-and-forth. You could argue for any of the popular figures whether it's the Gracie clan (namely, Royce in the U.S.), Bruce Lee or even Gene LeBell or a host of others. Why you decide to settle on one person above the others is based on your own perspective, though. I would be less inclined to say Royce Gracie because his mindset was to prove to the world that the family's philosophy of Gracie Jiu-Jitsu was the most dominant martial art. Bruce Lee was more inclined to combine various martial arts and believed that would produce better individuals (such a philosophy proved to be ahead of its time and as we now know with modern MMA, it's the norm today). There is no correct answer and there is no wrong answer, but we can all agree that there were lots of people over the years who left a profound legacy in developing the MMA we all enjoy to this day. Harris, 10-9

---
And that's it for this week! Again, make sure you sign up for the new comments system, so that you can let us know what you thought about this week's contest! As always, if there's anything you'd like to see featured in next week's edition, leave your statement in the comments and I'll add it in for next week. Let us know what you thought in the comments, on Twitter, or on Google+. We'll see you next week and remember 411Mania for all of your MMA needs.
NULL
comments powered by Disqus