411 MMA Fact or Fiction 11.21.12: The Everything Hinges on Anderson Edition
November 21, 2012 | Posted by
Welcome to another edition of 411's MMA Fact or Fiction, and as always, I'm your host, Wyatt Beougher. Last week, we saw Jeffrey Harris take on the boss, Larry Csonka, and both Jonathan Butterfield and myself scored the fight in Larry's favor. And while Jeff is asking that Larry's B sample is tested for PEDs, the readers also thought that Larry picked up the win, as the boss earned over 56% of the reader vote. This week, we've got Jonathan Solomon taking on Alex Watt, and both guys brought their "A" game this week. Joining me at the scoring table is frequent collaborator Todd Vote, and as always, it's a pleasure to have him here.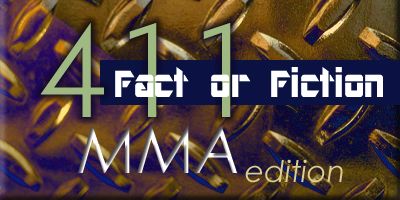 TALE OF THE TAPE
Red Corner
Jonathan Solomon
'The Juggernaut'
Columnist, The Juggernaut MMA News Report
1-3-0
VS
Blue Corner
Alex Watt
'Axle Twat'
Columnist, Thoughts From Across the Pond
2-1-1
And our special GUEST JUDGE
Todd Vote
'The Man Without a Zone'
Contributor, Everywhere

---
1.) With Anderson Silva requesting time off, the UFC should schedule GSP/Hendricks for sometime in February or March and shoot for GSP/Silva for their big show in July.
Jonathan Solomon: FICTION Anderson wants to fight Georges St. Pierre but based on his interview with Ariel Helwani after UFC 154, Dana White's projection of a May fight may be too early. The issue about Silva saying he won't fight until late-2013 seems to have been hogwash, so there's no need on his end for a fight with GSP to be delayed unless he really needs an extra two months to prepare. It's much more a question as to whether St. Pierre wants to fight Silva and if so, how quickly can he turn around from his war with Carlos Condit? Asking GSP to get right back into training and fight in February or March may be too much after this fight.
Alex Watt: FICTION I am not necessarily averse to the idea of Johny Hendricks challenging Georges St. Pierre next; after all, Hendricks has to be considered the No. 1 contender to the UFC Welterweight title after his big win over Martin Kampmann at UFC 154. In addition, I think that the Hendricks fight would be an interesting one given Hendricks' knockout power and his wrestling skills, which could present a good challenge for St. Pierre. Such a fight could also prove beneficial to the 170lbs champ, as he was clearly suffering from "ring rust" in his dramatic victory over Carlos Condit this past weekend, and another fight at welterweight could only help GSP and act as a "tune up" of sorts, before he faces the pound for pound best fighter in the world.
However, the fact remains that the "money fight" for the UFC is the Silva vs. GSP super-fight. With that in mind, and with all of the pieces in place for it to happen, the UFC should book that fight now. Sure, Silva wants some time off, but I expect he wants the fight with St. Pierre more, especially knowing how much money he stands to make from the bout. GSP doesn't seem to keen on the Silva fight at present but he too is likely to be persuaded by the financial aspect. UFC President says he will make the fight happen in May 2013, and I expect him to do just that. The UFC wants this fight, and the fans (the smart ones, anyway) want it too. Why delay the Silva-GSP fight further and risk it being scuppered by a Johny Hendricks left hook?
Judge Wyatt Beougher's Scorecard: I was tempted to give this round to Watt because he used "scuppered"; however, his point about Hendricks potentially hurting the draw of a GSP/Silva fight is counterbalanced by Solomon pointing out that it might be St. Pierre who is not ready for a May fight with Silva after such a grueling contest against Condit. If GSP is the one holding up the show, then having him fight Hendricks once he's ready doesn't make sense (although it's better for the welterweight division). Both guys with valid points here, so I'm scoring this one a Draw, 10-10.
Judge Todd Vote's Scorecard: Both guys come out swinging here, and both offer great answers. I'm going to give it to Watt for going into a bit more detail with his answer. Watt, 10-9

---
2.) Even with his win over Tom Lawlor, Francis Carmont's upward momentum in the middleweight division has stalled.
Alex Watt: FACT This is a definite fact, based simply on how dull the fight was. When the Canadian fans are booing you after you've won a fight, despite the fact that you live and train in Canada, you have probably done something very wrong. I had difficulty remembering that Carmont actually won this fight, so boring was it, and I write about the sport regularly. How is a casual UFC fan, then, going to recall that Carmont scored "a big win" over Lawlor? Meanwhile, those who do remember, are likely to point at the fact that Carmont barely scraped past a middleweight gatekeeper, in an awful fight which was aired live on Pay Per View. Yes, a more exciting performance and victory from Carmont in his next fight (reportedly against Riki Fukuda) will get the 31 year old back on track, but it cannot be denied that his momentum has been hurt badly by his performance against Lawlor.
Here's something fun for anyone who enjoys watching both Mixed Martial Arts and football (soccer) though; Francis Carmont looks rather like Manchester United winger Ashley Young. Nobody cares? Fine, I'll just keep tweeting my MMA-football look-alikes to Samer Kadi then…
Jonathan Solomon: FACT Of course Francis Carmont's momentum has stalled. You can't have a boring performance like he had against Tom Lawlor and still be on level footing. He lost to Lawlor but somehow, the judges felt like they should give the guy a break. There's no other logical explanation for giving him two rounds, but you know the cliche about judging by now. Yes, Carmont is 20-7 now, has not lost a fight in over four years and is 4-0 in the UFC. I don't care if he's 10-0 if he's involved in such fights that can be compared to Cheick Kongo and Shawn Jordan. However, the great thing about MMA is all you need is another fight to right the ship.
Judge Wyatt Beougher's Scorecard: Watt comes out strong by pointing out that the Canadian fans were booing the Canadian transplant, something that's almost unheard of, but Solomon pointed out that Carmont did in fact lose the fight if not for terrible judging, so I'm awarding him the round. Solomon, 10-9
Judge Todd Vote's Scorecard: Two decent answers yet again. This time I am going with Solomon though, for the way he closed the round. "all you need is another fight to right the ship", if he was to come out in his next outing like a house on fire and destroy whatever opponent he ends up matched against, then the stink of the Lawlor fight will go away. Solomon, 10-9

---
3.) Even if Anderson Silva does take extended time off, an interim middleweight fight, especially between Michael Bisping and Vitor Belfort, does not make sense.
Jonathan Solomon: FACT First of all, I'm not a fan of interim championships. For myself, the only usage should be in situations where a champion is injured and expected to be out for a prolonged period (a la Georges St. Pierre and Dominick Cruz most recently). If it's a situation where Anderson Silva is taking some time away to fight Georges St. Pierre at a catchweight (or for argument sake, Jon Jones at a catchweight or light heavyweight), there should not be an interim strap. Once you get past that issue, who in their right mind would consider putting Vitor Belfort in ANOTHER title fight or interim-title fight? The man has not won consecutive fights in the middleweight division since 2009! If you were going to play the interim card, the fight to use would be Chris Weidman vs. Tim Boetsch at UFC 155. At least then, both guys have looked great in the division (Weidman is undefeated while Boetsch has been undefeated since dropping to 185) and have wins over top 10 fighters.
Alex Watt: FACT Like many people, I am not a fan of Interim Championships. I can understand the feeling that an Interim Championship is required if the original champ is going to be out for an extended period, particularly if they are sidelined by an injury. However, an interim title is rarely defended and holds little value in the eyes of the fans, since the true champion has yet to be defeated for the belt. In addition, with modern UFC main events being scheduled for the full five rounds, the need for an interim title fight becomes even less necessary. Would it not be easier to do a five round main event and name the winner the No. 1 contender for the UFC title when the champion makes his return?
An interim champion in the absence of Anderson Silva would be pointless. Everyone knows that Silva is the pound for pound best fighter in the sport and, until he is defeated, that viewpoint is not going to change. Creating an interim title in the event that "The Spider" were to take a break from MMA would see the interim champion constantly undermined and compared unfavourably to the undefeated (in the UFC) real champion.
I should note, however, that I disagree with the part of the statement which says "especially between Michael Bisping and Vitor Belfort." In my opinion, if the UFC were to opt for an interim middleweight championship scenario, then Belfort vs. Bisping would be a good fight to implement it for. Bisping is clearly on the cusp of a title shot anyway, holding a 13-4 UFC record (9-3 at middleweight), and Belfort has held a UFC title in the past, and had recent losing efforts in title matches at both 185lbs and 205lbs. I was tempted to go with FICTION based on this alone, but I thought that would be a bit pedantic since I completely agree that an interim title would be pointless here.
Judge Wyatt Beougher's Scorecard: I'm not as anti-interim title as either competitor this week, as I feel that they have their place, but for crying out loud, if your "interim champion" isn't going to defend his belt and instead simply wait for the real champion to come back, then just name him the number one contender and make him actually work for that big shiny belt. /rant Watt had me until the end, but Jonathan wins this round for correctly pointing out that both Tim Boetsch and Chris Weidman are more deserving of interim title consideration than the pairing of Bisping and Belfort. That would be Belfort's third title shot since returning to the UFC, and that equals his win total in this stint. That's unacceptable. Solomon, 10-9
Judge Todd Vote's Scorecard: Another tough round to score, with both guys essentially agreeing… I'm going to give it to Solomon. The idea that Vitor Belfort can be injected into a title fight of any kind is laughable at this point. Solomon, 10-9

---
4.) Now facing a major knee injury after missing significant time already, Shane Carwin's MMA career is effectively over.
Alex Watt: FACT At the age of 37, and now facing another long layoff, the future does not look bright for Shane Carwin. At the time of writing, it has been 16 months since Carwin's last fight inside the Octagon; a loss to Junior dos Santos. If we assume that Carwin faces at least a six month layoff due to this latest injury, then it will be close to two years since Carwin last competed in the UFC, if he actually does decide to return to active competition. That's a ridiculously long time between fights, especially when competing at the highest level.
Carwin lacked mobility already due to his age and size, and a knee injury, especially if it requires surgery and rehab, is only going to make that aspect of his game even worse. For a competitor who is already fairly limited (Carwin has one punch knockout power and good wrestling, but little else) that doesn't bode well. In addition, Carwin has proven to be injury prone. This latest knee problem is just one of a catalogue of injuries, including a back injury which kept him out for a full year following his exciting loss to Brock Lesnar. It would perhaps be unwise for him to risk further injuries by stepping back in the Octagon.
Overall, Carwin would surely be wisest to hang up the 4oz gloves rather than attempt another comeback, especially when he'll be even closer to 40 by the time he returns.
Jonathan Solomon: FICTION The only reason I'll disagree with the question is because I can still see Shane Carwin returning for a fight or two. Yes, he will turn 38-years-old in January and if he is capable of returning sometime next year, it'll be about two years since he last fought. With all that said, as long as he's physically able to, the UFC will give him a fight. This is not a situation where he's taken too much damage or has no chin, this is strictly about his ability to stay healthy long enough so he can step in the octagon. As for whether or not he will want to go through the grueling rehab process to strengthen his knee and put in all the work to fight again, only he and those close to him can say for sure. He certainly does not need the money and he still has his full-time profession away from MMA. For now, I assume Carwin will make it back and fight at least once more in the UFC.
Judge Wyatt Beougher's Scorecard: I agree with Alex (that Carwin should be done, and I'm a Carwin fan), but I think Solomon better answered the question as it was worded, as I think the UFC will look to get Carwin back inside the Octagon at least one more time after his knee has healed (likely against Roy Nelson). Solomon, 10-9
Judge Todd Vote's Scorecard: Going to give this round to Solomon again. If Carwin wants to come back, and feels that he can for a few fights, who are we to say he shouldn't? Age be damned, if the man wants to compete, so be it. Solomon, 10-9

---
5.) Jim Miller/Joe Lauzon is a better fight on paper than Gray Maynard/Joe Lauzon was.
Jonathan Solomon: FACT I would say it's a push but after thinking about it, yes, Jim Miller and Joe Lauzon is a better fight on paper. With Gray Maynard, there's always the chance he resorts to being a wrestling bully and turning a fight into Lauzon doing all he can to attack off his back. Once you replace him with Jim Miller, it's more of an even fight and who the favorite is changes based on who you're asking. Miller has good submission defense but it's safe to consider him the stronger wrestler than Lauzon. Meanwhile, Boston's favorite fighter is comparable on the feet with his striking to Miller so wherever this fight ends up, you can expect nothing short of a war. Plus, it's still a HUGE fight for Joe Lauzon to be able to prove himself against one of the top lightweights in the division. Remember, only four men have beaten Jim Miller in his 25-fight professional career: Frankie Edgar, Benson Henderson, Gray Maynard, and Nate Diaz. In his long UFC run, he's lacked a major win like this would be and there's always the option to fight Maynard down the road when he recovers from his knee injury.
Alex Watt: FACT Jim Miller and Joe Lauzon are two of the most consistently entertaining lightweights in the UFC, with an astonishing 15 "…of the Night" bonuses between them. Add in the fact that Miller and Lauzon are both highly talented grapplers, with power in their striking, and you have all the makings of a potentially thrilling fight.
Gray Maynard is a horrible match-up for Joe Lauzon. Maynard has much better boxing and top quality wrestling skills, with proven ability to negate a strong ground game (his early loss to Nate Diaz on TUF 5 notwithstanding). On paper, Maynard is favoured whether this fight is standing or on the mat and as such you had to predict that a Lauzon-Maynard fight would have resulted in a dominant win for "The Bully", one way or another.
In contrast, Miller and Lauzon are very evenly matched and wherever the fight goes, standing or on the mat, it should make for compelling viewing. Therefore, on paper, Lauzon vs. Miller promises to be a much better fight than Maynard vs. Lauzon.
Judge Wyatt Beougher's Scorecard: Both guys with similar answers here, but I'm giving the nod to Watt for pointing out that Lauzon/Miller is almost assuredly going to be more exciting than Lauzon/Maynard would've been. Sometimes, that's all it takes to make a fight "better", so Alex takes this one. Watt, 10-9
Judge Todd Vote's Scorecard: And Watt comes back with a vengeance. Watt takes the round for going into more detail about how each fight would have broke down, and pointing out why this is the more exciting matchup. Watt, 10-9

---
Official Scorecard
Judge Wyatt Beougher scored the bout in favor of Jonathan Solomon 49-47.
Judge Todd Vote scored the bout in favor of Jonathan Solomon, 48-47.

---
So who won? Did Solomon earn his second win, or did Watt go even further above .500? Make your voice heard by voting below!
Bonus) By moving the show to Wednesdays, the UFC and FX have chosen the best night for The Ultimate Fighter to improve its ratings.
Alex Watt: FACT The Ultimate Fighter is hanging onto life by a thread at present, with the last few seasons failing to deliver in viewing figures. This is down to three factors; the format is stale, the coaches have not been big enough names for the casual fan, and the Friday timeslot was completely counterproductive. The key demographic of 18-35 year old men are unlikely to be sat at home on a Friday night, and as such a change to a midweek timeslot was clearly in order. Wednesday is the perfect day for the key demographic, and past seasons which have aired on this day (on Spike TV) have generally performed very well.
This doesn't mean that TUF 18 will be a success, however. The UFC have succeeded in securing a midweek timeslot, and have installed coaches which should appeal to the casual fan (Jon Jones and Chael Sonnen). However, the format remains in need of a change, and it is very likely that The Ultimate Fighter has run its course and the interest in a UFC reality show is simply no longer there.
Jonathan Solomon: FACT Wednesday is a pretty perfect night for The Ultimate Fighter in my book. We can all agree that Friday or any other weekend night is terrible for this kind of programming. Monday nights are not a realistic option considering the Monday Night Football franchise in the fall and winter, plus going head-to-head with WWE's Monday Night Raw would probably be more interesting than productive. Tuesday's have never been a UFC night so it would take time to build that audience, plus I imagine FX has their most successful drama programs on that night. Thursday nights would be another ballsy pick because theoretically, you're running head-to-head with Spike TV (including TNA Impact and Bellator, most likely) and NFL games for 'x' amount of weeks. Based on elimination, Wednesday fits like a glove. Plus you may remember, Wednesday was the night that TUF aired for the majority of its run on Spike years ago. If you want to give the show a chance to have its biggest audience to watch Jon Jones and Chael Sonnen (and perhaps Ronda Rousey and Miesha Tate down the road) on a weekly basis, they're starting in the right spot.
Judge Wyatt Beougher's Scorecard: Watt makes a great point on how further changes are needed to truly revitalize The Ultimate Fighter, but then Solomon comes along and blows him out of the water by analyzing each potential night TUF could air on and why Wednesday works best. Even if he hadn't done that, he would've won this round for suggesting Ronda Rousey and Miesha Tate as future TUF coaches. Solomon, 10-9
Judge Todd Vote's Scorecard: Scoring this one a draw, as I think pairing the show on Tuesday nights with Sons of Anarchy would have given the show a great lead-in and the potential to add some new viewers even. Draw, 10-10 [Editor's note: I think Todd may've gotten confused, as there's no way FX would ever move SoA from its 10 pm time slot, and there's no way they'd put original programming on at 11 pm, so TUF would actually open for SoA at 9 pm, which wouldn't do the show any favors. -W]

---
And that's it for this week! Again, make sure you sign up for the new comments system, so that you can let us know what you thought about this week's contest! As always, if there's anything you'd like to see featured in next week's edition, leave your statement in the comments and I'll add it in for next week. Let us know what you thought in the comments, on Twitter, or on Google+. We'll see you next week and remember 411Mania for all of your MMA needs.
NULL
comments powered by Disqus