411 MMA Fact or Fiction 12.05.12: Hendricks, Barnett, Koreshkov, UFC on FOX, More
December 5, 2012 | Posted by
Welcome to another edition of 411's MMA Fact or Fiction, and as always, I'm your host, Wyatt Beougher. Last week, we had our first ever triple threat edition of Fact or Fiction under my watch, and what a contest it was. Both guest judge Mark Radulich and I favored Kuch on our scorecards and the reader vote concurred. Congratulations to Scott on making a successful debut in my era of Fact or Fiction, and a huge thanks to Alex Rella and Todd Vote for doing such an excellent job. This week, Mark is back at the judge's table with me, and we'll be scoring a contest between two of his Ground and Pound Radio Show compatriots, as Jeffrey Harris and Patrick Mullin step into the Fact or Fiction arena in this week's contest!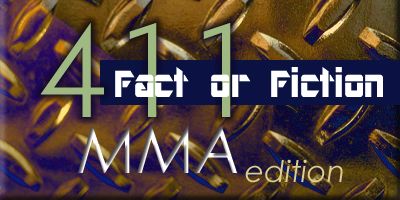 TALE OF THE TAPE
Red Corner
Patrick Mullin
'Star'
Columnist, The Blueprint
1-0-1
VS
Blue Corner
Jeffrey Harris
'The Vile One"
Columnist, MMA 3Rs
1-4-0
And our special GUEST JUDGE
Mark Radulich
'Headshrinker'
Host, 411 Ground and Pound Radio Show/Live Coverage Guru

---
1.) Andrey Koreshkov, having already defeated Marius Zaromskis and former champion Lyman Good, has a legitimate chance at dethroning current Bellator welterweight champion Ben Askren.
Patrick Mullin: FACT – Koreshkov has done some very impressive things during his fights for someone at such a young age. Askren needs to wrestle in order to win and he isn't a fight finisher, having gone the distance in his last six consecutive bouts. To beat Ben Askren, you have to be able to strike effectively and control the distance to prevent him from getting into shooting range and closing the distance. Koreshkov is very good at using his height and reach and mixing in power strikes from the outside against wrestlers who hold their heads down, particularly with his right uppercut. Often times we see people who get taken down and controlled for a round and come out looking as though they've lost all their energy. After Lyman Good took down Koreshkov and controlled him for the majority of the second round we saw Koreshkov come out strong in round two, utilize his superior striking, and even put Good on his back and control him to win the fight. This is a guy who is only getting better in each fight and Askren has stagnated. We have a very real chance at seeing this young man claim Bellator's welterweight title.
Jeffrey Harris: FICTION – Lyman Good's record is hardly anything to sneeze at nor is Marius Zaromskis' for that matter. Everyone got on the Marius Zaromskis hype train when he beat the likes of Hayato Sakurai and Jason High in DREAM. Then he went to Strikeforce and got destroyed by Evangelista "Cyborg" Santos and Nick Diaz. Lyman Good looked absolutely terrible against Koreshkov and Koreshkov honestly didn't show me anything that he will be a major threat to Ben Askren. Askren may look stagnant but he's beaten every other welterweight tournament winner in Bellator's history. Askren will have no trouble taking down Koreshkov and grinding him just like Douglas Lima who destroyed Ben Saunders in the finals of their tournaments.
Judge Wyatt Beougher's Scorecard: We start off with a disagreement, which always makes things fun, and while both guys make their points, I'm giving this round to Patrick, for pointing out that Koreshkov was able to rebound from a round that saw Lyman Good doing his best Ben Askren impression, coming out impressively and winning the fight. Mullin, 10-9
Judge Mark Radulich's Scorecard: As the host of the 411 Ground and Pound Radio Show (Sunday morning at 11 am on http://www.blogtalkradio.com/411mmaradio), it is my duty to keep these two columnists in line and to be a tough but fair arbiter of their opinions. With respect to that, I will do my best to call down the middle as I see it. However, when the "Wildcat" Jeff Harris gives me answers like the one above, how can any fair-minded person award him the round? First of all, for a guy who spends every Sunday shaming others for their negativity, I was surprised at how Jeff answered this question. Jeff completely dismissed Koreshkov's skill as a striker and defensive wrestler and basically said, "…well, Askren grinds out everybody so he'll just do the same again." He also seemed to dismiss Lyman Good and Marius Zaromskis as serious competitors and then cited this dismissal as the reason Koreshkov will have nothing for Askren. Mullin is correct is his assessment that if Koreshkov is able to control the distance and prevent a takedown, he's got it made in the shade against the Funky one. Easy 10-9, Mullin

---
2.) The UFC would be missing an excellent opportunity to add depth to their heavyweight division if they don't sign Josh Barnett after his completes his Strikeforce contract at Strikeforce: Champions.
Jeffrey Harris: FICTION The reason I put fiction here is because the question was worded with "UFC would be missing an excellent opportunity." Now would I mind seeing Josh Barnett back in the UFC heavyweight division? No I wouldn't. Barnett is an experienced veteran. He's fought some of the biggest names in MMA around the world. He's competed at a high level in Pride, UFC, and Strikeforce. But would UFC be missing an excellent opportunity if they didn't bring Barnett back into the UFC? Nope they wouldn't. No matter what anyone says in support of Barnett, he's still been caught cheating three times. A huge PPV card fell apart at Affliction due to Josh Barnett failing his drug test. And it's something Barnett still has yet to ever cop to or apologize for. Every time he's failed a drug test he's proclaimed his innocence. In interviews he's even gone as far as saying, "what happens in the locker room, stays in the locker room" pertaining to PED's. Barnett ultimately lost the Strikeforce Heavyweight Grand Prix. The UFC heavyweight division was able to grow and survive without him. Barnett, while he brings a lot of experience to any organization, brings a lot of baggage as well. So while I think it would be fine if UFC worked out a deal to bring Barnett in, I don't think it would be the end of the world if they didn't.
Patrick Mullin: FACT The UFC's heavyweight division's biggest weakness is a lack of depth. For all the talk of Barnett's "baggage" and past history of suspensions he's tested clean for the past three years and even tested clean under the Zuffa banner when it acquired Strikeforce. His only loss during that time was to Daniel Cormier who is seen by many as the number three heavyweight in the world. The UFC heavyweight division survived but did it really grow without Barnett? Other than JDS and Cain Velasquez I would favor Barnett over any of the current heavyweights on the UFC roster and aside from a potential fight with Cormier there aren't really many appealing match ups for JDS since he's already beaten pretty much any viable contender(Cain, Mir, Struve, Carwin) and the remaining few he hasn't beaten(Cormier, Werdum, Overeem) don't really know how to sell a fight. Barnett is one of the great talkers in MMA and knows how to draw attention and a crowd to see a fight. If the UFC doesn't find fresh and viable fights for JDS it very well could be the end of the division as there isn't much talent on the rise in heavyweight MMA and nobody is going to want to pay money to see JDS thrash guys he's already done it to. Barnett could also sell fights with guys who Zuffa has invested in and a win over him gives someone instant credibility because of his excellent career. Zuffa would gain, gain, and gain from bringing in Barnett. If they'd gamble on Overeem why not Josh?
Judge Wyatt Beougher's Scorecard: Jeff came out strong in this round and made a very good case for why the UFC didn't need Barnett, but then Pat came out and put Jeff back on his heels, making some very good points about Barnett's ability to sell a fight, the fact that he's tested clean under the Zuffa banner already, and about his ability to be a top-tier heavyweight in the UFC. This would've been a draw, but Pat made the most effective point of the round – that the UFC needs new, viable challengers for JDS, and Barnett, with a win in his UFC re-debut, can certainly fit that bill. Mullin, 10-9
Judge Mark Radulich's Scorecard: Again, I'm trying to be fair here but Mr. Harris is inconsistent within his own universe. Here we have a man who once said, "You are too concerned with what was, and what will be. There is a saying. Yesterday is history, tomorrow is a mystery, but today is a gift. That is why it is called the present." He said this because other writers were too concerned with the contextual past of a situation and did not appreciate the potential greatness of the present moment. Now, how is this belief consistent with him basically saying that Zuffa should ignore the fact that Barnett will very soon be a free agent and not sign him ASAP because he has a shady past? If he were being true to his own philosophy he should have agreed with Mullin in stating that now is the time to sign Barnett because (as they both agreed) he adds needed depth to the top of the HW division. What I really don't understand about Jeff's thinking here is that he admitted he wouldn't mind seeing Barnett in the UFC but disagrees that they would be missing an opportunity to sign after he deals with the ham sandwich he's fighting in January. What would Jeff rather the UFC do, wait for Barnett to be the Bellator HW champion and then sign him? Does he need to repent before God and Dana White regarding the mess that was Affliction? For Pete's sake, the man tested clean in fights against Brett Rogers, Sergei Kharitonov and finally Daniel Cormier. Are we never supposed to forgive this man and make so it he can't earn a living by being a fighter? I think not. 10-9 Mullin.

---
3.) Johnny Hendricks' position to only take another fight if it's for GSP's title may be justified; however, it will hurt him in the long run if the UFC proceeds with the GSP/Silva superfight.
Patrick Mullin: FACT – This is a fact for several reasons. In the old camp classic movie "The Wrestler" starring Verne Gagne he has a great quote during a training class where he gives the simple but effective line, "You can't wrestle, you don't eat. It's that simple." It really is and the same holds true for professional fighters. You can't fight, you don't eat. So right away Johny is losing out on substantial income by not taking a fight if the Anderson/GSP superfight goes ahead. Secondly, he's going to put himself into the UFC doghouse because Johny has established himself as a name who they can rely on to some extent to draw in viewers. With the amount of events the UFC runs they need all the star power they can get and over the last two years Hendricks has established himself as a true star with wins over the best welterweights available. The UFC won't take kindly to someone not wanting to fight when they could really use his help and it almost becomes a hold-up situation. You don't want to bite the hand that feeds you. Looking like a homeless person and having to live like one are two very different things.
Jeffrey Harris: FACT I think Hendricks is justified in his position. He's had a great streak and he's put away some top level competition. Dana White even admitted he's the top contender at welterweight. That being said, I think Hendricks is being a little melodramatic about the situation. For starters, GSP is not trying to ruin his livelihood or jeopardize his kids' future. I think GSP even said in the post-fight press conference at UFC 154 that he thought Hendricks was next in line. Now I think there is precedence for Hendricks to wait a while if the super fight goes through. Cain Velasquez after he knocked out Nogueira was able to wait for the Brock Lesnar/Shane Carwin thing to resolve itself and still fight for the title in the same year. I think if Hendricks had a more low-key attitude about waiting things out, I think it'd be fine. Nate Diaz basically said he'd wait for the title shot after he beat Jim Miller and we still had a Ben Henderson/Frankie Edgar rematch to deal with. Luckily things seem to have worked out there for Diaz. Hendricks I think could be in a viable position to wait and I think he should wait until we see the super fight comes into play. If it does, he has a decision to make. Now he could wait a while for his title shot and maybe he gets that fight in less than a year. Or if he does end up waiting he could still be waiting for a long time. I think if Hendricks said, "I'd like to fight for a belt next but I want to see if they are going to move forward with Silva vs. GSP," it'd be more acceptable. Just saying outright he won't fight again unless its for a belt does not work in his favor. Because honestly, he took a similar position after the Koscheck win and it didn't really make sense at that point either. Now I think he's in a better position to wait, but honestly even if you are a top contender I don't think you should really be allowed to wait over a year to get a title shot.
Judge Wyatt Beougher's Scorecard: Pat came out and made solid contact, especially with the last line of his answer, but then Jeff fired right back with examples of where it has benefitted the challenger to wait for his title fight, and how he thinks Hendricks would've been fine had he simply kept quiet and not announced his intentions to the world. Sadly, neither guy mentioned Rashad's lengthy wait for a title shot that ended up costing him his coach and team, but I'm still giving the nod to Jeff. Harris, 10-9
Judge Mark Radulich's Scorecard: Love it! Both guys scored big here with absolutely correct answers. Now while I love Mullin's colorful references and anecdotes and this one was particularly good, I'm giving this round to Jeff for a more detailed answer. It could have been a draw but extra effort goes a long way and I think Jeff earned here. 10-9 Jeff

---
4.) Between their inaugural featherweight title bout, the announcement of a flyweight tournament, and a talent exchange program with DREAM, One FC is continuing to quietly position itself as a true competitor to the UFC in Asian markets.
Jeffrey Harris: FICTION I'd say in just two shows this year, UFC has already outdone anything DREAM and/or One FC/GSI will do in Asia. I think the talent exchange program is good for them, but what big names do they actually have? It's nice that One FC officials can say their show is in one billion homes but how many people are actually watching? And next year the major interest will continue to go toward UFC's events in Asia. I mean, wasn't DREAM basically a corpse a short while ago? I think if you are DREAM or OneFC the goal should not be right now to be a competitor to UFC in any market. Their goal should be building their product and brand awareness. That was something Strikeforce failed to do when they expanded and made a bunch dumb moves, poor decisions, and asserted themselves as a competitor to the UFC before they were ready. And look how that ended up.
Patrick Mullin: FACT I think Jeff failed to realize that this question was about becoming a competitor to the UFC in Asia and not worldwide. Fighting is about the most nationalistic sport there is and fierce pride is taken when someone from your hometown or home country is fighting. While the UFC may have the bigger names, One FC has the local talent who people have emotional attachments to and want to see fight. When Vince McMahon began his takeover of the national wrestling scene in the 1980's he initially made the mistake of running his brand of wrestling when he took Georgia Championship Wrestling's timeslot on TBS and it bombed. Why? Even though Vince had bigger stars and higher production values the people wanted to see the men they perceived as THEIR wrestlers and THEIR wrestling. So when Vince wanted to expand into the booming Midwest stronghold of the AWA, he did it by stealing the name talent from that territory like Hulk Hogan and Jesse Ventura and then ran the towns in that territory with those stars because people still had an attachment with them.
One FC/DREAM had and still do have a stronghold on the Asian mixed martial arts scene. Unless the UFC raids talent there and takes away all of the Asian stars that are being promoted or in this case co-promoted the competition between the companies solely in the Asian market will be very live. One FC does extremely well in terms of consistently drawing in crowds for their events run in Asia as did DREAM which closed its doors due to corporate mismanagement and not any kind of waning interest from its fanbase. The UFC will not run the Asian market consistently the way One FC/DREAM will and so while the UFC may do a good number the four or five times they run shows there in a year maximum, it won't truly compete with One FC/DREAM for the same reasons One FC/DREAM won't compete with the UFC outside of Asia.
Judge Wyatt Beougher's Scorecard: Jeff made a valid point about the UFC garnering greater media interest on the basis of their name fighters; however, Pat came right back and eviscerated Jeff's answer by using the lessons that Vince McMahon had to learn the hard way and also by pointing out that by both maintaining a roster of Asian fighters popular in their home countries and running shows much more regularly than the UFC, OneFC (and now DREAM) have an actual leg to stand on, at least in Asia. Mullin, 10-9
Judge Mark Radulich's Scorecard: Mullin nailed it here. Asia is big, which goes without saying. As Mullin pointed out, the UFC will not be promoting nearly as many events in Asia as One FC will. He's also correct in his assertion that the local crowd will support the local show so as long as One FC continues to build a solid base throughout Asia (which is big, as I said earlier) they will be competitive against the UFC in that market, which is what the question was dealing with. Remember, the UFC only has so many resources to dedicate to Asia as they are trying to open new markets while expanding others. 10-9 Mullin.

---
5.) Based on the week-long "wall-to-wall" coverage that the Fox Sports Group has planned for this week and leading up to UFC on Fox 5, Dana White isn't just blowing smoke when he says the relationship with Fox is the best one the UFC has enjoyed to date and the one that he'd like to keep going forward.
Patrick Mullin: FACT – While I don't think that FOX has used its main network to promote the UFC effectively they have done a very good job of using time on FX, Fox Sports Net(with its regional affiliates), and most especially Fuel to promote UFC programming. The UFC had numerous bad dealings with Spike despite how mutually advantageous that relationship began and we've heard his numerous rants about attempts at dealing with HBO. So far FOX has been very accommodating to the UFC and has helped bring their brand even more into the mainstream so why wouldn't White want to continue working with them? Its a deal that's basically powered the Fuel TV network and upped its value to FOX immensely by heavily boosting subscriptions and the UFC gets the opportunity to reach out to audiences that didn't have accessibility to them for one reason or another. Everyone is winning here so let the good times roll.
Jeffrey Harris: FACT People on the internet and in the media like to be negative and always like to go with the doom and gloom and say the sky is falling. That's how a quack like Harold Camping gets the type of press and attention he did on 5/21/11 which the mainstream media should be ashamed of doing. The coverage we are getting all across Fox over the next week for UFC on Fox 5 is pretty spectacular. Now that I actually have access to Fuel TV, it's pretty awesome to see the growth of the UFC in the professional and top notch programming you get every week between the UFC Tonight and Ultimate Insider shows and then we get regular pre and post-fight shows for live events. The Fox prelims are also going to be on FX this time around. The last time I recall any singular UFC event getting this much heavy coverage leading into the event was probably UFC 148 which yours truly covered the fight week live for the site. People like to harp on the ratings, but I think Eric Shanks pointed out that UFC live events do comparable ratings to other big football games that air over a given weekend. Nielsen ratings system is an antiquated, dead system anyway that the industry is so dependent on they refuse to use a more accurate or viable alternative. Heck even TV as a model itself is a dying model. People don't even watch TV on their TV's anymore.
Judge Wyatt Beougher's Scorecard: I was going to give this round to Pat based on Jeff going off on a mini-tangent with Harold Camping and the death of television, but he did make a solid point, so he earned the Draw, 10-10.
Judge Mark Radulich's Scorecard: Both men agreed here and neither answer particularly stuck out to me as great or convincing. They were just kind of there. Serviceable but not spectacular and I'm kind of disappointed. 10-10 DRAW

---
Official Scorecard
Judge Wyatt Beougher scored the bout in favor of Patrick Mullin, 49-47.
Judge Mark Radulich scored the bout in favor of Patrick Mullin, 49-47.

---
So who won? Mark and I scored the bout exactly the same, down to the round, so I'm open to hearing how you guys would've scored it differently. Vote in the poll and leave your comments below!
Bonus) WWE.com actually got it right with their list of "The 50 Most Beautiful People in Sports Entertainment" (at least in libraries owned by the WWE) by putting Miss Elizabeth in the number one spot.
Jeffrey Harris FICTION Only one person should've been number one on that list. Her name is Trish Stratus.
Patrick Mullin: FACT EASIEST Fact or Fiction question ever. The modern wrestling fan associates beauty with Trish Stratus, Torrie Wilson, and Stacy Keibler amongst others. Attractive women no doubt but to get that attention they were parading around in thongs, or stripping down in Playboy or the middle of the ring and kissing other women. That's awesome don't get me wrong. But beauty is a different animal and any red blooded American man knows what I'm talking about. The truly beautiful women are the ones who don't need to expose themselves or act suggestively. The beautiful ones are the ladies who look just as beautiful in a pair of jeans and a t-shirt as they do in anything else. They're the ones who get your "Wow factor"to 10 when they wear a gown and all the accessories and just capitvate you and appear to be moving in slow motion as they move in real time. Elizabeth never posed nude. She never gave promos laced with sexual innuendo.
She walked with Randy Savage to the ring looking dressed as if she were invited to Buckingham Palace and as cool as Randy Savage was(my 2nd favorite only to Curt Hennig) she actually took attention away from him during his entrances without even trying! And this is the Macho Man we're talking about with colorful sequined robes who was extremely hard not to pay attention to. Elizabeth was the definition of class and elegance for an entire generation. She was like an ice sculpture in the sense that there could be(and often times were) a million things going on around her and she wouldn't even have to move for you to pay attention solely to her without looking away. Elizabeth was just as much a living embodiment of the word beauty as a rose, a diamond, or anything else you could think of and beyond. I don't think its any coincidence Elizabeth was the first crush I ever had and writing this is making me fall in love with her all over again.
Judge Wyatt Beougher's Scorecard: There are times when the bonus question allows, nay, REQUIRES brevity or humor; this was not one of them. For that reason, and for giving a thorough, thoughtful answer that described his choice, I'm giving the nod to Pat. Mullin, 10-9
Judge Mark Radulich's Scorecard: Wow. You kids today with your long hair and your Trish Stratus fetishes. Everybody knows that Miss Elizabeth was the first lady of wrestling and the most beautiful WWE Diva (lordy how I hate that term) in history. There's no question about it. And besides, even if we are children here and can't remember anything past the Attitude Era, I still think Lita was hotter than Trish. 10-9 to the man who writes The Blueprint!

---
And that's it for this week! Again, make sure you sign up for the new comments system, so that you can let us know what you thought about this week's contest! As always, if there's anything you'd like to see featured in next week's edition, leave your statement in the comments and I'll add it in for next week. Let us know what you thought in the comments, on Twitter, or on Google+. We'll see you next week and remember 411Mania for all of your MMA needs.
NULL
comments powered by Disqus