411 MMA Fact or Fiction 12.12.12: GSP's Hypocrisy, Rousey vs Cyborg, Bendo's Drawing Power, More
December 12, 2012 | Posted by
Welcome to another edition of 411's MMA Fact or Fiction, and as always, I'm your host, Wyatt Beougher. Last week, it was back to business as usual, as Patrick Mullin and Jeffrey Harris met up in one-on-one competition, and guest judge Mark Radulich and I both scored the bout for Patrick, as did the readers, with Mullin picking up over 71% of the reader vote. Thanks to Jeff, Pat, and Mark for doing a great job last week! On tap for this week, we've got Jonathan Solomon returning to action against Stewart Lange, who's been out of sight for quite a while, presumably due to carpal tunnel developed while "researching" models for his 5&1 column.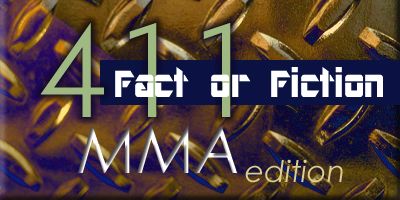 TALE OF THE TAPE
Red Corner
Jonathan Solomon
'The Juggernaut'
Columnist, The Juggernaut MMA News Report
1-3-0
VS
Blue Corner
Stewart Lange
'Pain in the D***'
Columnist, The MMA 5&1
2-0-0
And our special GUEST JUDGE
Todd Vote
'The Man Without a Zone'
Contributor, Everywhere

---
1.) With a dominant win on free television, Benson Henderson improved his PPV drawing power at UFC on FOX.
Jonathan Solomon: FICTION Any impact on Henderson's drawing ability following his win over Nate Diaz will be negligible. The fact remains, the only lightweight anyone could have considered a draw was B.J. Penn during his big run a few years back. Although part of the UFC's storylines on Fox that the lightweight division is 'the most talent rich' of any weight class, that's just false at this point. Gray Maynard, Diaz, Cowboy Cerrone, Jim Miller and Joe Lauzon all lost within the past year. This means the number of contenders for Benson is pretty small, such as Gilbert Melendez and Anthony Pettis (if he beats Cerrone next year). Either of those fights on their own, without a big name in the co-main event, will still do among the lowest buyrates of the year. Henderson is a great fighter, but it's going to take a long time or an outstanding rivalry for him to burst out and become a bigger star.
Stewart Lange: FICTION Jon pretty much hit the nail right on the head here. To add to what he said, though, haven't we kind of been here before? When Ben Henderson took on Clay Guida to gain his number one contender status, it quickly became a lot of people's fight of the year for 2011. While it wasn't televised (at least in the U.S.) the fact it was such an exciting fight brought it to many people's attention and they seemed out the bout using other means. The issue with Henderson is that, no matter how good or entertaining he is, he doesn't have the "edge" that the really big draws have. The top draws tend to be either real characters (Sonnen, Chael) or legends/huge name fighters with a history (St. Pierre, Georges). Until Henderson is considered in either of these categories, he'll struggle to do huge numbers.
To appear more cynical, does anyone else think that the show did such big numbers on the strength of Shogun and Penn on the main card? While people may not pay to see them anymore, they both have the fan base that could have helped the show out, but whether or not those people stuck around for the main event and were impressed enough with Henderson to actually pay to see him fight again is another story.
Judge Wyatt Beougher's Scorecard: With both guys in agreement, it would've been easy to score this round a draw; however, Stewart hurt his argument with the second paragraph. Ratings breakdowns show that the Henderson/Diaz fight was the highest rated fight on the show, so not only did people not necessarily tune in to see BJ Penn and Shogun, they also "stuck around for the main event". With that in mind, Solomon, 10-9
Judge Todd Vote's Scorecard: I like Stewart's expansion on Jonathan's answer here, so I am going to give him the round 10-9. Plus, I always love a cynic. Lange, 10-9

---
2.) Based on their performances Saturday night, neither Rory MacDonald nor Alexander Gustafsson has shown that they could dethrone the champions of their respective divisions.
Stewart Lange: FACT Both guys looked great against former champions, but let's not forget that both Shogun and Penn have been torn apart by Jon Jones and GSP respectively. If you consider the fact that neither Macdonald or Gustafsson could finish their opponent, unlike the champions, (I'm considering BJ throwing in the towel as "finished") then they'd maybe struggle in a title fight at this point in time. That in mind though, Ares certainly isn't next in line at GSP and any fight between Jones and Alexander would be at the earliest, July or August, he's got time to build a game plan perfect to take on Jon Jones.
Jonathan Solomon: FICTION True in the case of Alexander Gustafsson because we have no reason to believe anyone can touch Jon Jones. For Rory MacDonald, I don't think it's so clear and cut against the idea he would have no shot in a hypothetical fight with Georges St. Pierre. Remember, Rory is bigger than St. Pierre and even has a slight reach advantage. You would have to give the wrestling edge to GSP but his mate at Tristar is only 23 years old. Even right now, it would be a fight and not a one-sided affair. What's even more about this line of thinking is, let's say Georges never moves up in weight while Rory cleans out everyone in his way (Josh Koscheck, Demian Maia, Carlos Condit, Jon Fitch, etc.) and eventually, splits from Tristar to challenge his former training partner. Whether MacDonald will ultimately be better than Georges has been, who knows, but there's no doubt in my mind that he will have it in him to beat fighting's most famous Canadian.
Judge Wyatt Beougher's Scorecard: Both guys again in agreement here, and there's really nothing glaringly off about either answer (although Stew's MMAth is tenuous, at best, due to the different stylistic match-ups Gustafsson and MacDonald would present as opposed to Rua and Penn), so I'm scoring this one a Draw, 10-10
Judge Todd Vote's Scorecard: Again, got to give the round to Stewart. I just didn't see anything from either man that would make me think they pose a huge threat to the champ in their respective divisions. Don't get me wrong, both men looked good in beating two legends, but the champs are on a different level. 10-9 Lange

---
3.) With two of their champions now having lost non-title match-ups, it's time for Bellator to rethink their policy of not giving title rematches to fighters who win those fights.
Jonathan Solomon: FICTION At first glance, the answer should be yes, right? Not for Bellator. The promotion prides itself on awarding title opportunities to any man or woman who can win a tournament. Plus, beginning with season eight in January, CEO Bjorn Rebney says if those title fights end in a way where a rematch is desired by fans, they will then book them. As for automatically booking title fights based on the outcome of the non-title fights? No way. There have been two examples of champions losing those fights in the Bellator cage (not counting Eduardo Dantas' loss to Tyson Nam this summer in Brazil), Christian M'Pumbu and Zoila Gurgel. Gurgel lost last week to Jessica Eye in a bout at 125-pounds, not even the 115-pound division Zoila is champion of. M'Pumbu lost a decision to Travis Wiuff and I can guarantee you nobody was barking at Rebney to book an immediate rematch between the two.
Part of the significant lore behind Bellator is that you won't find UFC-like decision making based on which fights are best for ratings or buy rates. If Daniel Straus wins the featherweight tournament, he will get a shot at the champion. The same will go for King Mo Lawal when he fights in the light heavyweight tournament next month. The big name guy is not automatically handed a shot (see Roger Huerta or Joe Warren). If you happen to beat the champion in a non-title bout, great, then you're the favorite in the next tournament.
Stewart Lange: FICTION It's a very close run thing, but I have to say, I agree with Solomon again. The tournament style really is the Bellator bread and butter, but short of reiterating what Jon has already said, perhaps the winner could be rewarded with a bye into the next round of the knockout competition? It's all well and good for a champion to lose a non title match, but ultimately, nobody would have been under any disillusion about what they were signing themselves up to. They win, they increase their stock and maybe even get a mention in the 411 Fighter of the month awards, but other than that, I think they get a win bonus, an advance place in the next round of the tournament and a pat on the back.
Judge Wyatt Beougher's Scorecard: Another very close round, with Solomon pointing out that big names don't get immediate title shots so non-title winners shouldn't either, and Stew countering with the idea of possibly giving non-title winners a bye in the next tournament. Draw, 10-10
Judge Todd Vote's Scorecard: Solomon pretty much hit the nail on the head here. 10-9 Solomon

---
4.) In spite of her camp's claims that Ronda Rousey is afraid to fight her at 140 and that she couldn't safely make 135 (a statement Sheborg herself later contradicted), it's Cristiane Santos, not Rousey, who has something to prove, which is why the eventual fight between the two should take place at 135.
Stewart Lange: FACT I think at this point, it actually is Santos who has to do the "proving." I actually had to use Wikipedia to remind myself of the last person Cyborg fought (Hiroko Yamanaka, stat fans) but I'm glad that I did because it actually threw up quite an interesting fact. Since Santos last won a fight officially (the win over Yamanaka was overturned), Rousey has actually put together her entire professional fight record. Not bad in the space of two years, as now Rousey is right on the cusp of becoming a legitimate household name and pretty much the sole reason Dana White gave women the green light into the UFC. While until this point, Cyborg was always the biggest deal in WMMA, Rousey has taken the throne as her own and it's up to Santos to dethrone Ronda, not the other way around.
Jonathan Solomon: FICTION The only thing Cyborg has to prove is that she can make 135 and make it into the cage. When she ultimately fights Ronda in the second half of 2013, by the time they're standing opposite one another in the octagon, it's Rousey who has something to prove. Why? Why does Cyborg, who has not fought since December 2011 (and has not legally won a fight since June 2010), have nothing to prove? We know what she's capable of. If you want to chalk it up to drugs, I can't argue. Still, ever since we first saw her in an EXC cage over four years ago, she has continued to smash girls ever since. Rousey will be the person who has to show she's the undisputed pound-for-pound queen of MMA. After all, the only reason people are not talking as much about Cyborg is the fact she's been out of the picture for the past year. Rousey is the top woman right now, but once Cyborg returns, the top of the mountain becomes more cloudy. To be the undisputed champion, Ronda has to make another statement against the most feared female fighter, perhaps in MMA history.
Judge Wyatt Beougher's Scorecard: While I can certainly agree with what Solomon says with regard to Cyborg's legacy, I tend to chalk it up to the PEDs, and Stewart makes a valid argument in pointing out that in the "what have you done for me lately" world of MMA, Rousey is the current kingpin of women's fighting. Lange, 10-9
Judge Todd Vote's Scorecard: Very close round, and both men offer interesting positions on the opposite side of the fence… I'm going to have to give it to Stewart. Cyborg has to prove she can do what she was doing without the roids. 10-9 Lange

---
5.) Johny Hendricks is right – GSP is acting hypocritically by talking about how much he respects the integrity of the sport while choosing Nick Diaz for his next opponent over Hendricks.
Jonathan Solomon: FACT "I don't want to have to be a jerk to get something," says Hendricks (courtesy of his interview with MMAJunkie.com). He's right on both accounts, that GSP is a hypocrite and that it's unfair to force guys to turn into pro wrestlers to get big fights. Unfortunately though, MMA is a business and the UFC is in the business of making fights that people will pay for. Johny Hendricks is in a bad spot because although he is most deserving of the shot against Georges, more people would rather pay to see Nick Diaz on his back for five rounds against GSP.
GSP is more willing to give the title shot to a guy who is not only coming off a loss, but a guy who will not have fought in over a year because of his second drug test failure. Plus, Diaz is not even the toughest match-up for him in the weight class (that would be a combination of Hendricks and Rory MacDonald, I presume). So, when Georges talks about the integrity and honor of the sport, just know he's really talking about the dollars and cents of it. Johny Hendricks just is not part of the equation until he finds his way into the mix, besides knocking top fighters out.
Stewart Lange: FACT He's right, but unfortunately, he's at the receiving end of what is purely a business decision. At this point in time, despite it being wrong, Hendricks still isn't anyone to casual fans. Don't get me wrong, I think he deserves the next go at St. Pierre but he's not marketable. GSP is in the position where he can ask for his fights and if he thinks that taking on Nick Diaz will get an extra, say, 250k pay per view buys, you can bet your ass the UFC will run with it. The other side of the coin could be to question how much integrity the sport actually has in the first place, but I'm going to take the moral high ground and side step that one.
Judge Wyatt Beougher's Scorecard: And again we have an agreement, but with both guys tied on the scorecards coming into the round, I had to go back and re-read their responses in hopes of avoiding a draw. Both guys made solid, well-reasoned answers with no glaring mistakes but neither man made a really stand-out argument either. As such, I'm scoring this one a Draw, 10-10 and leaving it up to you, the readers (and Todd) to decide the winner.
Judge Todd Vote's Scorecard: Solomon once again fires back with a great answer to take the round. 10-9 Solomon

---
Official Scorecard
Judge Wyatt Beougher scored the bout a Draw, 49-49.
Judge Todd Vote scored the bout in favor of Stewart Lange, 48-47.

---
So who won? I thought it was a hard-fought draw, while Todd scored it 3 rounds to 2 in favor of Stewart. Make sure you vote and let your voice be heard, so we can figure out if Stewart wins the majority decision, if we have a majority draw, or if you think Solomon won, which would make it a standard draw.
Bonus.) It's only a matter of time before a mixed martial artist moves beyond the assault- and alcohol-related charges we've seen to date and onto a more serious crime (not unlike Chris Benoit or Jovan Belcher).
Stewart Lange: FACT I'm going to say fact, unfortunately, but I will also say this – you could exchange the "mixed martial artist" in that statement to "architect" or "plumber" or "bus driver" and it'd still be factual. Any form of substance abuse can ultimately lead to a more serious crime, whoever you are. Obviously, the high profile cases are the ones that shock you the most but I just hope we don't hear about something like this in MMA, but at all.
Jonathan Solomon: FICTION This is quite the leading question. "Only a matter of time," though? There are examples of MMA fighters accused (and in some cases, convicted) of heinous crimes like that monster Joe Son, Mike Whitehead and perhaps the most infamous, Lee Murray. Bellator was going to promote a fight for a guy convicted of manslaughter, Dan McGuane. As for the question of whether it's just a matter of time before an MMA fighter commits a murder-suicide, I'll say the odds are as high as any other occupation. I guess the point you're trying to raise is the role of head injuries and/or dependence on drugs and how those impact an athlete's behavior. Whether you want to blame football for Jovan Belcher's situation (I don't think it's so cut and dry) or the pro wrestling business for what Chris Benoit did (that's a much more tricky situation). Quite frankly, even though MMA is not even 20 years old in its modern form and there have been some studies done which say the risk of concussions is lesser here than boxing, who knows? Who's to say that once the number of fighters who have "x" number of fights over 40 is so much and the wars they've been involved in pile up, do we really understand how their brains change?
Judge Wyatt Beougher's Scorecard: Both guys take a similar train of thought, in that the incidence of violent crimes amongst the MMA community likely isn't any higher than other professions, but I'm giving Solomon the nod based on his more detailed answer. It'll be interesting to see if a guy like Chuck Liddell, known for his partying lifestyle and for losing his last handful of fights via knockout, develops any of the symptoms of CTE that are being reported on amongst football players and boxers who have sustained head trauma throughout their careers and come to violent, often tragic, ends. Solomon, 10-9
Judge Todd Vote's Scorecard: Stewart nailed it. Just because this happens, doesn't put MMA in a position of liability. It could just as easily be an architect, or a butcher who does it. 10-9 Lange

---
And that's it for this week! Again, make sure you sign up for the new comments system, so that you can let us know what you thought about this week's contest! As always, if there's anything you'd like to see featured in next week's edition, leave your statement in the comments and I'll add it in for next week. Let us know what you thought in the comments, on Twitter, or on Google+. We'll see you next week and remember 411Mania for all of your MMA needs.
NULL
comments powered by Disqus