411 MMA Fact or Fiction 12.19.12: Nelson/Carwin, Evans/Gustafsson, Bellator Blunders, More
December 19, 2012 | Posted by
Welcome to another edition of 411's MMA Fact or Fiction, and as always, I'm your host, Wyatt Beougher. Last week we had quite the match-up, with Jonathan Solomon taking on Stewart Lange, and while I scored the bout a draw, both guest judge Todd Vote and the reader vote went to Stewart, with Stew picking up over 50% of the total vote. Congratulations to Stewart on the win, and Solomon has seriously had the worst run of luck in Fact or Fiction since I took over. You won't find a better competitor with a worse record around these parts, and I salute Solomon for continuing to come out, time after time, and give a phenomenal effort. This week, the bossman is back in action, as Larry Csonka completes a relatively quick turnaround time after his dominant performance the last time out, but he'll be taking on a formidable foe indeed, in the form of Mark Radulich. Since this will be the last ever edition of MMA Fact or Fiction*, I couldn't ask for a better way to go out.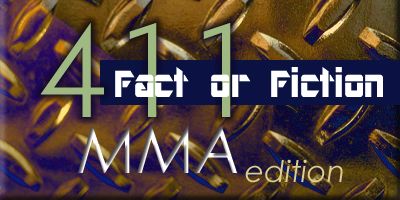 TALE OF THE TAPE
Red Corner
Larry Csonka
'Da Bawse'
Supreme Overlord, 411 MMA/Wrestling
4000-0-0
VS
Blue Corner
Mark Radulich
'Headshrinker'
Host, 411 Ground and Pound Radio Show/Live Coverage Guru
2-2-1
And our special GUEST JUDGE
Alex Watt
'Axle Twat'
Columnist, Thoughts from Across the Pond/Frenchie

---
1.) Roy Nelson's win at the TUF Finale was impressive, but it really only set the stage for the eventual fight with Carwin, which could be the most exciting heavyweight fight ever based on their punching power and chins.
Larry Csonka: FICTION Sorry, I am not buying that for a dollar or for anything. I like Roy Nelson, but to be completely honest here, I do not get excited for a Shane Carwin fight, and strongly feel that Carwin should retire from MMA. Carwin lost to Lesnar, had to take time off for back surgery, and I do not feel that he came back the same. He lost to JDS in a three round fight where he was easily handled by the now UFC Champion. Now at age 37, he suffered a knee injury, and as we all know, when you get older as a fighter, and the injuries pop up, that is never a good thing. I wish Carwin well, but at this stage of his life, I feel that he should retire and go back to a regular job. The man has a bachelor's degree in Mechanical Engineering as well as a bachelor's degree in Environmental Technology. He doesn't need to fight, and at this stage, I think that he would be better off. If he chooses to keep fighting, I wish him the best of luck and hope that he stays healthy, but I have to say that the fight doesn't interest me at all.
Mark Radulich: FICTION Roy Nelson has already said he's done with Carwin and is ready to move on with life. They've now tried twice to put Nelson and Carwin together and both times it was scuttled because of Carwin's health. I know a few years ago he was a pretty exciting runaway freight train in the UFC's HW division but with the inclusion of Strikeforce heavyweights (Overeem, Bigfoot, Werdum, Cormier, etc.) and some of the homegrown talent developing nicely (Struve) the man isn't even close to being a contender anymore. The man gassed out and was submitted by Brock Lesnar who in turn was kicked in the 'itis by Overeem and sent packing from MMA. He then went on to, as Larry put it, get handled by the best damn heavyweight in the world of MMA, JDS. At this point he now hasn't been active in over a year and he's been sidelined with two injuries. Meanwhile. Roy Nelson has fought three times in 2012 alone and he 2-1. A fight against Carwin isn't even fair to Nelson anymore and not because he'd get beaten up. It's because he deserves a higher class of opponent who has actually been competitive in 2012 (Kongo and Barry came to mind, as well as Bigfoot after he gets KO'ed by The 'Reem). Finally, I'm in agreement with Larry, Carwin should just stay gone at this point. If he does come back he needs to be fighting guys at the lower end of UFC HW weight class. Guys who also haven't been doing too wazooey this year (Schaub, Mitrione, Herman, Del Rosario, etc.) If you feel like you must keep him around, save him for Barnett if he ever actually ends up coming over but Roy Nelson needs to continue to move onward and upward.
Judge Wyatt Beougher's Scorecard: Both guys in agreement here, and while I'm a Carwin fan, I can't say that I disagree. I'd love to see Carwin/Nelson just to see how long they could go without punching themselves out, but Mark's right – Carwin needs to win a couple of fights now before he gets a crack at Nelson. Radulich, 10-9
Judge Alex Watt's Scorecard: Here we go! Larry "The Frenchie Hater" Csonka vs. Mark "The Heavyweight Humper" Radulich. This should be good folks.
So, first round and both guys come out swinging. I agree with Larry and Mark here; there is no way that a fight between Roy Nelson and Shane Carwin can, at this stage, be considered "the most exciting heavyweight fight ever". I'm surprised that neither of our competitors offered some alternative options for what they feel would be the most exciting heavyweight fight, but I am entirely in agreement with their feeling that Carwin needs to retire based on his advancing age, injury troubles and limited skillset. Mark went into more detail with his answer, looking at where Nelson stands in the division and better potential opponents for "Big Country" than Carwin, so he edges the first round on my scorecard. Radulich, 10-9

---
2.) Mike Ricci will have a better career in the UFC than Colton Smith, in spite of losing to Smith in the finals of The Ultimate Fighter.
Mark Radulich: FACT Probably. He had a bad night Saturday night, that much is for certain, but he was clearly the best prospect that season had to offer. He has a better look than Smith and he's one of GSP's training buddies. We've recently seen that GSP is a tide that lifts all boats so he'll do well by association in that they'll continue to give him spots on cards (most likely Facebook to start off with). That being said, you can't discount his performances from earlier in the season, like knocking people out with an elbow. With more training and guidance I'm sure he will do fine. If nothing else he'll learn from the loss (like most fighters do) and come back better the next time.
Larry Csonka: FICTION… I guess. Listen, for the most part, the Ultimate Fighter is such a waste of time anymore. People do not care about investing their time to watch the show week in and out, and with Bellator snagging up fighters that would have previously been on TUF, the talent pool is shallower than ever, especially after 16 seasons of the show. I said fiction because I don't do the cop-out "FACTION" stuff, but the truth is that I have little to no hopes for either guy doing anything in the UFC. Sure Ricci trains with the GSP crew, but that doesn't mean that he will get to an elite level. In my opinion, TUF is around because Fox pays it to be around, and because the winners will fill out FUEL TV cards, because THE UFC IS GOING EVERYWHERE AND WE NEED FIGHTERS TO FIGHT. Dana White asks these guys, "DO YOU WANNA BE A FUCKING FIGHTER?" and they enthusiastically say yes. But if you ask me if I want to watch TUF, I tried again this season, and I couldn't do it. Good luck to Smith and Ricci, but they were impressive against a shallow pool of unimpressive fighters; which give me little hope for their future.
Judge Wyatt Beougher's Scorecard: Larry has the better answer here, even though I agree with Mark that Ricci has more potential than Smith, but I'm still giving the round to Mark, because I watch The Ultimate Fighter every week so that Larry doesn't have to. He loses this round for my suffering. Radulich, 10-9
Judge Alex Watt's Scorecard: I have to admit, if we were scoring this on whose answer is the most entertaining then I'd give the round to Larry. However, Radulich has given the more appropriate response to the statement and I agree that Ricci has more potential and marketability than Smith. Sorry boss. Radulich, 10-9

---
3.) With Henderson/Machida now official, it makes more sense to pair Rashad Evans off with Alexander Gustafsson than with Antonio Rogerio Nogueira.
Larry Csonka: FICTION Yeah, I am going fiction here. Rashad Evans lost his last fight, which while being a title fight, is still a loss. That loss came back on April 21st, which means that Evans has not fought in eight months. Evans is 33 years old and not getting any younger, and after 20 fights of record, I personally think that he needs a tune up bout before he gets involved with any contenders. Also, when the bout with Antonio Rogerio Nogueira was made, all of the top light heavyweights were occupied with someone else, and at this point, Gustafsson had a title shot promised to him, and the winner of Henderson and Machida will earn a title shot, supposedly. No, at this time Evans needs a fight like the one with Nogueira. If things work out and he gets to face Gustafsson down the line then that is also fine, but after eight months off as of this writing, I need to see if Evans still fights like a contender. Call me crazy, but I want guys earning title shots around this place.
Mark Radulich: FICTION Nope the match-up between Lil Nog and Suga is just fine when and where it is presently. Now when Evans beats Nog (and he will) then it will make sense for the UFC to pair him with Gustafsson. In fact, as I stated a few weeks ago on the 411 Ground and Pound Radio show, I think Dana White was too quick to make Gustafsson a challenger for Bones' title. Gustafsson has shown us what he can do on his feet but he still needs to be tested by a solid wrestler before anyone will really buy him as a legit challenger. He's already lost to Phil Davis so Gustafsson must show he's improved in that area against a greater or equal opponent. Meanwhile, as the bossman put it, we haven't seen Rashad Evans since the drubbing he took in Atlanta last April. Let's see him actually win a FEW fights before throwing him back in the cage with Jones. If Evans beats Nog and The Swede and maybe someone else if Dan Henderson actually gets his rightful shot against Jones after the silly Sonnen affair then he'll have earned a rematch. But to scuttle the Evans-Nog fight in order to hotshot a fight between Evans and Gustafsson is just silly talk. Let's have some patience and actually build to something before we go all willy nilly making fights before they have truly ripened.
Judge Wyatt Beougher's Scorecard: Radulich is on fire, taking an already good answer by Larry and expounding on it, pointing out that until Gustafsson has shown that he's improved his wrestling chops since his loss to Phil Davis (a man Evans beat), he probably shouldn't step into the cage with the champion. If the Henderson/Machida winner does get a title shot against Jones, that would give the UFC time to make Gustafsson/Evans (provided Rashad does defeat Lil Nog) before throwing Gustafsson to the wolf that's currently the champion of the light heavyweight division. Radulich, 10-9
Judge Alex Watt's Scorecard: I went back and forth on who to give this round to. Both men point out, quite rightly, that Evans needs to work his way back into title contention and that the UFC could quite easily book an Evans vs. Gustafsson fight if and when Rashad defeats Nogueira.
Screw it, this one's a draw. Sue me. Draw, 10-10

---
4.) The cancellation/postponement of their lightweight tournament final (due to 20-year-old Marcin Held being unable to get into the casino where it was being held) is a misstep that Bellator didn't need barely a month before their debut on SpikeTV.
Mark Radulich: FACT That was some bush-league stuff right there. I can forgive a company when something out of control happens and they have to audible on the fly. This was not one of those cases. Management should have known whether or not the guy could compete in the casino before booking him there, plain and simple. With the move to Spike and the buy-in of Viacom, Bellator is positioning itself as the number 2 MMA company in the US. Incidents like this reveal that in reality they are only number 2 by default and in reality they are in no position to compete with the UFC. Compare the two companies this weekend. The UFC ran two shows, one in Vegas and one in Australia. Other than Varner getting sick and having to be pulled from the show (which they couldn't control) from a logistics perspective, both shows came off flawlessly. There were reports that Dana White could manage the UFC on FX 6 from afar while staying in Vegas to prep for the TUF Finale. Meanwhile, Bellator lost a main event because of poor planning. Tsk tsk Bellator, you should have known better.
Larry Csonka: FACT I absolutely agree with Mark here, this was poor planning and bush-league at its finest. This is the kind of thing that, as a major company, you cannot afford. But not only did this actually happen, but they did not notify fans at the beginning of the program. This was likely because they were terrified to tell fans that for the second straight week that the advertised main event was cancelled. When you are #2, and a distant #2, if you're not moving forward, you're moving backwards. Now I know that Bellator was going to hold some stuff back until they got on Spike TV, but it seems as if this season was a complete waste, because they have done nothing of note, and when there is Bellator news, it is something like this that makes them look very foolish; and that is a true shame.
Judge Wyatt Beougher's Scorecard: Both guys with great answers here, but I'm giving the nod to Larry based on his contention that Bellator has built exactly zero momentum in season seven leading into their Spike debut. Csonka, 10-9
Judge Alex Watt's Scorecard: Both men agree and make virtually the same point. It's the ever popular cop-out score of a draw for this round (again). Draw, 10-10

---
5.) By featuring Japanese favorites like Wanderlei Silva, Mark Hunt, and Takanori Gomi, Zuffa is aiming to make their return to Japan a big one.
Larry Csonka: FACT Absolutely, and they should be. The Japanese market is relatively untapped by the UFC, and making the UFC on FUEL TV 8 card as they have makes complete sense from a business standpoint. You want to appeal to whatever market you are in, and they have been doing things like this for years. Examples like tons of Canadians on the Canadian cards, the same with the UK and so on and so forth. I always laugh when US fans complain about this, but they have to remember, they have thousands of tickets to sell in that market, the TV rating is important, but they have to make money on the gate. It's not really all that difficult to understand. It also looks like a damn entertaining card, barring injuries, so I have no real issues with it whatsoever. I also like what the UFC has decided to do with the FUEL TV cards, and shifting them to primarily international events in mostly mid-level arenas. It gives a nice feel to the shows; it helps them run profitable events in those areas, and also helps the overall business expansion plan. Finally, it makes Fox happy, because thanks to the UFC, FUEL TV has grown in viewership by over 100% in 2012.
Mark Radulich: FACT They seemed to have evolved their thinking from the previous show in that when they go to a certain part of the globe, they need to load the card up with fighters the locals actually want to see. I remember covering UFC 144 and saying that they should have made it somewhat of a PRIDE reunion show to really make the fans happy. In some cases they tried. They had Rampage, Mark Hunt and a host of Japanese hometown favorites but the headliners were Edgar and Ben Henderson…meh. This time they appear to be gearing the event more towards what the Japanese fans want while still maintaining brand integrity. W. Silva was beloved during the PRIDE days so his presence in the main event will please the crowd and he's backed up by solid card. Sanchez vs Gomi and Hunt vs Struve could have been placed on a PPV without most people raising an eyebrow. I actually think this card in many ways is better than the UFC 144 card. Huzzah for the UFC learning valuable lessons from their first year as a FOX content provider.
Judge Wyatt Beougher's Scorecard: Here's a glimpse at the inside workings of Fact or Fiction – each week, the contenders get two statements a piece which they answer and then I swap them, so that they can play off of one another's answers. At the same time, they get statement 5 and the bonus statement independent of one another, so any time two contestants get their answers for statement 5 or the bonus so eerily similar, I think it's pretty cool. With that said, I'm scoring this round a Draw, 10-10 because their answers are so similar.
Judge Alex Watt's Scorecard: Man, these guys are not making this contest easy to score, are they? Yet again, both competitors make great points and are in agreement. I'm giving the edge to Csonka for going into slightly more detail. Csonka, 10-9

---
Official Scorecard
Judge Wyatt Beougher scored the bout in favor of Mark Radulich, 49-47.
Judge Alex Watt scored the bout in favor of Mark Radulich, 49-48.

---
So who won? Both Alex and I scored it in favor of Radulich, even though the commenters seem to think we'll lose our jobs if we don't score these in favor of the Boss. Will you agree with us, or will you award the win to Mr. Csonka?
Bonus.) King Mo postponing his wrestling training in order to travel to the Netherlands to resume training for his January Bellator debut shows that in spite of being signed to both TNA and Bellator, Mo is keeping his focus where it belongs, on MMA.
Mark Radulich: FACT It not only shows us he is keeping his focus where it belongs but it also shows us that signing a professional fighter to a contract where he'll also wrestle doesn't really work. In another life they could have tried this with Kurt Angle as he already knew the inner workings of pro-wrestling so as long as he could have stayed relatively healthy and pass commission tests, he'd have been OK. But with King Mo, they were asking him to basically learn an entirely new skill set on top of rehabbing his knee, on top of recovering from staph on top of training for a real fighting tournament. Something had to give and for his sake I'm glad it was the pro-wrestling. Now, if he loses in the first round he'll have some time back to train and perform for TNA but until then, he's in the right to solely focus on MMA.
Larry Csonka: FACT It's a fact, and the way that it was always going to be. Mo is a sideshow attraction for TNA, I never expected him to work a regular schedule. He is a (hopefully) crossover star for Spike TV, which is using TNA as the lead in to Bellator, as was speculated for months by others and myself. Also, Mo is in a title tournament right away, and they are banking on him being a big star for them. Whether he will be or not is still something that will be determined at a later time, but Mo is a MMA fighter first, and most of his dedication will always be there until he starts losing a lot or gets injured to the point that being an MMA fighter is no longer viable.
Judge Wyatt Beougher's Scorecard: Again, both guys with very similar answers, so I'm scoring this one a Draw, 10-10. Can't say I disagree with either guy, as in Bellator, Mo's going to have guys looking to take his head off, whereas in TNA, they'll just be looking to make sure it looks like they're trying to take his head off.
Judge Alex Watt's Scorecard: Perhaps the bigger question here is, does this mean that we won't see some sort of "King Mo" themed tournament in TNA? It could be called the "King of the Ring". Oh wait…
How about the MOld Rush tournament? The Road to WrestleMOnia? King of the DeathMO?
Anyway, considering that I scored the Fact or Fiction contest in favour of Mark, I feel I should give the bonus round to Larry – who is sort of in charge around here – in the hope that I still have a job working for 411 next week. Csonka, 10-9

---
And that's it for this week! Again, make sure you sign up for the new comments system, so that you can let us know what you thought about this week's contest! As always, if there's anything you'd like to see featured in next week's edition, leave your statement in the comments and I'll add it in for next week. Let us know what you thought in the comments, on Twitter, or on Google+.
*Due to the pending Mayan apocalypse and all. If that doesn't happen, I'll see you here next week for our year-end round-up edition.
NULL
comments powered by Disqus