411 MMA Fact or Fiction 12.26.12: Ronda Rousey, Bellator on Spike TV, More
December 26, 2012 | Posted by
Welcome to another edition of 411's MMA Fact or Fiction, and as always, I'm your host, Wyatt Beougher. Last week saw 411 Head Honcho Larry Csonka take on Mark Radulich in what was truly a contest for the ages. In what I assumed was a sure sign of the impending Mayan apocalypse, both guest judge Alex Watt and I scored the bout in favor of Radulich, much to the chagrin of our conspiracy-loving commentariat, who seem to believe that we only choose Larry because we'd lose our jobs if we didn't. Unsurprisingly, nearly 60% of the reader vote went to Radulich, who becomes the first competitor to defeat the boss in one-on-one Fact or Fiction action. This week, for our look back at the year that was, we've got Todd Vote squaring off against Alex Rella in a contest that's a fitting end to 2012. I've given my guest judges the week off, so your vote will be more important than ever this week.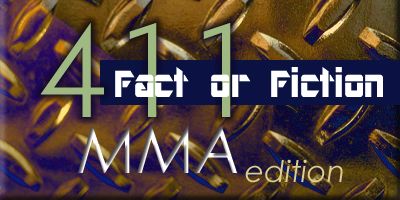 TALE OF THE TAPE
Red Corner
Todd Vote
'The Man Without a Zone'
Contributor, Everywhere
4-5-0
VS
Blue Corner
Alex Rella
'Cinder'
Columnist, The MMA Top 10
2-3-1

---
1.) Rustam Khabilov made the most impressive debut of any UFC fighter in 2012.
Todd Vote: FACT. Based solely on the way you worded it, I got to admit that was a pretty impressive way to debut. That suplex was brutal, the second one was even worse. If you want to make a debut and make a statement, that is most definitely one way to do it. I say this is fact based on the way you worded it only because the debut I can think of that was slightly more impressive was more of a re-debut – when Jamie Varner took the fight on short notice with Edson Barboza. Then, Varner managed to finish the highly touted prospect in the first round, in a fight that nearly nobody picked him to be competitive in, let alone walk out with a win.
Alex Rella: FICTION Even though Khabilov looked awesome suplexing Vinc Pichel all around the octagon, the most impressive debut goes to Glover Teixeira. Khabilov was taking on Pichel who was also making his official UFC debut and really isn't anything special. Teixeira took on Kyle Kingsbury in his first UFC fight at UFC 146. Kingsbury is a solid fighter who was 4-2 in the UFC coming into this fight. Teixeira showed off his powerful striking and then his ground game as he ended it with an arm triangle. Teixeira looked so intimidating that former champion Shogun Rua wouldn't take a fight with him. Khabilov looked good but I don't know if any of the top lightweights are scared of him just yet.
Judge Wyatt Beougher's Scorecard: When I crafted this statement, I was hoping someone would mention Teixeira, and it was a pleasant surprise for Todd to mention Jamie Varner's return to the UFC, as that fight had slipped my mind. Both guys had solid answers, but I'm giving this round to Rella, 10-9.

---
2.) Had Ronda Rousey lost to either Miesha Tate or Sarah Kaufman, the UFC still would not have a women's division.
Alex Rella: FACT Dana White had no interest in women fighting in the UFC until Ronda Rousey. Tate and Kaufman are great fighters and were good champions but I doubt White had seen them fight before Rousey took them on. Even on his twitter during Tate/Kedzie, White said he had no idea who Julie Kedzie was. I'm not saying it's completely unfair, Rousey has gotten mainstream media attention and has proven to be a top draw in Strikeforce. White's opinion on women's MMA gradually changed as Rousey became more successful and more popular. Also White kinda has this creepy crush on her. Tate and Kaufman both deserve to be in the UFC as well but Rousey is the sole reason there are now women in the UFC. She's been an awesome fighter that can talk trash and it also helps that she's attractive.
Todd Vote: FACT. 100% Fact. There is absolutely no way that Dana would have a women's division without the highly marketable, extremely good looking Ronda Rousey at the top of the chain. Not to take anything away from Miesha Tate or Sarah Kaufman, both of whom are very talented fighters and very beautiful. It's just that neither of the two seem to possess the same mainstream appeal that "Rowdy" has. Dana didn't start the division because he sees it as a talent rich division, he started it because he sees the $$$ in Rousey.
Judge Wyatt Beougher's Scorecard: Alex gave a great answer here, but I'm giving this round to Todd based on his on-the-nose answer, which really nailed why Dana White decided that he would completely change his stance and create a women's bantamweight division. Vote, 10-9

---
3.) At least one more fight will be cancelled from Strikeforce's final show, ensuring that the promotion limps quietly into history.
Todd Vote: FICTION. Pretty sure Strikeforce is already limping quietly into history; one more fight cancellation isn't going to change that. We all saw it coming the moment that it was announced that Zuffa had purchased the promotion, Strikeforce was chum in the water. The only reason it lasted as long as it did was because of the Showtime deal. I think that marked the moment where Strikeforce would start "limping into history" as you put it. If that didn't seal its fate for you, surely you knew it was over when Dana brought Diaz out of Strikeforce and into the UFC. This show is just a final nail in a coffin that has been being built for the past 21 months.
Alex Rella: FICTION I'm sure one more fight will be cancelled from next month's final Strikeforce show because of injuries, but the same will happen with next month's UFC shows. Fighters are getting hurt more frequently for whatever reason and almost every show loses fighters. But I said fiction because I disagree with the second part. Strikeforce is actually going out pretty strong. This had potential to be one of the best shows ever but unfortunately a lot of the company's top fighters don't have any balls. But it should still be one of the best shows of the year. It has the welterweight champion, the heavyweight champ, Josh Barnett, Mousasi vs Kyle, Herman vs Souza, Tim Kennedy, the only decent Gracie these days, and a potential breakout fight for Ryan Couture as he takes on KJ Noons. It's not as good as it could be but Strikeforce is going out as best as it can and that's still pretty good.
Judge Wyatt Beougher's Scorecard: Every competitor is entitled to their own opinions, obviously, but I'm not sure how Mr. Rella can say that Strikeforce is going out strong, considering two championship bouts have already been removed from the show, and it's likely only a matter of time before one of the other fighters that he mentioned is out of the show as well. For that reason, I'm scoring the fight in favor of Todd. Vote, 10-9

---
4.) With Bellator limping into their Spike contract with injuries and fight cancellations, it'll be at least another year before they become anything more than the de facto number two promotion.
Alex Rella: FACT Bellator is only the number two MMA company in the world because there isn't anybody else around. The new contract with Spike is a big step in the right direction but they still have plenty to fix and I doubt they will get it all done in the next year. Bellator is still a joke at times and this was just highlighted when they had to postpone the lightweight tournament finals because their twenty-year-old fighter couldn't get into the casino to fight. They're going to get an increase in ratings with the move to Spike and it'll help that they'll most likely be following TNA wrestling but they need to make some changes if they want to become a legitimate number two. This includes more tournaments so champions don't have as many non-title fights, keeping their top fighters (including champs) active enough so that they don't have to take fights in smaller companies, improving their laughable heavyweight division, and possibly signing some more fighters with name value. They should also consider forgetting their women's 115 lb weight class and just go with a flyweight division. Gurgel hasn't fought at 115 lbs since she won the title two years ago. And there is plenty more that Bellator has to fix. So it'll be at least another year before Bellator becomes a legitimate number two company.
Todd Vote: FACT. That is, assuming that Bellator will become anything more than just a de facto number two promotion to anyone outside of the hardcore MMA fans. Bellator has a long way to climb before they are looked at as any sort of serious threat to the monster that is the UFC. Their two most marketable fighters, Hector Lombard and Eddie Alvarez, have either already left the promotion for the UFC, or in Alvarez's case is on his way to doing so. I like the tournament aspect that Bellator brings to the table, and the fact that title shots are earned and not just handed out like they seem to be in the UFC *cough* Nick Diaz vs. GSP *cough*, but that doesn't mean the format lends itself to more exciting fights, or anything that will make it stand out enough to the casual fan. I wish Bellator the best of luck, but they have a long road ahead of them.
Judge Wyatt Beougher's Scorecard: Both guys with solid answers again this round, and with no glaring highlights or mistakes, I'm forced to score this round a Draw, 10-10.

---
5.) Invicta FC was the most promising new promotion of 2012.
Todd Vote: FACT. And I will add that their timing seems to be just about perfect. Starting an all-womens MMA promotion shortly before Dana White announces the 135-pound Women's Bantamweight division in the UFC. Women's MMA seems to be on the verge of something bigger right now, and if everything works out, Invicta could be a huge part of the women's MMA movement. They offer something different, new, and exciting. I hope they manage to make a go of it in 2013, and really get their name out there.
Alex Rella: FACT Invicta FC got off to a great start in 2012. Founders Shannon Knapp and Janet Martin have done a fine job so far and I expect them to continue into 2013. Invicta is different from all these other smaller promotions because they're not looking to be a half assed version of Pride or just sign washed up former UFC fighters. The two founders worked for over a year deciding on their goals and business plans. Knapp has used her experience working for a bunch of different MMA organizations and has set some realistic expectations. They're cross promoting with JEWELS and the Super Fight League and have given some of the less known ladies from Strikeforce a chance to shine. They seem to be doing pretty good with attendance and had three successful shows. Their roster might get even better if the UFC doesn't bring over Strikeforce's female division. I don't know if they're ready to expand to internet ppv in 2013 but we'll have to see how it turns out. The only other new company that was as well organized with a good product was the World Series of Fighting but they only had the one show. I certainly liked watching Invicta more than Bellator this year.
Judge Wyatt Beougher's Scorecard: Todd came out with another good, solid answer, but Alex went above and beyond, detailing Invicta's expectations, business strategies, and their only real competition for this question, so I'm giving him the round. Rella, 10-9

---
Official Scorecard
Judge Wyatt Beougher scored the bout a Draw, 48-48.

---
With no guest judge this week, it falls on you, the readers, to determine who won this match-up! Did Rella impress you with his answers, did Vote pull out the win, or did you see it as a draw, like I did?
Bonus) Miesha Tate/Julie Kedzie was Fight of the Year.
Alex Rella: FACT This fight was awesome. The first round was brutal with both fighters standing up and throwing powerful shots at each other. Then the second two rounds showed some of the best grappling you'll see in MMA. Tate's armbar in the third round was a work of art. I think this fight also played a big part in changing Dana White's mind on women's MMA.
Todd Vote FICTION A great fight no doubt, but not quite my fight of the year. My fight of the year was Diaz vs. Condit. People were really pissed about the way Condit fought Nick Diaz. I thought it was absolutely brilliant. He didn't get suckered into Diaz's game, he made Diaz chase him, but it wasn't like he was Kalib Starnes in there, he lured Diaz in, got in his combinations, then got out before Diaz could do what Diaz does. There were a lot of great fights in 2012. Henderson vs. Edgar, Varner vs. Lauzon. I don't envy the guys in the MMA zone for having to pick just one for their year end awards… Wait, does the MMA zone do year end awards?
Judge Wyatt Beougher's Scorecard: Both guys with excellent choices, but since this is the bonus round and I'm partial to WMMA, I'm scoring the round for Rella. Rella, 10-9

---
And that's it for this week! Again, make sure you sign up for the new comments system, so that you can let us know what you thought about this week's contest! As always, if there's anything you'd like to see featured in next week's edition, leave your statement in the comments and I'll add it in for next week. Let us know what you thought in the comments, on Twitter, or on Google+.
NULL
comments powered by Disqus