411 MMA Fact or Fiction, 2012.10.24 – TUF Announcement, UFC 155, Hendo/Sonnen Beef, More
October 24, 2012 | Posted by
Welcome to another edition of 411's MMA Fact or Fiction, and, as usual, I'm your host, Wyatt Beougher. So last week we saw former MMA Fact or Fiction host Dustin James try to succeed where I had failed, as he tried to send Wrestling Fact or Fiction host Steve Cook back to the wrestling zone with his tail tucked between his legs (if you remember, Cook and I went to a draw a little while back). I scored the bout a draw, while guest judge Mark Radulich scored it in favor of Cook. When the voting closed, the reader vote overwhelmingly agreed with Mark, as Cook CRUSHED Dustin, collecting nearly 72% of the total vote. Congratulations to Cook, who has yet to taste defeat in one-on-one Fact or Fiction competition dating back to TBerg's days as host of the column. This week, we had a late injury replacement, as Todd Vote was gracious enough to step in at the last minute to replace Matt White, who has just completed a move from the UK back to the US and hasn't had time to properly get settled. He'll be squaring off against my frequent judging collaborator and prolific MMA watcher Mark Radulich, and don't let Todd's 11th hour substitution deter you from reading this column, as he did a bang-up job and played well of Mark's responses (and vice versa). Let's get to the action, shall we?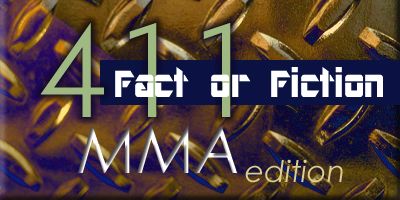 TALE OF THE TAPE
Red Corner
Todd Vote
'The Man Without a Zone'
Contributor, Everywhere
2-3-0
VS
Blue Corner
Mark Radulich
'Headshrinker'
Ground and Pound Radio Show Host/MMA Coverage Guru
1-2-1
And our special GUEST JUDGE
Jeffrey Harris
'The Vile One'
Movie Reviewer/Contributor/Columnist, MMA's 3R's

---
1.) Between JDS/Cain for the heavyweight title, Davis/Griffin, and Boetsch/Weidman for potential middleweight contendership, the UFC has put together an excellent card, and they need to focus on making their numbered events all feel this stacked.
Todd Vote: FICTION I was all set to go FACT on this one, but then I got to thinking. Should they all be this stacked? Yes, and no. Each card needs to have enough quality fights on them, that an injury to one of the competitors in the main event, or the co-main event, will not cause the potential for a card to be cancelled. The numbered shows are usually the ones that turn up on PPV, so they should always feature the most solid cards, yes even more solid than the UFC on Fox cards. You want us to pay for these fights, you have to make them worth paying for. Does each card have to be this stacked? No, but they do need to feature enough solid fights that people don't start resent having to pay for them even more than they already do.
Mark Radulich: FACT I disagree with Todd here as the numbered events are usually PPV events and if you want me to shell out $60 you better damn well stack the card. Aside from the obvious issue of the 151-type cards where if the main event falls apart you have no card left, the whole point of a PPV is that it is supposed to be so stellar and special that the fans will pay for it instead of watching for free on network/cable TV. The numbered events are where we are supposed to see title fights, contender fights and special attraction fights. I realize that injuries and titles held hostage (Renan Barao I'm looking in your direction) make this difficult at times but 8 titles and 12 PPV's a year shouldn't really make this endeavor that difficult. The numbered events on PPV should be 5 fights we're willing to pay for. The FOX cards should be reserved for the fights with some name guys but not necessarily something we're willing to pay
for. The FX and Fuel cards are perfect just the way they are.
Judge Wyatt Beougher's Scorecard: Todd comes out strong, but then Mark counters well. I was all set to award this round to Mark, but then he cited Renan Barao as someone holding a title hostage, when Barao said he wanted to defend his interim title rather than waiting for Cruz to heal. Had he said Carlos Condit instead, a guy who admittedly didn't want to fight anyone until he got his unification fight with GSP, he would've won this round. However, with the point deduction, I'm going to call it a Draw, 9-9.
Judge Jeffrey Harris' Scorecard: Vote had a much more realistic answer.  Besides plenty of fans have trashed cards before they happened which turned out to be awesome cards such as UFC 104 and numerous others.  Mark Radulich says having 8 titles shouldn't make this difficult, but what about when you have corrupt officials in Australia who fail to add scorecards properly and hold up the whole flyweight tournament?  And then you have Jose Aldo who decides it's OK to ride a motorcycle in Brazil when he's training for the biggest fight of his career and featherweight division history.  Todd Vote wins this round and Radulich does not. Vote, 10-9

---
2.) The announcement of JDS/Cain for just a few days after Alistair Overeem's suspension is up both shows a lack of faith in the Dutchman's ability to actually pass a drug screen and also means that he'll have to fight another top contender before he meets the champion inside the Octagon.
Mark Radulich: FICTION The UFC stated quite firmly that they would not promote an event with an unlicensed fighter, period. Furthermore, they wanted JDS to defend his title one more time in 2012. This was all decided a month or two ago. They may have some skepticism as to whether he'll actually get licensed on December 27th but either way, until he has a license from the Nevada State Athletic Commission, the UFC will not book him in a fight. As to the second part of the above statement, from what I've read, Dana White is hoping to have the next HW title fight in either March or April. As we all know by now, the April PPV date is occupied by Jones vs Sonnen, which means that barring injury, the potential Overeem vs JDS/Velasquez will be in March. March…a whole 3 months after JDS vs Velasquez. That doesn't leave time for Overeem to fight anybody else. Even it this gets put off until May (say Memorial Day) that still doesn't leave time for The Reem to take anybody else on. No, the announcement that Overeem is the next contender at HW does not show the UFC has any lack of faith in him regarding his tests and license.
Todd Vote: FICTION I agree with Mark here, the UFC will not promote an event with an unlicensed fighter. Just because Reem's suspension is up, doesn't mean he would necessarily be able to get a license right away. I don't think this shows a lack of faith in Overeem, because Dana has already went on record as saying Reem will fight the winner of the UFC 155 main event. That pretty much cements that they are not lacking in faith when it comes to the Dutchman. They are not going to make him fight another top contender. Doing so really eliminates a possible money match in a heavyweight division that is somewhat thin at the top of the heap.
Judge Wyatt Beougher's Scorecard: Both guys nailed this one, and while I don't agree with the decision to not make Overeem fight at least one fight (so that he can pass a drug test) before putting another main event in jeopardy, the fact remains that I'm not Dana White. As such, this one is a Draw, 10-10 (19-19 overall)
Judge Jeffrey Harris' Scorecard: Both guys wrote Fiction and essentially gave the same answers.  As a result I score this round a draw and give both guys a 9-9.  I'd give it a 10-10, but it just wasn't quite exciting enough. Draw, 9-9 (Vote, 19-18 overall)

---
3.) The Ultimate Fighter changing nights for its next season will ultimately have more of an impact on its ratings than naming Jon Jones and Chael Sonnen as coaches.
Todd Vote: FACT If I was FX, which I can assure you I am not. I would put it on Tuesday nights with Sons of Anarchy. I think the two would mesh well as a one-two punch. I know it will lose me this round, no matter if I have the better answer or not, but I don't give a rat's ass about Chael P. Sonnen or any of his bullshit statements. While I think his shenanigans may bring in a few viewers, I have to question, how much Sonnen is too much Sonnen? I think we will find out with the upcoming season of TUF. Anyways, moving TUF off of Friday nights is the best thing they can do for the show. Friday is known as a death slot for a reason.
Mark Radulich: FACT On Fridays the coaches could be Dana White and Bob Arum and still the ratings would be poor. As most people have stated before, the demographic in question generally does not stay home to watch TUF during it's original broadcast on Friday night. For Pete's sake I'm not even in the demographic and I don't watch it on Friday nights (I watch it Saturday mornings). Moving it to Tues – Thur will bring back viewers as those are optimal TV viewing days. Also, it doesn't really matter who the coaches are. If the show airs during the work week before or after SOA on Tuesday or after Impact on Thursday the coaches could be a giant douche and poop sandwich and people will still watch. That's really been the impediment to the show for a while now, the Friday night timeslot.
Judge Wyatt Beougher's Scorecard: Again, Mark technically has the better answer, but a little fact checking (or lack of explanation, possibly) caused him to not cleanly win the round. Impact airs on Spike, which is now partnered with Bellator, and not the UFC, so I doubt the UFC would plan on airing TUF on Thursday with Impact…actually, scratch that. Bellator will probably put their reality show on the same night as Impact, so Mark's probably right about that, and he does in fact take this round cleanly. Radulich, 10-9 (29-28 overall) [Editor's Note: I was thisclose to giving the round to Vote, just to prove that I'm not totally biased towards Sonnen, but Mark did a better job of elaborating his point, so he got the nod. -W]
Judge Jeffrey Harris' Scorecard: This round was razor close and it was a tough call since again the answers were virtually identical.  Like Joe Rogan says, it could be the slightest thing that sways the judges in a round.  But I will give it to Mark Radulich since he incorporated a South Park reference into his answer.  Radulich gets the round by an eyelash at 10-9. Radulich, 10-9 (28-28 overall)

---
4.) Dan Henderson is correct – Chael Sonnen leapfrogging the other light heavyweight contenders and getting a title shot because he's called Jones out repeatedly and will draw better ratings on The Ultimate Fighter than Machida/Henderson/etc would've does devalue the UFC's light heavyweight title.
Mark Radulich: FACT Good grief the UFC LHW title is well on its way to becoming the WWE World Heavyweight title. Now let me say that I'm all for matches for the sake of fun and entertainment as opposed to fights made between competitors who "deserve" to fight each other. Sonnen vs Jones for the title doesn't offend me the way it offends many other MMA writers. However, because of this the UFC is admitting without saying it directly that while the matches may be the result of true competition, MMA itself is about entertainment first rather than the pure sport it insists it is. This is why I ridicule Dana White. He insists the UFC operates one way until that becomes inconvenient and then he invents an argument to justify the doing the opposite. And then he yells at you when you call him out on it. Anywho, the UFC title is basically a gimmick. That doesn't mean Jones isn't the best fighter in his division, because he is. And he'd still be regardless of whether or not he's a wearing a belt. And when the UFC decides to make the best fighter in a division essentially fight a bear for the amusement of fans far and wide the "title" can be nothing but "devalued."
Todd Vote: FACT I could not have said it better myself. Sonnen has not fought at LHW since 2007. Not only that, he has never fought inside the UFC at that weight. Add in the fact that he is 2-2 in his last four at middleweight, coming off a loss in his second attempt at winning the middleweight title, then tell me how this doesn't devalue the title? Dana White can spout off all he wants about Chael being the only one willing to fight Jones, but I think that is horseshit. I would love to see the list of people who were offered the coaching job opposite Jones that declined to take it. Like Mark, I have no problem with fun fights, but his analogy of making the champ fight a bear circus clown absolutely devalues the title.
Judge Wyatt Beougher's Scorecard: While both guys made great points, Mark again clarified his better, and Todd this time was the victim of a fact-checking error, as Chael Sonnen fought Renato Sobral at UFC 155 at light heavyweight, so his allegation that Sonnen has never fought inside the octagon at 205 is incorrect. For that, and because Mark was able to point out Dana White's hypocrisy without outright bashing White, this round goes to Radulich, 10-9 (39-37 overall)
Judge Jeffrey Harris' Scorecard: Both guys were tentative here and didn't take any chances and played this round very safe.  Vote followed Radulich's lead and said he couldn't have stated a better better answer himself.  Well since Vote basically submitted to defeat with that statement, Mark Radulich wins the round 10-9.  I think both guys could've done more to put themselves over the top here by mentioning Henderson being booked in the fight with Jones but getting injured.  Regarding the whole clown fighting a bear thing, that's sort of silly.  The fact is this truly doesn't devalue the title at all just like it didn't devalue the title to have Couture fight Brock Lesnar (there's your so-called "Bear" right there). Radulich, 10-9 (38-37 overall)

---
5.) Roy Nelson's repeated claims that Shane Carwin uses steroids likely had nothing to do with the NSAC's decision to randomly select Carwin and Nelson for out-of-competition drug testing.
Todd Vote: FICTION Maybe it did have something to do with it, but does that really matter? If Roy is right, Carwin will be exposed, if Carwin tests clean, Nelson looks like an idiot, and will have to shut his mouth. Look, I know we could all go back and forth all day about whether it is right to use steroids, or any other banned substance, hell even TRT which is apparently okay now, as long as you tell the commission about it, but the fact remains as of right now, PED's are illegal in the sport. Anything that causes more testing is a good thing in my book.
Mark Radulich: FACT Yeah I'm pretty sure they don't give a hoot what Roy Nelson says. I'd suspect that the NSAC has some clue who they are going to randomly test well before they do it and they have some internal metric for choosing who will be tested.
Judge Wyatt Beougher's Scorecard: Both guys with different opinions here, but the underlying theme is the same – that the NSAC's "random" testing program might be anything but. As a Carwin fan, I'm hopeful that he'll come out clean here, but that has no bearing on this round, which is another Draw, 10-10 (Radulich, 49-47 overall)
Judge Jeffrey Harris' Scorecard: Radulich wins this one with his solid and to point answer.  Conciseness and brevity were the name of the game in this round for Radulich as he effectively dominated and took over this round.  I think it had more to do with both guys being heavyweight fighters and being in the main event on their finale card just like Overeem and JDS at UFC 146 earlier this year, though they weren't the only fighters selected for random drug testing. Radulich, 10-9 (48-46 overall)

---
Official Scorecard
Judge Wyatt Beougher scored the bout in favor of Mark Radulich, 49-47.
Judge Jeffrey Harris scored the bout in favor of Mark Radulich, 48-46.

---
Another week, another close contest, so who do YOU think won? Make sure you vote and let your voice be heard!
Bonus) You're more excited for The Man With the Iron Fists, starring newly-debuted MMA fighter Dave Bautista, than you are for Kevin James' Here Comes the Boom, which stars Bas Rutten and features cameos from several other fighters.
Mark Radulich: FICTION Well, I saw "Here Comes the Boom," on opening night and I'm pretty sure I didn't know what the heck "The Man With the Iron Fists," was until last week. And for the record, Bautista being a movie holds zero interest for me.
Todd Vote: FACTION I am interested in seeing it, no doubt. But the way you worded the question implies that I had some excitement to see Here Comes the Boom in the first place. I love Bas Rutten just as much as the next guy, but even he is not enough to make me want to see that movie in the theaters.
Judge Wyatt Beougher's Scorecard: Radulich loses, based solely on what appears to be a lack of proper appreciation for kung fu movies. The Man With the Iron Fists is a tribute to the Shaw Brothers kung fu films crafted by a dedicated fan of the genre (the RZA) and even if Bautista wasn't in it, I'd probably still recommend it. Still though, my guest judge this week gave Here Comes the Boom a glowing review, so I'm not going to not endorse it (although I'll be seeing The Man With the Iron Fists on opening night and holding out for Here Comes the Boom on Blu Ray). Vote, 10-9
Judge Jeffrey Harris' Scorecard: Radulich gets this one again with a solid, real, and honest answer.  Vote started strong but ultimately whiffed and waffled in this round much like Peter Bishop on Fringe.  Plus he wrote FACTION when he clearly should've wrote FACT since that was his answer based on what he wrote.  Vote was unwilling to commit to a real answer like a presidential candidate in a debate and loses the round and the match-up as a result. Vote, 10-9

---
And that's it for this week! Again, make sure you sign up for the new comments system, so that you can let us know what you thought about this week's contest! As always, if there's anything you'd like to see featured in next week's edition, leave your statement in the comments and I'll add it in for next week. Let us know what you thought in the comments, on Twitter, or on Google+. We'll see you next week and remember 411Mania for all of your MMA needs.
NULL
comments powered by Disqus