411 MMA Interviews: Steven Ray
November 27, 2012 | Posted by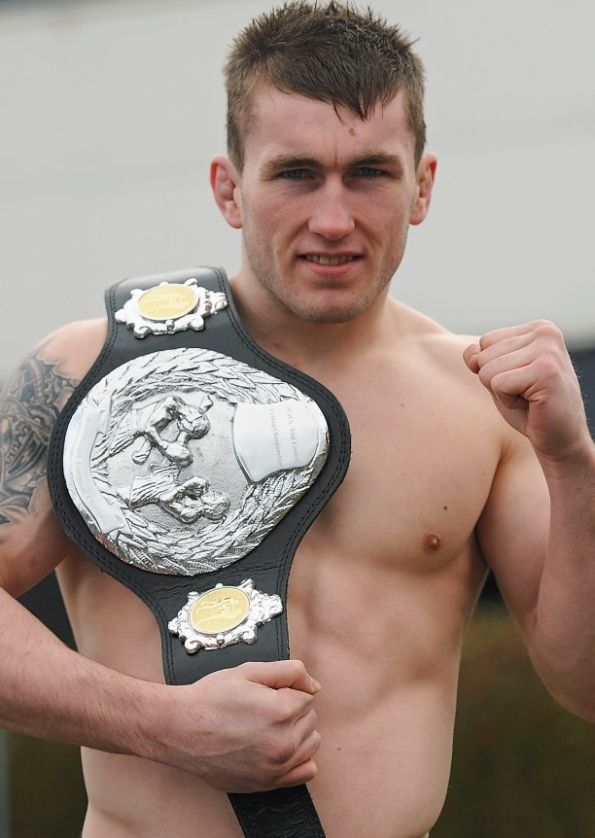 You fight Dale Hardiman at BAMMA 11 on December 1st for the BAMMA Lonsdale British Championship. Give me your thoughts on the opportunity to become the first title holder and on your opponent Dale Hardiman.
Aye, it's great. I'm really looking forward to it. I really appreciate that I've got the chance to fight on such a big show and especially for the title. So I'm just really looking forward to it. I just want to thank BAMMA for giving me the opportunity and I'll not let them down, by winning it as well.
He's got a lot of submission wins in the first round. Is that something you will be looking out for? Are you going to be trying to keep this fight on the feet?
Well, with most of my fights I just kind of go with the flow. I go in with a rough idea but just look to win anywhere I can and take whatever opportunity I get. I usually come out quite explosive at the very start of the fight and that's why I've won quite a lot. I'm not sure how much but I think I've won ten fights in the first round and in the first minute, just due to the fact that I either come out looking to hurt my opponent and they try and take me down and I'll just end up submitting them or I've knocked him out in the first minute. I would say that's one of my strong points; I get started off quite quick and come out explosive.
Okay, I was going to ask next what do you believe your strengths are and how do you see this fight against Hardiman panning out? Is it along those lines?
I'd say my main strength, or one of them, is my heart, the fact that I want to win so bad. I know everybody wants to win but… Just my heart, I've got a strong heart. I would say I've got good power in my hands [too]. I've done quite a bit of Thai Boxing and BJJ so I've felt pretty well rounded. I've got good submission skills and knockout power. So, certainly well rounded, yeah.
Am I right in saying that you're dropping in weight from welterweight to lightweight for this fight?
Aye.
Was that decision solely because you were offered the chance to fight for the BAMMA Lonsdale British Championship or is it a move you've been considering for a while?
Well, I've already made the drop to 170. I used to fight at welterweight and I decided a while back that I was going to be dropping to '70 after I took a short notice fight on Cage Warriors. I had, like, ten days notice to fight Assan Njie in the co-main event. So I kind of just jumped on the opportunity because I had just recently fought. I jumped on the opportunity because it was in Dubai and it all sounded great, but it was probably something I shouldn't have done. But I've learnt from it and I decided then that I was definitely going to be dropping to lightweight.
I then fought at On Top at a catchweight of 75 kilos, and then I fought Stuart Barrs at '70. So I've already made my lightweight debut and it went really well. I dominated Stuart Barrs for the whole two rounds and got the win so this'll be my second lightweight fight.
This fight will be your BAMMA debut, as well as one of the first times you've competed outside of your native Scotland.
Yeah, well I've fought that one fight in Dubai and I fought at Total Combat in Durham [England]. So, I've fought in a few places but this will be my first time fighting on BAMMA, which I'm looking to make a statement for that.
How exciting is it to sign with BAMMA and to have your first fight in the organisation?
It's great. I've signed a three fight contract with BAMMA and I'm just looking to do big things and I just think everything's gone to plan. The fact that I'm fighting at lightweight now, I feel a lot more confident. I'm not going to be worrying about my opponent's size too much anymore because I feel I'm quite a big lightweight. Whereas before I wasn't the biggest of welterweights so sometimes it's a bit of a worry in your head when your opponent looks huge. Like when I fought Scott Ward, he was quite a big guy, even though I ended up still winning. So, yeah, I just can't wait.
Having now signed a contract with BAMMA are you hoping that the promotion will bring an event to Scotland in 2013? Is that something you'd like to be a part of?
Aye, that would be great. Cage Warriors is trying their first show up in Scotland as well [Cage Warriors 50 in Glasgow on 8th December] so I think that's something which BAMMA should definitely be doing as well. My coach, James Doolan, is also fighting on the [BAMMA 11] card. He's fighting Spencer Hewitt. So hopefully he can get the win too and then he could maybe fight for the bantamweight title or something up in Scotland too. And then if I win my fight I could defend the British title up there as well. I think that'd be a good idea.
You recently moved training bases to the fantastically named "Dinky Ninjas gym". What were the main reasons behind this move?
Yeah. Well it was also just due to my last loss. The reason was I was kind of not training well before. I fought at welterweight and I trained at quite a small club, I was their only pro fighter and I kept winning. I just kept beating everybody and even though Dinky Ninjas is the best team in Scotland, I still beat one of their best pound-for-pound fighters, John Quinn. So, I just kind of always fought. There was no… even though they were the best gym, it didn't make much of a difference because I was still beating the guys that were training there. I beat Scott Ward and I beat John Quinn, and they both train at the Dinky Ninjas. But now that I actually train there, I've realised that I maybe should have done it ages ago because now I'm just like a totally different fighter. Everybody is going to see on the 1st [December] just how different my whole game is. So that's why I'm not bothered about all my [fight] footage being on… I hope that Dale's been watching all of my footage because I'm going to have a few surprises on the 1st.
So you've specifically been training new stuff to surprise Dale?
Aye, well people who've got quite a bit of training. I train somewhere different now, so all of my training's quite different. I used to kind of train at Edge MMA but most of my training was actually done at two different gyms. It was a Muay Thai club and a BJJ club and I wasn't doing much MMA sparring, because there wasn't anyone to really do MMA sparring with because it was all kind of amateur level guys that I would never have any trouble with. So I could just kind of do whatever I wanted to them, if you like. So most of my sparring I was doing at a [Muay] Thai club and I was obviously getting a lot of sparring in stand-up but then I was also training at Rick Young's black belt academy in Edinburgh, where I got my BJJ and I was getting a lot of good rolling in with a lot of his purple belts and obviously a lot of good black belts up there as well.
So now that I'm training at James' club there's so many things that I'm learning already. Just the wee silly things that have improved my game, like I've done a lot of cage work which is something that I'd never really done before – cage work, takedown defence, getting back to your feet – all that sort of stuff. All the stuff I was missing out on. Like I said, I should have done it ages ago. I'm going to be a completely different fighter now.
So, to close, what are your targets for the future? Have you any plans to compete abroad more in 2013 or you concentrated solely on the domestic MMA scene for the time being?
I'll just wait and see what my management wants to do. I'm currently managed by On Top Promotions so it'll be them that kind of deals with everything I'll be doing. Whatever fights I get offered, I'll just do it. I've currently signed a three fight deal with BAMMA, so I'll be looking to win all three of them. Hopefully… I mean, I'm not sure who's on the televised card for this time but if I'm not on it this time then I can hopefully just build myself up and eventually get on the televised card. I'm not sure because I was told to start with that they thought it would be [on the televised card] but somebody said they weren't sure and they didn't think it would be, just because there's only three fights that'll be on. But if I'm not, then I just have to show them the skills that I've got and they'll see there's a change in how I've fought before.
[Note: Warren Kee vs. Tom Breese is now confirmed as being part of the three fight main televised card.]
Are there any sponsors or people you'd like to thank?
Yeah, I've got a few sponsors that I'd just like to give them their due. If it wasn't for my sponsors then, I wouldn't even have moved clubs, I wouldn't be able to do what I do now. Firstly, I'd like to thank Geo Thomson at Knockout Art because he's the one who kind of first initiated me to make the move [to Dinky Ninjas]. One of the reasons that I didn't move before was because I live in Fife and, of course, the Dinky Ninjas gym was in Glasgow which is, like, an hour drive there and back. So, two hours driving for training every night. But he's offered to pay my petrol [money], so he pays my petrol for getting there every week. So I would never be able to do that without him.
I'd also like to thank Sports Net Nutrition, who've been there with me for a while, they're the people who supply me with my supplements and stuff. Stark Architects and Engineers also help out with funding. Fitness Factor, who let me train at their gym for doing strength and conditioning. So, just all that, because I'm not working at the moment as well so I wouldn't be able to do anything if I didn't have these sponsors on board.
So MMA is all you do now, full-time?
Aye, that's just kind of what I'm doing now, full-time. I'm still just training at nights at gyms, but I'm looking into doing my fitness instructor's course and then eventually my level three in personal training so I might change things up then and train sometimes during the day because sometimes you can train daytimes and stuff. So, I'll maybe just start training at Grip House during the day, because that's part of my team anyway, at The Dinky Ninjas, and then chill at night, or vice versa. For now, I'm just doing extra fitness during the day. I get up early and go for runs and go to the gym to do some strength work, then at night I've got my technique. So, you could fit in a lot more stuff. It helps with making weight easier.
Has making weight been easy for this fight, with obviously getting down to lightweight?
My weight is sitting fine now, I'm all on board. So, I'm going to have a good cut. But it's always the hardest part of the whole fight camp, fighting's the easy part. The way I see it, I get paid for making weight and that's the hard part about it. Having to diet all the time, you get a bit fed up. But everything's on track, everything's looking good and I'm looking forward to it.
I'd also just like to thank my management as well because if it wasn't for them I wouldn't have got this contract with BAMMA. So I'd like to thank On Top Promotions too.
Thanks a lot for the time Steven and good luck with the fight.
Cool. Thanks. Just tell everybody; tune in. Hopefully, my fight is on the Freeview channels; Channel 5. And anybody that's [reading] this, tune in and you'll see a great night of fighting. I promise you that my fight is going to be really good. I'm going to be bringing the belt home to Scotland.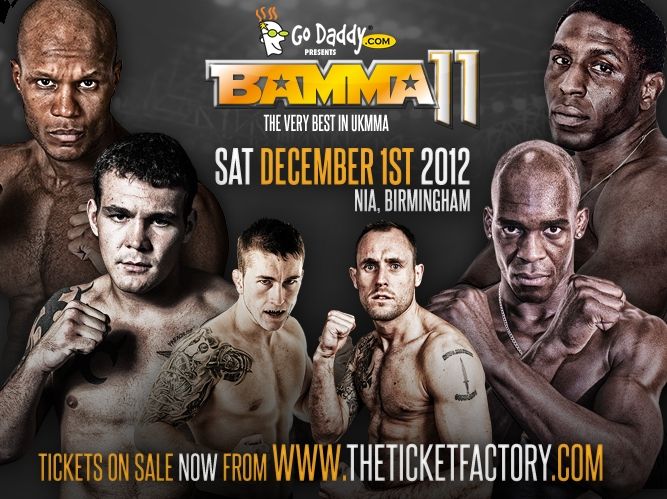 Thanks to Steven for taking the time out his schedule to speak to 411 MMA and thanks to Izzy Carnwath at BAMMA for setting up the interview.
BAMMA 11 takes place this Saturday (December 1st) live from the National Indoor Arena in Birmingham, England.
Tickets for the event can be purchased here.
The main card of the event will be broadcast live in the United Kingdom on Channel 5 from 11pm (GMT).
Internationally BAMMA 11, presented by Go Daddy.com, will be shown on AXS-TV (US), The Fight Network (Canada), Red Media (RUSSIA), TV Esporte Interativo (Brazil), Setana (Africa) and TDN (Latin America).
NULL
comments powered by Disqus