411 MMA Interviews: Warren Kee
November 28, 2012 | Posted by
You fight Tom Breese at BAMMA 11 on December 1st for the BAMMA Lonsdale British Welterweight Championship. Give me your thoughts on the opportunity to become the first title holder and on your opponent Tom Breese.
First and foremost, the opportunity; you know, obviously I'm grateful. It's an amazing show, BAMMA; the biggest show in the UK and very high up in the European shows. And obviously to fight for the first belt is an honour. It's basically the biggest belt to hold in the UK, so I'm super excited about it. Tom seems like a very well rounded guy, I've seen him fight a few times and obviously, I was due to fight him last summer but I got injured. I respect his skill-set, I know he's skilled in all areas, and I'm just really looking forward to the challenge.
You mentioned that Tom is a well rounded guy, but the majority of his wins come by way of submission. Are you looking to keep the fight standing or are you happy to go to the ground with him?
His record might say he's finished a lot of guys on the ground but I feel like every guy who has a good, positive win record, they're generally good in all areas. They're not just primarily a grappler or, if they win by strikes, then they're only a striker. I'm comfortable everywhere, I cross train everywhere with some of the top guys. So, you know, you should always respect an opponent's skill-set, but I'm comfortable in all areas.
You're nickname is "Relentless" and you're known primarily as a pressure fighter. Do you believe that's where your main strengths lie and how do you see that playing into the fight against Breese?
Yeah, in my early days I used to really put a lot of pressure on people and that's how I got the nickname. But I've evolved a lot and I'm very technical, so I really think it could play out either way. I could play it out fast paced or slow paced, I've certainly got the cardio to go flat out for three rounds, if I want to. So, I don't want to give too much away of my gameplan but there will be a little bit of "Relentless" popping up in there, for sure.
Breese will be the hometown fighter on December 1st and is probably to receive a lot of support from the Birmingham crowd. Is that something that bothers you or does it motivate you even more?
Yeah, it's going to be a weird one. But I'm not the best at my hearing anyway, my ears are quite cauliflowered. So I think that'll do me a favour, probably. But he's going to be the favourite, you know, hometown lad but that just kind of adds to it you just feed off the atmosphere. I mean, I'm going in there to do a job and if they cheer me or boo me, it's not really going to affect my performance. I'm just super excited to be there, you know. It's a great arena and I'm just looking forward to coming out those doors and getting in there.
You mentioned the injury earlier; this fight against Breese was originally scheduled for September 15th at BAMMA 10 but you were forced out of the bout due to a knee injury. Could you tell us more about that situation?
Yeah, I've just been kind of unlucky really. I hurt myself originally in January and it didn't really heal, and I kind of strained it again. It was one of those things where I couldn't spar, I couldn't hit pads, or anything. So with the element of conditioning you need for fighting, it really took it out of me. You've got to be at a certain level to be in there and I really didn't think I could get to that level because I couldn't get to do the fundamental things to prepare. So I had to pull out, unfortunately.
You said you originally picked up the injury in January but you fought in April against Bola Omoyele, didn't you?
Yes.
Did the injury play into the loss there? Was the knee still giving you trouble?
Not really. You make your choice to fight and I think every fighter could say, "oh you know, that troubled me, or this troubled me" but I didn't do what I had to on the night and Bola did. So, you know, I've got no excuses for what happened on the night. There's a lot of things I would change, a lot of things I could have done but, ultimately, you do what you do, so that's my loss and Bola's win.
So just learn from it for the next fight, I suppose?
Yeah, that's all you can do. Any of these pitfalls, they're all positive and you've got to take the positives, even out of the bad stuff. I'm learning every day and every day I improve. You know, it wasn't nice and I had to deal with a lot of different emotions but, ultimately, I think it's made me a better, stronger fighter because of it.
You've gone on record saying that you don't feel like you've ever performed to anywhere near your true ability in your past fights. Why do you feel that way? Is this something you've made a concerted effort to try and improve on for your upcoming fight with Breese?
A little bit. I've always kind of… With changing camps, it's brought out a massive new skill-set in me. Obviously, I train with a lot of high level guys and I always train with good guys but now I've got a massive abundance of good guys [to work with] and I've really improved in every area.
Actually, a lot of people don't know, but I fought four of my fights with a broken shoulder. My shoulder was completely broken and I didn't even know myself, all I knew is that I couldn't throw my right arm properly. When I actually went and got it x-rayed it had healed itself but it was a level 3 medical break so they wanted to screw and plate but since it had already healed itself, they never bothered in the end. It was quite alarming, obviously, but it didn't hurt that bad so I didn't worry about it.
Wow, when was this? Was this injury at the start of your career or more recently?
Well, fairly recently. I've had – and a lot of fighters will – like, an injury list and my shoulder has always been a bit dodgy, with the MMA and grappling stuff. So I actually have an x-ray history, that's why they know that the bone was perfect and then obviously the bone was completely snapped. So much so, that when I went to see the specialist, he was actually getting quite annoyed with me because he thought I was sort of messing around with him. He failed to believe that I wouldn't know that my shoulder was wrecked. Admittedly I had pain, but I was putting it down to bruising or something else but, yeah, my shoulder was actually broken.
I don't want to name the fights because it could sound a little bit iffy to some of the guys. But I didn't know that injury was there going into those fights so it wouldn't have made the performance different, either way. Obviously, I must have some sort of toughness running within me to get through that, even though I didn't know about it.
I suppose it shows that you can tough out any situation during a fight as well, it plays into that.
Yeah definitely. And I have been put in some bad spots and it's definitely in the positive locker that you know that you can perform when you're not at your best.
This fight will be your BAMMA debut. How much are you looking forward to your first fight in the promotion?
Yeah, I can't wait. I was meant to be on BAMMA a few times before but something's always happened with either other fights, or obviously last time I was injured. So I'm super excited. I've seen some of my team-mates fight on the shows and it's just a great place to go and perform, it's a great stage to be on. And with the added thing of fighting for the title, it's amazing. It's going to be great to get involved with everything during fight week, the press conferences and everything like that. But ultimately it'll just be great to get in the cage doors.
So, to close, what are your targets for the future? Have you any plans to compete abroad in 2013 or you concentrated solely on the domestic MMA scene for the time being?
The big goal, what I've always wanted to do and what I strive for, is to get signed for the UFC. You know, I'd love to experience that side. I'm sure there's pretty much not a fighter out there who wouldn't like to experience that. But I've got a three fight deal with BAMMA and I want to be the BAMMA champion and, you know, defend the belt too. So all the short term goals are based around winning this fight and then retaining the title, and just to take it from there really. Improve in training, improve as an athlete, improve as a person and just put yourself always in the shop window. I think that's the best way you can approach something.
Are there any other guys who you're looking at in BAMMA as potential future opponents or are you not looking that far ahead?
Yeah, to be completely honest, I don't tend to look at people and think "oh, I'd like to fight him or we'd like to fight him". As a fighter you just feel if you really want to compete in this sport, then you've got to compete against anyone. Anyone at 170lbs is a massive threat, whether they be extremely highly rated or not highly rated. I always state to myself that anyone who is going into that cage is going in with a belief that they can win and ultimately then they're the most dangerous opponent, until you prove otherwise. So I'm not one of these guys who thinks "he's great, he's not, he's bad", you know? I treat everyone the same; I treat everyone as if they're a world beater and if you go in there and do the business then you can relax a little bit then.
Are there any sponsors or people you'd like to thank?
Yeah, quite a few, thank you. My sponsors are absolutely amazing and I really appreciate everything they do. So, I've got Tsunami Gym who have helped me out massively. QNT Sports Nutrition, the C Thai Clinic – my chiropractor, who's an amazing guy, he repairs me all the time. Bench Fighter, Funky Gums, Fightwear NK – they've just started supporting me now. I've got GG Strength and Conditioning, MMA Mind Power. You know, I'm just a lucky guy and I really, really appreciate all their support.
And just my friends, my family, the people close to me, just for bearing with me, you know? Sometimes fighting, it's a bit of a moody existence so thanks to them generally for putting up with me. And to my fans for coming to watch me and all the people who support MMA, without them we wouldn't have a sport.
Thanks a lot for the time Warren and good luck with the fight.
Thank you very much. Thanks for the interview and thanks for the opportunity. I'll see you on fight night.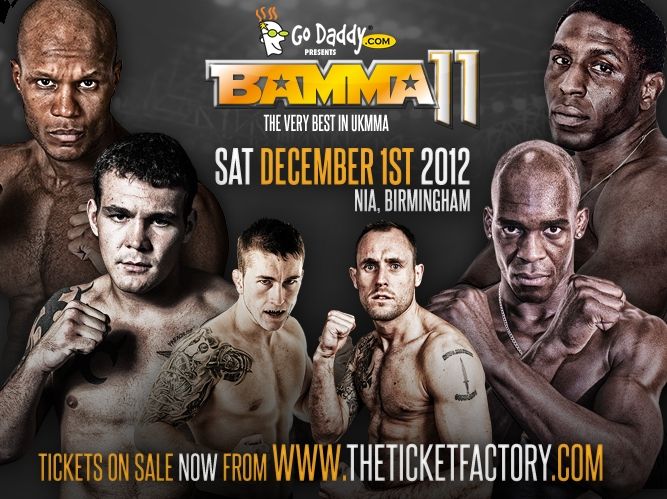 Thanks to Warren for taking the time out his schedule to speak to 411 MMA and thanks to Izzy Carnwath at BAMMA for setting up the interview.
BAMMA 11 takes place this Saturday (December 1st) live from the National Indoor Arena in Birmingham, England.
Tickets for the event can be purchased here.
The main card of the event will be broadcast live in the United Kingdom on Channel 5 from 11pm (GMT).
Internationally BAMMA 11, presented by Go Daddy.com, will be shown on AXS-TV (US), The Fight Network (Canada), Red Media (RUSSIA), TV Esporte Interativo (Brazil), Setana (Africa) and TDN (Latin America).
NULL
comments powered by Disqus