411Mania Exclusive Interview with Pat Miletich
July 17, 2007 | Posted by
When you think of MMA, few names are more closely associated with the sport than Quad Cities Silverbacks coach Pat Miletich. His acclaimed Team Miletich gym in Bettendorf Iowa is home to some of the biggest names in the sport. Hughes, Pulver, Palaszweski and Sylvia are just a few guys who can claim the Miletich camp as their own. On August 2nd, Miletich takes his IFL team, the Quad Cities Silverbacks to the semifinals to take on the Los Angeles Anacondas. 411Mania.com recently took the time to talk to Miletich about that team bout coming up and his career.
411Mania.com: The Miletich name has become synonymous with MMA. You were a fighter and then you became a trainer and you have names like Hughes, Sylvia and now even Palaszewski and Rothwell. But how did you get into MMA to begin with?
Pat Miletich: I was in college wrestling and my father had died when I was a senior in high school. Then my second year in college my mom got sick with heart problems so I had to leave and go home and hang out with her. I was working three jobs trying to help her pay bills because she couldn't work for a while. A friend of mine got me started in kickboxing and then I went from that into jiu-jitsu and Muay Thai and everything like that. Then I decided I had always been pretty good at fighting so I decided to start fighting boxing and Muay Thai matches and I did well. I won a U.S. Muay Thai title and then the UFC started and I saw my chance to start making some money in a quick fashion and in fairly large chunks at a time. I started fighting to make money to pay off my mom's house and bills and things like that. So that's really how it got started.
411Mania.com: How about the move to becoming a trainer? What brought that about? Was it simply the injuries you've had?
Miletich: I've always trained fighters because I had to get fighters good really fast so that I had really good training partners. So guys like Jeremy Horn and other guys were guys I had to get good really fast and it kind of went from there. So I was always training people when I was training for fights.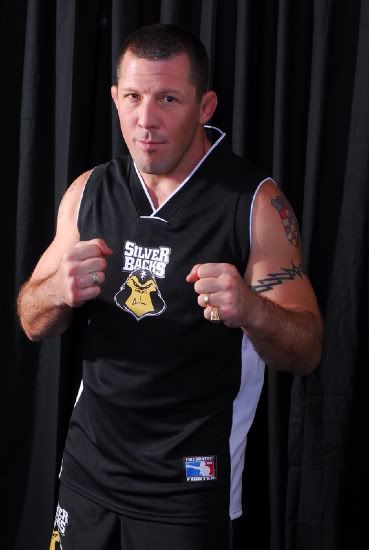 I had to get fighters good really fast so that I had really good training partners.
411Mania.com: With all the success you've had and will continue to have in the UFC, what was the allure in the IFL? How was this idea proposed to you and how did you get into it?
Miletich: I've been in this game for a long time and have had a lot of crazy ideas proposed to me. Usually none of them end up getting off the ground. So when Gareb (Shamus) and Kurt (Otto) proposed this idea to me, I told them to make it happen and I'll be on board. They put down the money and got it running so I joined. It's worked well so far.
411Mania.com: I know a few other teams in the IFL were assembled from all over the country but your team consists of fighters already in your camp. How did you decide who got to fight on the Silverbacks?
Miletich: I put together my team with fighters from my camp except for Bart (Palaszweski; trains with Team Curran). The guys I choose for my team are young guys around 20, 21 or 22. These guys also have the potential to become the next Hughes or the next Pulver or that next great fighter. I didn't want to bring in already established fighters either. I wanted to bring in some of the younger guys to stay successful. I want to create a dynasty.
These guys also have the potential to become the next Hughes or the next Pulver…
411Mania.com: I want to touch on a few fights in this team bout starting at middleweight. Gerald Harris has replaced Ryan McGivern in your line-up at middleweight. What has he brought to the table and what does he have to do against the red hot Benji Radach?
Miletich: I'm happy for Benji. Radach has come back from some really tough things in his life. He's had a lot of injuries and he's been able to battle back. I can relate to that and I'm happy for him he's done a great job. The thing that Gerald needs to do to beat Radach is really what he does best. He needs to use his explosive style and attack, attack, attack and run people out of gas. You can train for a guy like that but you really can't truly prepare for a guy like that until he grabs a hold of you in the ring. Then it's hanging on as best you can and do your best. I think that's definitely going to be one of the most exciting fights of the night.
411Mania.com: What about your match-up at welterweight? You have Rory Markham who's also facing a buzzsaw in Jay Hieron. But Hieron is also coming off a loss in his last bout to Brad Blackburn. Are you taking anything from that loss going in?
Miletich: You know what Jay Hieron is going to come out motivated and mad as hell after getting knocked out by Blackburn. Blackburn's a tough kid man. Jay's going to come out a ball of fire. Rory's furious. He's missed his chance to get into the Grand Prix because of his eye injury he wants to prove a point. Rory's training extremely hard. He's in pretty good condition already and we want to peak him at the right time. Jay's ready to rock and roll I'm sure. Talk about fireworks. Those are two world-class fighters that are going to go toe-to-toe and bang. I'll be honest with you. I know how much power Rory has. There are certain guys in my room that I don't want to get hit by solid like Rob Lawler, Drew McFedries and Rory Markham. I've never been knocked out in my life in sparring or in a fight. But those three guys have the power to definitely hurt me and I don't want to get hit by any of them. So Rory is going to test Jay's jaw.
411Mania.com: The last of the five bouts has Alex Schoenauer taking on your light heavyweight Mike Ciesnolevicz. What's the key to that fight? What does Ciesnolevicz have to do to beat Schoenauer?
Miletich: Well, Mike's been working a lot on his stand-up. He wants to come out and show Schoenauer that he's not that good standing up. Schoenauer is good standing up but Mike's been working a lot and looking great standing up. His kicks and punches look great. His stand-up combinations are flowing very well. He looks like a K-1 fighter now, finally. It's taken a lot of work but he's ready to let the hands fly. If they hit the ground, we know Alex is going to have problems with Mike on the ground. So I told Mike to go out and stand up and bang with him and prove to him that's not going to beat you standing up. Then it's going to crush him mentally on the ground when you do go to the ground. So that's our mentality. Beat them at what they're good at then when they're in the deep water, they're really mentally frustrated and crushed.
411Mania.com: Now I apologize but I have to put you on the spot here Pat. I have to put you on the spot here. I need a prediction from you on this team bout.
Miletich: Well, we plan on being in the finals. Lets put it that way.
411Mania.com: What about your thoughts on the other team bout between the Pitbulls and the Sabres? What are your predictions there and are there any preparations going into a potential finals match-up?
Miletich: We have no preparations for the potential match-up with either team. We could care less who wins that. We're not even thinking about that. It's never crossed any of our minds. It's never entered one conversation in the gym and it won't until after that evening.
411Mania.com: How is your neck? I know you've gotten into the ring before in the IFL to fight Renzo Gracie. Are you healthy enough to get into the ring to fight again and would you want to?
Miletich: I love Renzo to death but I'd love to do a rematch with him. The IFL has discussed that with him. My neck has to get fixed. There's a laser procedure that needs to be done. But my life is a non-stop on the go thing with fighters and a lot of other projects I have going on. To be honest I have to allot the time to get out to Pittsburgh and have the procedure done on my neck so that it's safe to fight and so that I have the strength in my arms and my neck to fight effectively. Hopefully I can quit procrastinating and put other people on hold for once and take care of my neck and get it done so Renzo and I can do a rematch. I'd love to fight Frank Shamrock. Frank needs a fight to where he gets tested a little more. We'll see what happens though.
411Mania.com: That would be a nice bout. Come on Pat we need to see you back in the ring. Lets get on this.
Miletich: I'd like to see Frank try to stand up with me.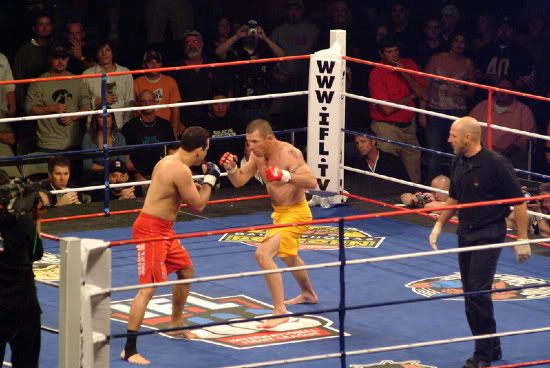 I'd like to see Frank try to stand up with me.
411Mania.com: Moving from the IFL to the UFC, lets get into what some of your other fighters are doing starting with the former welterweight champ, Matt Hughes. Has training started for the title fight against Matt Serra or is he still filming for The Ultimate Fighter?
Miletich: They're still filming the show right now and Rob Lawler is down there helping him. Matt and I had talked about me going down there and Dana White was receptive to me going down there and helping Matt. But I had some things going on with military people and some meetings I had to take care of and so unfortunately I couldn't go down there. But they're still filming and when he gets done with that and he's ready to start training I'll be waiting on him.
411Mania.com: Now are you worried as his trainer about potential rust with eight or nine months between fights? Does that have any impact and would you have liked more than one fight between title shots?
Miletich: To be honest with you Matt has fought his entire life. Taking a few months before he climbs in the ring won't be that big of a deal. He's going to be fine and step in and do his job. Matt Serra is tough as hell, very technical on the ground and hits hard with the right hand. But I think what Matt Serra does well can be negated pretty easily by Matt Hughes and his power and his technique on the ground. So I'm really looking forward to that fight.
411Mania.com: Lets go back to the Georges St. Pierre v. Serra welterweight title fight. It was a huge upset. There's a lot of talk that GSP was overlooking Serra. A lot of the same talk is going to come up here. How do you make sure Hughes doesn't make the same mistake St. Pierre did?
Miletich: That's not going to happen. To be honest with you to overlook Matt Serra is an impossibility. Matt Serra's technique on the ground is freaky good and obviously he hits hard with his right hand. He's not going to get overlooked. If anything Matt Hughes is going to train like a psychopath to make sure that he takes care of him and does his job. Matt's a smart enough guy to not let that happen. If by chance he were going to take it easy I'm sure the guys in the camp and I will make sure that doesn't happen. Matt Serra is too dangerous to take lightly.
411Mania.com: How about your big heavyweight, the former heavyweight champ Tim Sylvia? How is he doing after his loss to Randy Couture?
Miletich: He's doing all right. He had the back surgery after the fight. He's done some rehab and a lot of stretching trying to ease back into things. I know they want him to fight this fall or winter some time. Tim's body is going to have to dictate when that happens. Tim's body has taken a lot of abuse over the years. The sport is not easy on the body, especially a big guy like that who's taken a lot of punishment. So Tim's just trying to be smart about it and get ready to win the World Title back, that's his goal.
411Mania.com: Has there been any talk about a potential next opponent for Tim or not even close yet?
Miletich: They've mentioned a few people. That's probably not something that Dana White would like me to talk about and I probably shouldn't. So I'll just keep my trap shut and let them make their decision and announce it when it's time.
411Mania.com: What about some of the other guys in your camp? Spencer Fisher has a fight coming up with Din Thomas. How about Drew McFedries and some of the other guys in your camp from the UFC? What can you tell us about them?
Miletich: I asked Drew Wednesday if anyone called him and asked him when he was fighting and he said he hasn't heard anything. Spencer just told me this morning that he's going to need to spar with me a lot to get ready for Din. That's a great thing when a guy asks you to do that. But when he's Spencer Fisher and he's a non-stop buzzsaw and you're a 40-year-old guy then I guess I better start doing some roadwork to get ready for this. To spar with Spencer Fisher is like 8-million hornets coming at you at the same time. In Spencer's words, "I got hit so much that I thought I was surrounded." To spar with Spencer Fisher is one of the most exhausting things you could ever do. So I'm going to be in shape helping him get ready. I have no choice.
411Mania.com: What about Robbie Lawler? There's a guy we haven't heard from in a little bit. What can you tell us about his status?
Miletich: He's supposed to fight at the end of July, he has two more fights on his contract. I don't know whom ICON is going to have him fight and what the situation with that. He's matured as a fighter physically and mentally. He's come into his own physically and mentally and we're really happy about that. I don't see a whole lot of 185-lbers on the planet that can hang with him.
411Mania.com: Moving to MMA on the whole, you have so many fighters with Team Miletich. So with all the new fighters coming in from PRIDE, what are your thoughts on the UFC's purchase of the company?
Miletich: Unfortunately it's bad for the athletes. I think there are a lot of athletes getting left out in the cold. The UFC is just running a smart business and that's capitalism at it's best. Unfortunately PRIDE couldn't hang in there. I'm hoping there are a couple of big organizations that can hang in there and do the right thing and make sure there's some competition. A monopoly in any type of business is a bad thing. I'm hopeful that the athletes can have the ability to negotiate decent money contracts.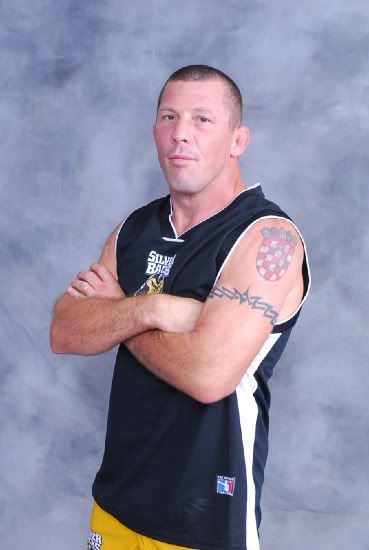 A Monopoly in any type of business is a bad thing.
411Mania.com: To wrap up here you're always involved with the military in some form whether it be on USO tours or otherwise. So I just wanted to get your thoughts on Dana White getting angry about Dan Henderson going on the USO tour with an IFL sponsored group?
Miletich: I would just hope that Dana White's greed isn't overpowering his patriotism. The trip was meant to boost the morale of the troops and not to promote the IFL or the UFC. None of us wore IFL hats or shirts or UFC garb during that entire trip. That's not what it was about. People need to remember we were there for the troops and the troops only.
411Mania.com: Thanks for taking the time Pat. Good luck on the 2nd.
Miletich: Thank you.
Make sure you check out our first two interviews with Jamal Patterson and Vladimir Matyushenko as 411Mania.com gets you ready for the IFL Semifinals on August 2nd!
New York Pitbulls Light Heavyweight Jamal Patterson.
Tokyo Sabres Light Heavyweight Vladimir Matyushenko.
Credit IFL.tv for the pictures
NULL
comments powered by Disqus