411's Bellator 87 Report 1.31.13
February 1, 2013 | Posted by
411's Bellator 87 Report
1.31.13
411 has over 11,000 total Twitter followers & Facebook Friends! Be sure to ADD US ON FACEBOOK and FOLLOW US ON TWITTER if you haven't done so already!
Also, remember to catch the 411 Ground and Pound Radio show hosted by yours truly and joined by the panel of 411 writers. Here's all the pertinent information:
Tonight's 411 Ground and Pound Radio link
Call-in number is: (323) 657-0901
If you want to e-mail the show click here and remember to put "Ground and Pound Radio Comment/Question" in the subject area.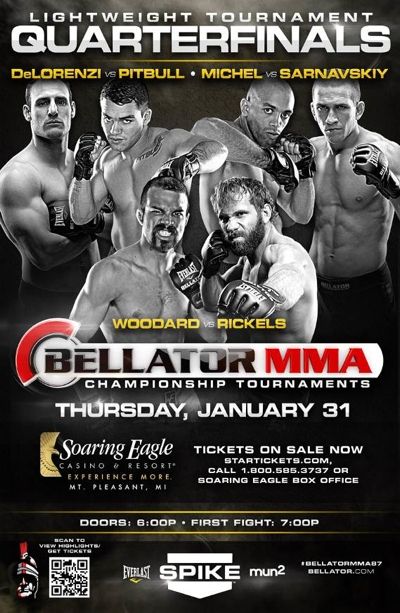 ---
PRELIMS
Catchweight Bout (140lbs): Nick Kirk (139.6) vs. Tony Zelinski (135.4)
ROUND ONE: Zelinski comes out strong with a combination of punches and kicks. Kirk lands a hook. Kirk lands a leg kick and eats a straight. Zelinski is starting to circle away from Kirk. 2 kicks from Zelinski. Left hook counter from Kirk. Kirk blocks a pair of kicks. Right hand from Kirk and then he slips. Kirk lands a left. Body kick from Kirk is blocked. Another right from Kirk gets through. Zelinski misses with a few more strikes. Kirk lands a right and Zelinski lands a spinning back fist. They clinch against the cave. Zelinski presses Kirk into the fence and stomps his feet to end the round.
SCORECARD: Kirk 10-9
ROUND TWO: Leg kick from Zelinski. Kirk responds with a flurry. Another leg kick from Zelinski. And then another. Kirk chases and attempts a body kick. Zelinski is being more aggressive in this round. Kirk is having some difficulty landing a significant strike. Counter right from Kirk. They trade body kicks. Kirk throws a pair of windmill-like overhand rights. Zelinski lands a right. Kirk lands a big counter left and follows with a takedown. That's probably the most significant damage of the entire round if not the whole fight. Kirk works from guard. Zelinski is holding on to Kirk, stifling his attempt at offense.
SCORECARD: Kirk 10-9
ROUND THREE: Zelinski has taken the lions share of damage in this fight. Kirk takes him right down. Zelinski attempts a Kimura but can't get it. Zelinski strikes with elbows from the bottom. He's nailing Kirk with a flurry of elbows from the bottom. Despite having top position, Kirk is taking a beating in this round. While Kirk tries to pass, he continues to take more elbows from the bottom. Kirk can't get out of guard and he's taking a lot of punishment. Zelinski is hammering away on Kirk. For some odd reason Kirk has decided to coast out this round and give it away. Zelinski smashes Kirk until the buzzer sounds.
SCORECARD: Zelinski 10-9
OFFICIAL RESULT: WINNER – Nick Kirk Tony Zelinski by split decision (29-28 Kirk, 29-28 Zelinski, 30-27 Zelinski).
Why, just why?
Welterweight Bout: Ben Lagman (170.8) vs. Sam Quito (169.4)
ROUND ONE: Lagman comes out jabbing, scores with a right. Lagman misses with a high kick. Quito attacks the leg and attempts a takedown. Lagman beats him away. Front kick from Lagman. Quito swings wide and misses. Lagman spins a spinning back fist. Lagman takes Quito down and nearly gets full mount. Quito is cut badly. Lagman pounds on Quito from half guard. The ref calls time so the doctor can put his brains back in his noodle check on the cut. The right resumes where they left off. Quito is trying to spin into an advantageous position but he's eating a lot of hard strikes. Quito tries for a knee bar but Lagman defends. Lagman takes his back. Quito goes for the knee bar again. Oh Christ. Mirgliotta says Lagman tapped and Lagman begs to differ. Oy vey. I think part of the problem is Lagman voiced some degree of pain so if nothing else we have a verbal submission.
OFFICIAL RESULT: WINNER – Sam Quito by submission (knee bar) at 3:54 of round 1.
Lightweight Bout: James "J.P." Reese (155.6) vs. David Shepherd (155.6)
ROUND ONE: sorry, I had the whole thing broken down but accidentally deleted it before I could save The striking was fairly even until Reese took him down. Reese pounded on him for most of the round at that point and only suffered some damage from an elbow he received while Shepherd was on his back.
SCORECARD: Reese 10-9
ROUND TWO: Shepherd throws a kick and gets taken down. Reese resumes active striking from the top but Shepherd is trying to control his wrists. Reese smacks Shepherd with two big elbows. Reese lands a pair of hammer fists. Shepherd for his part is defending but he's apparently not able to get to his feet and he hasn't really tried for any submissions. There's a half-hearted attempt at a guillotine but it's not even close. Reese stands up in guard. He dives back in and delivers more hard strikes. He smothers Shepherd going into the third round.
SCORECARD: Reese 10-9
ROUND THREE: Reese takes him down again immediately. Reese attempts a poor submission attempt from the top and comes nowhere finishing. However, Shepherd continues to just defend, defend, defend and isn't really committing to any submission attempts from the bottom nor is he trying to get up. Reese stands up in guard and Shepherd swats for an arm bar. Reese appears to be trying for an arm-triangle while in full guard. He let's it go and smacks Shepherd a few times. He stands up in guard again and drops back down. Reese tries to pass guard. With 25 seconds on the clock, they trade hammer fists from the full guard position. Mercy sakes alive it's finally over!
SCORECARD: Reese 10-9
OFFICIAL RESULT: WINNER – James "J.P." Reese by unanimous decision (30-27X2, 29-28).
It's judge Todd Anderson who again has the anomalous scorecard in the Reese/Shepherd fight: mmadecisions.com/decision.jsp?i… #Bellator

— MMADecisions.com (@MMADecisions) February 1, 2013
Catchweight Bout (165lbs): Amir Khillah (165.4) vs. John Schulz (163)
ROUND ONE: Khillah rushes across the cage kicking like a Rockette. He catches Schulz's kick and sweeps his leg. Khillah works from full guard for a few moments and lets him up. More leg kicks from Khillah. They trade a bit, tie up against the fence and then release. Schulz rushes forward and presses him against the fence. They break and Khillah resumes kicking him. Schulz ducks under Khillah and takes him to the fence. Khillah hip tosses him and gets full mount. Schulz gives up his back! Khillah grabs for a rear-naked choke but it's caught on the chin. Khillah gives it up and Schulz reverses position. He presses Khillah against the fence. Khillah circles out and Schulz's knee buckles but the match continues. Khillah goes for a KO punch but Schulz hangs in there. Khillah presses the offense and gets to full mount. He taps him out very suddenly and Khillah literally hops out of the cage and bows before Rebney…nice.
OFFICIAL RESULT: WINNER – Amir Khillah by submission (neck crank/rear-naked choke) at 4:34 of round 1.
OOOH Heavyweights are next! FIRST ROUND KNOCK OUT :::CLAP CLAP CLAP::: FIRST ROUND KNOCK OUT etc.
Heavyweight Bout: Karl Etherington (238.6) vs. Jason Fish (250.6)
ROUND ONE: Etherington comes forward in a rush of punches but Fish takes him down. Fish gets full mount! Etherington takes his back! They roll and roll with Etherington getting to top position but Fish reverses! Fish is in side control. Apparently this is Etherington's longest fight ever. Etherington flips over and stands up but not before Fish punches him in the mush. They battle against the cage. Etherington is totally gassed. Fish smacks him again! Fish stuns him with a flurry of rights and lefts. Etherington gets a straight trip and lands in side control. Etherington hammers on Fish until the ref stops it. Sigh. This was laughably bad, even for my beloved heavyweights. This is why people hate heavyweights.
OFFICIAL RESULT: WINNER – Karl Etherington by submission (verbal submission) at 3:45 of round 1.
Seriously, Fish gave up to scraping hammer fists to the side of his head. #Jobsquad
Lightweight Bout: Jason Fischer (155.8) vs. Sevak Magakian (155.2)
ROUND ONE: Fischer comes out jabbing. He lands a right. Magakian changes levels and takes Fischer down. Fischer tries to use the cage to get to his feet, can't get it done. Fischer has a tight hold on Magakian. Fischer attempts a triangle but Magakian pulls out of it. Now he tries for a kimura. Magakian counters with a guillotine. Fischer uses a D'arce escape to get to his feet. Magakian attempts a judo throw but Fischer lands behind him. Fischer is on his back, looking to sink the hooks in. He attempts a rear-naked choke and he gets it, BOOM done.
OFFICIAL RESULT: WINNER – Jason Fischer by submission (rear-naked choke) at 3:37 of round 1.
MAIN CARD
Lightweight Quarterfinal Bout: Thiago Michel (154.6) vs. Alexander Sarnavskiy (155.2)
ROUND ONE: Michel comes out jabbing, Sarnavskiy counters with a kick. Sarnavskiy clobbers him and Michel goes rolling back! He doesn't follow up and they resume kick boxing. Sarnavskiy is scoring at will against Michel. Spinning back kick whiffs from Michel. Leg kick from the Russian. Double right from Michel. Front kick from Michel. Very tight boxing combination from Sarnavskiy. They trade body kicks. The round is evening out between the two fighters. Sarnavskiy catches a kick and tries to take the advantage. Sarnavskiy plants a hard body kick. Sarnavskiy catches another kick and knocks Michel over. Michel gets to his feet and trips Sarnavskiy down. He goes for a guillotine as the round ends.
SCORECARD: Sarnavskiy 10-9
ROUND TWO: More of the same to start off with in this round. Sarnavskiy continues to end his combos with body kicks. Sarnavskiy gets a double leg takedown. Michel gets to his feet. Sarnavskiy stays in tight. They are battling against the fence. Sarnavskiy puts Michel on his duff. Sarnavskiy is admonished for just holding Michel. He makes his move and gets Michels back. Michel is force to defend the RNC. Nope, he's tapping out. Score one for the Ruskies!
OFFICIAL RESULT: WINNER – Alexander "Tiger" Sarnavskiy by submission (rear-naked choke) at 3:43 of round 2.
Lightweight Quarterfinal Bout: Saad Awad (156) vs. Guillaume DeLorenzi (155.2)
ROUND ONE: DeLorenzi comes out like a ball of firing, landing a leg kick. Awaad throws a kick, it's blocked and he follows with a vicious left! DeLorenzi is rocked and Awad finishes him off. That was less a fight and more of a mugging. Nicely done.
OFFICIAL RESULT: WINNER – Saad Awad by TKO at 0:31 of round 1.
Lightweight Quarterfinal Bout: Will Brooks (156) vs. Ricardo Tirloni (155.8)
ROUND ONE: Tirloni jabs, Brooks counters with a head kick, which is blocked. Brooks is throwing a lot of kicks to start off this round. Tirloni counter kicks. Brooks is starting to tag Tirloni, forcing him to circle out. Brooks lands a combo but misses the overhand. Brooks lands a leg kick. Tirloni goes for a single leg, eats a knee but ultimately lands the takedown. Brooks gets to his feet. Brooks takes Tirloni down. Tirloni works from the bottom and Brooks defends. Ref. Jason Herzog calls for action. Tirloni throws up a triangle. Brooks breaks free. Tirloni throws it up again. Brooks gets his head out. Brooks plants a hard left hand down on Tirloni. Brooks looks lost on the ground even though he is doing some degree of damage with strikes.
SCORECARD: Tirloni 10-9
ROUND TWO: Both fighters come out striking and Brooks gets a back take down. Tirloni looks for a triangle and Brooks belts him a few times. Brooks stands in guard and lets Tirloni stand up. Brooks goes for a takedown again and gets caught in a guillotine. Brooks breaks out of it. Brooks is imposing his size and will on Tirloni. Brooks starts to ground and pound on Tirloni. Tirloni rolls for a heel hook but loses it. They resume standing and banging. Tirloni stuffs a takedown and proceeds to knee him in the nuts. Tirloni is looking for a KO blow. Brooks is evading and countering nicely. Tirloni comes in with strikes and ties him up. They roll to the floor, get back up and the round ends.
SCORECARD: Brooks 10-9
ROUND THREE: Brooks jabs and lands an inside leg kick. Tirloni is having great difficulty finding his reach. Leg kick from Brooks, counter is ducked and he takes Tirloni down. Brooks nearly gets full mount but Tirloni defends. Brooks works from half guard. Brooks stands up in guard and Tirloni follows. Brooks immediately goes for another takedown. Tirloni lands a knee. He tries another and breaks off. Brooks goes for a single. Tirloni goes for a triangle with 30 seconds on the clock. Brooks escapes. That's all folks.
SCORECARD: Brooks 10-9
OFFICIAL RESULT: WINNER – Will Brooks by unanimous decision (30-27X3).
Lightweight Bout: David Rickels (155.4) vs. Lloyd Woodard (154.2)
ROUND ONE: Cupcake starts off first with a leg kick. Rickels stumbles Cupcake momentarily and pounces. They grapple against the cage. Cupcake takes his back. RIckels tried to escape but Woodard stays with him. He hits a belly-to-back suplex! Rickels tries to get to his feet but Woodard takes his back. Rickels scrambles but Woodard tries for a twister. Woodard lands in full guard and hammers on Rickels. Rickels throws up a triangle and Woodard tries to powerbomb out of it. Rickels stays with him. Woodard gets out resumes punching Rickels. Rickels tries for an arm bar. Woodard scrambles and Rickels tries to kick him away. Woodard dives back into full guard. Woodard attempts a heel hook. Rickels finally gets back to his feet. Rickels dives on Woodard and nearly gets leg locked. Rickels stands up and drags Woodard away from the cage before time is up.
SCORECARD: Woodard 10-9
ROUND TWO: Rickels comes forward punching the whole way! Woodward misses and gets countered with a hard right. Rickels lands another hard right. Rickels tries for a takedown but Woodard stays on his feet against the cage. Woodard takes a knee before pulling away. Both men are swinging for the fences hoping for a KO. Rickels is the aggressor in this round. Rickels falls over throwing a kick and Woodard pounces on him. Rickels tries for an arm bar but Woodard escapes. Woodard tries to pass guard. Rickels gets back to his feet. Rickels turns him into the cage and knees him. Rickels plants a series of hard strikes on Woodard. Woodard recovers and gets a takedown. Rickels looks for a kimura. Big up kick from Rickels. Woodard shakes it off.
SCORECARD: Rickels 10-9
ROUND THREE: Rickels presses the action to start the final round. Woodard lands a leg kick. Rickels lands a leg kick. RIght hand stuns Woodard. Woodard looks like he's fading fast. Rickels is measuring looking for an opportunity to KO him. Woodard is getting pretty often now. Woodard is backing up and circling away. Hard right from Rickels. Now a left from Rickels. Things are going downhill fast for Cupcake. Another stunning left hook from Rickels. Double jab from Rickels. Rickels feigns a takedown attempt and gets in some dirty boxing. RIckels lands a flurry of punches. Woodard ties him up. Rickels attempts a guillotine. Rickels throws up a last ditch triangle and we're done.
SCORECARD: David Rickels 10-9
OFFICIAL RESULT: WINNER – David Rickels by unanimous decision (29-28X3).
Be sure to come back Saturday night as Jeff will be covering UFC 156. Until then, be well, be safe and behave.
NULL
comments powered by Disqus