411's Live Bellator 89 Complete Fight Blog 2.14.13
February 14, 2013 | Posted by

BELLATOR 89
Location: Charlotte, North Carolina
Venue: Bojangles Coliseum
Hello all, Larry Csonka here LIVE from the Bojangles Coliseum in Charlotte, North Carolina for Bellator 89. We're about 30-minutes from the prelims starting as the arena slowly starts to fill.
Kurt Angle is visiting tonight, as he spent some time in the cage during set up, speaking with Bellator announcer Jimmy Smith.
Angle is currently filming an interview segment with Jimmy Smith and Bjorn Rebney.
The arena is about 1/3 tarped off.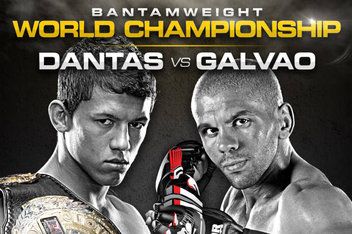 At 8PM ET, the arena is maybe 33% full, but keep in mind, the arena is already about 1/3 tarped off.
Mike Maldonaldo vs. Tim Goodwin: Goodwin is the hometown guy, fighting out of South Carolina. Maldonaldo has horrible tattoos. Maldonaldo kept Goodwin down almost the entire round, working from north south and landing solid strikes while working for a choke. Goodwin, who supposedly had top tier wrestling, had much difficulty getting to his feet in round one. Goodwin escaped a tight RNC in round 2, and after they got to their feet and traded some shots, Goodwin got a takedown to close the round, but he likely lost that one as well. Lost of standing around in round three, Goodwin got a takedown but Maldonaldo was able to turn the tide and get things back in control easily. Maldonaldo rode him until the final seconds, when Goodwin finally got to his feet. Maldonaldo won via unanimous decision.
Johnny Buck vs. Chris Mierzwiak: Lots of leg lock attempts in the opening round, followed by a slow period of work that would have seen Kim Winslow stand them up about 23 times. Johnny Buck looks like he stumbled out of a cabin in the woods and into the cage. Buck controlled the entire second round, following a takedown. He worked for the head and arm triangle, and also cut open Mierzwiak during the round. Buck controlled round three with ease, even after a low blow and won via unanimous decision.
Side Note: Bellator did some "VIP" seating around the cage, which caused the media to e pushed back and also caused sight line issues many times for myself. That was poor planning by the promotion. Also, amateur MMA fighter sitting behind us was really wowing us with his advice. He also had the tattoos to match, so we know he was legit.
Kyle Bolt vs. Joe Pacheco: Pacheco is the local, huge crowd support for him. Pacheco dominated the first round, and seriously about locked on a scorpion death lock at one point. Bolt has insane flexibility, but Pacheco controlled round 2 as well and finished it in the 2nd with short elbows. Good performance for Pacheco.
Sultan Aliev vs. Mikkel Parlo – middleweight-tournament opening round: This was the, "we needed two more middleweights for the tournament but didn't want to put you on TV unless we absolutely had to" fight. And after watching the fight I can see why it was left off TV. It was slow and looked like two guys fighting not to lose instead of fighting to win. Parlo landed solid shots at the end of the final round after a takedown, but the fight was rather forgettable. Neither did a thing to make me think they had a chance in he tournament. Lambert scored it a draw, I laughed and agreed because that's what it felt like, like no one won. Aliev won, no one seemed that happy about it, accept for him Aliev and his corner.
Aaron Johnson vs. Brennan Ward: Johnson: Arrive, arm bar, leave. Hoorah for the first round finish club. 15 seconds for Mr. Johnson, good work if you can get it.
Mont McMullens vs. David Mejia: Giant, hoss, out of shape heavyweight fighters! DEMA A CLUBBERIN TONY! First round finish. McMullens won in a sloppy heavyweight affair between guys that really do not need to be on a major MMA show, even prelims. Not… good.
Doug Marshall vs. Andreas Spang – middleweight-tournament opening round : Great pre-fight video package for the opening bout. Doug Marshall has a ton of shitty tattoos, so he has that going against him. Marshall dropped Spang and walked away like he killed him. But got the stoppage anyway. Questionable to be sure, bad if we're being honest, even if he would have likely finished Spang. Mirgliotta (the ref) was pissy because he had to keep holding Marshall back and away from Spang after the fight, even discussing it with Bjorg Rebney. Marshall threw the mean mug at the media row after the win, whatever. Kurt Angle is still here, chilling with Bellator fighter Jessica Eye. Angle is a pimp.
Side note: 10:25PM, we're not half full in the arena, which was already 33% tarped off. Not the best crowd for Bellator's debut. Maybe, maybe 1,500 here; but I am no authority in guestimating attendance.
Brett Cooper vs. Norman Paraisy – middleweight-tournament opening round : Great and action packed first round. Both men working hard, a great slam and ground control by Cooper gave him the round convincingly, but Paraisy worked hard to stay in the fight. Cooper dropped Paraisy early in round two, but could not capitalize, and Paraisy got to his feet and was able to gain his composure back. Cooper controlled round 2, slam again, take down and grinding it out. Round three was virtually the same, but with one more slam from Cooper. Paraisy was completely gassed, and Cooped did what he does, grind out a victory while taking little to no damage. 30-27 win for Cooper. Paraisy looked so sad as he had to watch the replay of himself getting repeatedly slammed and beaten on.
The Kurt Angle interview I talked about aired on the TV feed, but not in the arena.
Mercedes and Jade have their own video package for throwing out free shirts. They also got the biggest reaction of the night.
Dan Cramer vs. Brian Rogers – middleweight-tournament opening round : Really busy first round, lots of back and forth, but Rogers doesn't look as dominant as he has in past opening round bouts. He slipped a few times and doesn't seem very crisp and on his game. Round two was better for Rogers in terms of getting it to the mat and landing some good shot, but he tired and Cramer, who was also tiring, was finally able to get a takedown. Cramer came on big at the end of the round, as Rogers looked completely spent. Close fight, likely 1-1 after 2. In round 3, Cramer almost finished the fight with a takedown and ground and pound, but Rogers got back to his feet, and then they went onto that wild, "we're tired as fuck lets kill each other" mode, and the crowd loved it. Both guys were so tired it was amazing they could do anything, but I think Cramer did enough to take the fight. Standing ovation from the crowd for the final round. We get unanimous decision for Cramer.
Bellator's video packages keep getting better and better, and they have done a nice job of making it feel like the show is still going during commercials. It is a small thing, but one that is appreciated.
Eduardo Dantas vs. Marcos Galvao – for bantamweight title : Good first round for Galvao, who was able to land knees to the back of Dantas' thighs, and also bust him up around the right eye. Galvao also took a bit of damage, but not as much. Dantas took control in the second; landing push kicks and making Galvao throw wild shots. A short uppercut, and three hammerfists later and Dantas retained in impressive fashion.

Overall this was a very good main card (the Spike TV portion) and a pretty good event for Bellator's entry into the Carolinas.
comments powered by Disqus