411's MMA Roundtable Preview – UFC 153: Silva vs. Bonnar
October 12, 2012 | Posted by
WELCOME:
Stephan Bonnar steps into enemy territory to take on middleweight champion Anderson Silva in the main event of UFC 153 from Brazil! In the co-main event, Antonio Rodrigo Nogueira returns against Dave Herman. Also, Glover Teixeira looks to make it seventeen wins in a row when he takes on Fabio Maldonado. In the welterweight division, perennial contender Jon Fitch takes on rising star Erick Silva. At light heavyweight, Phil Davis and Wagner Prado rematch after an accidental poke to the eye ended their August fight. Plus, Demian Maia fights Rick Story, and more!
THE STAFF:
From Locked in the Guillotine, Robert Winfree!
From Occupy The Throne, Jeremy Lambert!
From MMA's 3R's, Jeffrey Harris!
You may vaguely remember him from The Ultimate Writer, Dustin James!
From The Blueprint, Patrick Mullin!
From The 411 MMA Top 10, Alex Rella!
From The MMA 5 & 1, Stewart Lange!
From Five Quick Rounds, Wyatt Beougher!
And from The Greatest MMA News Column, Dan Plunkett!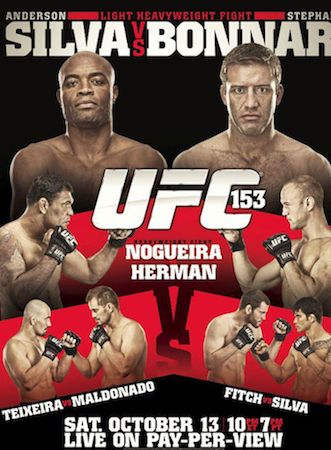 THE PRELIMINARY CARD:
First two prelims air on Facebook.com, rest on FX
Lightweight Bout: Reza Madadi vs. Cristiano Marcello
Robert Winfree: Christiano Marcello, Decision
Jeremy Lambert: Marcello, Submission, Round 2
Jeffrey Harris: Marcello, Submission, Round 1
Dustin James: Reza Madadi, Decision
Patrick Mullin: Christiano Marcello, Submission, Round 2
Alex Rella: Marcello, Submission, Round 2
Stewart Lange: Christiano Marcello, Decision
Wyatt Beougher: Marcello, Decision
Dan Plunkett: Marcello, Submission, Round 1.
The staff picks Christiano Marcello, 8-1.
Middleweight Bout: Chris Camozzi vs. Luiz Cane
Robert Winfree: Luiz Cane, TKO Round 1
Jeremy Lambert: Cane, TKO, Round 1
Jeffrey Harris: Camozzi, TKO, Round 1
Dustin James: Chris Camozzi, Decision
Patrick Mullin: Chris Camozzi, Luiz Cane Sucks/TKO, Round 1
Alex Rella: Camozzi, Decision
Stewart Lange: Chris Camozzi, TKO, Round 1
Wyatt Beougher: Cane, TKO, Rd 2
Dan Plunkett: Camozzi, Decision.
The staff picks Chris Camozzi, 6-3.
Welterweight Bout: Renee Forte vs. Sergio Moraes
Robert Winfree: Sergio Moraes, Decision
Jeremy Lambert: Forte, Decision
Jeffrey Harris: Forte, Decision
Dustin James: Sergio Moraes, Decision
Patrick Mullin: Renee Forte, Unanimous Decision
Alex Rella: Moraes, Decision
Stewart Lange: Renee Forte, Decision
Wyatt Beougher: Forte, Decision
Dan Plunkett: Forte, Decision.
The staff picks Renee Forte, 6-3.
Featherweight Bout: Diego Brandao vs. Joey Gambino
Robert Winfree: Diego Brandao, Submission Round 1
Jeremy Lambert: Brandao, TKO, Round 1
Jeffrey Harris: Brandao, TKO, Round 1
Dustin James: Diego Brandao, Submission, Round 1
Patrick Mullin: Diego Brandao, Submission, Round 1
Alex Rella: Brandao, TKO, Round 1,
Stewart Lange: Diego Brandao, TKO, Round 2
Wyatt Beougher: Gambino, Decision
Dan Plunkett: Brandao, TKO, Round 1
The staff picks Diego Brandao, 8-1.
Gleison Tibau vs. Francisco Trinaldo
Robert Winfree: Gleison Tibau, Submission Round 2
Jeremy Lambert: Tibau, TKO, Round 1
Jeremy Lambert: Tibau, TKO, Round 1
Dustin James: Gleison Tibau, Decision
Patrick Mullin: Francisco Drinaldo, Unanimous Decision
Alex Rella: Tibau, Decision
Stewart Lange: Gleison Tibau, Decision
Wyatt Beougher: Tibau, Decision
Dan Plunkett: Trinaldo, TKO, Round 1
The staff picks Gleison Tibau, 7-2.
Featherweight Bout: Rony "Jason" Mariano Bezerra vs. Sam Sicilia
Robert Winfree: Rony "Jason", TKO Round 2
Jeremy Lambert: Bezerra, Submission, Round 2
Jeffrey Harris: Sicilia, Decision
Dustin James: Sam Sicilia, TKO, Round 1
Patrick Mullin: Sam Sicilia, KO, Round 3
Alex Rella: Bezerra, TKO, Round 2
Stewart Lange: Sam Sicilia, TKO, Round 1
Wyatt Beougher: Sicilia, Decision
Dan Plunkett: Jason, Decision.
The staff picks Sam Sicilia, 5-4.

---
THE MAIN CARD:
Welterweight Bout: Demian Maia vs. Rick Story
Robert Winfree: Well this one should be interesting. Demian Maia's welterweight debut went smoothly when his opponent was injured off of a takedown. I don't anticipate Maia being that successful taking down Rick Story, but I've been wrong about that before. Story is a strong wrestler and has some decent power in his hands, but I'm a bit hesitant to pick him here. I know there are writers for this site who consider Maia the vampire of all that is good in the world, but I think Story makes a mistake on the ground or in transition at some point and gets tapped out.
Winner: Demian Maia, Submission Round 3
Jeremy Lambert: I really like this fight. I've been a big fan of Maia ever since he submitted Ed Herman and I've never bought into Story, even after his win over Thiago Alves. Maia went through a dull period when he thought he was a world-class striker and not a world-class grappler, but it looked like he changed his ways in his last bout, even though it only lasted a minute. Maia is at his most dangerous when he clinches up and gets the fight to the ground by any means necessary. He has great takedowns/throws from the clinch and isn't afraid to pull guard in order to go for a submission or sweep. Story is a good wrestler, but lets not forget what Maia did to Chael Sonnen, who is a much better wrestler than Story. For Story to win, he'll have to keep the fight standing. Even though he's not a great striker, he's better than Maia and should be able to land the cleaner and harder punches. If this fight goes to the ground though, Maia will likely have his way with Story. At welterweight, I think the "Kind Killer" Maia is back and he'll be on display this weekend.
Winner: Maia, Submission, Round 2
Jeffrey Harris: Not sure you can't believe Rick Story is legit considering he's 7-2 in the UFC and went on a six fight winning streak which included wins not just over Thiago Alves but another top ranked welterweight in Johny Hendricks. Maia did well in his drop to welterweight and beat Dong Hyun Kim, but that was a really short fight and Kim got injured after a takedown. While Maia has shown improvement in his striking in recent fights he's gotten way too far away from his jiu-jitsu and grappling skills. He's not been able to submit anyone in almost four years. I think he's tried far too much to prove that he can strike and box after he got knocked out by Nate Marquardt. Story is a tough and durable guy, but I think his problem is adjusting to guy's styles or if a fight isn't going his way and changing things up. I think this is a good match-up for him considering Maia is not a world class striker and Maia doesn't always do well against wrestlers not named Chael Sonnen.
Winner: Rick Story, Decision
Dustin James: Rick Story + Demian Maia = Me Happy. First of all, I'm not going to beat around the bush, but I'm a little biased towards Story going into this fight. I haven't liked Demian Maia since he somehow found a way to submit the great Ed Herman at UFC 83 back in 2008. I'll still go on record to this day and state that I don't think they did good enough drug testing for the fighters at UFC 83. Obviously Maia was on something to be able to submit Herman the way he did and I'm still upset with the UFC for never finding out what it was and just letting him get him off without any sort of punishment. It's a good thing Story is here to help serve as executioner to get revenge for Herman. Anyway, I'm pretty sure Maia is clean now though which is why I have Rick Story via decision. Suck it Maia.
Winner: Rick Story, Decision
Patrick Mullin: Demian Maia will look for another win since dropping to welterweight and I suggest Rick Story stretch before this one to avoid losing via muscle spasm the way Stun Gun Kim did. Maia at one time was the second coming of Royce Gracie. That was up until people figured out he's absolutely awful when he has to stand up and fight and his takedowns aren't too good. Rick Story may not be outstanding in any aspect of mixed martial arts, but he's a damn good wrestler, he's very capable standing up, and that's a lot more than I can say for Maia who is most definitely a one trick pony. Its not likely he can take Story down, and thus its not likely he can win.
Winner: Rick Story, Unanimous Decision
Alex Rella:Another very solid fight. Maia is in his second fight at welterweight and it's easy to forget that Story is 7-2 in the UFC. Maia should look to clinch and take the fight to the ground as that is where he is at his best. Hopefully he's realized by now he isn't a good striker, everybody else knows he sucks at it. Story would have the advantage standing up and would be smart to keep the fight there. He's a pretty good wrestler but Maia has defeated far better wrestlers than him in the past. I expect a good back and forth fight with Maia getting the submission later in the fight.
Winner: Maia, Submission, Round 3
Stewart Lange: Demian has looked decent in his last few outings and I'll be damned if I'm not starting to warm to the guy again. He'll know in his heart here his new found stand up won't fare well against Rick Story so he'll try and get this down and submit him. Story is an awesome wrestler and he might even instigate the grappling that leads to his demise, but I see Maia reminding us why we all once saw him as the saviour of Brazilian Jiu Jitsu.
Winner: Demian Maia, Submission, Round 2
Wyatt Beougher: Maia's coming off of a TKO win over Dong Hyun Kim due to muscle spasms, while Story recently got back on the winning track by picking up a unanimous decision win over Keith Lesnar Brock Jardine. Maia, as always in any fight he's in, will have the grappling edge in this bout, but I think Story's good enough of the feet to maintain distance, frustrate any attempts Maia makes to take him down, and pick up a decision victory. It might not be exciting (although this could be a really good fight, depending on how exactly it does play out), but it'll be a win. (And yes, I picked my winner in this fight solely by who has the cooler nickname, and then wrote something to try to back up my pick.)
Winner: Rick "the Horror" Story, Decision
Dan Plunkett: This is a tough fight to call. Unless Maia can drag Story down, I think we'll see a stand-up fight here. Maia's striking has improved greatly since he entered the UFC, but it's still nothing special. I think Story will keep it close and has a real chance of winning, but I'm leaning towards Maia here.
Winner: Maia, Decision.
The staff picks Demian Maia, 5-4.

---
Light Heavyweight Bout: Phil Davis vs. Wagner Prado
Robert Winfree: Ah, the rematch because Phil Davis went all Ric Flair on Prado. I was picking Davis in that fight, and see very little reason to alter that here. Yeah Davis acted like a jerk after the eye poke, and Prado was pretty pissed about the whole thing, but it hasn't changed what type of fighter either guy is. Prado certainly has power, but I'm not sure he can land solidly on Davis and put him out.
Winner: Phil Davis, Submission Round 2
Jeremy Lambert: People are down on Davis because he showed little to no remorse when he intentionally poked Prado in the eye the last time these two fought, but lets not let personal bias get in the way of just how talented he is. His boxing hasn't come along at all, but he throws good kicks and does a nice job using distance. Even though his striking is still pretty basic, we can't ignore just how good his wrestling and top game is. When Davis wants to get a takedown, he usually succeeds. On top he does a nice job maintaining his position and has developed a nice top grappling game. Prado obviously has a ton of power and if Davis is dumb enough to stand with him too long, he runs the risk of getting caught. Prado throws a lot of leg kicks though and when you do that against an outstanding wrestler like Davis, it makes it that much easier for him to get the takedown. I don't expect Davis put himself in any danger on the feet, consistently score takedowns, and control his way to a decision.
Winner: Davis, Decision
Jeffrey Harris: I don't believe that was an intentional eyepoke by Phil Davis at UFC on Fox 4. Phil Davis is not a dirty fighter and he has never shown to be a dirty fighter unlike say Josh Koscheck. People get eyepoked sometimes and there is nothing that can be done to prevent it short of amputating fingers. Putting all the nonsense aside, Davis is an amazing athlete. Davis still has a lot of areas to improve such as with his striking, his footwork, and really just putting all those aspects of his game together. But his wrestling, his grappling, and submission skills more than make up for it. Prado will be outmatched and not be able to overcome Davis' takedowns.
Winner: Davis, Decision
Dustin James: This is a rematch from the "EYEPOKE OF DOOM" fight from UFC on FOX 4 a few months ago. Everyone remembers Phil Davis coming out and leading with his fingers instead of his fists and scratching the eye of Wagner Prado while Prado was charging him. Prado's eye immediately swelled up and the fight was stopped and ruled a "no contest". Two months later, the two will rematch in a fight that hopefully will finally determine a winner. I still don't know why the UFC didn't pull Phil Davis from this fight and put him in the fight against Glover Teixeira, but I guess that would just make too much sense.
Winner: Phil Davis, Decision
Patrick Mullin: We finally have it here, the rematch everyone's been waiting for and for Wagner Prado I'm hoping we get an eye for an eye. Phil Davis' deliberate eye poke was Nature Boy esque and as a result I want to see him have his face beaten in. However that's not likely to happen as Davis' wrestling is likely to be too much for Prado and he'll be held down in control in one we can probably fast forward through on the DVR.
Winner: Phil Davis, Unanimous Decision
Alex Rella: This is the only fight I have no interest in. We got that awful blatant eye poke a few months ago from Phil Davis on a preliminary card and somehow this got upgraded to the main card. Even Josh Koscheck was shaking his head after the first fight on Fox 4. It would be nice to see Prado knock him out but I don't see it happening. Davis is a very good wrestler and should control most of the fight.
Winner: Davis, Decision
Stewart Lange: As much as I like this card, I see it being controlled by wrestlers and being decided on points, so hopefully my predictions are up to their usual rotten standards and I pick all of these wrong- I'll be quite happy if I am. Phil Davis, though, will probably decide to out-grind Wagner Prado here, or both guys go balls to the wall and scrap. Frankly, I think see the former with Davis probably getting a submission stoppage before we reach the judges.
Winner: Phil Davis, Submission, Round 3
Wyatt Beougher: I fully expect Davis to come out and play the full heel here, after his Ric Flair level eyepoke in their first "fight", which had barely gotten underway before it was stopped. I'm anxious to see what Prado can do against UFC level competition, and if I remember correctly, there was some talk that Prado probably had the best chance of any fighter on the UFC on FOX 4 card of scoring an upset. However, I think Davis uses his length to control the distance and frustrate Prado in the early goings, then uses his offensive wrestling to put the Brasilian on his back. I don't think he's going to finish Prado, but he'll do enough to get the decision and get back on the winning track. Either that, or Prado pokes Davis in the eye and this turns into the UFC's version of Eric Prindle vs Thiago Santos.
Winner: Phil Davis, Figure Four Leglock, Round 3
Dan Plunkett: Prado has a good chance to win standing, but Davis should be able to take him down and win the fight on the floor.
Winner: Davis, Submission, Round 2.
The staff picks Phil Davis, 9-0.

---
Welterweight Bout: Jon Fitch vs. Erick Silva
Robert Winfree: I'm actually pretty psyched for this one, because Erick Silva has looked like a beast every time he's been inside the octagon, but he's facing Jon Fitch. Fitch was long considered the second best welterweight in the world, until he ran into the big left hand of Johny Hendricks. He's been on the shelf for quite some time with injuries, and that doesn't bode too well for him against a guy with Silva's talent. This will be a very telling fight for Jon Fitch, if he loses again and doesn't display a different mentality while fighting he could be relegated to gatekeeper status. I have a really hard time picking against Fitch, the guy just doesn't lose that often, but with the time off and the way Silva has looked lately, I think Silva takes it.
Winner: Erick Silva, Decision
Jeremy Lambert: This is a very intriguing fight. Fitch has fallen on hard times recently with a draw, injuries, a quick KO loss, and more injuries but he's still one of the top welterweights in the world. Silva has been very impressive in his short UFC stint, but he hasn't faced anyone near the caliber of Fitch. I feel like this fight goes one of two ways: either Silva blitzes a rusty Fitch early and finishes him or Fitch settles in and does what he does, which is a lot of clinching and smothering. I'm going to go with the latter, but I'm not very confident with my decision. I'm just willing to give Fitch the benefit of the doubt and we've seen way too many fighters look strong in blitzing mediocre competition only to falter against high level opponents who can turn things into a 15-minute grind. A Silva win would not be shocking though. He's clearly a talented fighter and he's catching Fitch at a very good time in his career. I'm going safe and boring though, just the way Dustin James' girlfriend likes it.
Winner: Fitch, Decision
Jeffrey Harris: I like Silva a lot and I really want to see him get the win here. However, Jon Fitch even with his recent troubles I think still makes for a formidable opponent for Silva. Fitch really needs the win here, so I don't think he's going to work much differently than his usual gameplan. Fitch will eventually get a hold of Silva and do what he usually does and grind Silva out. And then he will complain about not getting enough respect and this being entertainment and not a sport. This is a sport, but if you can connect with an audience and the fans you can make even more money. That simple.
Winner: Fitch, Decision
Dustin James: If it feels like it's been forever since we last saw Jon Fitch get his hand raised in the Octagon, that's because it has been. At one time, Fitch was one of the top ranked welterweights in the world, but after fighting to a draw with B.J. Penn and getting knocked out in twelve-seconds by Johny Hendricks at UFC 141 last year, his stock has plummeted considerably. He's coming off a long layoff from fighting and unfortunately for Fitch, the man standing across the Octagon just so happens to be one of the most exciting up-and-coming welterweights currently on the UFC roster. Erick Silva has torn apart every opponent that's stood across him in the Octagon (Carlo Prater included) and a win over Fitch is exactly what he needs to boost himself into the title picture. I actually love this fight because it's one of those fights that feels like it can go either way. It really wouldn't shock me to see Fitch pull out a decision win, because that's just what he does. However, there's no way I'm picking against Erick Silva right now. The guy has been a monster since arriving in the UFC and something tells me he's not going to slow down anytime soon. Is it possible that Fitch gets knocked out for the second straight time in the UFC? That's where I'm placing my money…..
Winner: Erick Silva, TKO, Round 1
Patrick Mullin: See this week's Blueprint
Winner: Erick Silva, TKO, Round 1
Alex Rella: This is a pretty interesting fight that I'm looking forward to. Silva has been wrecking people since he joined the UFC but this is his toughest fight yet. After a draw with BJ Penn, a quick knockout from Johny Hendricks, and a layoff from injuries, Fitch is no longer considered a top welterweight. This fight is very important for both men's careers as Silva knocking off a former number one contender would raise his status a great deal and another loss for Fitch would likely prevent from getting back to the top of the division. Because of this I expect Fitch to do what made him successful in the past and just use his wrestling to ground out a fifteen minute decision victory. Though there is the great chance Silva knocks him out early in the fight.
Winner: Fitch, Decision
Stewart Lange: Every part of me wants to be optimistic about this fight, but I just don't know if I can be. The last time we saw Jon Fitch fight, he got knocked out quick-smart by Johnny Hendricks. Be sure, Erick Silva can do the same thing and don't think that Jon doesn't know that. He isn't going to want to stand with Erick here so expect some "vintage Fitch." It's not going to pretty but it's certainly going to be effective for him as he looks to get past a quick, dangerous welterweight.
Winner: Jon Fitch, Decision
Wyatt Beougher: Hmmmmmmm…Jon Fitch has looked decidedly pedestrian, with a draw against BJ Penn, followed by a lengthy recovery period due to a shoulder injury and a blink-and-you-missed-it knockout loss to Johny Hendricks. Silva, on the other hand, has looked far more dominant than his 2-1 record would lead you to believe, as he was (perhaps wrongly) disqualified due to (questionable) strikes to the back of Carlo Prater's head back in January in a fight that he had been dominating prior to the disqualification. Silva's UFC career has yet to see him in the second round, while Fitch hasn't finished a fight inside the Octagon since 2007. That would seem to swing the balance in Silva's favor, wouldn't it? However, I'm unconvinced, as Jon Fitch is still, well, Jon Fitch. And while there's certainly the possibility that Silva could pick up the win, I look for Fitch to fight smart and grind out yet another decision win.
Winner: Jon Fitch, Decision
Dan Plunkett: Both guys have a lot to lose in this one. If Silva gets Fitch'd, it destroys whatever aura he's built in his past three fights. The consequences of a loss are greater for Fitch, as it would mark the end of his time as one of the very best welterweights in the world and at 34-years-old it would be extremely difficult for him to climb back into the title picture. Silva found success against a wrestler his last time out when he submitted Charlie Brenneman, but Fitch is a significantly tougher opponent. Ultimately, I can't pick against Fitch here. With the exception of a quick knockout in his last fight that may very well have been a fluke, he only has one loss (to Georges St-Pierre) in the past nine years. It may not be pretty, but I think Fitch gets it done.
Winner: Fitch, Decision.
The staff picks Jon Fitch, 6-3.

---
Light Heavyweight Bout: Fabio Maldonado vs. Glover Teixeira
Robert Winfree: Well, apparently the only guys willing to fight Glover Teixeira are low level guys who can benefit from the win. This was supposed to be Glover taking on Quinton Jackson, but Jackson's injury forced the change. Fabio Maldonado has pretty good boxing in the cage, and his body shots are nasty stuff. This will be a good test for Teixeira, because Maldonado has a good chin and wont be afraid to strike with him. I still think Teixeira wins, but I wouldn't be totally shocked if Maldonado finds a way to take this one.
Winner: Glover Teixeira, TKO Round 2
Jeremy Lambert: This is an appropriate fight for Teixeira after his victory over Kyle Kingsbury. Despite losing his last two, Maldonado could've easily won both of those fights if there were different judges. On the feet, Maldonado has some extremely slick offensive boxing and some of the best body shots in the division. His problem is defensively, where he gets hit too much and hangs around too long on the inside, which causes him to eat knees in the clinch. Teixeira isn't as polished on the feet as Maldonado, but he does have a sick plum clinch, and that's where he can do a lot of damage in this fight. On the ground is where Teixeira has a huge advantage though. He has an outstanding top game and Maldonado, while not clueless off his back, will likely be easily out positioned and throughly dominated. I'm pretty high on Teixeira, not so high that I think he should've been fighting "Shogun" Rua, but definitely high enough that I expect him to beat and finish Maldonado. I think Teixeira catches Maldonado on the feet, possibly with a knee, and then finishes him off on the ground with a flurry of strikes.
Winner: Teixeira, TKO, Round 1
Jeffrey Harris: This is a good fight for Teixeira instead of putting him in there with a big name and main eventer right away. After this fight he can start taking a step-up in competition and fighting bigger name guys who are already scared to fight him anyway. Maldonado is only 1-2 in the Octagon, but both his losses were really close decisions against Igor Pokrajac and Kyle Kingsbury. Teixeira hasn't lost a fight since 2005 to Ed Herman. He's a good striker and he's got heavy hands. I think Teixeira will have the edge grappling and wrestling as well and get the quick, easy win.
Winner: Teixeira, TKO, Round 1
Dustin James: It's the fight that no top-ranked UFC light heavyweight wanted to take! There's something about Glover Teixeira that scares the rest of the UFC light heavyweight division. A lot of the top-ranked guys refused this fight due to just how scary Teixeira is. They knew that going into this fight, there was a good chance they could lose and unfortunately for Glover, his name isn't big enough yet that a win over him could automatically propel them into the title picture, so it wasn't a gamble many fighters wanted to take. While us hardcore MMA fans love Teixeira, the mainstream fans really have no clue who he is and that hurts Teixeira's name value. Something tells me that's going to change real soon though. After making his UFC debut in a dominating victory over Kyle Kingsbury at UFC 146, Teixeira pushed his win streak to sixteen-wins in a row and I don't think Fabio Maldonado is going to be able to do much to stop this streak. Maldonado's a decent fighter, but c'mon people. I'm taking Glover via MURDER DEATH KILL and I suggest you do the same.
Winner: Glover Teixeira, Submission, Round 1
Patrick Mullin: This is a very interesting fight. In my opinion Maldonado should be unbeaten in his UFC run and has been the victim of poor judging. He's facing the man seemingly no one wants to fight in Glover Teixeira. Teixeira strikes like a drunkard but does it with insane power much like Chuck Liddell. He leaves the same openings and the question becomes can Maldonado withstand those power shots and work Teixeira over with his beautiful body punching enough to wear him down? Maldonado would gain my favor here if he had better defense but he's far too willing to get hit and against a big puncher that's never a recipe for success.
Winner: Glover Teixeira, TKO, Round 3
Alex Rella: Maldonado fighting Teixeira isn't as exciting as Rampage but it'll do. You have to respect Maldonado for stepping up, as many others aren't lining up to fight Teixeira at the moment. Teixeira is definitely the more powerful striker but Maldonado's striking can't be overlooked. Maldonado was a good boxer in Brazil and has some sick body shots that could make things interesting. I don't see this going to the ground much as it should be a fairly quick fun fight between the two strikers. Teixeira should continue his rise through the light heavyweight division here.
Winner: Teixeira, TKO, Round 1
Stewart Lange: Glover Teixeira has barely been seen within the UFC cage but has the biggest reputation of almost all of the Light Heavyweights as he seemingly has nobody willing to face him. While I can see why Shogun didn't have anything to gain in taking the fight, it's boosted Teixeira's reputation to the point where all the pressure is on him. Maldonado has nothing to lose here and I think he edges this, actually. What makes me think that is the Hector Lombard fight we recently saw. Lombard was all set to destroy Tim Boetsch, but instead we saw a lacklustre performance from the guy with the heavy hands who should have scored a big knockout. I can see the same happening here, with Maldonado just out-working Teixeira and getting a decision victory.
Winner: Fabio Maldonado, Decision
Wyatt Beougher: First off, kudos to Maldonado for actually volunteering to fight Teixeira. With that out of the way, it's not the best fight for him, as he's shown a willingness to stand and trade. While he should be the more technical striker in this fight, Teixeira is the heavier hitter. Maldonado will probably look good in the early going, but Teixeira will drop him during an exchange, and from there, it's only a matter of time until he pounds his fellow Brasilian out. Also, I'd like to point out that this should be an excellent start to the PPV portion of the card.
Winner: Glover Teixeira, TKO, Round 1
Dan Plunkett: Whichever route this fight takes it should be a really fun one. Obviously Teixeira has a ton of hype behind him, and if there's any merit behind that hype he should have little trouble with Maldonado here. Maldonado is in a similar situation to Stephan Bonnar (albeit to a far lesser degree) in that he has nothing to lose as he's taking the fight on short notice (so he'll likely keep his job with a loss unless he misses weight) and nobody expects him to present a challenge for his opponent. Teixeira is the better all-around fighter and should win this one, though.
Winner: Teixeira, Submission, Round 2.
The staff picks Glover Teixeira, 8-1.

---
Heavyweight Bout: Dave Herman vs. Antonio Rodrigo Nogueira
Robert Winfree: For a pretty much thrown together fight, this isn't half bad as far as co-main events go. Big Nog has pretty much universal fan support, it's impossible for me to root against the guy at this point. He's taking on a pretty mediocre, even by heavyweight standards, fighter in his home country. This is pretty much designed to be another feel good moment for the legend, and I've actually got no problem with that. I think Nog subs him too, just to stick it to the guy who says "Jiujitsu doesn't work".
Winner: Antonio Rodrigo Nogueira, Submission Round 1
Jeremy Lambert: Nogueira might not be what he once was, but he's still better than Herman, who is extremely flakey and seems to fight with no real game plan. On the feet, Nogueira obviously runs the risk of being KO'd because his chin is no longer bulletproof, he's never been a good defensive striker, and pretty much everyone at heavyweight hits hard. On the whole though, Nogueira is the better boxer and could out-strike Herman. Despite his claims that "jiu-jitsu doesn't work," Herman is a competent grappler. He's not Nogueira though, who is the best grappler in the history of the heavyweight division when you're talking about everything that encompasses MMA grappling like strikes, passes, sweeps, and submissions. It's not out of the question that Nogueira would pull guard, sweep, and then lock up a submission in the scramble. Herman isn't a bad heavyweight, but he's extremely untrustworthy. Nogueira is no longer a top heavyweight, but lets not pretend like he's completely washed up and incapable of beating mediocre guys. Look at who he's lost to and how he's lost. If and when he loses to a guy like Herman, that's when I'll say it's time to hang it up, but until then, he's still talented enough to beat the majority of guys in the division.
Winner: Nogueira, Submission, Round 1
Jeffrey Harris: I want to pick Nogueira here, though I'm not sure how healthy he is going in. I thought Nogueira was pretty much done when he fought Brendan Schaub and he proved many of us wrong there. Herman's a younger, big heavyweight but I'm not sure that he has what it takes to stop Nogueira. Herman's not a grappler to the level of someone like Frank Mir, so I don't think Herman will be a threat on the ground to Nogueira. I think Nogueira eventually gets to the ground and hands Herman his first submission defeat.
Winner: Nogueira, Submission, Round 2
Dustin James: Is there a person alive who isn't rooting for Antonio Rodrigo Nogueira to come out and wipe the floor with Dave Herman? The last time we saw "Big Nog" he got his arm broke courtesy of Frank Mir at UFC 140 and the longtime MMA veteran has been waiting patiently to jump back into the Octagon and he finally gets that chance this weekend in Brazil. All I know is, if Dave Herman beats "Big Nog"….it's probably definitely time for Nogueira to hang up his gloves for good. Say what you want about "Pee Wee" Herman, but his run in the UFC has been less than impressive thus far. His only victory was a win over John Olav Einemo and it's not like that guy is any good. Since that victory, he's dropped consecutive fights to Stefan Struve and Roy Nelson and if all is right with the world….he'll lose his third consecutive fight this weekend and the UFC will drop him like a bad habit. C'MON BIG NOG!!!!
Winner: Antonio Rodrigo Nogueira, TKO, Round 1
Patrick Mullin: Captain Caveman vs. Featherfists McBrainDamage! Or as we know it Dave Herman vs. Big Nog. The big question here is if Herman's questionable chin can withstand Nog's feather fists. The guys who have knocked Herman out can punch while Nog can't. Herman has a good wrestling base he can use to avoid going to the ground with Nog. Herman himself is also a good puncher and Nog is about as tough to hit as…quite honestly this isn't even funny because if I launched a can of soda from my living room in New Jersey all the way to the arena in Rio it would find a way to hit Nog. This is probably the end for a once great career.
Winner: Dave Herman, KO, Round 2
Alex Rella: Big Nog is back and he's look to give the guy who says "Jiujitsu doesn't work" his third loss in a row. A few years ago Big Nog would have owned Herman in less than a minute but unfortunately he is no longer at that level of greatness. Herman probably has the edge in striking at this point but Nogueira is the best grappling heavyweight of all time. I see Big Nog pulling guard and getting a submission victory. If Herman does win, Nogueira's career is likely over.
Winner: Nogueira, Submission, Round 2
Stewart Lange: Wow, this could be a really bad fight for Big Nog. His win over Brendan Schaub shows that he's still dangerous and can still land a decent shot, but we also know he can't really take a decent shot anymore which will likely be the end of this fight. We expected Nog to get taken out in Brazil by Schaub, he didn't, but he probably will this time. Dave Herman doesn't believe in BJJ and as sweet justice would go, Big Nog would get the submission, but realistically, I think he gets caught and put out.
Winner: Dave Herman, TKO, Round 1
Wyatt Beougher: *Sigh* We're at the point in Big Nog's career where every fight is either going to be borderline cringe-worthy if he loses or a "special event" if he wins, aren't we? With as much damage as he's taken over the years, plus Mir trying to rip his arm off, every time I know he's stepping into the cage, I worry for Minotauro's health. Fortunately for Nogueira, this fight should end up more like his encounters with "Handy" Couture and Brendan Schaub than either fight with Mir or his loss to Cain Velasquez. Herman's a good, solid heavyweight fighter, but I still don't think he's got anything to offer the former PRIDE and UFC (Interim) Heavyweight Champion. Nogueira's better at every facet of the game, so as long as he protects his chin, this is his fight to win.
Winner: Nogueira, Round 2, Submission
Dan Plunkett: Even with all of his mileage and coming off a long layoff due to a broken arm, Nogueira is certainly more skilled than Herman, but that doesn't mean a Minotauro victory is a sure bet. Minotauro has been slowing down for a while and his chin of granite has been nerfed. Still, he's got power in his hands (he's at least hurt three of his last four opponents with punches) and he's a great grappler. I'm going with Nogueira.
Winner: Minotauro, Submission, Round 1.
The staff picks Minotauro Nogueira, 7-2.

---
---
Light Heavyweight Bout: Anderson Silva vs. Stephan Bonnar
Robert Winfree: You know, for as much as Junior dos Santos has in common with Rocky, and as much as Matt Serra styles himself as Rocky, this is your Rocky fight people. In fact, it's very close to the real Rocky inspiring fight, Charles Wepner vs. Muhammed Ali. Stephan Bonnar has almost no chance here. His wrestling isn't good enough to try and control Silva, and striking with The Spider isn't exactly a good idea. The big question here is how long Bonnar can last, and it's an intriguing one. Bonnar has never been TKO'd or submitted, both stoppages in his career came from cuts. Of course, neither Chris Leben or Chael Sonnen had been stopped by strikes before meeting Silva. I'm actually looking forward to this fight, though I can't quite put my finger on the reason.
Winner: Anderson Silva, TKO Round 1
Jeremy Lambert: There is really no point to try and breakdown this fight from a technical aspect. If Bonnar is going to win, he'll need to consistently takedown Silva and hold him there. Considering that Silva's takedown defense from the clinch, where Bonnar's best offensive wrestling comes from, is pretty good, that's going to be a tough task for Bonnar. I don't want to give Bonnar absolutely no chance in this fight, but this is MMA and Bonnar isn't a complete can. Considering that Bonnar has pretty much resigned himself to the fact that he's only in this fight to get massacred, even he knows this isn't going to end well for him. My partner Samer Kadi actually brought up a point that I'm really starting to buy into: how much training are these two doing and how serious are they taking it? Bonnar and Silva both seem to be taking this fight as serious as Zuffa takes Strikeforce and I feel like Bonnar is spending the majority of his training camp playing checkers with Forrest Griffin and Silva is spending the majority of his trolling Ed Soares. There's no doubt that Bonnar is as tough as they come and can take a punch, but it's not like Silva hasn't cracked iron chins before. This fight will last as long as Silva wants it to. If he feels like moving backwards and bobbing and weaving without throwing a strike, then it'll last a round or two. But if he decides to counter when Bonnar throws his slow and sloppy strikes, it'll last a minute or two. My guess is that Silva will toy around for a bit in order to give the Brazilian fans a chance to see the greatest of all-time for a bit longer but eventually he'll put Bonnar away.
Winner: Silva, However, Whenever
Jeffrey Harris: As much fun as it would be to see some sort of crazy upset here, I just can't see it happened. Of course we almost saw it with Jones/Belfort, but Jones still got out of trouble and was able to come away with the win. Even with the fight being contested at 205 lbs. and Bonnar being such a big dude, I don't think that will be enough. Forrest Griffin's size against Anderson Silva didn't give him an advantage there either. Silva's speed and striking will make up for Bonnar's size and grappling. Silva will pick Bonnar apart and come away with the win.
Winner: Silva, TKO, Round 2
Dustin James: Welp, poor Stephan Bonnar. I don't know who Stephan Bonnar pissed off to get this fight, but he'd better be prepared for the ass beating of his life. Is there anyone out there who even thinks Bonnar has a puncher's chance of winning this fight? This fight is such a laughable main event, that the UFC has even made the promos for the event to basically say "We know Bonnar doesn't have much of a chance, but WHAT IF he does get the upset? Don't you want to be there to see it?" While that may not exactly be the best way to promote a UFC main event….it's actually worked for this fight. Anderson Silva is easily the most dangerous fighter of all-time and he stepped up to save the UFC 153 card in a big way. Unfortunately for Bonnar, MMAth suggests that Silva is going to obliterate him. If Anderson's performance against Forrest Griffin (a guy who has beaten Bonnar twice…) was any kind of indication as to what we should expect from this fight, Bonnar's family may want to go ahead and start planning his funeral right now. There's no way Bonnar is winning this fight….sorry to burst any balloons that were still out there holding hope inside of them. It's just not happening.
Winner: Anderson Silva, TKO, Round 2
Patrick Mullin: Is this really in need of discussion? Let's humor this anyway. Stephan Bonnar is a tough guy who always comes to fight. Just like he did against 44 year old Mark Coleman just three years ago when he lost. I applaud Bonnar for being willing to take the fight but he stands no chance of winning. His striking isn't close to good enough to stand up with him, he's not enough of a wrestler to trouble him in that regard, and Silva's got superior BJJ to what Bonnar offers. This will be Anderson playing the matador to a very willing bull and putting on a show.
Winner: Anderson Silva, TKO, Round 2
Alex Rella: Anderson Silva is the greatest fighter ever and all signs point to a win as my colleagues have pointed out. But I'm picking Bonnar anyway. This pick is based more on hope than logic but I think Bonnar pulls it off. I expect the much bigger Bonnar to rush Silva real quick and pressure him up against the cage. While I don't think he has the ability to put away Silva, I do think he can survive against him and have some great striking exchanges. I can't stand the talk of Silva letting the fight go on as long as he wants it to or that both men aren't taking it seriously. Silva may be looking forward to GSP a bit but this is the biggest fight of Bonnar's career since TUF and he isn't taking it lightly. Silva could submit him on the ground but I think he will use his strength advantage and pretty good grappling to get out of it and stand right back up. I see this going to decision but of course my pick isn't a likely one.
Winner: Bonnar, Decision
Stewart Lange: Samer Kadi said that my rooting for Stephan Bonnar was tongue in cheek and while he does have a point, it's not entirely true. I don't expect Bonnar to win this fight. I think he'll be knocked out as and when Anderson decides it's time- BUT, I'd absolutely love him to score the upset. I'm an Anderson Silva fan. I consider him to be the greatest MMA fighter of all time but I feel more personally invested in Stephan Bonnar and in a weird way feel like it's someone I know getting in the cage against the most dangerous fighter on the planet on Saturday. This is unlikely to be anyone other than another highlight reel finish for Anderson but he'll REALLY need to definitively finish Bonnar for this fight to finish, because he sure as hell has nothing to lose by not tapping out since he's not exactly anxious to avoid medical suspensions. Whether or not his wife expecting will play on his mind is a factor, but Bonnar, unlike Griffin against Shogun will realise he can't rely on his skills, he has to bring the fight to Silva. That said, Anderson by murder/death somewhere in round 2. (Kudos to Alex Rella, by the way. That's exactly what Bonnar does to win here.)
Winner: Anderson Silva, TKO, Round 2
Wyatt Beougher: When the dust has settled around this fight, I don't think anyone's going to say it was the best bit of matchmaking that the UFC could've done, at least in terms of divisional rankings and whatnot, but as a main event that allows arguably the pound-for-pound best fighter in history to fight in his home country, this was a bit of genius. Bonnar has repeatedly said that he'll take the fight to Silva, and while I think there's very little chance that he'll win this encounter, I think it'll be an exciting fight for as long as it lasts. Bonnar hasn't said or done anything to offend Silva, so there's always the possibility that "bad Anderson" (from UFCs 90, 97, and 112) shows up, but in his two previous performances in the UFC's light heavyweight division, Silva has looked devastating. The realist in me wants to predict a short evening for Bonnar, but the fan in me wants this fight to go all five rounds, and I don't care if Bonnar wins or loses, so long as he puts on a good fight, in true Rocky fashion.
Winner: Anderson Silva, Decision
Dan Plunkett: Bonnar's a really tough guy. He has a chance in the sense that Anderson won't be at his best having only had a month's notice for the fight. There's also the fact that "The Spider" is 37-years-old and at some point is going to slow down. Maybe that point is Saturday night. Perhaps Bonnar can take Silva down, use his size advantage, and avoid submissions. But Silva is such a great fighter and great finisher that there is just so much to avoid over the course of 15 minutes. If it was a five round fight, I'd give Bonnar even less of a chance. Now, I can't be certain that Anderson is going to finish Bonnar because he fights strangely (yet still brilliantly) at times, but there's no doubt this is his fight to lose.
Winner: Anderson Silva, TKO, Round 1.
The staff picks Anderson Silva, 8-1.
---
Remember to join 411's coverage of UFC 153 live on Saturday night!
comments powered by Disqus