411's MMA Roundtable Preview – UFC 154: St-Pierre vs. Condit
November 16, 2012 | Posted by
WELCOME:
Georges St-Pierre makes his long-awaited return to the Octagon to defend the UFC welterweight title against interim champ Carlos Condit! A title shot may be up for grabs in the co-main event, where welterweights Martin Kampmann and Johny Hendricks collide. In middleweight action, Francis Carmont looks to make it nine wins in a row against Tom Lawlor. Plus, Nick Ring faces Costa Philippou, Mark Hominick vs. Pablo Garza, and more!
THE STAFF:
He is The Ultimate Writer and he doesn't care to try again, Dustin James!
From The Greatest MMA News Column, Dan Plunkett!
From MMA's 3R's, Jeffrey Harris!
From The Blueprint, Patrick Mullin!
And he occupies half the throne, Jeremy Lambert!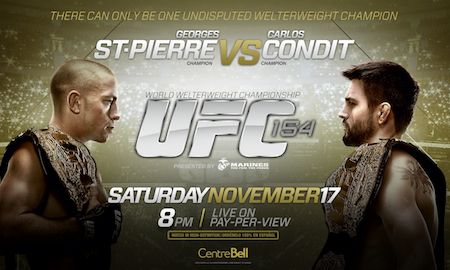 THE PRELIMINARY CARD:
First four prelims to air on Facebook.com, rest on FX
Featherweight Bout: Steven Siler vs. Darren Elkins
Dustin James: Darren Elkins, Decision
Dan Plunkett: Elkins, Decision.
Jeffrey Harris: Darren Elkins, Decision
Patrick Mullin: Darren Elkins, Unanimous Decision
Jeremy Lambert: Siler, Decision
The staff picks Darren Elkins, 4-1.
Bantamweight Bout: Ivan Menjivar vs. Azamat Gashimov
Dustin James: Ivan Menjivar, Decision
Dan Plunkett: Menjivar, Decision.
Jeffrey Harris: Ivan Menjivar, Decision
Patrick Mullin: Azamat Gashimov, Unanimous Decision
Jeremy Lambert: Menjivar, Decision
The staff picks Ivan Menjivar, 4-1.
Welterweight Bout: Matt Riddle vs. John Maguire
Dustin James: John Maguire, Decision
Dan Plunkett: Maguire, Decision.
Jeffrey Harris: Matt Riddle, Decision
Patrick Mullin: John Maguire, Submission, Round 2
Jeremy Lambert: Riddle, TKO, Round 2
The staff picks John Maguire, 3-2.
Featherweight Bout: Antonio Carvalho vs. Rodrigo Damm
Dustin James: Antonio Carvalho, TKO, Round 2
Dan Plunkett: Carvalho, Decision.
Jeffrey Harris: Antonio Carvalho, TKO, Round 1
Patrick Mullin: Antonio Carvalho, Unanimous Decision
Jeremy Lambert: Carvalho, Decision
The staff picks Antonio Carvalho, 5-0.
Lightweight Bout: Sam Stout vs. John Makdessi
Dustin James: Sam Stout, Decision
Dan Plunkett: Makdessi, Decision.
Jeffrey Harris: Sam Stout, Decision
Patrick Mullin: Sam Stout, Split Decision
Jeremy Lambert: Stout, Decision
The staff picks Sam Stout, 4-1.
Lightweight Bout: Mark Bocek vs. Rafael dos Anjos
Dustin James: Rafael dos Anjos, Decision
Dan Plunkett: Bocek, Decision.
Jeffrey Harris: Mark Bocek, Decision
Patrick Mullin: Mark Bocek, Unanimous Decision
Jeremy Lambert: Bocek, Decision
The staff picks Mark Bocek, 4-1.
Light Heavyweight Bout: Cyrille Diabate vs. Chad Griggs
Dustin James: Cyrille Diabate, Submission, Round 1
Dan Plunkett: Diabate, TKO, Round 1
Jeffrey Harris: Cyrille Diabate, Decision
Patrick Mullin: Cyrille Diabate, TKO, Round 3
Jeremy Lambert: Diabate, TKO, Round 1
The staff picks Cyrille Diabate, 5-0.
Middleweight Bout: Patrick Cote vs. Alessio Sakara
Dustin James: Patrick Cote, TKO, Round 1
Dan Plunkett: Cote, KO, Round 2
Jeffrey Harris: Patrick Cote, TKO, Round 1
Patrick Mullin: Patrick Cote, Split Decision
Jeremy Lambert: Cote, TKO, Round 1
The staff picks Patrick Cote, 5-0.

---
THE MAIN CARD:
Featherweight Bout: Mark Hominick vs. Pablo Garza
Dustin James: This fight has to be a "loser leaves UFC" fight, right? Both fighters are currently on losing streaks and are looking to get their misfortunes overturned with a victory this weekend so they aren't staring at the unemployment line come Christmas time. What a long fall from grace it's been for Mark Hominick. It seems like just yesterday the guy was contending for Jose Aldo's UFC featherweight title and now here he is likely fighting for his UFC career and also trying to avoid a dreaded four-fight losing streak. He's definitely got a winnable fight here though against Pablo Garza, although to Garza's credit, the guy is one tough son of a bitch. This should be a pretty good even fight, but at the end of the day, I just find it hard pressed to pick against Hominick. Something tells me that he's going to live to fight another day in the UFC. I guess we'll find out this Saturday.
Winner: Mark Hominick, Decision
Dan Plunkett: Hominick really needs a win here, though a loss won't necessarily cost him his job as he's an exciting fighter. He's dropped his last three fights and hasn't won since January of 2011. With the exception of the two or three times he was knocked down, Hominick didn't look bad against Eddie Yagin At UFC 145. Fortunately for him, I think Hominick gets back on track against Garza, who isn't great but has shown to be somewhat dangerous with a couple of impressive finishes.
Winner: Hominick, Decision.
Jeffrey Harris: Either guy here could be getting their pink slip depending on how this fight goes. Hominick has been unable to rebound following his loss in a title shot against Jose Aldo. Garza has dropped his last two. Both guys are very tough, durable fighters. Garza extremely hard to finish, he's only lost twice in his career by submission and never been knocked out. I don't think Hominick will be able to submit him. I see neither guy going out of their way to take a huge risk and finish this one. I think Hominick plays it safe and outpoints Garza.
Winner: Mark Hominick, Decision
Patrick Mullin: Ever since the loss of Shawn Tompkins we've seen Mark Hominick totally lost as a fighter. He went from title contender to dropping three straight against mediocre opposition faster than you can say Dan Hardy. He draws a lucky match up here as aside from a flukey submission over Yves Jabouin we've seen very little good from Garza. Hominick should win this, but if he doesn't its time to call it quits because he's lost.
Winner: Mark Hominick, Unanimous Decision
Jeremy Lambert: This fight would've been really good like a year ago. As it stands though, it's a fight between two dudes who are on losing streaks. Hominick is the better striker, but his chin is starting to show signs of getting hit too much and he's gone away from his kicks recently. Garza has some power, but it's not overwhelming or anything. Garza is the better grappler, but Hominick's ground game is pretty underrated and I think Garza struggles to get the fight to the ground. I think Hominick keeps the fight standing, and while he'll get hit, he'll dish out more than he takes and take the decision.
Winner: Hominick, Decision
The staff picks Mark Hominick, 5-0.

---
Middleweight Bout: Nick Ring vs. Costa Philippou
Dustin James: Costa Philippou has quietly been on a little bit of a roll in the UFC's middleweight division. Ever since signing with the UFC last year, Philippou has gone 4-1 inside the Octagon and has beaten the "who's who" of mediocre fighters. He's currently riding a four-fight win streak and you have to believe that a victory over Nick Ring here would convince the UFC to give the guy a higher ranked opponent in his next outing in the cage. Of course, he needs to be able to get by Nick Ring first and that's not exactly a walk in the park. Ring has also been quietly good in the UFC's middleweight division ever since he appeared on the 11th season of The Ultimate Fighter. He's coming off a nice win over Court McGee at UFC 149 and a win over Costa this weekend would help move him up a few slots in the middleweight rankings. Hopefully this is a decent fight, but I'm not going to exactly hold my breath in anticipation of that happening…..
Winner: Nick Ring, Decision
Dan Plunkett: Philippou is definitely more dangerous standing than Ring, who might be wise to take the fight to the ground. Costa isn't a great fighter, but he's very solid and has built himself a nice four fight win streak heading into this fight. I think he can keep it on the feet enough to win the fight.
Winner: Philippou, Decision.
Harris: Twice we've seen Nick Ring win terrible decisions he did not deserve, and I'm really hoping we do not see that happen again here. Unfortunately he faces Costa Philippou who has a habit of being unable to finish his UFC fights and half his fights in general. Philippou is primarily a boxer and a striker with some very apt takedown defense. Both guys have faced similar opponents. Philippou on one hand has defeated Court McGee and Riki Fukuda. Now Nick Ring has wins over both those guys, but both those wins really should've been decisive losses despite the incompetency of the judges. I know MMA math does not always work, but since both these guys like to stand and have some rather listless striking battles, I am favoring Philippou in that area.
Winner: Costa Philippou, Decision
Patrick Mullin: The Promise hasn't really shown much of his nickname since coming into the UFC after injury ended his TUF run. Costa Philippou hasn't shown much either. He can stop takedowns and that's pretty much all you need to do in order to beat Ring. That's the way this will go and I look forward to it about as much as my next root canal.
Winner: Costa Philippou, Unanimous Decision
Jeremy Lambert: Ring is a good fighter who has been hampered by injuries throughout his career while Philippou is on a nice little run. Ring is the more diverse striker but Philippou is a very good boxer and has power in his hands. If Philippou can keep it standing, I think he gets the better of Ring and wins a decision, possibly scoring a KO. If Ring can get the fight to the ground, I think he's the better grappler and can likely control his way to a decision, possibly locking on a submission. Flip a coin, I'm picking Philippou.
Winner: Philippou, Decision
The staff picks Costa Philippou, 4-1.

---
Middleweight Bout: Francis Carmont vs. Tom Lawlor
Dustin James: The only thing interesting about this fight is what kind of wacky attire Tom Lawlor will be sporting to the Octagon. Seriously, how did this fight make the main card when it's much weaker than some of the prelim fights? NEXT….
Winner: Francis Carmont, Submission, Round 1
Dan Plunkett: I'm convinced the only reason Tom Lawlor made the main card is so his entrance can be televised, and I'm all for it. Rumor has it he's doing his entrance as The Mountie. Lawlor hits hard, but he doesn't have much in the way of cardio and his striking isn't the prettiest. Carmont is the better fighter here and should win, probably on the ground. Still, I would've picked Lawlor if he went with The Fabulous Rougeaus.
Winner: Carmont, Submission, Round 3
Dustin James: The reason this fight makes it on the main card is because you have a rising middleweight prospect who is undefeated in the UFC in Francis Carmont. Lawlor is an entertaining personality who has a winning UFC record and is basically the type of guy who plays gatekeeper for prospects such as Carmont. He tends to have fun exciting fights where he either wins in exciting fashion or loses in exciting fashion. I see this basically as a good grappler vs. grappler battle, but ultimately I definitely favor Carmont to win this one. Another reason this fight made it on the made card? The fight takes place in Montreal, Quebec where Carmont hails from. So in this case, putting a home time guy who is a rising prospect and undefeated in the UFC is a good move despite what people might say. Carmont wins this either by decision or submits Lawlor early.
Winner: Francis Carmont, Submission, Round 1
Patrick Mullin: Oh boy Joe Silva must have been angered by a lot of fans because he went out of his way to throw some stinkers on here. Neither one of these guys does anything particularly well except for Lawlor's weigh in theatrics as Dan Severn and Hulk Hogan. I'll pick Lawlor to win because he's shown he can knock someone out if he gets a clean shot and Carmont has lost to guys who will never make it to the UFC in Mr. Cyborg and Vitor Vianna.
Winner: Tom Lawlor, KO, Round 2
Jeremy Lambert: Lawlor is an entertaining personality, but not a very good fight. He hits relatively hard and is a decent wrestler, but his submission skills are extremely weak and he has almost no cardio. I don't know how good Carmont is, and a win over Lawlor won't prove much, but I do fancy him to win this fight. He's the more well-rounded fighter and should be able to handle Lawlor no matter where this fight goes. Chances are Carmont hurts Lawlor on the feet and then slaps on a submission on the ground.
Winner: Carmont, Submission, Round 1
The staff picks Francis Carmont, 4-1.

---
Welterweight Bout: Martin Kampmann (#3 WW) vs. Johny Hendricks (#4 WW)
Dustin James: FINALLY WE GET A GOOD FIGHT! Besides the main event, this is obviously the fight that everyone is looking forward to the most this weekend. It's a #1 contender fight in the welterweight division and the winner will likely be facing the UFC welterweight champion at some point in 2013. In my opinion, there's no way this fight doesn't win "Fight of the Night" honors outside of something like a 30-second KO happening. These two guys always bring the goods and when's the last time anyone can remember a Martin Kampmann fight completely sucking anyway? As for who's going to win the fight, that's hard to say. Johny Hendricks has been on an incredible win streak since the beginning of 2011. He's fired off four-straight wins in the UFC against top-ranked opponents like Josh Koscheck, Jon Fitch, and Mike Pierce. By adding the head of Martin Kampmann to his wall, there's just no way you could deny this guy a title shot in his next fight. Of course, that's a lot easier said than done. It seems like anytime people expect Kampmann to get beat, he comes out and reminds us all of why he very well could be the most underrated fighter in the welterweight division. I honestly don't know who to pick in this fight as I could really see it going either way. As of today, I find it really hard to pick against Johny Hendricks, which is the way I'm currently leaning. Naturally, this means Kampmann will come out and dominate en route to winning himself a title shot at the UFC welterweight title. Pick wisely folks.
Winner: Johny Hendricks, Decision
Dan Plunkett: Kampmann is one of those guys that gets hurt a lot but still comes back to win the fight. That isn't the best superpower to have, because eventually you're going to get hurt and not be able to come back or the referee will stop it. Kampmann is a good fighter, but I see the hard-hitting wrestler taking this.
Winner: Hendricks, TKO, Round 2
Wildcat Jeff Harris: A very good fight. Hendricks is a top shelf wrestler with heavy hands and packs a ton of punching power. Kampmann has become quite a talented grappler in his own right and has very good takedowns, takedown defense, and submissions. On the feet, I think Kampmann has the overall better striking game. However, at the same time, what worries me about Kampmann is all the punishment and damage he tends to take in fights even his two most recent winning efforts over Thiago Silva and Jake Ellenberger. Kampmann is tough and can survive some pretty harsh punishments, but at the same time he will get dropped by some hard shots and that's why I am tending to favor Hendricks in this bout. I think I'm giving Hendricks the slight edge here with his punching power and wrestling. I think he will get a knockout victory in the first or second round.
Winner: Johny Hendricks, TKO, Round 1.
Patrick Mullin: If you want to get to Heaven you have to go through Hell seems to be the premise of the matchmaking on this card but we made it! Finally a great fight with big time consequences. Each of these guys has been busy beating the best available welterweights to stake their claim to a title shot. The full break down will be in this week's Blueprint, but ultimately I expect Hendricks to win. Kampmann wins fights in spite of himself and a guy like Hendricks is too good to allow it to happen.
Winner: Johny Hendricks, KO, Round 2
Jeremy Lambert: I really like this fight, although I'm not too sure if the winner has a chance against the champion. Hendricks is a role, but I think he's a little overrated by people. He obviously has power in his hands, but he's not really a great striker. He's a great amateur wrestler, but that hasn't quite translated to MMA wrestling. He struggles to takedown guys he should easily be able to out-wrestle and he's even been out-wrestled by lesser wrestlers. Kampmann doesn't have the best takedown defense in the world, but it has improved over the years, and even if he gets put on his back, he's active off his back and is good in scrambles. Kampmann's biggest weakest though is that he gets hit entirely too much. Luckily for him, he has an outstanding chin and recover ability, but you don't want to test things too many times against someone with the power of Hendricks. On the whole though, Kampmann is a much better striker and if he avoids getting into a sloppy brawl, which is a big if, he should be able to out-strike Hendricks. While Hendricks can always shoot for the takedown, his best wrestling comes from in tight. Getting in tight against Kampmann can be a detriment though as he has a nasty guillotine and sick knees in the clinch. Hendricks also has rather poor cardio, at least in comparison to Kampmann, so if he hurts Kampmann early but can't put him away, it's possible that he blows himself up, kind like what Jake Ellenberger did. If Hendricks conserves his energy, consistently lands takedowns, and hurts Kampmann on the feet then I think he can win the decision. But I'm leaning towards Kampmann in this fight as I think he'll be able to out-strike Hendricks, make him work in the grappling department, and eventually wear him down to get a stoppage.
Winner: Kampmann, TKO, Round 3
The staff picks Johny Hendricks, 4-1.

---
---
UFC Welterweight Championship Bout: Georges St-Pierre (#1 WW) vs. Carlos Condit (#2 WW)
Dustin James: If it feels like it's been forever since GSP fought, that's because it has. It's been so long since we last saw GSP in the Octagon, that I almost forgot what one of the top ranked pound-for-pound MMA fighters looks like in action. I was honestly waiting for the unfortunate news of this fight not happening due to another GSP injury (DEBBIE DOWNER ALERT!!!), but lo and behold…..it looks like it's going to happen. The big question heading into this fight is obviously, what will GSP look like after over eighteen months off from fighting? Personally, I don't think the long layoff is going to have much of an impact on GSP. GSP is a natural athlete and is one of the best MMA fighters of all-time and I seriously think the guy could walk away from the sport for 3 years and come back and kick the majority of the welterweight division's asses. Remember when Michael Jordan walked away from the NBA and came back a few seasons later and never missed a beat? That's what we'll see from GSP this weekend. Carlos Condit is a damn good fighter and GSP would be stupid to overlook him, but GSP isn't stupid and he also happens to be a better overall fighter than Condit is. I'm sure there will be some people tempted to take Condit in an upset over GSP due to the fact that it's been forever since we saw GSP in the cage, but something tells me those people will be looking foolish come Sunday morning. I expect GSP to be GSP this weekend and hopefully Anderson Silva vs. GSP will be coming to a PPV screen near everyone in the spring.
Winner: Georges St. Pierre, Decision
Dan Plunkett: St-Pierre coming off an ACL tear is the wild card here. Without it, I don't hesitate to pick St-Pierre via his grappling prowess. Condit is dangerous on the feet, he'll attack even when he's tired, and he's very good on the ground. Ultimately, I can't pick against St-Pierre until he loses, shows clear signs of slowing down, or meets a fighter that is a really bad match-up for him. That isn't the case, so…
Winner: Georges St-Pierre, Decision.
Jeffrey Harris: There are a few x factors going into this fight. First off is the long layoff for GSP going into this fight. You would think with a guy as exceptional as GSP that ring rust will not be an issue here. Personally, I don't want to bet on GSP having ring rust, the long layoff adversely affecting him, or not as recovered from his surgery as his camp claims. The other variable is how neither guy will have Greg Jackson in their corner this time. Jackson reportedly didn't work with either fighter going into this fight. Ultimately, while Condit is a tough dude, I don't think just being hungrier is enough to beat GSP. Condit is a dangerous striker but so is GSP. People often forget, but as good of a wrestler GSP is, he's ridiculously quick standing up and his boxing, kickboxing, and overall striking game is always top notch. So I don't want to bet on GSP's injury throwing off his footwork and striking game. GSP has talked about getting the finish a lot, but in a recent interview on UFC Tonight he also said it would be a "good fashion victory." I think we are seeing another GSP grind 'em out decision special on Saturday night.
Winner: Georges St. Pierre, Decision
Patrick Mullin: FINALLY! After what seems to be a layoff of forever and a day Georges St. Pierre is back. What remains to be seen is if he is still one of the pound for pound best and standing in his way is the extremely hungry Carlos Condit. GSP has almost two years of rust to knock off and he won't find any give from his worthy challenger. While inactivity can be a troubling factor GSP is one of the most well prepared fighters we've ever seen compete. He's smart enough to realize when he's ready to come back and has known since February that Condit would be his next foe.
Condit did things against Nick Diaz that could serve him well in this bout. Constant movement and hard, accurate striking are good ways to try to fight off GSP's relentless wrestling. However Condit was facing a Diaz who wasn't looking to take him down until the very end and once he tried he was able to secure the takedown and control Carlos. We've also seen Condit controlled on the ground by Martin Kampmann and if those guys can do it I have no doubt GSP can, layoff be damned.
Winner: Georges St. Pierre, Unanimous Decision
Jeremy Lambert: THE CHAMP IS BACK! Then again I'm not really sure who the champion is since they both have titles but neither man considers himself the true champion. So. THAT CANADIAN GUY IS BACK! I don't share the same kind of love for GSP as my writing partner (then again, who does?) but I do like watching the best compete, and no one can say that St. Pierre isn't the best welterweight of all-time. Now, while GSP gives his usual cliched quote of "(Upcoming opponent) is the toughest opponent of my career" this time there's some believability to it. Not just because Condit is a very tough and talented fighter, but also because GSP is coming off an ACL injury and a year layoff. For a guy who relies a lot on speed and quickness, an ACL injury is tough to overcome, and for a guy that relies a lot on timing and rhythm, being away for over a year isn't an ideal situation. Honestly, that's GSP's biggest obstacle in this fight. If he goes in there worried about his knee and fights too cautious, Condit has the skills and power to make him pay. But if he fights like nothing ever happened, then this is a pretty perfect match-up for him. While Condit's takedown defense has improved, he's active off his back, and he's gotten better at getting to his feet, he's not going to stop the takedowns of St. Pierre, he's not going to submit him, and he's probably not going to get up either. When it comes to MMA wrestling, St. Pierre might be second to none. He has a quick shot, which he sets up excellently with his strikes and times almost perfectly every time. And on the ground, while he's been criticized for just laying on top of guys, he does so with pretty tremendous success as guys can't mount any kind of offense when they're on their back because he's so good at neutralizing them. Condit has very good sweeps, but going for them is just going to open himself up for St. Pierre to pass. Now maybe that's not a bad thing since GSP has pretty terrible back control and that's Condit's best chance of getting up, but that's also a huge risk to take. On the feet is where this fight is interesting because Condit is a well-rounded striker who showed very good defense against Nick Diaz. GSP is a great striker in his own right, but on the feet is where he'll likely be the most uncomfortable with his injury and layoff. I'm sure he'll throw his little superman punch-leg kick combo that Samer orgasms over, but getting comfortable and getting his timing back isn't something that is going to happen right away. Unlike a lot of guys who re-enter the cage after a long layoff though, GSP is extremely smart and efficient at what he does. He wouldn't have taken this fight if he wasn't 100% ready and he's not going to overcompensate for the layoff and injury like a lot guys try and do. Condit's best chance is to jump on GSP early and not let him get re-established in the cage. I understand why Condit fought Diaz the way he did, but trying to pick his shots and using footwork is playing into GSP's game. He needs to come out like he usually does and that's get in GSP's face and make him uncomfortable. If GSP can show his usual composure, turn that aggression against him, and take him down, then more power to him. But Condit has to try. And even if it doesn't work for that first round, then he still has four more rounds to change strategies. Even though this is as beatable as GSP may ever be until age catches up to him, I can't pick against the guy. The first few minutes might have my MMA life partner on suicide watch, but after that, GSP's wrestling and grappling should be good enough to shut down Condit for the rest of the fight. He won't finish Condit, because he doesn't finish anyone and Condit is extremely tough to finish, but he'll win.
Winner: St. Pierre, Decision
The staff picks Georges St-Pierre, 5-0.
---
Remember to join 411's coverage of UFC 154 on Saturday night!
comments powered by Disqus