411's MMA Roundtable Preview – UFC 155: Dos Santos vs. Velasquez II
December 28, 2012 | Posted by
WELCOME:
Cain Velasquez challenges Junior dos Santos in a rematch for the heavyweight title in the main event of UFC 155! In the co-main event, Joe Lauzon takes on Jim Miller. Also, middleweight contenders Yushin Okami and Alan Belcher meet in a rematch of the debut UFC fight of both fighters. Plus, Tim Boetsch fights Costa Philippou, Chris Leben vs. Derek Brunson, and more!
THE STAFF:
From MMA's 3R's, Jeffrey Harris!
From The Blueprint, Patrick Mullin!
From Occupy the Throne, Jeremy Lambert!
From The Juggernaut MMA News Report, Jonathan Solomon!
From The Greatest MMA News Column, Dan Plunkett!
From MMA on Tap, Jon Butterfield!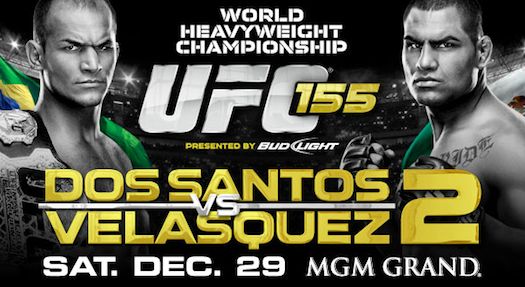 THE PRELIMINARY CARD:
First three prelims to air on Facebook.com, rest on FX
Featherweight Bout: Max Holloway vs. Leonard Garcia
Jeffrey Harris: Max Holloway, Decision
Patrick Mullin: Leonard Garcia, Split Decision
Jeremy Lambert: Holloway, TKO, Round 3
Jonathan Solomon: Max Holloway, Decision
Dan Plunkett: Holloway, Decision.
Jon Butterfield: Max Holloway, Submission, Round Two
The staff picks Max Holloway, 5-1.
Flyweight Bout: Chris Cariaso vs. John Moraga
Jeffrey Harris: John Moraga, Round 1, TKO
Patrick Mullin: John Moraga, Unanimous Decision
Jeremy Lambert: Cariaso, Decision
Jonathan Solomon: Chris Cariaso, Decision
Dan Plunkett: Cariaso, Decision.
Jon Butterfield: Chris Cariaso, Decision
The staff picks Chris Cariaso, 4-2.
Heavyweight Bout: Todd Duffee vs. Phil De Fries
Jeffrey Harris: Phil De Fries, Round 1, TKO
Patrick Mullin: Todd Duffee, TKO, Round 2
Jeremy Lambert: Duffee, TKO, Round 1
Jonathan Solomon: Todd Duffee, TKO, Round 1
Dan Plunkett: Duffee, TKO, Round 1.
Jon Butterfield: Todd Duffee, TKO, Round One
The staff picks Todd Duffee, 5-1.
Lightweight Bout: Michael Johnson vs. Myles Jury
Jeffrey Harris: Michael Johnson, Decision
Patrick Mullin: Michael Johnson, Unanimous Decision
Jeremy Lambert: Johnson, TKO, Round 1
Jonathan Solomon: Michael Johnson, Decision
Dan Plunkett: Johnson, Decision.
Jon Butterfield: Michael Johnson, Decision
The staff picks Michael Johnson, 6-0.
Lightweight Bout: Melvin Guillard vs. Jamie Varner
Jeffrey Harris: Jamie Varner, Round 2, Submission
Patrick Mullin: Jamie Varner, Submission, Round 2
Jeremy Lambert: Varner, Submission, Round 2
Jonathan Solomon: Melvin Guillard, TKO, Round 1
Dan Plunkett: Guillard, TKO, Round 1
Jon Butterfield: Melvin Guillard, Decision
The staff calls it a draw, 3-3.
Bantamweight Bout: Erik Perez vs. Byron Bloodworth
Jeffrey Harris: Erik Perez, Round 1, TKO
Patrick Mullin: Erik Perez, TKO, Round 2
Jeremy Lambert: Perez, Decision
Jonathan Solomon: Byron Bloodworth, Submission, Round 2
Dan Plunkett: Perez, TKO, Round 1
Jon Butterfield: Erik Perez, Submission, Round One
The staff picks Erik Perez, 5-1.
Bantamweight Bout: Brad Pickett vs. Eddie Wineland
Jeffrey Harris: Brad Pickett, Decision
Patrick Mullin: Eddie Wineland, KO, Round 3
Jeremy Lambert: Wineland, Decision
Jonathan Solomon: Brad Pickett, Decision
Dan Plunkett: Wineland, Decision.
Jon Butterfield: Brad Pickett, Decision
The staff calls it a draw, 3-3.

---
THE MAIN CARD:
Middleweight Bout: Chris Leben vs. Derek Brunson
Jeffrey Harris: Chris Leben faces Strikeforce transplant here Derek Brunson. I want to pick Leben here despite his past issues. Last time he was on an extended suspension/layoff he got submitted by Jake Rosholt. I like Leben, but it just seems like he can't exorcise his demons and his issues with alchol and substance abuse. Leben definitely brings a great deal of experience and he's one of the best brawlers in the division, but I don't know after all he's been through I'm not sure I can pick him here even against Brunson.
Winner: Derek Brunson, Decision
Patrick Mullin: This is Chris Leben's umpteenth attempt at proving he's gotten all of his bagggage together and he's ready to move on in his career. I stopped caring about Chris Leben because the guy is a perpetual letdown and really gives you no reason to suspect he will ever clean up his act. That being said he gets a soft match up here and will likely catch Brunson at some point with his big left hand and get a much needed win.
Winner: Chris Leben, TKO, Round 2
Jeremy Lambert: This fight shouldn't be on the main card over Brad Pickett vs. Eddie Wineland but it once again goes to show the UFC's love for bigger guys and Leben. Brunson is a decent wrestler but I don't know if he's good enough to put Leben down. On the feet, Brunson is extremely wild and his chin has to be questioned after being KO'd by "Jacare" Souza. Leben isn't a technical striker or anything, but he hits really hard and has a great chin. Brunson can win if he's able to grind out Leben against the cage and scoring half takedowns, but sooner or later I expect Leben to connect with a big punch that puts Brunson out.
Winner: Leben, TKO, Round 2
Jonathan Solomon: Brunson makes his UFC debut on short notice and it could also be his final bout inside the octagon unless he impresses. No pressure. I won't say it's automatically going to be a pattern but the last time Chris Leben returned from a lengthy suspension, he was choked out by Jake Rosholt. Coming off his knockout loss to Jacare Souza in August, there's no reason to assume Brunson will be able to brawl with Leben and be effective. So, look for him to go for takedowns as soon as possible with the hope of keeping the Crippler on his back for the majority of the three rounds. As long as the fight remains standing, it's Leben's fight to lose.
Winner: Chris Leben, TKO, Round 1
Dan Plunkett: Leben hasn't fought in a year due to a drug test failure, but he seems to have gotten his life in order in the meantime. This would be a much easier pick if Leben was coming off normal rest because he has a very good chin and big power in his punches, but the layoff could definitely play a factor. Still, I'm going with Leben here.
Winner: Leben, TKO, Round 2.
Jon Butterfield: On paper, this fight makes no sense as far as Derek Brunson's career progression goes. After being unfortunate to lose to Kendall Grove by split decision, Brunson got the step up he probably deserved anyway against 'Jacare' Souza – unfortunately for Brunson, that fight lasted just 41 seconds, as the BJJ ace knocked him clean out. Chris Leben is a far more fearsome striker than 'Jacare', so another KO defeat isn't out of the question, especially if Brunson gets trapped against the fence. Brunson needs to stick and move against the Hawaiian here, and score the occasional takedown where possible to look to try and tire out and (ultimately) out-point 'The Crippler' – the longer it goes, the more likely that outcome becomes. But Leben is a bonafide finisher, and Brunson doesn't appear to be at this level just yet. Struggling to beat Grove (even if he DID beat Grove) is a bad enough sign – getting knocked out by a relative rookie in the striking department is worse. Leben should win, and should finish.
Winner: Chris Leben, TKO, Round One
The staff picks Chris Leben, 5-1.

---
Middleweight Bout: Yushin Okami vs. Alan Belcher
Jeffrey Harris: This fight is a good test for Alan Belcher and a chance to get a win back over one of his earlier UFC losses when he was not near as good of the fighter he looks to be as of late. Okami is a big dude and he has good wrestling and clinch work and he's good at dictating where the fight ultimately goes. I think Okami's problem though is that he is too passive in his performances and he's not good at going for the finish or the kill like Belcher has done recently. Belcher has shown a much improved grappling game in his recent fights and he stomped Rousimar Palhares who many thought was going to snap one of his limbs. It might be a bit of a leap of faith, but I'm going with Belcher here as he continues his rise. The key to fighting a guy like Okami is aggression and keep pushing the pace forward. If you play a counter and chess game with Okami like Munoz and Marquardt did you will likely lose a boring split decision.
Winner: Alan Belcher, Decision
Patrick Mullin: Both guys need this win. Belcher needs it to prove that he's ready to move up to the top tier middleweights in the division and Okami needs it to help erase the sting of his defeat to Tim Boetsch two fights ago. When these guys fought last time Okami used his wrestling to grind out a unanimous decision. While Belcher has added diversity to his all around attack and defense in the cage Okami has added a pretty decent boxing game to his arsenal. Ultimately Belcher needs to use constant movement and stay away from the clinch and potential takedowns, and I just don't think he can for three rounds.
Winner: Yushin Okami, Unanimous Decision
Jeremy Lambert: How come Belcher isn't fighting Boetsch. That fight makes a lot more sense but whatever. These two met years ago and it sucked. Since then, Belcher has improved a lot while Okami has just improved. On the feet, Belcher should be too fast and too technical for Okami, who has improved his boxing, but is still kind of hittable. Okami is best at getting the clinch and just wearing on guys, although he's not as strong as he's made out to be. If Okami can get on the inside, clinch up, and drag Belcher to the ground then he'll be able to win this fight. And given Belcher's tendencies to fight stupid, that could very well happen. But I think Belcher will use his speed and movement to stay away from Okami, pick him apart with strikes, and win a decision.
Winner: Belcher, Decision
Jonathan Solomon: The "I WANT ANDERSON SILVA" train of Alan Belcher's rolls into the station in Las Vegas this weekend and he must dispose of Yushin Okami. They fought in 2006 when both men debuted in the UFC and it was Okami's superior grappling at the time which earned him the decision. Fast forward over six years later and it's Belcher's time to shine. He has improved as both a striker and a grappler and should not be bullied in the cage by the Judo black belt. Although Yushin was well on his way to beating Tim Boetsch by decision in Japan, he had a lapse and was knocked out a minute into the final round. This was on the heels of his poor display against Anderson Silva six months earlier. As for Belcher, he's coming off an exhilarating performance where he finished Rousimar Palhares on the ground with strikes. Alan is no Buddy Roberts and Okami will find trouble trying to get the fight to the ground. Belcher will pick him apart and knock off another name.
Winner: Alan Belcher, TKO, Round 2
Dan Plunkett: This is the rightful #2 fight on the show. Belcher is really talented and hasn't decisively lost a fight in more than four years. Now on a four fight win streak, a win over Okami would put the 28-year-old close to a title shot. In Okami, he faces a proven top fighter the caliber of which he's never faced in his career (the first fight between the two happened before Okami was fully established). I think Belcher will have the striking advantage and he also has a really good ground game. However, Okami is good enough to the point he won't be completely out-matched in any aspect of the fight. To win the fight, Okami will probably have to take it to the ground and stay in top position, but I don't trust his ability to do that for fifteen minutes against a top level guy in Belcher.
Winner: Belcher, Decision.
Jon Butterfield: Despite fighting irregularly, Alan Belcher has continued to improve with every fight. His victory over Rousimar Palhares was something else, particularly as Belcher was bold enough to enter the Brazilian Jiu Jitsu ace's lair, but I don't believe for a second that 'The Talent' can win a striking battle with Okami. While my esteemed colleagues point out, aggression will be Belcher's friend against Okami, Okami is a little better technically, and unlikely to be out-paced. Having said that, Belcher is the better-rounded fighter, and though Okami has worked diligently on his wrestling, he's probably still got an advantage in the grappling department. That should be a significant factor in what I expect will be a genuinely multi-dimensional fight, but ultimately I feel Okami's superiority on the feet pays dividends in a very tight decision victory.
Winner: Yushin Okami, Decision
The staff picks Alan Belcher, 4-2.

---
Middleweight Bout: Tim Boetsch vs. Costa Philippou
Jeffrey Harris: This fight doesn't really put either guy in line for a title shot, but a win does mean getting a fifth straight win for both guys. Costa Philippou has some good boxing and for a striker he's shown some strong grappling and takedown defense. However Boetsch in his transition to middleweight has shown he can be a tough guy to put away. Philippou has also not really faced a wrestler as good as Boetsch before. I think it will be a close, uneventful fight in which Boetsch will win a grinding decision.
Winner: Tim Boetsch, Decision
Patrick Mullin: Speaking of Tim Boetsch, he gets the unfortunate luck of missing out on a fight with another top contender in the injured Chris Weidman and has to settle for Weidman's teammate Costa Phillipou. Philippou isn't outright bad at anything but he's not great anywhere. Boetsch is riding wins over Yushin Okami and Hector Lombard on a career resurgance at middleweight and I just don't see what Philippou has to offer him that can beat him. Boetsch is bigger, stronger, a better wrestler, and has heavier hands. He just shouldn't lose here.
Winner: Tim Boetsch, Unanimous Decision
Jeremy Lambert: I'm not high on Boetsch, but I'm high enough on him to think that he'll win this fight. The best thing I can say about Boetsch is that he fights a smart fight. When he knows that movement beats Hector Lombard, he uses movement. When he knows that he needs a miracle comeback KO, he delivers a miracle comeback KO. He's not really a great fighter, but he fights smart and fights to his strengths. Philippou is a decent fighter but he doesn't offer much on the ground, which is where I figure Boetsch is want this fight. We've all seen Boetsch throw guys around, and while I'm not sure he'll be able to throw Philippou around, I do think that he'll be able to get him on the ground with relative ease. It won't be a pretty fight (and when is a Boetsch fight pretty?) but it'll get the job done.
Winner: Boetsch, Decision
Jonathan Solomon: It sucks Chris Weidman was hurt because instead of having one top contender knocked off, we get top-5 middleweight Boetsch against Philippou looking to make his name. Boetsch is a big, powerful middleweight with a wrestling background and a good chin. He proved extremely durable in his win against Yushin Okami and he fought a "safe" fight against Hector Lombard and won. Philippou may be on a four-fight win streak like his opponent, but I cannot see how he dictates much of anything in this fight. Unless he happens to catch Boetsch with a big punch that rocks him, the wrestler will control the action for three rounds and add another notch to his proverbial belt.
Winner: Tim Boetsch, Decision
Dan Plunkett: Philippou has good striking, but he's coming in on short notice and Boetsch is a really tough guy. Boetsch is a big middleweight with good wrestling and some power; I like him in this fight.
Winner: Boetsch, Decision.
Jon Butterfield: Costa Philippou has confounded me at every turn. Wins over Jared Hamman, Court McGee and Riki Fukuda are all impressive feats, and feats I wasn't sure he was capable of achieving before. Then again, Tim Boetsch has been doing the exact same thing since dropping to 185, only against far more impressive opposition. Beating Yushin Okami and Hector Lombard back-to-back is something else, and a very good reason for picking him to beat a comparative rookie in the Cypriot-American. However, stylistically, this strikes me as a bad fight for Boetsch. Against a man every bit as big and powerful as himself (both dropped from light heavyweight, remember), Boetsch can expect to find his wrestling nullified – Boetsch isn't particularly technical, and I don't expect him to be capable of securing takedowns with any regularity since Costa matches him for strength. Boetsch also doesn't seem to possess as good a gas tank as Philippou, and he certainly isn't as technical in his boxing. Despite four wins on the bounce, Costa looks to be very underrated here, and that may come from the fact that, despite having obvious striking power, he isn't finishing fights. Well he won't finish Boetsch either, but I expect him to hurt him badly, deny him takedowns, and work hard to get a decision win. Boetsch surprised Okami despite being second best, then stumbled upon a statuesque Lombard. Now, however, he's facing a man every bit as hungry as the last guy that beat him (and that would be Phil Davis).
Winner: Costa Philippou, Decision
The staff picks Tim Boetsch, 5-1.

---
Lightweight Bout: Joe Lauzon vs. Jim Miller
Jeffrey Harris: An awesome fight for the lightweight division and the co-main event as the 155 weight class has gotten more competitive and bloodthirsty than ever before. Lauzon is one of the most dangerous guys at lightweight without a doubt. He's coming to finish you or bust. He's only gone to decision once in his UFC career and that was a fight with Sam Stout where Stout managed to survive a tight submission attempt in the first round which Lauzon dominated before Stout was able to secure the last two rounds to get a victory. Miller is a formidable grappler and BJJ practitioner in his own right. Both guys own submission wins over Melvin Guillard. Both guys are good strikers. While both guys are two of my most favorite lightweight competitors, I think the reason I want to give Miller the edge here is because of his wrestling skills and background. I think that will help make the difference for Miller to dominate this battle and get the duke.
Winner: Jim Miller, Round 3, Submission
Patrick Mullin: This is a great fight. You have two very offensive minded guys with great grappling skills who each match up very well. What I believe this will ultimately come down to is that Lauzon just doesn't defend himself well and is a one track fighter where if he's not on offense he's not winning. Jim Miller may not be as active as Joe Lauzon, but he's much better at defending himself against attackers than Lauzon is. As soon as Miller turns up his boxing attack and uses his superior wrestling to put Joe on his back I don't see Lauzon able to get off of his back until the bell sounds in each round.
Winner: Jim Miller, Unanimous Decision
Jeremy Lambert: Miller isn't Nick "The Tooth" so I don't expect Lauzon to have his way with him in the grappling department. In fact, I don't expect Lauzon to have his way with Miller in any department. Lauzon is excellent in the first couple of minutes, maybe the best in the sport. When he has a guy hurt, he finishes them. Even if he doesn't have a guy hurt, he grabs hold of a limb, he's going to finish the submission. After those first couple of minutes though, Lauzon fades and fades badly. He showed some decent cardio against Jamie Varner, but lets not forget that Varner was dead tired as well (he took the fight on short notice) and Varner is as flakey as they come. Miller is well-rounded and should have the advantage striking and wrestling. Even if Lauzon is the better grappler (debatable), I don't think he's so superior that he'll be able to submit Miller. I think this will be an entertaining fight because Lauzon doesn't know how to fight any other way, but I see Miller just edging Lauzon, especially in the later rounds.
Winner: Miller, Decision
Jonathan Solomon: The leading candidate for 'FIGHT OF THE NIGHT,' we have two exciting lightweights on tap in this co-main event. The problem for Joe Lauzon with this matchup is the fact that it's hard to discern him being better in any area than Jim Miller. Submission wise, it's Miller. Boxing, it's Miller. Wrestling, it's Miller. What Lauzon has going for him is the fact when he hurts his opponents, he goes in with reckless abandon for the finish. This scenario has yet to play out against a stable, top 10 fighter. Aside from his debut knockout win against Jens Pulver six years ago, his biggest win came against Melvin Guillard via a 47-second submission. Jim Miller has only been finished once in his career, his last fight in May, when Nate Diaz battered him into submission four-minutes into the second round. Miller should be able to avoid Lauzon's submission game and standing, he's the one with more technical boxing. Plus, he has not proven to be a fighter who tires as the fight progresses, something that's been a criticism about Lauzon for years. Add it all up and it does not bode well for Boston's favorite fighter.
Winner: Jim Miller, Submission, Round 2
Dan Plunkett: Lauzon is a very good fighter, but he sometimes tires later in fights. I think Lauzon will get the better of Miller early, but the New Jersey-native will come on strong in the final two rounds.
Winner: Miller, Decision.
Jon Butterfield: Joe Lauzon profited greatly from an abysmal performance from Melvin Guillard in 2011, and has since gone 1-1 against ex-WEC opposition in Anthony Pettis and Jamie Varner. Before that, he comfortably dispatched Curt Warburton, but lost by submission to George Sotiropolous. That puts Lauzon pretty clearly around the top 10-15 mark, but no higher. Jim Miller, however, has firmly established himself in the top 5 or 6, losing only to Benson Henderson and Nate Diaz, and beating pretty much everyone else. Lauzon, then, needs to prove that he isn't in the 'everyone else' category – but whether he can or not is a different matter. Miller is a world class grappler, and a tenacious one at that. Lauzon has better striking, and no glaring weaknesses, but I just can't shake the feeling that Miller will embroil him in a ground battle he should be trying to avoid. In that ground battle, Miller will eventually secure a submission against a top class opponent that will be lauded for months to come – more so, because Lauzon's jiu jitsu is legit.
Winner: Jim Miller, Submission, Round Two
The staff picks Jim Miller, 6-0.

---
UFC Heavyweight Championship Bout: Junior dos Santos vs. Cain Velasquez
Jeffrey Harris: Cain Velasquez and AKA have basically tried to introduce the narrative that the first loss to Junior dos Santos didn't count since Cain was injured and not his true self. OK, whatever, so now we have to take both guys at their word that they are healthy and injury free which if you also believe most fighters they never truly are when fight time comes around. JDS was also reportedly injured for the UFC on Fox fight with a torn meniscus. Now the first fight I did pick Cain Velasquez. And while this fight I am edging toward Cain, if he manages to avoid JDS' power this time he could utilize his wrestling to secure a decision victory. I think though I want to pick JDS, not just because of his superior boxing and pure one punch/one hit knockout power but also his takedown defense. He's faced some good wrestlers and grapplers and they just haven't been able to get JDS on the ground or really keep him there and make him work. That could change here, but I'm not going to bet on it.
Winner: Junior dos Santos, Round 2, TKO
Patrick Mullin: If you read this week's Blueprint you can see what little chance I think Cain has in this fight. Cain is a great fighter but he just has nothing to offer Junior here. He won't take Junior down. On the off chance he does he won't keep him there and he's already shown all it takes is one big shot from JDS to end his night.
Winner: Junior dos Santos, KO, Round 1
Jeremy Lambert: Despite what happened in their first fight, this is still a hell of a fight. In terms of skill, these two match up extremely well. Sure Velasquez got KO'd in 64 seconds last time out, but that doesn't mean that he doesn't have the skills to take out JDS this time around. If Velasquez is able to get inside, use his dirty boxing, transition into a takedown, and put JDS on his back, the champion is going to be in a ton of trouble. On top, Velasquez may not have world-class control, but he does have world-class ground and pound by making every strike count. Velasquez was unable to get JDS down in the first fight because it only lasted 64 seconds, but lets not act like it can't happen. Velasquez is also a competent striker, but he's not on the level of JDS, especially with his defense. Velasquez is far too hittable and JDS hits really hard with every punch he throws. Velasquez has to be smart on the feet. Either use leg kicks to keep a distance or get inside and clinch up. Anytime he's in punching range, he's in trouble. Even if JDS doesn't throw a KO punch, he has an excellent jab that can damage up Velasquez and be used to set up his bigger punches. The questions surrounding JDS are always his takedown defense and cardio. We've never seen him off his back and he's punched himself tired in the past. We may never get an answer to those questions though if he just keeps knocking guys senseless in the first round. Even though I've been on the Cain Train since day one, I'm off it for this fight. I think JDS is going to be able to keep this fight standing and he'll once again catch Cain with a punch. It will go longer than 64 seconds, but the result will be the same.
Winner: Dos Santos, TKO, Round 1
Jonathan Solomon: Yes, both men went into their November 2011 fight on Fox with serious knee injuries. Cain proved to be stuck in mud and was knocked out in just 64 seconds by dos Santos. After seeing Velasquez return in May and demolish Antonio "Bigfoot" Silva and with no reason to believe he's hurt entering this fight, I like his odds. The former champion will not be flatfooted and will force JDS to defend countless takedown attempts and it will be impossible for the champion to defend each and every one. If it's a straight brawl, yes, this is dos Santos' fight to lose. His mix of speed, power and almost fearless striking display has proved to be too much for every opponent he's stepped into the octagon to fight. However, when Velasquez is able to establish his wrestling game in a fight, there's almost no answer. So yes, this scenario is predicated on the fact that for the first time, we will see how effective JDS will be off his back. He defended one attempt last year before winning the fight, but this time around, he'll have to do it for at least two rounds if not more. I'm confident in Velasquez's freakish strength, that he can keep the Brazilian down and punish him.
Winner: Your WINNER and NEW UFC Heavyweight Champion, Cain Velasquez, TKO, Round 3
Dan Plunkett: Nothing different here from the first fight, aside from both supposedly being healthy this time. Dos Santos has power, better boxing, excellent takedown defense, and he's very good at getting back to his feet after being taken down. Apparently, he also has a strong ground game, but we've never seen that. To his detriment, Junior has tired late in some fights, and certainly won't be able to match the pace of the supremely conditioned Velasquez in the late rounds. Velasquez is good everywhere. He's a good striker, a very good wrestler, and when he's in an advantageous position he's relentless. On the negative side, he's hittable, and JDS hits really hard. Without a knee injury, Velasquez is in a much better position to win here than last time out because he'll be able to move better and use his wrestling more effectively. It's not going to be an easy task to take Dos Santos down, especially early, but it's certainly a possibility. If the match-up of skills favors anyone, it's Dos Santos with his takedown defense and knockout power. For that reason, I'm leaning towards the champion, but it could very well go the other way this time around.
Winner: Dos Santos, TKO, Round 2
Jon Butterfield: I picked Cain Velasquez prior to the first fight, and I see no reason to change my pick here. Well, aside from that punch that rendered Velasquez prone on the mat… however, I believe Cain Velasquez fought that fight poorly, made the wrong decisions from a tactical standpoint, and, more pressingly, learned from them and WON'T make those same mistakes again. Velasquez seemed to believe the hype regarding his own kickboxing ability last time around, and probably would have fought the same way – with the same results – against K-1 Champion Alistair Overeem. However, look how Cain fought against Bigfoot – there wasn't the slightest interest in a striking battle, and once Cain had Bigfoot grounded, the unmitigated massacre of a top 5 heavyweight began. Taking JDS down and keeping him there, however, will be incomparable to grounding the comparatively clumsy and sluggish Bigfoot Silva, and that's where the beauty lies with this fight. Cain SHOULD know what he has to do. Junior dos Santos SHOULD know what he has to do. And we SHOULD have a prototypical wrestler vs striker affair. The minute Cain starts throwing leg kicks, JDS wins. The minute he puts JDS on his back, however, and the minute JDS can't wriggle free, he's in huge trouble – and that's what I expect to happen here. JDS is a fine counter-wrestler, but Cain is just about as good as it gets when it comes to the 265 lb division. Don't put too much stock in dos Santos' ability to evade Carwin's wrestling – Cain is on a whole different level.
Winner: Cain Velasquez, TKO, Round Two
The staff picks Junior dos Santos, 4-2.
---
Remember to join 411's coverage of UFC 155 on Saturday night!
NULL
comments powered by Disqus