411's MMA Roundtable Preview – UFC 156: Aldo vs. Edgar
February 1, 2013 | Posted by
WELCOME:
Frankie Edgar drops to featherweight to challenge Jose Aldo for the title in the main event of UFC 156! Heavyweights will also do battle as Alistair Overeem returns against Antonio "Bigfoot" Silva. In the light heavyweight division, Rashad Evans faces Antonio Rogerio Nogueira. Plus, Jon Fitch takes on Demian Maia, Joseph Benavidez vs. Ian McCall, and more!
THE STAFF:
From MMA's 3R's, Jeffrey Harris!
From Occupy the Throne, Jeremy Lambert!
From The Blueprint, Patrick Mullin!
From the 411 MMA Top 10, Alex Rella!
From Locked in the Guillotine, Robert Winfree!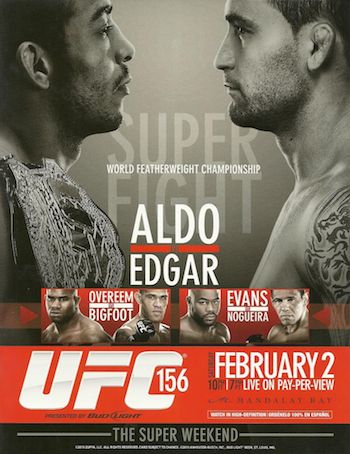 THE PRELIMINARY CARD:
First two prelims to air on Facebook.com, rest on FX
Bantamweight Bout: Edwin Figueroa vs. Francisco Rivera
Jeffrey Harris: Edwin Figueroa, Decision
Jeremy Lambert: Rivera, Decision
Patrick Mullin: Figueroa, Unanimous Decision
Alex Rella: Edwin Figueroa, Decision
Robert Winfree: Edwin Figueroa, Decision
The staff picks Edwin Figueroa, 4-1.
Bantamweight Bout: Chico Camus vs. Dustin Kimura
Jeffrey Harris: Chico Camus, Decision
Jeremy Lambert: Kimura, Submission, Round 2
Patrick Mullin: Dustin Kimura, Submission, Round 2
Alex Rella: Kimura, Submission, Round 1
Robert Winfree: Dustin Kimura, Submission Round 1
The staff picks Dustin Kimura, 4-1.
Lightweight Bout: Yves Edwards vs. Isaac Vallie-Flagg
Yves Edwards: Yves Edwards, Round 2, TKO
Jeremy Lambert: Edwards, Decision
Patrick Mullin: Yves Edwards, Submission, Round 3
Alex Rella: Yves Edwards, Round 2, TKO
Robert Winfree: Yves Edwards, Decision
The staff picks Yves Edwards, 5-0.
Lightweight Bout: Jacob Volkmann vs. Bobby Green
Jeffrye Harris: Jacob Volkmann, Decision
Jeremy Lambert: Green, HOOD FIGHTING!
Patrick Mullin: Bobby Green, Split Decision
Alex Rella: Jacob Volkmann, Decision
Robert Winfree: Jacob Volkmann, Submission Round 2
The staff picks Jacob Volkmann, 3-2.
Welterweight Bout: Tyron Woodley vs. Jay Hieron
Jeffrey Harris: Tyron Woodley, Decision
Jeremy Lambert: Hieron, Decision
Patrick Mullin: Tyron Woodley, Unanimous Decision
Alex Rella: Tyron Woodley, Decision
Robert Winfree: Jay Hieron, Decision
The staff picks Tyron Woodley, 3-2.
Lightweight Bout: Gleison Tibau vs. Evan Dunham
Jeffrey Harris: Evan Dunham, Decision
Jeremy Lambert: Dunham, Decision
Patrick Mullin: Evan Dunham, Unanimous Decision
Alex Rella: Evan Dunham, Decision
Robert Winfree: Gleison Tibau, Decision
The staff picks Evan Dunham, 4-1.

---
THE MAIN CARD:
Flyweight Bout: Joseph Benavidez vs. Ian McCall
Jeffrey Harris: Ian McCall is definitely good at building his fanbase online, but it looks like there seems to be a mental block that keeps him from winning in all his big Octagon performances. Benavidez might've come up short in his bid for the UFC flyweight title against Demetrious Johnson, but I'd say he's still one of the toughest flyweights in the division, and before the move down to flyweight he was still arguably a top five bantamweight in the world as well. Both guys have good striking, but I think Benavidez packs more power and he's also a much better wrestler and grappler. If he doesn't dominate McCall I think he will be able to finish this.
Winner: Joseph Benavidez, Round 2, Submission
Jeremy Lambert: McCall is going through personal problems, so we all know he's losing this fight. Even if Benavidez is the superior fighter, McCall will lose because of his personal problems. But seriously, Benavidez is the superior fighter and this isn't a title fight. I think Benavidez out-strikes McCall handily and easily avoids any takedown attempt McCall tries. I know a finish isn't all that likely, but I'm going to be an optimist and say Benavidez puts McCall away in this fight.
Winner: Benavidez, Submission, Round 2
Patrick Mullin: The best performance of Ian McCall's career came as a result of Mighty Mouse Johnson having a bad weight cut in his initial attempt to make 125. McCall hasn't ever beaten anyone of real note, nor has he ever shown himself to have an outstanding skill set of any kind. Benavidez is a guy who may not be outstanding in any one aspect but he's pretty good everywhere. McCall generally only does well when he can take his opponent down and retain top control, and I don't see him doing it to Joe. Benavidez is stronger, shorter making him more difficult to shoot on, and has immensely better striking while standing and on the mat. This should be one sided and fun.
Winner: Joseph Benavidez, TKO, Round 3
Alex Rella: I want Ian McCall to win this one, but I doubt it's going to happen. I'd give the edge to McCall in wrestling, but Benavidez is the stronger fighter overall and much more superior striker. McCall may also have trouble taking down Benavidez as he's smaller and stronger. McCall does have a pretty good chin though so it should be a fun fast paced fight.
Winner: Benavidez, Decision
Robert Winfree: So after Demetrious Johnson defended the flyweight belt we get a fight between the two men beat to get it to possibly determine the next challenger. A lot of people thought the flyweight division would be the kingdom of Joseph Benavidez when it was announced, but he failed to defeat the current champion for the first ever title and now is going to try and get back on track. I for one thought Ian McCall defeated Demetrious Johnson in their first fight, but he couldn't get anything going against him in their rematch. Both men are strong wrestlers, and both have good punches. I think this is a good fight for McCall though, his counter wrestling is generally quite strong and after his disappointing second outing against Demetrious Johnson he'll be looking to make a big statement here.
Winner: Ian McCall, Decision
The staff picks Joseph Benavidez, 4-1.
---
Welterweight Bout: Jon Fitch vs. Demian Maia
Jeffrey Harris: A very interesting fight and a big test for Demian Maia to see how far he can really go at welterweight and if he can become a contender. Fitch has more or less been a really tough gatekeeper since his title loss to Georges St-Pierre. Maia steamrolled two guys with winning records in the UFC in Dong Hyun Kim and Rick Story. Fitch however is still one of the tougher guys at welterweight. Maia is an excellent grappler and BJJ practitioner, but Fitch while he's not a submission specialist has excellent submission defense and he just knows how to get guys on the ground and grind them out. I think Maia might be able to steal a round, but Fitch still grinds this out.
Winner: Jon Fitch, Decision
Jeremy Lambert: I'm really looking forward to this fight because Fitch has consistently been one of the top welterweights and Maia has looked really good in his two welterweight bouts. I really hope this fight doesn't turn into a crappy striking battle, because Maia's striking is terrible and, while Fitch's striking might be underrated, it's nothing special and he lacks power. Now if this turns into a grappling contest, we could be in for a hell of a fight. Fitch has a hell of a top game and is one of the best in sport at shutting down his opponents offense. Maia is one of the best grapplers in the sport though and will make Fitch work to stay on top and in a dominant position. I know Fitch has great submission defense, but you can only play with fire so many times before you get burnt. If Maia gets the back or mount for an extended period of time, I think he submits Fitch. However, getting those dominant positions will be easier said than done. First, the fight has to hit the ground. Fitch is very good at clinching up, putting guys against the cage, and nuetralizing them. While Maia is an underrated wrestler, it's going to be hard for him to get Fitch down if he can't get off the cage. Maia has to get this fight to the ground to win, and even then he's going to have a hard time out-positioning Fitch for 15-minutes, espcially as the fight drags on and his cardio is tested. I think this will be a close fight, but I like Fitch to win at least two rounds with his striking, clinch work, and top game.
Winner: Fitch, Decision
Patrick Mullin: God I really want to say good things about this fight but its so hard. Jon Fitch just had a tremendously entertaining win against Erick Silva and Maia just crushed Rick Story's neck for a big time finish. However the styles involved here lead me to believe that either we'll see two guys playing defense on the ground out of respect for each man's BJJ pedigree, or they'll cancel each other out and we'll see a fight full of whiffed takedown attempts and bad striking. Ultimately Fitch is the better stand up fighter of the two and his wrestling is better than Maia's. So while he may not be able to do anything with Maia on the ground, its likely he can put him on his back and not get caught with anything which is apparently enough to win fights, right Clay Guida?
Winner: Jon Fitch, Unanimous Decision
Alex Rella: I always really enjoy wrestling vs jiu jitsu fights and I hope these guys follow up their most recent performances. Maia has been tearing through the welterweight division since he dropped down, but this is a huge jump up in competition. This may be Fitch's last chance to stay at the top of the division as well. While I'm hoping we get some exciting high level grappling, it's very possible that both fighters revert back to their unexciting former selves. We could just see Fitch controlling Maia on the ground for fifteen minutes or both guys decided not to risk it on the ground and we see some subpar striking. Maia is coming off a brutal submission victory against Rick Story, but Fitch has some of the best submission defense in MMA. Either way, I see Fitch coming out on top as he is the better striker of the two and I give him the edge on the ground too.
Winner: Fitch, Decision
Robert Winfree: I'm really looking forward to this fight, assuming both guys are ready and willing to fight. Demian Maia has looked really good since dropping to welterweight, two wins and two finishes. Jon Fitch is in a really tough spot, he's still regarded as one of the best welterweights in the sport but he's been unable to get another title shot since GSP thrashed him in 2008. If his last fight is any indication Fitch has come around to the notion of exciting fights in addition to his winning ways because his fight with Erik Silva was very fun to watch. Both men have very good takedowns, though Maia works more from the clinch where Fitch has a better shot from the outside. There's little doubt that Maia wants the fight on the mat, the question is more about Fitch and where he wants the fight. I'm torn here because either guy has a chance to win, but Fitch has such proven submission defense I'm leaning towards him.
Winner: Jon Fitch, Decision
The staff picks Jon Fitch, 5-0.
---
Heavyweight Bout: Alistair Overeem vs. Antonio Silva
Jeffrey Harris: Overeem should be able to take care of this one pretty quickly. Silva hits hard as most heavyweights do, but he's typically had a weak chin exposed by the likes of Mike Kyle, Daniel Cormier, and Cain Velasquez. Provided Overeem's conditining and cardio is there and he doesn't blow his wad with his punches early, I'm predicting he knocks out Bigfoot in the first round.
Winner: Alistair Overeem, Round 1, Knockout
Jeremy Lambert: Everyone seems to think that this fight is a foregone conclusion. Even though Overeem should KO Silva given his superior striking, power, and Silva's terrible chin, this is Overeem we're talking about. His chin isn't much better, he has a history of wilting when pressed, and he hasn't fought in over a year. Silva is an underrated wrestler and if he presses forward, why shouldn't I believe that Overeem will just fold again? That said, I still think Overeem wins this fight. Silva is just so hittable and stand so flat footed that Overeem should be able to break him down with kicks or connect with an overhand right, which Silva has a history of poorly defending. And if Silva goes for a takedown, isn't able to secure it, and is stuck in the clinch, he's really screwed given Overeem's devastating knees. If Silva can survive the first round, I like his chances, but I don't think he'll be able to do that.
Winner: Overeem, TKO, Round 1
Patrick Mullin: What happens when the immovable object meets the irresistable force? SOMEONE GETS KNOCKED THE BUGCKAW OUT! Alistair Overeem has served his suspension for testing positive for elevated testosterone levels(that would make Superman blush) and makes his return against the man known as Bigfoot. You've got two guys here who can lay you out with one strike be it a kick or punch. Ultimately while I do feel if Silva connects solidly on Overeem he can knock him out, I think his lack of speed will cost him here again as Overeem's kicks will likely land first and Bigfoot is just too hittable to avoid being knocked out by Alistair's bombs.
Winner: Alistair Overeem, KO, Round 1
Alex Rella: This should be an exciting quick heavyweight fight. Both guys are heavy hitters and will be looking for the first round finish. Overeem has been out since 2011 but, he should still come away with this one. Silva's chin has been exposed by weaker men than Overeem and he moves too slowly to get out of the way. Overeem's chin isn't great either so hopefully Bigfoot connects with some shots to make it interesting.
Winner: Overeem, TKO, Round 1
Robert Winfree: I'm not sure why someone would pick Bigfoot here. I mean, he's a decent enough heavyweight and in a division with so few legitimate middle of the pack fighters he's definitely earned his spot in the UFC. The problem here is that Overeem is a top level heavyweight. Bigfoot's only chance here is to pressure Overeem from moment one, get Overeem down and beat him up on the ground. Unfortunately I don't think Bigfoot can bring that kind of pressure consistently without getting caught by a big knee or punch. I don't think Overeem has much of a chance against the top two heavyweights, but a win here means he's earned his chance at the belt.
Winner: Alistair Overeem, TKO Round 1
The staff picks Alistair Overeem, 5-0.
---
Light Heavyweight Bout: Rashad Evans vs. Antonio Rogerio Nogueira
Jeffrey Harris: I see this as a pretty easy and winnable match-up for Nogueira. Wrestlers in the UFC have been terrible match-ups for Lil Nog and he's been dominated by the likes of Ryan Bader, Phil Davis, and Jason Brilz in a fight he should've lost. Nogueira has good boxing, but Evans' boxing and footwork is much better. I'm not sure if Evans will be able to finish Nogueira, but he definitely wins this one.
Winner: Rashad Evans, Decision
Jeremy Lambert: Evans might be the second or third best light heavyweight in the world, but he's nowhere close to a title shot after just losing to Jon Jones. Thus he gets paired up with Nogueira, who is good, but has had a pretty disappointing UFC run. Nogueira is a good boxer, but he has a tendency to get sloppy and is pretty hittable. Evans is the more diverse striker, is faster, and has more power. He's also a solid counter puncher when the opportunity presents itself. Of course the biggest advantage Evans has in this fight is his wrestling. Nogueira doesn't have terrible takedown defense, but Evans is great at using his strikes to set up his takedowns and quickly changing levels. On the ground, Nogueira has good sweeps, but his submission game isn't good enough to really threaten Evans. I don't think this will be a super impressive performance by Evans, because Nogueira is well-rounded and tough, but Evans should be able to consistently take him down and land the bigger strikes.
Winner: Evans, Decision
Patrick Mullin: I wish I could say I'm looking forward to this but on paper it has stinker written all over it. Lil Nog has a big left hand and very good grappling. However he also has no defensive head movement and the big weakness in this fight will be his lousy takedown defense. Rashad Evans' stand up is often overrated but its used effectively to set up his takedowns when he remembers he's a little more Dan Gable than Muhammad Ali. While there's always the chance Evans and his shaky chin can run into a Nog left cross, ultimately I expect Rashad to take this fight to the ground as soon as possible to avoid that scenario. Rashad's top control is solid if not outstanding and its not likely Nog catches him with submissions from the bottom. This is likely to be close to 15 minutes of Rashad on top landing just enough strikes to avoid being stood up, without being able to finish Nog.
Winner: Rashad Evans, Unanimous Decision
Alex Rella: This is a good fight to get Rashad Evans back on track. Nogueira has always been a good grappler with some nice boxing but, Evans is better in every aspect. Evans uses good striking and excellent footwork to set up takedowns as good as anybody. Evans some great top control and Little Nog has been dominated by wrestlers nowhere near Evans' level. Evans has been out for awhile, but hopefully he returns to top form.
Winner: Evans, TKO, Round 2
Robert Winfree: As odd as it sounds, this actually is a fight both guys need to win. Both men have been out of action for quite some time. Evans was last seen getting out classed by champion Jon Jones, while Little Nog stopped Tito Ortiz with some nasty body blows. Nog's UFC run hasn't been spectacular, and if history is any indicator he's in for a long night here. While Nogueira has worked hard to improve his takedown defense, Rashad Evans is a much better athlete than either Phil Davis or Ryan Bader who both had success putting the smaller Nogueira brother on his back. If Nog can keep it standing and use his reach he could hurt Rashad there, but I think that's unlikely.
Winner: Rashad Evans, Decision
The staff picks Rashad Evans, 5-0.
---
UFC Featherweight Championship Bout: Jose Aldo vs. Frankie Edgar
Jeffrey Harris: Still its almost hard for me to believe this featherweight superfight is happening with all the crazy injuries that happened last year. Aldo ruined this fight the last time it was supposed to happen by driving a motorcycle in Brazil during his training camp. Edgar has been considerably more active in the last year, but that is not something I want to bet on. I think the x-factor here is Edgar making a move down to featherweight and fighting the top featherweight in the world in his very first featherweight match-up. Edgar has done very well against much bigger guys at lightweight, but Aldo is a whole different animal. Edgar has good speed, quickness, footwork, boxing, wrestling, and takedown defense. I think though Aldo is better in most areas than Edgar. Wrestlers haven't been able to take Aldo down and hurt him. And he's also good at chopping guys down with vicious legkicks, a technique Aldo has been susceptible to in the past. I think Edgar will put in a tough effort, but I see this fight going similarly to Jose Aldo vs. Urijah Faber.
Winner: Jose Aldo, Decision
Jeremy Lambert: This is such a fantastic fight that I can't wait for. It's been over a year since we've seen Aldo in the cage, which is a real shame considering that he's one of the most dynamic fighters in the sport. He's facing his toughest competitor to date though in Edgar. On the feet, even though Edgar is a quick boxer, Aldo is much more diverse. We saw Ben Henderson have a lot of success with leg kicks in the second bout against Edgar before he completely went away from them. I expect Aldo to use a lot of leg kicks in this bout, not only because it's one of his favorite techniques, but also because the kicks will slow down the movement of Edgar. Even though Edgar moves a lot, he's still a pretty hittable fighter. If Edgar is going to win this fight, he's going to have to use his wrestling. He's been able to takedown every fighter he's faced, including BJ Penn and Gray Maynard, both of whom have strong takedown defense. Aldo doesn't have a wrestling background, but he does have quick hips and has shown excellent takedown defense throughout his career. Aldo's cardio is very questionable though, especially coming off such a long layoff, and Edgar is the type of fighter who gets stronger as the fight goes on, even if he's been decimated in the opening round. For Edgar to win, I really think he needs to take one of the first three rounds. He can't be three rounds down heading into the title rounds and need a finish, because even a tired Aldo is tough to finish. Edgar, who is notorious for his slow starts, can't afford to have one in this fight. As for Aldo, he can't afford to let Edgar off the hook if he has him hurt. So far in his UFC run, we've seen a relaxed and comfortable Aldo and not the killer that many fell in love with. I don't begrudge the guy for not taking some crazy risk, but he's just a little too comfortable to let the fight come to him. That's a dangerous mindset against someone as skilled and tough as Edgar. I'd be really surprised to see one of these two finished, but I think Aldo's diverse striking and takedown defense will be enough to win him at least three of five rounds. Edgar will make it interesting, but I like Aldo to pull off the decision.
Winner: Aldo, Decision
Patrick Mullin: If you want my full breakdown of this fight check out this week's edition of The Blueprint. Ultimately my belief is that Edgar's superior conditioning and familiarity with fighting bigger and stronger men will be huge assets to him. Aldo has been out of action for over a year and even before then his training habits and cardio have shown to be inconsistent. Edgar will use pressure to negate Aldo's speed and begin to pick off his leg kicks for takedowns after some early abuse from Aldo and ultimately take home a close unanimous decision. This will lead to an even better rematch.
Winner: And NEW UFC Featherweight Champion, Frankie Edgar, Unanimous Decision
Alex Rella: This fight should be nothing short of awesome. Aldo is the bigger and stronger fighter, but this is nothing different for Edgar. Aldo should look to copy Henderson's game plan of using leg kicks early on to limit Edgar's speed and movement. Aldo has looked great against wrestlers so far in his career, but Edgar is better than any wrestler he's faced so far. Scarface is also going to have to take the first three rounds if he expects to win as Edgar just gets better as the longer the fight goes on. I expect this will be a close decision with Edgar having the edge. He has amazing cardio, great boxing, and he should take down Aldo as well.
Winner: Edgar, Decision
Robert Winfree: This is a great fight on paper, Frankie Edgar dropping down closer to where he should be fighting. I mean really, if Edgar took his weight cutting seriously he'd probably be at bantamweight. I also agree with the general thought floating around that Frankie Edgar is one of the most underrated fighters in MMA right now. I mean, look at his track record, look at what he's accomplished, and how many times has Edgar actually been favored? He beat BJ Penn twice, finished Gray Maynard with strikes, and for my money beat Benson Henderson in their rematch. How many times does the guy have to prove himself? Unfortunately he's in the cage against one of the scariest guys in all of MMA, UFC featherweight champion Jose Aldo. Aldo has made a career out of running over people, strikers, wrestlers, they have all fallen before the champion. Aldo has power in his punches, elbows, kicks, and knees, and one of the best killer instincts in the business. Edgar has very fast hands and transitions well between striking and wrestling, better in fact than anyone Aldo has faced. Frankie Edgar will need to stay mobile and outpoint Aldo in a decision. I just don't think he will. Edgar has been clipped before, and that will spell disaster against Aldo. In the first round of their rematch Benson Henderson landed some solid leg kicks on Edgar, and Aldo's leg kicks are much more dangerous than Henderson's. Aldo also has very good takedown defense, and a great ability to get back up if he is taken down. I just have a hard time seeing Edgar fighting perfectly all five rounds, especially since he'll now have to adapt to fighting someone as fast as he is. Edgar will remain very fast, but he's used to fighting guys slower than he is. Aldo is very fast as well, and I'm not sure Edgar will be ready for that. I think the champ retains.
Winner: Jose Aldo, TKO, Round 2
The staff picks Jose Aldo, 3-2.
---
Remember to join 411's coverage of UFC 156 on Saturday night!
comments powered by Disqus