411's MMA Roundtable Preview – UFC 157: Rousey vs. Carmouche
February 22, 2013 | Posted by
WELCOME:
Ronda Rousey defends her women's bantamweight title against Liz Carmouche in the first women's fight in UFC history in the main event of UFC 157! In the co-main event, Dan Henderson battles it out with Lyoto Machida for a potential title shot. At bantamweight, Urijah Faber fights Ivan Menjivar in a rematch seven years in the making. Plus, Josh Koscheck faces Robbie Lawler, Court McGee vs. Josh Neer, and more!
THE STAFF:
From Occupy the Throne, Jeremy Lambert!
From The Blueprint, Patrick Mullin!
From MMA's 3R's, Jeffrey Harris!
From MMA on Tap!, Jon Butterfield!
From the 411 MMA Top 10, Alex Rella!
From The Juggernaut MMA News Report, Jonathan Solomon!
And from The Greatest MMA News Column, Dan Plunkett!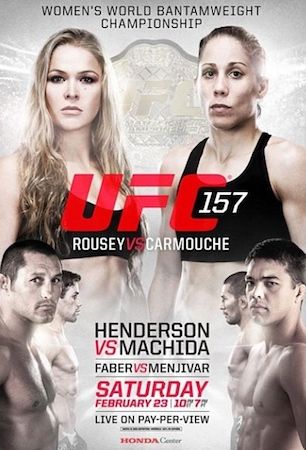 THE PRELIMINARY CARD:
First two prelims to air on Facebook.com, rest on FX
Welterweight Bout: Jon Manley vs. Neil Magny
Jeremy Lambert: Magny, Decision
Patrick Mullin: Neil Magny, Unanimous Decision
Jeffrey Harris: Magny, Decision
Jon Butterfield: Neil Magny, Decision
Alex Rella: Magny, Decision
Jonathan Solomon Neil Magny, Decision
Dan Plunkett: Magny, Decision.
The staff picks Neil Magny, 7-0.
Welterweight Bout: Kenny Robertson vs. Brock Jardine
Jeremy Lambert: The Next Big Mean, TKO, Round 3
Patrick Mullin: Brock Jardine, Unanimous Decision
Jeffrey Harris: Robertson, Decision
Jon Butterfield: Kenny Robertson, Submission, Round One
Alex Rella: Jardine, Decision
Jonathan Solomon Kenny Robertson, TKO, Round 2
Dan Plunkett: Jardine, Decision.
The staff picks Brock Jardine, 4-3.
Lightweight Bout: Sam Stout vs. Caros Fodor
Jeremy Lambert: Stout, Decision
Patrick Mullin: Caros Fodor, TKO, Round 3
Jeffrey Harris: Stout, Decision
Jon Butterfield: Sam Stout, Decision
Alex Rella: Stout, Decision
Jonathan Solomon Caros Fodor, Decision
Dan Plunkett: Fodor, Decision.
The staff picks Sam Stout, 4-3.
Featherweight Bout: Dennis Bermudez vs. Matt Grice
Jeremy Lambert: Bermudez, TKO, Round 2
Patrick Mullin: Dennis Bermudez, Submission, Round 2
Jeffrey Harris: Bermudez, TKO, Round 1
Jon Butterfield: Dennis Bermudez, TKO, Round Three
Alex Rella: Bermudez, Submission, Round 2
Jonathan Solomon Dennis Bermurdez, TKO, Round 3
Dan Plunkett: Grice, Decision.
The staff picks Dennis Bermudez, 6-1.
Lightweight Bout: Michael Chiesa vs. Anton Kuivanen
Jeremy Lambert: Chiesa, Submission, Round 2
Patrick Mullin: Michael Chiesa, Submission, Round 3
Jeffrey Harris: Chiesa, DEC
Jon Butterfield: Anton Kuivanen, Decision
Alex Rella: Chiesa, Submission, Round 1
Jonathan Solomon Michael Chiesa, Submission, Round 2
Dan Plunkett: Chiesa, Decision.
The staff picks Michael Chiesa, 6-1.
Heavyweight Bout: Brendan Schaub vs. Lavar Johnson
Jeremy Lambert: Schaub, Submission, Round 1
Patrick Mullin: Lavar Johnson, KO, Round 1
Jeffrey Harris: Schaub, Submission, Round 1
Jon Butterfield: Brendan Schaub, Lavar has no ground game, Round One
Alex Rella: Johnson, KO, Round 1
Jonathan Solomon Brendan Schaub, TKO, Round 1
Dan Plunkett: Johnson, KO, Round 1
The staff picks Brendan Schaub, 4-3.

---
THE MAIN CARD:
Welterweight Bout: Josh Koscheck vs. Robbie Lawler
Jeremy Lambert: After struggling at middleweight, Lawler did what every great fighter does: drop down. Now he'll struggle at welterweight because it's a division filled with great wrestlers and grapplers, which is an area that Lawler still hasn't improved in despite competing in MMA since 2001. If Koscheck decides to stand, there's a chance he gets caught because Lawler is a decent boxer with some heavy hands. But if Koscheck is smart, he'll be relentless with his takedowns and not give Lawler a chance to get off on his feet. When he fully commits and drives through, there aren't many fighters who Koscheck can't put on their back and Lawler will be no exception. If Lawler gasses, which is very possible considering he's never been known for his cardio and he's cutting to welterweight for the first time in nearly 10 years, then Koscheck can finish him late. If not, Koscheck will likely just control his way to a decision.
Winner: Koscheck, Submission Round 3
Patrick Mullin: Welcome back to the UFC Robbie Lawler. Lawler usually produces some fireworks and has the power to KO most guys with one clean shot. While Koscheck has shown he can be caught early in the past there's more of a precedent of Lawler having problems with good wrestlers. I think he gets taken down early and often here in a fight that winds up not being so fun to watch.
Winner: Josh Koscheck, Unanimous Decision
Jeffrey Harris: I'd be pretty surprised if Lawler came out of this with a victory. His wrestling and takedown defense has been pretty poor as of late. Even with a move down to welterweight, I'm not sure it will help him all that much against Josh Koscheck. For all his detractors, Koscheck is a solid fighter and I see him dominating this one to get a decision or being able to submit Lawler after he gets him to the ground in the second or third round.
Winner: Josh Kosheck, Submission, Round 2
Jon Butterfield: I don't imagine Josh Koscheck fancies risking his recurrent eye problem by standing for too long with a man with Lawler's power, so I see this as a fairly straight forward fight where Koscheck looks to drag Lawler to the mat with routine regularity. At least that's how he SHOULD fight it, because it's not hard to imagine his eye swelling up to the size of a football once again, and the fight being called. Koscheck is no longer a 'great' welterweight, but Lawler's kryptonite has always been wrestling-based fighters with a half-decent ground game, and Koscheck remains strong in both areas. He should be able to put Lawler away if he implements the right strategy. If he doesn't, or if he can't, then he'll have to take a serious look at retirement, because this is one he'd have won with ease a few years ago.
Winner: Josh Koscheck, Submission, Round Two
Alex Rella: I'm glad Robbie Lawler is getting a chance in the UFC and hopefully he gets a couple fights, but I don't see this fight going his way. He had some good fights in Strikeforce, but he only went 3-5 in the company and this is his first fight at welterweight since UFC 47. Lawler has heavy hands though so it's possible he catches Koscheck with a good shot if Koscheck chooses not to wrestle like he did for the first two rounds of his fight against Hendricks. Even then Kos does have a pretty good chin and I think he'll fight very smart since he wants to avoid back to back losses.
Winner: Koscheck, Decision
Jonathan Solomon I'm a Robbie Lawler fan and glad to see him back in the UFC, although I'm not to confident his second stint will be long. Unless Josh Koscheck reverts to his boxing, there is no reason he will not be able to shoot his way to a decision victory. As long as the fight is standing, Lawler has an ability to land a hard punch, rock Koscheck and finish the bout. Otherwise, as long as he's on his back, at this stage, he's done. With that, I'm counting on Koscheck being smart and using his wrestling to win. I doubt he does, but I wonder if should he get any promo time after the fight, if he gives a shout out to the newly future endeavored Jon Fitch.
Winner: Josh Koscheck, Decision
Dan Plunkett: If Koscheck fights smart and uses his wrestling here I don't think he'll have much trouble beating Lawler, who has been disappointing of late. But, if Koscheck tests out the waters on the feet, there's always the chance Lawler could catch him for the knockout. While Koscheck does have knockout power, he's an elite striker in the same way that Che Mills is a solid killer. He's good enough standing to beat a certain level of fighter, and perhaps Lawler fits within that level, but I wouldn't risk it. Stil…
Winner: Koscheck, Submission, Round 2.
The staff picks Josh Koscheck, 7-0.

---
Welterweight Bout: Court McGee vs. Josh Neer
Jeremy Lambert: Neer was never a particularly good fighter, but he was at least durable. Now he's no longer durable having been KO'd and submitted in his last two bouts. McGee isn't a great fighter either, but he is durable, fights at a strong pace, and gets better as the fight goes on. I expect these two to stand and trade for the majority of the 15-minutes, getting into a high level brawl that includes multiple moments that causes Joe Rogan to scream that one guy is rocked just because they awkwardly take a step back or to the side. McGee is cutting to welterweight for the first time, which could hurt his cardio, but I suspect that he'll be in great shape and ready to press the action for three rounds.
Winner: McGee, Decision
Patrick Mullin: This is really on PPV? This seems more like the opener for an FX card. After proving nothing as a UFC middleweight McGee is doing the trendy thing and dropping a weight class to find success. He gets a favorable draw in small welterweight Josh Neer who he should easily outpower due to the sizes of both men and wrestling ability of McGee. This one will probably be pretty damn hard to sit through but if you want to get to Heaven you have to go through Hell sometimes.
Winner: Court McGee, Unanimous Decision
Jeffrey Harris: Court McGee goes down to welterweight after he got screwed out of a win in his last fight against Nick Ring. Josh Neer is a tough opponent who always comes to fight, but he's also lost seven times inside the UFC and he's been finished in his last two fights. I agree with Lambert that McGee will be the stronger, more durable fighter here and outwork Neer to a decision victory.
Winner: McGee, Decision
Jon Butterfield: What annoys me about this fight is that I'll get to see Court McGee out-class a journeyman welterweight while being told how well McGee does things 'technically'. The bottom line is, though, McGee is never destined to be a top player at 170 lbs, and so this is all about halting a two-fight losing streak. Neer is dangerous, experienced, and a solid gatekeeper, but just a shade shy of worrying the top 20 170 lb fighters – and McGee is roughly number twenty. He wins, but don't expect a barn-burner.
Winner: Court McGee, Decision
Alex Rella: I thought Schaub vs Johnson should have been on the main card over this, but it happens. Neither of these guys are very good, but I think their styles will make for a solid fight as they stand and trade shots for most of it. Neer hasn't looked great lately having been finished in his past two fights. McGee has also lost two in a row, but I thought he won his last fight against Nick Ring. It's his debut at welterweight and I think he'll take this one.
Winner: McGee, Decision
Jonathan Solomon Is this a loser leaves town fight considering both men have lost their past two fights? Neither makes anything close to Jon Fitch money, so maybe they're leash will be longer. In any event, Neer has not been to a decision (win or lose) since 2009 and Court McGee may be just the man to change that fact. McGee has never been finished in his career and boasts good cardio (he is fighting for the first time at welterweight here, however) so those are two extremely beneficial qualities in this match-up. Neer will bring everything he has in the first round but as long as McGee can avoid taking a massive punch to the head, he should be able to power his way into deep waters and earn his first win in about 17 months.
Winner: Court McGee, Decision
Dan Plunkett: Both guys are coming off consecutive losses, though McGee's August loss to Nick Ring was a debatable decision at best. This could turn into a fun fight with McGee's pace and Neer's toughness. I like McGee to out-work Neer to a decision in this one.
Winner: McGee, Decision.
The staff picks Court McGee, 7-0.

---
Bantamweight Bout: Urijah Faber vs. Ivan Menjivar
Jeremy Lambert: Make no mistake about it, Faber is still an excellent fighter who everyone is down on because he continues to get title fights even though he can't win them. It's not his fault that he's in a class all by himself though. It's unfortunate for him that that class is "guy who can beat everyone except the champion." Menjivar is a talented fighter, but he's not the champion and this is a three round fight, meaning Faber will likely win. If Menjivar can keep it standing, he has a chance since he's a diverse striker and could keep Faber off balance. But if and when Faber decides to turn this fight into a grappling contest, Menjivar is pretty much screwed as Faber is excellent in the scrambles, turning nothing positions into something, maintaining control, and doing damage from top position. Menjivar can't afford to get into a grappling contest with Faber, although he might not have much of a choice once Faber decides to commit to his takedown and grapple initiation. I think Faber does what he always does against non-champions and that's fight his fight and not fall into his opponents game. I think he'll finish Menjivar sometime in the second after a relatively slow first round.
Winner: Faber, Submission, Round 2
Patrick Mullin: The king of the entitlement club returns to PPV against Ivan Menjivar. This is a rematch of a fight that happened years ago when Menjivar kicked the downed Faber in the head resulting in a disqualification. Faber's mental state is going to be questionable here as he's gone 0-5 in his last 5 attempts to win a title fight in two divisions. What does he really have left to fight for at this point? If he's a true competitor and as good as we believe him to be he should win this one pretty handily as Menjivar's last significant win was almost 7 years ago and he hasn't shown anything that could trouble Faber since his UFC return.
Winner: Urijah Faber, Submission, Round 2
Jeffrey Harris: Faber might not be good enough to win a UFC title, but he's still one of the better fighters in his weight class even. Faber has a previous DQ win over Menjivar in 2006 due to an illegal kick, so you could argue both guys have a bit of unfinished business. Menjivar brings with him to the cage a lot of experience as well as a 4-1 UFC record at bantamweight. He's also fought at multiple weight classes throughout his career before settling at bantamweight, though Faber has as well. Ultimately, I see Faber dominating this one with his grappling and wrestling game and securing either a submission or grinding it out.
Winner: Faber, Decision
Jon Butterfield: Ivan Menjivar is the sacrificial lamb as the UFC looks to build Urijah for a more worthy fighter. I'd like to see Faber take on Michael McDonald next, and that's a sad thing to be writing in any fight preview – but that's about how lop-sided I expect this to be. Don't get me wrong, Menjivar is talented, slick, and very fun to watch, but for all of his dynamism, Faber is way too solid and well-rounded to fall for any of the El Salvadoran's trickery. Faber won't put Menjivar away, but Ivan would have needed to beat Mike Easton to convince me he has any chance whatsoever here. Faber will dictate where the fight goes and out-box his foe in a moderately entertaining affair.
Winner: Urijah Faber, Decision
Alex Rella: Everybody likes to rip and make fun of Urijah Faber, but he's still a pretty good fighter and I don't see how he loses this one. It's funny how Menjivar's last fight was on facebook and now he's in a fight that might determine the next number one contender. Menjivar is a well rounded fighter, but Faber pretty much does everything better. I expect this to be a pretty good fight though.
Winner: Faber, Submission, Round 2
Jonathan Solomon We have another fight featuring a representative of Team Alpha Male which is neither here nor there. Urijah Faber is not about to get another title shot and thus, he's in no man's land. On the bright side, the last time these two fought, it ended in a DQ years ago, so this isn't a total washout. Menjivar can do damage with his striking but Faber is no pushover, regardless of the fact he finds difficulty against the elite fighters in the sport. Plus, Urijah still has a strong wrestling game which should serve him well here. Menjivar will not be able to defend those shots and along the way, he'll give up his back leading to the finish.
Winner: Urijah Faber, Submission, Round 2
Dan Plunkett: Faber's stuck in a Rich Franklin-like spot where he can't beat the top couple guys in the division but he's still really good. Against Menjivar, I think Faber has the advantage anywhere the fight goes.
Winner: Faber, Submission, Round 3.
The staff picks Urijah Faber, 7-0.

---
Light Heavyweight Bout: Dan Henderson vs. Lyoto Machida
Jeremy Lambert: This is the real main event, at least in terms of skill. Both these guys earned title shots in 2012, but neither man actually got one thanks to injuries, unwillingness to accept a fight on short notice, and Chael Sonnen. Now they fight each other to earn another title shot that they probably won't get thanks to Daniel Cormier. Despite his age, Henderson continues to chug along and beat some top guys, but now he's facing a guy who isn't just going to stand in front of him and wait to get hit by that big right hand. To Henderson's credit, even though everyone knows he's just waiting to unload his right hand, he sets it up well with the jab and inside leg kick. Against Machida though, he's going to have to time his right hand perfectly, because Machida gets in and out before most counter punches even get started. Even though Machida can be predictable with his combinations, only two people have ever figured him out. One had the benefit of going 25-minutes with him in a prior fight. The other is Jon Jones. If the right hand isn't there for Henderson, he can always fall back on his clinch work. Quinton Jackson was able to "beat" Machida by pushing him against the cage, and like Jackson, Henderson has power that Machida will likely respect. Of course if Henderson decides to clinch, there's a chance he ends up on his back since Machida has underrated takedowns in the clinch and Henderson's takedown defense isn't anything special. Machida will likely do what he always does, which is pick his shots and frustrate opponents with his movement. The longer the fight goes, the more is favors Machida. Even though Henderson is always dangerous with his right hand, he becomes less and less dangerous as the fight wears on because of his terrible cardio. I know Henderson's chin is damn near bullet proof and that he's never been finished by strikes, but there's a first time for everything. And let's not forget that to finish a guy by TKO, you don't exactly need to crack his chin. I think Machida hurts Henderson in the third round with a body kick or his patented leap in knee to the body and then storms on him until the ref pulls him off. For the record, I've picked Henderson to lose his last three fights by TKO and you see how well that has worked out. Sorry Lyoto.
Winner: Machida, TKO, Round 3
Patrick Mullin: This was the subject of this week's Blueprint. Ultimately Machida just has too many advantages in this one to fall victim to Hendo's only potential victory, his right hand punch. Henderson has too big a lack of stamina, a lack of speed, and is coming off of a long layoff and a major knee injury. Machida's movement, timing, and conditioning will outlast Henderson and I have a feeling we'll see Machida break out his BJJ black belt and submit Hendo.
Winner: Lyoto Machida, Submission, Round 3
Jeffrey Harris: Machida is going to regret turning down a rematch with Jon Jones because that will likely be the last time he will ever be offered a UFC title fight. Dan Henderson is bringing with him the H-bomb, the most patented weapon in all of MMA. He put away Fedor Emelianenko, so going toe to toe with Machida will not be a problem. Machida won't be able to knock out Henderson with his Karate Kid kick like Randy Couture, and Hendo won't bum rush into him like Ryan Bader. Come hell or high water, Dan Henderson comes out of this the winner. It's not just his big right hand Machida has to beware, but his left as well.
Winner: Dan Henderson, TKO, Round 2
Jon Butterfield: Every time Dan Henderson fights, there's always a lingering doubt about whether or not his time is up. Without having fought at all in 2012, those doubts are greatly exacerbated, and while Hendo will undoubtedly benefit greatly from the fact that this is a three-round fight and not a five-round fight, I just can't see anything but a brilliant performance from the younger, slicker Machida, and also I'm happy to bet on Hendo getting KO'ed for the very first time. Yes, Hendo's chin stood up to a war against Rua, but Machida is a technician, and a good, clean shot from the Dragon will put literally anyone to sleep. I think he lands that shot – but goodness knows what it will look like when he does so – but that's part of the fun, right?!
Winner: Lyoto Machida, TKO, Round Three
Alex Rella: I really hope this fight isn't going to be Machida running around Henderson for fifteen minutes. This will most likely be Machida's strategy as I don't think he's going to be able to finish Henderson. Henderson is going to have to be very patient though effectively using his clinch work, inside leg kicks, and the jab to hopefully set up the right hand. I also think Henderson is too smart to run face forward into Machida like many others who get impatient.
Winner: Henderson, TKO, Round 3
Jonathan Solomon "Real" main event, "fake" main event, who cares. The whole random issue of some non-title fights being 5-rounds but not others can be debated until the end of time. I'm not sold the winner here, whether it's Hendo or not, gets the next crack at Jon Jones and that probably would piss plenty of people off (hardly a shocker). Being that it is three rounds, that helps Henderson as he can avoid gassing out for the last 10-minutes. I don't see how Lyoto Machida will have much success controlling the fight in the clinch, on the ground or anywhere for that matter. While Dan's power is always a threat, even if he cannot finish the fight, he should be able to do enough damage to take a decision. Machida does a good job in most fights of staying away from danger but if they go the distance, I like the odds that he eats a big punch as opposed to this being the first time ever where Dan Henderson gets knocked out.
Winner: Dan Henderson, Decision
Dan Plunkett: The more I think about this fight the less chance I give Henderson. Machida is going to be faster, the better striker, he's hard to catch, and his takedown defense is quite good. Henderson does benefit from the fight being three rounds as opposed to five due to his cardio issues, but that's not going to help him overcome his deficiencies in the first three rounds. "Hendo" has a very dangerous right hand, but save for opponents named Shogun, Machida is very tough to hit. I'd imagine he's even tougher to hit when he knows specifically what to avoid. Henderson may try to tie him up in the clinch, but that's easier said than done. Obviously, I see Machida getting the win here.
Winner: Lyoto Machida, TKO, Round 3.
The staff picks Lyoto Machida, 4-3.
---
---
UFC Women's Bantamweight Championship Bout: Ronda Rousey vs. Liz Carmouche
Jeremy Lambert: Carmouche is a tough girl, but she doesn't have the skills to compete with Rousey. She's not good enough to keep the fight on the feet against an Olympic level Judoka and if she tries to use her wrestling and ground and pound, which is her biggest strength, she's going to be submitted. So it's either try to keep the fight standing, get taken down, and get submitted or take the fight to the ground and get submitted. Rousey might be a one trick pony, but Carmouche isn't the right woman to stop that trick.
Winner: Rousey, Armbar, Round 1
Patrick Mullin: At the moment available odds on a Ronda Rousey victory range from +900 to +1400. I haven't seen odds like that since PRIDE was still operating. Liz Carmouche is a tough girl but she's going to bring this fight right into Rousey's wheelhouse. She's not a good striker and so she's going to go right into the clinch with Ronda and likely fall victim to a sweep and get caught up in an armbar. I hope she beats the odds and Rousey's face, but its just not very likely.
Winner: And Still UFC Women's Champion, Ronda Rousey
Jeffrey Harris: Anything can happen in a fight and many people are already hoping Rousey loses this fight, some of them are even on the MMA staff here. I don't think this is the fight where it will happen though. I think what a lot of people ignored in Rousey's title fights at 135 is the size and strength advantage she brings into the cage. Rousey definitely knows how to use her range, length, and size advantage against her opponents. I don't think Carmouche will be able to deal with it for the long haul. I could see it getting out of the first round, but Rousey eventually takes this.
Winner: Rousey, Submission, Round 1
Jon Butterfield: In what appears to me to be a rather pointless exercise, I expect Ronda Rousey to take Carmouche down early, before scoring an armbar for the tap out. Seriously, what else is there to say? This fight is all about showcasing the Champion, and though I'm sure Carmouche is even more determined than ever after being universally written-off, come on… this is, on paper, the least competitive and least interesting main event since Cain Velasquez defended the heavyweight crown against Rob Broughton. Oh wait, that fight never happened. But yeah – it would be pretty sweet if Carmouche won though – and at least she's tough as nails!
Winner: Ronda Rousey, Submission, Round One
Alex Rella: I'm really looking forward to this one as the Primetime specials were really well done and did a great job of telling the life stories of both fighters. Ronda Rousey has pretty much been the most dominant fighter in MMA since 2011 and I don't see how Carmouche can beat her. It would be nice if she could take it to the later rounds, but I don't see it happening. She's on a two fight win streak, but that was in Invicta and she's lost whenever she was given a chance against top competition in Strikeforce. Hopefully we're all wrong though and this turns out to be a good fight that goes longer than we all expect.
Winner: Rousey, Armbar, Round 1
Jonathan Solomon You gotta love the hype specials that have aired for the past month, but in reality, the odds Liz Carmouche finishes Ronda Rousey are slim to none. Ronda is more dangerous and stylistically, this is a bad match-up for Liz. Carmouche usually looks to bully opponents en route to a takedown and fierce ground and pound. Well, Ronda is not about to be taken down in that situation and once the two even come remotely close to one another, it will almost certainly be Carmouche ending up on her back with the arm in danger. Rousey finishes this fight inside of three minutes, rinse, repeat, enter Sarah McMann in a few months.
Winner: Your WINNER and STILL UFC Women's Bantamweight Champion, Ronda Rousey, Armbar, Round 1
Dan Plunket: Carmouche is a fighter that can sometimes get away with having developing skills because she's so strong. This is not going to be one of those cases.
Winner: Rousey, Submission, Round 1.
The staff picks Ronda Rousey, 7-0.
---
Remember to join 411's coverage of UFC 157 on Saturday night!
NULL
comments powered by Disqus