411's MMA Roundtable Preview – UFC on FOX: Johnson vs. Dodson
January 25, 2013 | Posted by
WELCOME:
UFC is back on FOX with four big bouts! In the main event, Demetrious Johnson makes his first defense of the flyweight title against John Dodson! In the light heavyweight division, Quinton "Rampage" Jackson returns and looks to derail Glover Teixeira. Also, lightweight contenders collide as Anthony "Showtime" Pettis faces Donald Cerrone. Plus, Erik Koch fights Ricardo Lamas, and more!
THE STAFF:
From MMA's 3R's, Jeffrey Harris!
From Occupy The Throne, Jeremy Lambert!
From The Blueprint, Patrick Mullin!
From MMA on Tap!, Jon Butterfield!
From Locked in the Guillotine, Robert Winfree!
From The Greatest MMA News Column, Dan Plunkett!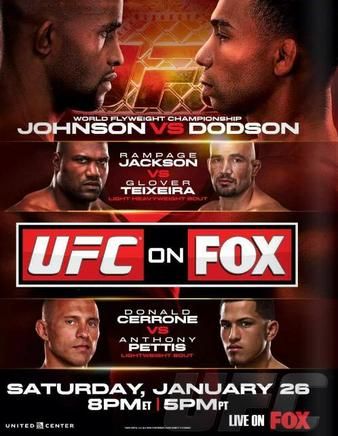 THE PRELIMINARY CARD:
First prelim on Facebook, rest air on FX.
Welterweight Bout: Simeon Thoresen vs. David Mitchell
Jeffrey Harris: Simon Thoreson, Round 1, Submission
Jeremy Lambert: Mitchell, Decision
Patrick Mullin: Simeon Thoresen, Submission, Round 2
Jon Butterfield: Simeon Thoresen, Submission, Round Three
Robert Winfree: Simeon Thoresen, Submission Round 2
Dan Plunkett: Thoreson, Decision.
The staff picks Simeon Thoresen, 5-1.
Middleweight Bout: Rafael Natal vs. Sean Spencer
Jeffrey Harris: Rafael Natal, Decision
Jeremy Lambert: Spencer, Pyschic Ability
Patrick Mullin: Rafael Natal, Submission, Round 2
Jon Butterfield: Rafael Natal, Decision
Robert Winfree: Rafael Natal, Decision
Dan Plunkett: Natal, Decision.
The staff picks Rafael Natal, 5-1.
Heavyweight Bout: Mike Russow vs. Shawn Jordan
Jeffrey Harris: Mike Russow, Round 2, TKO
Jeremy Lambert: Russow, Decision
Patrick Mullin: Mike Russow, TKO, Round 3
Jon Butterfield: Mike Russow, Decision
Robert Winfree: Shawn Jordan, TKO Round 2
Dan Plunkett: Russow, Decision.
The staff picks Mike Russow, 5-1.
Light Heavyweight Bout: Ryan Bader vs. Vladimir Matyushenko
Jeffrey Harris: Ryan Bader, Round 1, TKO
Jeremy Lambert: Bader, TKO, Round 1
Patrick Mullin: Vladimir Matyushenko, TKO, Round 2
Jon Butterfield: Ryan Bader, TKO, Round Two
Robert Winfree: Ryan Bader, Decision
Dan Plunkett: Bader, TKO, Round 1
The staff picks Ryan Bader, 5-1.
Note: I forgot to ask the staff who they were picking in this fight, and Butterfield was the only one that remembered it was happening.


Middleweight Bout: Rafael Natal vs. Sean Spencer
Jon Butterfield: Rafael Natal, Decision
Dan Plunkett: Natal, Decision.
The staff picks Rafael Natal, 2-0.
Featherweight Bout: Clay Guida vs. Hatsu Hioki
Jeffrey Harris: Clay Guida, Decision
Jeremy Lambert: Hioki, Submission, Round 2
Patrick Mullin: Clay Guida, Split Decision
Jon Butterfield: Clay Guida, Decision
Robert Winfree: Clay Guida, Decision
Dan Plunkett: Guida, Decision.
The staff picks Clay Guida, 5-1.
Lightweight Bout: TJ Grant vs. Matt Wiman
Jeffrey Harris: Matt Wiman, Decision
Jeremy Lambert: Wiman, Decision
Patrick Mullin: TJ Grant, Unanimous Decision
Jon Butterfield: Matt Wiman, TKO, Round Three
Robert Winfree: TJ Grant, Submission Round 1
Dan Plunkett: Wiman, Decision.
The staff picks Matt Wiman, 4-2.

---
MAIN CARD:
Featherweight Bout: Erik Koch vs. Ricardo Lamas
Jeffrey Harris: A really good featherweight fight. Lamas has looked extremely impressive since he moved down to featherweight in the UFC and beat top ranked featherweight Hatsu Hioki and also submitted Cub Swanson who has also been on a roll lately. I think this will be a back and forth battle, but Lamas will use his wrestling to get the edge on Koch and outpoint him to a victory.
Winner: Ricardo Lamas, Decision
Jeremy Lambert: Koch was due a couple of title shots last year but didn't get them because of injuries. Now, so people remember who the hell he is, he has to face Lamas. Lamas is solid on the feet, but Koch is definitely the better striker with more power. Also, Lamas' chin is a bit questionable. That said, Lamas is the better wrestler and grappler. Koch works well off his back, but I don't think he'll be able to get anything going against Lamas, who completely nullified the ground game of Hatsu Hioki. Getting Koch down could be a problem though, as his takedown defense has greatly improved since the Chad Mendes fight and Lamas, while a good wrestler, isn't on the level of Mendes. I think Lamas struggles for takedowns and gets thoroughly out-struck en route to a Koch decision with a slight chance that he finishes him in the latter half of the fight.
Winner: Koch, Decision
Patrick Mullin: We have a fight that could very well determine a potential challenger to the Jose Aldo/Frankie Edgar winner. Koch is consistent if unspectacular while Lamas shows flashes of brilliance only to lose at the most inopportune time. Lamas has a shaky chin and while Koch isn't a world class striker I think his tendency to fight a much more orthodox style will favor him here and eventually he'll catch Lamas regularly and stop him.
Winner: Erik Koch, TKO, Round 3
Jon Butterfield: Call me crazy, but I'd take Ricardo Lamas' record over Erik Koch's any day of the week. In putting away Cub Swanson and Hatsu Hioki, Lamas has reached a career-high ranking at 145 lbs, and looked great doing so. He's well-rounded, hits hard, wrestles well, but is most comfortable from top position. Koch is one of the most highly-rated prospects in the UFC right now, and would have faced Jose Aldo for the title had it not been for an unfortunate series of events – a story that will strike a chord with fallen 'top contender' Josh Grispi. Now where Grispi has failed, Koch has shown a true killer instinct, has worked diligently on his takedown defence (which will be key here), and while Aldo would have eaten him for breakfast, he remains a top five featherweight – and yet Lamas has beaten tougher competition, and looks to have momentum on his side. He's surging. Koch is slick, and will give Lamas a very hard time on the feet, but Lamas will be looking to close the distance, and the clinch against the cage is going to be his best friend. Lamas will look to wear Koch down, frustrating 'New Breed' before scoring a stunning TKO in round three as Koch throws caution to the wind.
Winner: Ricardo Lamas, TKO, Round Three
Robert Winfree: It wasn't too long ago that Erik Koch was set to fight Jose Aldo for the featherweight championship before injuries and Frankie Edgar dropping down in weight changed that around. Ricardo Lamas has had a couple of really good fights, he submitted Cub Swanson in 2011 and upset the favored Hatsu Hioki last year. This is a fight that could go either way, but given their recent fights, quality of competition, time away from the octagon, I have to give Lamas the edge here.
Winner: Ricardo Lamas, Decision
Dan Plunkett: This should be a good fight as both are generally exciting fighters. Koch is the better striker of the two while Lamas is the superior grappler. It should be noted that Koch hasn't fought since September of 2011, when he beat Jonathan Brookins in a good albeit unspectacular performance. This fight is a coin flip, but I'm going with Lamas based on Koch's layoff, which could affect his timing.
Winner: Lamas, Decision.
The staff picks Ricardo Lamas, 4-2.

---
Lightweight Bout: Donald Cerrone vs. Anthony Pettis
Jeffrey Harris: Interesting fight. Cerrone is the superior grappler I think, but Pettis is the much flashier and versatile striker. I think Cerrone though just makes a lot of mental mistakes especially his big fights with a lot on the line. Cerrone tends to be a slow starter and that costs him big time. I think the other thing is that Cerrone will often throw caution into the wind and not defend himself very well. Pettis I think will be more technical and edge this one.
Winner: Anthony Pettis, Decision
Jeremy Lambert: This is the real main event. I just can't imagine a scenario in which this fight is boring. Maybe if it ends in a quick finish fans will wonder "what could've been?" but is anyone going to complain about a potentially spectacular finish? Both guys say they're going to stand in front of each other and throw until the other guy falls, and when it comes to Cerrone and Pettis, I actually believe them. To an extent. Cerrone isn't a dumb fighter, but he is someone who will throw caution to the wind if it means putting on a great fight. The same can be said about Pettis, albeit to a slightly lesser extent. Cerrone is the more diverse striker as he'll throw kicks along with punches and knees. Pettis isn't a terrible boxer, but he relies heavily on his kicks and creativity. If either guy isn't feeling good about the way things are going on the feet, don't be shocked if they go for a takedown. Cerrone's wrestling has really improved over the years and Pettis is a dynamic wrestler in his own right. Even if the fight hits the ground we're in for some excitement as both men are extremely active from the bottom. Pettis has a great triangle while Cerrone has quick hips and is underrated in the scrambles. This fight could go either way and any outcome wouldn't shock me, but I slightly favor Cerrone because I think he'll be the busier of the two fighters and land the cleaner strikes over the course of 15-minutes.
Winner: Cerrone, Decision
Patrick Mullin: You can read my full in-depth breakdown of this fight in The Blueprint, but the main issue it came down to for me was Cerrone is just too easy and too willing to be hit. If you give Pettis the opportunity to strike freely he's going to hurt you and control the fight. He'll get more confident as the fight goes on and he doesn't have the shaky chin and bad cardio Melvin Guillard does that allowed Cerrone to escape a KO loss in that fight. While Cerrone is a tough guy and I give him the benefit of the doubt to last the distance, he's not smart enough and lacks the neccessary defensive abilities to deal with a world class striker like Pettis.
Winner: Anthony Pettis, Unanimous Decision
Jon Butterfield: Anthony Pettis is a better striker than Donald Cerrone, but then so is Melvin Guillard, and he wound up on the losing end courtesy of Cerrone's toughness and creativity. Guillard is prone to mental farts, however, and Cerrone won't be granted a 'get out of jail free' card by 'Showtime'. Cerrone may be a bonafide finisher, and if he can catch Pettis I expect him to sink in a fight-ending submission, but I just don't see it happening. I favour Pettis to consistently beat Cerrone to the punch (or kick), scoring another career-defining victory in the Fight of the Night.
Winner: Anthony Pettis, Decision
Robert Winfree: On paper this should be an early candidate for Fight of the Year. But fights are fought in the cage and not on paper, and despite the good track record of both men there's always the possibility of a bad fight. I mean Pettis' fight with Jeremy Stephens didn't exactly set the world on fire. Of course you'd have to go back to Jeremy Stephens to find Cerrone's last less than exciting outing. Both men are strikers first and foremost, but that shouldn't take away from their grappling abilities. Cerrone is more of a combination oriented striker while Pettis favors one kick or punch power. Normally in that kind of scenario I'd give an edge to the volume fighter, but Cerrone has proven himself quite hittable in the past. Of course he is also very durable, but getting tagged by a guy like Pettis isn't going to do him any favors. Both men are good wrestlers, and both men are active on the ground from either top or bottom position. For some reason as I go over this fight in my mind I keep favoring Cerrone. I'm not sure exactly what's leading me to that conclusion, maybe his reach, but that's where I'm going with this one.
Winner: Donald Cerrone, Decision
Dan Plunkett: A battle of two of the top lightweights from the WEC, Pettis vs. Cerrone is long overdue. This is the fight I'm most looking forward to on the card for the simple reason that it should be really, really awesome. Both like to stand and strike but are very well-versed an active grapplers. To me, the difference here is that Cerrone doesn't always fight smart, while Pettis has jumping ninja kicks in his arsenal.
Winner: Pettis, Decision.
The staff picks Anthony Pettis, 4-2.

---
Light Heavyweight Bout: Rampage Jackson vs. Glover Teixeira
Jeffrey Harris: When Rampage was at his peak I think he was able to get by because he was so physically strong and naturally talented and gifted. Now that he's gotten older, a lot of that is going away and he can't get by using just his raw talent and strength. Fighters have become much smarter and figured how to beat him. He's so upset about wrestlers trying to take him down, but so many quality and good fighters have a wrestling base. And he's a wrestler himself, and it's something he's failed to utilize well in his recent fights. Rampage was training out of Wolf's Lair in England for this fight and I think that really tells you all you need to know about how seriously Rampage is taking training for this fight. A lot of Rampage fans got excited in Teixeira's last fight since Maldonado was able to land on Teixeira, but Rampage has not looked powerful or dynamic at all with his striking in recent fights. He hasn't knocked anyone out since Wanderlei Silva in 2008. Glover Teixeira trains in Southern California and he trains with wrestlers and the likes of Jon Hackleman and Chuck Liddell. I think Teixeira takes Rampage apart and sends him packing and Rampage will continue to whine about Reebok, the UFC treating him badly and disrespecting him, his failed movie career, and everything else under the sun.
Winner: Glover Teixeira, TKO, Round 3
Jeremy Lambert: Counting on Jackson to show up focussed, in shape, and diverse is like asking Taylor Swift to not write a song about how someone wronged her. At this point in his career, Jackson has turned into a one-trick pony. Granted that trick isn't terrible because he packs a hell of a punch, but if Teixeira can avoid the big hooks of Jackson, he should have no trouble winning this fight. Teixeira's striking isn't as good as some people will make it out to be, but he does have a solid clinch game and an even better ground game, especially on top. If Teixeira can get Jackson down, he's not just going to sit in guard and do little, he's going to pass and beat him up. I'm not as sold on Teixeira as a lot of people are, but it's nearly impossible to trust Jackson at this point. He hasn't had a good performance in years, hasn't fought in almost a year, and is only taking this fight to finish up his contract. There's always a chance that Jackson catches Teixeira, but if Teixeira is as good as he's hyped up to be, he takes this fight. Jackson is a tough guy to finish (although his chin isn't what it once was) but I think Teixeira takes a clear cut decision.
Winner: Teixeira, Decision
Patrick Mullin: Oh how the mighty have fallen. Its really easy to forget that Rampage at one time was considered one of the best pound for pound fighters in the sport. Now he's a glorified gatekeeper losing to guys who he'd have finished in short order in his prime. Against the dangerous striker from "The Pit" camp he faces an opponent who may do what he wants and engage him toe to toe. However Teixeira has a solid ground game that people don't give him credit for and he makes life easy on himself if he uses it. John Hackleman knows how dangerous Rampage is when he can stand and bang and hopefully the guy is smart enough to tell his fighter his easiest road to victory lies in his BJJ and ground control. Personally though I'd love to see Rampage pull one out here just to stick it to the UFC.
Winner: Glover Teixeira, Unanimous Decision
Jon Butterfield: Quinton 'Rampage' Jackson has become one of the least reliable fighters in modern MMA. I'm not talking about weight or attitude issues, either, I'm strictly talking 'in-cage'. Rampage looked so obsessed with landing a one-punch knockout against Ryan Bader that he found himself out-wrestled and frustrated and wanting out of the UFC. He STILL wants out of the UFC, and I'm sure his stock will be high no matter what, but I can only see him leaving with a loss. Glover Teixeira has a gift here, as he has a ton of hype behind him following outstanding victories against lesser competition, and only a win against a 'name' fighter could elevate his stock further. Fortunately for him, the 'name' fighter he gets is perhaps the most disinterested figure in MMA behind BJ Penn. That's not to say Rampage won't be in shape this time around, because I think he will – but no matter how motivated he seems pre-fight, I just can't see him wanting this enough to come up with a killer gameplan. He'll do what he's been doing in his recent fights here, and that's appear flat-footed and one-dimensional as he head hunts, before Teixeira wakes him from his slumber by ALMOST putting him away. Rampage will have no option but to look to his wrestling roots for a way out, but if he's neglected them to the extent I believe he will have, it won't work, and Rampage WILL get finished.
Winner: Glover Teixeira, TKO, Round Two
Robert Winfree: The last fight in the UFC career of Quinton "Rampage" Jackson is here. Personally I'm not too sad to see him go given his attitude and his last few fights. His opponent is the highly thought of but relatively untested Glover Teixeira. Teixeira has two impressive victories in the UFC, but neither opponent was exactly great competition. Rampage Jackson is a huge step up from Fabio Maldonado. That said, Rampage has been terribly one dimensional lately. He's been planting his feet and throwing power hooks, not doing anything that really made him a successful fighter. When Rampage was at his best he didn't just have power in his punches, he had a pretty nasty clinch game, and his ground and pound could be scary. The reality is that as long as Glover doesn't get too comfortable in close quarters and get caught with a power punch he'll be just fine. If Glover can get Rampage on his back he'll be in a great position to land some of the nasty ground strikes we saw against Maldonado. I think Rampage endures the full three rounds, just because the guy has a head like a brick, but I think this is Teixeira's moment to step up.
Winner: Glover Teixeira, Decision
Dan Plunkett: As far as Rampage as fallen, he can still be a really good fighter and you can't sleep on him against Teixeira. If Jackson is in shape and in the right mindset he's a dangerous opponent for almost every guy in the division. Unfortunately, he hasn't seemed to have the right mindset over the past few years (the whole 'being mad about being matched with wrestlers thing' is strange considering it's an integral part of the sport). If this fight remains standing, we should be in for a treat. If it doesn't, then Glover Teixeira is going to win. Teixeira is really aggressive so I'd look for him to come out fast, whether that means attacking with strikes or a takedown is unknown. Either way, Teixeira has been more consistent of late, he hits hard, and he's really good on the ground, so I'm taking him here.
Winner: Teixeira, TKO, Round 2.
The staff picks Glover Teixeira, 6-0.

---
UFC Flyweight Championship Bout: Demetrious Johnson vs. John Dodson
Jeffrey Harris: An extremely tough fight to call. I'd be very surprised if either guy gets the finish. Dodson is a good striker and I think he probably backs more power into his strikes than Johnson, but Johnson is equally quick and he's got great wrestling that I think will be able to avoid and stifle Dodson's style. Johnson has a very good chin and great movement so I don't think Dodson will be able to put him away. I could see Dodson coming out of this with the win, but I see the fight going similar to Johnson/Benavidez with Johnson once again getting the duke.
Winner: Demetrious Johnson, Decision
Jeremy Lambert: Alberto Del Rio is going to be pissed when he finds out that this is for the World Title and that his match with the Big Show is meaningless. I can't say I'm super excited for this fight, because I don't really care all that much about either guy, but I do think it'll be a fun fight. Dodson hits hard and can be unpredictable with his explosiveness, but he can also be very passive and frustrating to watch. Johnson isn't going to overwhelm you with excitement, but he does everything well and at a high pace. He's good offensively and defensively and seems to get better with every fight. He's not a great wrestler, but he is good at mixing up his takedowns with his strikes and quickly changing levels. Dodson is a good wrestler, but if Johnson can get him down and initiate scrambles, he's in trouble as Johnson is the quicker and better grappler. I expect Johnson to be the slightly more aggressive fighter, which could allow him to steal rounds, but Dodson is always one strike away from ending his opponents night. This should be a close fight with both men displaying a lot of speed and technique but in the end I think Johnson does enough to take a hotly costed decision.
Winner: Johnson, Decision
Patrick Mullin: This is a diamond in the rough type of fight. You have two of the smartest tacticians in the UFC going at it and I cannot wait. Dodson is considered a slow starter, but really what goes on is Dodson uses the first round to study his opponent and gauge their reactions and figure out holes in their defense via their attack patterns. Mighty Mouse likes to impose his will often early in fights and set the tone to maximize his speed advantage and diverse attack. In Dodson's losses he's been beaten by wrestling and Johnson posseses excellent takedowns. While Dodson also is the harder single strike hitter I feel Johnson makes more intelligent use of combinations and diversifying his attack.
The key here will be Johnson's ability to land head kicks. They've really become one of his best weapons and if he can land the head kicks at a distance he has the chance to KO Johnson or at the least do significant damage. Johnson may not be as great a finisher but when you have the ability to fight at the pace he does with the varied methods of attack he has and very good defense to back it up its damn hard for you to lose. Dodson will likely provide as tough a test as possible but I feel Johnson's GSP-like gameplan of using good fundamental boxing to set up takedowns and control the ground will win out vs. the heavy striking and explosive bursts of Dodson
Winner: And STILL, UFC Flyweight Champion…Demetrious Johnson
Jon Butterfield: Not for one single second do I believe 'Mighty Mouse' is the man to dominate at Flyweight. Johnson is too beatable for that – and he's fortunate to have even progressed to the final, following the 'draw' with Ian McCall. His response was to tweak his game and bypass 'Uncle Creepy' (and deservedly so, second time round), before he stunned Joseph Benavidez by denying him the belt we all felt he would finally take home. Yes, those wins were impressive, and yes, Johnson is one of the best fighters at flyweight OR bantamweight – but while 'speed kills' for Demetrious, Dodson appears to have more weapons. He may not beat 'Mighty Mouse' to the punch on a consistent basis, but I do favour him to hurt Johnson more consistently, and take rounds by way of possessing a greater threat. He won't get the finish, but by rocking Johnson and taking positional advantage by way of, say, a submission attempt, Dodson will lock up the rounds and take this on a close decision.
Winner: John Dodson, Decision
Robert Winfree: You know, I should be excited for this fight. It's a title fight, it's two of the very best in the division, it's a division where fighters actually have to use technique and there's plenty of cardio in both guys. Unfortunately, for whatever reason, I just can't get really amped up for this fight. Demetrious Johnson has a non-stop motor, pretty good technical boxing, and fast and well timed takedowns. Unfortunately he doesn't power in his hands or great submissions, which means he goes the distance more often than not. Across the cage from the defending flyweight champion is John Dodson. Dodson actually packs power in his punches, something not common for guys at flyweight, but can be a bit passive in his fighting style. That could really hurt him against Johnson, because Johnson will have the faster hands and will be pressing the action. While Dodson will likely land some good shots just due to the volume of strikes both guys will be throwing, I'm not sure I can favor him over Johnson at this point.
Winner: Demetrious "Mighty Mouse" Johnson, Decision
Dan Plunkett: Johnson is the favorite here. He's the better wrestler, he's faster, he's got great conditioning, and he's a really good striker. Dodson brings a rare element in that he's got real power in his hands as a flyweight. He's also very quick and quite durable, though we've never seen him against this level of fighter in a five round fight. Still, I'm sticking with Johnson.
Winner: Demetrious Johnson, Decision.
The staff picks Demetrious Johnson, 5-1.

---
Remember to join 411's coverage of UFC on FOX 6 on Saturday night!
NULL
comments powered by Disqus