411's MMA Roundtable Preview – UFC on Fuel TV: Barao vs. McDonald
February 15, 2013 | Posted by
WELCOME:
UFC brings a title fight to England as Renan Barao defends the interim bantamweight title against Michael McDonald at UFC on Fuel TV! In the co-main event, top featherweight contenders Cub Swanson and Dustin Poirier battle. Also, strikers collide as the unbeaten Jimi Manuwa fights Cyrille Diabate. Before that, welterweight prospect Gunnar Nelson gets his toughest to date against Jorge Santiago. Plus, James Te-Huna faces Ryan Jimmo, Che Mills vs. Matt Riddle, and more!
THE STAFF:
From The Blueprint, Patrick Mullin!
From Occupy The Throne, Jeremy Lambert!
From MMA's 3R's, Jeffrey Harris!
From The Juggernaut MMA News Report, Jonathan Solomon!
From The 411 MMA Top 10, Alex Rella!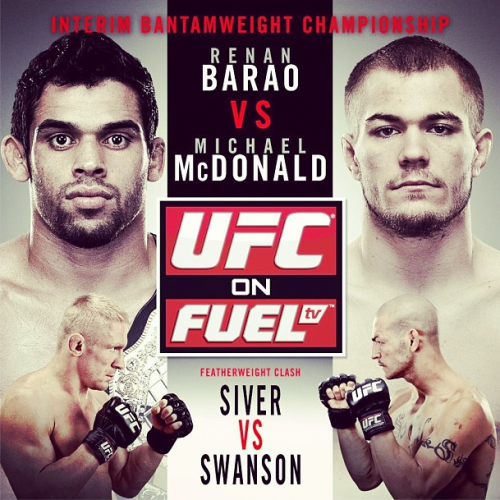 THE PRELIMINARY CARD:
All prelims air on Facebook.
Flyweight Bout: Phil Harris vs. Ulysses Gomez
Patrick Mullin: Phil Harris, Unanimous Decision
Jeremy Lambert: Gomez, Decision
Jeffrey Harris: Gomez, Decision
Jonathan Solomon: Phil Harris, Decision
Alex Rella: Phil Harris, Decision
The staff picks Phil Harris, 3-2.
Bantamweight Bout: Vaughan Lee vs. Motonobu Tezuka
Patrick Mullin: Vaughan Lee, Submission, Round 2
Jeremy Lambert: Lee, Submission, Round 2
Jeffrey Harris: Lee, Submission, Round 1
Jonathan Solomon: Motonobu Tezuka, Decision
Alex Rella: Vaughan Lee, Submission, Round 2
The staff picks Vaughan Lee, 4-1.
Middleweight Bout: Tom Watson vs. Stanislav Nedkov
Patrick Mullin: Stanislav Nedkov, Unanimous Decision
Jeremy Lambert: Watson, Decision
Jeffrey Harris: Nedkov, TKO, Round 1
Jonathan Solomon: Stan Nedkov, TKO, Round 1
Alex Rella: Stanislav Nedkov, Decision
The staff picks Stanislav Nedkov, 4-1.
Featherweight Bout: Josh Grispi vs. Andy Ogle
Patrick Mullin: Andy Ogle, Unanimous Decision
Jeremy Lambert: Grispi, Submission, Round 1
Jeffrey Harris: Grispi, Submission, Round 1
Jonathan Solomon: Andy Ogle, Decision
Alex Rella: Andy Ogle, Decision
The staff picks Andy Ogle, 3-2.
Lightweight Bout: Paul Sass vs. Danny Castillo
Patrick Mullin: Danny Castillo, Unanimous Decision
Jeremy Lambert: Castillo, Decision
Jeffrey Harris: Castillo, Decision
Jonathan Solomon: Paul Sass, Submission, Round 2
Alex Rella: Sass, Submission, Round 1
The staff picks Danny Castillo, 3-2.
Lightweight Bout: Terry Etim vs. Renee Forte
Patrick Mullin: Terry Etim, Unanimous Decision
Jeremy Lambert: Etim, TKO, Round 2
Jeffrey Harris: Etim, TKO, Round 1
Jonathan Solomon: Terry Etim, TKO, Round 2
Alex Rella: Terry Etim, Decision
The staff picks Terry Etim, 5-0.

---
THE MAIN CARD:
Welterweight Bout: Che Mills vs. Matt Riddle
Patrick Mullin: I worry about Matt Riddle. When you have a fight scheduled against a vicious guy like Che Mills you should probably focus on that instead of Uriah Hall's TUF KO and advocating the legalization of marijuana. Mills was on a pretty good run prior to his loss to Rory MacDonald and after his last fight with Duane Ludwig ended under unfortunate circumstances I have a feeling he'll be motivated to perform big time here. Riddle isn't tough to hit and that's a bad thing against Mills.
Winner: Che Mills, KO, Round 1
Jeremy Lambert: THE KILLER IS BACK! I'm actually looking forward to this fight, just because Riddle is the best worst fighter in the history of the sport. Mills is the better fighter and should be able to dominate Riddle on the feet, but Riddle is so wild and unpredictable in the worst way ever, that it actually works to his advantage. Mills might not be as good as Joe Rogan makes him out to be, but he's still good enough to beat the likes of Riddle.
Winner: Mills, TKO, Round 1
Jeffrey Harris: Riddle might not be the original thriller killer like Che Mills, but I do like him for this fight. Riddle has looked good as of late despite his recent win over John Maguire being overturned due to testing positive for marijuana. Mills while he is a good striker, I simply don't like his takedown defense. Riddle gets him to the ground and grinds this one out.
Winner: Matt Riddle, Decision
Jonathan Solomon: Yes, Che Mills has the potential to rock Riddle bad and earn another TKO victory in the UFC. Will he? I'm not so sure. While Matt Riddle is hardly a prolific striker, he has been able to use his improved grappling to his advantage and take opponents out of their comfort zones. For Mills, that would be his back and if Riddle can keep him there, he wins this fight. Che must defend takedown attempts and make Riddle pay for trying with an entire arsenal of strikes, otherwise, he's likely in for a long night.
Winner: Matt Riddle, Decision
Alex Rella: This has potential to be a pretty good fight. Che Mills has some good striking and has only lost to Rory MacDonald at this point in the UFC. Riddle has been with the UFC since TUF season 7 and has turned into a solid welterweight. Riddle would be on a three fight winning streak if he didn't test positive for marijuana. I think Riddle will be able to use his improved grappling to grind out a victory for this one. Mills is good, but he isn't as good as Joe Rogan keeps telling us.
Winner: Riddle, Decision
The staff picks Matt Riddle, 3-2.

---
Light Heavyweight Bout: James Te-Huna vs. Ryan Jimmo
Patrick Mullin: Jimmo had a beautiful knockout of an Aussie in his last fight, but this one he might find tougher to stop. That's because Te-Huna is so tough he fought through a broken hand and foot to beat Joey Beltran in his last outing. Te-Huna has really made big strides in his game with respect to his stamina and his killer instinct. Jimmo is tough but Te-Huna I feel just offers too much at the moment for him. It'll probably be fun while it lasts but ultimately I think Te-Huna's power will overwhelm him.
Winner: James Te-Huna, TKO, Round 2
Jeremy Lambert: Unless the Jimmo we saw in his UFC debut was a rebirth of sorts, expect the Jimmo we all know and love in this fight. Te-Huna is a heavy handed striker, although he can be a bit sloppy. Jimmo is good at keeping distance and countering overaggressive fighters. What Jimmo is best at though is frustrating fighters by doing as little as possible, but still doing enough to win rounds. Te-Huna might be best off pushing Jimmo against the cage and doing a little clinch work, because if he stays on the outside and hopes to just stand and engage with Jimmo, he'll be fighting a losing battle.
Winner: Jimmo, Decision
Jeffrey Harris: It will be interesting to see if Jimmo can replication his impressive UFC debut or if that was an anomaly for him. Still, I'm going with Te-Huna in this fight. I favor Te-Huna here. All of his UFC wins save one came by way of knockout. I think Te-Huna will be able out strike Jimmo or knockout him out.
Winner: James Te-Huna, TKO, Round 2
Jonathan Solomon: YES! More Ryan Jimmo is always a win. He debuted in the UFC last summer by knocking out Anthony Perosh in seven seconds and celebrating by doing the robot. Te-Huna has carved out a home in the UFC with a 4-1 record in the octagon including his last, a decision over Joey Beltran in July. He's a ferocious striker with power in both hands and that must be something Jimmo looks to prevent from landing. Bully the New Zealander against the fence and secure takedowns if at all possible. James' attack becomes far less effective in those scenarios.
Winner: Ryan Jimmo, Decision
Alex Rella: I didn't realize Jimmo was on such a huge winning streak. He hasn't lost since TUF season 8 and hasn't officially lost since his debut fight in 2007. Jimmo is a well rounded fighter, but Te-Huna has looked deadly lately. He's on a three fight win streak that includes two KO's and his last victory over Joey Beltran was his most impressive fight so far. Te-Huna broke bones in his left hand and foot and still kept going. Jimmo will make it fun for a little while, but Te-Huna should be able to finish him after a round or so.
Winner: Te-Huna, TKO, Round 2
The staff picks James Te-Huna, 3-2.

---
Welterweight Bout: Gunnar Nelson vs. Jorge Santiago
Patrick Mullin: This is a sleeper candidate for fight of the night. Each of these guys has some serious submission ability and it'll be fantastic to see who can outdo the other. Santiago would appear to have an advantage on the feet but its very likely he gets drawn into a rolling session. Ultimately Santiago has proven that he can hang against the lesser guys but he gets beaten when he steps up his opposition. This is Nelson's biggest test to date but I think he'll pass it with flying colors and continue to advance a promising career.
Winner: Gunnar Nelson, Unanimous Decision
Jeremy Lambert: Santiago is a very talented fighter with one glaring weakness: his chin is absolutely terrible When you get KO'd while on top, you know that you can't take a punch very well. Luckily for Santiago, Nelson is more of a grappler. If Santiago is able to keep the fight standing, he can probably out-strike him, although one solid punch from Nelson and he could be out. I think whoever ends up on top in this fight wins. They're both good grapplers, but Santiago doesn't offer much off his back outside of some sweeps, and I doubt he'll be able to sweep Nelson. Nelson might be a threat from the bottom, but Santiago has good awareness on top and isn't likely to get caught in a submission. A lot of people seem high on Nelson, but I'm not quite ready to write off Santiago just yet. Again, I know his chin sucks, but I don't think Nelson is the guy to re-expose it. I think Santiago takes a competitive decision with his striking and top game.
Winner: Santiago, Decision
Jeffrey Harris: Nelson had an extremely impressive UFC debut as he destroyed DaMarques Johnson. Santiago has worked his way back to the UFC again. Both guys are talented grapplers, but Nelson's looks like his is on a whole other level. Santiago has an extremely weak chin and its been exposed many times in the past inside and outside the UFC. I think Nelson takes him out in the first or second round.
Winner: Gunnar Nelson, TKO, Round 2
Jonathan Solomon: The return of THE SANDMAN! Jorge Santiago took this fight, at welterweight, on about three weeks notice and will attempt to win his first UFC fight since he knocked out Justin Levens in 2006 (he's 0-4 in the octagon since then). In 2012, he fought for the TitanFC group in Kansas and pulled off a pair of wins against guys looking to make their names off his. He's fighting Gunnar Nelson (who will be looking to make his name off Santiago's, ironically), a 24-year-old Icelander with a black belt in BJJ and Goju-ryu (a form of Karate). In 2009, he's had success internationally as a grappler and as far as MMA goes, he's been perfect. A 10-0-1 record with the only fight going the distance having been his pro debut in 2007 says it all. He debuted in the UFC in September by choking out DaMarques Johnson and I take it this weekend will mark the first time he's fighting someone with quite the experience that Jorge Santiago possesses. In the Brazilian's 35-fight career, he has NEVER been submitted and in fact, he went three-rounds in 2011 with Demian Maia (losing a decision) and survived without tapping. Despite that, how are you going to pick against the hot prospect?
Winner: Gunnar Nelson, Decision
Alex Rella: Jorge Santiago is back again and he's taking on the undefeated Gunnar Nelson in his second fight in the UFC. This is Santiago's third run in the UFC and he's actually been pretty successful everywhere in his career, but the UFC. Santiago has won titles in smaller promotions, including Strikeforce's 2007 middleweight grand prix. That being said, I think Nelson takes this one. He's a superior grappler having trained under Renzo Gracie and he's done very well in grappling and submission tournaments all over the world. Santiago's chin sucks too so it'll be interesting if we see if Nelson can strike too. Either way I think Nelson takes it, should be a good fight though.
Winner: Nelson, Decision
The staff picks Gunnar Nelson, 4-1.

---
Light Heavyweight Bout: Jimi Manuwa vs. Cyrille Diabate
Patrick Mullin: Manuwa impressed a lot of people with his win over Kyle Kingsbury in his UFC debut. I wasn't one of them. He's a powerful guy who specializes in striking but he's coming up against a world class kickboxer who has a staggering technical advantage. Diabate has also faced a much better level of opponent and has shown a more well rounded skill set as of late. I expect an impressive outing from the old timer here.
Winner: Cyrille Diabate, Submission, Round 3
Jeremy Lambert: Diabate in a very good technical striker with a limited ground game while Manuwa hits really hard and overwhelms opponents with his power. If Diabate is able to keep the fight on the outside, using his reach and kicks, then he could pick apart Manuwa en route to a decision. But I don't see that happening. I think Manuwa is able to get inside, land something big on Diabate, and put him down. It's also possible that Manuwa goes for a takedown and then rains down punches from the top position. If Manuwa is at all what he's advertised to be, he'll easily dispatch of Diabate.
Winner: Manuwa, TKO, Round 1
Jeffrey Harris: Interesting fight. Diabate has a significant height and reach advantage and has managed to put two UFC wins together recently. Manuwa looks to go 2-0 inside the Octagon. Tough call as both guys are strikers. In this fight I'm favoring Manuwa because he just packs power that I think will be able to make the difference to put Diabate away.
Winner: Manuwa, TKO, Round 1
Jonathan Solomon: You may not remember Manuwa but this is another great match-up on paper. Jimi is 32-years-old, born in Nigeria but living today in England, he has been a knockout force in England for over four years. He's 12-0 with all fights being finished by the second round, one by submission. In September, he punched Kyle Kingsbury to shreds before the doctor stopped the action in Nottingham. Now, he's giving up height and reach to Frenchman Cyrille Diabate (Cyrille has a five-inch height advantage and a six-inch reach advantage). Out of France, he is on his first winning streak in the UFC courtesy of wins last year against Tom DeBlass and Chad Griggs. Manuwa will come out early and go for broke, as he almost aways does. Cyrille should be able to keep that attack at bay thanks to his impressive reach, especially with leg kicks, before shooting for takedowns. The fact is, Jimi cannot keep up his powerful pace for too long because he tires out (but he's been able to stop fights before then). He will have to close the distance and unleash bombs against Diabate to win and whether you believe he can will tell you who wins this fight.
Winner: Jimi Manuwa, TKO, Round 2
Alex Rella: This one could go either way. Manuwa showed off some powerful striking in his UFC debut, but Diabate was a great kickboxer and has a large reach and size advantage. I'm going with the veteran in this one as he showed off some improved grappling in his last fight against Chad Griggs.
Winner: Diabate, Submission, Round 1
The staff picks Jimi Manuwa, 3-2.

---
Featherweight Bout: Cub Swanson vs. Dustin Poirier
Patrick Mullin: We broke this fight down in The Blueprint. What this comes down to is that Swanson has poor submission defense and Poirier has poor striking defense. However to get the submission Poirier has to score a takedown and Swanson has improved greatly at defending them. The fight also will start on the feet where its Swanson's fight to lose, and its likely he'll light Poirier up and continue his great run.
Winner: Cub Swanson, TKO, Round 2
Jeremy Lambert: I'd say this is a big fight in the featherweight division, but the winner will likely have to wait 3 years for a title shot because if you drop from 155 to 145, you just jump everyone established at 145. Swanson has had a big resurgence in the UFC, while Poirier has been a steady fighter for a few years now. Swanson is the better striker and has more power, but Poirier is technically sound, despite his defensive holes. Poirier's biggest advantage in this fight is his wrestling/grappling. Swanson is a competent grappler, but Poirier brings more skills on the ground, especially with his top game. If Poirier is able to consistently land takedowns, I think he'll dominate Swanson on the ground with his control and submission attempts, before eventually wearing him down and locking on something. If Poirier has too much confidence in his striking, which is very possible, then he runs the risk of getting caught by one of Swanson's heavy hands, but I think he'll look to turn this into a grappling contest, where he should win.
Winner: Poirier, Submission, Round 3
Jeffrey Harris: Good fight for the featherweight division and means a lot for both guys who want to the top of the rankings. Poirier's weaker area is his stand-up and striking where he leaves a lot of openings and tends to get hit a lot though he has a pretty good chin. Swanson has looked on fire as of late and he looks to have improved a great deal. Still though, Poirier's grappling has looked exceptional throughout his UFC run. He spoiled the party for would-be contender Josh Grispi in their respective UFC debuts. Poirier I think will be able to take Swanson down and beat him there.
Winner: Poirier, Submission, Round 2
Jonathan Solomon: Here we have an outstanding match-up between two fighters who always find themselves in entertaining scraps. 24-year-old Dustin Poirier took this fight on about a month's worth of notice filling in for Dennis Siver and wanted to get back in the cage after his D'arce choke win over Jonathan Brookins in December. Now 5-1 in the UFC, this is a fight between a pair of top ten featherweights looking to establish themselves as threats against champion Jose Aldo. Cub Swanson is 29-years-old and has been fighting on national television since 2007 when he lost to Jens Pulver in WEC. Aside from that, the only losses since 2009 of his career have come against current top 5 featherweights (Aldo, Lamas, Mendes). However, he's on a three-fight winning streak, all by TKO/KO, against George Roop, Ross Pearson and Charles Oliveira. Both men are aggressive strikers while you give you the edge to Poirier for takedowns. Either man has the opportunity to win in big fashion either by knockout or submission and it all revolves around where you see the fight taking place (standing or on the mat).
Winner: Dustin Poirier, TKO, Round 2
Alex Rella This is a grappler vs striker fight that has huge implications in the featherweight title picture. Swanson has been knocking out everybody lately as he wants that rematch with Jose Aldo. Poirier should be able to win it fairly easily if it goes to the ground, but that's easier said than done. Not only does Poirier have to deal with some great striking, but Swanson's take down defense has greatly improved. Poirier isn't a terrible striker though so he should be able to stand with a Swanson a little, but he'll lose if it doesn't go to the ground. I expect Swanson to continue his winning streak.
Winner: Swanson, TKO, Round 2
The staff picks Dustin Poirier, 3-2.

---
UFC Interim Bantamweight Championship Bout: Renan Barao vs. Michael McDonald
Patrick Mullin: You can once again read my full breakdown in The Blueprint. What I believe this is coming down to is Barao being proactive vs. McDonald being reactive. Michael McDonald is very patient and waits for opportunities to land his big right hand, be it of the cross or uppercut variety. He scores because he often has guys leaving him openings by ducking directly into the uppercut or throwing sloppy kicks. Barao really doesn't do either and fights tall behind a stiff jab which makes it difficult to counter him with a good right. McDonald has submission skills, but Barao has submitted better levels of competition. Ultimately I just think at the moment that in the areas McDonald excels, Barao is even better and that will be the story.
Winner: Renan Barao, TKO, Round 4
Jeremy Lambert: I like this fight. It's a shame that it's taking place on Saturday afternoon and on Fuel, but it's still a good fight. McDonald hasn't fought in what seems like forever, but the last time he was in the cage, he starched Miguel Torres. Barao's resume is a lot better though, especially given Torres' recent fall from grace. His victories over Urijah Faber, Scott Jorgensen, and Brad Pickett give him the best hit list of anyone in the division besides Dominick Cruz. Barao is the more diverse striker, but McDonald hits hard and has great boxing, especially with his counters. Barao can't get too lazy with his techniques or be too willing to brawl, otherwise McDonald will capitalize and possibly put him away. If either fighter tries to take the fight to the ground, I suspect it'll be Barao, but I'm not sure he can get McDonald down. Not that McDonald is a great wrestler, but it's not like Barao has a great shot. Chances are, if Barao goes for a takedown, it'll turn into a stalemate in the clinch. Even if Barao gets a takedown, McDonald is very active off his back, so at the very least he'll make Barao work from the top position. Barao is the more well-rounded fighter and knows how to go 25-minutes, which is why I favor him in this fight, but McDonald can't be counted out given his power and boxing. I think Barao will be able to out-strike him and wear him down with kicks over the course of the five rounds and take a clear cut decision.
Winner: Barao, Decision
Jeffrey Harris: Good fight for the bantamweight division. McDonald has shown impressive punching power in recent fights after he knocked out Miguel Torres and Alex Soto. He's been 5-0 under ZUFFA since he was first signed by the WEC. In this fight though, I'm favoring Barao. He's shown impressive defensive wrestling and takedown defense throughout his UFC run as well as good technical striking and boxing. I think Barao will play it smart and conservative and be able to outpoint McDonald to a decision win.
Winner: Renan Barao, Decision
Jonathan Solomon: Something about UFC bantamweight championship fights without Dominick Cruz does not feel right, but consistent knee injuries will throw a wrench into well laid plans every day. The interim champion Renan Barao may seem like he's old by now courtesy of having over 30 professional fights, but he'll only turn 26-years-old later this month. After a healthy Cruz, he remains the most well-rounded bantamweight on the planet thanks to a slick submission game and a sound striking game which prevents his opponents from unleashing their best. He stopped Scott Jorgensen and Urijah Faber from implementing their wrestling and he got the better of striker Brad Pickett before choking him out. He has not lost in 30-fights, but is this weekend going to change that? McDonald just turned 22-years-old last month and would become the youngest UFC champion with a win (if you count interim titles) and damn has he impressed in recent years. He avenged his only loss to become the Tachi Palace Fights champion and is 5-0 between WEC and UFC. He knocked out Miguel Torres last ear and did the same to Alex Soto (but in under a minute) at UFC 139. He's a brown belt in Brazilian Jiu-Jitsu and does not have a famed wrestling background, but he has had success in using takedowns to his advantage.
The problems I foresee for McDonald are two-fold. First, I don't trust his hands. Not his striking or technique, but the health of his hands. He admits to not treating his hands well as a teenager (poor gloves for example) and having trained and fought with less than stellar hands throughout his UFC run. He had surgery last year to repair the situation and had to pull out of a potential fight with Urijah Faber. He says there's no issue now, but you have to see it to believe it, no? Plus, unless he tags Barao with an absolute TNT-packed punch, how does he beat him? The interim champion should be more effective grappling and if he can avoid being finished on the feet, he has more ways to win.
Winner: YOUR WINNER and STILL UFC INTERIM Bantamweight Champion, Renan Barao, Decision
Alex Rella: I know Barao is the huge favorite going into this one, but I just see McDonald winning. Barao has defeated the best bantamweights in the world today (except Cruz), but he has to be very careful in this fight. There has been times in his past fights where he has gotten away with some lazy brawling, but McDonald will wreck him if this happens. McDonald is a very patient striker and I think all he needs is one opening to come away with this. Barao would be smart to try and take this to the ground, but that isn't a given either as McDonald is pretty good off his back too. I'm taking the upset and the new youngest UFC champion.
Winner: McDonald, TKO, Round 3
The staff picks Renan Barao, 4-1.

---
Remember to join 411's coverage of UFC on Fuel on Saturday morning!
comments powered by Disqus