411's MMA Roundtable Preview – UFC on Fuel TV: Franklin vs. Le
November 9, 2012 | Posted by
WELCOME:
The UFC's debut in China is headlined by a middleweight bout between former champion Rich Franklin and Cung Le! In the co-main event, the unbeaten Stanislav Nedkov fights Thiago Silva. In welterweight action, Paulo Thiago faces Dong Hyun Kim. Also, Jon Tuck vs. Tiequan Zhang, Alex Caceres vs. Motonobu Tezuka, Takanori Gomi vs. Mac Danzig, and more!
THE STAFF:
From Occupy The Throne, Jeremy Lambert!
From MMA's 3R's, Jeffrey Harris!
From The Blueprint, Patrick Mullin!
A certain measure on the Oregon ballot didn't go his way, so be nice to Dustin James!
And from The Greatest MMA News Column, Dan Plunkett!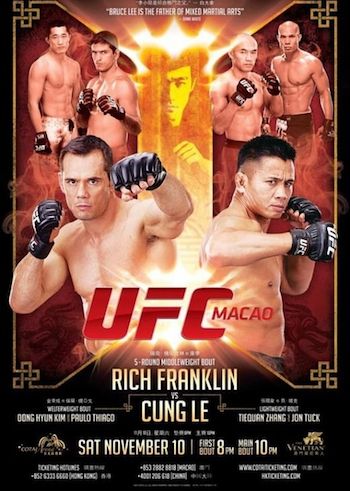 THE PRELIMINARY CARD:
All prelims air on Facebook.
John Lineker vs. Yasuhiro Urushitani
Jeremy Lambert: Urushitani, TKO, Round 1
Jeffrey Harris: Urushitani, TKO, Round 1
Patrick Mullin: Urushitani, Submission, Round 1
Dustin James: John Lineker, Decision
Dan Plunkett: Lineker, Decision.
The staff picks Yasuhiro Urushitani, 3-2.
Tom DeBlass vs. Riki Fukuda
Jeremy Lambert: Fukuda, Decision
Jeffrey Harris: Fukuda, Decision
Patrick Mullin: Fukuda, Unanimous Decision
Dustin James: Riki Fukuda, Decision
Dan Plunkett: Fukuda, Decision.
The staff picks Riki Fukuda, 5-0.
David Mitchell vs. Hyun Gyu Lim
Jeremy Lambert: Mitchell, Decision
Jeffrey Harris: Mitchell, Decision
Patrick Mullin: Hyun Gyu Lim, Unanimous Decision
Dustin James: David Mitchell, Submission, Round 1
Dan Plunkett: Mitchell, Decision.
The staff picks David Mitchell, 4-1.
Alex Caceres vs. Motonobu Tezuka
Note: UFC switched this bout with the Mizugaki-Hougland fight, which is why Dustin has a write-up for the fight and others don't.
Jeremy Lambert: Caceres, Submission, Round 2
Jeffrey Harris: Caceres, Submission, Round 1
Patrick Mullin: Caceres, TKO, Round 2
Dustin James: Who doesn't give two shits about this fight? THIS GUY!!! Alex "Bruce Leroy" Caceres is the favorite MMA fighter of 411's own Samer Kadi, so that gives me a big reason to dislike him. Usually if Samer likes something, that gives me an instant reason to automatically hate it. That's just how bad I hate Samer. Sooooooo needless to say, I'm going with Motonobu Tezuka mainly out of my dislike for another writer. That's just the kind of awesome fight breakdowns you receive here at 411mania! Suck it Samer!
Winner: Motonobu Tezuka, Decision
Dan Plunkett: Caceres, TKO, Round 2
The staff picks Alex Caceres, 4-1.

---
THE MAIN CARD:
Mac Danzig vs. Takanori Gomi
Jeremy Lambert: I really want Gomi to win this fight, because I'm one of those people who likes it when PRIDE guys do well. But it's impossible to trust Gomi at this point. He's the same fighter he's always been, but his punches come much slower, he doesn't attack the body as much, and his chin is no longer bulletproof. Now Danzig isn't exactly a top level fighter, but he has good striking defense and should be able to see Gomi's punches coming a mile away. Gomi has good takedown defense early, so Danzig will likely be forced to stand with him for at least the first five minutes. After that though, Gomi will get tired and Danzig should be able to take him down and lock on a submission. It'd be nice if Gomi could turn back the clock again like he did against Tyson Griffin, but it's just not smart to put faith in him at this point in his career.
Winner: Danzig, Submission, Round 2
Jeffrey Harris: Mac Danzig hasn't been great shakes in his UFC run but he should have no problem handling Takanori Gomi. Gomi's a decent puncher with heavy hands but he's been horrendously inconsistent over the years. His takedown defense is terrible and he has absolutely no submission defense. Danzig will grind this one out no problem or get Gomi to the ground and submit him easily.
Winner: Danzig, Submission, Round 1
Patrick Mullin: I gave credit in Fact or Fiction to Joe Silva for being so good at his job, and then he goes and books a fight I could not care less about. Gomi is a poor striker with KO power and mediocre wrestling. Danzig is a decent to average MMA boxer with better ground skills than Gomi. Ugh you know what the less said about this fight the better.
Winner: Danzig, Submission, Round 3
Dustin James: Taknaori Gomi is one of my all-time favorite lightweight fighters. I've always been a big fan of Gomi's and while his UFC run has been less-than-impressive thus far, I would LOVE to see him walk away with a win over Mac Danzig this weekend. Gomi is 2-3 inside the Octagon since signing with the UFC in 2010. He beat Tyson Griffin with an amazing KO at UFC on Versus 2 back in August of 2010 and after that fight he ended up dropping two consecutive fights to Clay Guida and Nate Diaz (two of the top talented fighters in the UFC's lightweight division). Thankfully for Gomi fans, "The Fireball Kid" picked up a win over Eiji Mitsuoka at UFC 144 and lived to fight another day. This match-up with Danzig is interesting for numerous reasons. Danzig has been very disappointing thus far in his UFC career since winning season 6 of "The Ultimate Fighter". He's 5-5 inside the Octagon since winning the show back in 2007 and has done just enough to save his ass from being fired. Danzig definitely has the talent to beat Gomi, I just don't know if he has the heart to do so. It seems that whenever Danzig faces off against top tier opponents (although calling Gomi a "top tier" opponent at this stage of his career is definitely stretching it) he buckles. Can he finally break that curse and get a win over someone who's not a failed "TUF" champion? My gut's telling me no, but my brains telling me yes……
Winner: Mac Danzig, Submission, Round 2
Dan Plunkett: Unfortunately it's been a long time since Gomi has looked good in a fight, including his wins. He still has power in his hands and can be somewhat difficult to take down, but he doesn't have much left beyond that. Danzig has better submissions and isn't a bad fighter.
Winner: Danzig, Decision.
The staff picks Mac Danzig, 5-0.

---
Jeff Hougland vs. Takeya Mizugaki
Jeremy Lambert: The man who ruined Miguel Torres' career has traded wins and losses in his last 9 fights and he lost his last one, so obviously he's going to win this fight. Hougland is a good grappler, but his takedowns aren't anything special and even if he can get Mizugaki on the ground, it's not like he's incompetent there. No matter where this fight takes place, I give the edge to Mizugaki. But because he is who he is, he probably won't finish the fight. So we could be treated to a lackluster one-sided bout.
Winner: Mizugaki, Decision
Jeffrey Harris: Not expecting fireworks here. Both guys are coming off losses and are going to be cautious and play this one safe since a loss here for either guy could mean cuts-ville. Mizugaki will be coming in with the better takedowns and wrestling here. Hougland has not proven to be that great of a striker or submission artist under the UFC. If Mizugaki defends the subs, he should have no problem picking up the victory.
Winner: Mizugaki, Decision
Patrick Mullin: As the unofficial president of the North American Takeya Mizugaki fan club I'm very happy this bout was moved to the main card of the telecast. Houghland is a pretty decent wrestler which is usually the best way to beat Mizugaki. Mizugaki however is coming off of a bogus decision loss to Chris Cariaso and will look to be extra motivated. Busy striking is the way to keep a wrestler from shooting on you and so I like Mizugaki to outwork Houghland here.
Winner: Mizugaki, Unanimous Decision
Dustin James: Takeya Mizugaki, Decision
Dan Plunkett: Hougland is a fine grappler, but simply put, I don't think he poses a strong threat to Mizugaki.
Winner: Mizugaki, Decision.
The staff picks Takeya Mizugaki, 5-0.

---
Jon Tuck vs. Tiequan Zhang
Jeremy Lambert: Zhang has good submissions, but that's about it. I don't know much about Tuck except that he has an awesome nickname and plenty of power in his hands. Zhang was supposed to be the UFC's big Chinese superstar, but then we found out that he's not very good. He's on this card because of his roots, but it could be his last time in the UFC for the foreseeable future. I think Tuck is good enough to keep the fight on the feet, connect with a big punch, and piss off the crowd.
Winner: Tuck, TKO, Round 1
Jeff Harris: Zhang came onto the scene and submitted Pablo Garza in his WEC debut. Tuck is a new guy, but he's undefeated and finished all his fights so far. Zhang thus far has been pretty disappointing in the UFC and I don't have much faith in him here to get the job done. I'm picking the newbie here in Tuck to either finish Zhang or beat him.
Winner: Tuck, TKO, Round 1
Patrick Mullin: This seems to be the UFC getting the Chinese fighter an easy opponent. Tuck was the guy who knocked his own toe out of place in a lackluster losing effort to Al Iaquinta to get into the TUF house. I know nothing of him beyond that and the little I know of Zhang doesn't mean much. I assume Zhang will win because the UFC doesn't want to deflate the crowd.
Winner: Zhang, Split Decision
Dustin James: The only thing interesting about this fight is that it's the UFC debut of Jon "Super Saiyan" Tuck. For those of you unfamiliar with Tuck, he's an undefeated MMA prospect who's been fighting professionally since 2007, although he's only had six professional fights in 5 years (does this guy think he's GSP or something????). His last victory came against Tristan Arenal at PXC 28 almost a year ago and if this guy ever starts to focus his entire time on MMA instead of jiu-jitsu tournaments, he could be a force in MMA. He did lose to Al Iaquinta and lost his chance to appear on The Ultimate Fighter: Live last year, but something tells me Tuck learned a lot from that loss and he's ready to move on. His opponent is likely fighting for his UFC career here as Tiequan Zhang has lost his last three out of four fights under the Zuffa banner and is only 1-2 since coming over to the UFC. Zhang better pull off the win here otherwise he'll likely be fighting on DREAM'S New Year's Eve card next month. Unfortunately for him, that's the way I see it going down….
Winner: Jon Tuck, TKO, Round 1
Dan Plunkett: Zhang isn't very good and I don't like his chances here. Tuck should prove to be better on the ground.
Winner: Tuck, Decision.
The staff picks Jon Tuck, 4-1.

---
Dong Hyun Kim vs. Paulo Thiago
Jeremy Lambert: This would've been a good fight like two years ago. Now it's just a fight that is happening and I'm not expecting much from it. Thiago is a good counter striker with heavy hands and Kim is a decent striker who moves well, but the strength of both men is on the ground. Kim has the better takedowns, but Thiago is the better grappler. The problem with Thiago's grappling is that he gives up position way too easily. Kim's grappling is top game oriented, so Thiago might be better off just staying in top position, not taking too many risks, and controlling position. For that reason, I think this could be a boring fight. Thiago will likely win the grappling battle, but Kim will play enough defense to avoid a submission. Even if the fight stays standing, I give Thiago the edge because he is the better overall striker with the power advantage. Either way, I have low expectations for this one.
Winner: Thiago, Decision
Jeffrey Harris: Both guys are coming off losses here and are in major need of a rebound. Both guys have some decent striking but are not outstanding. Kim has great takedowns, wrestling, and throws. Thiago is good on the ground and off his back however that is Kim's whole world and he was able to neutralize Nate Diaz no problem. Kim I think will be able to outgrapple and outwork Thiago and win this one and should be a fun grappling contest.
Winner: Kim, Decision
Patrick Mullin: I hate to say this because I really like both guys but this one has stinker written all over it. Each guy tends to fight cautious and looking to use counter strikes(Thiago) or throws(Stun Gun). Thiago will probably be extra-gun shy after his quick KO loss in his last bout and Kim knows he needs a win just as much after his odd injury loss to Demian Maia. Thiago has a better record as a finisher and has more tools in his arsenal so I lean towards him and pray this doesn't stink.
Winner: Thiago, Unanimous Decision
Dustin James: This is an interesting fight. Both guys used to be kinda sorta considered title contenders in the welterweight division, but have both had setbacks recently and have fallen from grace. Unfortunately for fans of Paulo Thiago, this will likely be the last time we see him in the Octagon. I can't see him beating Kim and I also can't see the UFC keeping him around if he's 1-4 in his last 5 fights. We shall see though…..
Winner: Dong Hyun Kim, Decision
Dan Plunkett: This might be the most intriguing fight on the card. Kim is a very good judoka and Thiago is a black belt in BJJ. I'm going back and forth on this pick, but I'll go with Kim. I don't think Thiago will be able to have continued success at taking him down and I see this fight as one that will largely be a clinching and grappling contest.
Winner: Kim, Decision.
The staff picks Dong Hyun Kim, 3-2.

---
Stanislav Nedkov vs. Thiago Silva
Jeremy Lambert: Nedkov hasn't fought in forever, which is never a good thing, but he's also not a great fighter, which isn't a good thing either. He's a sloppy striker, but he does have power, and Silva's chin has been questioned before, so if Nedkov can close his eyes and wing a hail mary punch again, maybe he'll shock the world and score a KO. Outside of that happening, he's pretty much screwed in this fight. Silva is an aggressive boxer who hits as hard as anyone in the division, but his true strength is his ability to take guys down and beat the hell out of them with ground and pound. That's what I expect out of Silva in his fight, who will be looking to get back on the winning track after losing his last fight and having his win over Brandon Vera taken away due to a failed drug test. Nedkov has never lost and his chin held up pretty well against Cane, so the stoppage might not be spectacular, but that won't matter to Silva.
Winner: Silva, TKO, Round 1
Jeffrey Harris: With the Brandon Vera victory expunged, Silva has been lacking a legitimate win in the UFC since he beat Keith Jardine. I think the advantage here is that Silva has at least had the shorter layoff here as Nedkov has not fought since August 2011. Silva despite his recent issues is the stronger striker and puncher. I think that will favor him here. Silva hands Nedkov his first ever defeat here.
Winner: Silva, TKO, Round 2
Patrick Mullin: I have a soft spot for Nedkov as A) I find it very hard to dislike guys who always come looking to throw down and B) He won me a substantial amount of money by beating up Luiz Cane. That being said he's proven so far in the UFC and Sengoku to be a one dimensional brawler without a big punch. Thiago Silva is pretty much a gatekeeper at this stage of his career and its his job to beat guys like Nedkov. He's a heavier hitter and also is likely to put Nedkov on his back and pound away at him until its stopped.
Winner: Silva, TKO, Round 2
Dustin James: This is another interesting fight. You know the UFC is hoping and praying that Stanislav Nedkov is the real deal. The UFC's light heavyweight division is in dire need of some new challengers to Jon "Bones" Jones' title and if Nedkov can come out and maul Silva in impressive fashion, it may not be long before people start mentioning Nedkov's name as Jones' next victim. The only question is, can he do it? He's facing off against a guy who was once considered a top contender in the light heavyweight division, you know, back before he started losing fights and getting suspended for failed drug tests. However, Silva is still capable of coming out and competing at a high level and it wouldn't shock me one bit to see him wipe the floor with Nedkov and reminding us exactly how dangerous a focused Thiago Silva can be. Actually, you know what? I think that's what I'll go with.
Winner: Thiago Silva, TKO, Round 2
Dan Plunkett: Nedkov is undefeated, but he's not a guy that will set the world on fire. Silva doesn't have great defense and could be hit by Nedkov, but I think the more likely route is Silva beating down Nedkov on the ground.
Winner: Silva, TKO, Round 2.
The staff picks Thiago Silva, 5-0.

---
Rich Franklin vs. Cung Le
Jeremy Lambert: Cung + 25 minutes = bad news. Luckily for him, it probably won't get that far. I'll give Cung some credit in his last fight as he was able to fight a little more reserved and have something left in the third round, but I put more of the blame on Patrick Cote, who just decided to stand in front of him and be a punching bag. Franklin isn't going to do that. He's going to do his usual thing where he throws a lot of kicks, gets in and out, and puts together some combinations. Franklin can be lazy defensively, but Cung isn't a counterstriker with the ability to capitalize on Franklin's poor habits. If Franklin wants to make this easy on himself, he just moves forward and throws power punches or gets a takedown and locks on a submission. But because he's Rich Franklin and he likes to put on a show instead of making things easy, he'll use his distance well, throw his usual strikes, and pick apart Cung. Eventually Cung will get tired from throwing his 500 million spinning attacks and taking a beating and Franklin will be able to put him away sometime late in the second or early in the third.
Winner: Franklin, TKO, Round 2
Jeffrey Harris: I could see this fight going a number of ways, but since this is five rounds, I favor Franklin looking better as the fight goes on and winning a war of attrition against Cung Le. This being five rounds I think favors Rich Franklin a lot more. Le is older guy and has never gone the distance in a five round fight. Franklin has. I think Le will have a good round or two on Franklin, but then Franklin will be patient and end up out striking Le to eventually pick up the victory.
Winner: Franklin, Decision
Patrick Mullin: If you want the real in depth analysis don't forget to check out this week's Blueprint as this is our subject. However the two big factors I see this coming down to are Franklin being much more equipped with superior wrestling and submissions and the fact that he's an immaculately conditioned athlete. Le has to rely on the big strike to try to win by KO and the longer this goes the worse off he is due to his cardio issues.
Winner: Franklin, Submission, Round 2
Dustin James: Apparently the UFC hates Cung Le. Why else would they continue to give him opponents he stands a little chance of beating (outside Patrick Cote of course)? I know I can't be alone here when I say that I expect Rich Franklin to absolutely maul Le this weekend. I've always thought that Le was extremely overrated and he's never beaten anyone worth a damn outside of an over the hill Frank Shamrock. Does anyone really expect this guy to beat the legend that is Franklin? Hopefully Franklin sends Le into retirement so I can stop hearing about how "good" this guy is. GET EM' ACE!
Winner: Rich Franklin, TKO, Round 2
Dan Plunkett: Le has a chance here because he's a unique striker that's tough to train for, but I don't think he has a great chance. At 40, he's well past his physical prime and coming into this fight with a foot injury he carried over from his July bout against Patrick Cote. Franklin is bigger, his skills have held up better, and his conditioning should be superior.
Winner: Franklin, TKO, Round 3
The staff picks Rich Franklin, 5-0.

---
Remember to join 411's coverage of UFC on Fuel on Saturday morning!
comments powered by Disqus