411's MMA Roundtable Preview – UFC on FX: Belfort vs. Bisping
January 18, 2013 | Posted by
WELCOME:
Michael Bisping looks to earn a title shot when he takes on Vitor Belfort in the main event of UFC on FX! In the co-main event, TUF: Brazil contestant Daniel Sarafian faces CB Dollaway. At heavyweight, Gabriel Gonzaga fights Ben Rothwell. Plus, Thiago Tavares vs. Khabib Nurmagomedov, and more!
THE STAFF:
From MMA's 3R's, Jeffrey Harris!
From The Blueprint, Patrick Mullin!
From Occupy The Throne, Jeremy Lambert!
From MMA on Tap!, Jon Butterfield!
From Locked in the Guillotine, Robert Winfree!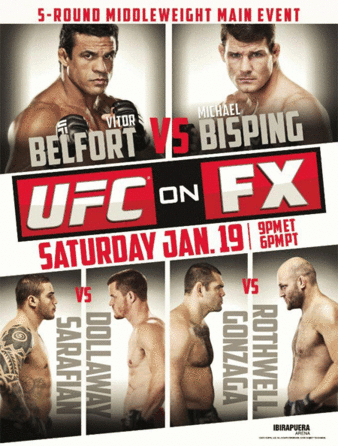 THE PRELIMINARY CARD:
First prelim to air on Facebook.com, rest on Fuel TV
Lightweight Bout: Francisco Trinaldo vs. CJ Keith
Jeffrey Harris: Francisco Trinaldo, Submission, Round 1
Patrick Mullin: Francisco Trinaldo, TKO, Round 2
Jeremy Lambert: Trinaldo, TKO, Round 1
Jon Butterfield: Francisco Trinaldo, Decision
Robert Winfree: CJ Keith, Decision
The staff picks Francisco Trinaldo, 4-1.
Light Heavyweight Bout: Wagner Prado vs. Ildemar Alcantara
Jeffrey Harris: Ildemar Alcantara, Decision
Patrick Mullin: Wagner Prado, TKO, Round 1
Jeremy Lambert: Prado, TKO, Round 1
Jon Butterfield: Ildemar Alcantara, Submission, Round Three
Robert Winfree: Wagner Prado, TKO Round 2
The staff picks Wagner Prado, 3-2.
Bantamweight Bout: Yuri Alcantara vs. Pedro Nobre
Jeffrey Harris: Yuri Alcantara, TKO, Round 1
Patrick Mullin: Yuri Alcantara, Submission, Round 3
Jeremy Lambert: Alcantara, Decision
Jon Butterfield: Yuri Alcantara, Submission, Round One
Robert Winfree: Yuri Alcantara, Decision
The staff picks Yuri Alcantara, 5-0.
Lightweight Bout: Edson Barboza vs. Lucas Martins
Jeffrey Harris: Edson Barboza, TKO, Round 1
Patrick Mullin: Edson Barboza, TKO, Round 2
Jeremy Lambert: Barboza, TKO, Round 1
Jon Butterfield: Edson Barboza, TKO, Round One
Robert Winfree: Edson Barboza, TKO Round 1
The staff picks Edson Barboza, 5-0.
Featherweight Bout: Diego Nunes vs. Nik Lentz
Jeffrey Harris: Nik Lentz, Decision
Patrick Mullin: Diego Nunes, Unanimous Decision
Jeremy Lambert: Nunes, Decision
Jon Butterfield: Nik Lentz, Submission, Round Three
Robert Winfree: Nik Lentz, Decision
The staff picks Nik Lentz, 3-2.
Middleweight Bout: Ronny Markes vs. Andrew Craig
Jeffrey Harris: Andrew Craig, Decision
Patrick Mullin: Andrew Craig, Unanimous Decision
Jeremy Lambert: Markes, Submission, Round 3
Jon Butterfield: Andrew Craig, Decision
Robert Winfree: Andrew Craig, Decision
The staff picks Andrew Craig, 4-1.
Featherweight Bout: Godofredo Castro vs. Milton Vieira
Jeffrey Harris: Godofredo Casto, Decision
Patrick Mullin: Milton Vieira, Unanimous Decision
Jeremy Lambert: Castro, Decision
Jon Butterfield: Milton Vieira, Submission, Round Two
Robert Winfree: Godofredo Castro, Submission Round 2
The staff picks Godofredo Castro, 3-2.

---
THE MAIN CARD:
Lightweight Bout: Thiago Tavares vs. Khabib Nurmagomedov
Jeffrey Harris: Nurmagomedov's last fight against Gleison Tibau was extremely disappointing. It was a fight I don't think he should've won. Still, I see this as a winnable fight for him with the way he likes to grind and use the clinch and keep moving forward. Nurmagomedov's strength is his grappling, so I don't see him being able to submit Tavares who has never been submitted. But I think he will do enough to get a victory.
Winner: Khabib Nurmagomedov, Decision
Patrick Mullin: I really do believe that Khabib Nurmagomedov has the potential to be a UFC champion. He has world class grappling skills and at a young age can learn the needed intricacies of the game to become one of the best. That said he's facing a well schooled grappler with heavy hands in Thiago Tavares. While Tavares hits hard he's not overly technical and I think Nurmagomedov will be able to have his way with the grappling, though a finish is unlikely.
Winner: Khabib Nurmogomedov, Split Decision
Jeremy Lambert: Tavares has been in the UFC since 2007 and it feels like he's gone nowhere. I guess that's what happens when you're an inconsistent fighter but don't lose enough to be cut. Nurmagomedov beat Gleison Tibau in his last fight, but his performance was pretty lackluster. That said, I think he can he can replicate the same type of game plan against Tavares, at least that's what he should look to do since I think Tavares outstrikes him pretty easily, although Nurmagomedov does have heavy hands. I think Nurmagomedov slows the action down when he gets in trouble and wins a decision, but who cares.
Winner: Nurmagomedov, Decision
Jon Butterfield: Gleison Tibau is a big, powerful roadblock that most lightweights just can't get by – Khabib Nurmagomedov did, however, though in somewhat unimpressive fashion. Still, a winning strategy is a winning strategy, and it's not out of the question to expect something similar against the slightly more dynamic Thiago Tavares. Tavares isn't as awkward as Tibau, in my opinion, and is a more favourable foe for Nurmagomedov, who should be able to out-work him on the feet and dominate in top control to pick up a points win.
Winner: Khabib Nurmagomedov, Decision
Robert Winfree: I thought Khabib Nurmagomedov lost his last fight against Gleison Tibau, but no sense in being upset over the past. The reality is that Nurmagomedov is a very talented fighter, he has good grappling, good striking, and a big upside. Thiago Tavares is the definition of a no where fighter, he's been with the UFC since 2007 and hasn't changed his status at all during that time. Hopefully Nurmagomedov has a better showing here than his last fight, but he should win either way.
Winner: Khabib Nurmagomedov, Decision
The staff picks Khabib Nurmagomedov, 5-0.

---
Heavyweight Bout: Ben Rothwell vs. Gabriel Gonzaga
Jeffrey Harris: I hope Ben Rothwell shows the same dedication he did in his last fight against Schaub where he came in great shape and actually looked ready to fight for once. Both guys have been very inconsistent throughout their Octagon careers. I see this fight going two ways. It will either be a dull, slow and disappointing heavyweight affair like Rothwell's fights with the likes of Yvel and Mark Hunt, or a guy will get knocked out some time in the first. Gonzaga returned to the UFC, but he hasn't fought in about a year. Rothwell hasn't fought since April, so ring rust could be an issue for both fighters. Gonzaga packs some power, but generally if you push forward and attack him, he will go down and eventually crumble. If Rothwell is prepared to do that, I think he will win. I'm interested to see this fight and how it will ultimately go.
Winner: Ben Rothwell, TKO, Round 1
Patrick Mullin: This is an extremely close fight between two guys who have 'Jekyll and Hyde Syndrome' as fighters. When they're in shape and come to fight they tend to win impressively. When they train just a little bit lackluster they show up and get schooled by guys they have no reason to lose to. Each guy looked extremely motivated in their last bout with Gonzaga submitting Giant Oliveira and Rothwell knocking out Brendan Schaub. I think Gonzaga is capable of standing with Rothwell without being outgunned and he'll be able to get his grappling game going and close on Rothwell for ground and pound. That will set up a submission for him and a hometown victory.
Winner: Gabriel Gonzaga, Submission, Round 2
Jeremy Lambert: There's nothing I love more than watching Rothwell get destroyed so I'm pumped for this fight. Not that I completely trust Gonzaga, I mean, just look at his track record, but when it comes to talent, Gonzaga is levels above Rothwell. Rothwell hits hard and that's about it. Gonzaga hits hard as well, but he's the more diverse striker and his leagues better on the ground. If Gonzaga decides to takedown Rothwell right away, chances are he can submit him within 30 seconds. Mark Hunt nearly submitted Rothwell for Christ's sake. It's possible that Rothwell catches Gonzaga, because Gonzaga is flakey and has a terrible chin, but if he's smart and fights like he did in his last bout, this one shouldn't last long. However, for the sake of myself and Samer Kadi making an entire podcast out of one fight, I hope this fight is 15-minutes of sloppy, slow, heavyweight action.
Winner: Gonzaga, Submission, Round 1
Jon Butterfield: I shudder to think how bad this fight could be, so let's just hope it surpasses all expectations and provides a bone-crunching finish. Both are capable of delivering a KO, but Gonzaga often looks far too flat-footed to score one against anyone with above-average movement, and while that's not exactly Rothwell's strength, 'Big' Ben's experience should see him avoid the heaviest weaponry in Gonzaga's arsenal. The biggest advantage in this fight, however, is Gonzaga's ground game, where he should be too much for Rothwell so long as he winds up on top at one point or another. I don't think that will happen, though, so my pick is Rothwell to win by TKO late in the first – Gonzaga is the more talented fighter, but isn't physically adept at taking punishment. The more of a scrap this is, the more it favours Rothwell.
Winner: Ben Rothwell, TKO, Round One
Robert Winfree: If this fight doesn't end early it will be ugly. Dare I say an early front runner for worst fight of the year in fact. This fight in many ways comes down to how Gabriel Gonzaga decides to fight. Honestly I'm just not really looking forward to this one. If Gonzaga's last fight was any indicator he's more willing to use his submission game this time, and assuming he doesn't have a mental break down, which is quite possible, I think he wins here.
Winner: Gabriel Gonzaga, Submission Round 1
The staff picks Gabriel Gonzaga, 3-2.

---
Middleweight Bout: Daniel Sarafian vs. CB Dollaway
Jeffrey Harris: Sort of an odd choice for the co-main event. I think the heavyweight bout probably should've been the co-main event, but it's a free fight on FX so who cares? Sarafian is a Brazilian fighter that is 7-2 with limited experience. He lost in the prelims of the first ever Bellator event in 2009. And he lost to Mike Whitehead before that. He also hasn't fought in over a year and a half. Dollaway, not the best or grittiest dude and he's been wildly inconsistent throughout his UFC tenure but with his grappling and wrestling he should be able to take care of this guy very quickly unless his fails him again.
Winner: CB Dollaway, Decision
Patrick Mullin: Honestly there may not be a fighter I enjoy watching less than CB Dollaway. I cannot stand to watch this guy impersonate a wet blanket every time he steps into a cage and I relish seeing him lose. I have no good reason to pick against him other than I desperately want it to happen so the UFC can potentially cut him and I never have to see him on TV again.
Winner: Daniel Sarafain, Round 1, For the Love of God
Jeremy Lambert: I don't know anything about Sarafian because I didn't watch TUF: Brazil and don't feel like searching out YouTube videos of his fights against no-name Brazilians. I do know about Dollaway though and I know that he's not all that good. His striking sucks and even though his wrestling is alright, his submission defense isn't very good. I'm sure Sarafian has no wrestling background, but Brazilians typically have good hips, which means he might be able to explode to his feet or shift for an armbar on the ground. I'm going with the unknown here because that's how much I thing of Dollaway. I figure Sarafian catches him early and then submits him on the ground. At least that's what I'm rooting for.
Winner: Sarafian, Submission, Round 1
Jon Butterfield: Daniel Sarafian is the favourite coming in to this fight, which surprises me somewhat. I haven't seen TUF: Brazil and know next to nothing about Sarafian, but his record on paper is pretty poor. He is 0-1 in Bellator, and it's not like he was just fed to a far superior fighter either, which Bellator have a tendency of doing – he lost to Gary Padilla by TKO. Sarafian also lost to the much larger Mike Whitehead, which suggests he isn't quite as slick as some think. Back to this fight – CB Dollaway gets a hard time given how bad some of his fights have been, but you'd imagine he could beat the opposition Sarafian has faced pretty handily, and I imagine he'll out-wrestle the Brazilian here.
Winner: CB Dollaway, Decision
Robert Winfree: You know, for all the potential CB Dollaway had at one point he flushed it away by not even trying to finish Jason Miller when Miller was clearly fighting on one leg. Unfortunately I think Dollaway uses the same basic method here, takedown and hold down.
Winner: CB Dollaway, Decision
The staff picks CB Dollaway, 3-2.

---
Middleweight Bout: Vitor Belfort vs. Michael Bisping
Jeffrey Harris: This is a good test for Bisping to fight a bigger name dude and a fast, heavy handed striker, long seen as one of his weaknesses. Bisping had a strong performance against Chael Sonnen despite coming out of it with a loss. Belfort is a very good first round fighter. He has powerful, fast, quick, and heavy hands but if a fight gets out of the first round without him getting the finish, he tends to lose. Belfort is a powerful striker, but his takedown defense and wrestling is terrible. Bisping has done well in not only dealing with a top shelf wrestler like Sonnen, but also showed much improved wrestling and takedowns to neutralize a good striker like Brian Stann. If Bisping can avoid Belfort's power and take this to the ground, I think he can win this. Belfort's dangerous off his back, but Bisping has fairly good submission defense. Bisping has much better cardio and conditioning than Belfort who lacks heart and has never throughout his career been able to come back once the fight gets into deeper waters.
Winner: Michael Bisping, Decision
Patrick Mullin: You can read my full breakdown of this fight in this week's Blueprint. What this is basically going to come down to is Michael Bisping's lack of intelligence. People claim Vitor isn't a smart fighter but Michael Bisping makes him look like Anderson Silva. Bisping constantly circles into his opponent's power hand whether they're orthodox or southpaw, moves backward in a straight line when rushed, and throws kicks in close distance. Combine that with the fact that Belfort is the stronger of the two physically and a better grappler than Bisping and this is about as bad a style match up as you can get for the Count, who goes down for the count in this one.
Winner: Vitor Belfort, KO, Round 1
Jeremy Lambert: I really want Bisping to win this fight, only because it means we'll likely get to see Anderson Silva screw around and then destroy him in England. But beating Belfort is no easy task, especially when you're as hittable as Bisping is. In almost every single fight he's ever been in, Bisping has been caught and hurt. To his credit, he's almost always survived, come back, and then win the fight. But when Belfort has a guy hurt on the feet, he rarely lets them off the hook. If Bisping can survive that initial flurry though, this is his fight to lose. He should have the cardio advantage over the course of 25-minutes and we know that Belfort is a mental flake. Say what you will about Bisping, but he's a pretty mentally tough fighter who knows how to pour it on at the right time. I expect Bisping to stay on his bicycle early, but also give Belfort different looks by threatening with the takedown. Bisping is an underrated wrestler, but Belfort's takedown isn't terrible or anything. And don't be shocked if Belfort tries to takedown Bisping, especially in later rounds if he starts to get a little tired. Hell, maybe he'll pull guard again like he did against Jon Jones. I've never been completely sold on Bisping, but I can't argue with the results he's produced and I hate trusting Belfort given his history. That said, I like Belfort in this fight because if he hurts Bisping, chances are he'll put him away. Even if it takes a couple of shots to the back of the head.
Winner: Belfort, TKO, Round 1
Jon Butterfield: Michael Bisping's boxing has come on leaps and bounds, and the Clitheroe fighter is up there with Nick and Nate Diaz in that regard. A master of landing in huge number, Bisping gets a hard time for his lack of KO power, but that's pretty ridiculous since few criticize the aforementioned Skrap Pack members in that regard. Bisping's fights are generally very entertaining, and as has been alluded to alraedy, he has a tendency to come from behind and out-last foes en route to a win. He can't afford to do that here, though, so he'll have to be at his best in terms of footwork and movement, because Belfort is a blitzkrieg machine with phenomenal hand speed and frightening power.
Having said that, it just seems so unlikely that Belfort can win this fight. Belfort relies far too much on his ability to stop fights early that he rarely leaves a great deal in the tank. He also foregoes footwork and movement to some degree and has a tendency to fight at a slower pace as he waits for openings. I predict he'll stand in front of Bisping for too long and get picked apart, with the damage accumulating heavier and heavier as the rounds slip by. KO stoppages of Rich Franklin and Yoshihiro Akiyama show what CAN happen to Belfort's opponents, but Bisping is better than those fighters and will prove it in Belfort's homeland.
Winner: Michael Bisping, TKO, Round Four
Robert Winfree: I'm really of two minds as far as this fight goes. On one hand I want Michael Bisping to win just so Anderson Silva can annihilate him and we never have to hear him talk about a title shot again. On the other, him being on the receiving end of a Vitor Belfort KTFO moment does indeed have its appeal. When thinking about this fight, it goes one of two ways, either Belfort catches Bisping early and puts him away or Bisping out points Belfort. Bisping tends to be caught with punches far too often, and that has me leaning towards Belfort. That said, picking against Bisping unless he's fighting the very best is pretty stupid. As much as I dislike the guy he knows how to win most of the time. I'm going with my heart over my head with this one officially.
Winner: Vitor Belfort, KO Round 1
The staff picks Vitor Belfort, 3-2.
---
Remember to join 411's coverage of UFC on FX live on Saturday night!
NULL
comments powered by Disqus