411's MMA Roundtable Preview – UFC on FX: Browne vs. Bigfoot
October 5, 2012 | Posted by
WELCOME:
Antonio "Bigfoot" Silva takes on Travis Browne in the main event of UFC on FX 5! In the co-main event, Jake Ellenberger looks to get his win back from Jay Hieron. Also, a flyweight title shot is up for grabs when John Dodson fights Jussier Formiga. Plus, Josh Neer vs. Justin Edwards, and more!
THE STAFF:
From MMA on Tap!, Jon Butterfield!
From Occupy The Throne, Jeremy Lambert!
From MMA's 3R's, Jeffrey Harris!
From Locked in the Guillotine, Robert Winfree!
From The MMA 5 & 1, Stewart Lange!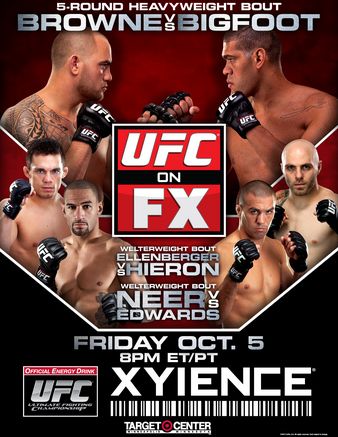 THE PRELIMINARY CARD:
First prelim to air on Facebook.com, rest on Fuel TV
Marcus LeVesseur vs. Carlo Prater
Jon Butterfield: Carlo Prater, Submission, Round One
Jeremy Lambert: Prater, Submission, Round 1
Jeffrey Harris: Prater, Submission, Round 1
Robert Winfree: Carlo Prater, Decision
Stewart Lange: Carlo Prater, Submission, Round One
The staff picks Carlo Prater, 5-0.
Mike Pierce vs. Aaron Simpson
Jon Butterfield: Mike Pierce, Decision
Jeremy Lambert: Pierce, Decision
Jeffrey Harris: Pierce, Decision
Robert Winfree: Mike Pierce, Decision
Stewart Lange: Mike Pierce, TKO, Round Two
The staff picks Mike Pierce, 5-0.
Yves Edwards vs. Jeremy Stephens
Jon Butterfield: Jeremy Stephens, TKO, Round Three
Jeremy Lambert: Stephens, TKO, Round 2
Jeffrey Harris: Stephens, TKO, Round 3
Robert Winfree: Jeremy Stephens, TKO Round 2
Stewart Lange: Jeremy Stephens, Decision
The staff picks Jeremy Stephens, 5-0.
Danny Castillo vs. Michael Johnson
Jon Butterfield: Danny Castillo, Decision
Jeremy Lambert: Johnson, Decision
Jeffrey Harris: Castillo, Decision
Robert Winfree: Danny Castillo, Decision
Stewart Lange: Michael Johnson, Decision
The staff picks Danny Castillo, 3-2.
Shane Roller vs. Jacob Volkmann
Jon Butterfield: Shane Roller, Decision
Jeremy Lambert: Volkmann, Decision
Jeffrey Harris: Roller, Submission, Round 2
Robert Winfree: Jacon Volkmann, Decision
Stewart Lange: Shane Roller, Decision
The staff picks Shane Roller, 3-2.
Diego Nunes vs. Bart Palaszewski
Jon Butterfield: Diego Nunes, Decision
Jeremy Lambert: Palaszewski, Decision
Jeremy Lambert: Palaszewski, Decision
Robert Winfree: Diego Nunes, Decision
Stewart Lange: Bart Palaszewski, Decision
The staff picks Bart Palaszewski, 3-2.
Phil Harris vs. Darren Uyenoyama
Jon Butterfield: Darren Uyenoyama, Submission, Round One
Jeremy Lambert: Uyenoyama, Decision
Jeffrey Harris: Uyenoyama, Decision
Robert Winfree: Darren Uyenoyama, Submission Round 1
Stewart Lange: Darren Uyenoyama, Submission, Round Two
The staff picks Darren Uyenoyama, 5-0.

---
THE MAIN CARD:
Josh Neer vs. Justin Edwards
Jon Butterfield: This is a fight where I see Josh Neer's huge experience advantage playing a major part in his victory. Neer has fought and beaten better than Edwards, and is a very steady fighter who can finish by TKO or submission. He's better rounded than Edwards, and though he may be the less dynamic fighter, I fancy he'll find a way to win as he usually does against mid-level opposition. I'd expect 'The Dentist' to put Edwards away with a submission in either the second or the third. For the sake of picking, I'll say the second.
Winner: Josh Neer, Submission, Round Two
Jeremy Lambert: I don't know why this fight is on the main card over any of the more relevant lighter weight fights on the preliminary card. Neer's chin may have crumbled against Mike Pyle, but Edwards has never shown power, so unless Neer's chin is now butter, he should be fine on the feet. That means Edwards has get the fight to the ground, and while Neer's takedown defense isn't great, he's more than competent on the ground and certainly better than Edwards. Neer obviously isn't a top welterweight, but he's still better than Edwards in all aspects of the sport. This fight makes no sense and it's a shame that it's on the main card over better fighters and better match-ups.
Winner: Neer, TKO, Round 1
Jeffrey Harris: Does it really matter why this is on the main card? Josh Neer is a longtime veteran who has been through some wars and always has exciting fights. The reason this fight is here could be because Neer has a reptuation for exciting performances on UFC cards and fans always complain about the quality of fights with the likes of Aaron Simpson, Mike Pierce, and Jacob Volkmann. It's a free TV card with free fights on FX and Fuel TV. Fuel TV has six fights and it's three hours. So all in all it's a pretty stacked card. Why do fans complain so much about getting free fights? I don't get it. Provided Neer's chin can hold up, I think he brings a better skillset to the table than Justin Edwards. Before he got knocked out by Mike Pyle, Neer was showing some good improvement in his overall striking and grappling game since returning to the UFC. I think Neer takes this in the second by submission.
Winner: Neer, Submission, Round 1
Robert Winfree: Josh Neer was enjoying a nice little revival until his last fight when he was KO'd by Mike Pyle. Justin Edwards has actually had a nice couple of fights in the UFC, but I'm not sure he's ready for Neer's level of fighter just yet. Neer will be looking to get back on the winning track here, and he'll very likely do so.
Winner: Josh Neer, Submission, Round 1
Stewart Lange: The fact I had to google Justin Edwards to remind myself which TUF reject he was speaks volumes for this fight. I think we're looking at a pretty straight forward win for Josh Neer, which should put him right back on track in the division. He'll look for this to be over as quickly as possible.
Winner: Josh Neer, Submission, Round one.
The staff picks Josh Neer, 5-0.

---
John Dodson vs. Jussier Formiga
Jon Butterfield: I don't really know how Jussier da Silva will look in his debut, but as a fighter who was once considered the top flyweight in the world, hopefully he'll impress. Unfortunately for da Silva, his opponent in his UFC debut is the extremely talented John 'The Magician' Dodson, who is liable to make his debut as close and competitive as anyone on the UFC roster. Assuming da Silva can live up to the hype that once surrounded him, we may get an impressive, fifth-straight submission win, but a decision may be more likely. Nah, we'll go for the fun finish!
Winner: Jussier da Silva, Submission, Round Three
Jeremy Lambert: This fight will likely determine the first challenger for the UFC flyweight title. Da Silva was ruling the flyweight division before flyweights were cool while Dodson didn't impress in his UFC flyweight debut, but has the kind of creativeness and explosiveness to win a fight at any time. Like most flyweight bouts, this should be a high-paced affair that could go all over the place. Da Silva is a good striker and more technical, but lacks the power of Dodson and the speed as well. Dodson has a clear edge in the wrestling game and is good enough on the ground and in the scrambles to avoid the submission skills of Da Silva. Due to his wrestling, I slightly favor Dodson. I think he'll do well enough on the feet, but if Da Silva starts getting the better of things, Dodson can always ice rounds with takedowns or clinch work. I expect this to be a very competitive fight, but in the end, I think Dodson will do enough to take the decision.
Winner: Dodson, Decision
Jeffrey Harris: An interesting fight that will determine the next top contender for the flyweight title. An interesting fight. Both guys are extremely fast and quick. Dodson has the heavier hands and would be the more likely of the two to get a knockout. For this fight, I think Dodson brings the better speed and more explosive activity to the fight plus the superior striking. I think that gives him the edge.
Winner: Dodson, Decision
Robert Winfree: This is actually the fight I'm most looking forward too, and will crown the next flyweight title challenger. Jussier Formiga was the best flyweight in the world until 2009 when he was defeated by Ian McCall but hasn't lost since then, or before actually. John Dodson is a quick guy, and will have the edge in power. Formiga has been on a submission spree lately, so it would probably be in Dodson's best interest to avoid grappling if possible. I think Dodson could easily take this, but I'm picking Formiga here.
Winner: Jussier Formiga, Decision
Stewart Lange: John Dodson is an ass, but he's extremely good. This fight between Jussier Formiga da Silva and Dodson could be explosive. Hell, I think it'll be the opposite of the Flyweight final that we had a couple of weeks ago. Where that was a tense, technical affair, this should be a good, old fashioned "slobber knocker." Dodson has crazy power for his size, but da Silva has been killing it at flyweight when we all thought flyweights were girl guides, not fully developed adults. My pick for fight of the night and a genuine coin toss, but Dodson is so dangerous.
Winner: John Dodson, TKO, Round Two
The staff picks John Dodson, 3-0.

---
Jake Ellenberger vs. Jay Hieron
Jon Butterfield: As good as Jay Hieron is (and he's very, very good) this is a very difficult fight that looks designed to get Ellenberger back to winning ways. Of course, if Hieron DOES win, the UFC have a sure-fire top contender with a ton of momentum behind, which is a great thing as far as they're concerned also, so this is a clever piece of booking – it's basically win-win for Zuffa. Breaking it down, though, Hieron would be best served avoiding the tremendous power Ellenberger is packing, but grounding someone with such a solid wrestling base is going to be very difficult indeed. If Hieron can get top position, he can probably pick up the finish, but I don't see Jake finding himself in that predicament. I believe he'll keep the fight standing, and here he'll rock a very game Hieron a few times en route to a third round TKO. It's just that difficult to bet against the 'Juggernaut'.
Winner: Jake Ellenberger, TKO, Round Three
Jeremy Lambert: This is a great fight, although obviously not great enough to headline a PPV. Ellenberger was on a roll before losing to Kampmann, but I still think he's one of the top welterweights in the division, while Hieron fought in every organization in the world before trolling his way back to the UFC. Hieron is a well-rounded fighter but this is a tough match-up for him. Ellenberger hits extremely hard and is actually an underrated boxer, as people only think he has power, but he's also a great counter striker. Hieron has good technical boxing, but doesn't have 1/4th the power of Ellenberger. Wrestling-wise, Hieron isn't bad but Ellenberger is stronger and does great work in the clinch. Ellenberger's biggest strength is that he's an extremely fast starter. Unfortunately, his biggest strength translates into his biggest weakest, which is that his cardio is lacking. Hieron always comes in great shape and the longer the fight goes, the more it favors him. I see this playing out a lot like most Ellenberger fights play out. Ellenberger has a great first round where he nearly finishes things but can't quite but a very durable Hieron away. He slows down in the second round but does enough in the clinch, gets a takedown or two, and lands enough clean strikes to take the round. And then offers very little in the third round as Hieron avoids the takedowns and lands some clean strikes. In the end, Ellenberger wins the decision and Hieron looks shocked.
Winner: Ellenberger, Decision
Jeffrey Harris: Believe it or not this is a rematch from 2006. These two fought in the IFL where Hieron beat Ellenberger by decision and Hieron also held the welterweight title there. I think though of the two since 2006, Ellenberger has become a much better fighter. Hieron is a tough guy and very well rounded. He's a very good wrestler and last year won a Bellator tournament. People forget at one point he was on a 10 fight winning streak before losing a closely fought decision to Ben Askren for the Bellator title which saw him leave the company as a result since they wouldn't give him a rematch. If Ellenberger's chin holds up though, I think he wins this fight. Hieron is more of a grinder between the two and Ellenberg's got much better striking now I think. Hieron's a good fighter and a tough dude but he also seems to have some the worst luck in the business as well.
Winner: Ellenberger, Decision
Robert Winfree: Ah, the rematch between Ellenberger and Hieron. These two fought back in 2006 with Hieron taking the decision to hand Ellenberger his first ever loss. Since then Hieron has been stopped by GSP, had Nick Diaz no show a drug test that caused their fight to be canceled, and lost a close split decision to Bellator champion Ben Askren. The big key to this fight is the first round, if Hieron can survive the first five minutes with Ellenberger he has a chance to take the fight. Ellenberger's cardio has been a bit questionable in the past, and if Hieron can get through the buzz saw first five minutes he'll have a chance to win. In fact I think if this gets out of the first round Hieron has to be favored most of the time. I don't think that will happen though.
Winner: Jake Ellenberger, TKO, Round 1
Stewart Lange: It's a lot harder to bet against Jay Hieron here now we know Jake Ellenberger isn't invincible. Still, we've seen a lot more reasons to believe in Ellenberger than Hieron here, despite how tough a match Butterfield seems to think this will be. Ellenberger will not only be determined, he'll be refreshed and dangerous and quite honestly, I'm a bit worried for Jay Hieron. I'm not saying he won't get his shots in, but Ellenberger will hit him more, harder and quicker and bring this fight to an end in the second.
Winner: Jake Ellenberger, TKO, Round Two
The staff picks Jake Ellenberger, 5-0.

---
Travis Browne vs. Antonio Silva
Jon Butterfield: Antonio Silva didn't have a particularly auspicious UFC debut, being bled like a pig by Cain Velasquez's scything ground and pound attack in a veritable blood bath. He's better than he appeared in that fight, of course, but this fight doesn't look particularly favourable either. While 'Bigfoot' would be wisest to clinch with Browne and try to drag him to the ground, where his abilities from top position are frightening, the fact that Browne is every bit the monster Silva is, I'm not sure that will be so easy. Add to that that Browne is the more dynamic striker (even though Silva is more-than-serviceable in this regard), and that Silva's chin is poor (Mike Kyle, anyone?), and the odds are that Browne advances even further up the heavyweight ladder with another solid TKO win. The more Struve-like the finish, the better.
Winner: Travis Browne, TKO, Round Two
Jeremy Lambert: This is a weird one because Browne has looked pretty impressive against average competition while Silva has gotten destroyed against two of the best heavyweights in the world. Lets not forget though that Silva has fought a lot of top heavyweights and even holds a stoppage victory over Fedor. Browne's wins look nice, but he also went to a draw against Cheick Kongo, who is probably the toughest guy he's ever faced. I don't think Browne is bad, but it's tough to judge any of these mediocre heavyweights because they're all just so….mediocre. To Browne's credit, he is light on his feet, moves around well, and is a pretty diverse striker. Silva on the other hand is a plodding heavyweight who doesn't hit as hard as you'd expect him to. Where Silva shines though is in the clinch and on the ground, which is where Browne isn't very good. Silva does a good job using his size to his advantage, clinching up, and getting takedowns. Even though he doesn't more particularly well on the ground, he's a pain to shake off if you don't know what you're doing because of his size. I think that's how this fight plays out, and it could get real ugly if this thing goes past two rounds. In fact, the more I think about it, the more I feel that this fight is going to cause Dana White lose his mind and possibly have Mark Radulich finally turning on the heavyweight division. I think Silva does a lot of clinching, lands some takedowns, and does minimal damage on the ground. This will continue for 25-minutes and it'll turn extremely sloppy after the 10-minute mark as both guys will be dead tired.
Winner: Silva, Decision
Jeffrey Harris: I think is a good fight and test for Browne in his road to the top. Browne since coming into the UFC has had some pretty hit and miss performances. So putting him in against a big guy like Silva who hits hard is a good choice. Browne's won his last three but he's still had those boring and dull performances against the likes of Kongo (which was ruled a draw) and Rob Broughton. This is also a good test since it puts him in the main event on an FX card so we can see how he performs there. Overall I give the more well rounded game to Browne. He showed new aspects in his game with his last fight as he submitted Chad Griggs (his first ever submission victory in the UFC and only the second of his career). Bigfoot is a big dude that hits hard, but he also has a questionable chin. If you land on Bigfoot he will go down. If Browne is prepared, I think he should win this.
Winner: Browne, TKO, Round 1
Robert Winfree: You know, Travis Browne doesn't get any respect. He's undefeated, and has a couple of spectacular finishes when he knocked out Stefan Struve and Chad Griggs. Unfortunately he's also had boring fights with Cheick Kongo and Rob Broughton. This could be the fight to really help him get noticed and make a name for himself. For Antonio Silva, if he loses here he'll be on a three fight losing streak, which is somewhere no one wants to be. He lost to Daniel Cormier and Cain Velasquez, both top level heavyweights, but a loss here is a pretty large set back for Bigfoot. Silva is a good grappler, but a very top oriented one, and he'll need to be able to get Browne on his back to really use his submissions and ground and pound. I'm not sure he can do that against someone as athletic as Browne, or survive on the feet with him.
Winner: Travis Browne, TKO, Round 1
Stewart Lange: What an exciting main event. If this lasts more than one round, chances are that it'll be terrible. Two guys I'm un-excited by, in a meaningless match up that will have to be finished in three minutes or we'll get 25 minutes of slow motion grunting. Well, if I wanted that on a Friday night…. Wait, let me re-phrase that. The only way this ends the way I want it to is if one of these guys finds the others weakened chin. We all know who has the biggest target, so I pick Browne to catch Bigfoot's massive jaw and put him down and out.
Winner: Travis Browne, TKO, Round One
The staff picks Travis Browne, 4-1.
---
Remember to join 411's coverage of UFC on FX live on Friday night!
NULL
comments powered by Disqus