411's MMA Roundtable Preview – UFC on FX: Sotiropoulos vs. Pearson
December 14, 2012 | Posted by
WELCOME:
TUF: The Smashes coaches George Sotiropoulos and Ross Pearson fight in the main event of UFC on FX! Also, TUF winners will be crowned in two weight classes as welterweights Robert Whittaker and Brad Scott clash and Colin Fletcher faces Norman Parke at lightweight. Plus, Hector Lombard vs. Rousimar Palhares and more!
THE STAFF:
From Occupy The Throne, Jeremy Lambert!
From The Blueprint, Patrick Mullin!
From MMA's 3R's, Jeffrey Harris!
From The 411 MMA Top 10, Alex Rella!
And from MMA on Tap!, Jon Butterfield!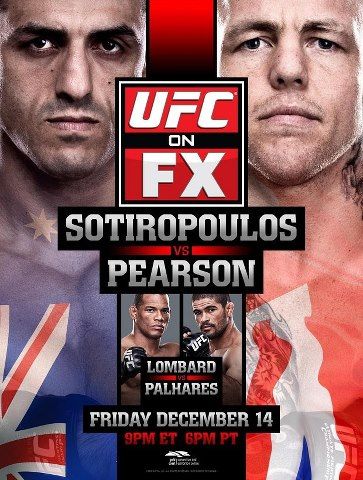 THE PRELIMINARY CARD:
Prelims air on Fuel TV
Light Heavyweight Bout: Nick Penner vs. Cody Donovan
Jeremy Lambert: Penner, Decision
Patrick Mullin: Cody Donovan, Round One, Submission
Jeffrey Harris: Cody Donovan, Decision
Alex Rella: Donovan, Round 1, Submission
Jon Butterfield: Nick Penner, Decision
The staff picks Cody Donovan, 3-2.
Lightweight Bout: Brendan Loughnane vs. Mike Wilkinson
Jeremy Lambert: Loughnane, TKO, Round 2
Patrick Mullin: Brendan Loughnane, Unanimous Decision
Jeffrey Harris: Brendan Loughnane, Decision
Alex Rella: Loughnane, Decision
Jon Butterfield: Mike Wilkinson, Submission, Round One
The staff picks Brendan Loughnane, 4-1.
Welterweight Bout: Ben Alloway vs. Manuel Rodriguez
Jeremy Lambert: Rodriguez, Submission, Round 1
Patrick Mullin: Ben Alloway, Round Three, TKO
Jeffrey Harris: Manuel Rodriguez, Decision
Alex Rella: Alloway, Round 3, TKO
Jon Butterfield: Ben Alloway, TKO, Round One
The staff picks Ben Alloway, 3-2.
Welterweight Bout: Mike Pierce vs. Seth Baczynski
Jeremy Lambert: Pierce, Decision
Patrick Mullin: Mike Pierce, Unanimous Decision
Jeffrey Harris: Mike Pierce, Unanimous Decision
Alex Rella: Mike Pierce, Decision
Jon Butterfield: Mike Pierce, Decision
The staff picks Mike Pierce, 5-0.
Light Heavyweight Bout: Igor Pokrajac vs. Joey Beltran
Jeremy Lambert: Pokrajac, Decision
Patrick Mullin: Joey Beltran, Round Three, Being Awesome and Knocking Bitches Out
Jeffrey Harris: Poker Jack, TKO, Round 1
Alex Rella: Pokrajac, Decision
Jon Butterfield: Igor Pokrajac, Submission, Round One
The staff picks Igor Pokrajac, 4-1.
Featherweight Bout: Chad Mendes vs. Yaotzin Meza
Jeremy Lambert: Mendes, TKO, Round 1
Patrick Mullin: Chad Mendes, Unanimous Decision
Jeffrey Harris: Chad Mendes, Decision
Alex Rella: Mendes, Round 1, TKO
Jon Butterfield: Chad Mendes, Decision
The staff picks Chad Mendes, 5-0.

---
THE MAIN CARD:
Middleweight Bout: Hector Lombard vs. Rousimar Palhares
Jeremy Lambert: This is actually a good fight. Lombard was one KO away from getting a title shot earlier this year and Palhares is always fun to watch because you never know what kind of wacky thing he'll do. Both of these guys are really dangerous in the first minute. Then it gets a little slow. Palhares's leg locks are basically KO punches and Lombard's fists are KO punches. I expect Palhares to dive for Lombard's legs early, but Lombard has a strong base and good takedown defense. Lombard can definitely end Palhares's night quickly, but if he doesn't put him away with the first or second flurry, he's going to fight cautiously, especially given the grappling threat of Palhares. I think this fight could look a lot like Dan Henderson vs. Palhares, where Palhares goes for a lot of takedowns, gets a few, and does nothing with them while Lombard easily gets the better of things on the feet but fails to put his opponent away. It won't be terrible, but it won't be all that memorable either.
Winner: Lombard, Decision
Patrick Mullin: I can't lie, I'm really not looking forward to this at all. Palhares is really done after the first half of the first round if he doesn't submit anyone and still hasn't managed a win over a quality opponent. Lombard had the most ingominious debut in UFC history after being hyped up for his Bellator run and badly needs a bounce back win. I feel he'll fight safe here and just do enough to win so he can avoid the scrutiny of two losses in a row, and Palhares just offers nothing on the feet.
Winner: Hector Lombard, Unanimous Decision
Jeffrey Harris: Normally I'd probably go with Lombard here, but his UFC debut makes me feel rather conflicted. Lombard has had hit and miss performances in the past though none so bad as that horrible fight with Tim Boetsch at UFC 149. Palhares is a really dangerous grappler and submission artist but it seems if the fight doesn't go his way and he can't get off the submission then he looks like a deer in the headlights and he crumples and wilts. So I think Lombard will be able to scout the submission attempts and dominate this one. Palhares has simply been too inconsistent in his UFC run. I just can't forget how he tried to complain during the fight about Marquardt greasing up his leg when he couldn't pull off a leglock.
Winner: Hector Lombard, Unanimous Decision
Alex Rella: I'm looking forward to this fight and it has the potential to be pretty good but it could also really suck. Lombard did not look good in his UFC debut and Palhares looks miserable if he can't bring you to the ground. Lombard should be able to defend his submission attempts since. Lombard could get back on track if he were to finish him but that's probably being a little too optimistic.
Winner: Lombard, Decision
Jon Butterfield: Hector Lombard looked so laboured in his UFC debut that a lot of people were ready to give up on him after a single bad fight – that either tells you something about how fickle fans can be, or how bad Hector stunk up the joint that night. I don't, however, expect 'Lightning' to strike twice. Lombard fought the wrong fight against Boetsch, and the sooner he realizes top tier middleweights aren't simply going to wander into his blitzes the better – if he wants the knock out, he's going to have to go and get it. Fortunately, Palhares is overmatched on the feet, and unlikely to be able to get this to the ground – at least in a traditional sense. While Palhares can always pull off the unexpected with his slick ground game, I expect Lombard to keep things standing, land hard and fast, and recapture some of that much-needed hype he had just a few short months ago.
Winner: Hector Lombard, KO, Round One
The staff picks Hector Lombard, 5-0.

---
Welterweight Bout: Robert Whittaker vs. Brad Scott
Jeremy Lambert: I have one simple rule when it comes picking Ultimate Fighter Finale fights: pick the dude who had the most impressive performances on the show. Since I didn't actually watch TUF: Smashes, I'm relying on recaps to not let me down. Scott won two decisions, Whittaker knocked out two dudes. So I'm going with Whittaker.
Winner: Whittaker, TKO, Round 1
Patrick Mullin: Over the course of the Smashes Robert Whittaker has been the most impressive fighter of the group to me. He's equally adept with stand up or ground fighting. Brad Scott is tough but he's really had to struggle in order to win and I don't like that considering the guys he fought were nowhere near as tough as Whittaker. This will probably be a one sided beatdown in Whittaker's favor.
Winner: Robert Whittaker, Round Three, TKO
Jeffrey Harris: Tough fight to call, but I'm edging toward Whittaker here. He got two first round knockouts on the Smashes against Luke Newman and Xavier Lucas in the first round. Overall I think he's just looked better on the show than Brad Scott who struggled a lot more in both his fights. I think Whittaker gets the finish here by knockout in the first or second round.
Winner: Robert Whittaker, Round 2, TKO
Alex Rella: I haven't seen as much of the season as I would have liked but Whittaker has shown some potential to be a good fighter in the UFC. He's knocked out some guys on his way to the finals and should win in similar fashion here. Scott on the other has had to grind out his victories to get to the finals but I doubt he'll be able to pull it off again.
Winner: Whittaker, Round 1, TKO
Jon Butterfield: Robert Whittaker appears to be a pretty solid Aussie fighter who could easily have debuted in the UFC even without going the TUF route (albeit on the undercard, and albeit only on a card in Australia). Unfortunately for Brad Scott, Whittaker decided to enter the Smashes, and he's been knocking guys out ever since – I expect that trend to continue, but Scott is no stranger to TKOing guys himself, so expect this one to be a little bit tasty.
Winner: Robert Whittaker, TKO, Round Three
The staff picks Robert Whittaker, 5-0.

---
Lightweight Bout: Norman Parke vs. Colin Fletcher
Jeremy Lambert: Park won two decisions on the show, Fletcher won a decision and submitted a guy. I feel even more confident in this pick as I'm getting my advice from the always trustworthy Stewart Lange. So blame him if I'm wrong.
Winner: Fletcher, Submission, Round 1
Patrick Mullin: Having caught up on the Smashes the past two days Colin Fletcher scares the snot out of me. He's a lightweight and manages to pack 155 pounds onto a 6'3 frame. He's also an incredible finisher with natural gifts athletically. Norman Parke has been solid but unspectacular in his victories. He's got solid fundamentals but his achilles heel is the submission game and Fletcher has won all but one of his fights via submission. I like him to do it again here.
Winner: Colin Fletcher, Round Two, Submission
Jeffrey Harris: Fletcher has proven to be a pretty proficient submission artist throughout his career. 7 of his 8 wins come by submission, and he also submitted his second fight on the Smashes against Richie Vaculik. Parke has a good number of submission wins himself plus some more fights under his belt. On the show, I think I was more impressed with Fletcher's run than Parke, so I'm going with Fletcher here.
Winner: Colin Fletcher, Decision
Alex Rella: I actually knew of Colin Fletcher before the season started and he has not disappointed. He's huge for a lightweight at 6'3 and is a solid submission artist. Parke hasn't looked bad either but he's the type of guy that will only last a few fights on facebook before getting cut. Fletcher should use his notable size and grappling advantage to win this one.
Winner: Fletcher, Round 1, Submission
Jon Butterfield: All British MMA fans know who Colin Fletcher is – that is, all British MMA fans who keep an eye on the local scene. Fletcher has crisp striking, a strong top game, and better-than-average wrestling – particularly for a Brit. He is a master at using his long limbs, particularly in the grappling arts, and you can also throw in good durability to the mix. In other words, he's one tough son of a bitch to beat. Fletcher fights smart, and though Norman Parke is capable of winning fights in the UFC, this show always felt like a good way to showcase the top talent on display – Colin 'Freakshow' Fletcher.
Winner: Colin Fletcher, Decision
The staff picks Colin Fletcher, 5-0.

---
Lightweight Bout: George Sotiropoulos vs. Ross Pearson
Jeremy Lambert: After a failed stint at featherweight, Pearson is back to lightweight to continue to be mediocre. Most people were high on Sotiropoulos until he lost a couple of fights and was out of action for a year and half. This is a pretty winnable fight for him though. Pearson is a solid boxer with power and Sotiropoulos is very hittable, but the same can be said in reverse. The ground is where there is a huge disparity though. Sotiropoulos has an excellent top game with some of the best guard passes in MMA. Pearson isn't clueless on the ground, but he's no match for his opponents control. The problem for Sotiropoulos will be getting the fight to the ground. He doesn't have a great shot, but he is good at getting takedowns from the clinch, which is where Pearson likes to fight. I think Sotiropoulos will be able to get enough takedowns and, given five rounds to work with, will eventually submit his opponent.
Winner: Sotiropoulos, Submission, Round 2
Patrick Mullin: The coaches of the smashes look to inflict smash after smash upon each other in our main event. Sotiropoulos is making his debut at 145 following back to back losses at lightweight and Pearson is coming off of a loss to Cub Swanson. Each guy really needs a win here pretty desperately. Both guys have shown lackluster chins so anything can really happen. Ultimately Pearson has trouble with guys who keep him at a distance and hit him with power strikes he doesn't see from the outside. G-Sot isn't that great of a striker and has been KO'ed by lackluster hitters like Rafael dos Anjos. Ultimately I believe Pearson will enjoy a strength advantage in the clinch to keep the fight standing and make it an inside brawl he's likely to control from bell to bell.
Winner: Ross Pearson, Unanimous Decision
Jeffrey Harris: I want to go with Sotiropoulos here, but what makes me nervous is that he's not been in the cage since July 2011. His last fight he got knocked out by Rafael dos Anjos. Before a decision loss to Dennis Siver, Sotiropoulos was close to being a top lightweight title contender which a lot of people have forgotten about. Pearson is a good striker and I believe he was on the wrong end of a bad decision against Edson Barboza. Pearson's a good striker, but I favor the grappling of Sotiropoulos here unless his chin is just shot and really gone. Sotiropoulos has a really formidable and underrated ground game and some slick BJJ skills I think will be enough for him to take care of business here.
Winner: George Sotiropoulos, Decision
Alex Rella: This could be a pretty good main event. Sotiropolous hasn't fought since July 2011 and Pearson is returning to lightweight after going 1-1 at featherweight. I always liked Pearson and thought there was some potential at 145 but Cub Swanson killed that pretty good. Sotiropoulos was looking pretty good too until he had back to back losses. Pearson is the better striker and overall stronger fighter. But Sotiropoulos has the clear advantage on the ground. I'll take the stronger, younger fighter in this one as Sotiropoulos might look a little rusty in his return.
Winner: Pearson, Decision
Jon Butterfield: George Sotiropolous actually out-struck Dennis Siver in the third round of their fight, albeit a point when Siver already had two rounds in the bag – still, that suggests Soti is a damn sight better than he appears to believe, since he spent the rest of the fight trying (and failing) to take the fight to the mat. Still, Sotiropolous got creamed by Rafael dos Anjos, and the stocky Pearson has both the skill and power to put Aussie George in trouble on more than a few occasions, but let's not pretend Pearson is great defensively – he isn't – and if Soti can't get the fight to the floor early, he may yet have a chance in what I expect to be a solid, relatively even stand up war. Sotiropolous has to believe in his striking, but after all this time, I can't help but imagine him flailing for takedowns and getting out-struck for the better part of the fight.
Winner: Ross Pearson, Decision
The staff picks Ross Pearson, 3-2.
---
Remember to join 411's coverage of UFC on FX live on Friday night!
NULL
comments powered by Disqus