411's MMA Roundtable Preview – World Series of Fighting 1
November 2, 2012 | Posted by
WELCOME:
Andrei Arlovski takes on Devin Cole in the main event of World Series of Fighting's debut show! In the co-main event, Anthony "Rumble" Johnson fights DJ Linderman. At bantamweight, Miguel Torres fights Marlon Moraes. Also, kickboxer Tyron Spong makes his MMA debut against Travis Bartlett, Gregor Gracie fights Tyson Steele, and more!
THE STAFF:
From Occupy The Throne, Jeremy Lambert!
From MMA's 3R's, Jeffrey Harris!
From The Juggernaut MMA News Report, Jonathan Solomon!
And from the Greatest MMA News Column, Dan Plunkett!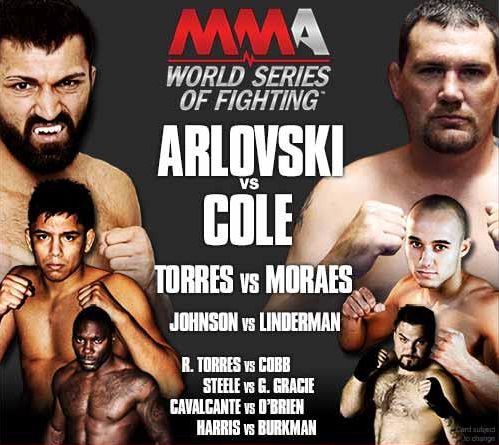 THE PRELIMINARY CARD:
Dave Branch vs. Dustin Jacoby
Jeremy Lambert: Branch, Decision
Jeffrey Harris: Branch, Decision
Jonathan Solomon: Dustin Jacoby, Decision
Dan Plunkett: Branch, Decision
The staff picks Dave Branch, 3-1.
Waylon Lowe vs. Fabio Mello
Jeremy Lambert: Jared Sullinger, Decision
Jeffrey Harris: Waylon Lowe, Decision
Jonathan Solomon: Fabio Mello, TKO, Round 2
Dan Plunkett: Lowe, Decision
The staff picks Waylon Lowe, 2-1.
Ramico Blackmon vs. Steve Carl
Jeremy Lambert: Steve Carl, Submission, Round 2
Jeffrey Harris: Steve Carl, Decision
Jonathan Solomon: Ramico Blackmon, Decision
Dan Plunkett: Blackmon, Decision
The staff calls it a draw, 2-2.
Brian Cobb vs. Ronys Torres
Jeremy Lambert: Torres, Decision
Jeffrey Harris: Torres, Submission, Round 1
Jonathan Solomon: Ronys Torres, Submission, Round 1
Dan Plunkett: Torres, Decision
The staff picks Ronys Torres, 4-0.
Josh Burkman vs. Gerald Harris
Jeremy Lambert: Harris, Decision
Jeffrey Harris: Harris, Decision
Jonathan Solomon: Gerald Harris, Decision
Dan Plunkett: Harris, Decision
The staff picks Gerald Harris, 4-0.
Gesias "JZ" Cavalcante vs. T.J. O'Brien
Jeremy Lambert: JZ, Decision
Jeffrey Harris: Cavalcante, Decision
Jonathan Solomon: JZ Cavalcante, Decision
Dan Plunkett: JZ, TKO, Round 2
The staff picks JZ Cavalcante, 4-0.

---
THE MAIN CARD:
Gregor Gracie vs. Tyson Steele
Jeremy Lambert: They've matched Gracie up with a fellow grappler, meaning that Gracie should have his way with him. If the fight stays standing long enough, there's a chance that Gracie gets caught, but Steele isn't a great striker and I doubt Gracie gets sloppy enough to just get into a brawl. Once the fight hits the ground, Gracie should have his way with him before eventually locking on a submission. He's only on the main card due to his last name, so it's on him to deliver.
Winner: Gracie, Submission, Round 1
Jeffrey Harris: Both guys are known for their grappling backgrounds and have won almost all of their fights by way of submission. I see this fight being a bit of a grappling battle and on the ground I'd have to put Gracie's submissions higher seeing how he's bronzed at the ADCC. Gracie wins by sub.
Winner: Gracie, Submission, Round 1
Jonathan Solomon: Tyson Steele (out of Canada) gets his first crack at a national American TV audience and he draws Gregor Gracie as a foe. It's a tough match-up because while Steele has proven to have an efficient grappling game throughout his career, Gracie is better and more dangerous on the ground. If Steele can keep the fight standing for a round, he may have continued success striking later on and then able to implement his grappling game. A lot has to happen for this to transpire but don't sleep on the Canadian.
Winner: Tyson Steele, Decision
Dan Plunkett: The common theme in all of these main card matches is one fighter with at least somewhat of a name against relatively obscure fighters. Everybody is familiar with the Gracie name, and surely it's the main reason Gregor finds himself in this spot. Nobody knows Tyson Steele, but they will surely be able to guess his nickname within five attempts ("The Man Of"). Gracie's grappling accolades are superior, so he should have the advantage there. Steele has a number of submission victories, so if his grappling is the best part of his game he may not have a fun time on Saturday. Gracie is the safe pick here.
Winner: Gracie, Submission, Round 2
The staff picks Gregor Gracie, 3-1.

---
Travis Bartlett vs. Tyrone Spong
Jeremy Lambert: The MMA debut of Spong has me pretty excited. Barlett is a fellow striker, which means he's pretty screwed if he doesn't try to mix things up as Spong is a K-1 level striker. I assume that Spong has worked a lot on basic takedown defense/get ups, which should be good enough against someone on the level of Bartlett. This is pretty much a showcase fight for Spong and I think he'll deliver.
Winner: Spong, TKO, Round 1
Jeffrey Harris: Spong is a highly decorated and experienced kickboxing champion. His opponent, Travis Bartlett has had 9 fights in his career so far and is coming off his second career loss. Barlett has won most of his fights by way of knockout. I want to bet on Bartlett and his kickboxing/K-1 background but he's still coming in with less MMA experience here. I'll go ahead and pick Spong just because he's been training with the Blackzilians and I would hope he's prepared pretty well for fighting a guy of Barlett's caliber.
Winner: Spong, TKO, Round 2
Jonathan Solomon: If you follow K1 to any degree, you've likely heard about Tyrone Spong and his desire to go into MMA for at least a year or two. He's a very successful kickboxer with over 60 wins and is only 27-years old. As for Travis Bartlett, he was apparently satisfied not fighting because his last contest was over two years ago when he lost a decision to a fighter with a 1-0-1 record (Robert Scott). When offered the opportunity to challenge a fighter with a lot of hype like Spong, he signed on the dotted line. Spong is expected to be the dominant striker, for obvious reasons, and unless Bartlett finds an explosive wrestling background somewhere, he's a sitting duck.
Winner: Tyrone Spong, TKO, Round 1
Dan Plunkett: Spong, 27, is an awesome kickboxer and has been training for a transition to MMA for some time now. In his MMA debut, he fights a guy that likes to strike in Bartlett. Unfortunately for Bartlett, he's far less skilled than Spong. The obvious game plan for Bartlett is to take the fight to the ground, but who knows how good his takedowns are and Spong is a good athlete.
Winner: Spong, KO, Round 1
The staff picks Tyrone Spong, 4-0.

---
Marlon Moraes vs. Miguel Torres
Jeremy Lambert: Unless Torres is completely shot, this should be a cakewalk for him. Despite his UFC loses, he's still a very talented fighter, and certainly better than Moraes. Torres should win this fight no matter where it goes and make it look easy in the process. Then he'll tell you how great he is on twitter.
Winner: Torres, Submission, Round 1
Jeffrey Harris: Based off Moraes' record, I'd still give the advantage to Torres though his chin has been a little questionable as of late. I'm expecting Torres to be pretty cautious here as he has in the past coming off losses. Torres will stay away and use his reach to try and out box Moraes.
Winner: Torres, Decision
Jonathan Solomon: Despite this match-up featuring a former top star and an unknown, Marlon Moraes has a legitimate chance at the upset. Why? He's a Muay Thai fighter and is used to dealing with distances and closing the gap (which he'll have to do against lanky Miguel Torres). Plus, he's capable on the ground although you would imagine he's giving up a lot once the fight goes there against the man with 23 submissions to his credit. That man, Miguel Torres, is dealing with the effects of a massive log of fights over his career (45, we know about it) because his chin has deteriorated before our very eyes. If fighters can test that chin, they usually win (Brian Bowles, Joseph Benavidez and Michael McDonald over the past three years). This is the way Moraes wins, otherwise, Torres can fight a safe fight and perhaps score takedowns en route to a decision win.
Winner: Miguel Torres, Decision
Dan Plunkett: Torres should have the edge here, especially in grappling, but his chin isn't quite as strong as it once was and Moraes has power.
Winner: Torres, Submission, Round 2
The staff picks Miguel Torres, 4-0.

---
Anthony Johnson vs. D.J. Linderman
Jeremy Lambert: Linderman is tough, but Johnson should destroy him. Johnson's issues have always been cardio and mentally related, not talent. Linderman isn't good enough to test his cardio or toughness as Johnson will either beat him up on the feet or take him down and rough him up there. I expect Johnson to look for a highlight reel KO and I figure he'll get it.
Winner: Johnson, TKO, Round 1
Jeffrey Harris: With Johnson fighting at a more appropriate weight class now, I think he will easily take care of business here. He's coming off a knockout win over a former NCAA division I wrestling champion in Jake Rosholt in his last fight. Provided he hasn't slacked off and his cardio is doing well, Johnson should take this easily.
Winner: Johnson, TKO, Round 1
Jonathan Solomon: Since permanently moving to light heavyweight, not only has Anthony "Rumble" Johnson consistently made weight, but he's returned to his bad ass status. In two fights, he's knocked out Esteves Jones and Jake Rosholt and here comes fight number three. D.J. Linderman is a man who splits time between 205-pounds and heavyweight (he's the reigning CWFC heavyweight champion). At 13-3, he's never been knocked out or finished at all and looks to impose a mix of boxing and wrestling on foes. The problem for him in this match-up? Rumble's wrestling is better on paper and his arsenal of strikes should prove to be more damaging. Linderman is going to have to turn this into a real ugly fight in the clinch to tire Johnson if he's to win a decision.
Winner: Anthony Johnson, TKO, Round 2
Dan Plunkett: Johnson is a good wrestler and hits hard, even after moving up two weight classes. That should be enough here.
Winner: Johnson, TKO, Round 2
The staff picks Anthony Johnson, 4-0.

---
Andrei Arlovski vs. Devin Cole
Jeremy Lambert: Arlovski is definitely the more talented fighter, but his chin absolutely sucks and Cole has some power in his hands. That said, Arlovski is the much better striker and should be able to pick apart Cole with ease. Cole's best chance is to just rush in since Arlovski is great at moving straight back with his chin up, but beyond that, he's pretty much going to be used as a punching bag in this fight.
Winner: Arlovski, TKO, Round 2
Jeffrey Harris: Arlovski's chin is gone, but even here I think this is a fight he could potentially win. Cole is a longtime journeyman heavyweight with a lot of fights and wins, but he's also proven to be very beatable. Arlovski will be coming in with the superior striking and provided he doesn't get caught, he should walk away with the win here.
Winner: Arlovski, TKO, Round 1
Jonathan Solomon: Yes, Andrei Arlovski's chin has taken quite the drop for most of the past nearly-four years. BUT, he's still better than Devin Cole. Unless Arlovski remains still in the cage, the only way for Cole to have success is with wrestling. I don't see how he can get Andrei to the ground, the former UFC champion's defense remains solid. Now yes, Cole has proved durable having not been knocked out since his light heavyweight days (Feijao Cavalcante is the last man to knock him out), but Arlovski still showcases his power (if not for the errant kick to the head of Tim Sylvia, he'd be on a three-fight win streak with three KOs) and will do so here.
Winner: Andrei Arlovski, TKO, Round 3
Dan Plunkett: Arlovski is still talented, but he's not where he was four years ago, he sometimes leaves himself open when he's moving back and he's got a weak chin. Cole probably isn't as skilled as Arlovski, but he can certainly win this fight. Still, I'm leaning towards the former heavyweight champ.
Winner: Arlovski, Decision.
The staff picks Andrei Arlovski, 4-0.

---
Remember to join 411's coverage of World Series of Fighting on Saturday night!
comments powered by Disqus