411's MMA Roundtable Review 01.07.13: The Strikeforce Memorial Roundtable
January 7, 2013 | Posted by
WELCOME:
News of Strikeforce's impending demise first leaked in early November. Though for the past year or so it has felt like only a matter of time before Strikeforce closed its doors, the report gave a definitive date to etch into the promotion's grave stone. After nearly seven years of promotion mixed martial arts events, Strikeforce will hold its final event on January 12. In response to this news, the 411 MMA staff decided to look back at Strikeforce's time in the MMA world. But first, a little Strikeforce history.
On March 10, 2006, Strikeforce debuted in San Jose, California, featuring Frank Shamrock against Cesar Gracie in the main event. For a promotion with no television or any real presence prior to the debut event, the debut effort did remarkably well. More than 18,000 fans packed the HP Pavilion that night, a total good for a nearly $1 million gate. To put that in perspective, UFC had at that point never even approached an attendance figure of 18,000. The card also featured a number of familiar names including Cung Le, Clay Guida, Josh Thomson, Gilbert Melendez, and Nate Diaz. Initially, Strikeforce thrived as a regional promotion, averaging nearly 11,000 fans per show at the HP Pavilion in their first two years.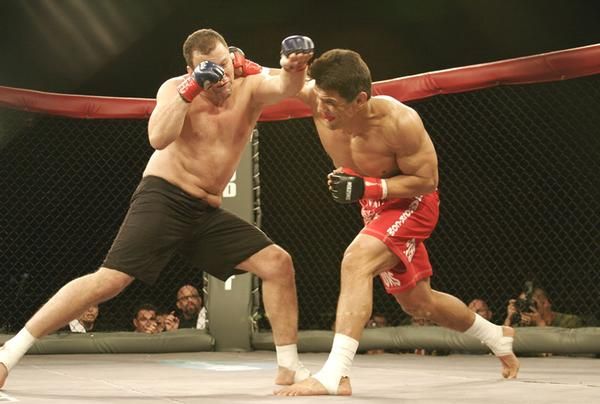 In early 2009, Strikeforce purchased select assets of ProElite, an acquisition which changed the face of the company forever. They were also able to take EliteXC's spot on Showtime as well as CBS, providing a platform for national expansion. The first show of the new Strikeforce saw a changing of the guard, as top star Frank Shamrock was battered by Nick Diaz, who went on to become welterweight champion and among the biggest draws in the company. In August of 2009, Strikeforce presented the first women's main event fight on a major stage and it was a major success. The show broke MMA ratings records on Showtime and drew the fourth-largest attendance figure in Strikeforce history (13,976). That month the company also signed Fedor Emelianenko – the man long considered the best heavyweight in the sport. It was Emelianenko who headlined their first show on CBS and garnered Strikeforce their largest audience ever.
The CBS specials fell apart after a disastrous second show that failed in the ratings, featured three dull title fights, and was capped off by a post-match brawl. Soon after, Fedor was upset by Fabricio Werdum, diminishing hopes of a match featuring Fedor against heavyweight champion Alistair Overeem headlining a pay-per-view event. With high-priced fighters like Emelianenko and Dan Henderson, Strikeforce couldn't hope to turn a profit without major television money or successful PPV events. In an effort to breathe new life into the promotion deflated by Fedor's loss, they put together an eight-man heavyweight tournament. If all went well, the quarterfinals would be featured on Showtime, the semi-finals (ideally the Fedor vs. Overeem match) would go to CBS, which would lead to the final match on PPV. Unfortunately, that plan would never get to play out. After reaching viewership high for the first batch of quarterfinal matches, parent company Silicon Valley Sports & Entertainment decided to get out of the MMA business. In March of 2011, it was revealed that Forza, LLC, a subsidiary of UFC parent company Zuffa, LLC, purchased Strikeforce and thus turning the mixed martial arts landscape upside down.
Quickly, the much hyped tournament began to fall apart. Overeem, after winning his quarterfinal match, withdrew from the tournament due to injury and signed with UFC. Alternate Daniel Cormier took his place and easily reached the final match, which saw delays due to an injury to Cormier. It seemed as though the relationship between Zuffa and Showtime had gotten off on the wrong foot and it seemed as though the company would be folding sometime in early 2012. In December though, the two sides came to an agreement, which proved pivotal for an entire gender of mixed martial artists.
In August of 2011 Ronda Rousey, a former U.S. Olympian in judo, entered Strikeforce and quickly dispatched her foe via armbar. Three months later, she again scored a fast armbar. Then the talking began and Rousey found herself entangled in a feud with then-women's bantamweight champion Miesha Tate. Due to her fighting ability, promotional savvy, and good looks, Rousey found herself in a title match just five fights into her professional career without a single fight in the division. She proved worthy of the opportunity by defeating Tate – again via armbar in the first round – in a thrilling match that seemed to change UFC President Dana White's perception of women's fighting. Eight months later, the headline on the report that brought news of Strikeforce's demise didn't feature news of the promotion's downfall, but rather news of Rousey's move to the UFC. Moving along with her will be a division full of women that probably wouldn't have had the opportunity to do so had Strikeforce not reached a deal with Showtime in late-2011.
This column is here to commemorate Strikeforce's best moments, fighters, and ultimately the promotion's legacy prior to the going away party on January 12. Without further ado, let's get to the memories.
Best Knockout in Strikeforce History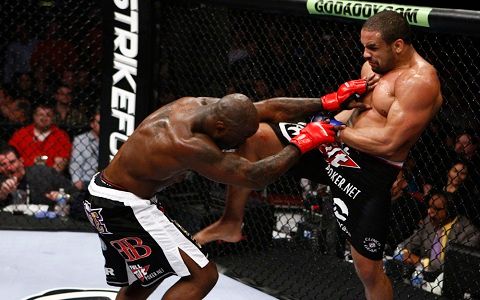 Patrick Mullin: Paul Daley vs. Scott Smith
When Paul Daley is on he produces some of the most fun fight action to watch. When a fighter goes down face first its usually the end of things and this was no exception. Daley angled away and landed a wrecking ball left hook that had Smith out before he hit the mat. Usually hitting the mat wakes a guy up to an extent but Scott Smith was doing his best impression of a corpse. To this day arguably the best KO I've seen in an MMA fight.
Dan Plunkett: Robbie Lawler vs. Melvin Manhoef (Strikeforce: Miami)
Daley's KO of Smith was cool and all, but Robbie Lawler seemed to be close to done when he scored a huge knockout over Melvin Manhoef. The Surinamese fighter forced Lawler into retreat with a brutal attack of punches and leg kicks while Lawler offered little to no offense of his own. When Manhoef began attacking the lead leg even more aggressively, Lawler loaded up with a right hand that sent Manhoef to the ground, but he still seemed to have some degree of consciousness. Lawler quickly fixed that problem with a left hand that completely put Manhoef out for about a minute. There have been more dramatic comeback finishes in Strikeforce, namely Scott Smith against Cung Le, but none quite as brutal.
Jonathan Solomon: Clutch Scott Smith Knocks Out Cung Le in Round 3
Scott Smith had a penchant for pulling knockout wins out of nowhere as he did against Pete Sell in the UFC and Benji Radac in Strikeforce. He was coming off a submission loss to Nick Diaz when he was put in the main event opposite Cung Le in the latter's town of San Jose in 2009. Le was undefeated and even though he vacated the middleweight title because of his film obligations, everyone in San Jose paid to see him win another fight in knockout fashion.
After two rounds, those people had no reason to doubt. For the first ten minutes of the fight, Smith was beaten like he owed someone money. Le battered the man and did not necessarily let up in round three. However, Smith closed the distance at one point against the cage and landed a beautiful series of punches and out of nowhere, Cung dropped. He rose up but was dropped a second time and finally the ref jumped in to stop the action. Scott Smith made history, becoming the first man to finish Cung Le in an MMA bout and to date, it remains Scott's last win.
Alex Rella: Robbie Lawler vs. Melvin Manhoef
Robbie Lawler has had some nice knockouts over the course of his career but this one is the best. This was Manhoef's first fight in Strikeforce after an impressive run fighting in Japan. While fighting for Dream and Dynamite, Manhoef knocked out Mark Hunt, Mizaki, and Sakuraba. Manhoef was looking awesome as he was just beating the crap out of Robbie Lawler. He was connecting with punches and leg kicks and had Lawler up against the cage when Lawler through a big right hand that knocked Manhoef to the ground. The right hand probably would have been enough but Lawler followed it up with a left that left him unconscious for a good while afterwards.
Best Submission in Strikeforce History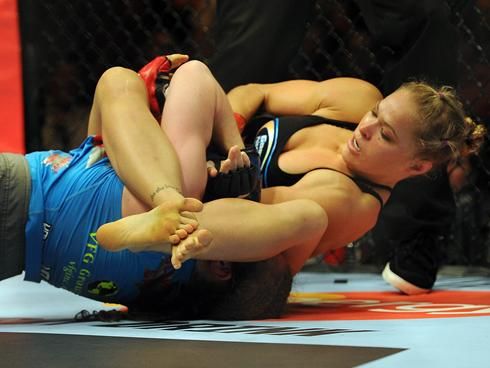 Patrick Mullin: Fabricio Werdum vs. Fedor Emelianenko
This was the end of over a decade of dominance from MMA's heavyweight king. Fedor had been unbeatable and was expected to blow through Fabricio Werdum the way he had gone through everyone else. Instead he failed to pay enough respect to the BJJ ace after escaping a near triangle choke and dove right into the guard again. Werdum realized how few and far between second chances to make history are and he locked up the triangle as though his life depended on it. It was the pinnacle of a very underrated career for Werdum and marked the end of an era.
Dan Plunkett: Fabricio Werdum vs. Fedor Emelianenko (Strikeforce: Fedor vs. Werdum)
It wouldn't be out of the question to go with Ronda Rousey ripping someones arm off or Shane del Rosario's omoplata, but I don't think there are any Strikeforce submission victories that match up to Fabricio Werdum's against Fedor Emelianenko. Going in, we knew Werdum was excellent on the ground and would be dangerous there, but Fedor hadn't lost in nearly ten years. For seven of those ten years, he was considered the finest heavyweight fighter in the sport. That's why, despite the very real possibility of a Werdum submission victory, it was still a shock when Fedor tapped. It ended one of the most significant reigns in the sport, and in hindsight ruined Strikeforce's hopes for a Fedor vs. Alistair Overeem PPV bout, which may have indirectly led to the downfall of the promotion.
Jonathan Solomon: Fabricio Werdum Ends Fedor Emelianenko's Decade-Long Winning Streak
Summer 2010 kicked off with arguably the biggest upset in MMA history. Fedor Emelianenko, the stoic Russian had not been defeated since December 2000 and even that was a misguided decision from the RINGS referee. Taking that into account, he should have been undefeated at 32-0 with two no contests. Fabricio Werdum was an underachieving, but deadly on the ground heavyweight in America. Most expected Fedor to thrash the Brazilian and move on, like he always did. The problem for Emelianenko proved to be his overconfidence because he played right into Werdum's hand. Fabricio went to the ground and essentially dared the Russian to drop into his guard. Fedor did and was immediately caught in a triangle and despite years of seeing him get out of ugly predicaments, the ride was over. Fedor tapped out and emotions ranged from shock to sadness to jubilation (from Brazilians, generally) and that's what's so special about sports.
Alex Rella: Fabricio Werdum vs Fedor Emelianenko
I was thinking about giving this to Ronda Rousey submitting Miesha Tate but this one was far more historic. Fedor was the greatest heavyweight of all time and this was his first legitimate loss. Werdum has always been a good fighter but this was a huge upset. Fedor knocked him down fast but he didn't respect Werdum's ground game and he ended up getting submitted.
Best Fight in Strikeforce History
Patrick Mullin: Nick Diaz vs. Paul Daley
It went less than a full round but it was five rounds worth of action crammed into that short time. Diaz had etched his reputation as one of the better technicians amongst MMA strikers while Daley has always been feared as one of the heaviest hitters. Put them together and a stand up war was bound to happen and it did. Daley cracked Diaz's seemingly cast iron chin by dropping him and having him visibly hurt but ultimately it was the quantity of Diaz's assault that broke Daley down. It was non stop action from start to finish.
Dan Plunkett: Josh Thomson vs. Gilbert Melendez II (Strikeforce: Evolution)
Not only do I consider rounds six through ten to be the best of the trilogy between Thomson and Melendez, but they also make up the best fight in Strikeforce history. For everything Strikeforce did wrong, they at least had a number of great fights, so this wasn't an easy decision. This fight was nonstop action for five rounds between two fighters that were with Strikeforce for the entire ride.
Jonathan Solomon: Frank Shamrock vs. Cung Le, March 2008
To say that Frank Shamrock and Cung Le were huge local stars in San Jose would be an understatement. Shamrock helped MMA become sanctioned in California and when he was able to, he headlined the first show. Cung had been fighting locally in modified kickboxing bouts for over a decade dating back before MMA was ever in the picture. Shamrock became the Strikeforce middleweight champion when he beat Phil Baroni in 2007, while Le was 5-0 in the promotion going into 2008. With a risk of putting their two biggest stars in the same fight, Strikeforce had over 16,000 people at the HP Pavilion in one of the best atmospheres in the promotion's history.
The fight itself was close, with each men taking a round. The third round could have been given to either man but it was ultimately a particular kick that resulted in the fight being called off after the round ended. Le broke Shamrock's arm and the two local heroes embraced, broken limb and all. Unfortunately, the two were never able to have a rematch because as Shamrock recuperated, Cung Le pursued work in acting and by the time he returned at the end of 2009, Shamrock had already retired after losing to Nick Diaz in April.
Alex Rella: Gilbert Melendez vs Josh Thommson III
The end of 2012 for Strikeforce was beyond awful but it actually started out pretty solid. On May 19, both the lightweight and heavyweight titles were on the line. This was the third time both men fought and I think it was their best fight. These two guys just have that kind of chemistry together that they'll have an awesome fight every time they meet. Melendez won by split decision by I thought Thomson took this one. This is one of those rare situations where you want to see a fourth fight. This fight also just represented what was good about Strikeforce.
Best Moment in Strikeforce History
Patrick Mullin: Frank Shamrock Tribute
Frank Shamrock is my all time favorite fighter. In the 90's his fights became must see for me and he was the guy who cemented me as a fan of MMA. So while the UFC will show its lack of respect and class for one of the pillars of its early years and one of its greatest champions Strikeforce at least had the decency to pay tribute to a hall of fame worthy career. Shamrock helped get the Strikeforce organization recongition and when he announced his retirement Strikeforce gave him a video montage in the middle of a live card and a standing ovation that was well deserved.
Dan Plunkett: Scott Smith – King of the Comeback
Scott Smith entered Strikeforce immediately following a pair of notable fights against Robbie Lawler in EliteXC. After a fast knockout of Terry Martin in his debut, Smith fought Benji Radach and began to cement his legacy as MMA's comeback kid. The brawl was largely in Radach's favor before Smith landed a right hand with less than two minutes remaining in the fight. But Smith's real shining moment, the one that I'm actually picking for this, took place eight months later. Cung Le was returning after nearly two years off and Smith figured to be something of an easy opponent given his propensity to get hit with strikes. For about thirteen minutes, that's just about all that Smith did. Then, he took advantage of a tired Le and tagged him with a left hook. He swarmed a hurt Le and knocked him down with a straight right, and with a few more punches the referee waved the fight off, completing what Mauro Renallo called "The Miracle at San Jose." That one didn't catch on.
Jonathan Solomon: Gina Carano & Cris Cyborg Become First Women to Headline a Major MMA Show in U.S.
Although female MMA had been around for years, it was not until 2007 that it was pushed to the masses on a large platform. At the time, it was EliteXC promoter Gary Shaw and top star Frank Shamrock who fought and convinced Showtime brass that Gina Carano should be included on the EXC debut that year. She won a war with Julie Kedzie and the TV suits never again argued against women's MMA. By the time EXC died and Strikeforce absorbed their fighter contracts, Carano had decided against signing with the UFC so she could have her long awaited fight with Cris Cyborg. Gina was 7-0 and Cyborg was 3-0 in America looking like a kick-ass machine. They were paired off in the August 2009 main event on Showtime in San Jose. The fight set a ratings record for MMA on Showtime and they put nearly 14,000 butts in the seats at the HP Pavilion. The fight lasted nearly one full round, it proved to be the end of Carano's fighting career (so far) and women's MMA did not regain such mainstream attention until 2012 with Ronda Rousey. Despite all that, the fact remains it's one of the more memorable moments in modern MMA, let alone my best moment in Strikeforce history.
Alex Rella: Ronda Rousey submits Miesha Tate
This was a huge moment in the history of Strikeforce and MMA. This was a great feud between the top female bantamweights in the world. Both were talking trash and ripping each other apart leading up to this fight. Rousey had beaten everyone in under a minute leading up to this and finally met someone who was able to push her. Tate was able to escape one armbar but she dislocated her elbow when Rousey locked it in a second time. This fight would make Ronda Rousey a true star and would change Dana White's mind about women's MMA. She would have been the true star of the company if it kept going.
Best Fighter in Strikeforce History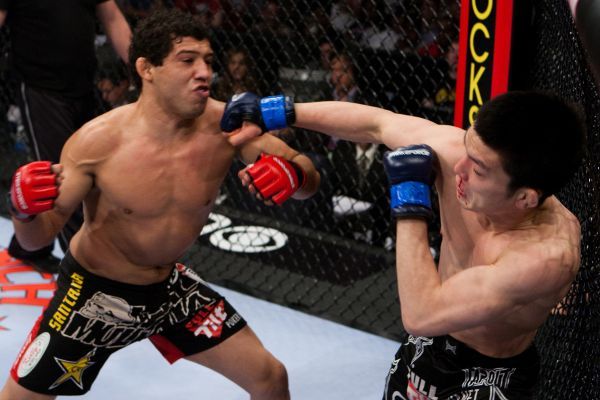 Patrick Mullin: Nick Diaz
I had a hard time deciding between Diaz and Ronda Rousey as her rise to superstardom was one of the few good things to come out of Strikeforce. However Nick Diaz used Strikeforce to ressurect his career going from once promising fighter with limited potential to one of the very best welterweights in the world. Diaz went 7-0 while claiming the Strikeforce welterweight title with 6 finishes. He was the go to guy for Strikeforce until the Zuffa buyout and for good reason. He was the best fighter they had with the most marketability.
Dan Plunkett: Gilbert Melendez
Strikeforce has been home to a number of great fighters, including Fedor Emelianenko, Dan Henderson, Alistair Overeem, and even Cain Velasquez had a fight there, but none had the long successful career in the company that Gilbert Melendez did. Melendez, 30, finishes his Strikeforce career with an 11-1 record in the promotion. His career in the company spans from the very first show all the way to the fourth-to-last show in company history, and he holds the distinction of causing an event cancellation by pulling out of a fight with an injury. He also holds the record for most title defenses in promotion history, with five, including one interim title defense and four consecutive undisputed title defenses.
Jonathan Solomon: Gilbert Melendez
Only two men have fought more than 10 times in the Strikeforce cage and it's poetic that they be the two men who will always be linked together, Gilbert Melendez (11-1 SF, 21-2 MMA) and Josh Thomson (10-3 SF, 19-5-0-1 MMA). In their epic three-fight series between 2008 and last year, every round was all out war. 75-minutes of beating the holy hell out of one another, each time to be known as the best lightweight in the company and one of the top lightweights in the world. It was Melendez on the debut show who won his fight, then cornered Cesar Gracie as he lost to Frank Shamrock. 10 months later, he defeated Clay Guida to become the lightweight champion and the rest is history. After his final fight in Japan on New Year's Eve in 2007, he has gone 8-1 with each of the nine fights being fought for some version of the Strikeforce championship (whether the unified belt or an interim strap). Over the years, he's fought the best who were not signed in the UFC and he dominated Shinya Aoki and he crushed Tatsuya Kawajiri. Of course, it all comes back to his wars with "The Punk" Josh Thomson. If I'm the UFC, I make sure each of those three fights are included on a brand new blu-ray release in 2013 because aside from being great on their own, when Gil walks into the octagon to challenge Ben Hnederson (I presume), it's going to be years in the making. Strikeforce's best fighter finally getting his crack at the top spot in the world.
Alex Rella: Gilbert Melendez
Gilbert Melendez has been a foundation for Strikeforce since he joined the organization. El Nino's fought on the first night of Strikeforce and he defeated Clay Guida for the lightweight championship only a few months later. Melendez lost and regained his title to Josh Thomson in their trilogy which was easily the three best fights in the company's history. He should be able to hang right with the top lightweights in the UFC when he eventually goes over. Personally I think he's the best lightweight in the world today. Melendez holds many of Strikeforce's records including most title defenses, championship fights, and most wins. So Melendez is the best Strikeforce fighter in the company's history and one of the best lightweights of all time.
Best Event in Strikeforce History
Patrick Mullin: Strikeforce: Evolution
Evolution was supposed to be a showcase for former middleweight champion and budding "movie star" Cung Le. What we got was an incredible upset when professional punching bag Scott Smith did his best Homer Simpson impression and knocked out a gassed Le to knock over the apple cart. Two lightweights named Gilbert Melendez and Josh Thomson engaged in their second of three five round all out wars for the lightweight championship that left no one dissapointed. Future middleweight champion Jacare Souza demanded notice with a beautiful submission of longtime veteran Matt Lindland. King Mo had his televised coming out party and knocked out big Mike Whitehead to show he was more than just a wrestler. It was fun and each fight delivered. If only Strikeforce had more of that.
Dan Plunkett: Strikeforce: Evolution
Three years later, three things stick in my mind about this show: Smith's comeback against Le, Melendez vs. Thomson, and the failure to show King Mo's entrance. Seriously, I still can't believe they missed that opportunity. Regardless, it was a great night. Aside from the two aforementioned fights, the show featured the Strikeforce debuts of King Mo Lawal and Jacare Souza, both future champions. Mo knocked out Mike Whitehead, while Jacare submitted Matt Lindland. Overall, a great show.
Jonathan Solomon: Strikeforce: Evolution, December 19, 2009
I tried finding reasons to pick other shows to differ from others but there was always one or two memories of bad fights, boring fights, ridiculous happenings and other such negativity. With this Strikeforce card from over three years ago, no such thing. King Mo made his company debut and knocked out Mike Whitehead in three minutes (Whitehead was arrested four months later on charges of sexual assault. In 2011, he plead no-contest and in 2012, he was sentenced to up to four years in prison). Jacare Souza made his company debut by choking out Matt Lindland ("The Law" started 2009 by being viciously knocked unconscious by Vitor Belfort). In one of the best fights of the year, Gilbert Melendez overcame Josh Thomson in their second (of three) of what would turn into arguably the best series of fights between two men in MMA history. Then in the main event, as I wrote about above, Scott Smith shocked San Jose by knocking out their local hero. Top to bottom, short and sweet, nothing but quality.
Alex Rella: Strikeforce: Evolution
This was a short but great card. It had the debuts of Mo Lawal and Ronaldo Souza. The comain event had five rounds of awesome between Gilbert Melendez and Josh Thomson in a title unification bout. And the main event was Scott Smith's great comeback against former champion Cung Le who was returning to the company. Not a bad fight on the card.
Strikeforce's Legacy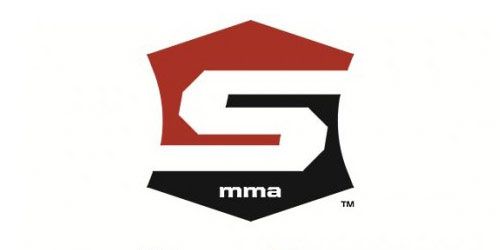 Patrick Mullin: Ultimately Strikeforce is going to be remembered more for the negative than the positive. Strikeforce helped to create a star in Ronda Rousey and was willing to showcase women's MMA and it helped to establish fighters who needed a showcase and couldn't get an opportunity with the UFC like Gil Melendez, Jacare, Luke Rockhold, Daniel Cormier, Miesha Tate, Sarah Kaufman, and several others. However it was a mismanaged company that had seemingly no structure, marred by indecision and lack of effort from Scott Coker, and seemed not to care once they secured a regular timeslot on Showtime with occasional CBS showcases. Strikeforce is a cautionary tale to any promotion that thinks they can do no wrong and that they'll establish a fan base that will carry them through anything.
Dan Plunkett: I wish I could just link all of the columns I wrote about all of the stupid things Strikeforce did, but that would take too much time. Perhaps they'll be remembered as yet another cautionary tale of a promising promotion failing due to overspending (Fedor, Overeem, and Henderson weren't cheap). Or, they could be remembered for putting together a number of great fights and moments. After all, it's the place that Nick Diaz, Ronda Rousey, Gilbert Melendez, and more first became stars. It's the place where Fedor Emelianenko finally fell, where Gina Carano finally fought Cyborg Santos, and where Dan Henderson hurt and quickly rejuvenated his career. Ultimately, I think Strikeforce will be remembered for what they did for women's fight. Certainly, a lot of that credit should go to EliteXC's Gary Shaw, but Strikeforce kept the ball rolling, put together the big fight everyone wanted (Carano vs. Cyborg), and signed the fighter that can be thanked for women finally making it into the UFC. Without Strikeforce, perhaps the outlook for women's MMA looks considerably bleaker.
Jonathan Solomon: You can say a lot about the negatives in the promotion's history and certainly you can find what to pick at since they were purchased by Zuffa in March 2011. However, for the under seven-years Strikeforce existed, it provided opportunities to stars, to up-and-coming fighters and was home to some of the best fights over that span. Cain Velasquez got his professional start there before he had so much trouble finding willing opponents, he was forced to go to the UFC. In Clay Guida's first fight out west, he upset Josh Thomson to win the lightweight championship. Nick Diaz provided us with countless moments of entertainment, in the cage (where he had perhaps the best single-round ever in his win against Paul Daley) or out (flipping off Frank Shamrock at a press conference). It may not be a classic moment in the grand scheme of things but I still vividly recall when Miesha Tate not only upset Marloes Coenen to become champion, but she did so by submitting the grappling expert! The epic insanity of Robbie Lawler's win against Melvin Manhoef or the continuation of the feud between the Shamrock and Gracie families, Fedor looking human, the Diaz rematch with K.J. Noons or Jason Miller coming OH SO CLOSE to submitting Jake Shields only for the latter to be saved by a bell before winning the decision. Looking to the future, much like we do today with the legacy of WEC in the likes of reigning UFC champions Benson Henderson,Jose Aldo and Dominick Cruz, a whole new group of fighters will head to the UFC with the potential to do big things. Daniel Cormier at heavyweight or light heavyweight, Luke Rockhold at middleweight, Gilbert Melendez at lightweight and of course, Ronda Rousey leading the charge and being the reason why the UFC will finally be able to promote female fighters. I know it royally sucks that Strikeforce as we knew it is no more, because options are great and everything does not have to be just like the UFC. Nevertheless, Strikeforce had a hell of a run over the years. But hey, Strikeforce still holds the record for highest paid attendance figure for an MMA show in the United States (17,465 in 2006, without any promotion on television). HA!
Alex Rella: Right now it's easy to make fun of and rip on Strikeforce but as some time passes I think it'll be easier to look back and appreciate what the company has contributed to MMA. For a couple years Strikeforce was truly a nice alternative to the UFC. Frank Shamrock finished his career in the spotlight, Cung Le shined for a few years, Fedor and Ayoki came over briefly, Nick Diaz and Dan Henderson revived their careers, women's MMA got the attention it deserves, even Jason Miller had a couple nice years in the company. The trilogy between Melendez and Thomson was the probably the most action filled 15 rounds you'll ever see. But Strikeforce's legacy won't be completely respected until their top fighters come over to the UFC and show everyone how good they are. Rousey already has a UFC title but I expect Cormier, Rockhold, and Melendez to all earn gold and carry on Strikeforce's legacy.

---
Look for 411's Roundtable Preview for Strikeforce: Marquardt vs. Saffiedine on Friday and join us for live coverage of the event Saturday night!
NULL
comments powered by Disqus