411's UFC 145: Jones vs. Evans Report 4.21.12
April 22, 2012 | Posted by
UFC 145: Jones vs. Evans
4.21.12
Near Bad Street
Atlanta, GA
Philips Arena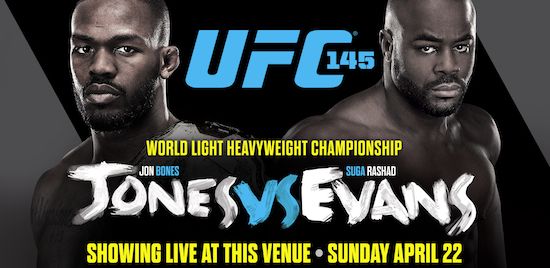 -I am coming to you LIVE from cage-side in Atlanta. We are waiting for the first fight to begin, but the arena is already filling up.
-The crowd boo'd the Rashad Evans video package they just showed.
-Facebook fights about to start.
Featherweight Bout: Marcus Brimage (4-1) vs. Maximo Blanco (8-3-1dr-1nc)
ROUND ONE: And here we go. Brimage looks to work his jab early, circles, and chases with a combo. Brimage with the leg kick, good left as well. Blanco chases with a combo of his own, and another leg kick from Brimage. They get a bit wild with combos, and then Brimage rocks Blanco, who then misses a high kick. Brimage chases, gets taken down but pops back up. Brimage continues to control, circling, landing some jabs, but the crowd is getting restless. Blanco back with a good right, and then a leg kick. Brimage also lands a leg kick, chases a bit to get inside and lands solidly. Body kick by Blanco, but not much else.
SCORECARD: Brimage 10-9
ROUND TWO: Round two now, Brimage with the pawing jab to begin. Blanco flashes a front kick and connects, backs off Brimage, but Brimage in with a superman shot and drops Blanco momentarily. Back up and they circle, Brimage with a stunning jab again as he keeps his distance. Blanco flashes the front kick again, leg kicks by Brimage in return. Circling, some solid shots by both, but Brimage back and keeps the distance. They pick up the pace a bit, crowd very restless here, push kick by Blanco and the round ends.
SCORECARD: Brimage 20-18
ROUND THREE: Final round now, Blanco tries the jumping knee but doesn't connect all that well. Brimage tries to work his distance as he did in the first two rounds, trips up Blanco, who recovers and is right back to his feet. Blanco shoots, stuffed but gets a right as Brimage gets back to his feet. Brimage unloads a bit on Blanco, but doesn't commit too much and keeps it a safe, but unpopular game plan. Crowd very restless now, they get a little wild in an exchange, which makes the crowd happy, but as we head into the final minute, Brimage is staying in control. Blanco looks as if he wants to unload, head kick checked, crowd boos and that is the fight.
They, no joke, show more action after the fight with a gymnastics display of backflips and such.
SCORECARD: Brimage 30-27
OFFICIAL RESULT: Marcus Brimage via split decision (28-29 Blanco, 30-27 Brimage, 29-28 Brimage)
Welterweight Bout: Keith Wisniewski (28-12-1dr) vs. Chris Clements (10-4)
ROUND ONE: They touch to begin the round, leg kicks by Clements to begin. Clements with overhand rights that back off Wisniewski, to the cage they go and Wisniewski gets the trip and takedown. Wisniewski works from side control, and then transitions to mount. He works for and gets the back of Clements. Wisniewski now back to the half guard, and starts to drop some elbows. We get a bad standup, apparently the elbows were not coming fast enough. Clements misses a wild overhand right, lands a leg kick and then a right. Great counter right by Clements, tries a spinkick and then gets Wisniewski down. Wisniewski almost with an arm bar, but Clements out of that. To the cage they go and the horn sounds.
SCORECARD: Close round, 10-9 Clements
ROUND TWO: Round two begins, they both open up and land some big shots. Wisniewski takes Clements to the cage and then gets the takedown. Wisniewski works from half guard, Clements works to stand and does get up. As they break from along the cage Clements gets a spinning back fist to connect. Push kick by Wisniewski, and a body kick by Clements. A good body shot follows, and then a right hand to the face of Wisniewski. Clements with the spinning back kick connects, and to the cage they go. Wisniewski with a nice trip takedown and into mount, and then gets the back of Clements. Works for the rear naked choke, but Clements gets an arm back. They trade some shots from the position, Clements uses the big screen to locate Wisniewski and land some good shots as Wisniewski has his back still. Wisniewski get the mounted back, but the horn sounds.
SCORECARD: 20-18 Clements, but it is close.
ROUND THREE: Final round now, backhand by Clements and Wisniewski shoots. Against the cage they go, but Clements answers with a few knees. Clements now works for a takedown and fails. Leg kicks from Clements, both look tired. Great right again by Clements, who keeps throwing some spinning back fists and kicks, like he's just out there having a good time. Good counter right by Wisniewski, he tries to back Clements off, but Clements back with another overhand right. Combo by Clements, and to the cage they go. Clements exits with another good right. Final minute here, Clements continues to out strike Wisniewski. Rocks him along the cage, drops him and stands over him looking to land more, Wisniewski triangles his leg to stop maximum damage, and the round ends.
SCORECARD: 30-27 Clements
OFFICIAL RESULT: Chris Clements via split decision (29-28 Clements, 29-28 Wisniewski, 30-27 Clements)
-The fights now head to FX.
Lightweight Bout: Mac Danzig (21-9-1dr) vs. Efrain Escudero (19-4)
ROUND ONE: They touch, circle and Danzig chases. To the cage they go, knees by Escudero. Escudero turns him, looks to drop down for a takedown but Danzig turns him back. Escudero drops into a heel hook, but Danzig is able to escape for a nice looking submission attempt. To the feet they go, leg kicks by Escudero. Danzig presses, counter body shot by Escudero. Good jab by Danzig, and he presses Escudero to the cage, Danzig with the waist lock, Escudero fighting the takedown. Some shots to the legs by Escudero, but Danzig keeps pressing. They circle, Escudero takes Danzing back to the cage, Escudero keeps working for a single, but the round ends.
SCORECARD: Escudero 10-9
ROUND TWO: Round two begins, they circle and Danzig looks to press and does back to the cage. Danzing presses, lands knees, but cannot get the takedown. They separate, solid combo by Escudero. They circle and the crowd is restless again. Good jab by Escudero, and Danzig in and eats a knee as he tries to press Escudero to the cage. To the cage they go again, they then shove off as neither fighter seems to want to commit to anything. Good jab by Danzig, some knees by both. Danzig presses Escudero back against the cage, Escudero tries for a desperation takedown, but doesn't get it and the round ends.
SCORECARD: 19-19
ROUND THREE: Final round, wild exchange and they lock up. Danzig with a wild right on the exit, good combo by Escudero. Leg kick by Danzig, who again backs off Escudero to the cage. Some knees to the body by Danzig, who tries to lock up Escudero's leg and pull him down, but that doesn't work out for him. Danzig shoots, cannot secure a takedown and back to the cage they go. Escudero turns him, lands a few knees but Danzig muscle him back against the cage, They get separated, good body shot by Danzig. Solid right also lands, and another as Danzig keeps backing Escudero down. Final minute here, they trade knees and then hug it out along the cage. They trade a bit, final seconds, and nothing much happens as the crowd hated this.
SCORECARD: Danzig 29-28
OFFICIAL RESULT: Mac Danzig via unanimous decision (30-27, 30-27, 29-28)
-Prelim fighter Chris Clements had the following post fight comments: "I play with each person's movement, I don't do preconceived combinations. I also don't have a formula going in. I play it based on what I see. I feel good about this win and I want to be on the Toronto card if possible. I have a big family and would love to fight in front of everyone back home. I'm sure they're happy with how things went tonight. " – Sent by UFC
-Prelim fighter Maximo Blanco had the following post fight comments: "
I wasn't happy with the excitement level of the fight because I was more focused on winning. You can't listen to the crowd in situations like this. You have to stick to your game plan and unfortunately tonight, it didn't work." – Sent by UFC
-Prelim fighter Marcus Brimage had the following post fight comments: "I was watching him for a long time and waiting for the right opportunities. It wasn't the same guy I thought I was going to fight. He was running from me a bit. I was trying to pick my shots. I wanted to outdo the main event and even though it's not the fight I thought it would be, I'm happy. Going forward at 2 and 0 I want to take my time and do it right. I want my fans on Twitter to tell me who they think is the best next fight for me. I'm waiting patiently for more opportunities." – Sent by UFC
Lightweight Bout: John Makdessi (9-1) vs. Anthony Njokuani (15-6)
ROUND ONE: Touch to begin the round, JM with a sidekick to begin, and Njokuani back with a kick of his own. Good body kick by Njokuani, they circle, and leg kicks by Njokuani. Body kick by Njokuani, right counter by JM. Njokuani back to the leg kick, a good combo and body kick land as well for Njokuani. JM flashing some high kicks, Njokuani rocks him back a bit, chases and then lands the leg kicks again. JM looks to chase a bit, but a body kick by Njokuani backs him off. More sidekick attempts by JM, he is chasing but just can't seem to get anything going as the round ends.
SCORECARD: Njokuani 10-9
ROUND TWO: JM out and flashing the sidekick and high sidekicks again, lands one to the body but Njokuani back to the leg kicks. Good body kick by Njokuani, and another. Njokuani catches a kick, but just shoves JM backwards. Crazy kick by JM misses, as does another. They finally exchange shots in close, but the crowd is starting to turn on them. Body kick by Njokuani, JM presses him back a bit, and Njokuani flashes some front kicks. He then catches a kick, backs JM to the cage, but they separate. JM lands a soft high kick as the round comes to an end, crowd not happy.
SCORECARD: Njokuani 20-18
ROUND THREE: Final round here, Njokuani works the leg kicks early and continues to keep his distance and simply outpoint JM. Crowd not happy again, body kick by Njokuani as JM tries to press, nice counter right by Njokuani as JM pressed in, Back to the leg kicks, they continue to take laps around the octagon as JM flashes kicks that miss. They mix it up in close, jabs by Njokuani. I have the word's most annoying fans behind me. Crowd chants for them to fight as Njokuani lands some more body kicks, Final 30-seconds, not much happens and the round ends to a chorus of boo's.
SCORECARD: Njokuani 30-27
OFFICIAL RESULT: Anthony Njokuani via unanimous decision (30-27 across the cards)
-Prelim fighter Mac Danzig had the following post fight comments: "This performance wasn't that great but I am happy to win. Nate Diaz is someone I want to fight. He's at another level right now and I know I need to put three very impressive wins together to get back up there. But that's what I am aiming for now that I am healthy." – Sent by UFC
Welterweight Bout: Matt Brown (15-11) vs. Stephen Thompson (6-0)
ROUND ONE: Touch of gloves and a sidekick by Thompson. Brown looks to back down, shoots and cannot get him down. They work along the cage, Brown finally gets him down and works from guard. He tries to stack Thompson, but Thompson is slick and almost gets a triangle until Brown smartly pulls back. To the feet the go, and back along the cage as Brown controls the action. Brown with another takedown, Thompson pops back up and as they go to the ground once again they roll back up to the feet, nice. Brown drags Thompson back down, tries for some kind of leg lock, but Thompson escapes into guard. He lands some shots, but Brown sweeps him and lands good rights from half guard. Good body shots by Brown as the round ends.
SCORECARD: Brown 10-9
ROUND TWO: High kick by Brown checked, he shoots and takes Thompson to the cage. They work, knees by Brown and they separate. Brown pumps his jab, shoots and takes Thompson down. Thompson is able to get back to his feet, and they separate. Thompson rocks Brown with a combo, backs him off and now Brown unloads. Both guys connecting, Brown shoots by Thompson stuffs that. Spinning back kick to the head by Thompson connects. Thompson connecting well, Brown straight through and answering. Brown looking exhausted on a takedown try. Brown then drops Thompson with a right, in guard now and Brown drops some elbows. He stacks him up, and Thompson has been opened up. Side control by Brown, more elbows but the round ends.
SCORECARD: Brown 20-18
ROUND THREE: Crowd really electric for the start of round three. Brown attacks with a combo and body kick and sends Thompson back into the cage. Leg kick by Brown, and Thompson returns with a combo. Brown backs Thompson down, pumps the jab, and Brown lands a nice counter left. He gets a bit wild, Thompson rocks him and momentarily backs him off. Brown shoots to the cage and drags Thompson down. Thompson up and Brown lands a knee. Both connect, a knee and then a trip by Brown has Thompson back down. Brown works from side control, lands elbows to the body and then gets crucifix position. Now he had a triangle with the legs on the head, lands lefts repeatedly as Thompson flails his arm in a poor attempt to block. The round ends as Brown was close to a submission.
SCORECARD: Brown 30-27
OFFICIAL RESULT: Matt Brown via unanimous decision (30-27, 29-27, 30-27)
-We see Rashad Evans arriving earlier tonight. LOUD boo's. HUGE pop for Jones on the screen arriving.
Heavyweight Bout: Travis Browne (12-0-1dr) vs. Chad Griggs (11-1)
ROUND ONE: Here we go. Browne looks to back off Griggs with a push kick, they circle, Griggs chases and Browne catches him in the way in. Clinch and knees by Browne and then a big takedown follows. Browne works from half guard, looking for a possible head and arm choke. He abandons that and gets mount as Griggs tries to turn, Browne now back to the head and arm choke, and Griggs has to tap.
OFFICIAL RESULT: Travis Browne via RD1 (2:29) submission
-Joe Rogan is with Browne for the first interview of the night. Browne says he has been away from his kids and it is hard to do. He says he made a statement tonight. They take a look at his flying knee, and then the submission.
-Break until the PPV card.
-Prelim fighter Anthony Njokuani had the following to say about his performance tonight: "It was good but I wish I got what I really wanted: a knockout or a submission. I'm tired of getting decisions, I'm disappointed in myself for that reason but happy I got the win. My leg kicks had to take out his legs because he relies on his legs so much. It was a great fight, he's a tough dude and he didn't go down." – Sent by UFC
-And now the PPV portion of the card begins…
Lightweight Bout: Mark Bocek (10-4) vs. John Alessio (31-14)
ROUND ONE: And here we go with the first PPV fight of the evening. Bocek looks aggressive early, they circle, Bocek shoots and looks for a single leg and takes him to the cage. Bocek presses, lands some knees and then more to the thighs of Alessio. Bocek just keeping him pressed against the cage and finally gets him down. Half guard by Bocek, some elbows land now. Alessio tries to keep Bocek close, but Bocek lands more elbows to the head. Bocek keeps working elbows, postures up and into half guard. More elbows by Bocek, who is easily owning the round. Alessio with a scramble and Bocek gets his back. Good rights by Bocek, gets the hooks in and triangles the body. The round ends and Alessio survives.
SCORECARD: 10-9 Bocek
ROUND TWO: Round two now, Alessio looks to keep Bocek back with a push kick, and then lands a good combo. Leg kick by Bocek, and Alessio now pumping and landing the jab. Bocek shoots, drives Alessio to the cage and pulls him down. Bocek works from guard, lands elbows again and smothers Alessio from half guard now. Head and arm choke try by Bocek, to side control but Alessio gets him back to half guard. Bocek working more elbows, but Alessio is able to get to his feet. They trade kicks, and Bocek drives Alessio to the cage again. Bocek just grinding him out against the cage as the round ends.
SCORECARD: 20-18 Bocek
ROUND THREE: Final round and Alessio needs to get on his horse here, Bocek drive him down again, and is already getting the back. Has hooks in, Alessio tries to fight him off but Bocek is working for the rear naked choke. Bocek triangles up the body, lands good rights and continues to work. Alessio manages to escape, throws some knees but Bocek drives him down to the mat again. Alessio gets to his feet again, and they work along the cage as we head into the final minute. They work along the cage, crowd hates it, both guys are tired and they separate. They throw a bit, nothing much and the round ends.
SCORECARD: Bocek 30-27
OFFICIAL RESULT: Mark Bocek via unanimous decision (30-27, 29-28, 30-27)
-Prelim card fighter Matt Brown had the following to say about his victory tonight: "Coach said he touches your face, smash his, if he touches your bones, go for his body and I did it. Every fight is it's own thing. Happy to get the win but I haven't had a vacation since I started in UFC. I probably will turn the vacation into something other than that but my wife deserves it. She's home with the kids and needs a break too." – Sent by UFC
Featherweight Bout: Mark Hominick (20-10) vs. Eddie Yagin (15-5-1dr)
ROUND ONE: They come out quick, Yagin pumps the jab and is commenting well on Hominick. Hominick throwing jabs, but Yagin has the better of the early exchange. Hominick starts to pick things up a bit, going to the body and landing his jab more effectively than he was. Yagin looks cut under the right eye, but he then DROPS Hominick and pounces on him and lands some good shots, but Hominick gets him into guard. To the feet they go, and Yagin back to the jab. Body shot by Hominick, Yagin chases and Hominick lands more jabs. Back to the body for Hominick, and the round ends.
SCORECARD: Yagin 10-9
ROUND TWO: Yagin comes out, working the jab once again. Hominick looking to work those body shots, good combo by Yagin. Hard leg kick by Yagin, and then counters Hominick as he looks for the body shot. Leg kicks and jabs by Yagin keep scoring, he knocks down Hominick again and into guard where he looks to do more damage. Hominick working for wrist control, they get to their feet and a sweet spin kick by Yagin. Again, Yagin with leg kicks and the jab, going with what works every time. Hominick's jab is getting through a bit, as Yagin's nose is bloodied, as is his mouth. Hominick keeps pumping his jab and he is finally finding a home for it late in he round. Yagin is slowing, and the round ends.
SCORECARD: Yagin 20-18
ROUND THREE: Crowd electric for round three, Hominick looks to pump that jab that was working so well as round two ended. Combo by Yagin, Hominick backs him off with the jab and Yagin is again slowing. Hominick working the jabs and is making Yagin chase with his strikes. Yagin's nose is really busted up here, and Hominick back to the body as he slowly starts to land at ease. Spinning backfist by Yagin, but more jabs in return by Hominick. Yagin is still throwing, but they are slow and predictable. Hominick is avoiding, pressing and again, still landing the jab. Final minute, Hominick pressing more now. Yagin is hurt, he is lunging with shots as Hominick keeps landing, I think Hominick really needs a finish here. They both miss flashy kicks, final seconds, they both land and it is over as time expires.
SCORECARD: 29-28 Yagin, but round to was close
OFFICIAL RESULT: Eddie Yagin via decision (29-28 Yagin, 29-28 Hominick, 29-28 Yagin)
-The crowd is not a fan of the decision.
Chad Griggs had the following to say about his loss at UFC 145: "I guess I must have walked into that knee, it rocked me pretty good. I knew he was going for the choke my brain wasn't coinciding with my body. I never recovered from that knee. I gotta watch it on tape. I trained hard. He's 6'7″ and fights can end quickly with big guys. But I should really be at 205." – Sent by UFC
Travis Browne had the following to say about his victory at UFC 145: "This win means so much. I take my last win against Broughton personally as a loss. Against Struve and Griggs, they were the fights that are real wins. I can't be stopped physically and mentally when I'm at my best. I wanted to push the pace. He was trying to get in my face and bully me but I put him against the fence and threw him down. For the finish, I felt the cage real close to me. That's why I was on my knees I had to use my shin to keep him as far away as possible. I knew I had to stay there and use time instead of pressure." – Sent by UFC
Bantamweight Bout: Miguel Torres (39-4) vs. Michael McDonald (14-1)
ROUND ONE: Torres out, looking to pump the jab but McDonald gets a combo on the way in. McDonald starts to back off Torres, lands a good combo and Torres circles out of that. Torres lands the jab, body kick by McDonald. Good combo by McDonald, and Torres loses his mouthpiece. Back to action and McDonald DROPS Torres and he is OUT!
OFFICIAL RESULT: Michael McDonald via RD1 (3:18) KO
Joe Rogan is with McDonald. McDonald says that he can finally eat, which makes him happy. Torres is being helped from the cage. McDonald discusses the victory and wanting KO of the night.
Mark Bocek commented on his victory tonight, stating the following: "When John took that fight on such short notice you use what you know; there's not a lot of time to do research on your opponent and then retrain for it for either guy. Strategy is always a part of it but deploying the tools I knew from experience work is what got me the win. I want to thank my team out of TriStar gym in Ontario" – Sent by UFC
Heavyweight Bout: Brendan Schaub (9-2) vs. Ben Rothwell (31-8)
ROUND ONE: Rothwell looking to stalk Schaub, they clinch along the cage and knees by Rothwell as they break. Schaub clips Rothwell, follows up and Rothwell fires back, DROPS Schaub and it is ALL OVER!
OFFICIAL RESULT: Ben Rothwell via RD1 (1:10) KO
Joe Rogan is with Rothwell, and he says he worked hard for this fight. He changed his diet, training and he is very thankful. They walk us through the replay.
Eddie Yagin had the following comments following his victory: "Hominick is veteran and unbelievably bad ass. I was hoping I was going to get that fight with Mark and the fight was exactly as I pictured it. I thank UFC for the opportunity. Because Hominick was favored, and a UFC veteran, and I'm a rookie UFC guy, I'm pretty happy about this win."
Welterweight Bout: Rory MacDonald (12-1) vs. Che Mills (14-4-1nc)
ROUND ONE: And here we go with the co-main event of the evening. Both looking to work their jab a bit, Mills backs off MacDonald. Good body kick by MacDonald, Mills takes him to the cage and they separate. MacDonald shoots, takes Mills down and works from guard. MacDonald starts to land, postures up and just unloads on Mills. Side control now, lands clean shots to the head and then knees to the body. MacDonald looks for crucifix position, has it and lands rights and elbows to the head of Mills. Mills to his credit escapes, MacDonald still in side control and continues to land shots. Mills looks like a mess as MacDonald works short shots and elbows on his way to getting mount. He then gets his back, now back to mount and starts to unload on Mills. MacDonald goes for the back again, but time runs out.
SCORECARD: MacDonald 10-9
ROUND TWO: MacDonald drops Mills early, lands solid shots and then drops into guard. He easily transitions to side control, After a few moments, MacDonald gets mount and then the back again. Hooks in, and then some more elbows for Mills. MacDonald with big shots on Mills and the fight is called off for excessive violence and awesomeness.
OFFICIAL RESULT: Rory MacDonald via RD2 (2:20) TKO
Rogan is with MacDonald. Rogan outs over Mills as an opponent, and MacDonald says he was great, although he didn't get the respect he should have. Rogan says his ability is getting scary. When asked what is next, MacDonald says he wants to be a champion someday, and he still needs experience.
Michael McDonald had the following to say about his victory over Miguel Torres: "This was the biggest jump up in competition in my career and easily the biggest win. He caught me a couple times but my power and aggression won out. When he went out I was like `go go go go` and I finished it. I don't know about my next fight but I'm ready for this level." – Sent by UFC
Ben Rothwell had the following to say about his victory at UFC 145: "he got a couple of quick shots through. I knew I would get mine. He started to come , in the beginning he was in and out but then he just stood there but I got him to commit and he came in with a couple of punches —and that was it. I started letting mine go at the same time and I was going to keep throwing. They always say it's when you don't expect to knock someone out when you do. I feel good. My conditioning is great. I'd like to get three wins in this year." – Sent by UFC
UFC Light Heavyweight Championship Bout: Champion Jon Jones (15-1) vs. Rashad Evans (22-1-1 dr)
ROUND ONE: And HERE WE GO! They come out, Jones looking to back Evans down early. Head kick by Jones, shook off by Evans. Body kick by Jones, looks to work the jab. Avoids an Evans lunge, and they trade leg kicks. Good combo by Evans, push kick by Jones. Another head kick slips through for Jones, Evans backs off. Evans in, Jones shoves him back. Push kick by Jones, double jab by Evans. Jones using his distance, flashes a front kick and continues to keep Evans away. Body kicks by Jones, leg kicks by Evans. Evans with a head kick that gets through, presses Jones back and they clinch and a knee by Jones. The round ends in the clinch.
SCORECARD: Jones 10-9
ROUND TWO: Second round now, they get close early and Jones with knees. They separate, jab by Evans and both miss shots as they get a bit wild. Both guys working the jab, Jones chases a bit then throws a wacky back kick that Evans stopped. Jones walking forward, Evans still getting the jab here and there, as is Jones. Jones ROCKS Evans with a right elbow, follow up along the cage, but Evans seems to have recovered enough. They work along the cage, separate and Jones is trying to walk him down. Jones with the combo and body kick. Jones with another elbow, and then a jumping knee and a left hook as the round ends.
SCORECARD: Jones 20-18
ROUND THREE: Round three now, they throw some faints, and Evans lands a great overhand right to Jones, his best shot of the fight. Jones backpedals a bit, circles, and then unloads with a hard body kick. Jones trying to re-establish his reach advantage, works the jab and again backs Evans down. Jumping knee by Jones lands, partly, and as they separate, Jones back to the jab and occasional body kick. Some leg kicks by Rashad, he shoots, stuffed and Jones bullies him to the cage. Body shot by Evans, and then a body kick is caught as the round ends.
SCORECARD: Jones 30-27
ROUND FOUR: Championship rounds now, Jones still taking advantage of his reach and keeping Evans at a distance. Jab and leg kick by Jones, Evans shoots for a single leg, but can't get it. They work to the cage, separate and Evans looks frustrated. Evans fails as he tries to shoot in again, and Jones continues to play his reach. Crowd getting restless as Jones just keeps Evans on the outside. Clinch by Jones and Evans quickly escapes that. They circle, clinch, knees by Jones to the body. Shoulder shrug by Jones, they separate. Jones shoots on Evans as the round ends.
SCORECARD: Jones 40-36
ROUND FIVE: Final round. Both come out with a bit of fire, and a nice body shot by Jones. They dance, circle and then both throw wild rights. Jones with jabs, a body shot and then a combo to back off Evans. Evans still has not found a way to get inside on Jones, and all he has seemingly done is back off, and circle away. Jones takes Evans to the cage, they trade some shots and then separate. Jones with body kicks now to keep Evans away, crowd restless once again. Jones trips Evans down, lands some shots and Evans manages to get back up. Evans holds on, but isn't doing much of anything but eat shoulder shrugs from Jones. Final 30-seconds, Jones pulls guard on Evans, who can't do anything as the round ends.
SCORECARD: Jones 50-45
OFFICIAL RESULT: Jon Jones via unanimous decision (49-46, 49-46, 50-45)
Rogan is with Jones. Jones says this was his most satisfying victory to date, and that he has improved so much since training with Evans.
Evans and Greg Jackson shared a quick moment after the decision.
Rogan is with Evans. Evans gives Jones respect, and says Jones was pretty much the same fighter he was when they trained together. Evans says the elbows gave him issues. When asked about the emotion of the fight, Evans says there was a lot, but when it came to tonight, he dialed down, but maybe a bit too much.
-End scene.

comments powered by Disqus