411's UFC on FUEL 5: Struve Vs Miocic Report 9.29.12
September 29, 2012 | Posted by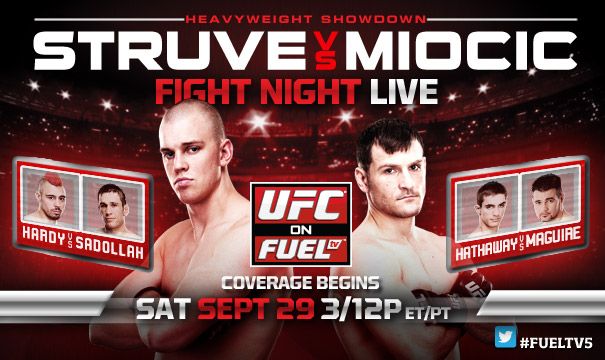 PRELIM RESULTS:
* Robert Peralta def. Jason Young via KO (strikes) – Round 1, 0:23
* Gunnar Nelson def. DaMarques Johnson via submission (rear-naked choke) – Round 1, 3:34
* Brad Tavares def. Tom Watson via split decision (30-27, 28-29, 29-28)
* Akira Corassani def. Andy Ogle via split decision (28-29, 30-27, 29-28)
* Jimi Manuwa def. Kyle Kingsbury via TKO (ref stoppage, end round 2)

---
MAIN CARD
Hello everyone! Despite the intro, it's me, Stewart Lange covering you from the warm, beer filled comfort of my living room. It's been a great night of fights so far and the wifi in the arena has clearly stopped working to watch the fights. Thanks to Alex for starting the coverage off though, but it's away from the arena and up to Scotland for the main card. Now, let's get to it, shall we?
Che Mills versus Duane Ludwig
We get an intro package and then we settle for some adverts. This is the life. It gives me a chance to a)re-beer and b)pee. It's helpful. £42.99 for the new Fifa, though? You must be kidding. Get 2012 for £2.99 in your local Cash Converters.
Round One: WE ARE LIVE! Last time I picked Che Mills I was made to look like an ass. Let's see how this goes. Big Herb to officiate. Touch and we're off. Clinch by Mills, big shots and a takedown into side control. Promising start. Elbows from the top by Mills and Ludwig is cut already. Duane tries to come up, eats a knee and we're back in side control. Mills dropping short elbows like a boss. Ludwig tries to power up and after a small scramble we have Mills on top in the guard of "Bang." Armbar attempt by Ludwig answered with a few big shots. WOW, Ludwig falls back, he's tweaked his knee. It's over.
The winner, by stoppage (injury) in round one……. Che Mills!
Great sportsmanship by Che Mills there. He's not celebrating the win and helped Duane up.
We see Robbie Peralta decimate Jason Young again.
John Hathaway Vs John Maguire
Gypsy Jiu Jitsu? We'll see. This should be good.
Round One: Slow start, leg kicks exchanged. Hathaway throws a leg kick, checked. Swarm by Hathaway, knee thrown. More circling. Hathaway comes in again, still not a lot landing. We're really just counting points at this stage. Three minutes in, not a lot to say. Everything thrown is checked or misses, really. Anik says Hathaway want's to set up takedowns with strikes, doesn't look like it. Jab lands flush on Maguire, weathered. Takedown attempt by Maguire, stuffed. Bland.
Round One: 10-9 Hathaway (in my opinion, could have gone either way. Boring round.)
Round Two: Hathaway keeping Maguire outside, keep out pointing him. Pushes Maguire against cage and powers him down. Half guard for Hathaway, slow advance into ground and pound. Maguire looks for butterfly guard from his back, throws up a triangle and doesn't get anything. Short elbows by Hathaway score points but don't do any damage. Damn this fight sucks. Hathaway stand up, Maguire doesn't so they return to ground. Hathaway can't progress as Maguire is too good off his back. Hathaway stands again, rinse and repeat. Back down to score short shots that do little in the way of damage. Maguire looks again for a triangle, nothing. Sigh.
Round Two: 10-9 Hathaway
Round Three: Hathaway rushes out with a couple of decent leg kicks. Let's watch as he doesn't follow up. Smart fight by Hathaway, he's scoring well but not going to finish. Maguire doesn't like being kneed in the face so is avoiding the takedown himself. Hathaway keeping the centre, I'd be surprised if I report much more than this. John Hathway is like the GSP of MMA…… wait. Never mind. Only two and a half minutes left. I was going to play Borderlands tonight, but I decided to do this instead. Can't say I'm happy about my decision. Takedown by Maguire. 90 seconds left. Big deal. Hathaway covering up well and throws elbows from the back. Upkicks by Hathaway to end.
Round Three: Hathaway 10-9
Official Decision: 30-27 John Hathaway
That fucking stank. At least the rest of the card should be fun.
Do you think that if I gave up being sensible I could get away with using this as part of the MMA 5 & 1 this week?
Paul Sass Vs Matt Wiman
We're treated to more adverts for soap and other crap. An Anderson Silva promo for UFC 153 plays. Go #TeamBonnar.
Round One: We're on with the Scouse Submission Machine. This will be a challenge for him. Takedown already by Sass. Wiman looking to keep a hold with a high school headlock, moves to full guard. Sass warming him up with shots but Wiman is actively trying to wrap him up from the bottom. Leg lock attempt fails by Sass, as does the omoplata. Wiman escapes but is swept by Sass. Relaxed guillotine sweep by Wiman followed by mega TRIANGLE by Wiman! Sass escapes, crowd goes mental biscuits. Paul punches Wiman in the face until Matt gets pissed and tries an armbar. Sass fights it, but it's tight. They roll around and SHIT! He's got it! Wiman wins by submission! Excellent!
The winner by round one submission (armbar)….. Matt Wiman!
England are doing really badly tonight. That's because there aren't any Scottish guys on the card.
They show Gunnar Nelson vs Damarques Johnson again. It's awful they let Johnson fight. He was barely a threat tonight.
Brad Pickett vs Yves Jabouin
IT'S BRAD PICKETT, BITCHES!!!!!!! Now we're talking! In case you forgot/didn't know, Travis Browne is fighting Bigfoot Silva on Friday. Tune in to 411 for live coverage of that one, I'll assume it's by Mark Radulich since it's useless heavyweights.
Round One: Big reaction for Brad Pickett. Dancing to start, eye poke already by Jabouin. Kicks by Yves, but Pickett holding the centre of the octagon. Knees, shots, and head kicks thrown in a flurry by both men, hard to keep up here. Pickett lands a big left hook, and a combo but Jabouin is landing more. Pickett is bringing it back now, landing combinations whenever he goes in. Pickett looking for something big, isn't landing true but he's scoring no problems. Crowd chanting away, spinning kick by Jabouin, foiled by takedown attempt but that's stuffed too, dancing around and BOOM! Pickett wins! He celebrates with a little Gangnam style too! OOOOOSHT.
The winner by round one KO (uppercut)………Brad Pickett!
Pickett sucks up to Dana by saying he's the best boss anyone could have. That's bollocks, we all know it's Larry Csonka. Dana is third, right after Kim Jong Un.
Now, Dan Hardy is fighting. There may be very little talking here, so I apologise. I'll do my best to remain impartial.
Yeah, I know. I'm a bad liar.
Dan Hardy Vs Amir Sadollah
WHAT a reaction, just for the video package of Dan Hardy. Big boos for Sadollah. WHAT a reaction for Dan Hardy! Don't disappoint us, Dan!
Round One: Again, I'm watching this fight more than writing about it. Apologies. First shot landed by Sadollah, Dan seems happy it's out there. Crowd well behind Hardy. Leg kicks and inside punches by the Outlaw. Hardy starts to land stiff shots, looks like he's loving it. Move my wife's laptop off my knee in case I get too excited. Sadollah lands a few more, including a leg kick. Dan popping his left hook, Sadollah delaying his advance but rushes a clinch. Hardy reverses against the cage, elbows Sadollah in tight. 60 seconds left, Sadollah lands a shot on the out and they trade combinations. Break on the 10 second mark, both land good shots and they fall at the buzzer.
Round One: 10-9 Hardy
Round Two: Hardy ending combinations with left hook and he has his mean face on now. Body shots by Hardy mixing it up, really letting Amir have it. Sadollah still here, throwing his own but Hardy going for the double leg and gets it! Reckon Big Roy taught him that? Nothing comes of it and they end up clinched against the cage, Hardy in control. They trade a couple of times and break. More shots land from Hardy and another takedown by the Nottingham native! Sadollah looking happy off his back, but not being there as he's getting elbowed by Hardy. Sadollah looks for an arm but Dan smashes Amir to end the round.
Round Two: 10-9 Hardy
Round Three: Hardy looks for another takedown early, clearly looking to impress the judges. He's probably not getting the knockout at this stage. Amir is bloodied now, though. Dan controlling the clinch again, but they break and go back to standing. Hardy drops Sadollah briefly and straight away gets another big takedown. Jeremy Lambert on Twitter thinks Sadollah is outstriking Hardy. Okay. Sadollah looking for the triangle again, but he's really just getting elbowed by Dan now. Big blood coming from his head now, although not quite David Heath standards. Jon Anik compared Dan Hardy's elbows to Jon Jones' against Belfort. Nice. They stand, but Dan stays in control and lights Amir up again. It's over and surely a victory for the Englishman.
Round Three- 10-9 Hardy
Official Decision: Unanimous decision (2 x 29-28, 30-27) Dan Hardy
Stefan Struve Vs Stipe Miocic
Just realised it's a year since my first live coverage for 411. UFC 138. I seem to remember that was a last minute replacement for Butterfield too. I also can't believe this is a main event.
Round One: This may not take long. Feeling out process initially. Miocic looking for the body shots, Struve countering with leg kicks and a threatening knee. Struve throwing more, but nothing really landing. Struve throws another couple of kicks and I'm not seeing anything great from the "new Cro-Cop" here. As I say that, he puts Struve on the ground bypassing a knee, but we pop back up and we're back. Body shots by Miocic again land well, but by now I think Struve has done just enough. I don't think I'll survive 4 more rounds of this.
Round One: 10-9 Struve
Round Two: Kick by Struve lands on the body, BIG nut shot follows it up. No real break, Miocic lands a combo and doesn't do much with it. Horrible feeling these two will gas before the finish. A few big swings with no real dice. Struve going crazy landing shots, Miocic is struggling but is allowed to settle. Miocic swings back, but misses more than he lands. Both rocked in quick succession but it's actually not as exciting as it seems, unfortunately. Struve batters Stipe against the cage, he's out on his feet and that's all she wrote!
The winner by Round Two TKO (Strikes), Stefan Struve!
I'll leave you with some words of wisdom from my wife, who you'll know only as Mrs. Lange:
"When you wake up being cuddled by Herb Dean, you know you've lost."
I bid you all good night. Thanks for stopping by 411mania for your LIVE UFC coverage!

comments powered by Disqus