Locked in the Guillotine MMA News Report 12.21.12 The End of the World (not really) Edition
December 21, 2012 | Posted by
Hello hello my faithful readers. I'm very glad you took time out of your shopping and eggnog drinking to read this and spend a little time with me. Christmas is just around the corner, and I'm very excited for that. I hope you all are too. For this week we've got plenty to cover, there were some absolutely awesome fights last week. For a couple of cards that I hadn't heard about much beforehand and a bunch of fighters who I didn't know there were some really great fights. In fact I don't think I could name a bad one. Being here does mean you're Locked in the Christmas Guillotine though so we better get to it before the smell of pine overwhelms you.
Season Finale Thoughts
Front kick KO: One of the under card fights between Benny Alloway and Manuel Rodriguez ended with a sweet front kick knock out from Alloway. It was aimed at the body of Rodriguez but Rodriguez was ducking down thinking about changing levels and ate the kick to the jaw and that was all she wrote for this fight. I also need to take a moment and commend the referee in this fight, because there was an inadvertent low blow with a leg kick that the official didn't see and initially he tried to stop the fight. After hearing it was a low blow he moved to the side of the octagon and spoke with a ringside official and gave Rodriguez the time to recover from the illegal shot. I have to applaud that kind of reaction and making sure that the call is correct.
Beltran evolves: On the under card of the TUF: Smashes event there was a fun fight between Joey Beltran and Igor Pokrajac. Beltran used forward movement, good clinch work, and a high volume of strikes to win a clear cut unanimous decision. Beltran's conditioning looked good here, he never got tired despite his out put of strikes. Good win for Beltran and a really fun fight for the under card.
Hector Lombard finally shows up: Hector Lombard defeated Rousimar Palhares by TKO in the first round to start the main card off on Friday night. This was a performance Lombard desperately needed, he looked like the guy the UFC wanted to sign. His punches were crisp, he was able to move forward effectively, and he showed his killer instinct. Lombard looked good, and hopefully this was a sign of things to come.
Pearson stops the Sot: Ross Pearson defeated George Sotiropoulos by TKO in the third round of their fight to close out the event on Friday. This was an odd fight when you think about it, because despite having a significant grappling advantage George made only a few attempts to get the fight to the ground. Instead he tried striking with Pearson, and constantly got tagged with a left hook that he never seemed to adjust to. Decent win for Pearson in his return to lightweight, but he's basically at the same level he was when he left it.
Suplex KO: On the under card of the TUF finale on Saturday Russian Rustam Khabilov knocked out his opponent Vinc Pichel with a beautiful suplex. It was pretty much a wrestling german suplex for the wrestling fans out there, and it was really sweet to watch. This was a great debut for the Russian, and one that should help people remember him.
Bedford really is brutal: Johnny Bedford defeated Marcos Vinicius by KO in the second round with a nice combination against the cage. Bedford impressed me with his victory over Louis Gaudinot on the finale of the season of TUF he was on, and it's unfortunate he was out for almost a year with injuries. Here he reminded everyone that he's actually a solid fighter, especially at bantamweight which is bordering on paper thin. I think it was bad form of him to use Benson Henderson's walkout music though, a champions music should be reserved for them.
Barry stays alive: Pat Barry knocked out Shane del Rosario in the second round of their fight on Saturday. I have to say something here because I was the only guy on this site who thought Barry would win. Everyone else figured Shane would submit Barry early, and while there were a couple of decent attempts, Barry has trained enough to learn some escapes and he landed some nasty power punches in the second round to knock del Rosario out cold. Good win for Barry who now gets to keep his job with the UFC, hopefully he keeps evolving because he's never in a boring fight.
Big Country: Roy Nelson knocked out Matt Mitrione in the first round of their fight on Saturday. Mitrione was actually looking pretty good, his strikes were crisp and his kicks especially seemed to be on point. Unfortunately for him he got hit by Roy Nelson. Nelson landed a nice uppercut, left hook, overhand right combination that dropped Mitrione and he finished with strikes on the ground.
I know I might have come off as a little down on the Friday and Saturday fights based on my preview, but my comment was more that I didn't have a reason to care about any of the fights and that I felt they hadn't been properly promoted. Actually Friday and Saturday wound up being awesome for fights. Pretty much every fight delivered, and even the ones that weren't memorable were at least watchable. Kudos to the fighters for going out there and putting on shows.
Weight changes: Three UFC fighters announced their intentions to change weight class this week. The first was Court McGee, who lost a bad decision to Nick Ring in his last fight. Court has decided to try his hand at welterweight instead of middleweight, and if his strength and pace translate into the lighter weight class he could improve his profile. Another is Jeremy Stephens, fresh off the first KO loss of his career to Yves Edwards. The loss to Edwards actually put Stephens on a three fight losing streak, and his decision to try his luck at featherweight next year hopefully rejuvenates his career. One thing is sure, if his power translates into featherweight he'll be a force because he had scary power at lightweight. The final guy switching weight classes is Patrick Cote. Cote is scheduled to fight Alessio Sakara in a rematch of their fight from November. After that it seems the Canadian will be looking to try his luck down at welterweight. I don't think Cote has much of an upside personally, but if he finds success at 170 more power to him. It seems that the old weight loss New Years resolution is in full effect in the UFC this year.
The UFC offers Alvarez: Former Bellator lightweight champion Eddie Alvarez has been offered a contract by the UFC. Bellator has the option of matching the offer and attempting to keep Alvarez with them, but if I had to guess it's unlikely. Alvarez has been bound for the UFC for a while now, though I'm not sure just how far he'll go in the UFC. The UFC's lightweight division is packed with strong wrestlers so we'll have to see how he adapts to the big show. That said, I am looking forward to his UFC debut, because I'm curious to see how he does.
The other Emelianenko retires: Aleksander Emelianenko announced his retirement from MMA this week due to injuries. While doubtless everyone is more familiar with the elder Emelianenko, the greatest heavyweight of all time Fedor Emelianenko, his younger brother had a successful fighting career as well. Whatever the future holds for Aleks, I wish him the best.
Bellator drops the ball: I don't cover Bellator too much here, I don't get MTV2 but will find a fight of theirs if I hear good things about it. As a general rule I think Bellator has done a good job making a name for themselves, and the tournament format, while it does have some inherent pitfalls, is something that always catches interest. Unfortunately for them, the dropped the ball big time last weekend. Marcin Held and Dave Jensen were set to square off in the finals of one of Bellator's tournaments, but there was a major lapse in judgment here. The event was scheduled to take place in a casino, and Marcin Held is just twenty years old. For those not in the know, you must be twenty one to enter a casino here in the states. I don't know how you overlook something as simple as making sure your fighters can actually enter the venue to fight, but this was a big mistake on Bellator's part.
Varner and Guillard get rescheduled: A very odd story coming out of last week, the scheduled lightweight fight between Jamie Varner and Melvin Guillard was canceled at the last minute when Varner became seriously ill. That fight was one that I was personally looking forward too, but it had to be scrapped. After that announcement Melvin Guillard initially said he'd never give Jamie Varner another opportunity to fight him, but when the interviewer Karyn Bryant said that Dana White intended to move the fight to UFC 155 he immediately recanted and said that's what he'd be doing. It was announced formally that the two will fight at UFC 155 on the preliminary portion of the card. I'm still interested to see this fight, and while it would have been an awesome addition to the fights last week it should still be fun to see.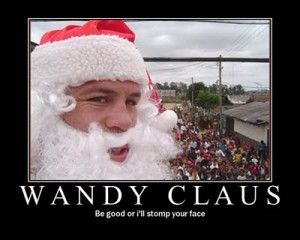 Well my loyal readers, it is indeed that time of year again. Christmas is just around the corner, and just like last year I'm going to give out some gifts to MMA personalities and writers from this site who have made my life hear much easier. So let's get to it then.
Cain Velasquez should get the ability to cut down to light heavyweight, because after Junior dos Santos KO's him again his title aspirations at heavyweight are over, which is a very sad thing in general.
Dana White gets a new batch of politicians in New York who don't have their collective head's shoved so far up their backsides. We know he wants to run an event in Madison Square Garden, and while it isn't necessary for the UFC it would be cool. Wont happen in reality though.
Chael Sonnen needs the number of Rich Franklin's plastic surgeon, because I fully anticipate him getting smashed by Jon Jones.
Brian Stann should find a ground game under his tree. The guy is incredibly likeable, has good striking, and is in a thin division, but his grappling has been a serious weakness for his entire career.
Johny Hendricks seriously needs some respect. The guy has beaten two former title contenders and stopped Martin Kampmann in his last three fights. Nick Diaz getting a title shot before him is awful.
Speaking of Nick Diaz he should get coal. He can smoke it all he wants and no athletic commission will bust him for having it in his system.
411's Mark Radulich really should have a job with the UFC. When the UFC absorbed the WEC they brought over match maker Sean Shelby to handle the lighter weight divisions, the UFC should give Mark the job of match making for the heavyweights. It would lighten the load on Joe Silva a little, and would fulfill Mark's dream of being involved in heavyweight fights.
Stewart Lange still needs Scottish independence. I tried to give it to him last year but he declined, so I'm trying again. It's not like he can re-gift it or anything.
Jonathon Solomon should get whatever he wants. Seriously, the guy is the most consistent writer on our site and one of the best. We all do this out of love for the sport, but if anyone should get paid it's him.
Pat Mullin needs some main page love. I've never seen his weekly Blueprint article get a top three spot and he certainly deserves it. He also needs some recognition, anytime I have a technical question about fighting and technique I try to ask him. Well, when I can't get in touch with Samer Kadi I try to find him.
Jeremy Lambert and the aforementioned Samer Kadi should get cut a little slack about the name of their column. It seems everyone gave them a little grief when they returned. They also need some kudos for making a two person column work as well as they do, it's not an easy thing to put that together and make it as informative and easy to follow as they do.
Alex Rella gets to keep doing what he's doing. His weekly top ten columns are almost always awesome, and who doesn't love his Bonus Ken Shamrock Moment of the Week? Really his stuff is worth clicking on just to see what moment of Shamrockness he's got for you.
Jeffrey Harris gets the same thing Johny Hendricks got, respect. I don't always agree with him, but the man is a tireless worker here at 411mania. We all should take a lesson from his work ethic.
Wyatt Beougher also gets whatever he wants. What can I say, the guy judges the Fact or Fiction bouts, I've got to give him some kind of kick back for when I return to that arena.
And finally, our boss, the best boss in the world by the way, Larry Csonka should still get a better bunch of guys to corral and keep in line than us. I imagine it's something like herding cats trying to keep us all in line.
Rest assured I will be back next week with a breakdown of the big heavyweight title rematch between champion Junior dos Santos and former champion Cain Velasquez. That is a great way to end the year in terms of MMA guys. Congratulations on surviving this holiday edition of the Guillotine, though I imagine a Christmas guillotine looks suspiciously like a wreath. I'll see you back here next Friday, unless the Mayan's were right and this edition is so epic it helps usher in the end of the world. Anyone prepping for the end of the world please send me your worldly possessions, I mean if the world ends it wont matter anyway right? Seriously though, I'll be back next week and hope all of you are too.
NULL
comments powered by Disqus