MMA's 3Rs 10.4.12: UFC on Fuel TV 5 Edition
October 4, 2012 | Posted by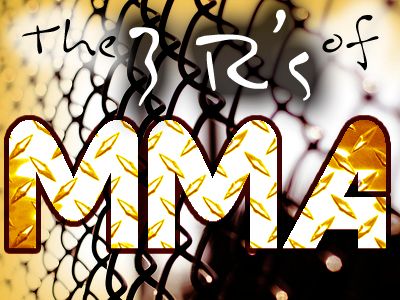 *The Column Concept*
Greetings loyal readers and welcome back to a brand new edition of The 3R's of MMA. The rules and format are still the same as I will be taking a look at the Right, the wRong, and the Ridiculous in the MMA world. The Right will be about the good to great fights or positive news items for the week or big fight announcements. The wRong will be the bad fights, showings or performances, and bad fight bookings. And the Ridiculous will be the worst of the world of MMA.
The 411 Ground and Pound Radio Show was back this week to recap UFC on Fuel TV 5 and preview UFC on FX 5:
College football season is in full gear. And you know what that means? HOOK 'EM HORNS! The Texas Longhorns were off this week as it was a bye week. The Longhorns came back from their break and won a very tight game against OSU putting us at 4-0 for the season so far.
Welcome back everyone to another, brand new exciting edition of the MMA's 3R's. The UFC had their first show in six months. The UFC train of events continued with UFC on Fuel TV 5 as UFC returned to the UK for an awesome card. Bellator returned for their seventh season on MTV2 with Bellator 74.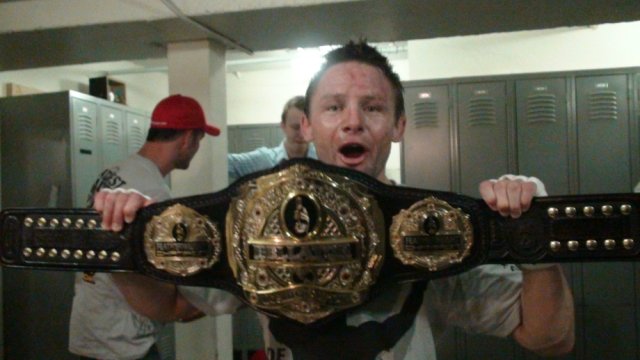 THE RIGHT:
Stefan Struve vs. Stipe Miocic: I thought this was going to be the tougher type of match-up for Struve and I didn't think he'd be able to do it against Miocic with his boxing and wrestling pedigrees. Struve came to fight though and despite getting tagged with some hard shots, he was able to stand in the fire and came back to knock out Miocic in the second round. Struve put aside a lot of emotional personal issues going into this fight with his ailing father currently going through cancer treatment. Struve now has four straight wins with all four being finishes and he defeats yet another undefeated fighter. Struve still has some holes in his game, but he's showing improvement with each fight and he's definitely looking like a hotter heavyweight prospect right now considering not long ago he was getting knocked out in under a minute by Roy Nelson.

Stefan Struve got his ninth Octagon victory after knocking out Stipe Miocic at UFC on Fuel TV 5.
Brad Pickett vs. Yves Jabouin: My friend One Punch finally lives up to his name in the UFC and gets his first knockout victory in the Octagon. A lot of people don't realize that Pickett is an elite fighter and bantamweight. In the WEC he beat Demetrious Johnson who not long after went on to beat Miguel Torres and contend for the 135 lb. title against Dominick Cruz. It was originally Pickett set for that fight with Torres before he got injured. His only losses under the ZUFFA banner are against Scott Jorgensen in a title eliminator and Renan Barao who is now the interim champion. His opponent in Jabouin was already on a 3 fight winning streak at the time of this fight. Pickett finally puts the Barao submission loss behind him and is now in a good position. Perhaps he faces Michael McDonald in a semi-contenders fight or another highly ranked bantamweight. Urijah Faber has already put out the desire to fight Pickett as well on his Facebook page, but we'll see.

Brad Pickett scored his second straight win in the UFC with a knockout win over Yves Jabouin.
Matt Wiman vs. Paul Sass: I was honestly expecting a Wiman win here, but definitely not by submitting the submitter. It was Wiman who was actually on his back but worked well in the guard and armbarred Sass which I doubt few would've expected or bet on. Wiman's a longtime veteran and sometimes it is hard to forget he now has 9 Octagon wins. Wiman's been on the shelf nearly a year so when you are on the shelf for a while sometimes people forget about you. I think Wiman though is due for a bigger fight now on a bigger UFC card though with this win which was very impressive.

Matt Wiman submitted Paul Sass at UFC on Fuel TV 5.
Facebook and FX Prelims: The prelims for UFC 152 on FX and Facebook did not disappoint either. Vinny Magalhaes returned to the UFC and finally got himself a win inside the Octagon against Igor Pokrajac who was coming in on a 3 fight winning streak. TJ Grant and Evan Dunham went to war in what was awarded Fight of the Night. Grant looked extremely impressive and took Dunham out of his comfort zone. An extremely huge setback for Evan Dunham, but it also shows he's got things to work on. We all thought Jim Hettes was going to be a big prospect at featherweight, but that hype train came to a bit of a screeching halt as he got absolutely dominated by Marcus Brimage the DBZ fanatic of all people. Brimage took the fight to Hettes and he was a fighter who actually showed a lot of improvement in his wrestling and ground game as he kept the fight where he wanted and Hettes wasn't able to do anything about it. There was also the extremely quick knockout by Kyle Noke making his welterweight debut against Charlie Brenneman. I don't think it was a bad stoppage. Brenneman looked out on crumpled legs and the referee made the right call from the looks of it. Sometimes guys are able to get up quickly from a knockout but that doesn't mean it was a bad call.
THE wRong:

Forrest Griffin and Xanax-Gate: The MMA community fell into a maelstrom with Forrest Griffin's recent revelation of taking a Xanax before his fight with Anderson Silva over three years ago at UFC 101. Griffin lost the fight and subsequently failed his drug test. He served his thirty day suspension and fought again several months later at UFC 106 against Tito Ortiz, a fight he won. People seemed to be appalled by this news and that it was never reported. However, PSAC and Forrest Griffin did their due diligence and followed the rules. The information was filed in the American Boxing Commission database. Griffin served his punishment and that is that. The PSAC are not allowed to announce this information due to state laws involving HIPAA. So what's the problem here exactly? Well yeah, Griffin took a depressant before a huge fight and that was stupid and not a good idea, but there clearly isn't a conspiracy or UFC trying to protect their image or keep things under wraps. Griffin failed his test, served his suspension, and he was tested again and did as he was asked by the athletic commission. So the perpetration that he didn't report the reasoning or whatever to the ABC is bogus. And if there was a problem with the NSAC and Keith Kizer than that's the fault of Nevada not Forrest Griffin and the PSAC because the head of the PSAC said they entered the information into the national database that they are to be contacted in the event of Griffin's next fight. Government bureaucracies don't know what they are doing and slipping up? Not surprising. One thing though I do want to bring back is an interview Forrest Griffin did with Dave Farra shortly after UFC 101 where he actually says during the interview, "Don't fight on 'ludes. Don't do it." Was Griffin subtly alluding to his taking a Xanax and his failed drug test?


I guess Griffin wasn't really joking about fighting on Quaaludes here..

Akira Corrasani: I wasn't impressed with Corrasani's behavior during The Ultimate Fighter, and I was not all too impressed with his UFC debut. Corrasani got a split decision he should not have due to bad judging. And he also sucker-punched Andy Ogle during their fight. Not a big Corrasani fan right now.
THE RIDICULOUS:

Bautista Real Pain-gate: OK so Classic Entertainment & Sports are promoting the debut MMA fight for former WWE superstar Dave Bautista. His original opponent was going to be another guy making his MMA debut, Rashid Evans [I know, right?]. Well, Evans got thrown in jail for violating his probation. So he had to withdraw from the fight because he's in jail, not due to injury. Well, credit to CES because they were able to scramble and get Bautista a new fight less than a week out and now he faces perennial MMA jobber and sacrificial lamb, Vince Lucero. Lucero has a record of 22-22-1 and he's 40 years old. I imagine DirecTV and CES wanted to find a piece of cardboard for Bautista to punch, but this was the next best thing. But honestly, Bautista being 43 and not really having a legitimate athletic background, can he even beat a guy like Lucero? Lucero's career includes losses to such people as former UFC champion Tim Sylvia, Roy Nelson, and Justin Eilers.


Bautista's new opponent, Vince Lucero, fights Eric Flood. Oh boy.

That's it for the R's. But what else is going on 411mania.com with yours truly, the 411mania Jack of All Trades?

Check out our EXCLUSIVE interview with former UFC Hall of Famer and former champion Check out my interview with UFC 153 combatant and former welterweight title contender TITO ORTIZ!

Check out my interview with UFC 153 combatant and former welterweight title contender Jon Fitch.

My review of the awesome http://www.411mania.com/games/reviews/253050/Transformers:-Fall-of-Cybertron-(PS3)-Review.htm">Transformers: Fall of Cybertron on PS3.

Check out my official review of the most awesome action movie of the year with
http://www.twitter.com/411mma *
* http://www.twitter.com/411wrestling *
* http://www.twitter.com/411moviestv *
* http://www.twitter.com/411music *
* http://www.twitter.com/411games *
NULL
comments powered by Disqus