MMA's 3R's 11.15.12: UFC on Fuel TV 6, Bellator 80, Women in the UFC, Anderson Silva, and Horrendous Refereeres
November 15, 2012 | Posted by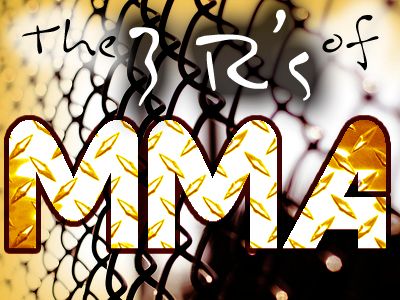 *The Column Concept*
Greetings loyal readers and welcome back to a brand new edition of The 3R's of MMA. The rules and format are still the same as I will be taking a look at the Right, the wRong, and the Ridiculous in the MMA world. The Right will be about the good to great fights or positive news items for the week or big fight announcements. The wRong will be the bad fights, showings or performances, and bad fight bookings. And the Ridiculous will be the worst of the world of MMA.
The 411 Ground and Pound Radio Show was back this week to recap UFC on Fuel TV 6:
College football season is in full gear. And you know what that means? HOOK 'EM HORNS! The Longhorns continued their winning ways over the Iowa State Cyclones to raise their season record to 8-2. The USC Trojans, the team we beat at the Rose Bowl for the national championship, are now down three games with a 7-3 season record. The Longhorns now have the weekend off and return to face the TCU Horned Frogs on Thanksgiving.
UFC was back on Fuel TV with their first ever event in China. Cung Le blasted Rich Franklin with a huge knockout. Thiago Silva got his first UFC win in quite some time. Bellator 80 saw the return of the Baddest Man on the Planet, Joe Warren, who got back to his winning ways by dominating Owen Evinger. All in all a good weekend of MMA events.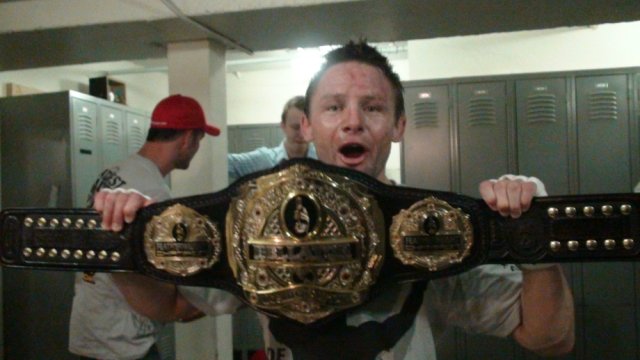 THE RIGHT:
The Baddest Man on the Planet Returns: Former Bellator featherweight champion and official Baddest Man on the Planet, Joe Warren, made a successful return to the cage at Bellator 80. Owen Evinger talked a big game going into this fight, but he was no match for a hungry and dangerous Joe Warren. Warren completely shut down Evinger proving you cannot keep down a real warrior like Joe Warren. Warren gets back on track here and will be well on his way to winning the next bantamweight tournament on Spike TV and capturing another title.

Joe Warren returned at Bellator 80 and officially put all Bellator bantamweights on notice. In 2013, they will know what happens when you go to war with a real warrior and the Baddest Man on the Planet.
Cung Le vs. Rich Franklin: In a card that almost looked like it was going to be packed from top to bottom with decisions, the main and co-main events delivered with the finishes for UFC on Fuel TV 6. Le scored a sick knockout on Rich "Ace" Franklin who face planted off that punch. Le called it a lucky punch, but more than that he capitalized quite well on an opening from Franklin and did it quite perfectly. Le looked very patient from the outset likely to be pacing himself for a five round battle, and Franklin was able to tag him early. I think Le if he continues fighting can basically serve a role in these types of fights. Franklin has rallied and come back from losses such as this before, but with his advanced age at 38, time is not on his side and I certainly don't want to see him get much more damage and knockouts such as this. I'm not going to say to Franklin its time for him to retire, but he really has nothing left to prove at this point. He's never going to compete for a title again at this point. The only reason for him to continue fighting now is to get a couple interesting match-ups and make some extra money. He's already proven he can become a champion and a top guy. He will have a legacy of being one of the UFC's greatest company men and consummate professionals. He's without a doubt a future Hall of Famer. Not only that he'll soon get a hit movie based on his life that will win Academy Awards.

Cung Le won his second fight in the Octagon with a first round knockout over former UFC champion Rich "Ace" Franklin.
Stanislav Nedkov vs. Thiago Silva: I picked Silva here mainly because overall I think he brought the better skill set to the table with better striking and the better ground game and turned out to be true here. The pace was generally slow for most of the fight. The judges actually had Silva up on the cards before he ultimately got the finish and won the fight. I'd say Nedkov's offense where he scored the knockdown and almost finished Silva in round 2 gave him that round. Silva survived though and took the action over in round 3 before getting Nedkov on the ground securing the mount and getting the triangle choke for the first finish of the night. It was a good finish for Silva who had not gotten an actual UFC win since a knockout over Keith Jardine in August 2009. His win over Brandon Vera was overturned. Hopefully Silva is clean now and he's back on the right path, but you can never be too sure. Silva I think made a mistake by trashing his old camp in American Top Team though. Understandable if he had problems there, but why burn the bridges?

Thiago Silva handed Stanislav Nedkov his first ever career MMA defeat at UFC on Fuel TV 6.
Ronda Rousey and Women in the UFC Imminent: And so it begins. This one barely missed the column last week. TMZ broke the news that Ronda Rousey will be the first ever woman to fight under the UFC banner and she was also crowned the 135 lb. women's champion. A short time later, it was also confirmed that former Strikeforce women's champion Miesha Tate would also be fighting under the UFC, if that was Miesha's way of announcing it. For the people who don't like this and think it's going to bomb, honestly, so what if it does? Do you know what the worst thing that can happen is? It doesn't work out. The division is dissolved, and that's it. Honestly, I'm not seeing the downside. If it doesn't work out, that will hardly destroy the UFC. That doesn't mean they shouldn't try it out. They aren't making a UFC women's league, they are probably going to test the waters first. I see no reason not to try since we all like Rousey and tune in to see her fight. Rousey could be a great draw for cable and Fox especially since the female fights have a history of doing well there.

Ronda Rousey is official to be the first ever female fighter on the UFC roster.
THE wRong:

Anderson Silva Plays the Game: So a report that came from Tatame cited Anderson Silva as saying he does not plan on challenging GSP if he wins against at UFC 154, an event Silva will be attending. Silva also stated he has plans to film a movie role with Steven Seagal and now plans on taking most of 2013 off. So now you have Michael Bisping tweeting about his fight with Vitor Belfort becoming an interim title fight. Yeah that's the last thing we need right now, another interim title that won't get defended. So as expected, everyone at this soundbyte from Silva eats it up as the Spider plays the media like Johnny's fiddle. Anyone that seriously believes Silva's words here needs to check themselves. This is nothing more than creative posturing by Silva and a negotiating ploy at most. Silva and his team have had their eye on the GSP fight forever it seems. If the opportunity is there for it to happen, Silva is not going to give it up and leave all that money on the table to shoot some crappy B-movie with Steven Seagal that will be available for a wooden nickel in the bargain bins of Wal-Mart and probably become available for free on iTunes in a matter of weeks. Silva has made similar statements before that weren't necessarily true or didn't necessarily happen. No one should believe for a second that Silva honestly believes this and is going to stick with it. And if a super fight does happen, then no to a middleweight interim title. It would be pointless at this point to stick a title on Bisping if the goal is simply to fight Silva anyway.


Anderson Silva is reportedly taking the year off to go on tour with Justin Bieber.
THE RIDICULOUS:

Referee Marc Goddard: I'm not sure what the protocol is when the UFC self regulates their own events for something like this. From what I've read, I'm under the impression they get licensed judges, referees, and officials from other states. Marc Goddard absolutely blew it on this show. He doesn't seem to understand the rules of fighting at all. I recall during the fight between Alex Caceres and Motonobu Tezuka he asked for a ridiculous standup. At one point, Tezuka scored the takedown on Bruce Leeroy, passed guard into side control and had an arm trapped. Not long after Goddard called for a break and stood them up. It was just one of many questionable calls Goddard made throughout the night. I think if guys are in a stalemate and they are stalling and in a neutral position, then yes stand them up. But with Goddard it just came out like he didn't tolerate the ground game period and would stand them up the moment they hit the ground. I don't know how the UFC or even athletic commissions for that matter handle when referees make poor decisions or behave downright incompetently like this. There needs to be strict protocol and discipline for referees messing up and being incompetent. I recall reading that Fernando Yamasaki was doing such a poor job as a referee at UFC 153 that the UFC had him removed from officiating on another fight. Now I don't know if this is true, but I think something like this should've happened with Goddard in China.

Referee Steve Perceval: I have no idea what Perceval's background is, but he didn't seem to understand his role as a referee at all at UFC on Fuel TV 6. Like Goddard, Perceval made bad calls for premature stand-ups and telling fighters to work when they work doing damage or working on the ground. However, the worst offense of all was when Steve Perceval was telling the fighters not to leave it in the judges' hands. Perceval is not a coach for the fighters inside the cage. He's not a trainer. He's not a promoter. It is not his job to say things like that. This was so terrible for a referee to do that Perceval should be suspended from refereeing anywhere period for some time. Mark Radulich can't get licensed to referee fast enough at this point.

"Let Me Bang Bro" Julian Lane Meltdown: I was a little behind on my DVR viewing of The Ultimate Fighter so I finally got caught up and saw Julian Lane's fiery meltdown on the show where he nearly came to blows with Dom Waters while screaming "Let me bang bro" at Michael Hill who tries to hold him back and calm him down. Lane got emotional and the tirade lasted a while. A pretty disgusting display by Lane, but hey it did make for some money, amusing television as well as an awesome skit by Tommy Toe Hold.


"I do let you bang," was the best part.

That's it for the R's. But what else is going on 411mania.com with yours truly, the 411mania Jack of All Trades?

For this week's MMA Fact or Fiction I take on MMA/Wrestling Zone Overlord Larry Csonka. I was screwed by biased, bad judging that is regrettably worse than Cecil Peoples. But you can still vote for me HERE.

The best James Bond of all time, Daniel Craig is back with the new Bond flick http://www.411mania.com/movies/film_reviews/260947/Wreck-It-Ralph-Review.htm">Wreck-It Ralph and the heady live-action drama http://www.411mania.com/movies/dvd_reviews/262480/Brave-(Ultimate-Collector//s-Edition-Blu-ray-DVD)-Review.htm">HERE.

Over in games, check out my official review of http://www.twitter.com/411mma *
* http://www.twitter.com/411wrestling *
* http://www.twitter.com/411moviestv *
* http://www.twitter.com/411music *
* http://www.twitter.com/411games *
NULL
comments powered by Disqus