MMA's 3Rs 12.06.12: The Road to UFC on Fox 5, Bellator 82, Dominick Cruz, and More
December 6, 2012 | Posted by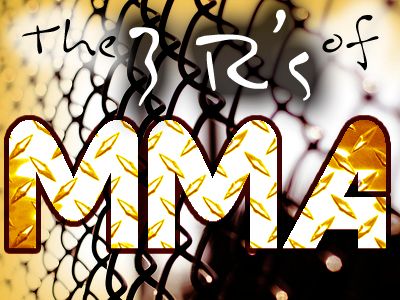 *The Column Concept*
Greetings loyal readers and welcome back to a brand new edition of The 3R's of MMA. The rules and format are still the same as I will be taking a look at the Right, the wRong, and the Ridiculous in the MMA world. The Right will be about the good to great fights or positive news items for the week or big fight announcements. The wRong will be the bad fights, showings or performances, and bad fight bookings. And the Ridiculous will be the worst of the world of MMA.
The 411 Ground and Pound Radio Show was back this week. Sorry to Mark I didn't make it this weekend but check back next week:
College football season is in full gear. And you know what that means? HOOK 'EM HORNS! The Longhorns unfortunately again this time to the Kansas State Wildcats to put our season record at 8-4. Fortunately we are playing at the 2012 Valero Alamo Bowl against the Oregon State Beavers on December 29.
Alright so welcome back readers. A bit of a slow week, but Bellator was back with Bellat 82 last Friday. UFC and Fox now are doing their big push for the UFC on Fox 5 card on December 8.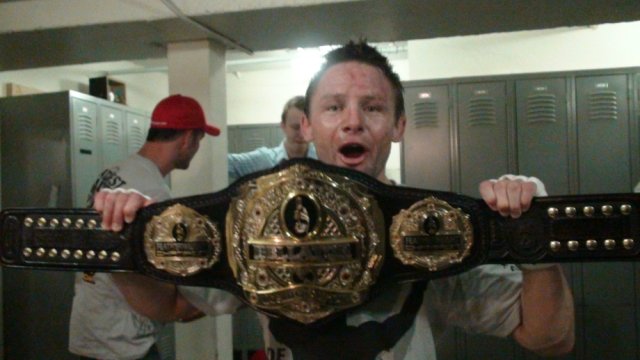 THE RIGHT:
Road to the Octagon and Fox Push for UFC on Fox 5 Coverage: Things have started off nicely in the promotional push to UFC on Fox 5. Things started off with the Road to the Octagon special which played on Fox NFL Sunday. Also besides that, UFC delivered eight free UFC fights plus bunches of other coverage to go on this week. Now that I have Fuel TV it's great since it gives you a really complete UFC experience with all the pre- and post-fight coverage and analysis. The new programming so far has been spectacular, the only problem is that Fuel TV is not in enough homes. Road to the Octagon was great and gave a nice overlook of the main card fights. Not only that it got a one hour broadcast as well so the material got nicely more in-depth.

The Road to the Octagon kicked off Fox's wall to wall coverage for UFC on Fox 5 this week.
Bellator 82: Doug Marshall vs. Kala Hose: One of the more enjoyable scraps at Bellator 82 was a middleweight fight between Doug Marshall who once upon a time was a WEC light heavyweight champion and Kala Hose. Both guys came to bang quickly, but Marshall caught Hose with a nice left hook that dropped Hose and ended the fight. You can check out the clip here.

Doug Marshall knocked out Kala Hose on the main card of Bellator 82.
THE wRong:

UFC on Fox 5 Injuries: Thankfully nothing on the main card has been affected *yet* (knock on wood). But as of now we've lost two fights on this card in Brendan Schaub vs. Lavar Johnson. The other fight that was scrubbed was Rafaello Oliveira vs. Mike Chiesa. There have been other changes to the card via injury but luckily nothing too drastic. It's too bad since I wanted to see both those cancelled fights. Hopefully this will be the extent of injuries affecting the card.

Two fights have been cancelled and several other bouts have been changed due to injury at UFC on Fox 5. Seems the injury bug can never be avoided.
Dominick Cruz Probably Out Another 6-9 More Months: What a rough time Cruz must be going through right now. He came into the UFC as the first bantamweight champion. He successfully defended his title and got back his only previous career loss against Urijah Faber. He defended his belt against against Demetrious Johnson and got a gig hosting TUF: Live on FX. However he got injured and tore his ACL which took him out of his planned rematch with Faber. But now it looks like Cruz has another long layoff coming that could keep him out of the cage until late 2013. Cruz had his ACL replaced by one from a cadaver and his body unfortunately rejected it. I think in this case and with no firm return date around right now for Cruz, the UFC and Cruz have to consider Cruz relinquishing the title. Either have Barao be declared the champion or have Barao fight MacDonald for the vacant title for the next fight. Cruz will be out for about 2 years or more. And when he comes back, would it even be the best idea to put him in a five round title fight? I think sure he should be able to jump to the head of the line. The situation sucks, but the division should not be held up for over two years.
Bellator 82: Lyman Good vs. Andrey Koreshkov: Supremely disappointed with the way this fight turned out. Lyman Good, former Bellator welterweight champ, managed to make it to the finals of another tournament, but this time he was unable to walk away with a victory. Good felt Koreshkov's power quite early in the fight. From there the action was pretty slow and dull for most of the fight. Good looked very tentative and stood with Koreshkov for most of the fight when Good had a clear advantage with his takedowns and ground game. It just seemed like an odd game plan from Good. Regardless, Koreshkov wins and faces Ben Askren next. Koreshkov has some good striking but I doubt he will be able to deal with Askren's takedowns much like Douglas Lima.

Lyman Good was defeated by Andrey Koreshkov in the finals of the Bellator season 7 welterweight tournament.
THE RIDICULOUS:

The Culinary Unions Trolls UFC and Fox: So the Culinary Workers Union, Local 226 was up to mischief once again this week. They sent a letter to Eric Shanks with Fox to try and appeal to have fighter Jeremy Stephens removed from the UFC on Fox 5 card on account of Stephens being charged with assault. So they will send a letter to Fox about Stephens yet they have no problem with all the convicted felons that play in the NFL shown on Fox like say Michael Vick? It doesn't look great for Stephens, but he's yet to be convicted of any crime, and the system is innocent until proven guilty. It's great though that the Union puts their members' dues to such great work by trying to perform troll jobs on the UFC. Real professional.

That's it for the R's. But what else is going on 411mania.com with yours truly, the 411mania Jack of All Trades?

In case you missed it, don't miss my interview with former UFC heavyweight champion Andrei Arlovski.

Check out my official review of The Dark Knight Rises on Blu-ray.

Check out my review of the enjoyable family film, Rise of the Guardians.

The best James Bond of all time, Daniel Craig, is back with the new Bond flick http://www.twitter.com/411mma *
* http://www.twitter.com/411wrestling *
* http://www.twitter.com/411moviestv *
* http://www.twitter.com/411music *
* http://www.twitter.com/411games *
NULL
comments powered by Disqus