Monday Morning MMA 09.17.2012: The Live From the Arena Edition
September 17, 2012 | Posted by

Monday Morning MMA!
This weekend, BAMMA 10 took centre stage, though with Polish outfit KSW as well as Ring of Combat and Korea's Road FC all putting on shows, this was a good weekend all round for MMA aficionados! Key fights included Rob Sinclair's BAMMA Lightweight title defence against Andre Winner, five-time World's Strongest Man champion Mariusz Pudzianowski's bout with Christos Paliafas, and a clash between Mike Massenzio and Ronald Stallings. Who won? Read and find out!
---

Rewind! Review!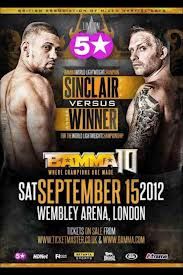 BAMMA 10 – September 15, 2012, Wembley Arena, London
For myself and my colleague Alex Watt, BAMMA 10 proved an excellent experience as we enjoyed the view from press row! As well as getting to see some extremely entertaining fights, we got to report on not one, but two title fights, as well as Tweet to our hearts' content as we soaked in a stellar show that featured some outstanding British talent!
Here's what went down…
Lightweight Championship Bout:
Rob Sinclair (12-2) df. Andre Winner (14-7-1)
Burnley's Rob Sinclair made a huge statement by defending his BAMMA Lightweight title at the expense of challenger Andre Winner – though the 6-time UFC veteran pushed 'C4′ all the way! Much like our views on press row, the judges opinions were divided, as they delivered a split decision verdict that paid testament to just how close a fight this was. The Muay Thai specialist Sinclair edged the fight on 411mania's Alex Watt's scorecard, though I scored the fight in favour of Winner – but as the champion himself stated in his post-fight interview, with different judges on a different day, this same fight could have been scored in favour of the challenger. Fortunately for Rob, however, a strong first and second stanza saw him connect with a string of combos, as Leicester-native Winner (that's pronounced 'Lester', not 'Lie-chester', by the way) proved a shade slow to start.
Winner did, however, kick into a higher gear in the third round, and from there on in the 2-4 Zuffa veteran cranked up the pressure, stalking Sinclair for the majority of the rest of the fight. With a more aggressive attitude, Winner picked up the third round in the eyes of many on press row, as he started to loosen up and score with more and more strikes as things began to even up. Andre arguably took the fifth round as well, as Sinclair began to show signs of fading, though to his credit, Rob's counter-striking remained crisp as he continued to back-pedal – but it was the fourth round that this one hinged on.
Despite Winner pushing the pace, Sinclair was the one landing a slight majority in the striking department – though it was, in truth, as even a round as there was on the rest of the card. For every strike Winner threw, Sinclair had an answer, and the trade-offs throughout made for an excellent main event. Both men left it all in the cage, and though Winner pushed Sinclair the entire distance, neither of these knock out artists managed to make a definitive statement – and it was with a great deal of relief for the reigning champion that he was eventually declared the victor in a gripping, evenly-contested, and back-and-forth striking display.

Rob Sinclair:
Defeated Andre Winner
British Middleweight Championship Bout:
Jack Marshman (11-1) df. Andrew Punshon (11-6)
The news made its way to press row early on at the event that British Third Parachute Regiment representative and reigning BAMMA British Middleweight Champion Jack Marshman had been stripped of the title before the fight had even started on account of missing weight – though Andrew Punshon still had the opportunity to take the title with a win. Sadly for Punshon, a stunning first submission from stand up specialist and boxing practitioner Marshman ended his title aspirations early doors after the challenger decided to make the most of an assumed advantage on the ground – an assumption that was disproved emphatically when a third triangle attempt was locked on, allowing Marshman to throw a flurry of vicious 12-6 elbows from the bottom. Punshon tapped amid the onslaught, though it was unclear whether it was the hold itself or the accompanying blows that forced the submission. Either way, the man from the British Armed Forces made a solid claim to being the number one British middleweight outside of the UFC now that Tom 'Kong' Watson has finally signed for the Zuffa promotion. Whoever he faces next will no better than to underestimate this talented KO artist's grappling resolve.
Middeweight Bout:
Denniston Sutherland (18-8-1) df. Lee Barnes (10-10)
That Lee Barnes has never taken an easy fight in his career speaks volumes about his character. It should be no surprise, then, that he hung tough against 39-year old veteran Denniston Sutherland in what many believe was the Fight of the Night. For all Barnes' tenacity and never-say-die spirit, Sutherland simply had a little too much in his armoury for the powerhouse middleweight, as he bested him in several areas. That said, this was, in truth, a great exhibition of what MMA is all about: there were periods of striking, grappling, clinchwork, and wrestling, all present and correct, and the 5,000-strong audience at Wembley Arena gleefully lapped it up. The fighters seemed to enjoy it, too, as they embraced manfully at the conclusion of a gruelling and hard-fought affair that will only serve to elevate the profiles of both combatants.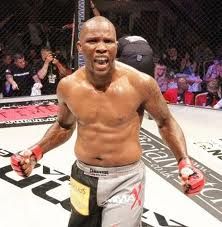 Denniston Sutherland:
39 Years Young
Lightweight Bout:
Curt Warburton (11-3) df. Lee Wieczorek (11-4)
That Curt Warburton could not finish Lee Wieczorek is of huge credit to the latter's outstanding resilience and toughness. In truth, Warburton was the better fighter throughout, taking all three rounds across all three judges' cards, and rightly so – his wrestling was strong, his striking crisp, and his grappling on-point. At various stages Warburton attained full mount and dropped laser-accurate ground and pound on his foe, and at one point 'The War' had an arm triangle locked on for more than 90 seconds – though Wieczorek refused to tap as he remained calm in the face of adversity. While Wieczorek failed to deliver much in the line of offence, this will serve as a useful learning experience for the younger fighter – Warburton, after all, is a three-time UFC veteran who has faced the likes of Spencer Fisher and Joe Lauzon, and knows what it takes to fight at the highest levels. He will now move on to a title shot against reigning champion Rob Sinclair.
Catchweight Fight (160 lbs)
Tommy Maguire (12-6) df. Antanas Jazbutis (13-18)
Credit must go to Antanas Jazbutis for stepping in at the very last minute to provide Tommy Maguire, brother of UFC star John Maguire, some stiff competition. A well-rounded and defensively-sound fighter, Jazbutis resisted Maguire's 'Gipsy Jiu-Jitsu' stylings, matched him on the feet, and ultimately denied him a finish – though the Lithuanian never really threatened to score the upset. Still, Maguire had to work hard as Jazbutis frustrated him time and again, and this was a victory that needed to be ground out and rendered by the judges.
Lightweight Bout:
Jeremy Petly (8-4-1) df. Dyson Roberts (5-3)
Canadian Jeremy Petly displayed great endurance as he stunned crowd favourite Dyson Roberts with a stylish second round submission that would be best described as a 'leaping rear naked choke'. Despite being dominated and pounded on for the best part of the first stanza, Petly endured – and when Roberts began to slow in the second round, he took full advantage. He seized an opportunity to take the back of the powerful Roberts, and though he couldn't stop him getting to his feet, his next move was a moment of brilliance – with Roberts' back still to him, Petly jumped up, instantaneously locked on a body lock and a rear naked choke, and dragged him to the canvas with a thunderous thud. Roberts tried to resist, but his fate was sealed. He tapped, and Petly silenced Roberts' screaming fans.
Light Heavyweight Bout:
Sam Mensah (4-1) df. Mike Neun (1-1)
Another man to play spoiler at BAMMA 10 was Sam Mensah, who scored an 8-second KO of crowd favourite Mike Neun. As with most one-punch knock outs, 8-seconds is undoubtedly an exaggerated time – Neun, who ate a single right hook, was already unconscious as he spun and keeled over, and Mensah's follow-up strikes only compounded a fact most already knew – Neun was out, and out cold. Mensah, it seems, is the latest in a long line of fearsome British MMA strikers.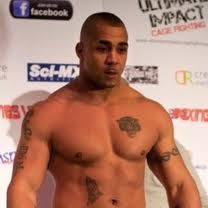 Sam Mensah:
8-second KO!
Welterweight Bout:
Tom Breese (5-0) df. Jack Magee (7-5-1)
Tom Breese demanded a title shot after his first round submission of Jack Magee, though after describing his own performance as 'shit', that may be unlikely at present. Magee, in truth, controlled the vast majority of the short duration of this fight, taking Breese down and threatening with several submission attempts from the top. When they failed to put Breese away, however, Tom showed how it SHOULD be done – locking in a water-tight triangle from the bottom, and forcing the tap at the first time of asking. Magee looked stunned and disappointed immediately after the fight, while Breese appeared incensed, possibly at his own shortcomings – they won't mar his record on this occasion, though they appeared to have left their mark on his pride. Still, winning in the face of adversity is a mark bestowed on every great competitor, as is learning from one's mistakes – if Breese can master both, he could yet be a force to be reckoned with. He certainly knows how to win.
Light Heavyweight Bout:
Max Nunes (7-0) df. Tony Moran (9-5)
Max Nunes made a very impressive BAMMA debut, taking Tony Moran down and out-grappling him en route to a definitive first round triangle submission victory. Nunes, who remains perfect, has finished all seven of his opponents including the previously unbeaten Iain Martell – and his claim to being the number one British Light Heavyweight outside the UFC looks a strong one at present.
Lightweight Bout:
Mark Allen (6-1) df. Lee Taylor (3-5)
For anyone who reads a great deal into fighter records, this bout will have been a serious eye-opener. The reality was there was very little to choose between 5-1 Mark Allen and 3-4 Lee Taylor – and though Allen just about did enough to pick up the win, the split decision rendered by the judges showed how closely this fight was contested. Taylor, a powerful lightweight with the nickname 'Hercules', surrendered little ground to the wrestling-oriented Mark 'Suplex' Allen, and nary a single strong takedown (or indeed suplex) was scored – though a series of trips, tussles and clinches saw Allen wind up in dominant positions just long enough to edge an extremely even bout. Taylor, however, may have shaded it in the striking department…
---

The Best of the Rest
KSW 20 saw multiple-time World's Strongest Man champion Mariusz Pudzianowski (5-2) take the next step of his MMA odyssey, recording a first round stoppage victory over 6'5 American Christos Paliafas (4-2). Paliafas, who fights out of Traverse City, Michigan, represented a more realistic challenge for the Polish powerhouse, after a succession of name fighters that has included the likes of Tim Sylvia, Eric 'Butterbean' Esch, James Thompson, and Bob Sapp – and though Mariusz held his own in most of those fights, the 35 year old is clearly still a work in progress. Paliafas, who came in riding a four-fight win streak, was eventually defeated after Mariusz executed a solid takedown following a wild spinning backfist that missed from his opponent. From there, Pudzianowski unleashed a sustained ground and pound assault that could well have been called off several moments sooner – but given the controversy that has already surrounded Mariusz' career (for example, the 'judging error' that was overturned in his 'victory' over James Thompson), perhaps it was best that it wasn't. Still, a good (not to mention, decisive) win for Pudzianowski.
Mariusz Pudzianowski vs Christos Paliafas

Also at the event, Jan Blachowicz (16-3) improved his résumé with a unanimous decision win over Houston Alexander (13-9), who has now lost three straight fights. Alexander is currently 4-3, 1 NC since his release from the UFC. Blachowicz, meanwhile, has now beaten Rameau Thierry Sokoudjou, Mario Miranda and Houston Alexander back-to-back as he continues to turn over name-fighters and defend his KSW Light Heavyweight title.
Ring of Combat 42 took place in Atlantic City, New Jersey, and was headlined by the returning Mike Massenzio (13-8), back with the outfit after a 2-5 run in the UFC. Sadly for Massenzio, cut by Zuffa after successive losses to Rousimar Palhares and Karlos Vemola, Ronald Stallings (11-4) was in no mood to stand on ceremony for the ROC favourite. Having been ousted from Zuffa himself following a one-and-done outing in Strikeforce, Stallings ended Massenzio's hopes of a successful return to his former stomping ground with a fight-ending knee to the body at 4:03 of the very first round. Stallings, who was unlucky to drop a split decision to Adlan Amagov, is now 4-1 in his last five fights.
Former IFL, WEC and Bellator featherweight Deividas Taurosevicius (15-5) won in the co-main event, advancing to 3-0 under the ROC banner. The talented 'Taurus' submitted Illinois' Mike Santiago (7-5) with a second round armbar.
In New South Wales, Australia, Bernardo Magalhaes (12-3) returned to winning ways in his adopted homeland after a forgettable 0-2 stint in the UFC. He bested local boy Sonny Brown (5-2) at Proud Warrior Productions 5, hammering his way to a first round TKO victory. 'Trekko', for those who don't remember, lost consecutive decisions to Tim Means and Henry Martinez, both in 2012, but remains one of Australia's most promising lightweight prospects.
Legacy Fighting Championships 14 saw UFC, WEC and Dream veteran Antonio Banuelos (20-9) fall to defeat in his flyweight debut, with Joshua Sampo (8-2) scoring the biggest win of his career to date via unanimous decision. Sampo picked up all three rounds on all three scorecards, out-striking Banuelos throughout, and even opening up a cut on Banuelos' brow. Banuelos was unable to prevent Sampo taking centre-cage and stalking him down, and had no answer to the Missouri native's superior technical ability.
In the night's main event, Jeff Rexroad (6-1) bested Lucas Pimenta (8-2), though he had to absorb a great deal of damage from Pimenta on the feet prior to securing the inventive triangle choke submission that granted him victory – as well as the interim LFC Welterweight title. Brazilian Pimenta had not lost since his pro-MMA debut, making Rexroad's accomplishment all the more memorable.
Road FC 9 from Gwandong, South Korea saw dangerous kickboxer Melvin Manhoef (25-9-1) defeat Jae Young Kim (14-10) by split decision. Manhoef had not won since December 2009, when he KO'd Japanese star Kazuo Misaki, and since then losses to Robbie Lawlor, Tatsuya Mizuno and Tim Kennedy have damaged Manhoef's reputation significantly – but this win could give the Dutchman the confidence to continue, though Kim ultimately proved too tough to put away.

Melvin Manhoef:
Back to winning ways…. Just!
Ikuhisa Minowa (54-34-8) also won, submitting Jin Soo Yuk (0-3) at 4:59 of round one.
---

Coming Up On Tap!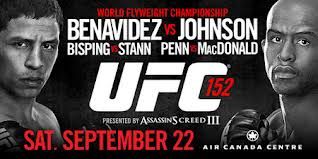 UFC 152 – September 22, 2012 – Air Canada Centre, Toronto, Ontario
Light Heavyweight Championship Bout:
Jon Jones (16-1) vs Vitor Belfort (21-9)
Not since the great Fedor Emelianenko emerged as the dominant heavyweight force in PRIDE FC have we seen a talent as prodigious as Jon 'Bones' Jones. A phenomenally gifted athlete, Jones has blazed a trail through arguably the most talent-rich division in modern-day MMA, leaving a trail of destruction that has accounted for some of the very finest fighter's in the sport's young history. Mauricio 'Shogun' Rua, Quinton 'Rampage' Jackson, Lyoto 'The Dragon' Machida, and Rashad Evans barely threatened to put the skids on the Jon Jones juggernaut, and though Dan Henderson will no longer have the opportunity to do so due to an untimely injury, few were banking on him becoming the new UFC Light Heavyweight Champion in any event. And even fewer will be banking on Vitor Belfort…
Though 'The Phenom' possesses blistering hand speed and undeniable knock out power (even grazing shots have turned opponents' lights out before), Belfort does not appear adequately equipped to dethrone Jones. Without the wrestling base of Hendo, Belfort is as close to a throw-back fighter as one could hope to find in the upper echelons of the UFC – almost purely stand up-oriented, Belfort rarely looks to rely on his Brazilian Jiu Jitsu skills, opting to out-box all and sundry. Sadly for Vitor, however, his stand-up was found lacking against Middleweight kingpin Anderson Silva – and the rest of his game is likely to be found lacking here as well.
Though discounting a man with as much experience and boxing skill as Vitor is always risky (never rule out a man with a better-than-average 'puncher's chance'), Jones should have a significant advantage almost everywhere other than on the feet. Having said that, however, his striking is far more varied than Vitor's, and his range advantage has proved extremely troublesome to even the very best fighters – it will be difficult (to say the least) for Vitor to make up such distance and get inside to light the Champion up – though he will take heart from the fact that Machida did actually land a decent punch. Add to this that Jones' wrestling will be light-years ahead of anything 'The Phenom' can offer, and things begin to look bleaker the closer one looks. Jones' top control is unlikely to come into serious question against Belfort, who has never shown anything like the threat off his back that he'll require to keep Jones guessing, and Jones' clinch game looks to be second-to-none to boot. Still, Belfort will need to land just a single solid punch to send Jones reeling.
Having said all that, however, Jones is a man who has bordered on overconfidence once or twice already – and anything other than efficient, slightly cautious striking could land him in hot water in this fight. An excess of spinning attacks, for example, will allow Belfort the opening he needs – an inaccurate spinning back fist will not only leave Jones open to a counter, but it will render his sizeable reach advantage obsolete. Belfort, from here, up close, is always a live threat, and if any such moments present themselves, we could have a new UFC Light Heavyweight Champion. Belfort possesses, after all, incredibly dangerous hands.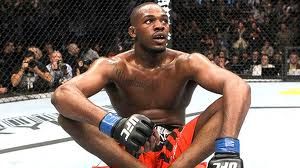 Jon Jones:
The best there is…?
Flyweight Championship Bout:
Joseph Benavidez (16-2) vs Demetrious Johnson (15-2-1)
For Joseph Benavidez, the formation of the flyweight division could not have come at a better time. Considered the second-best bantamweight in the world bar none, the only thing that stood between Benavidez and Zuffa gold was Dominick Cruz – a man who defeated Benavidez not once, but twice. Now at 125 lbs, however, Benavidez has made a strong case for himself already to top the flyweight rankings. Claiming the UFC Flyweight title, then, will almost seal the deal. Do not discount Demetrious Johnson, however, as 'Mighty Mouse' has earned his opportunity by correcting the flaws in his first fight with fellow semi-finalist Ian McCall, and picking up a convincing decision victory in their second encounter. An intelligent fighter, Johnson has a good defensive wrestling base, incredible speed, and fast and accurate hands – all of which, however, can also be attributed to his opponent…
The fight, then, comes down to who is better at what they do. While the statistics suggest Johnson is more efficient when it comes to strikes landed, as well as at scoring takedowns, Benavidez is both evasive and powerful. Having turned out Yasuhiro Urushitani's lights early in their semi-final bout, Benavidez will back his ability to put the durable 'Mighty Mouse' in trouble, and from there he will simply not relent. Whether he can do that or not, we can all expect a thoroughly entertaining scrap that will be contested at an electric pace – this is not one to miss!
Middleweight Bout:
Michael Bisping (22-4) vs Brian Stann (12-4)
Michael Bisping has evolved into one of the most technical strikers in MMA, and his ability to land combinations at will recalls an on-form Nick Diaz. Capable of working both the body and head, Bisping's strikes accumulate quickly, taking their toll on even the toughest opponents – though Brian Stann may be the toughest of them all. A man with an iron jaw and an almost unbreakable spirit, Stann will be looking for any opening to utilize his frightening power – power that has already accounted for the likes of Chris Leben and Jorge Santiago, among a plethora of others. A born finisher, Stann will be confident he can replicate Dan Henderson's achievement in 2009, putting 'The Count' to sleep for only the second time in his career. That will be the danger for Bisping, who is likely to have the striking edge in technical terms, since accumulative strikes will count for nothing should he have his night ended early. Expect the winner to have a strong case for going on to face Anderson Silva for the UFC Middleweight title.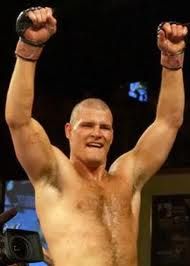 Michael Bisping:
Those boring war stories put him to sleep!
Lightweight Bout:
Evan Dunham (13-2) vs TJ Grant (18-5)
Rewind to 2010: back-to-back wins over Marcus Aurelio, Efrain Escudero and Tyson Griffin have many ranking Evan Dunham as the top prospect at 155 lbs. That he then dropped a razor-thin split decision to Sean Sherk didn't put too many people off – but Dunham's stock soon took a far greater fall courtesy of a vicious Melvin Guillard knee. Since then, Dunham has bounced back, and both Shamar Bailey and Nik Lentz have been disposed of, and it seems TJ Grant is likely to follow suit. While Grant is a very respectable 5-3 in the UFC with recent wins over Roller and Prater in his back pocket, Dunham looks a difficult match for the Canadian on paper. Though both are well-rounded, Dunham shouldn't be too afraid of anything Grant brings to the table, and this is one he should be looking to finish inside the time.
Light Heavyweight Bout:
Matt Hamill (10-4) vs Roger Hollett (13-3)
With a recent injury to Vladimir Matyushenko, Canadian Roger Hollett now has a fantastic opportunity to beat a name-fighter in his UFC debut. With Matt 'The Hammer' Hamill returning from a 15-month 'retirement' that followed defeats to 'Rampage' Jackson and Alexander Gustafsson, Hollett could elevate his stock to a career-high with a win here – but avoiding Hamill's takedowns and top control will be easier said than done…
Featherweight Bout:
Cub Swanson (17-5) vs Charles Oliveira (16-2)
Cub Swanson made a huge statement with a second round TKO of Ross Pearson, and he'll be looking to follow that up by scalping the ultra-talented Charles Oliveira. Oliveira has looked outstanding following a drop to 145, and neither Eric Wisely nor Jonathan Brookins had anything to trouble him – though in this bout, Swanson's striking is definitely a danger. A masterful grappler, Oliveira will want to tie Swanson in knots, but getting close enough to do so will be a major issue. A strong defensive wrestler with serious striking power, Swanson will essentially act as a gatekeeper to the featherweight elite as far as Oliveira is concerned, though Cub will have far loftier ambitions. Whoever wins will take a big step up the featherweight ladder.
Light Heavyweight Bout:
Igor Pokrajac (25-8) vs Vinny Magalhaes (9-5)
Vinny Magalhaes returns to the UFC looking like a far better fighter than last time round, with decent striking and a more adaptive submission game propelling him to a 7-1 streak outside the promotion. While the opponents Magalhaes faced in M-1 Global undoubtedly pale in comparison to the impressive Igor Pokrajac, Magalhaes opened a few eyes last year with a Submission of the Year contender – the hapless Viktor Nemkov had no option but to tap to an outstanding gogoplata neck crank! Pokrajac will naturally averse to a ground battle with grappler of Magalhaes calibre, then, so it will be interesting to see if Vinny can find a way round that – otherwise, he'll be hoping his stand-up has come far enough over the last 3 years to compete with a very serviceable striker…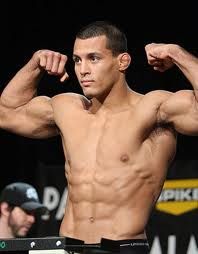 Vinny Magalhaes:
The return of Draculinho
Welterweight Bout:
Charlie Brenneman (15-4) vs Kyle Noke (19-6-1)
Kyle Noke is in dire need of a win following successive losses to Ed Herman and Andrew Craig, but repelling the tenacious Charlie Brenneman and his suffocating top game will be easier said than done. Noke's best chance, presumably, is to love up to his 'KO' nickname, and follow in both Anthony 'Rumble' Johnson and Erick Silva's footsteps and let his hands go en route to either a KO or submission finish, while Brenneman will look to close the distance and wrestle his way to victory once more.
Welterweight Bout:
Sean Pierson (12-6) vs Lance Benoist (6-1)
A narrow defeat to Seth Baczynski ended Lance Benoist's unbeaten run in MMA, though ultimately the fight could have gone either way. More convincing was Sean Pierson's latest win over Jake Hecht, a sensible drop in class after defeats to top-ranked welterweights Jake Ellenberger and Dong Hyun Kim left him in desperate need of a win. Pierson can follow that up here if he can draw Benoist into a scrappy striking battle, though look for Benoist to try and take Pierson down and submit him.
Featherweight Bout:
Jimy Hettes (10-0) vs Marcus Brimage(5-1)
Jimy Hettes outclassed Alex Caceres and Nam Phan to earn serious plaudits from MMA diehards, and Marcus Brimage will be hard-pressed to stop the prodigious featherweight here. Brimage has looked good in wins over Stephen Bass and Maximo Blanco, though the latter bout went to a split decision – but Hettes has looked incredible, and should be the superior fighter here.
Welterweight Bout:
Seth Baczynski (17-8) vs Simeon Thoresen (17-2-1)
Seth Baczynski has run through Clay Harvison, Matt Brown and Lance Benoist lately, but Simeon Thoresen looks a far bigger threat with his outstanding ground game. 'The Polish Pistola' should have a sizeable advantage on the feet, but he won't want to get too reckless against Thoresen or he could well find himself drawn in, swamped, and, ultimately, submitted. That seems a fairly likely outcome, given Baczynski already has five submission defeats on his record…
Bantamweight Bout:
Mitch Gagnon (8-2) vs Walel Watson (9-4)
Mitch Gagnon had a tough assignment when he finally made his UFC debut, the Canadian submitted in the third round by veteran Bryan Caraway. Walel Watson is a better match up for Gagnon, though Walel will fancy adding to his tally of 7 submission wins, even though his sole UFC win to date actually came by TKO. The rangy Watson will need to maintain distance on the feet against the much shorter Gagnon, who has recorded 8 submissions himself.
---

Championship Roll Call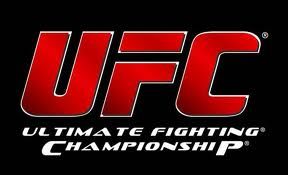 Junior dos Santos – UFC Heavyweight Champion
Won the title from Cain Velasquez back on November 12, 2011 at UFC on FOX 1
Jon Jones – UFC Light Heavyweight Champion
Won the title from Mauricio "Shogun" Rua back on March 19, 2011 at UFC 128
Anderson Silva – UFC Middleweight Champion
Won the title from Rich Franklin back on October 14, 2006 at UFC 64
Georges St. Pierre – UFC Welterweight Champion *(currently sidelined with injury)
Won the title from Matt Serra back on April 14, 2008 at UFC 83
Carlos Condit – UFC Interim Welterweight Champion
Won the title from Nick Diaz back on February 4, 2012 at UFC 143
Benson Henderson – UFC Lightweight Champion
Won the title from Frankie Edgar back on February 25, 2012 at UFC 144
Jose Aldo – UFC Featherweight Champion
Won the title from Mike Brown back on November 18, 2009 at WEC 44
Dominick Cruz – UFC Bantamweight Champion *(currently sidelined with injury)
Won the title from Brian Bowles back on March 6, 2010 at WEC 47
Renan Barao – UFC Interim Bantamweight Champion
Won the title from Urijah Faber back on July 21, 2012 at UFC 149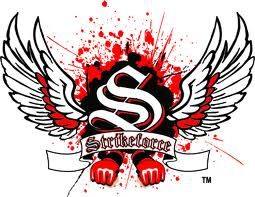 Luke Rockhold – Strikeforce Middleweight Champion
Won the title from Ronaldo "Jacare" Souza back on September 10, 2011 at Strikeforce: Barnett vs. Kharitonov
Nathan Marquardt – Strikeforce Welterweight Champion
Won the title from Tyron Woodley back on July 14, 2012 at Strikeforce: Rockhold vs. Kennedy
Gilbert Melendez – Strikeforce Lightweight Champion
Won the title from Josh Thomson back on December 19, 2009 at Strikeforce: Evolution
Ronda Rousey- Strikeforce Bantamweight Female Champion
Won the title from Miesha Tate back on March 3, 2012 at Strikeforce: Tate vs. Rousey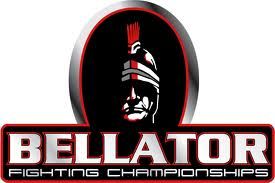 Cole Konrad – Bellator Heavyweight Champion
Won the title from Neil Grove back on October 14, 2010 at Bellator 29
Christian M'Pumbu – Bellator Light Heavyweight Champion
Won the title from Richard Hale back on May 21, 2011 at Bellator 45
Ben Askren – Bellator Welterweight Champion
Won the title from Lyman Good back on October 21, 2010 at Bellator 33
Michael Chandler – Bellator Lightweight Champion
Won the title from Eddie Alvarez back on November 19, 2011 at Bellator 58
Pat Curran – Bellator Featherweight Champion
Won the title from Joe Warren back on March 9, 2012 at Bellator 60
Eduardo Dantas – Bellator Bantamweight Champion
Won the title from Zach Makovsky on April 13, 2012 at Bellator 65
Zoila Gurgel – Bellator 115lb Women's Champion
Won the title from Megumi Fujii back on October 28, 2010 at Bellator 34
---

Upcoming Events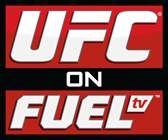 UFC on Fuel TV 5 – September 29, 2012 – Capital FM Arena, Nottingham
Heavyweight Bout:
Stefan Struve (24-5) vs Stipe Miocic (9-0)
Welterweight Bout:
Dan Hardy (24-10) vs Amir Sadollah (6-3)
Bantamweight Bout:
Brad Pickett (21-6) vs Yves Jabouin (18-7)
Welterweight Bout:
John Hathaway (16-1) vs John Maguire (18-3)
Welterweight Bout:
Che Mills (14-5) vs Duane Ludwig (21-13)
Lightweight Bout:
Paul Sass (13-0) vs Matt Wiman (14-6)
Light Heavyweight Bout:
Jimi Manuwa (11-0) vs Kyle Kingsbury (11-4)
Featherweight Bout:
Andy Ogle (8-1) vs Akira Corassani (9-3)
Middleweight Bout:
Tom Watson (15-4) vs Brad Tavares (8-1)
Welterweight Bout:
Pascal Krauss (10-1) vs Gunnar Nelson (9-0-1)
Featherweight Bout:
Jason Young (9-5) vs Robbie Peralta (15-3)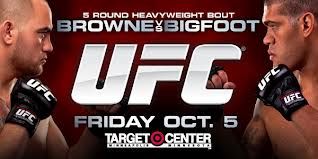 UFC on FX 5 – October 5, 2012 – Target Centre, Minneapolis, Minnesota
Heavyweight Bout:
Travis Browne (13-0-1) vs Antonio Silva (16-4)
Welterweight Bout:
Jake Ellenberger (27-6) vs Jay Hieron (23-5)
Flyweight Bout:
Jussier da Silva (14-1) vs John Dodson (13-5)
Welterweight Bout:
Josh Neer (33-11-1) vs Justin Edwards (7-2)
Lightweight Bout:
Jeremy Stephens (20-8) vs Yves Edwards (41-18-1)
Lightweight Bout:
Danny Castillo (14-4) vs Michael Johnson (11-6)
Lightweight Bout:
Thiago Tavares (17-4-1) vs Dennis Hallman (51-14-2)
Lightweight Bout:
Jacob Volkmann (14-3) vs Shane Roller (11-6)
Featherweight Bout:
Diego Nunes (17-3) vs Bart Palaszewski (36-15)
Flyweight Bout:
Darren Uyenoyama (7-3) vs Phil Harris (21-9)
Lightweight Bout:
Carlo Prater (30-11-1) vs Marcus LeVesseur (21-6)
Welterweight Bout:
Mike Pierce (14-5) vs Aaron Simpson (12-3)
NOTE: No up-to-date poster has been released for this event…
UFC 153 – October 13, 2012 – HSBC Arena, Rio de Janeiro, Brazil
Light Heavyweight Bout:
Anderson Siva (32-4) vs Stephan Bonnar (15-7)
Light Heavyweight Bout:
Glover Teixeira (18-2) vs Fabio Maldonado (18-5)
Heavyweight Bout:
Antonio Rodrigo Nogueira (33-7-1) vs Dave Herman (21-4)
Welterweight Bout:
Jon Fitch (23-4-1) vs Erick Silva (14-2)
Light Heavyweight Bout:
Phil Davis (9-1) vs Wagner Prado (8-0)
Welterweight Bout:
Demian Maia (16-4) vs Rick Story (14-5)
Featherweight Bout:
Rony Jason (11-3) vs Sam Sicilia (11-1)
Lightweight Bout:
Gleison Tibau (25-8) vs Francisco Trinaldo (11-1)
Heavyweight Bout:
Gabriel Gonzaga (13-6) vs Geronimo Mondragon (31-14)
Featherweight Bout:
Diego Brandao (14-8) vs Joey Gambino (9-1)
Middleweight Bout:
Sergio Moraes (6-2) vs Renee Forte (7-1)
Middleweight Bout:
Luiz Cane (12-4) vs Chris Camozzi (17-5)
Lightweight Bout:
Reza Madadi (12-2) vs Cristiano Marcello (12-4)
---

Tap That!
Well that's it for this weekend, and WOW, what a weekend it's been! It was a pleasure to represent 411mania at BAMMA 10, and many thanks to Alex Watt for being an awesome colleague to work with!
Next week, the UFC is back (!!!) with UFC 152, and a double-main event! If you've been struggling to concentrate on MMA and the recently enforced break, then now is the time to get your head back in the game because this one should be good! In the mean-time, have a great week everyone!

NULL
comments powered by Disqus