Occupy The Throne 1.24.13: A Look At UFC on FOX 6
January 24, 2013 | Posted by
Looking At UFC on FOX 6
Jeremy Lambert: It doesn't seem that long ago when Ben Henderson defeated Nate Diaz in the main event of UFC on FOX 5, but here we are just over a month later with another UFC on FOX event.
Like the last FOX show, UFC on FOX 6 will be headlined with a title fight as Demetrious Johnson defends his flyweight title against Ultimate Fighter winner John Dodson. In the co-main event, Quinton Jackson returns to the octagon for possibly the last time in his career to take on Glover Texeira. Also, in a bout that has "fight of the year" written all over it, Donald Cerrone battles Anthony Pettis in a fight with lightweight title implications. Plus Erik Koch and Ricardo Lamas square off to potentially determine the next featherweight title contender.
The UFC has seemingly found the right formula for FOX, which means a title fight, a well-known name, and title eliminator bouts. It worked in December to the tune of 4.4 million viewers, but an audience could be a little bit harder to come by this weekend.
Samer Kadi: Match-making wise, this installment of UFC on FOX flirts with perfection. Since the day the deal was first announced, the plan was never to stack FOX cards with established superstars that belong on PPV, nor was it to come up with last ditch thoughtless main events between Mauricio Rua and Brandon Vera. Ideally, the FOX deal is about providing potential stars with the exposure they need to take that extra step into marketability, laying the foundations for eventual title showdowns with eliminator fights, and occasionally, a championship fight in some of the UFC's "struggling" divisions – those who fail to draw on PPV.
The addition of the flyweight division has hardly set the world on fire, but then again it was never expected to. Despite quality action, the lighter weight classes have been struggling to trigger much interest, and while a memorable showing in this weekend's main event will not be enough to turn things around, it will be a much-needed step in the right direction.
Following Johnson's win over Joseph Benavidez, many complained that the action was a touch repetitive, and both fighters' inability to visibly do much damage made it seem like they were throwing punches in vain. However simplistic, and perhaps even uninformed this opinion might be, it remains a view many seemed to share.
With Dodson, this shouldn't be much of a problem, as "The Ultimate Fighter" winner packs up a freakishly heavy punch. For his part, Johnson may not be quite as damaging, but he is nothing if not active. The speed both fighters compete at is going to be a sight to behold, but that hardly ensures quality. The real question is not whether or not the action will be worthwhile, as neither fighter is likely to put on a stinker. Instead, the main determining factor will be how the audience receives it.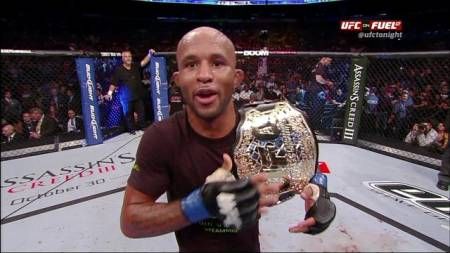 Jeremy Lambert: While headlining the show with a flyweight title fight should help establish the division, it would help more if the word "flyweight" wasn't banned like it's the word "wrestling" and this is the WWE. Instead the main event is for the "world title," which could lead to some disappointed FOX viewers when they see two five foot, 125 pound guys walk out for the main event.
Johnson vs. Dodson should deliver non-stop action given the pace both men, especially "Mighty Mouse," fight at, but that's no guarantee that the crowd won't turn on it. Aside from the points that my partner mentioned about fans not quite understanding what they're seeing, Johnson and Dodson have the unfortunate task of following Quinton Jackson (the biggest and most recognizable name on the show) in what could be his UFC swan song and Cerrone vs. Pettis, which could easily steal the show.
A good, but not great, fight that goes into the championship rounds where it's clear that neither man will be finished may lead to boos from the live crowd and the TV audience switching off.
Like two bouts on the UFC on FOX 5 undercard, the co-main event features an established former champion taking on a guy that many people have high hopes for.
It's been almost a year since we saw "Rampage" in the cage and during that time he's been complaining about how the UFC has always mistreated him and doing whatever he can to get fired. This Saturday is, according to Jackson, the last time we'll see him in the UFC but one has to wonder whether or not he'll just be showing up for a paycheck or if he's willing to put on a memorable last performance for his fans.
Samer Kadi: Hoping for "Rampage" to show any kind of motivation is a lost cause at this point. The former UFC light heavyweight champion has not looked good inside the Octagon since his 2008 knockout of Wanderlei Silva over four years ago. Since then, Jackson has put on one disappointing performance after the other, regardless of the end result. Therefore, expecting a man whose desperation to get fired saw him create a rape instructional video to show any sort of fire in his last fight seems far-fetched.
Jackson has always been a head case, and despite his extremely impressive resume, he's had his fair share of stinkers. Glover Teixeira's stock is very high, and barring a catastrophic mistake that will see him run into one of the American's trademark hooks, this should be tough to watch for fans of "Rampage." The match-making makes sense however, as despite the impressive nature of Teixeira's two UFC wins, they came over underwhelming competition to say the least. Jackson will be his first big test, and if he delivers on such a grand stage, as he is expected to, he is all but guaranteed to get people talking.
Most importantly, the action needs to be somewhat captivating. A clinch fest, which is a possible scenario, could potentially kill the crowd and the audience at home, and derail any momentum garnered by the bout that preceded it – a bout between two of the sport's most thrilling fighters.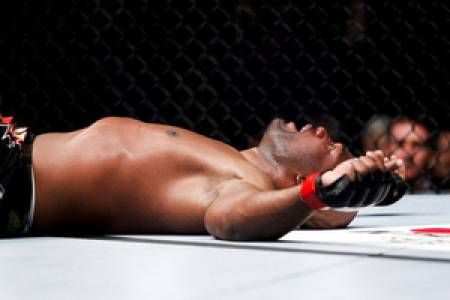 Jeremy Lambert: Words cannot describe how excited I am for Donald Cerrone vs. Anthony Pettis. Let's just say my excitement level for this fight rivals my excitement level for a Taylor Swift concert that includes multiple encores.
Cerrone and Pettis rarely have a boring fight. On the feet, Cerrone's vast array of techniques make him dangerous any time he's moving forward and Pettis' head kicks are on par with that of a prime Mirko "Cro Cop." Even on the ground both men are extremely active, especially off their back and won't allow their opponent a moment of rest from the top position. The only way this fight could disappoint is if it ends in 64 seconds and has fans criticizing the losing fighter for not following the game plan. But given that this bout is third from the top and not the only fight on the show, I don't think too many people would complain about a quick, and most likely, spectacular finish.
Not only is the lightweight scrap an exciting piece of match-making, but it could very well determine the next contender for the UFC lightweight title. The winner of the bout would be on a three fight win streak, which isn't all that common at lightweight, especially against top level competition.
The unfortunate part about this fight though is the lack of promotion the UFC has put behind it. Given all the highlights that Cerrone and Pettis have produced over the years, including arguably the greatest highlight in MMA history, it baffles me as to why this fight wasn't promoted during the UFC on FOX commercials. It feels like the UFC missed a major opportunity to capture the FOX sports audience by not including "the Showtime kick" during promos.
Samer Kadi: "The Showtime Kick" has to be one of the biggest missed opportunities in recent MMA history. While it might be looked at as a mere "cool highlight" now, it is important to recall the buzz it created, and the kind of attention it received. Despite merely occurring on a WEC show, as opposed to a high-profile UFC PPV, "The Showtime Kick" turned into an MMA sensation. Pettis was subsequently promised a shot at the UFC lightweight title following WEC's death, and we all braced ourselves to repeatedly watch that epic moment in UFC promos until we are sick of its sight.
Circumstances, however, dictate otherwise, and Edgar's draw with Gray Maynard meant a rematch was in the books, and "The Showtime Kick" was subsequently forgotten. The "what have you done for me lately?" attitude that infects MMA meant that Pettis' disappointing loss to Clay Guida all but erased that kick from memory, beyond getting the obligatory mention by the commentary crew as Anthony Pettis is making his way to the cage. As it stands, a bout that pits arguably the two most exciting fighters in the lightweight division has been rendered to a mere afterthought instead of capitalizing on that surreal moment to draw viewers in.
Nevertheless, Cerrone and Pettis promises to be a bout for the ages. Unless it somehow turns into an absolute snooze-fest, the winner will more than likely get a much-deserved shot at the lightweight title against either Ben Henderson or Gilbert Melendez, where any combination of those four fighters all but ensures a can't-miss title fight.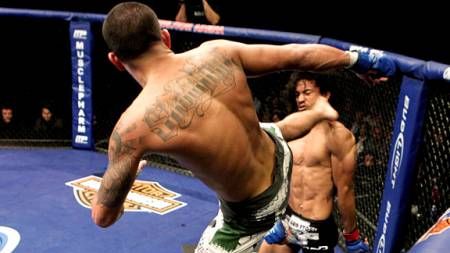 Jeremy Lambert: Even the opener between Erik Koch and Ricardo Lamas has title implications, making it more than "a fun fight to open the broadcast" that we've grown accustomed to on these FOX shows. Koch was scheduled to fight Jose Aldo on two separate occasions last year before injuries struck both men and Frankie Edgar became the bigger fight. Now Koch has a chance to re-establish himself on a big stage against Lamas, who just knocked off top ranked Hatsu Hioki.
While I wouldn't expect this FOX event to top 4.4 million viewers with a peak of 5.7 million, the competition is rather thin this weekend and the UFC has greatly benefitted from the exposure of the NFL playoffs on the network.
Even if the numbers can't compete with the most recent UFC on FOX event, the exposure that the UFC flyweight division will gain this weekend is a great benefit.
For more from the Occupy The Throne duo you can follow Samer Kadi and ManCaveThoughts.com for more writings and podcasts.
NULL
comments powered by Disqus