Occupy The Throne 2.07.13: Not So Super Performances
February 7, 2013 | Posted by
Evans & Overeem Fail
Samer Kadi: On paper, it looked to be one of the better PPV offerings the UFC has put on in recent memory. In addition to the stylistically compelling nature of the main card fights, they all had significant stakes attached to them, to varying extents. A title was on the line in the main event, a potential super-fight hinged on the outcome of the co-main event, and the next top heavyweight contender was to be determined in the third fight from the top.
With the exception of the abomination that was Evans vs. Nogueira, the card generally delivered in terms of action. As far as the Zuffa's plans are concerned however, UFC 156 proved to be a minor blow. One week ago, the MMA world looked to be within a touching distance of two huge super-fights in Anderson Silva vs. Rashad Evans and Cain Velasquez vs. Alistair Overeem.
With Anderson Silva mutilating the middleweight division, and Cain Velasquez facing the proposition of competing against Junior Dos Santos every other month due to the state of the heavyweight division, the aforementioned super-fights appeared to be a gift from the MMA gods – a gift that unfortunately would be turned down by embarrassing performances from Rashad Evans and Alistair Overeem respectively.
Jeremy Lambert: Coming off a one-sided loss to Jon Jones, but still being good enough to beat the majority of the light heavyweight division, Rashad Evans found himself in a tough position. He couldn't fight an up and coming contender in fear that he'd win, but he also didn't want to take meaningless fights against the likes of Brandon Vera. So he was matched up with Antonio Rogerio Nogueira, a fighter with a name who, based on his history, wasn't much of a threat. A win would not only add to Rashad's already stellar resume, but it would also set up a title fight between him and Nogueira's training partner Anderson Silva.
On Saturday night, Evans fought like he had already signed the contract for a middleweight title fight. That's the only logical explanation I have for what we witnessed.
Not to discredit "Lil Nog" and his accomplishments in MMA, but he was basically being fed to Evans. Nogueira has struggled with faster fighters with a wrestling background in the past and Rashad has made a career out of using his speed and wrestling to beat some of the best fighters in the sport. Instead of using his two best attributes to increase his win total by one, he stood in front of Nogueira and came up with a new secret handshake that involved him touching gloves 100 times per round.
Evans isn't known as an aggressive fighter with his striking, so the fact that he laid back on the feet wasn't a huge surprise. Only going for 5 halfhearted takedowns against a much inferior wrestler was what shocked many spectators. I can't even say he fought with no sense of urgency because that would imply he fought with any sense at all. Evans embarrassed himself, his teammates, the company, and fans with his performance at UFC 156. But while teammates will fight again, the company will continue to make money, and fans will cheer for anyone; Rashad hurt himself the most with what he did, or in this case, didn't do, over the weekend.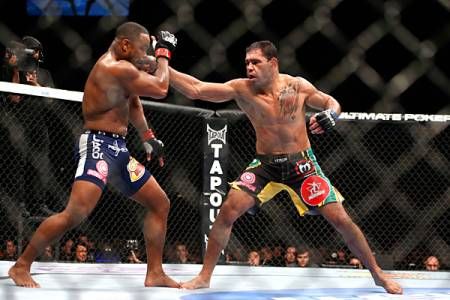 Samer Kadi: While I have never had the fortune to watch Rashad Evans in the gym, I am fairly certain he has tried harder in sparring sessions than he did last weekend. As a standalone result, losing to Nogueira is hardly a career killer. However, the manner in which Evans lost the fight, highlighted by his utter disinterest in mounting anything resembling an offense, was dreadful to watch. Most alarming was the fact that Nogueira never needed to do anything special to win – he just had to do something.
Prior to this bout, Evans had only lost to an inspired performance by one of the most unique fighters the sport has ever seen in Lyoto Machida, as well as arguably the most talented light heavyweight of all time in Jon Jones. The resume he boasted was that of one of the most successful fighters the UFC has ever witnessed, and a fight with Anderson Silva would have been one of the biggest in the company's history. Instead, he now finds himself in no man's land, having fallen off the light heavyweight ladder quite badly, with a loss to the current champion to boot.
Meanwhile, with St-Pierre turning down the fight, Bisping getting crushed by Belfort, and Rashad Evans forgetting his job description against Nogueira, Anderson Silva once again finds himself with no real "money fights" on the horizon. For their part, it is up to Dana White and company to convince Silva, and the fans, of Chris Weidman's worth.
Unfortunately, Rashad Evans was not the only fighter who blew it in a major way on Saturday night, as Alistair Overeem talked a big game, styled and profiled on his way to the cage, showed complete disregard to his opponent, and got eviscerated for his troubles. Overeem can be excused however, as an intense walkout and dropping your hands down while taunting your opponent would gas any professional fighter out.
Jeremy Lambert: "Alistair Overeem is a different kind of striker." That's the phrase that Joe Rogan uttered every five seconds between The Reem's entrance and exit. In an odd way, he was proven correct. A striker with Overeem's K-1 credentials would've crushed Antonio Silva, who is a very hittable target with a very suspect chin. Instead, Overeem proved just how different he was by deciding not to strike when the opportunity presented itself.
A "different kind of striker" is someone like Anderson Silva, who drops his hands, moves his head, and then tools people for foolishly rushing forward with sloppy punches. Overeem dropped his hands, moved his head, and then did nothing to make Silva pay when he missed with his punches. Instead he laughed, which I hear is a very tiring expression.
If the first round proved how different Overeem's striking is on the feet, the second round proved how different it is on the ground. Despite having a couple of dominant positions and obvious power in his strikes, the Blackzilian product seemed content to just stay on top, mainly in guard, and not do much damage. Compare this to the brutal beating Cain Velasquez laid on Silva from the top position and it's just more evidence that Overeem is a different breed of fighter all together.
Even though he was up two rounds to none, everyone saw the momentum shift at the end of the second when Silva got to his feet and rushed Overeem, who was sucking wind like it was blended horsemeat. The smile on the former Strikeforce champ's face turned into a blank expression early in the third when the former EliteXC champ landed a series of clean punches that put Overeem out cold. If that wasn't bad enough, Silva continued to beat a dead horse by verbally assaulting the lifeless body of Overeem before celebrating with his team.
The loss not only kills all the hype and mystique surrounding Overeem these past few years, but it also eliminates a huge challenge for the current heavyweight champion.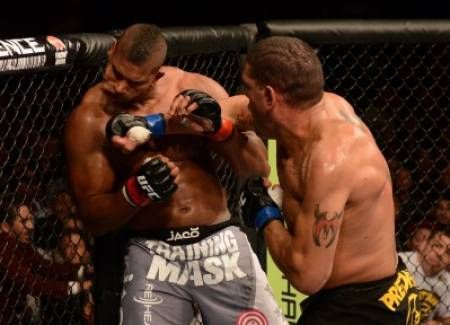 Samer Kadi: Since moving to heavyweight, Alistair Overeem did a lot of things right. He truly understood the importance of building up his marketability and forcing people to take notice. Feeding off his newly acquired physique that looked like the product of a lab experiment, Overeem did his best to capture people's attention. His "The Reem" documentaries were some of the most brilliant pieces of self-promotion conducted by an MMA fighter. He talked a big game, oozed confidence, engaged in the right amount of trash talk without ever verging on the outrageous, and won himself a K-1 Grand Prix.
When it was time to deliver against elite mixed martial arts competition however, Overeem failed in a variety of ways. Whether he was stinking up the joint with Fabricio Werdum in a fight in which he came agonizingly close to getting out-struck by a grappler, failing a post-fight drug test against Brock Lesnar to essentially confirm what everyone already knew, or getting bludgeoned senseless by an opponent he all but ridiculed, Alistair Overeem never failed to disappoint. That, in many ways, is the story of the Dutchman's MMA career, who has now lost to all but a select few of the elite fighters he's encountered.
In a weight class that badly needed an interesting face, Overeem seemed to be the breath of life the heavyweight division desperately sought. Unfortunately, his latest faux pas means Cain Velasquez will have to settle for turning Fabricio Werdum into a hamburger before an inevitable rubber match with the one other heavyweight who can be relied upon to actually win fights.
Jeremy Lambert: The Blackzilian's were supposed to be a "super camp." This past Saturday night, two of their most well known fighters failed to set up "super fights" in a year dubbed "Super Fight Year" at the top of the broadcast by Mike Goldberg.
Rashad's baffling performance cost him a lot of money and a chance to become a two divisional champion, while also going down in history as the man to dethrone the greatest fighter of all-time. Overeem's performance was less baffling to those who have followed his whole career, but just as upsetting as he cost himself a chance to prove that he was more than a product of questionable substances and weak competition.
UFC 156 was likely a success for the company, but the outcome of two fights on the card will no doubt hurt the bottom line at the end of the year.
For more from the Occupy The Throne duo you can follow Samer Kadi and ManCaveThoughts.com for more writings and podcasts.
NULL
comments powered by Disqus